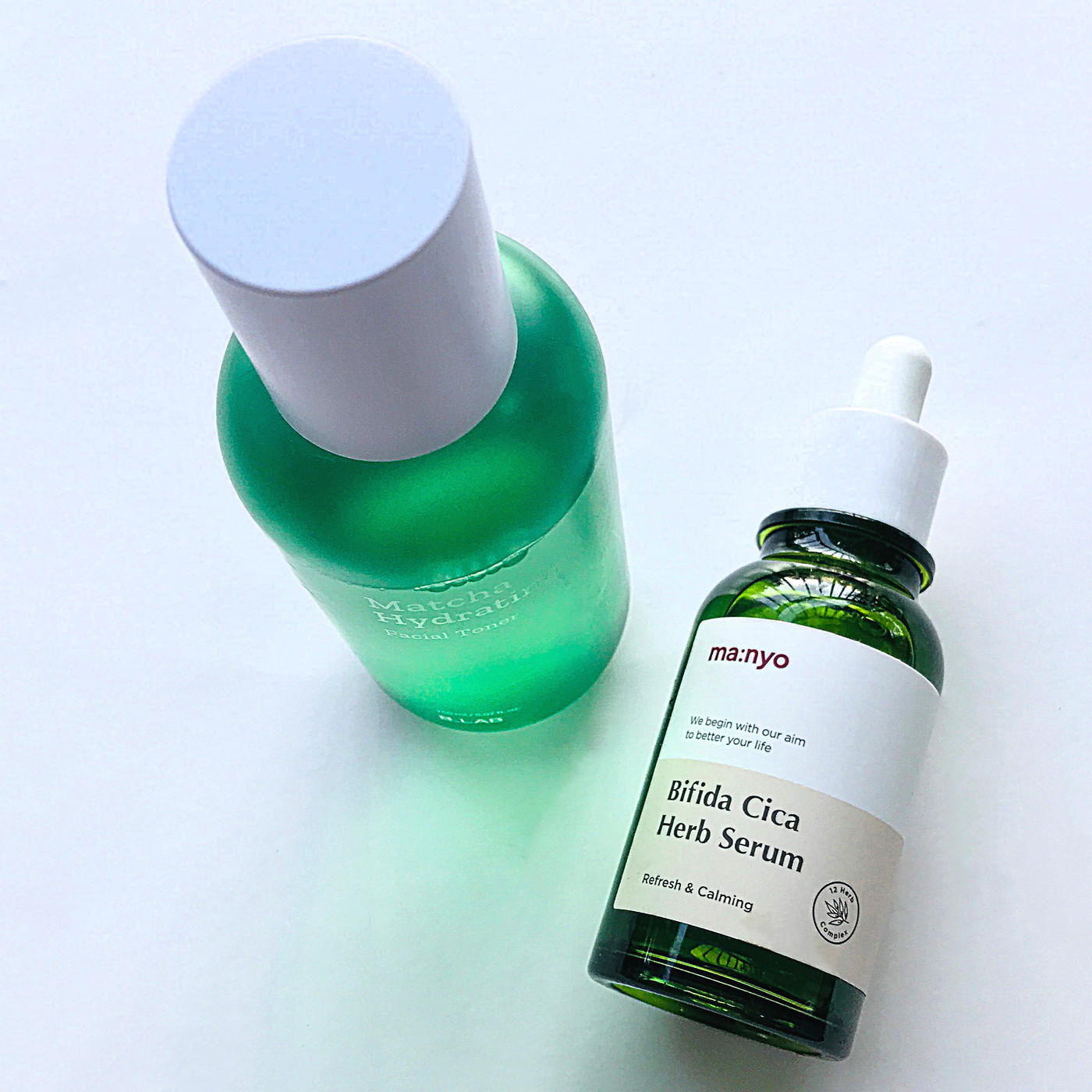 I still have oily skin despite being older, but it is dehydrated as well.  Such fun times! I have been impressed with the B-Lab Matcha skincare line so far and it has been a long time since I reviewed any Manyo Factory as well.  Neither of these products contain  BHA salicylic acid, but they work beautifully for oily skin ~ which is why I put them in the same blog review. I have been using them together for a while and I love them both.   PLUS they are GREEN!  Jolse  Cosmetic, a premier K-Beauty online store,  sent me these products for review purposes.
Skin Type/Concerns: oily, blemish prone, dehydrated, aging concerns, pores, fine lines/wrinkles, hyper-pigmentation
I received these products complementary to review and was not paid.  All reviews are my own honest opinion and  I never have been asked to write copy for a brand.  This blog post might contain promo codes, affiliate and referral links, which using my links will help generate a small commission that helps support my blog at no extra cost to you.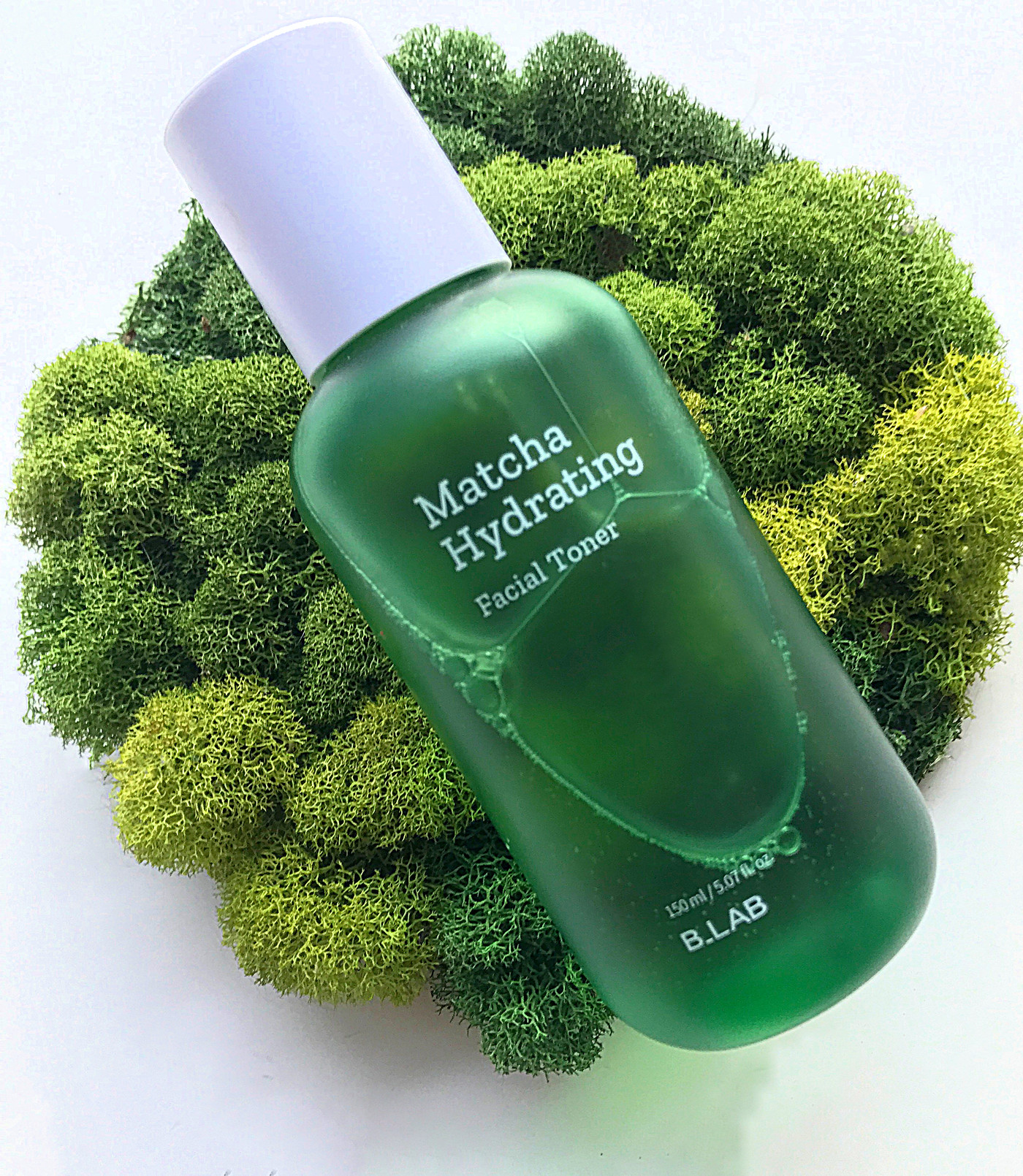 B-Lab Matcha Hydrating Facial Toner is my second product in the Matcha line and I just saw that they added a sunscreen  ~ so you know I will review that one too!   The top ingredient is organic green tea extract,  47.5% in fact.  Green tea is a powerful detoxing and purifying ingredient while providing soothing care against irritation and swelling due to its rich source of antioxidants, catechin, polyphenols and tannins.  The tannins in matcha will help reduce the appearance of pores, so your skin will look smooth.  The green tea is harvested from Hadong, South Korean, a region known for its premium green tea for over 1200 years.  The harvest occurs in April over the course of 10 days as that is when the ingredients of catechins, vitamins C and E will be at its most potent. The green tea leaves are traditionally roasted in an iron pot at high temperatures and using a low temperature extraction method as not to lose any of the precious benefits of the green tea.
Chelidonium majus, the greater celandine, is a new ingredient for me to look into!  This contains 3% of this poppy related plant and has been used in traditional medicine for hundreds of years.  Used topically, this anti-inflammatory herb is an anti-bacterial, anti-microbe and disinfectant to prevent infections.  This is also used to help control excess sebum production as it contains 5α-reductase.
>This also contains patented Aquaxyl a hydrating compound made from ingredients derived from vegetable origin sugars ~ xylitylglucoside, anhydroxylitol, xylitol and glucose. Aquaxyl will also reinforce your skin barrier function, limiting water loss in your skin and preventing skin dehydration on a cellular level.  This product is not gluten free, as xylitylglucoside is derived from wheat sugars and this also contains beeswax.   Along with Aquaxyl, the humectant trio of glycerin, panthenol and sodium hyaluronate will hydrate your skin while binding moisturize to the skin. Allantoin moisturizes, exfoliates and softens skin, making it look smooth and refined, while reducing and relieving irritation
Ingredients: Camellia Sinensis Leaf Water, Water, Glycerin, Butylene Glycol, 1,2-Hexanediol, Glycereth-26, Fructan, Glyceryl Glucoside, Chelidonium Majus Extract, Xylitylglucoside, Anhydroxylitol, Allantoin, Panthenol, Xylitol, Dipotassium, Glycyrrhizate, Ethylhexylglycerin, Glucose, Disodium EDTA, Sodium Hyaluronate cosDNA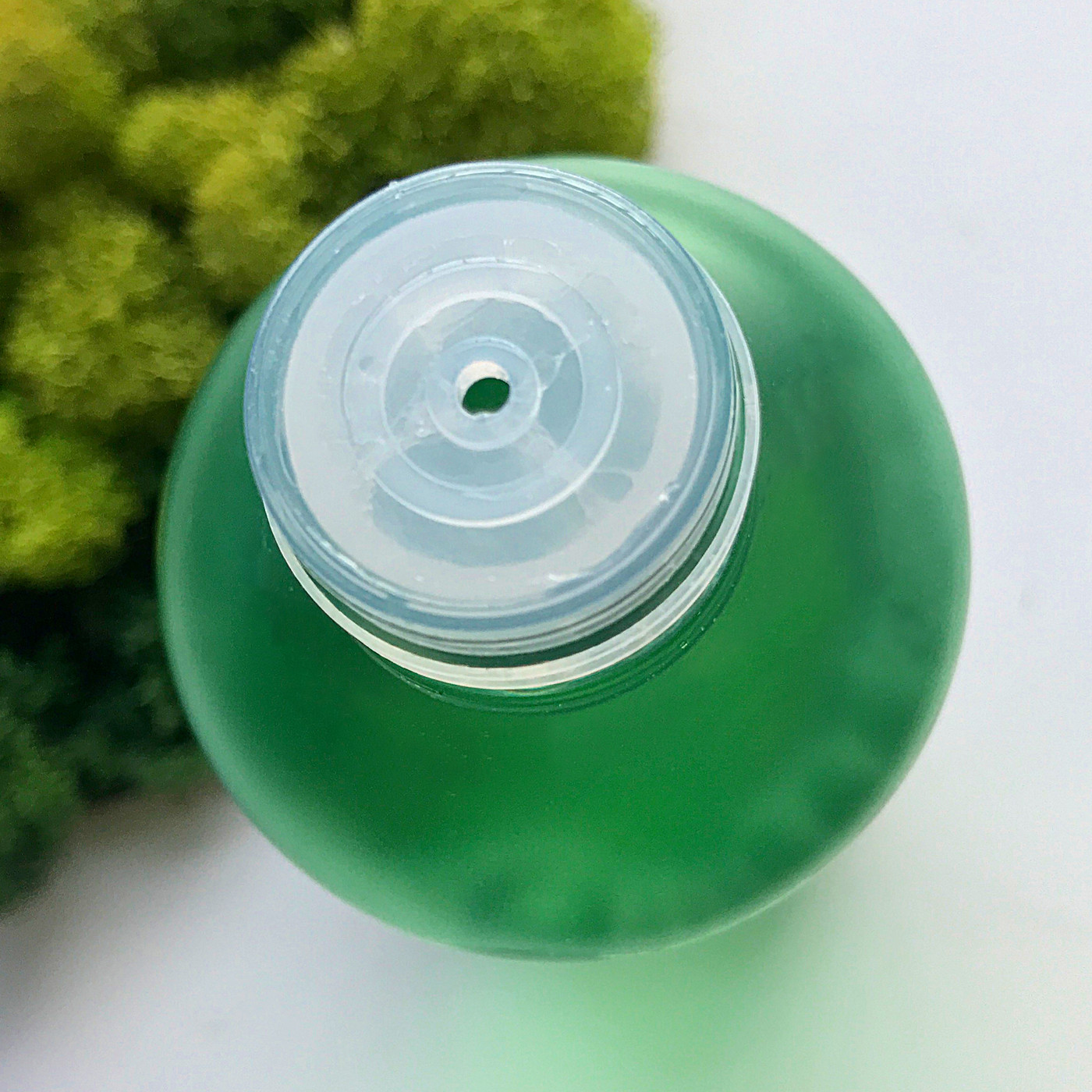 B-Lab Matcha Hydrating Facial Toner comes in a squat frosted green plastic bottle with a pin-drop opening applicator.  It is a very watery, clear toner with no scent that I can detect.  The pH level is 5 so it is mildly acidic and will help keep your skin in balance without feeling dry.   The toner actually has micro bubbles in the bottle but not when I pour it out, and it feels very refreshing on my skin.  There is no sticky residue and it has a quick dry-down with a cooling sensation, leaving my skin feeling very soft, hydrated and looking less oily.  This is a great toner for layering and providing hydration, while controlling skin issues with its anti-bacterial and anti-inflammatory benefits.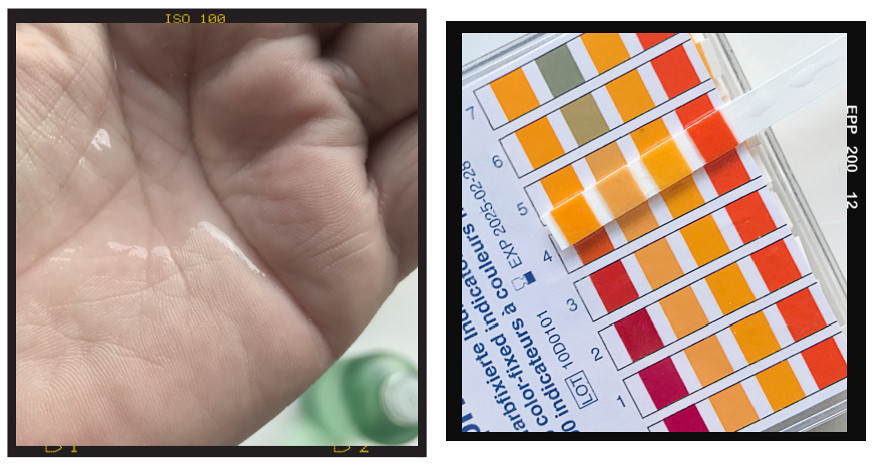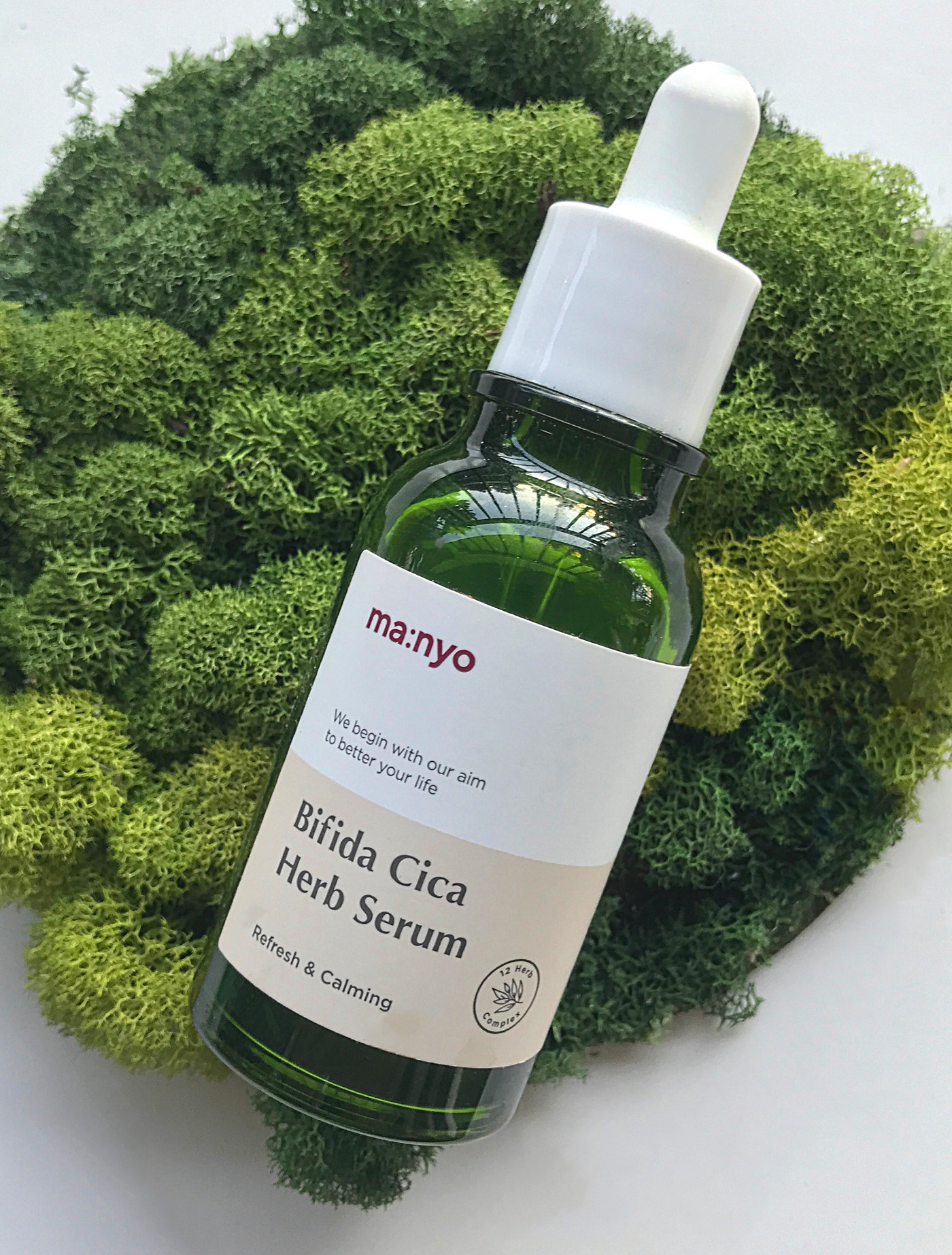 It's been a long time since I reviewed anything from Manyo Factory and when I saw this Bifida CICA Herb Serum, I wanted to try it.  I loved their Active Refresh Herb Oil (review) and their Bifida Serum is also very nice.  The top ingredient is  41% centella, a common herbal ingredient that is rich in saponins and is used medicinally to help speed up wound healing, such as blemishes and skin rashes. It also helps minimize the appearance of pores and is an anti-inflammatory
Bifida ferment lysate is a probiotic ingredient that is becoming quite popular in skincare product. The claims are that it works as a DNA repair agent when applied to your skin. Bifida lysate  helps revitalize skin so it is clear and radiant, increase hydration and prevent dehydrated, rough skin. It should also firm and restore elasticity to your skin while strengthening your skin barrier to help prevent damage from environmental factors.  This serum contains 35% of bifida ferment lysate. 
These have soothing micro capsules that contain five anti-inflammation and sebum control ingredients ~ Manyo Factory doesn't tell me exactly what they are, but I guess it would be rosemary, lavender, tea tree, thyme and basil as those are astringent, anti-inflammatories with oil controlling properties.  Skin brightening, antioxidant niacinamde is an anti-inflammatory that also helps repair the skin barrier, while amino acid arginine  is an anti-oxidant with  collagen production benefits to combat aging
Melissa officinalis (lemon balm) has strong anti-bacterial and anti-inflammatory properties and can calm, soothe and heal your skin, great for blemish prone skin.    It also contains flavonoids, which have an antioxidant effect and due to this herb's tannins compounds, it is also an astringent and antiviral.   Lemon balm is used a lot in skincare because it has such wonderful properties and this herb goes back centuries for medicinal use.
Topical use of eucalyptus leaf extract helps moisturize and protect the skin barrier by boosting ceramide production as it contains macrocarpal A (source)  Purifying, antiseptic moringa oil,  also has anti-inflammatory properties ~ helping with blemish care. Melia azadirachta (neem) has antiseptic properties and will help control blemishes and help them while holy basil reduces inflammation, clears blemishes and can lighten hyper-pigmentation.  Turmeric is a popular ingredient for blemish control, as it has both anti-inflammatory and anti-oxidant properties.  Turmeric soothes blemishes and heals acne, while reducing redness and swelling.   Corallina officinalis is a red algae and has exfoliating benefits, removing dead skin cells and also antioxidant benefits, to prevent free radical damage.
Ingredients: Centella Asiatica Extract (41%), Bifida Ferment Lysate(35%), Butylene Glycol, Glycerin, Polyglycerin-3, Water, Niacinamide, 1,2-Hexanediol, Melaleuca Alternifolia (Tea Tree) Leaf Water, Solanum Melongena (Eggplant) Fruit Extract, Aspalathus Linearis Extract, Origanum Vulgare Leaf Extract, Ocimum Basilicum (Basil) Leaf Extract, Olea Europaea (Olive) Leaf Extract, Glycereth-26, Coriandrum Sativum (Coriander) Extract, Lavandula Angustifolia (Lavender) Extract, Melissa Officinalis Leaf Extract, Rosmarinus Officinalis (Rosemary) Leaf Extract, Vinyl Dimethicone, Polyglyceryl-10 Oleate, Arginine, Ethylhexylglycerin, Hydrogenated Lecithin, Pyrus Communis (Pear) Flower Extract, Coccinia Indica Fruit Extract, Eucalyptus Globulus Leaf Extract, Thymus Vulgaris (Thyme) Leaf Extract, Polyglyceryl-10 Laurate, Acrylates/​C10-30 Alkyl Acrylate Crosspolymer, Caprylic/​Capric Triglyceride, Curcuma Longa (Turmeric) Root Extract, Ocimum Sanctum Leaf Extract, Corallina Officinalis Extract, Melia Azadirachta Leaf Extract, Cyamopsis Tetragonoloba (Guar) Gum, Polyglyceryl-10 Myristate, Amber Powder, Agar, Xanthan Gum, Melia Azadirachta Flower Extract, Alchemilla Vulgaris Leaf Extract, Moringa Oleifera Seed Oil, Lavandula Angustifolia (Lavender) Oil, Linalool, Limonene cosDNA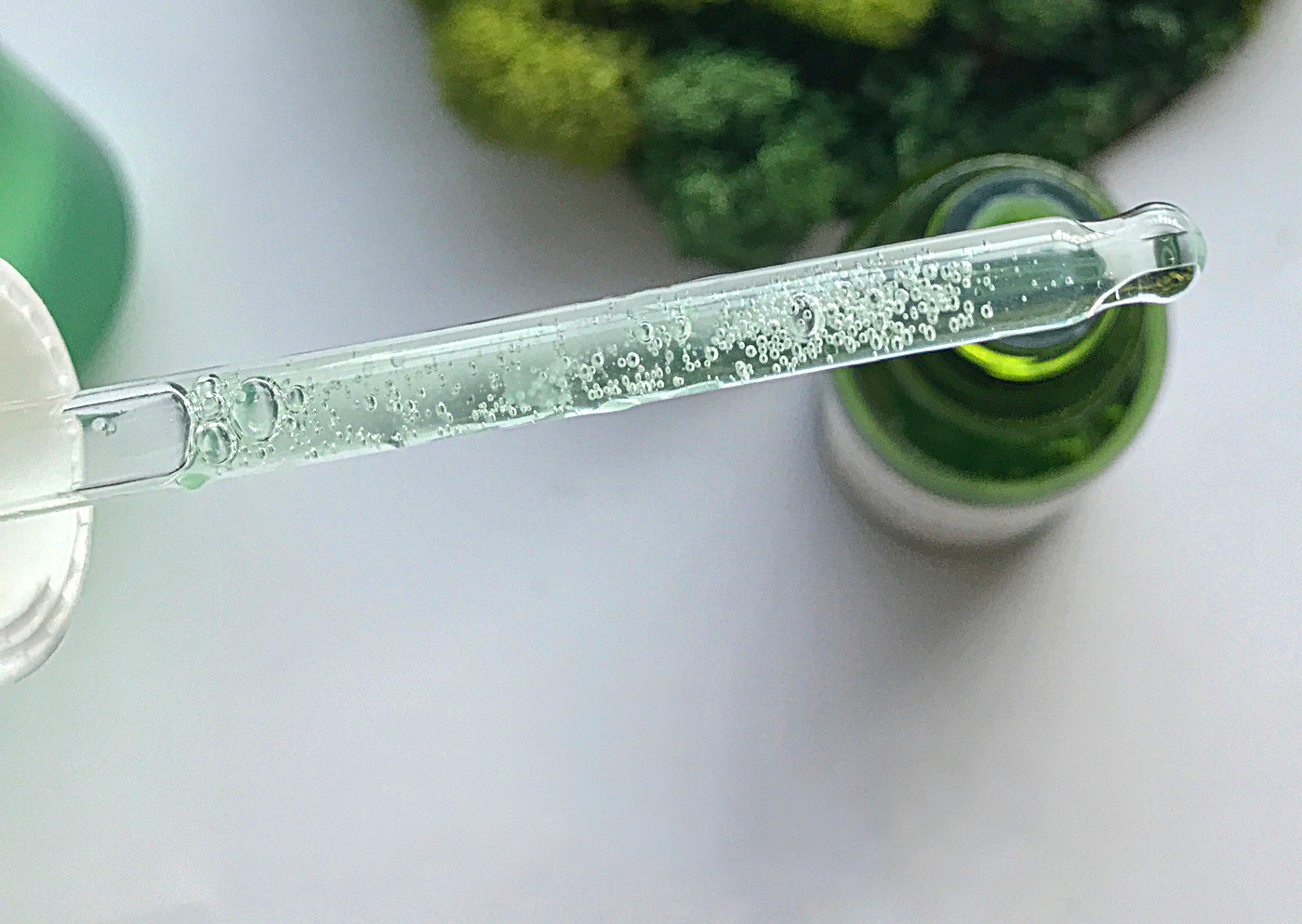 This serum comes in a lovely green glass bottle with a glass pipette applicator.  The serum is light green in color as well, which is probably due to all of the herbs in here, as there are no artificial dyes.  And look ~ that isn't your imagination, those are bubbles in the serum ~ those micro capsules I mentioned earlier. 

This is very refreshing on the skin and it does smell like lavender-herbs.  I quite like the scent, it isn't overpowering.  This does dry down fairly quickly, absorbing nicely into my skin and I can feel that my skin is hydrated, but not dewy ~ it does leave a nice semi-matte finish as it is an oil controlling serum.  Is it calming?  Yes, to both the actual topical application on the face and also the fragrance ~ I find it very relaxing.  I also love how nice it feels on the skin, with that fresh clean feeling and  cooling sensation.  For oily, dehydrated skin types, this is a great serum.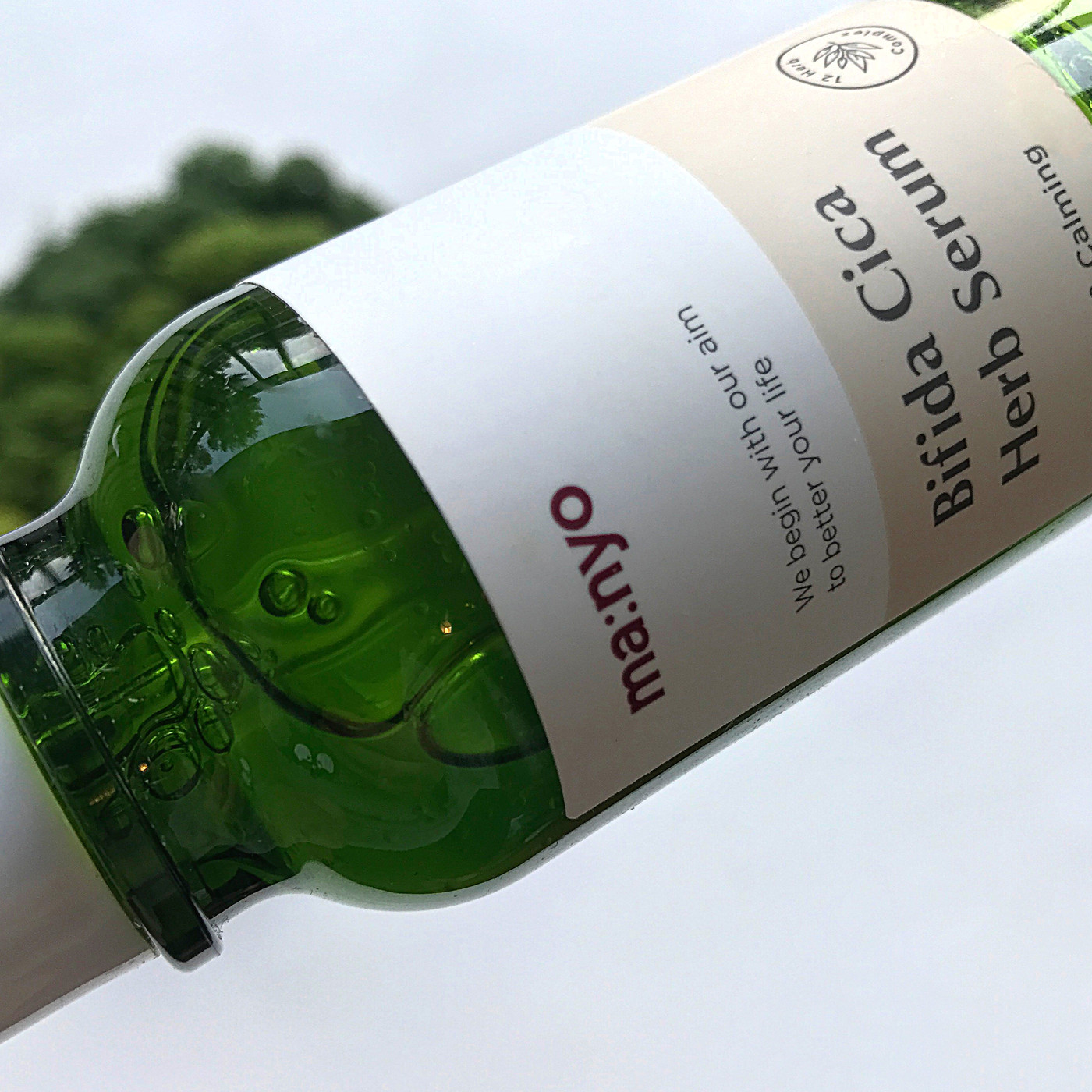 I would not recommend it for dry skin types as I honestly do not believe it is made for dry skin ~ but oily, combo skin types?  Yes, I do recommend this product, as it is not harsh on the skin, yet it is an effective blemish product with its quick healing and soothing properties.  It also helps with pore care as well, so my pores do look smaller in appearance.  
Where to Purchase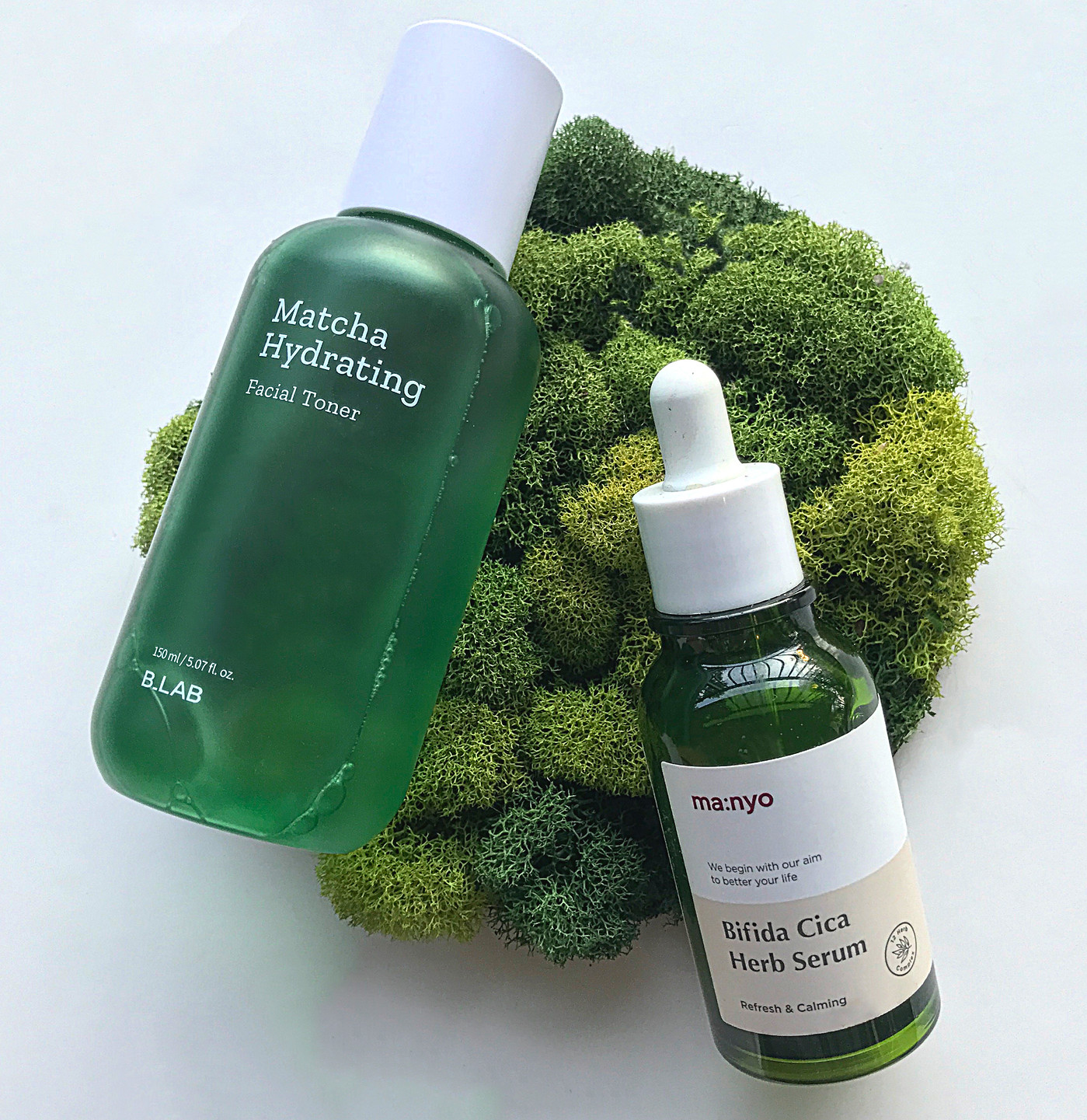 Jolse carries both the B-Lab Matcha Skincare line and Manyo Factory's Bifida CICA Herb Skincare line. 
B-Lab Matcha Hydrating Facial Toner 150mL $14.45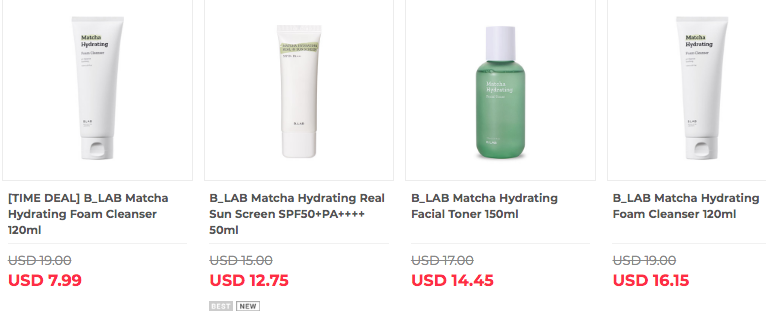 Manyo Factory Bifida CICA Herb Serum  50mL $17.50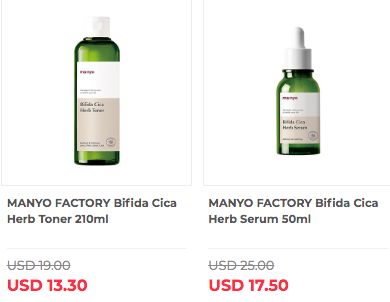 All prices are in USD ~   Jolse offers free global shipping plus gives a lot of samples out ~ the more you purchase, the more samples you get! Please note that the prices do fluctuate a little bit due to the WON to USD exchange rates. Make sure to check your coupon zone (click here) for money saving discounts. You need to log into Jolse first, then download the coupons before you use them. Coupon savings usually are $5.00 off a $50.00+ purchase, 5% off $100.00+ purchase and 10$ off a $200.00+ purchase

[ products received for review purposes.  blog post contains affiliate links ]