Out of all of the B-Lab products I have tried, this is the one that had me most excited!  This is a matcha foaming cleanser and it is about time these came on the market!  This one is in collaboration with Jolse Cosmetic, a premier K-Beauty online store,  and Jolse sent me this cleanser for review purposes.  Great service, free samples, free global shipping! 
Skin Type/Concerns: oily, blemish prone, aging concerns, pores, fine lines/wrinkles, hyper-pigmentation
I received these products complementary to review and was not paid.  All reviews are my own honest opinion and  I never have been asked to write copy for a brand.  This blog post might contain promo codes, affiliate and referral links, which using my links will help generate a small commission that helps support my blog at no extra cost to you.
image from jolse.com
This contains 10,000 ppm matcha, which is a powerful detoxing and purifying ingredient while providing soothing care against irritation and swelling due to its rich source of antioxidants, catechin, polyphenols and tannins.  The tannins in matcha will help reduce the appearance of pores, so your skin will look smooth.  This also has 2,550 ppm of great tea leaf powder, allowing  for some physical exfoliation along with the baking soda,  while providing soothing care against irritation and swelling due to its rich source of antioxidants, polyphenols and tannins.  
This also has some botanicals in here of note ~ amaranth seed extract,  known as the "Treasure of Inca" and naturally contains squalane to deeply hydrate and moisturize your skin.  Amaranth has anti-oxidant properties and will increase cell activity, so it will help regenerate and protect your skin. Neem (melia azadirachta) is great for blemish and oil control and Japanese elm (ulmus davidiana) root has been used as a medicinal herb in Korea for anti-inflammatory benefits and to help skin issues.  Algae kombu (laminaria japonica) is a type of kelp and algae in general have  moisture binding properties so it hydrates and softens your skin. It also is rich in essential vitamins and minerals as well as amino acids and also has anti-inflammatory properties so your skin is smooth, less red and less swollen.  
Sodium cocoyl isethionate is a fatty acid, coconut derived surfactant, which solubilizes oils, allowing water to mix with oil and dirt, so the grime is rinsed away completely.   [source ]  Amino acid  derived sodium cocoyl glycinate is a mild, softening and non-irritating surfactant that produces a rich lather without stripping your skin dry.  
image from jolse.com
Polyquaternium-39 gives this cleanser a smooth and velvety texture and helps reduce any skin tightness as it provides moisturize.  Anytime I see a polyquaternium ingredient, I know it is going to be a great hydrator. Amino acids betaine acts as a humectant and anti-irritant, providing silky smooth skin while soothing skin while allantoin moisturizes, exfoliates and softens skin, making it look smooth and refined, while reducing and relieving irritation. 
Prebiotic fructooligosaccharides helps keep your microbiome healthy and balanced.  It can help in strengthening  your skin barrier, reduce inflammation due to irritation or blemishes and is also a natural hydrating ingredient. This foaming cleanser also has other hydrating and moisturizing ingredients like beta-glucan, ceramides, hydrolyzed hyaluronic acid, and glycerin
Ingredients: Water, Glycerin, Sodium Cocoyl Glycinate, Sodium Lauroyl Glutamate, 1,2-Hexanediol, Camellia Sinensis Leaf Extract(10,000ppm), Betaine, Hydroxypropyl Starch Phosphate, Centella Asiatica Extract, Ficus Carica (Fig) Fruit Extract, Laminaria Japonica Extract, Eclipta Prostrata Leaf Extract, Melia Azadirachta Leaf Extract, Melia Azadirachta Flower Extract, Ulmus Davidiana Root Extract, Amaranthus Caudatus Seed Extract, Hydrogenated Lecithin, Lauryl Betaine, Camellia Sinensis Leaf Powder (2,550ppm), Sodium Chloride, Polyquaternium-39, Decylene Glycol, Allantoin, Butylene Glycol, Fructan, Fructooligosaccharides, Beta-Glucan, Ceramide NP, Hydrolyzed Hyaluronic Acid, Hydroxyacetophenone, Ethylhexylglycerin cosDNA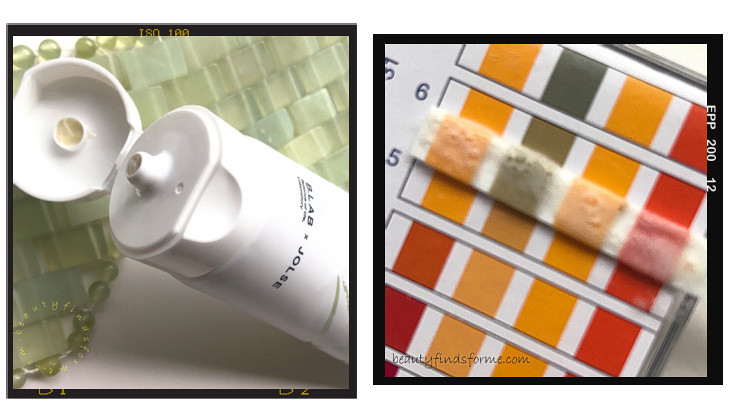 This cleanser comes in a basic white plastic tube, black lettering and a green stripe to indicate that the matcha ~ it has a flip top cap applicator, which is a welcomed change from those cleansers where I have to REMOVE the cap.  The cleanser is a nice thick texture, like toothpaste, in a light green shade with bits of greenish-beige flecks in it ~that is the green tea powder!  That will help make this cleanser be mildly exfoliating as well  foaming.  This really doesn't smell like anything but a soapy cleanser ~ it does not smell like green tea at all.

The pH level is a nice mild one ~ it is at a 6 with my water, although B-LAB states it is 5.5 ~ I have a high pH tap water, so your levels might be different.  This foams up fairly well, and the lather is creamy and velvety ~ I really love the feel on my skin.  After rinsing clean with water, my skin feels hydrated, smooth and soft, without any dryness.  This is a cleanser that I think is formulated for oily and oily-combo skin types.  Drier skin types may not like this that much, but this really helps with my oily skin without stripping it dry ~ the neem ingredients also help clear up blemishes too and it isn't irritating.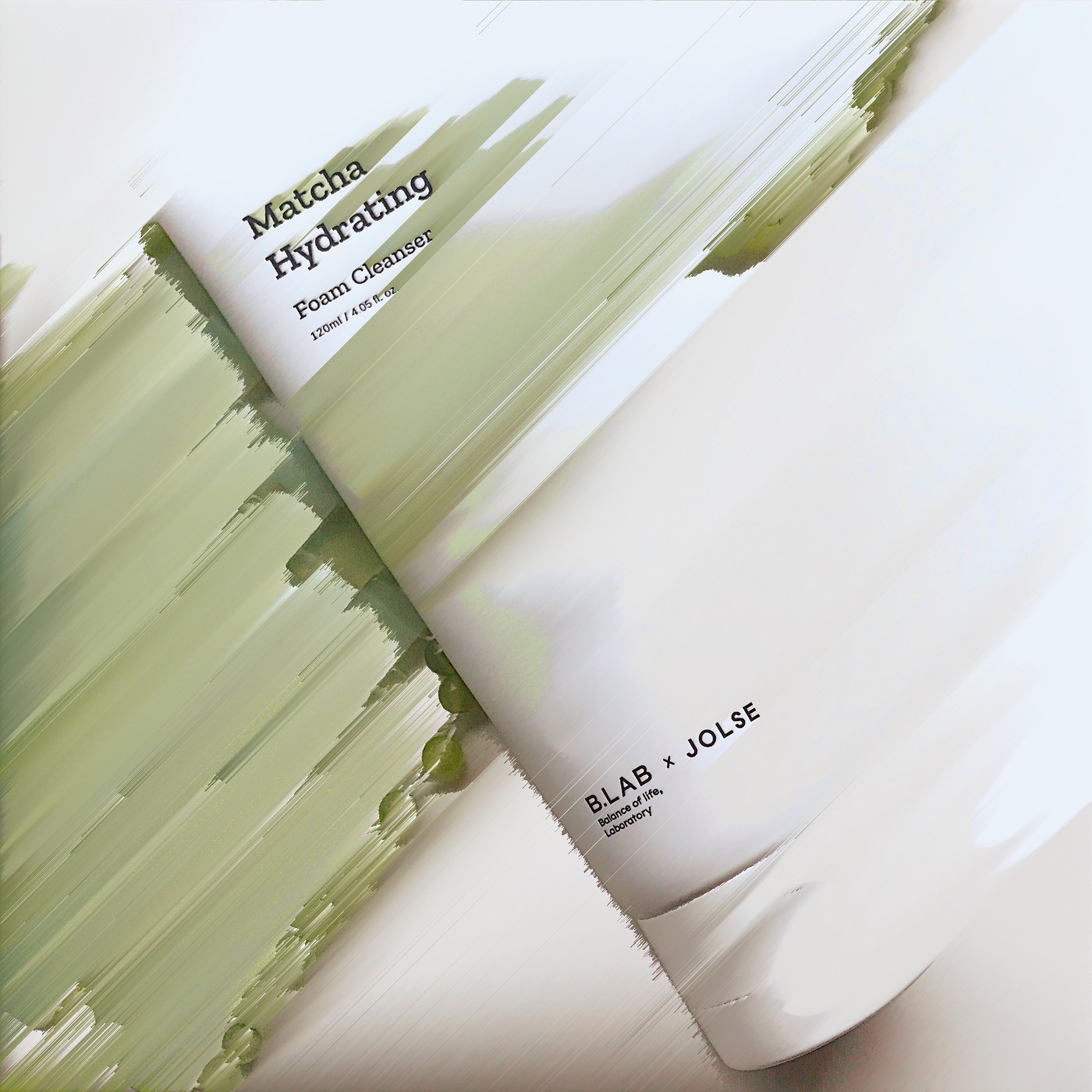 Oy!  Isn't there a Matcha Cleanser out there already?  Yep, there is and then the question you might be asking is ~ is B-Lab a dupe for Krave Matcha Hemp Hydrating Cleanser? Looking at the ingredients list for Krave:
Camellia Sinensis Leaf Water, Water, Glycerin, Coco-Betaine, Methyl Gluceth-10, Ethoxydiglycol, Dipropylene Glycol, Methylpropanediol, Sodium Chloride, Butoxydiglycol, Diglycerin, Glycereth-26, Xanthan Gum, Camellia Sinensis Leaf Powder, Quillaja Saponaria Bark Extract, Prunus Amygdalus Dulcis (Sweet Almond) Oil, Cannabis Sativa (Hemp) Seed Oil, Avena Sativa (Oat) Kernel Extract, Diethoxydiglycol, Coco-Glucoside, Caprylyl Glycol, Glyceryl Caprylate, Decyl Glucoside, Pentylene Glycol, 1,2-Hexanediol, Sodium Cocoyl Isethionate, Butylene Glycol, Octanediol, Panthenol (Vitamin B5), Citric Acid, Ethylhexylglycerin, Caprylic/Capric Triglyceride, Sodium PCA, Disodium EDTA cosDNA
My answer is no ~ The only ingredients they share is green tea (matcha) and normal ingredients that can be found in other skincare products.  I refuse to purchase anything from Krave for personal reasons, but my fellow blogger Christina Hello  also look into this and her final verdict is no (read her review here)   I agree with Christina,  B-Lab has always had minimalist packaging, including the font and then there is the fact that Krave is a gel cleanser and B-Lab is a foaming cleanser with little bits of exfoliation powder in it.
Where to Purchase
Jolse carries this as it is exclusive to them ~ $16.15 USD for  B LAB X JOLSE Limited Edition Matcha Hydrating Foam Cleanser 120 mL (click here).  You can also find other B-LAB products at Jolse, but this one is a winner for oily skin. 
All prices are in USD ~   Jolse offers free global shipping plus gives a lot of samples out ~ the more you purchase, the more samples you get! Please note that the prices do fluctuate a little bit due to the WON to USD exchange rates. Make sure to check your coupon zone (click here) for money saving discounts. You need to log into Jolse first, then download the coupons before you use them. Coupon savings usually are $5.00 off a $50.00+ purchase, 5% off $100.00+ purchase and 10$ off a $200.00+ purchase

[ products received for review purposes.  blog post contains affiliate links ]