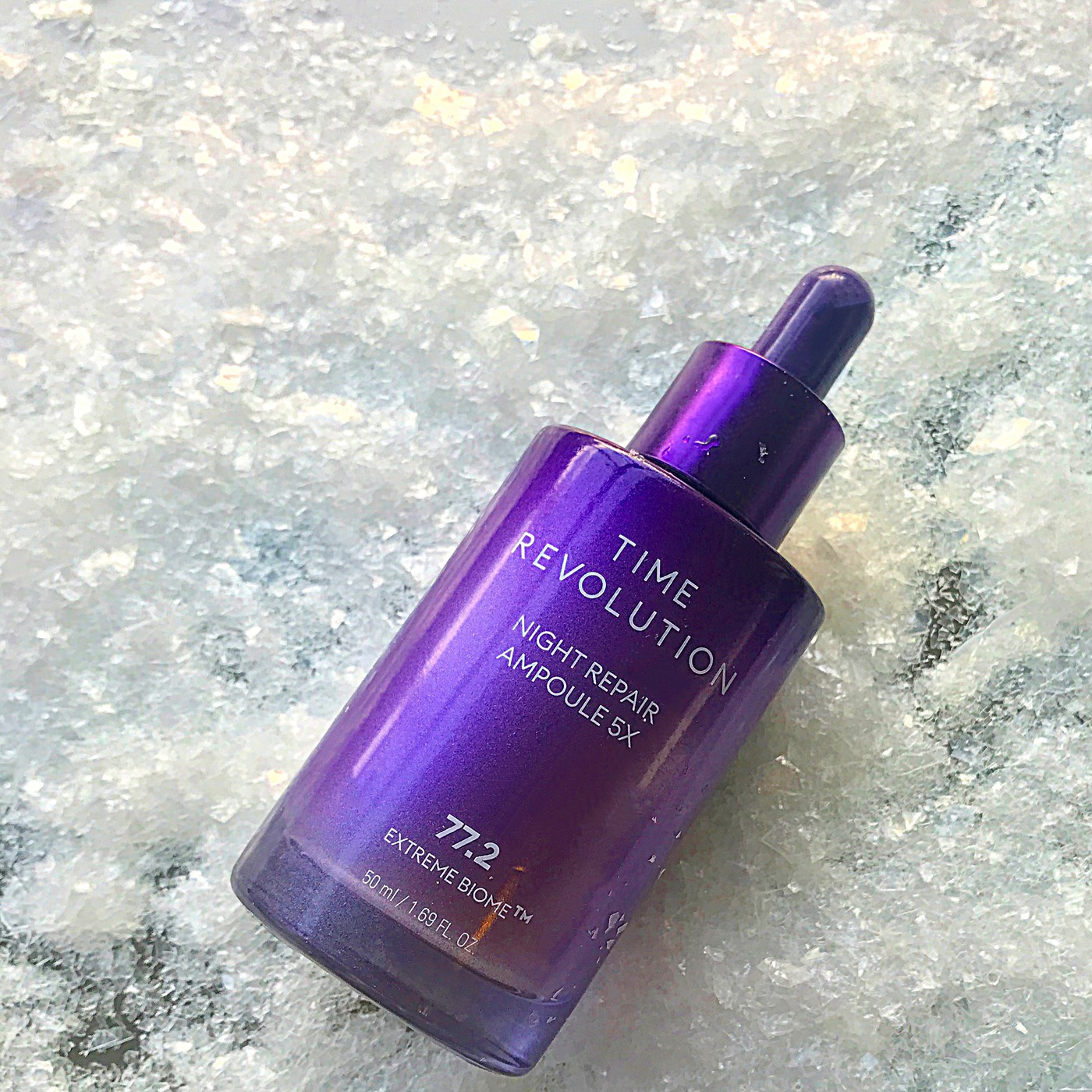 I haven't tried a lot of Missha skincare outside of their Time Revolution The First Essence  and the wonderful First Treatment Essence Lotion that is now looks to be  discontinued ~ however, I have been wanting to try the Time  Revolution Night Repair Ampoule 5X, because beauty guru FiddySnails really recommended it and I need all of the repair I can get on my skin!  I guess there was a precursor to this product, called Time Revolution Night Repair Borabit Ampoule, but I never tried it, so I will not be able to do any comparisons.  Jolse,  a premier online KBeauty store, sent me this product complementary for review purposes.
Skin Type/Concerns: oily, blemish prone, aging concerns, pores, fine lines/wrinkles, hyper-pigmentation
I received these products complementary to review and was not paid.  All reviews are my own honest opinion and  I never have been asked to write copy for a brand.  This blog post might contain promo codes, affiliate and referral links, which using my links will help generate a small commission that helps support my blog at no extra cost to you.
Key Ingredients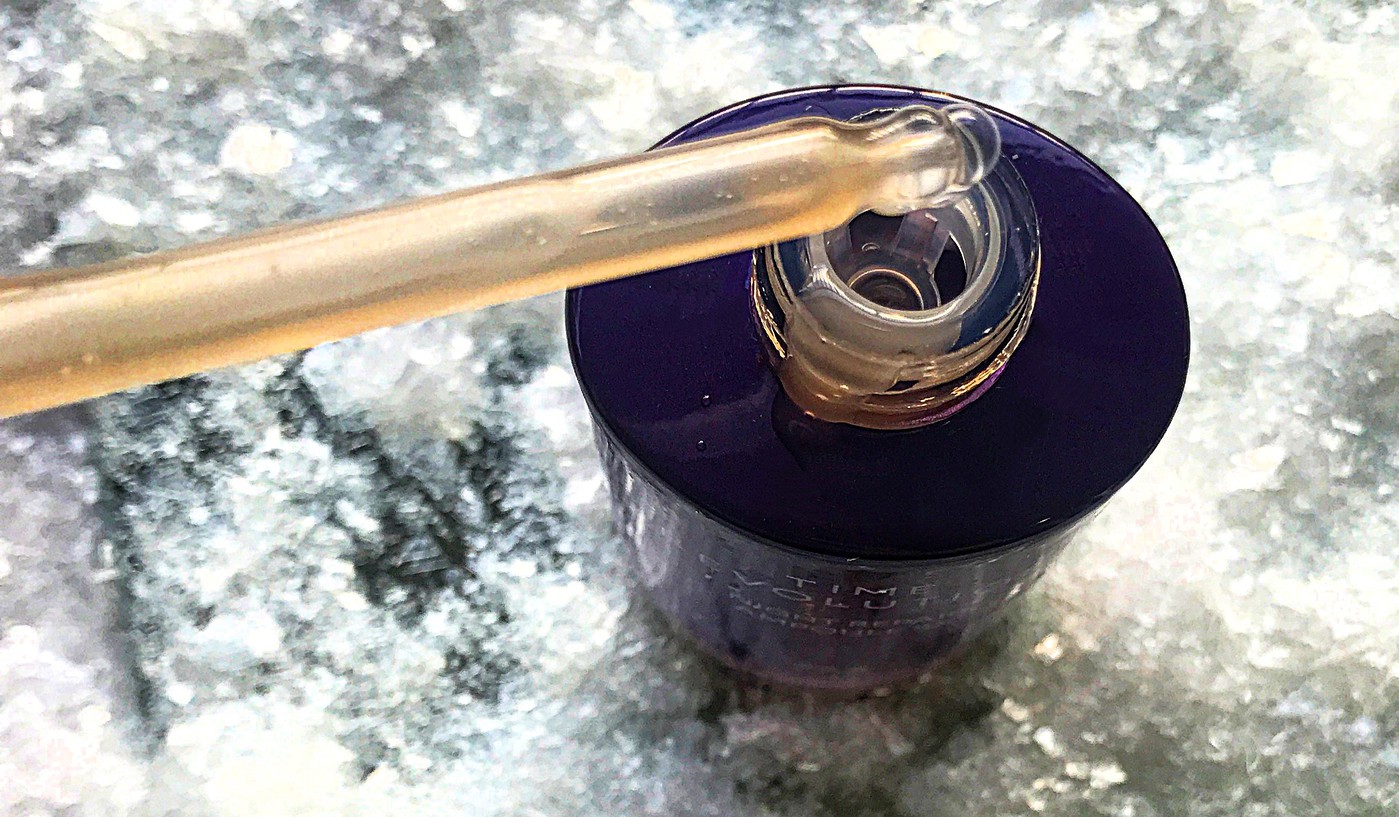 This contains 77.2% of a patented formula called  Extreme Biome™, which consists of 10 fermented ingredients ~  bifida ferment lysate, lactobacillus ferment, lactobacillus ferment lysate, bifida ferment filtrate, lactobacillus/acerola cherry ferment, lactobacillus/punica granatum fruit ferment extract, lactobacillus/soybean ferment extract, lactococcus ferment, lactococcus ferment lysate and aspergillus ferment. There are actually 11 fermented ingredients in here, but I think they aren't including the leuconostoc/radish root ferment filtrate, as that is a preservative.  Fermented ingredients, aka probiotics, are fantastic for the skin, as they keep the healthy bacteria on the surface happy, making your skin stronger and more balanced.  You need to keep your skin's micro-biome balanced, otherwise you will have a multitude of skin issues, including a weakened skin barrier.
These probiotics have undergone Missha's EXTREME FERMENT α™ Method, processing the ingredients 3 times through a special fermentation method.   It breaks down to using a special process to grow the yeast the "extreme" ingredient.  Then using a warm fermentation method at 30°C, Missha activates the 2nd step in the  fermentation process.  Finally, a low temperature vacuum ages the ingredients to concentrate the ferments, then it is extracted at low temperature and filtered.
image from missha
Using liposomes technology, Misha has created a patented stable Pro-Ferment A™ structure, consisting of phospholipids and ceramides on the outside and inside, the active ingredients.  This is more than I ever want to know about my skin care!
image from missha
So, lets talk about  the other ingredients that caught my eye.  Some great humectants  in here, to keep your skin hydrated and bind moisture to the skin ~ sodium hyaluronate, betaine, glycerin, my favorite poilyquarterium-51 and panthenol.   Amino acid adenosine help improve the reduction of wrinkles.  Skin brighting niacinamide and antioxidant vitamin E, along with a natural source of AHA, sugar cane extract, which will not only help gently soften and smooth your skin's texture, but provide hydration.
Swiftlet Bird's Nest is an ingredient that has been used by royalty and aristocrats for centuries  to help keep skin soft, smooth and moisturized.  Bird's Nest extract is made from swiflet spit and since it is also edible, it is one of the more popular ingredients in Traditional Chinese Medicine (TCM).  Bird's Nest contains EGF (epidermal growth factor) which helps repair skin and tissue and builds skin elasticity.   It is also rich in peptides, glycoproteins, antioxidants and amino acids, which help combat aging as it aids in the healthy growth of cells, healing and fights free radicals.  Are you concerned about the conservation and over-harvesting Bird's Nest in skincare and food products?  Read here to learn about how Asian countries are taking steps to conserve and protect swiftlets
Finally, lots of moisturizing lipids, with ceramides, squalane, cholesterol and sunflower seed oil,  will help retain moisture, protect the skin by forming a barrier and help heal skin.  Not to be a debbie downer, but for those who are sensitive to essential oils (I am not), this product packs them in with bergamot, orange peel, lavender, sandalwood and chamomile.
image from missha
Ingredients: Bifida Ferment Lysate, Butylene Glycol, Glycerin, Propanediol, Betaine, Water, Niacinamide, Pentylene Glycol, 1,2-Hexanediol, Diethoxyethyl Succinate, Chondrus Crispus Extract, Squalane, Panthenol, Polyglyceryl-10 Laurate, Saccharum Officinarum (Sugarcane) Extract, Hydrogenated Lecithin, Carbomer, Tromethamine, Xanthan Gum, Polyquaternium-51, Ethylhexylglycerin, Adenosine, Dextrin, Theobroma Cacao (Cocoa) Extract, Citrus Aurantium Bergamia (Bergamot) Fruit Oil, Disodium EDTA, Sodium Hyaluronate, Lactobacillus Ferment, Lactobacillus Ferment Lysate, Bifida Ferment Filtrate, Lactobacillus/Acerola Cherry Ferment, Lactobacillus/Punica Granatum Fruit Ferment Extract, Lactobacillus/Soybean Ferment Extract, Lactococcus Ferment, Lactococcus Ferment Lysate, Leuconostoc/Radish Root Ferment Filtrate, Pelargonium Graveolens Flower Oil, Beta Vulgaris (Beet) Root Extract, Brassica Oleracea Capitata (Cabbage) Leaf Extract, Daucus Carota Sativa (Carrot) Root Extract, Solanum Melongena (Eggplant) Fruit Extract, Vaccinium Angustifolium (Blueberry) Fruit Extract, Helianthus Annuus (Sunflower) Seed Oil, Citrus Aurantium Dulcis (Orange) Peel Oil, Lavandula Angustifolia (Lavender) Oil, Lupinus Albus Seed Extract, Aspergillus Ferment, Swiftlet Nest Extract, Anthemis Nobilis Flower Oil, Santalum Album (Sandalwood) Oil, Tocopherol, Ceramide NP, Cholesterol  cosDNA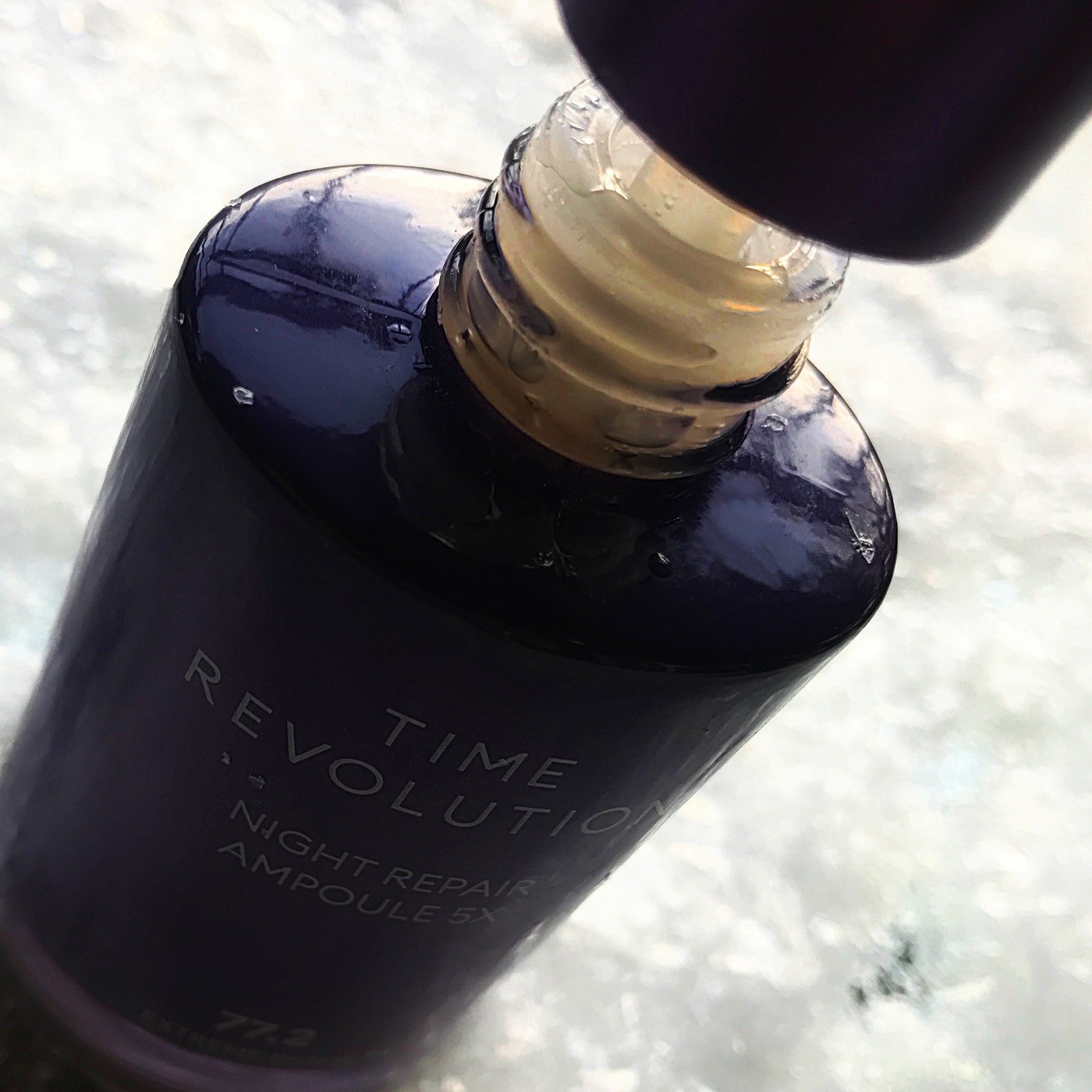 Missha Time Revolution Night Repair Ampoule 5X comes in a beautiful plum colored glass bottle that is reflective, so it changes to various shades of purple in the light. The metal ring around the eye drop applicator is a metallic plum and even the rubber bulb is plum colored.  It is just so pretty!  Despite all of the EO's in this product, this doesn't really have a heavy scent ~ it is a light herbal fragrance that is quite pleasing

This has a beautiful color and texture to it ~ the lightweight gel serum is a pale amber shade and it isn't that thick.  In fact, I found it was quite liquidy once on the skin.  It absorbs nicely, but if I use too much, my skin will be a bit sticky, so I do try and make sure to wait for it to dry on my skin if I want to add more.  Right away, I can feel how soft, supple and moisturized my skin is. I also can feel that protective film on my skin, which is great for a night product.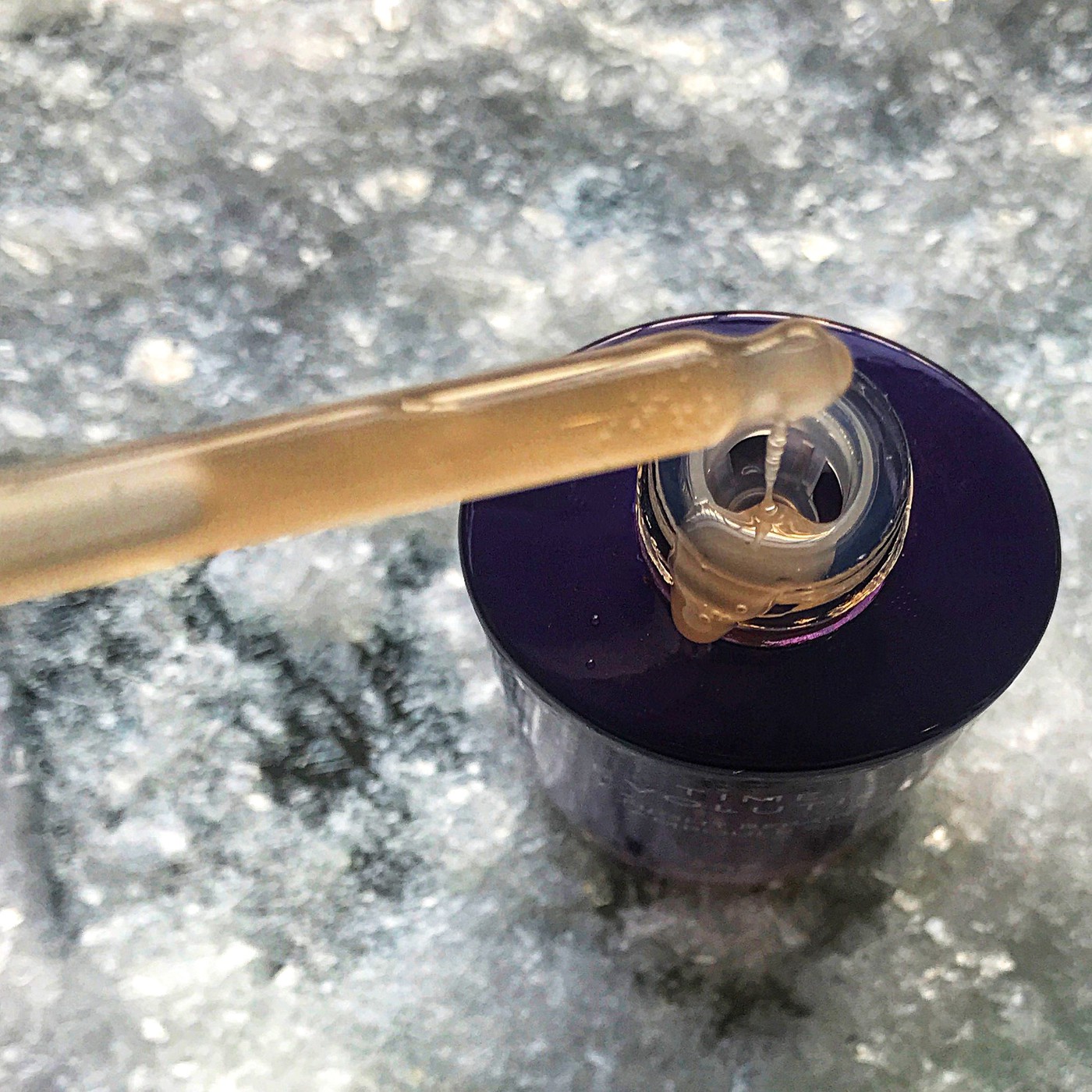 In the morning, my skin is still hydrated and soft.  My skin looks so much more refreshed and I have used this alone, to ensure that it was this product.  I love using this after I use my tret treatment, layering it on top of it, as tret can leave my skin flakey and dehydrated. With this product, it helps keep my skin moisturized and when my skin is moisturized properly, it also has a nice healthy glow as well.
 I don't notice any firmness at all, but I have a fat face, so that would be a bit difficult to see that.   I do know this really keeps my skin fresh and moisturized, and I do not suffer from dryness from my tretinol treatment nor this awful dry winter I am experiencing right now.   I have used this in warmer months too, and it works great as well ~ no oily skin or clogged pores in the morning.    I think all skin types can use this and you can just add the moisturizer of your choice over this to adjust for your skin type needs. 
Where to Purchase
Jolse carries Missha's Time Revolution 5X series, including the Time Revolution Night Repair Ampoule 5X ~ at the time this blog post was published, they are having a sale on Missha products, so you can get the Night Repair 5X at a price of  $24.00 for 50mL (click here);   normally it is around $42.00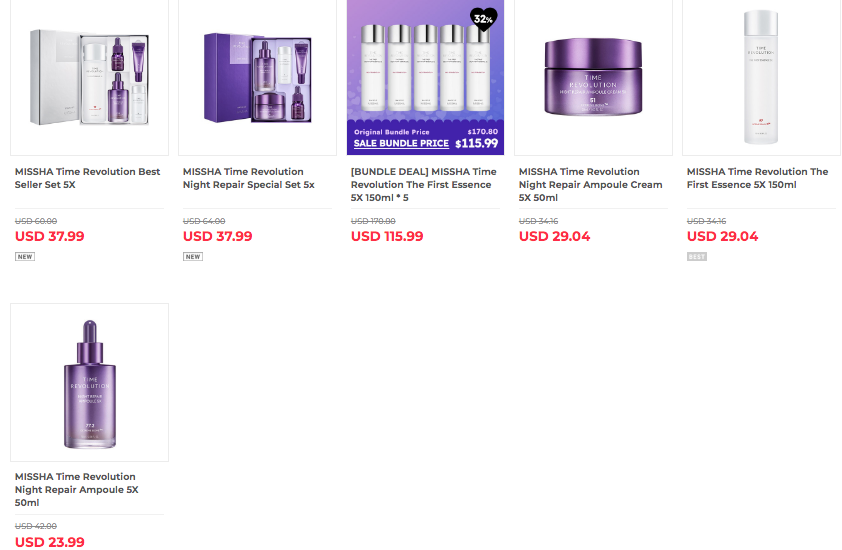 All prices are in USD ~   Jolse offers free global shipping plus gives a lot of samples out ~ the more you purchase, the more samples you get! Please note that the prices do fluctuate a little bit due to the WON to USD exchange rates. Make sure to check your coupon zone (click here) for money saving discounts. You need to log into Jolse first, then download the coupons before you use them. Coupon savings usually are $5.00 off a $50.00+ purchase, 5% off $100.00+ purchase and 10$ off a $200.00+ purchase

[ products received for review purposes.  blog post contains affiliate links ]