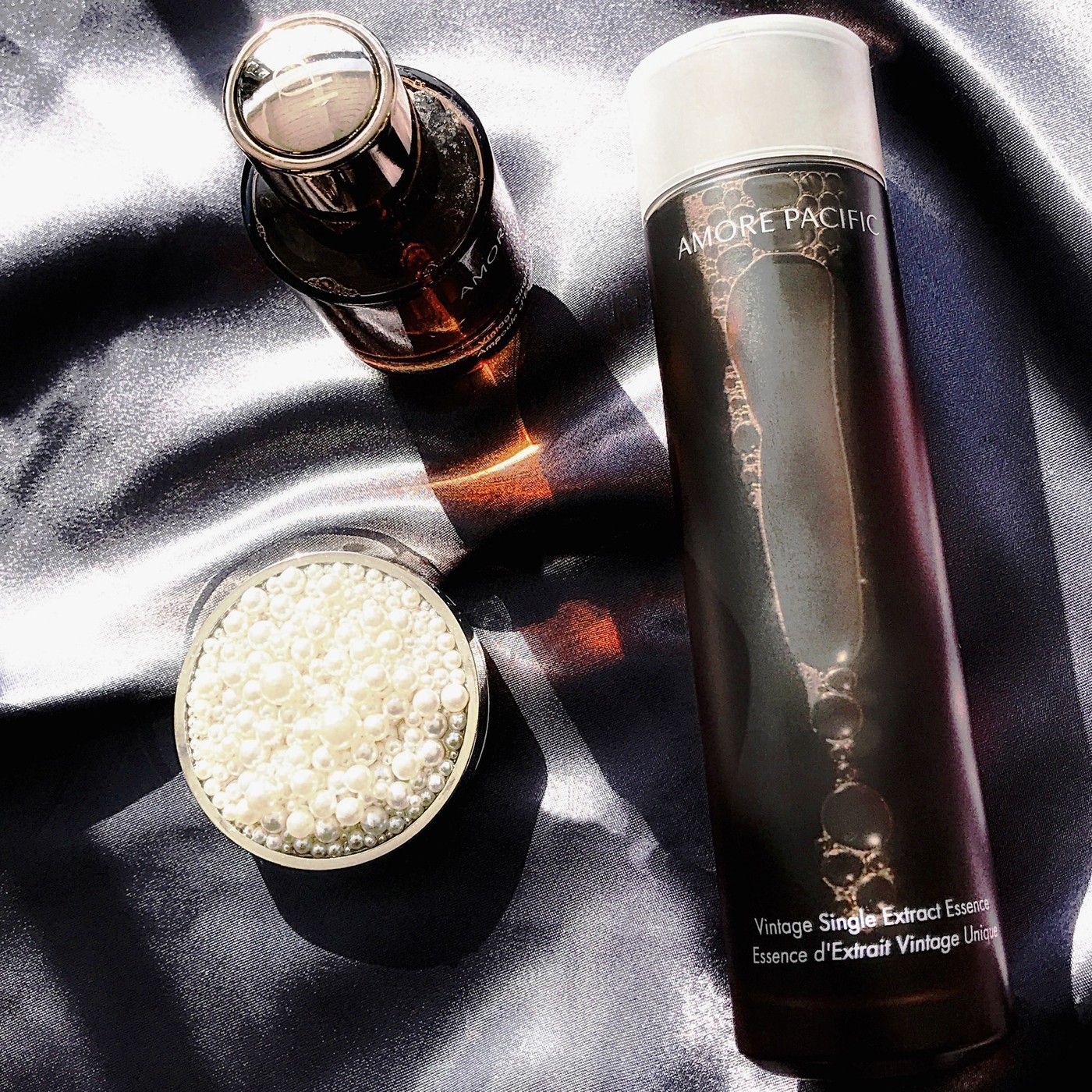 AmorePacific was the first K-Beauty brand I tried without really recognizing or understanding that it was a Korean skincare brand and how K-Beauty would change how I feel about my skin forever.   I love and adore their  Enzyme Treatment Peel  and have tried a few other things from them (reviews here).  One of my favorite products from AmorePacific is their Vintage Single Extract Essence and now there is a Vintage Single Extract Ampoule!!  AmorePacific sent me these products for review purposes. 
I received some of these products complementary to review and was not paid.  All reviews are my own honest opinion and  I never have been asked to write copy for a brand.  This blog post might contain promo codes, affiliate and referral links, which using my links will help generate a small commission that helps support my blog at no extra cost to you.
My skin type and concerns:  Oily, aging, dehydrated, blemish prone, pores, hyper-pigmentation, fine lines and wrinkles.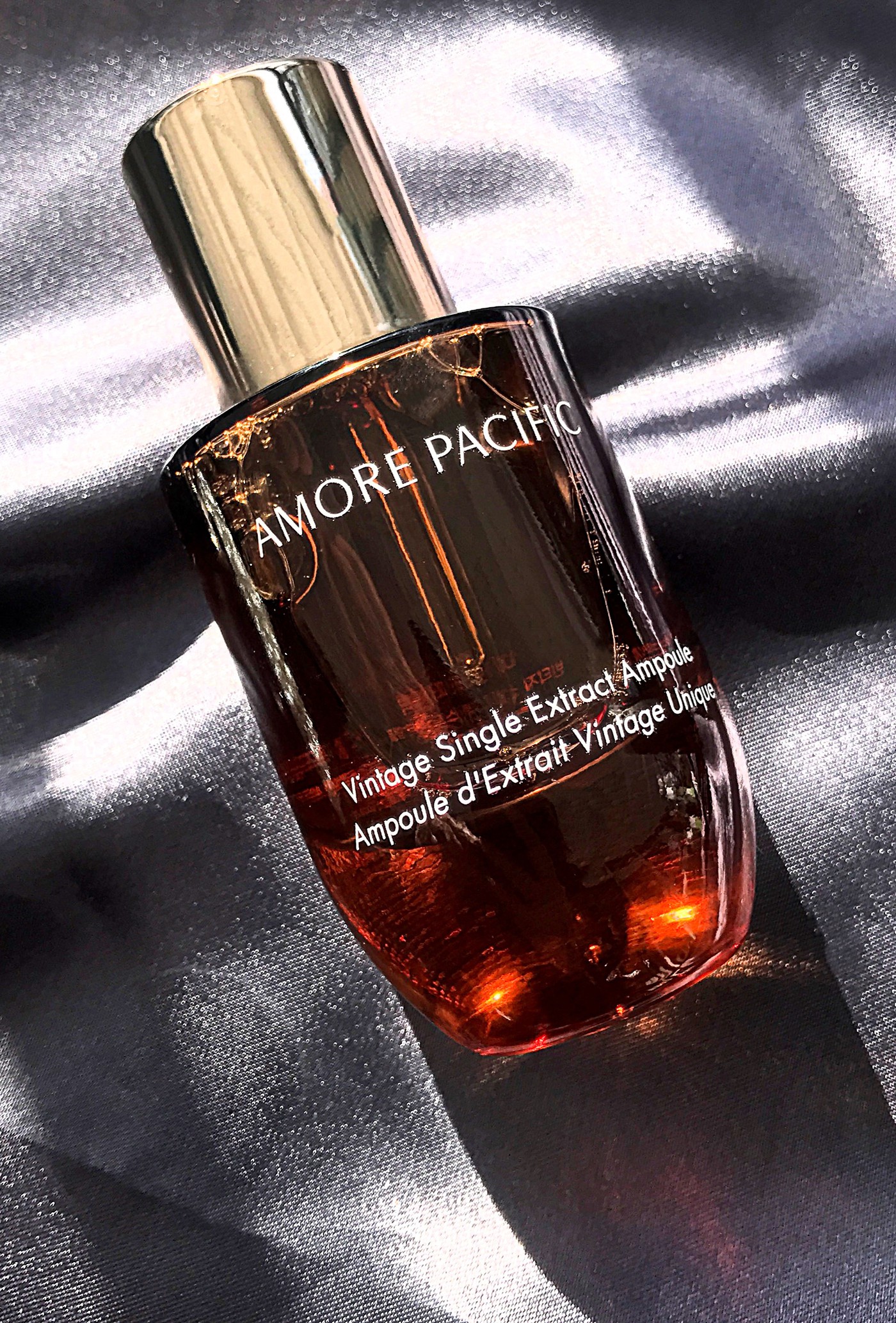 Brand NEW!!  The Vintage Single Extract Ampoule is not made with green tea, like the essence, but camellia japonica extracts.  Camellia japonica, also known as Tsubaki,  is the Japanese native form of the plant Camellia. It is a rich source of antioxidants and vitamins along with lipids phytosqualene  and Omega-6 fatty acids. These ingredients can provide skin-enhancing benefits such as antioxidant protection, moisturizing properties and boost skin hydration. This ampoule is full of concentrated Winter Camellia Flower extracts, including the seed oil.  There is also glycerin, that hydrating humectant that will bind moisture to your skin. 
Ingredients: water, glycerin, propanediol, dipropylene glycol, polyglycerin-3, 1,2-hexanediol, camellia japonica flower extract, ethylhexylglycerin, camellia japonica seed oil cosDNA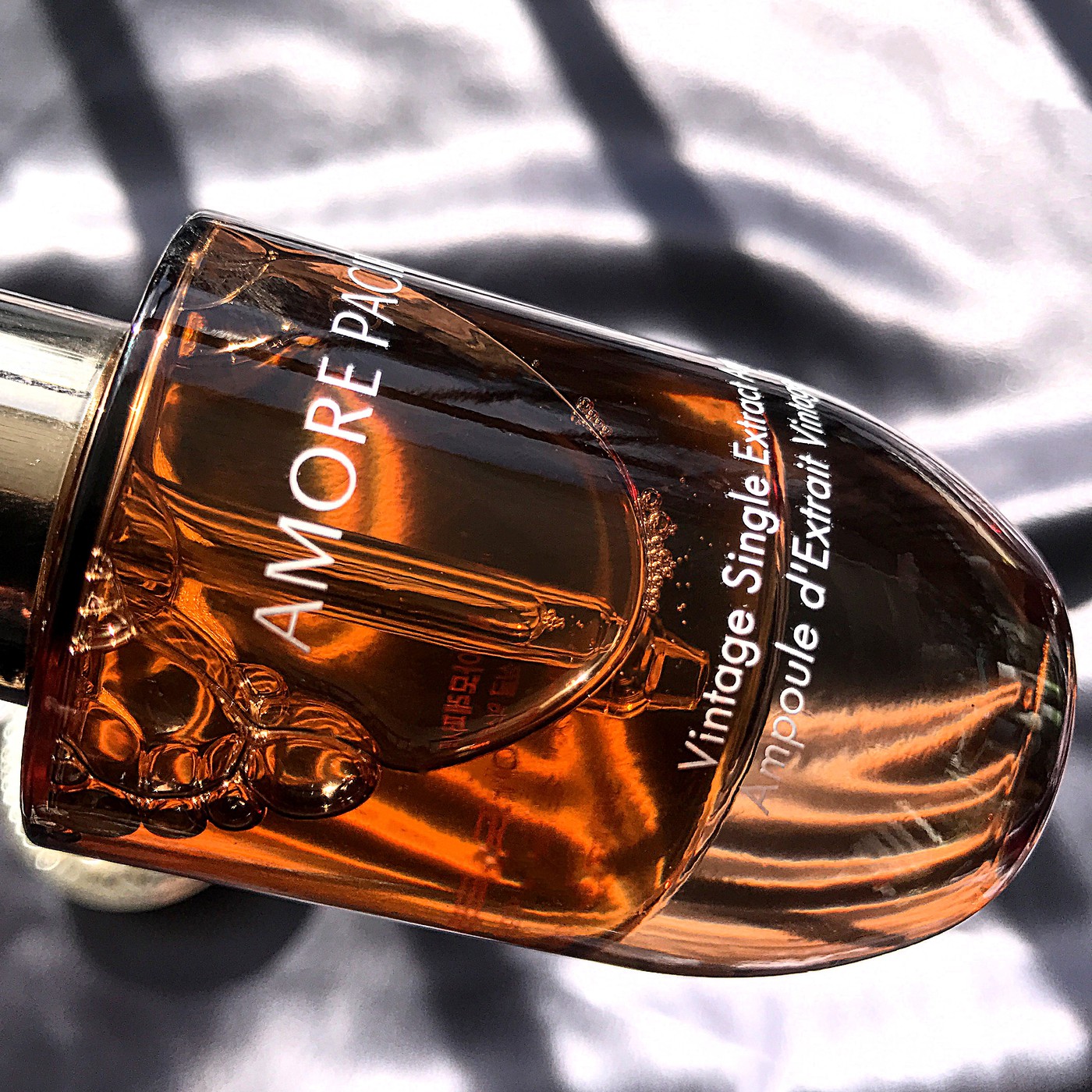 The packaging is outstanding.  AmorePacific never fails to impress me with their packaging and this little golden brown jar of a watery oil is no exception.  Please note, that the lower third of this glass bottle is glass ~ it is so the bottle is weighted and won't tip over easily.  The golden cap is a twist and pop up for extracting the liquid in the glass pipette.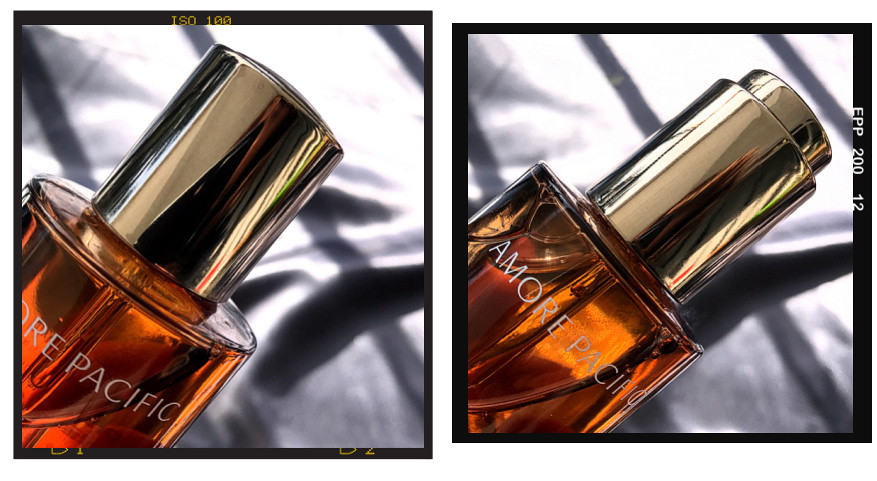 This is very watery, yet I can tell it is a an oil ~ but it isn't greasy or heavy. This is very lightweight and perfect for those who are looking for a lighter oil texture that won't cause the skin to look shiny. 

This really helps put a lovely glow to my skin, without greasiness, along with the benefits of both hydration and  emollients.  This is an oil for those of us who do not care for oils at all, as it has the benefits of an oil, but the texture of a lovely watery serum.  In fact, I have used this with just the AmorePacific Single Vintage Essence, eye cream and a sunscreen for a daily skincare routine and it keeps my oily, dehydrated skin very happy, radiant and softens fine lines.  This ampoule doesn't seem to have a fragrance either, which is surprising from AmorePacific ~ not complaining one bit here about that.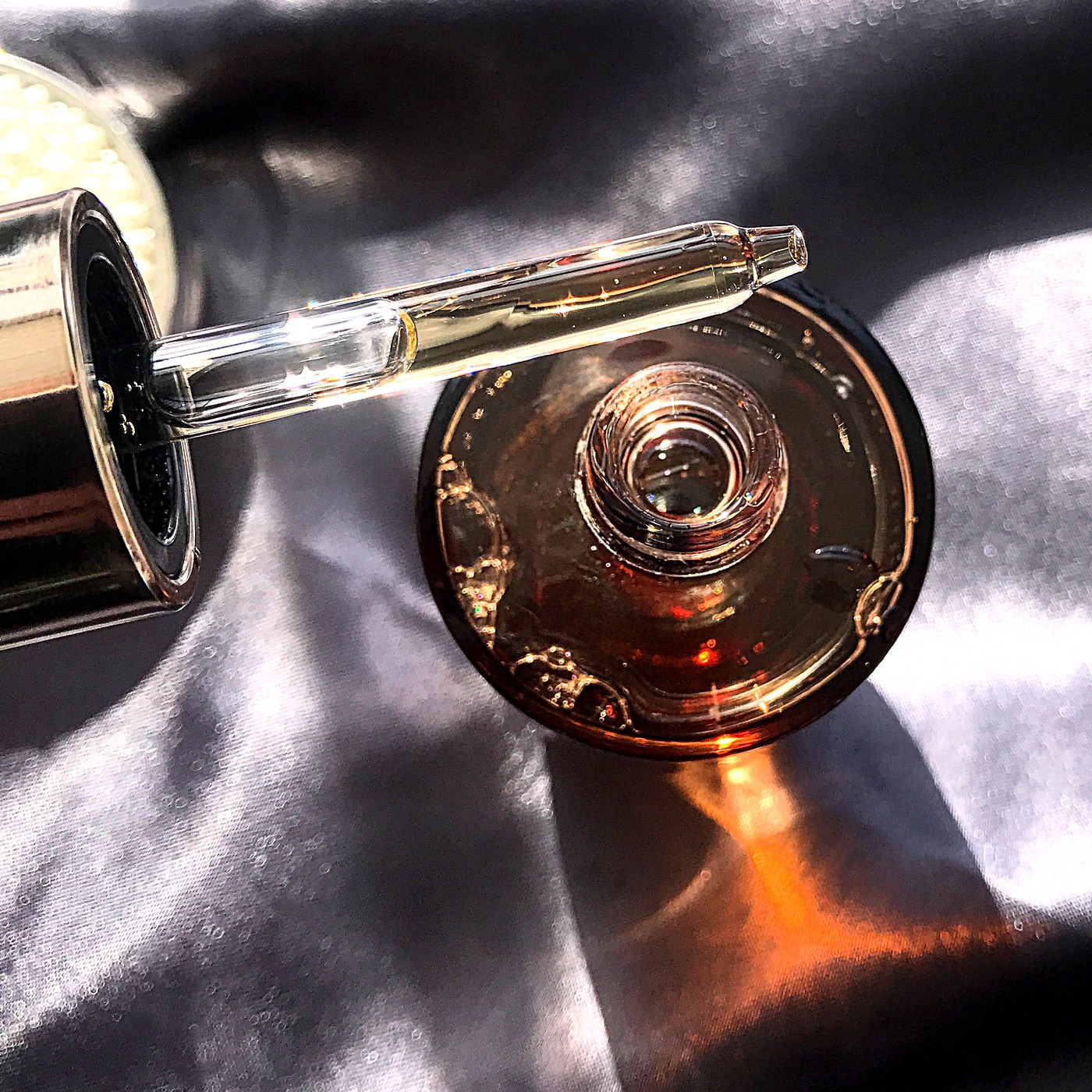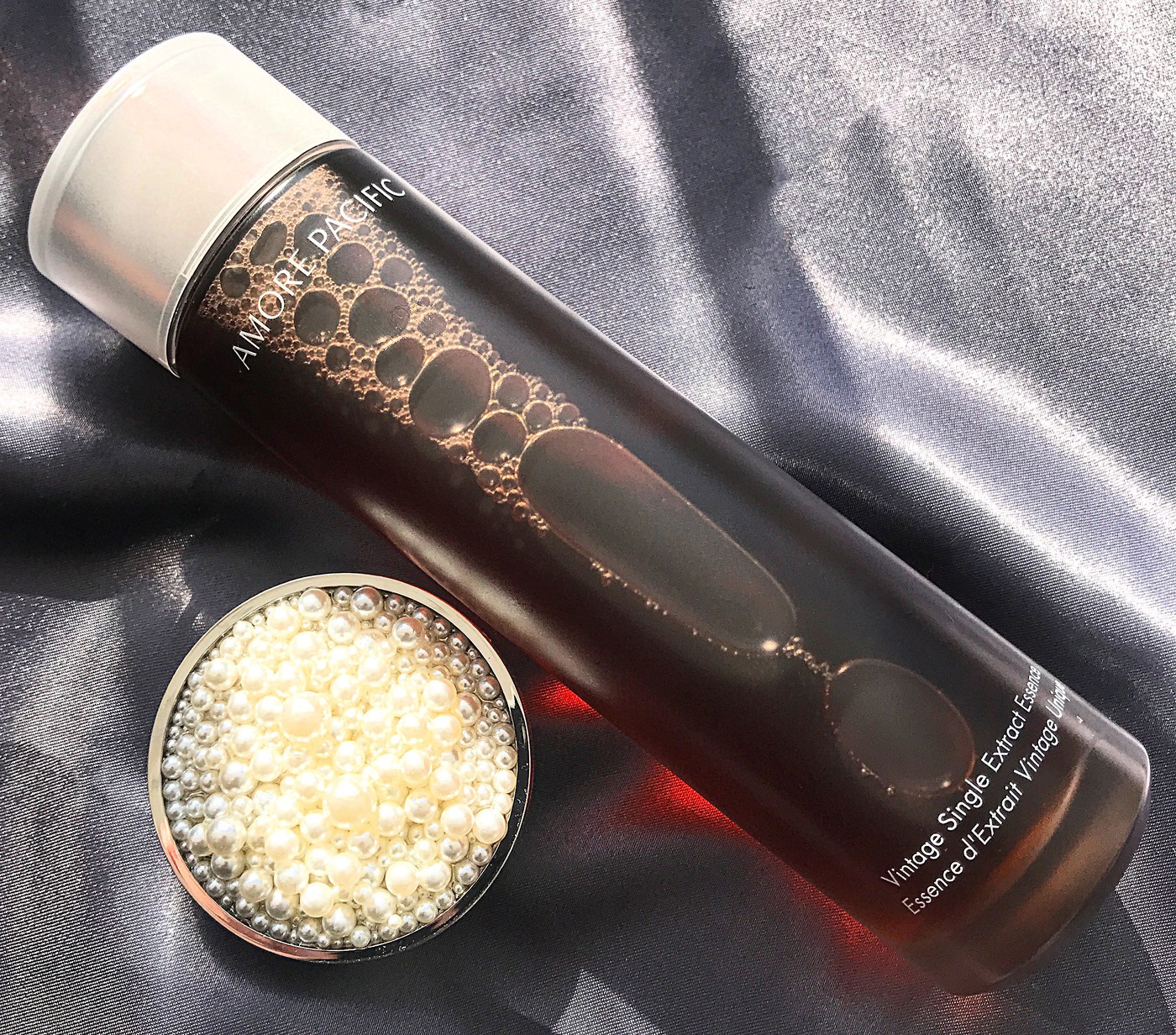 The AmorePacific Vintage Single Extract Essence is made with green tea. The most interesting thing about this essence is how they make it!! AmorePacific has their own garden for green tea ~ Dolsongi Green Tea Garden on Jeju Island. The green tea leaves are HANDPICKED carefully … Jude at Fifty Shades of Snail wrote that the scientists only pick the leaves with their LEFT hand to minimize damage, and then naturally fermented for 50 days, transferred to traditional Korean non-sealed finishing glaze pots  ~ onggi 옹기 ~ made by Jeju artisans with the local clay.
image from amorepacific
These jars are then placed in a secluded areas in the garden, surrounded by camphor trees, where the fermented leaves will absorb the aroma of the trees for another 50 days. After that, AmorePacific will extract the fermented liquid using a 24 hour slow extraction process ~ the Full Body Extraction™.  This extract will improve the skin's antioxidant level by 5.9 times, based on measuring the antioxidant catalase activity on the forearm, via a 4 week clinical trial. 
image from amorepacific 
This golden brown liquid is poured into Amore Pacific's Vintage Single Extract Essence which sounds like a drink. The fermented green tea liquid contains catechin, which will help improve your skin's clarity, texture and elasticity, while its prebiotics help with anti-aging concerns and help create a healthy micro-biome for your skin as it will nourish the good bacteria that lives on your skin.
Ingredients: Water, Propanediol, Glycerin, Camellia Sinensis Leaf Extract, 1,2-Hexanediol, Ethylhexylglycerin cosDNA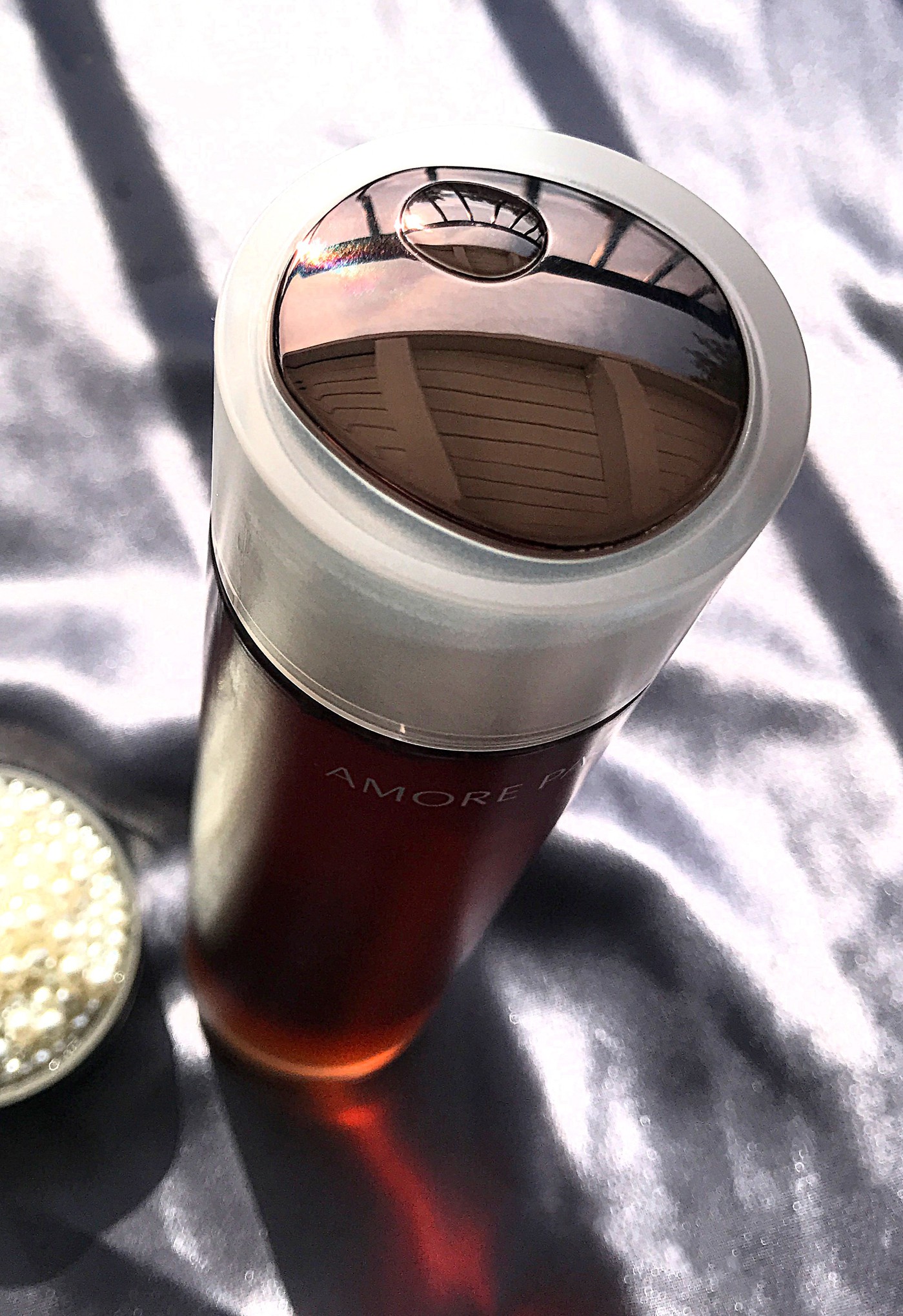 This bottle is beautiful ~ frosted glass, with a frosted cap topped with a bronze lid. The liquid is a light golden brown and its scent is a warm earthy smell, a welcome reprise from the strong florals that Amore Pacific likes so much ~ if only all their skincare could smell like this!!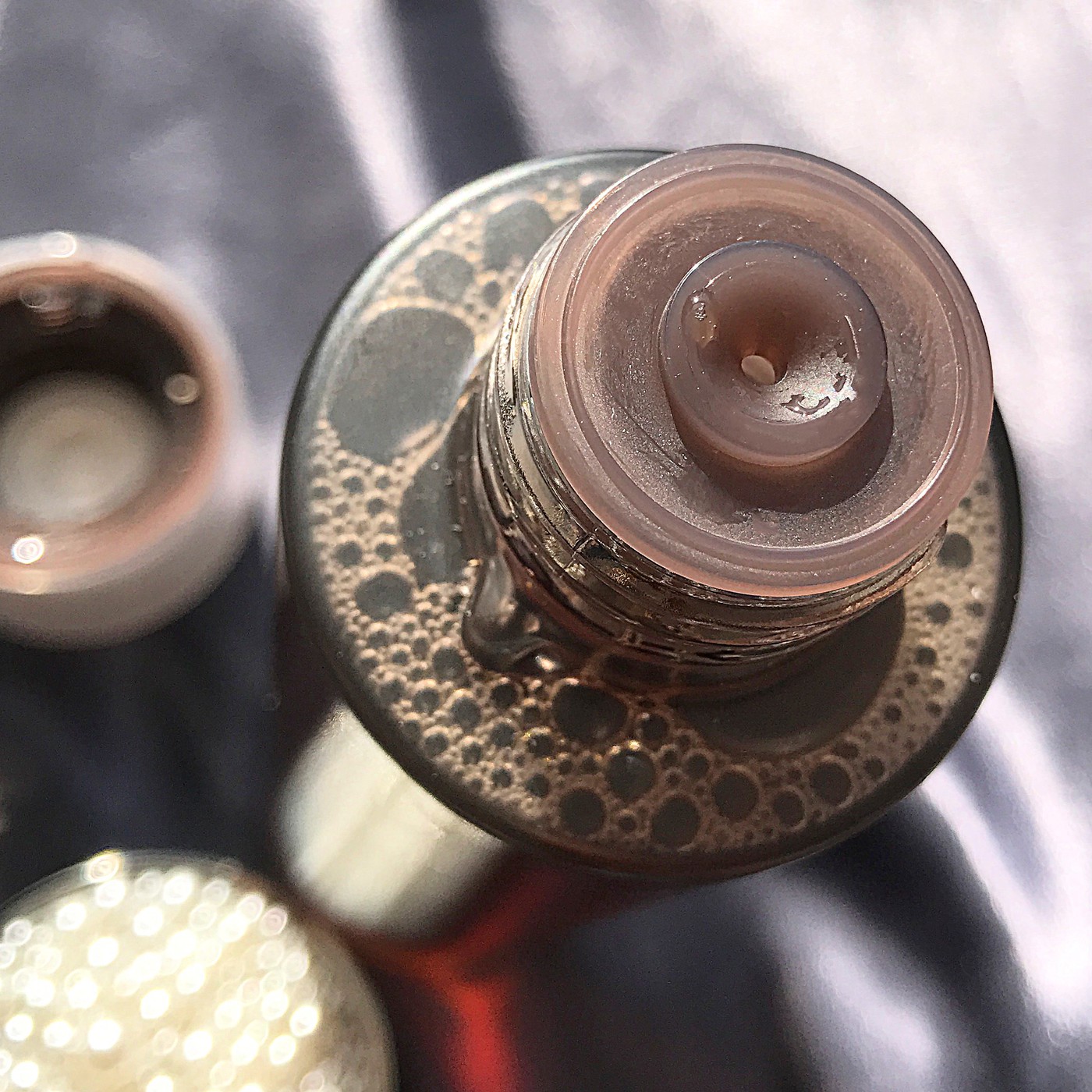 This has a pH level of a 5.5 and it is hydrating ~ increasing my moisture levels by 24% but it really shines ~ see what I did there? ~  as an oil controlling product,  as my skin is not as oily.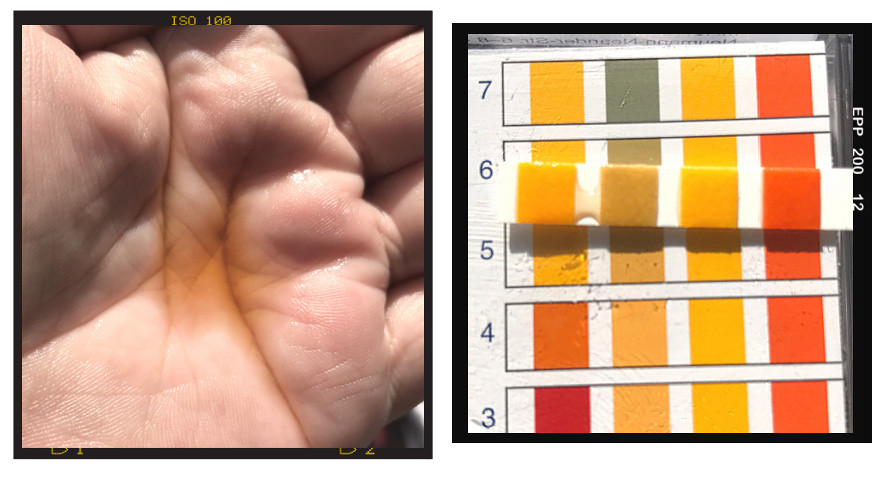 This essence takes time to work, as it is so gentle ~ but within a month, this helped increase the clarify of my skin, making it look cleaner and brighter, softer and smoother ~ which is what most FTE's should do! It also helped with my oiliness on my skin ~ I have very oily skin, so even though this felt like splashing water on my face, it did help with reducing the oil shine. There was no sticky or filmy feeling on my skin and no irritation.  I have used another full sized and smaller sized bottle since my first review of this essence and I will have to say it is worth the money in you can afford it.   It has gone up in price in the last couple of years by $30.00
If you cannot afford it, Naruko's Miracle Essence was a game changer for me within a month (review here) and that is much less expensive. However, AmorePacific's Vintage Single Extract Essence has been in my skincare routine for almost two years now, so I have to say that I love it almost as much as Naruko.   It does what a good essence should do, and that scent is heavenly.   
Where To Purchase
AmorePacific USA has its own store and they always have free shipping, free samples and Gift With Purchases specials going  on.  Get a complimentary deluxe sample by using my referral link with your first purchase.  
Sephora carries a huge line of AmorePacific products and Sephora can ship internationally to selected countries. 
[ disclaimer:  blog post contains products received for review purposes and affiliate links ]