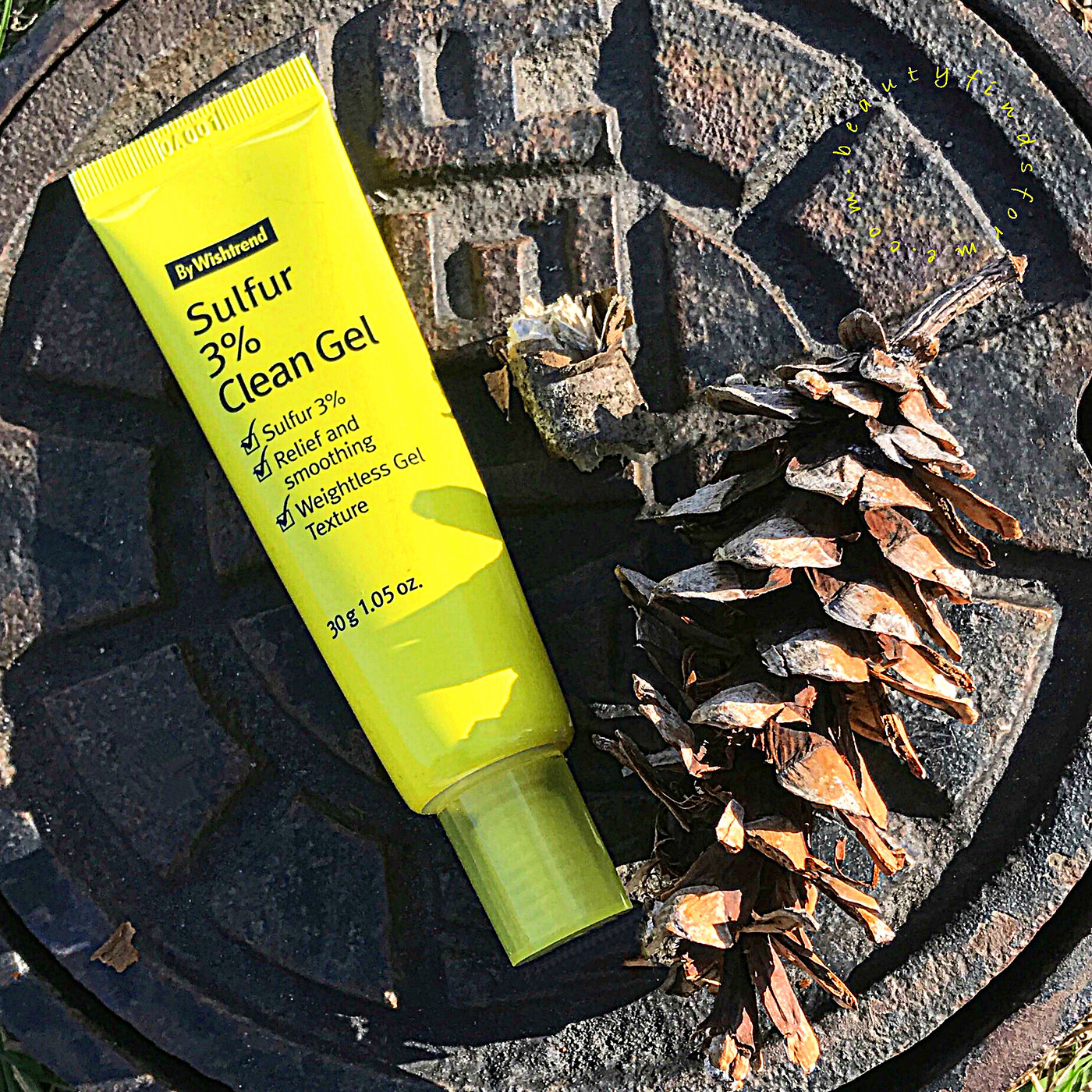 Continuing on with my new releases at Wishtrend, I have another review for you by the brand By Wishtrend.  To recap, I received several products from Wishtrend for review purposes.  Some are brand new
Plus a couple of items that I really wanted to do a review on
I have already reviewed the Klairs products here and this review will focus on the By Wishtrend Sulfur 3% Clean Gel.   By Wishtrend has made some great products this past year, such as the Acid Duo line and their Mandelic Acid 5% Skin Prep Water is HG status for me ~ see all my By Wishtrend reviews here.  
Skin Type/Concerns: oily, blemish prone, aging concerns, pores, fine lines/wrinkles, hyper-pigmentation
I received these products complementary to review and was not paid.  All reviews are my own honest opinion and  I never have been asked to write copy for a brand.  This blog post might contain promo codes, affiliate and referral links, which using my links will help generate a small commission that helps support my blog at no extra cost to you. 
The key ingredient in this product is collodial sulfur, 3% in fact ~ this is a blemish busting ingredient and it will dry up and heal your acne.  It has antibacterial, anti-inflammatory, antibiotic and anti fungal benefits, so it will help prevent infections on your skin.  It is a potent ingredient as it does disinfect and purify your skin.  It penetrates pores, dries and heals out blemishes and unclogs congested pores.  Sulfur should not be used for dry skin types, in fact, this product states it is for oily skin ~ sulfur has a drying effect to absorb excess oil and it does thin out your epidermis, which does lead to cellular turnover.  It penetrates pores, dries out blemishes and unclogs congested pores.

However, By Wishtrend has added humectants, emollients and moisturizers in here ~ butylene glycol, glycerin, glyceryl stearate, dicaprylyl carbonate, ethylhexylglycerin  and sodium hyaluronate.   There are silicones in here ~ vinyl dimethicone/methicone silsesquioxane crosspolymer and methyltrimethicone.  These ingredients provide moisture and a silky smooth texture ~ however, for blemish products, I normally side-eye silicone ingredients or any ingredient that creates a protective film/barrier on your skin.  This means it will also trap everything that is underneath it, like pus, dirt, oil and debris.  However, because sulfur is a purifying and disinfecting ingredient, this is actually a good thing to have in here.  That means the silicons will trap all of that gunk and the sulfur will zap it into oblivion.  
There is also alcohol in here, but that is to help thin out this gel. It is also one of the last ingredients in the list, so it isn't as if there is a lot of alcohol in here.  This product is cruelty free and vegan.

Ingredients: Water, Methyl Trimethicone, Butylene Glycol, Glycerin, Sulfur (3%), Acacia Senegal Gum, 1,2-Hexanediol, Cetearyl Alcohol, Sorbitan Isostearate, Polyglyceryl-3 Methylglucose Distearate, Glyceryl Stearate, Dicaprylyl Carbonate, Sodium Hyaluronate, Tocopherol, Caprylyl/Capryl Glucoside, Xanthan Gum, Ammonium Acryloyldimethyltaurate/VP Copolymer, Hydroxyethyl Acrylate/Sodium Acryloyldimethyl Taurate Copolymer, Vinyl Dimethicone/Methicone Silsesquioxane Crosspolymer, Denatonium Benzoate, Disodium EDTA, Alcohol, Ethylhexylglycerin cosDNA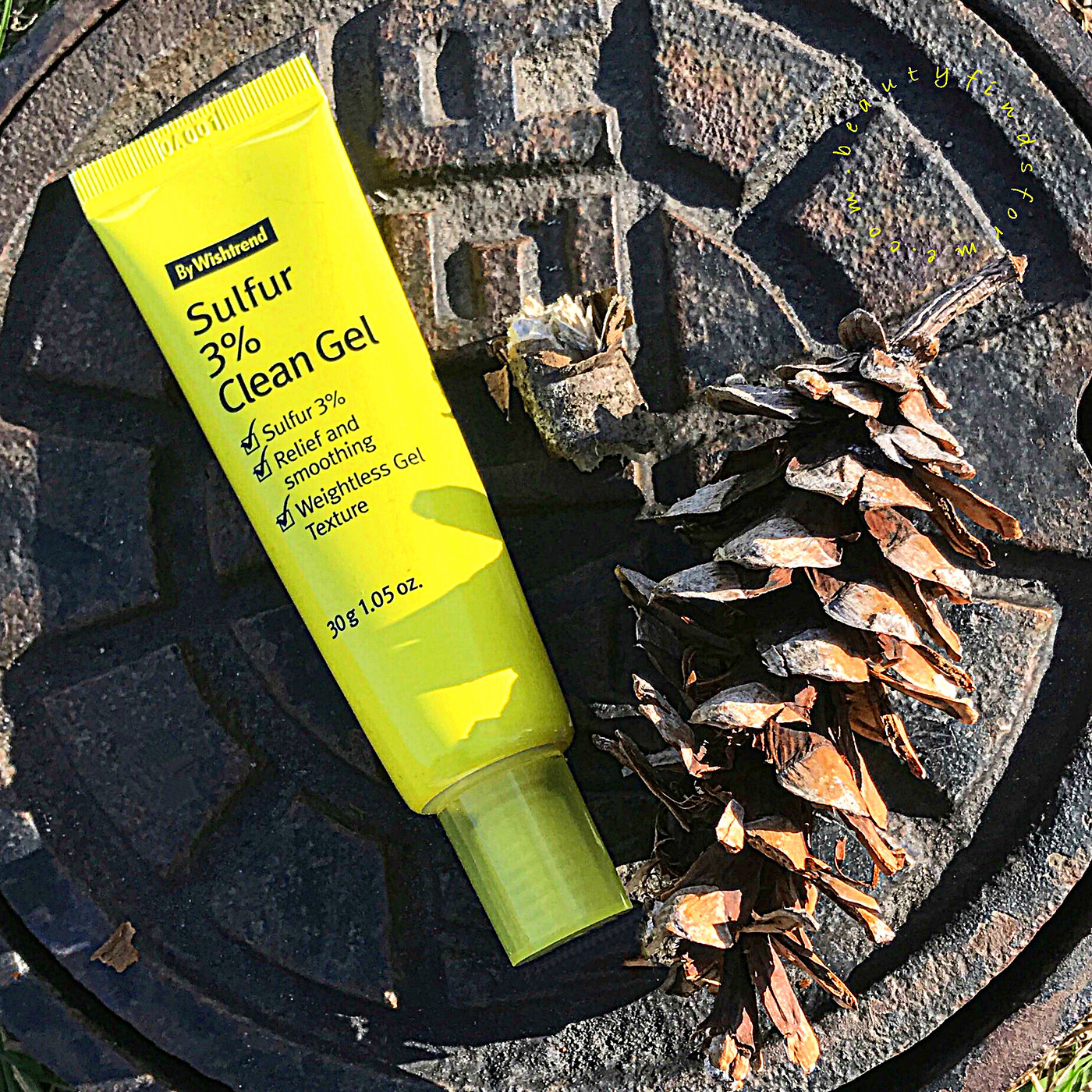 The whole purpose of this gel cream treatment is to reduce your oil and dry out your pimples.  In my opinion, this is not to be used in place of a sleep pack, it is not to be used for a long term basis and only for those pimples that are already or about to come to a head.   By Wishtrend states you can use it all over your face, but that would be a last resort and for those who suffer from wide-scale facial acne.  For that, however, I would recommend you talk to a dermatologist, as there might be better options for you.  It comes in a yellow 30 mL flexible plastic tube that has a pointed tip.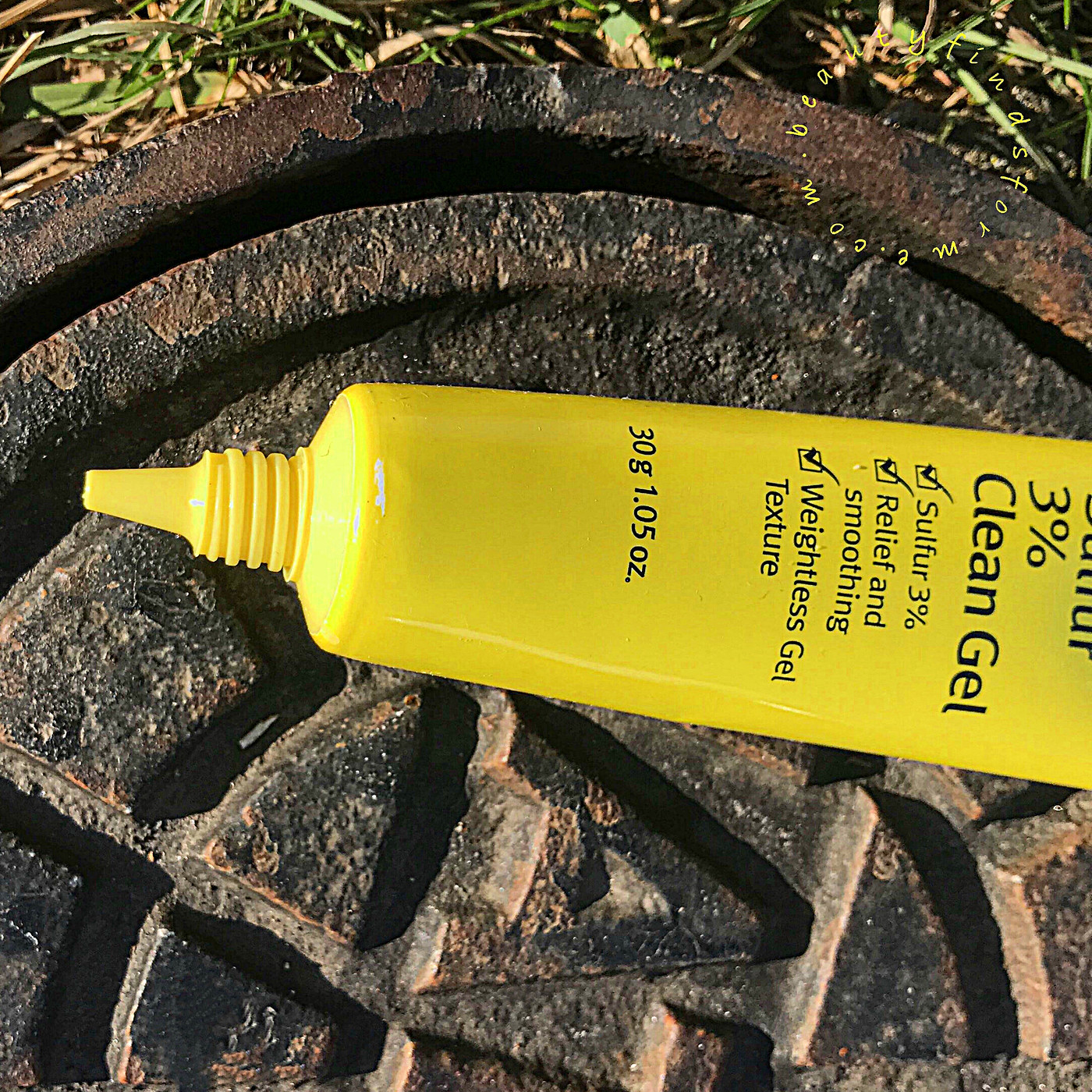 The texture is buttery smooth, very lightweight and it is an pale yellow gel that spreads easily and absorbs quickly into my skin.  It does mattify my skin where I apply it.   Now some people have remarked this smells like sulfur, but I really don't smell that at all. Sulfur smells like rotten eggs and whereas I pick up a faint medical scent only,  just keep this in mind as some reviewers do pick up the sulfur scent.   

I have used this on my chin area as I have been breaking out on the "crease".  This helped drastically reduce the redness and on some whiteheads, it pulled the gunk closer to the skin, so I was able to either "wash" it away with a good facial scrub or slap a pimple patch over it to finish it off.   This product did dry out my skin where I applied it for several days, so I made sure to moisturize my skin quite well before applying this product.   This is no different from other sulfur treatments I have tried, so I was expecting a little dryness.  
By Wishtrend Sulfur 3% Clean Gel is a great spot treatment for oily, blemished skin.  I am not breaking out as much anymore, but I still can expect pimples several times a month, so I am glad to have a spot treatment on hand.  I think I will always have a need for blemish products since my skin is so oily around the T-Zone and age doesn't seem to be slowing that oil production down one bit!  
Wishtrend carries By Wishtrend Sulfur 3% Clean Gel 30mL tube for $21.00 (click here to purchase).  Save an additional 10% with my affiliate code of UNBOXINGWISHTREND.  Have you tried sulfur treatments before?  How did they work for you?
disclaimer: this product was sent to me for review purposes. blog post may contain affiliation links. all opinions are my own and are unbiased