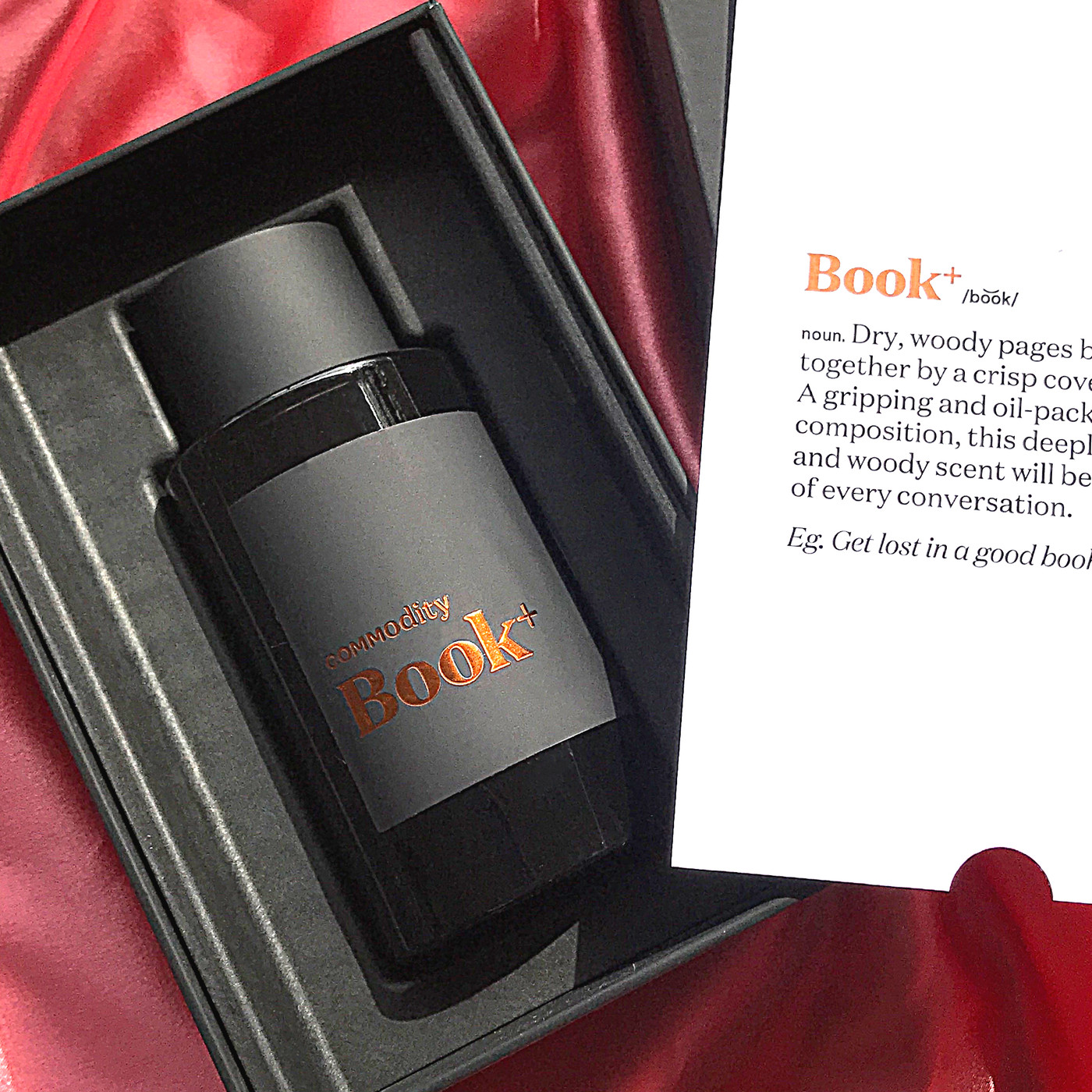 I love Commodity fragrances  and was so devastated  when they shut down a few years ago.  Last year, they reopened in a limited fashion and now, they have totally relaunched and revamped their lineup of fragrances (read reviews here).   They have come up with a new concept called The Scent Space and each of their fragrances has three scent projections.  Commodity had already sent me their Expressive Milk and Paper for review purposes (review here) and now I have the Bold Book (Book+)
I received these products complementary to review and was not paid.  All reviews are my own honest opinion and  I never have been asked to write copy for a brand.  This blog post might contain promo codes, affiliate and referral links, which using my links will help generate a small commission that helps support my blog at no extra cost to you.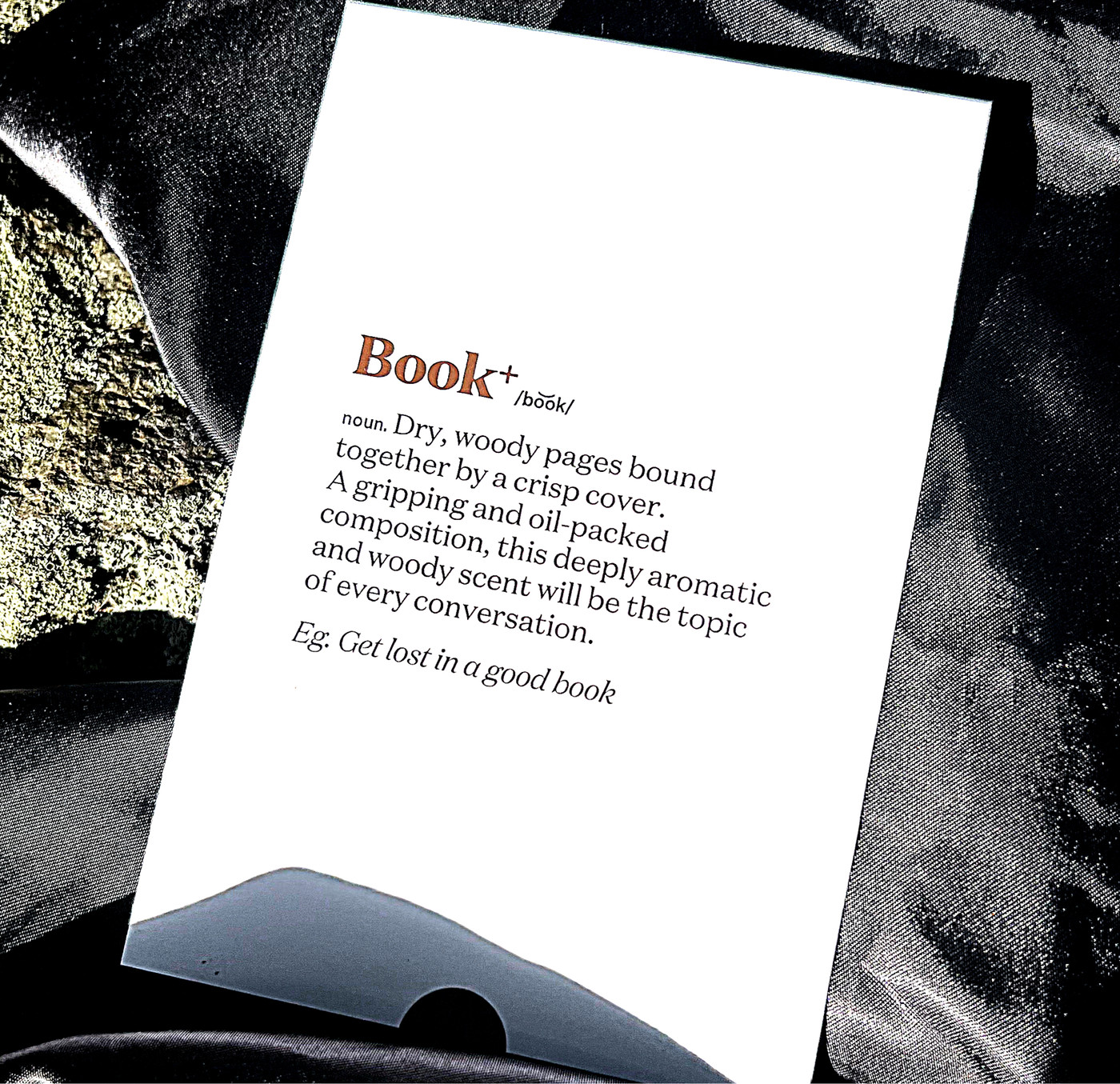 What is Scent Space?  It is the projection of your fragrance, how much space your scent takes up and who experiences your scent.   Think of it like Eau de Toilette vs Eau de Parfum, only not so ambiguous.  Each Commodity fragrance has three different scent space classifications
Personal (-):  A softer, more intimate fragrance that only you and those who are very close to you.  These fragrances have a memory of the Expressive version, embodying the concept of less is more.  Personal fragrances are housed in a clear glass bottle with white label and silver lettering.

Expressive

:

  This is the original Commodity fragrance scent, a perfect mix of longevity and projection ~ they won't overpower any space, but you will be noticed.  Expressive fragrances are housed in an opaque black bottle with black labels and white lettering.
Bold (+):  Kick it up a notch with Bold ~ with more exotic notes, these are ramped and amped up Expressive fragrances.  These are not for the fainthearted ~ you want to be KNOWN when you walk into a room.  Bold fragrances are housed in an opaque black bottle with black labels and gold lettering.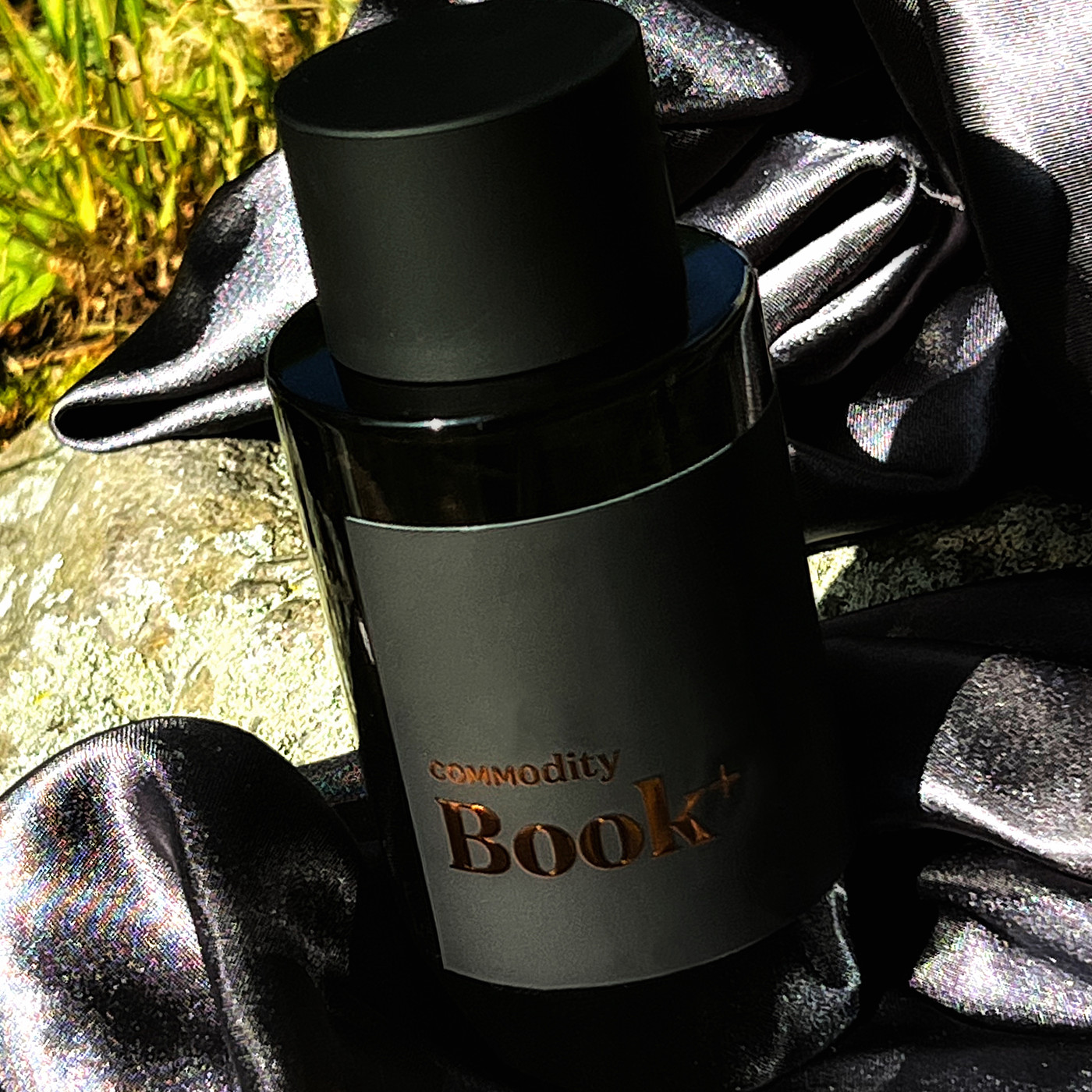 The packaging for the Commodity fragrances are  now longer the squat cylinder shape, but a tall cylinder shape, made of heavy glass. The caps are very heavy and once you put the cap on, it STAYS on.  It has a nice snug fit.  I love the black glass too ~ in the sunlight, it comes out to a blackish-brown, reminding me of obsidian.
The Maker: Jerome Epinette
"The original book was inspired by turning the pages and breathing in the smell of dry paper mingling in with the open fresh air. In Book Bold, I also used this as inspiration, but wanted to create a more expressive experience. I amplified the eucalyptus and cedar notes of Book Personal by layering in violet and earthy, deep vetiver root creating a more intense version for the wearer."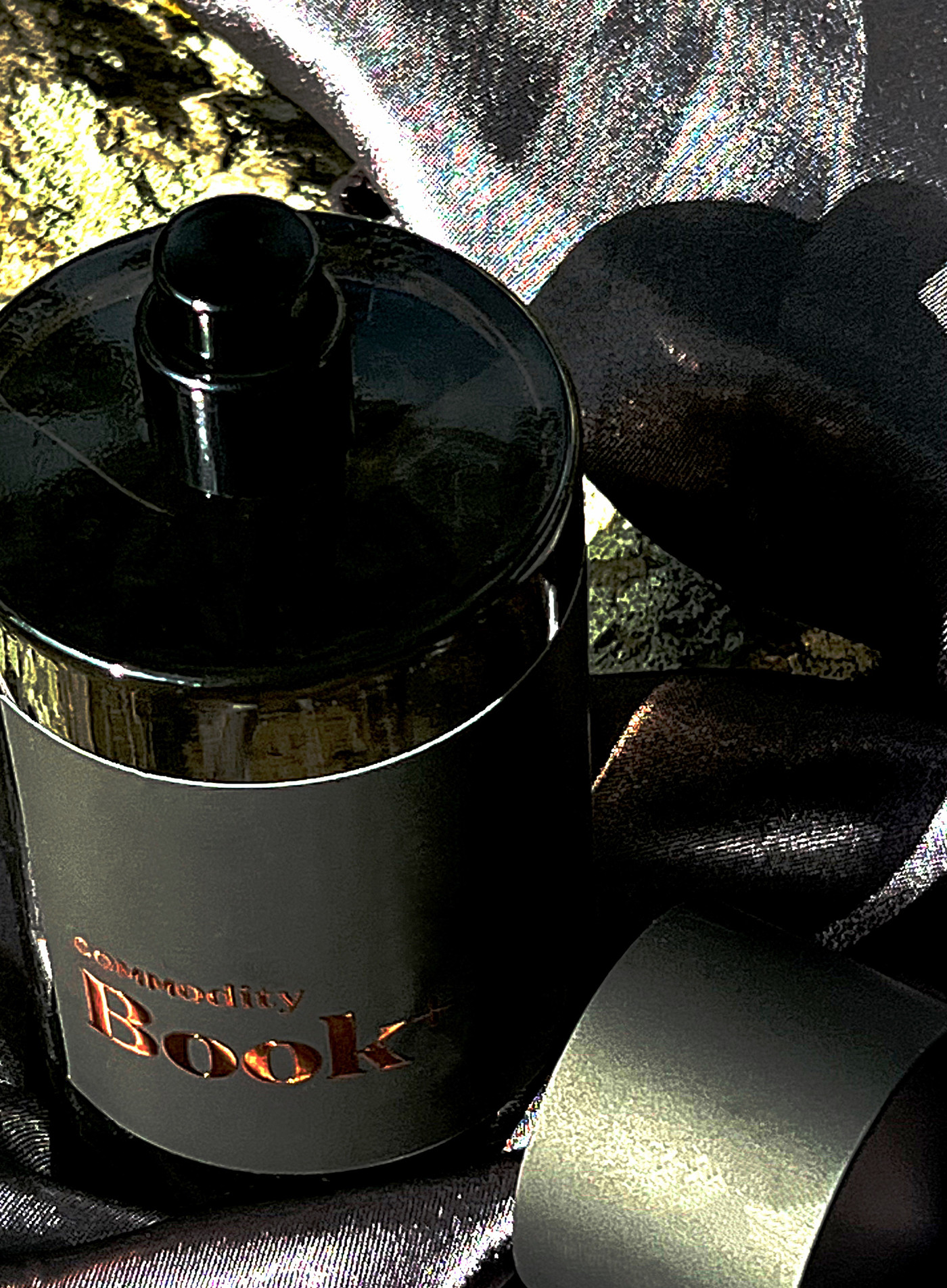 Book is part of the Woodsy fragrances that Commodity offers and is a unisex scent.   Book+ builds off the standard base of cedarwood and sandalwood as its middle notes and enhances the top notes with camphoraceous smelling eucalyptus and violet, giving the initial blast a forest, piney fragrance.   The key to this beauty are the base notes, as they added in musk and smoke, so it has a dry wood smokiness to it. However, due to the eucalyptus and sandalwood, this is actually a fresh warm scent, and it isn't too sensuous. The herbaceousness of the Book+ married with the charred smokey musk makes this an intense, yet welcoming scent.  I find this is more suited for Sweater Weather, due to its secret forest scents, but it is one of my favorites. 
Top Notes: 30% Eucalyptus+Violet  Middle Notes: 20% Cedarwood+Sandalwood  Base Notes: 50% Velvet Musk+Smoke
I do have the minis in Personal and Expressive, so I can do a quick comparison to Book+ (Bold)
Book- (Personal) is a light fruity-sweet, black tea and woodsy scent.  It is very fresh with a soft,  distinct sandalwood dry down. 
Top Notes: 25% Bergamot+Black Tea  Middle Notes: 45% Cedarwood+Skin Musk+Amyris Base Notes: 30% Sandalwood
Original Book (Expressive) still has the fruity-sweet, slightly spicy bergamot, but the black tea has been replaced with eucalyptus, so it has a more sharp and fresh top note. The woodsy scent is in the middle, and gets a bit overpowered by the sharp fresh scent of vetiver. 
Top Notes: 20% Eucalyptus+Eucalyptus+Violet Middle Notes: 45% Cedarwood+Sandalwood+Amyris Base Notes: 35% Musk Amber+Vetiver
In other words, the Book Series to me breaks down as such
Book- (Personal):  A tea house and bookstore, where you can peruse the latest paperbacks drinking some black tea and eating shortbread cookies
Book (Expressive): Walking through an arboretum, filled with aromatic trees, sunlight dappling the forest floor through the leaves

Book+ (Bold)

: A old forest, full of secrets, trees charred by lightening, with wild flowers peeking out over dried leaves.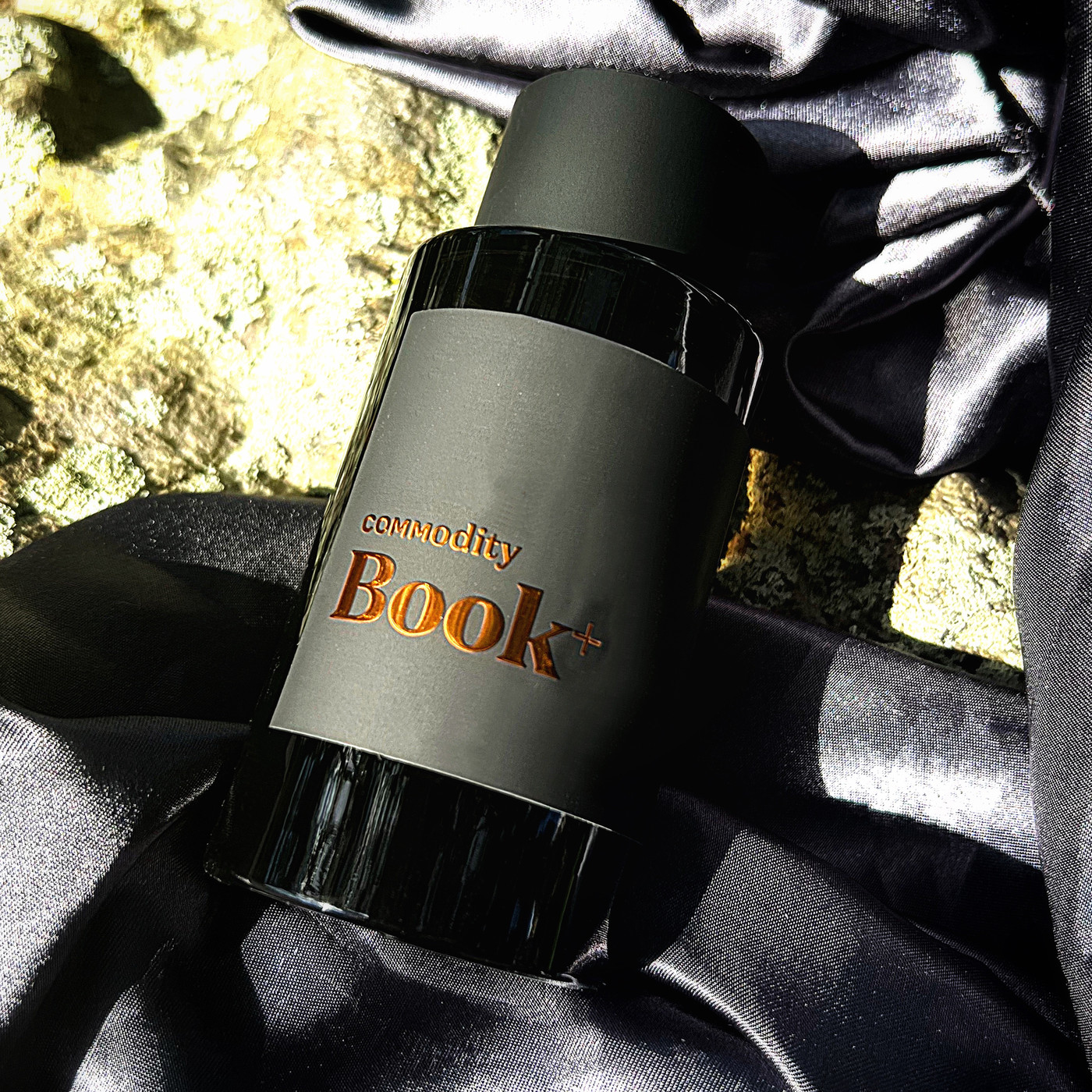 Where to Purchase
You can purchase Commodity Fragrances  at their online store.  For a 100 mL bottle, the pricing is $135.00, regardless of the Scent Space ~ Commodity flattened out the price so it is the same for all of them.  All prices in USD and all USA orders over $50.00 ships free. Commodity now ships internationally and you get free shipping with any purchase over $500.00 USD
Discovery Sets ~ range from $12.00 for the Individual Scent Space Kits, $26.00 for the Discovery Kits and $42.00 for the complete range of scents with the Exploration Kit.
[ disclaimer: products received complementary for review purposes and contains affiliate links ]