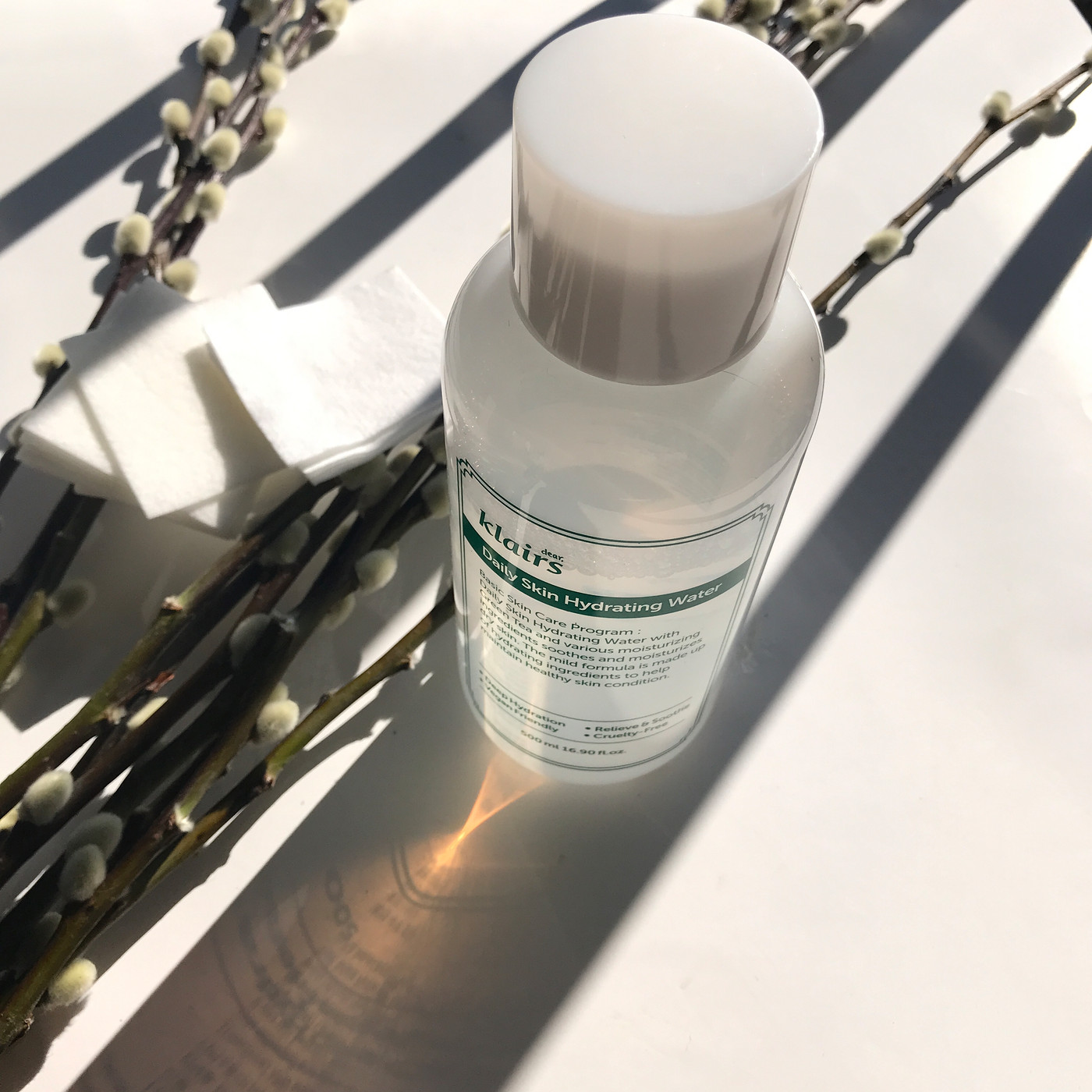 So many new releases at Wishtrend!  I received several products from Wishtrend for review purposes.  Some are brand new
Plus a couple of items that I really wanted to do a review on
This review will be on the two Klairs products: Daily Skin Hydrating Water and Toner Mate 2 in 1 Cotton Pad.  Klairs is one of my favorite brands at Wishtrend ~  I purchased my first Klairs product back in 2015 and have been in love with the brand since then ~ see my reviews here.  Klairs has changed over the years, listening to customers concerns and they have reformulated all of their products to be vegan.  Their formulas are effective, but mild enough for sensitive skin and free from fillers, alcohol, parabens and artificial dyes and fragrances.   
Skin Type/Concerns: oily, blemish prone, aging concerns, pores, fine lines/wrinkles, hyper-pigmentation
I received these products complementary to review and was not paid.  All reviews are my own honest opinion and  I never have been asked to write copy for a brand.  This blog post might contain promo codes, affiliate and referral links, which using my links will help generate a small commission that helps support my blog at no extra cost to you.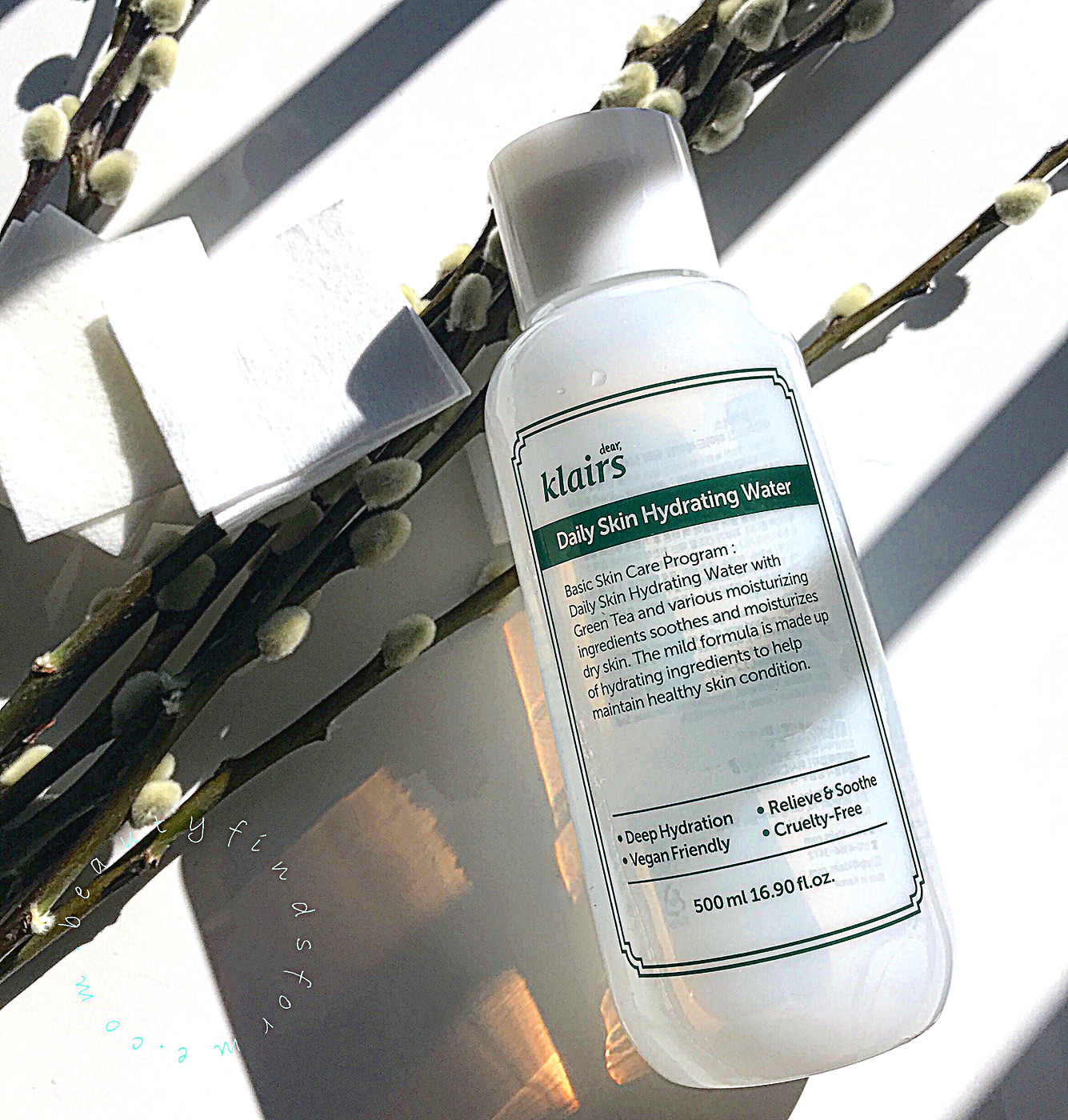 Daily Skin Hydrating Water is a water bomb for oily skin!  I totally love the Daily Skin Softening Water (see review here) that I wanted to try the Hydrating version.  I am so happy I did!  This contains 45% green tea water, full of powerful antioxidants, due to its high concentration of polyphenols: catechins, tannins, flavonoids.   Green tea helps reduce the appearance of fine lines and wrinkles.  It also is an anti-bacterial, acts as an astringent while retaining moisture and hydration.   This also contains 
Coconut water is vitamin rich ~ containing skin repairing and anti-aging antioxidant vitamins C, A, K and B-complex. It also has potassium, which helps aid in hydration balance
Calendula water is a soothing, healing herb that doesn't irritate your skin.  It contains high levels of carotenoids, similar to vitamin A.   
Pantolactone helps condition your skin and can improve the appearance of your skin. This also has hydrating ingredients with betaine, trehalose and panthenol, helping to attract and bind moisture to your skin.
More hydrating humectants glycerin and sodium PCA. Glycerin helps with healing of wounds, sealing in moisture and maintains the skin's water balance, making the skin look healthy, moist, soft to touch, leaving your skin looking radiant and supple. Natural Moisturizing Factor (NMF) sodium PCA will attract moisture continuously to your skin and keep dehydrated, dry skin soft and supple
Just like its sister, the Softening Water, this is a HUGE 500 mL bottle, only this time in a translucent white bottle with green lettering.  It is very watery, with little or no scent ~ I wish it did smell like green tea, but better to be fragrance free!  This has a pin hole opening and this liquid is so lightweight, it practically gushes out when I tip it into a cotton pad. 

It has a pH level of 5.5 to 6  which means it is skin balancing friendly  ~ it isn't as acidic as the Softening Water, but this is not an exfoliating product either.  This really feels like a water bomb on my skin ~ I just liberally soak a cotton pad with it and then wipe it across my face and neck.  This also works as a quick makeup remover  after I come home from work or removing the nighttime skincare remains from my face in the morning.  I will say this again, but this is not to replace washing my face properly, but just an interim step ~ I am ready to refresh my skin, but not quite ready to start my skincare routine.
This is very lightweight and hydrating, so it is great for multi-layering.  There is no greasy or tacky residue, absorbs quickly and doesn't leave my skin tight.  Another great use is a base of mask packs ~   using cotton pads or a dry compressed face mask, I just drench them in this softener and then place the pads or mask on my face for a quick refreshing and soothing treat.
I also use this as my liquid in any DIY facial clay masks as it has so many good ingredients in it. It can also be decanted into a mist sprayer bottle as well, to quickly re-hydrate your skin during the day.  I do recommend this product along with the Softening Water by Klairs.   If you have drier skin than me, you might not find this as hydrating as I did but if you like a light and refreshing toner, you will enjoy this.  This is fantastic  for oily and oily/combo skin types.  
Ingredients: Camellia Sinensis Leaf Water (45%),  Water, Glycerin, Propanediol, 1,2-Hexanediol, Butylene Glycol, Calendula Officinalis Flower Water, Cocos Nucifera (Coconut) Water, Betaine, Panthenol, Pantolactone, Trehalose, Sodium PCA, Sodium Citrate, Disodium EDTA   cosDNA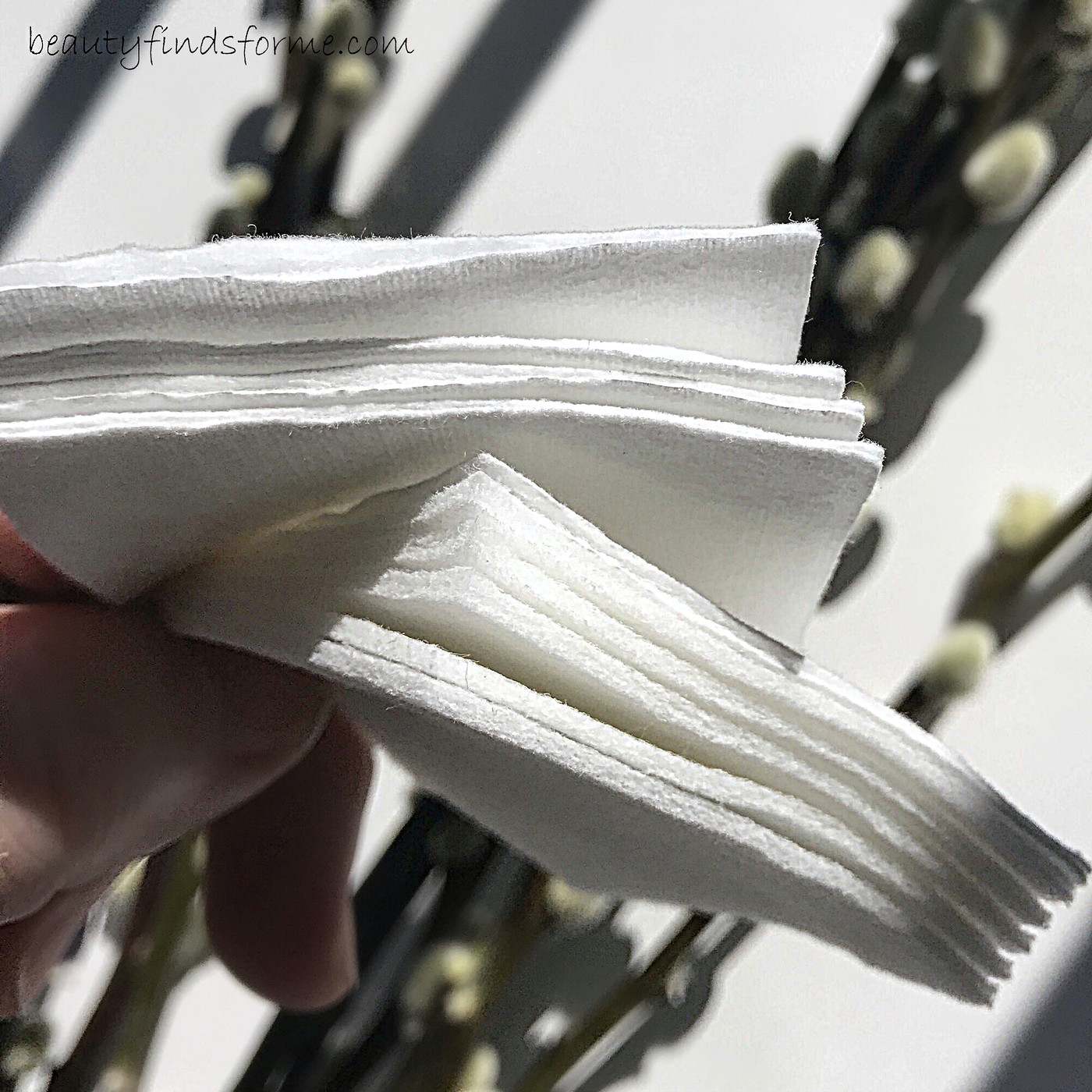 Klairs Mate 2-in-1 Cotton Pad ~ OMG.  I have been using these for years and I will say these aren't just a plain ol' cotton pad.  When I first purchased these, it was because I needed to pad my order to get to free shipping ~ haha ~ and these are a bit pricey at $6.50, so I never imagined that this would be a repeat purchase. 
These have two types of pads in here

Compressed 100% Cotton Pad is ultra thin as it has been compressed five times through a waterjet process. This looks like it would be rough, but it isn't ~ once toner or water is added, it really softens it up but it has enough texture so it does mildly exfoliate.  These pads also can be split into two, so you can use them as a mask pack.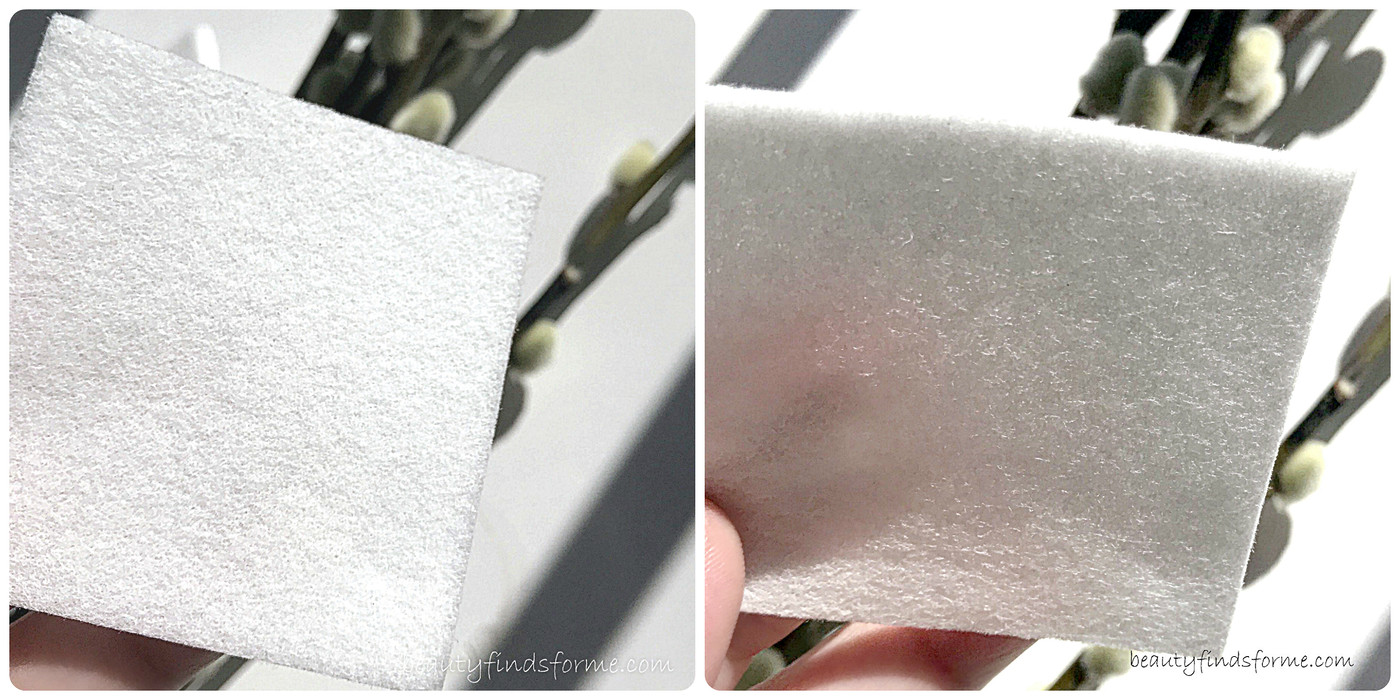 The Sponge Pad is made of a mix of "hydro condensated air laid pulp fabric and rayon blend" This is actually a thing
Developing wet-laid papers with a good wet strength remains a longstanding challenge in the papermaking industry. In this study, hydroentanglement, a mechanical bonding technique is developed to consolidate the wet-laid fibre web. The results indicate that wet tensile strength, ductile stretching property, softness, air permeability and water absorbency of the wet-laid fibre web are significantly improved by hydroentanglement. In addition, the abrasion test shows that the dusting off rate of wet-laid fibre web can be effectively reduced through hydroentanglement. Moreover, the disintegration experiment proves that wet-laid hydroentangled nonwovens could be easily dispersed when compared with conventional carded hydroentangled nonwovens. Therefore, the new wet-laid hydroentangled nonwovens can maintain excellent performance in a wet state, showing a great potential for personal hygiene applications. source NCBI
In other words, this is a spongy pad, that is very soft, cushion-y, soaks up water and is the best pad ever in the world.   This was designed to increase skin hydration while reducing toner waste.
The Sponge Pad is my favorite ~ it soaks up any liquid, just like a sponge, but miraculously, it deposits that liquid back onto my skin.  Both pads do not leave behind "lint", which is great ~ nothing worse than cotton lint sticking on your skin.  My only complaint is that I want a box of 120 of the SPONGE Pads.  I seem to run out of those quicker than the Compressed Pads and I actually love the Sponge ones better.  That seems to be a common wish ~ the Sponge Pads are really unique and I haven't found anything like them elsewhere on the market.  Klairs, please make a box just devoted to the Sponge Pads!  
Where to Purchase
At Wishtrend!  Wishtrend carries the full line of Klairs products. Don't forget to use my affiliate code, UNBOXINGWISHTREND, to get an additional 10% off your purchases.  
[ products received for review purposes.  blog post contains affiliate links ]