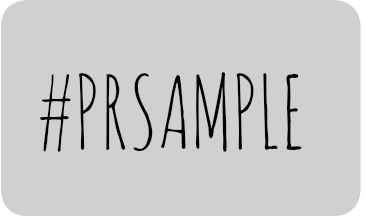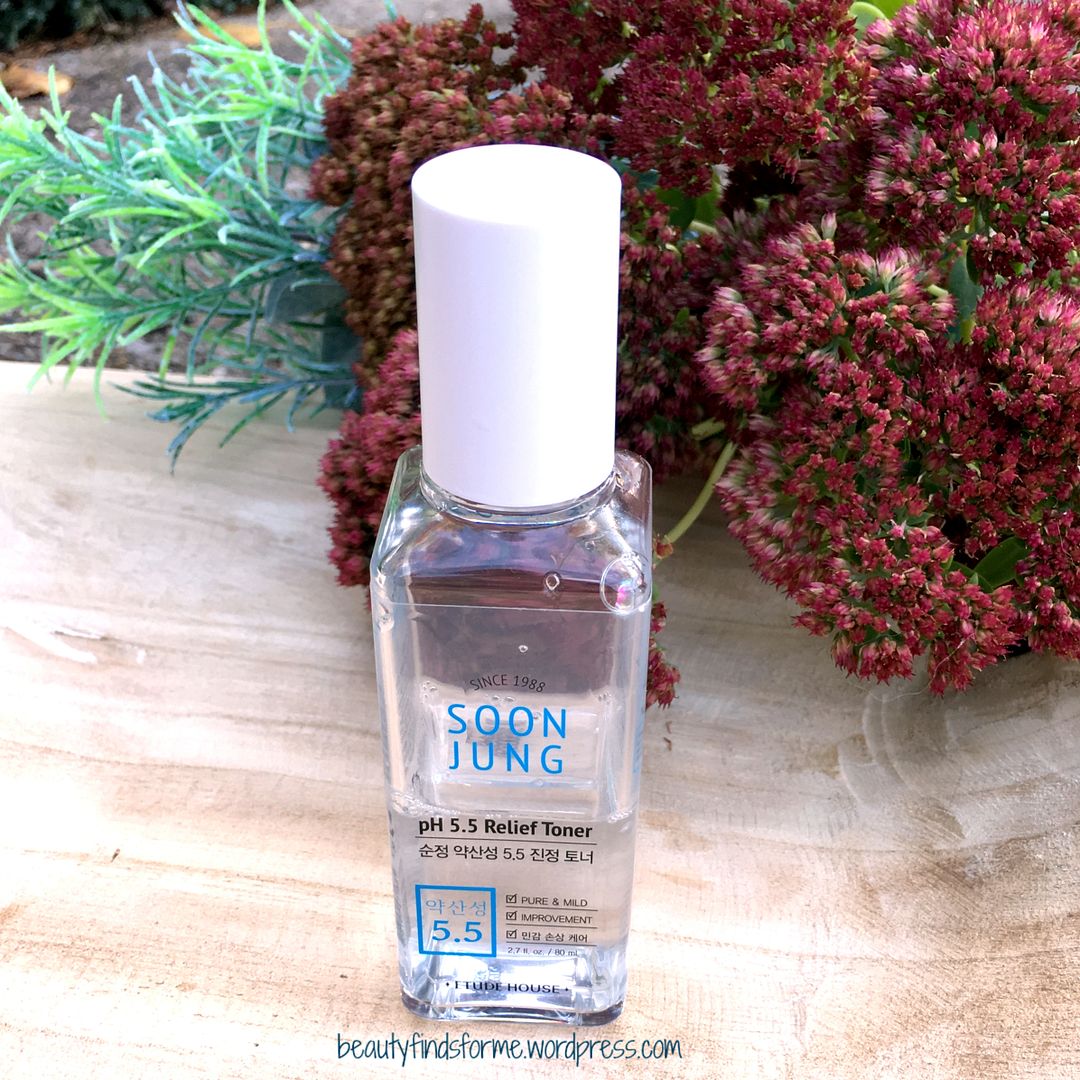 I am addicted to toners ~ watery, bouncy, acidic, astringent, moisturizing, milky ~ I love them!  I think a lot of you love them too, as I notice that so many people in the AB Community have multiple toners on hand ~ and why not?  They are fairly inexpensive, easy to incorporate into your daily skin care routine, you can layer them and a great way to try out a series before committing to the full series.  I normally purchase Etude House for their makeup, but when I saw that they released this line of centella products ~ Soon Jung ~ I was very interested!  BTW ~ I haven't forgotten about my mega centella blog post, but I have been trying so many products that it is being delayed!  The series of Soon Jung  from Etude House also introduced a concept that I rarely see with skincare ~ they have the "normal" size and then a travel size ~ not a deluxe sample, but a size that is about half (give or take) the size of their normal version.  This is fantastic for those of us who want to try a product fully but find deluxe size samples too small and do not want to commit to the full sized version, in case it doesn't work out.  Jolse, a premier Korean online store, sent me the Etude House Soon Jung pH 5.5 Relief Toner for review purposes.

My skin type and concerns:  Oily but aging.  Blemish prone, pores, hyper-pigmentation, fine lines and wrinkles.

Roughly translated…Soon Jung Sensitive Damage Care Solution: Etude House (established in 1988) has been listening to increasingly diverse sensitive skin problems. We are proposing a new solution that will restore the skin that is more sensitive, such as fine dust, dryness and weakness of the skin barrier, by restraining ingredients that can be relieved and various tests to restore calm skin.
This toner is mildly acidic and will help soothe stressed and blemish prone skin ~ I guess they call it "Dust Cut", as the air pollution in South Korea can be quite bad and causes skin issues.   Its mild acidic pH of 5.5 helps repair weak skin barriers and should be safe for sensitive skin, as Etude House conducted tests to ensure that it is does not cause hypersensitivity, is non comedogenic and hypoallergenic.  It should not aggravate or trigger blemishes.  It is made with 97% natural ingredients and passed EWG green grade ~ it does not contain animal byproducts, mineral oils, artificial coloring or fragrance, polyacrylamide, silicone, imidazolidinyl urea, surfactants, triethanolamine, PEG's and parabens.   
This contains several hydrating and healing ingredients.  Glycerin helps with healing of wounds, is an humectant, sealing in moisture, maintains the skin's water balance on an intercellular level, which makes the skin look healthy, moist (not dry and scaly), soft to touch, and is also an emollient, leaving your skin looking radiant and supple. Betaine is an amino acid that is a humectant and anti-irritant, providing silky smooth skin and soothes and calms skin.  Panthenol helps cellular renewal and is an effective moisturizer. It is derived from plants and is also known as vitamin B5. Panthenol is a natural humectant, which retains moisture and hydrates the skin. It also is a good lubricant on the skin, making skin look soft and smooth, while acting as an anti-inflammatory.
Now onto to the herbal ingredients!  A derivative of calming and healing centella asiastica is madecassoside, which helps soothe, reduce redness and inflammation and helps heal your skin. Camellia sinensis (green tea) contains polyphenol antioxidants: catechins, tannins, flavonoids ~ which are anti-bacterial agents as well as acting as an astringent while retaining skin moisture and hydration. Scutellaria baicalensis, also known as skullcap, contains baicalin, a flavone glycoside compound that helps with anti-aging, repairing damage to your skin, firming and returning elasticity and tone.  This ingredient is found in a lot of skincare products due to its cellular renewal benefits.  
Ingredients:  water, propanediol, glycerin, betaine, panthenol, madecassoside, camellia sinensis leaf extract, scutellaria baicalensis root extract, 1,2-hexanediol, butylene glycol, ethylhexylglycerin, carbomer, polygylcerin-3, disodium EDTA cosDNA analysis

I got the smaller travel sized version, but it is just a mini me of the bigger size.  It comes in a clear, rectangular shape bottle, with a tall white cap.  The Soon Jung toner has a pin hole applicator and you just shake out the very watery product onto your hand or cotton pad.  I have oily skin and I have read  somewhere that oily skinned people should not pat toners on your skin because touching your skin will cause it to produce more oils. Here is what I think ~ Most of us are touching our faces all the time, so a few gentle pats of a toner shouldn't cause issues with oily skin ~ In fact, I would think that the harshness of a swiping a cotton pad over your face would be more aggravating. Unless you are applying the product on your face with dirty oily hands, slapping your face and rubbing hard, I think that gently patting the product on your face is fine.  We don't apply lotions and creams with a cotton pad and I assume we just washed our face with a brush or our hands prior to the toner step.  I would also say this, do what works for you personally ~ I use both my hands and cotton pads, depending on the effect I want.  Cotton pads provide some gentle exfoliation but wipe away a lot of the product, whereas gently patting it into your skin ensures that the product is actually being absorbed by your skin, not the cotton pad.

This toner is very watery and has no fragrance, so for those who are very sensitive to scents, this is a plus!  It does have a pH level of 5.5, which means it will provide some mild exfoliation while balancing your skin.  This provides great moisture to my skin, while reducing the oils ~ increase 34% moisture, decrease oils by 37%.
I didn't notice any irritation or redness, it absorbed quickly into my skin, leaving no residue or trace that it existed.  In fact, I almost felt I was just putting water on my face and thought this was a waste of my time until…. I got sunburned.  I rarely get sunburned, but I was out for hours in direct sunlight and despite my sunscreen, I got red skin ~ plus add to that some razor burns from using my Shiseido Razors when I was sunburned!    So, I had red irritated skin with some bumps and I turned to this toner to help me.  I soaked some cotton sheets with the toner and then used them as a mask pack, leaving on my skin for about 10 minutes.  When I removed the sheets, my skin looked less red and the bumps were less noticeable.  The next morning, I repeated this step and the bumps were gone and my skin was refreshed ~ when your skin is irritated,  you can feel that the toner is very cooling and refreshing.   For an additional cooling, I also kept my toner in the refrigerator and it really felt nice!
Etude House also has some skin care tips using this toner.  You can apply the toner on your skin, using the method you prefer, and layer it 5 to 7 times ~ waiting for the previous layer to absorb completely (which is pretty quick).  This is the famous 7 layer method, and it will not only tone and refresh, it hydrates, nourishes and leaves your skin glowing.
You can also use this toner to make your own DIY sheet mask ~ either use cotton sheet pads ~ I personally love White Rabbit ~  or purchase the compressed facial sheets, like MUJI, and soak the cotton in the toner, apply to your face and just have a nice soothing and calming mask.  This is the method I used to help relieve my skin of the redness and bumps.

Final Thoughts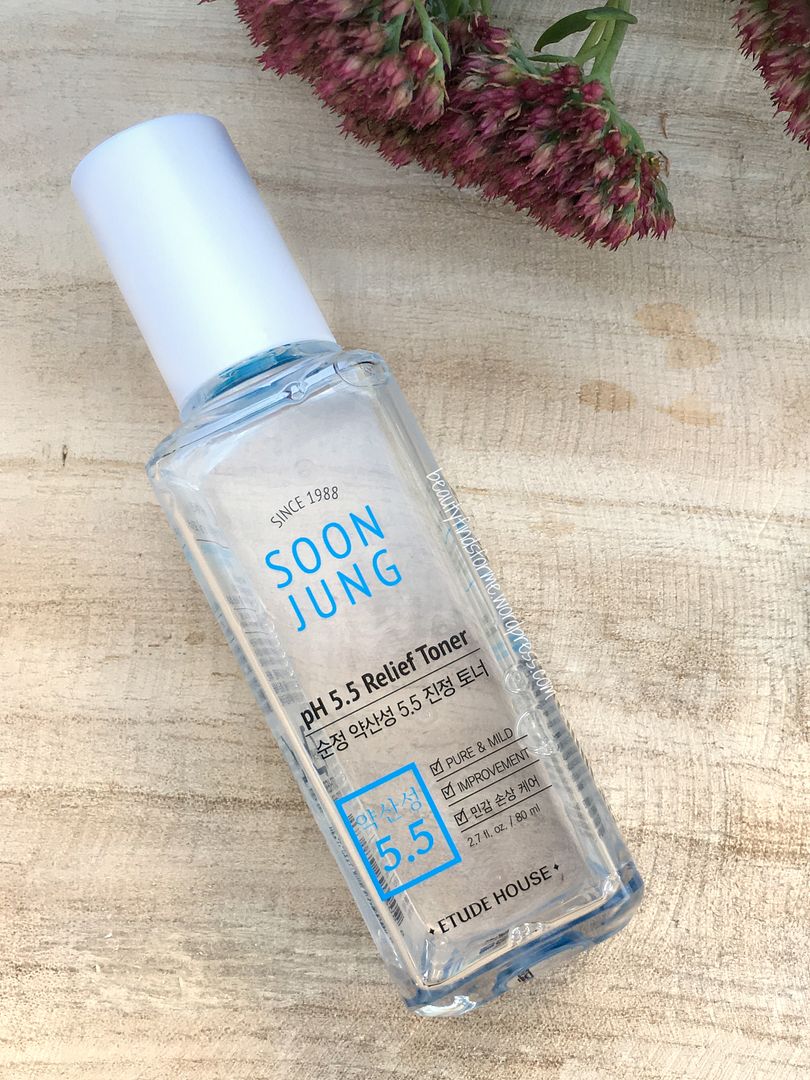 I am glad that I stuck with this toner and didn't let my initial testing reaction sway my opinion.  This is a very watery toner and it may seem on the surface not to do much of anything, but if you suffer from red, irritated skin, rashes, sunburns or other skin issues, you might want to add this little guy into your skin care routine.  It layers beautifully with other watery toners and really does reduce redness and bumps.  It never caused me to break out in blemishes and you can create nice hydrating and calming mask packs with this.  As it absorbs quickly, there isn't a lot of wait time between skincare products, so if you are in a hurry, this is toner won't keep you waiting.  I liked this so much that I am now looking to the rest of the Soon Jung line from Etude House and thinking which should I try next!  Have you tried any products from Etude House Soon Jung line?  Which ones ~ did you like it?
You can purchase either the 80 mL bottle of Etude House Soon Jung pH 5.5 Relief Toner for under $9.00 USD   or the 180 mL (click here) for under $15.00 USD ~ prices will fluctuate slightly due to the Korean Won/USD conversion. Jolse has free shipping all the time, ships internationally and gives out free samples.

image credit from jolse
You can also purchase the entire line of Soon Jung products from Etude House at Jolse
image credit from jolse
disclaimer: this product was sent to me for review purposes. all opinions are my own and are unbiased