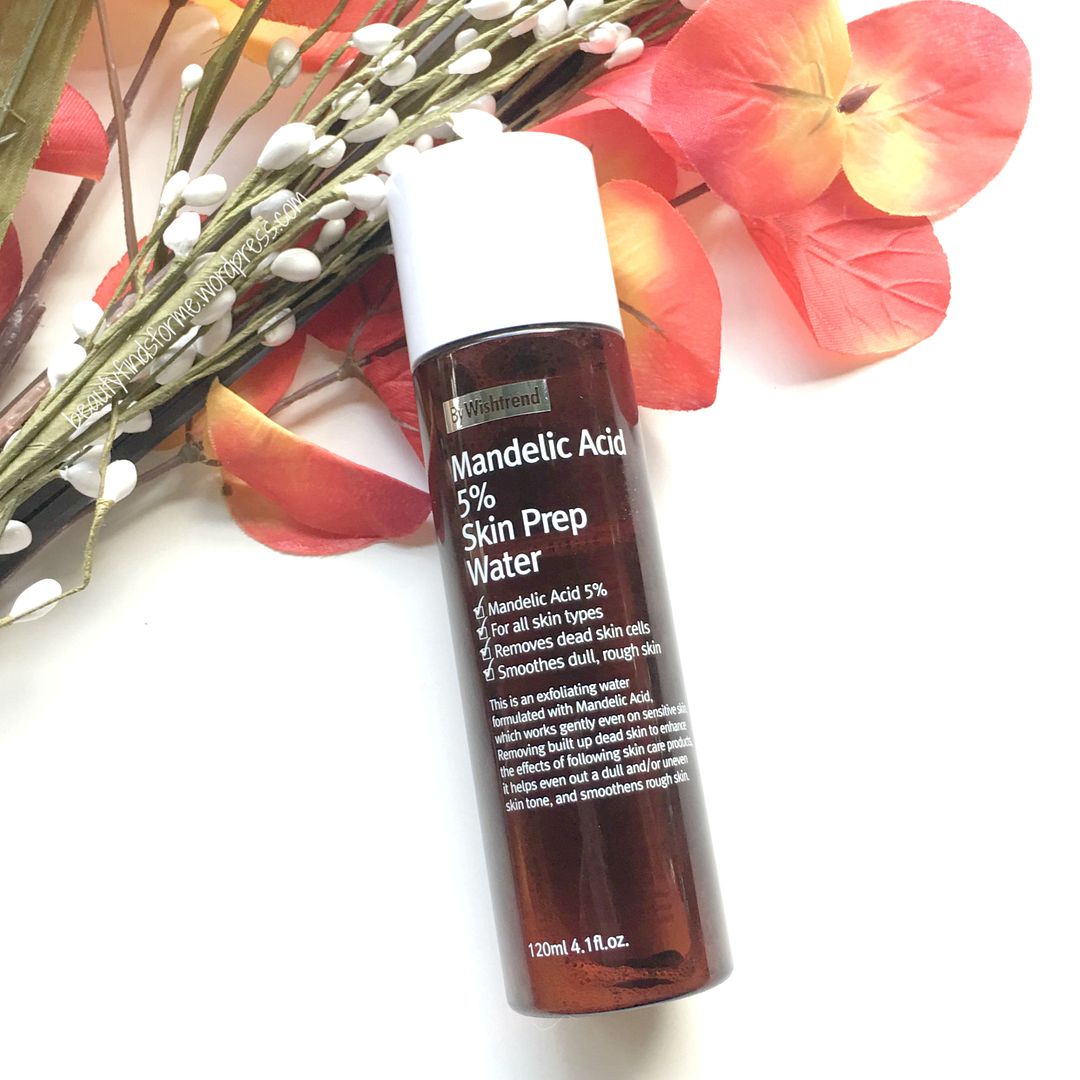 I am really excited about this product from By Wishtrend!  I have been using a lot of different acid treatments this past year and this one is top notch.   By Wishtrend is another house brand from Wishtrend, just like Klairs.  I love Klairs, so I was happy to be selected to try out the latest item from this other Wishtrend line.

Skin Type/Concerns:  Oily, blemish prone, aging skin with hyper-pigmentation and fine lines/wrinkles.

For those wondering what this product is, you might want to think of it as like the Pixi Glow Tonic, which is made with 5% Glycolic Acid.  I think a lot of people are familiar with the Pixi product but not everyone can use Glycolic Acid, which can be irritating.  By Wishtrend Mandelic Acid 5% Skin Prep Water is a booster for your skin as it will help improve your skin tone and texture, while hydrating your skin.

AHA (alpha hydroxy acids) are mainly derived from fruit and milk sugars ~ these are the most common using natural sources:   glycolic acid (sugar cane), lactic acid (milk), malic acid (apples, pears), citric acid (oranges, lemons), mandalic acid (almonds), tartaric acid (grapes).  The two acids that can penetrate deeper into your skin layers are lactic and glycolic acids, which makes them more prone to skin irritation.  You want an acidity of 3 to 4, with a 5 to 8 percent concentration of AHA.  The AHA ingredient should be one of the top 3 ingredients in the list and since AHA's need time to absorb into your skin, you should not really bother with products that will be rinsed off, like cleansers.  You should pick AHA's if your skin is not prone to breakouts or you really want to lighten hyper-pigmentation and tone and firm your skin, as they can stimulate collagen and elastic production in your skin.
Description: A hydrating and nonirritating exfoliant that can be used daily. Low-irritation exfoliation. Skin tone & texture improvement.  Antibacterial. Don't peel but prep with Mandelic Acid. Mandelic Acid 5% Skin Prep Water is a hydrating and nonirritating exfoliant that can be used daily. Formulated with Mandelic Acid, which can be used without any irritation even on sensitive skin,  the Mandelic Acid 5% Skin Prep Water is an exfoliating treatment that improves the skin tone and texture while boosting the effectiveness of other products.
Mandelic acid is an alpha-hydroxy acid (AHA) and is one of the more gentle AHA's out there, due to its larger molecular size.  It doesn't irritate your skin like glycolic acid does and it is made from bitter almonds and was discovered back in 1831 by a German pharmacist ~ Mandel is German for almond. Mandelic acid is more gentle, so effects will not be immediate, but it is safe to use for long terms and will help refresh your skin over time.
Mandelic acid helps reduce hyper-pigmentation (malesma), which evens out your skin tone and complexion ~ unlike other AHA's which can be irritating and stimulates the cells to create more melanin, defeating the purpose of using an AHA, mandelic acid has less of a problem with this issue, and it not only reduces hyper-pigmentation, but also restores your skins texture and has anti-bacterial and anti-inflammatory properties, making it effective for those with acne prone skin as well.  It helps reduce acne breakouts as it regulates oil production and it is beneficial for cystic acne too.  By Wishtrend Mandelic Acid 5% Skin Prep Water has this ingredient as the second item in the list, which is for an AHA, is exactly where it needs to be ~ AHA ingredients should be in the top 1/3 of the ingredient list. 
Beta glucan is a compound that is naturally derived from mushrooms, oats, yeast and grains. It helps stimulate the production of collagen, speeds up wound healing, soothes and calms skin due to its anti-irritant and strong anti-inflammatory properties, moisturizes, locks in natural moisture, anti-aging and anti-wrinkle due to its anti-oxidant properties and also helps repair your moisture barrier. Panthenol helps cellular renewal and is an effective moisturizer. It is derived from plants and this ingredient comes from Vitamin B5. Panthenol is a natural humectant, which retains moisture and hydrates the skin. It also is a good lubricant on the skin, making skin look soft and smooth and is also an anti-inflammatory
Centella asiatica is a common herbal ingredient that is used medicinally to help speed up wound healing, such as blemishes and skin rashes. It also helps minimize the appearance of pores, and since it stimulates collagen production, it will make your skin more supple and firm.  Houttuynia cordata is a medicinal herb that is found in a lot in Asian skin care products. It is an antibiotic, which helps with preventing infection from skin problems, such as blemishes. It is also a potent antioxidant, as it contains anti-aging compounds such as flavonoids and triterpenoid, which helps strengthen, purify and revitalize your skin . It also has powerful detox properties, is an astringent and anti-inflammatory.
Sodium Hyaluronate is an intensive moisturizing ingredient which bonds water to keep skin hydrated. It is a natural substance found in the human body and it made up of amino and uronic acids, and helps retain 100 to 1,000 times its own water weight in our skin cells. Arginine is an amino acid that promotes healing and detoxes your skin. It also helps guard against the formation of wrinkles and loss of skin firmness.
Ingredients: Water, Mandelic Acid (5%), Butylene Glycol, Beta-Glucan, Panthenol, Glycyrrhiza Glabra (Licorice) Root Extract, Prunus Amygdalus Dulcis (Sweet Almond) Fruit Extract, Sodium Hyaluronate, Sorbitan Sesquioleate, Centella Asiatica Extract, Houttuynia Cordata Extract, Sorbitol, Dimethyl Sulfone, Chlorphenesin, Sodium Citrate, Arginine, PEG-60 Hydrogenated Castor Oil, Ethylhexylglycerin, Hydrolyzed Collagen, Carbomer  cosDNA analysis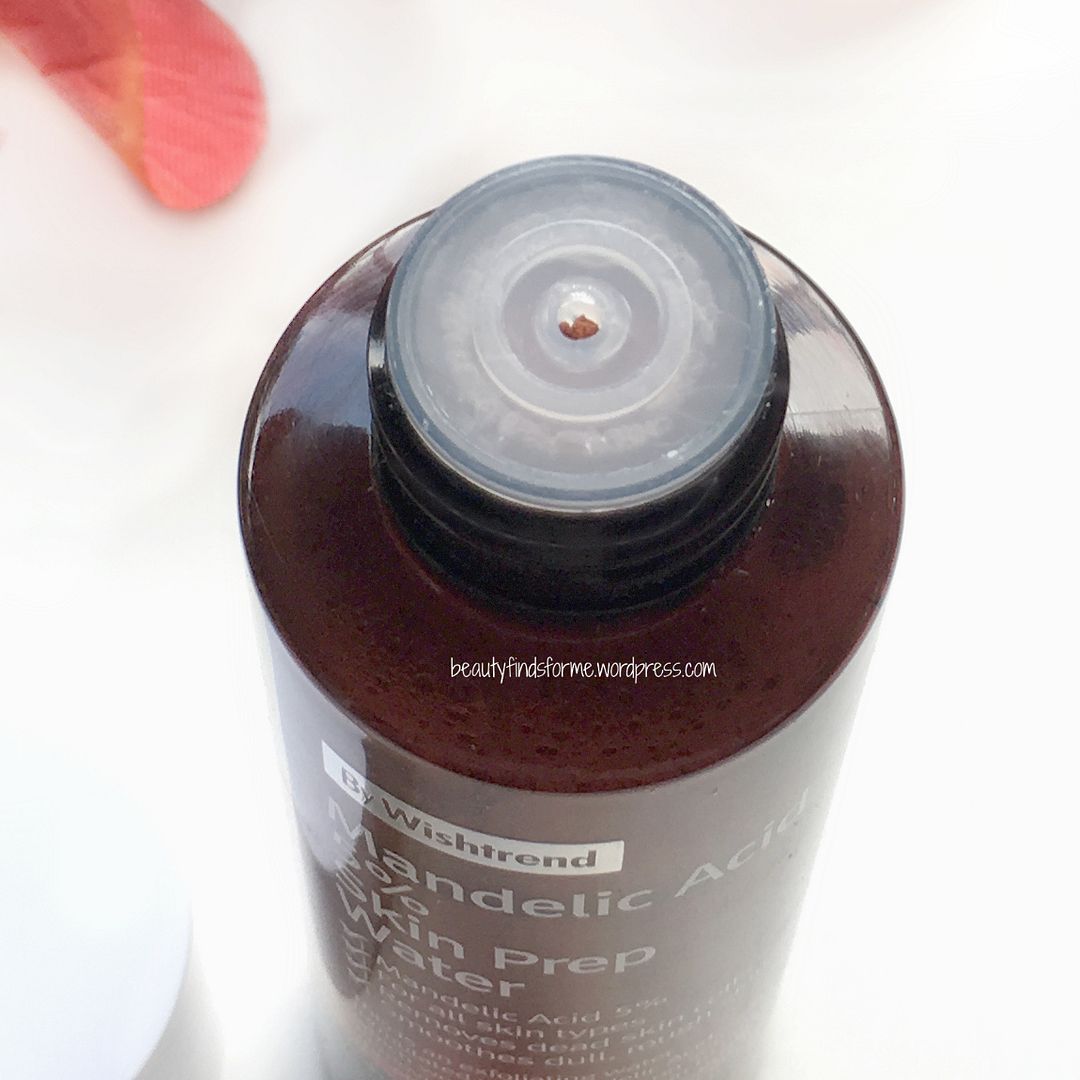 This comes in a brown bottle, which will help protect the acids from sunlight and heat.  You should store this is in a dark, cool place as acids can oxidize.  It has the traditional pin hole applicator and since this is an acid, I like to use it with a cotton pad.  The cotton pad adds more exfoliation on your skin ~ however, you can just pat this on your skin as well.  This is a very watery product and it has a slight bitter scent, but nothing offensive. 
I use this toner both day and night and I have not experienced any irritation at all. This prep water helps boost the hydration in my skin by 35% while decreasing my oil levels by 37%, so this is controlling my oil while hydrating nicely.  It helps boost my skin for the next round of products I will be applying to my face.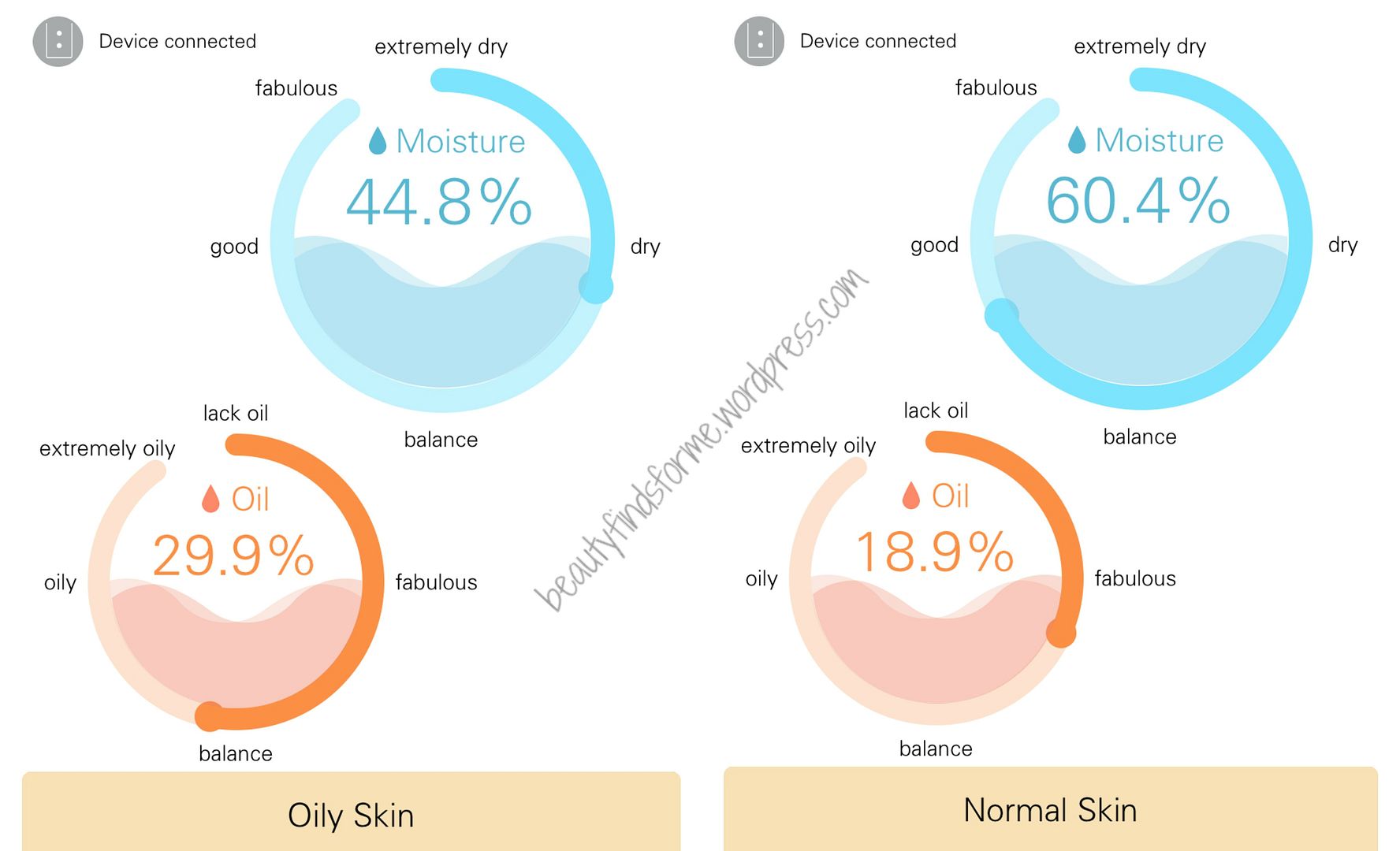 I tested this a few times, and the pH level came out to be a 4 more times than not ~ sometimes a little higher ~ but there is a range of .5 variance on these testers, so I took an average.  This is in the range for an AHA and has 5% concentration of mandalic acid.  Since I have been using other acids on my face lately, I was curious if I was overdoing it and my face was going to melt off, so I turned to two wonderful ladies who really know their acids and glow! Vanessa at IG  @goalstogetglowing (blog) and Michelle @labmuffinbeautyscience  (blog) , I was able to figure out how effective my acids are! I highly recommend checking out their blogs, as they have some great charts and calculators to figure out the amount of free acid in your products. Vanessa also let me know that a lower free acid value acid, in long term,  just might be as effective and with less irritation as a higher free acid value product. She also mentioned that there could be enzymes and other ingredients in the skincare product that could help with exfoliation. Based on my pH testing and the percentage, this has a free acid of 1.02%,  which according to Vanessa's chart, means increased moisturization.  I did compare this to Pixi Glow Tonic as well ~ with their 5% glyconic acid and a pH level of 4.4, it is around 1.06% free acid content, which makes it very similar to By Wishtrend's product.  The free acid content is what our skin will absorb, and if you are looking for a peeling product, you need at least 4% of free acid content. 
By Wishtrend Mandelic Acid 5% Skin Prep Water is not marketed as a peeling product, so I was actually quite happy with the lower percentages of free acids ~ this means I can use this twice daily without fear of skin irritation, increase hydration on my face while providing a gentle exfoliation which over time. 
Final Thoughts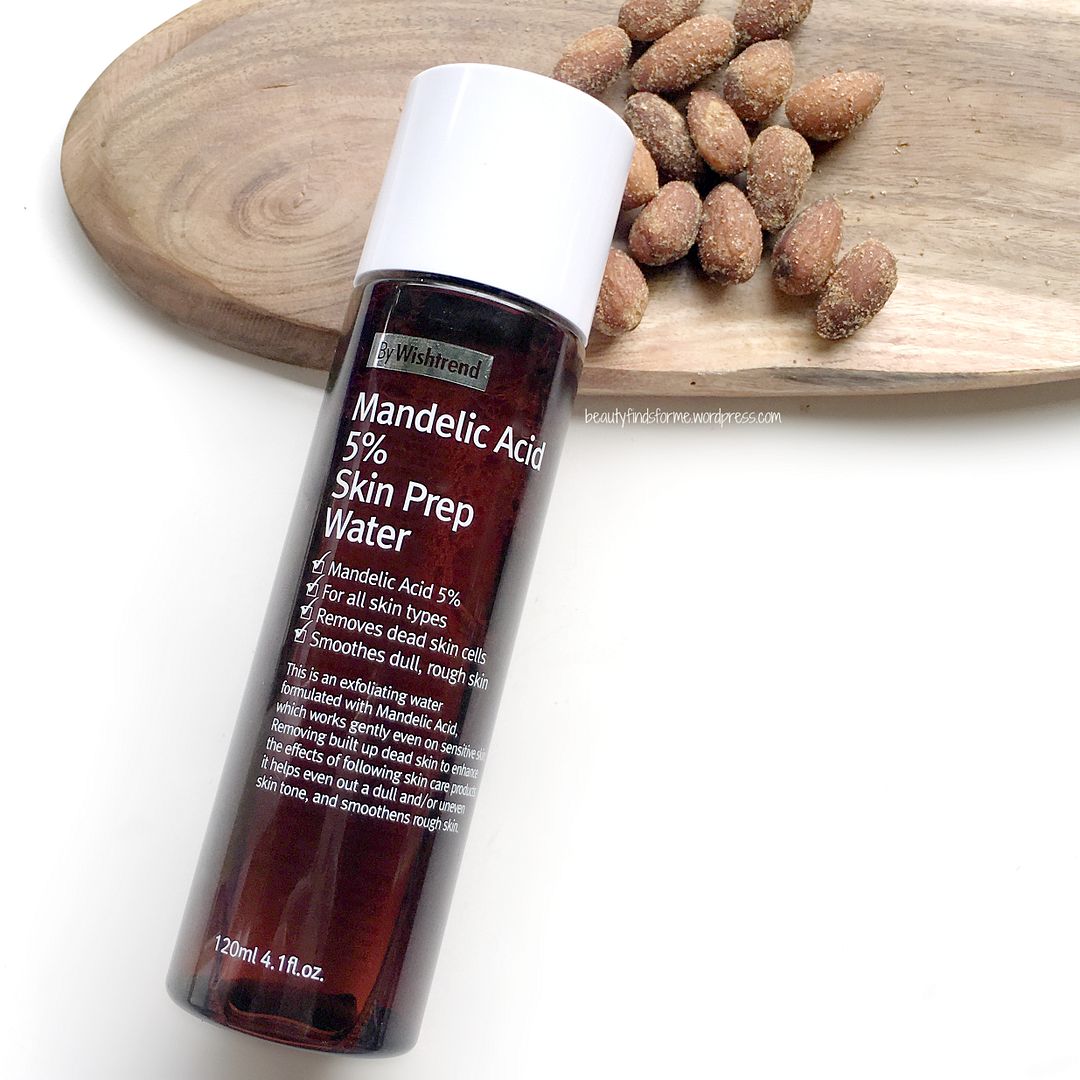 For everyday skin boosting, this prep water really delivers.  This is a skin-refining product and I have found that over time, my skin does look more smooth and clear ~ I haven't noticed a lot of brightening yet, but I am happy with the daily use of this without skin irritation and it doesn't cause an adverse reaction with sunlight ~ but in case you need reminding, I always wear a sunscreen and so should you!  I like this much better than Pixi Glow Tonic, as that one I could not use alongside with other AHA products ~ However, I found that this Prep Water can be used with other AHA products  ~ for example, I have a Dr Hsieh 20% Mandelic Acid Home Peeling (free acid content of 8.97%) and I sometimes apply that product to my nose and other pore-enlarged areas for 20 to 30 minutes and then use By Wishtrend Mandalic Acid 5% Prep Water to remove it ~ it not only helps unclog pores and reduce blemishes, but it refines my skin's texture as well.  I like this product so much that I have purchased another one and it will be in my daily routine for a long time, as it is perfect for maintenance and boosting.  Is it a HG product?  I am not sure, but I did enjoy the results to want to buy it again.   Have you purchased this product yet?  Are you looking to get it? 
Where to Purchase
You can purchase the 120 mL bottle of By Wishtrend Mandelic Acid 5% Prep Water  (click here) at Wishtrend for $22.00. This product doesn't have free shipping, but if you add on any item from their free shipping section, your shipping will be free!  This also in a set ~ currently sold out, but check to see if comes back in stock

Dull Skin Glow Kit   This kit contains 
By Wishtrend Mandelic Acid 5% Prep Water 

Klairs Midnight Blue Youth Activating Drop (review here)

I really am enjoying the Midnight Blue Youth Activating Drop and think these two products go well together!   You can get the Youth Drop with free shipping, so if you don't mind paying full price for it, that saves you $10.00.  Another fantastic product that will work well with this Prep Water is Klairs Supple Preparation Toner and Wishtrend has a great special with two toners, along with 2 boxes of cotton pads (kit here) 
Check out my monthly Wishtrend specials for more deals and coupons ~ click here.  If this is your first time shopping with Wishtrend, you can save $5.00 off your purchase by using my friends referral number ~ 092847308  ~ and you will receive the coupon. Register first and enter the my code in the form labeled "friends invitation program" and wait for the coupon before you place your order.  Also, remember to save your welcome and any order emails from Wishtrend.  They usually have discount and free shipping codes just for your use in them, so you can save even more money on your next order!
You automatically receive Free Shipping with purchases $69.00 USD and over
Don't forget to check out Wishtrend's Free Shipping Product Selection

Wishtrend ships globally
[ product received in exchange for a review. contains affiliate links for a small commission ]
[ descriptions in italics from wishtrend ]