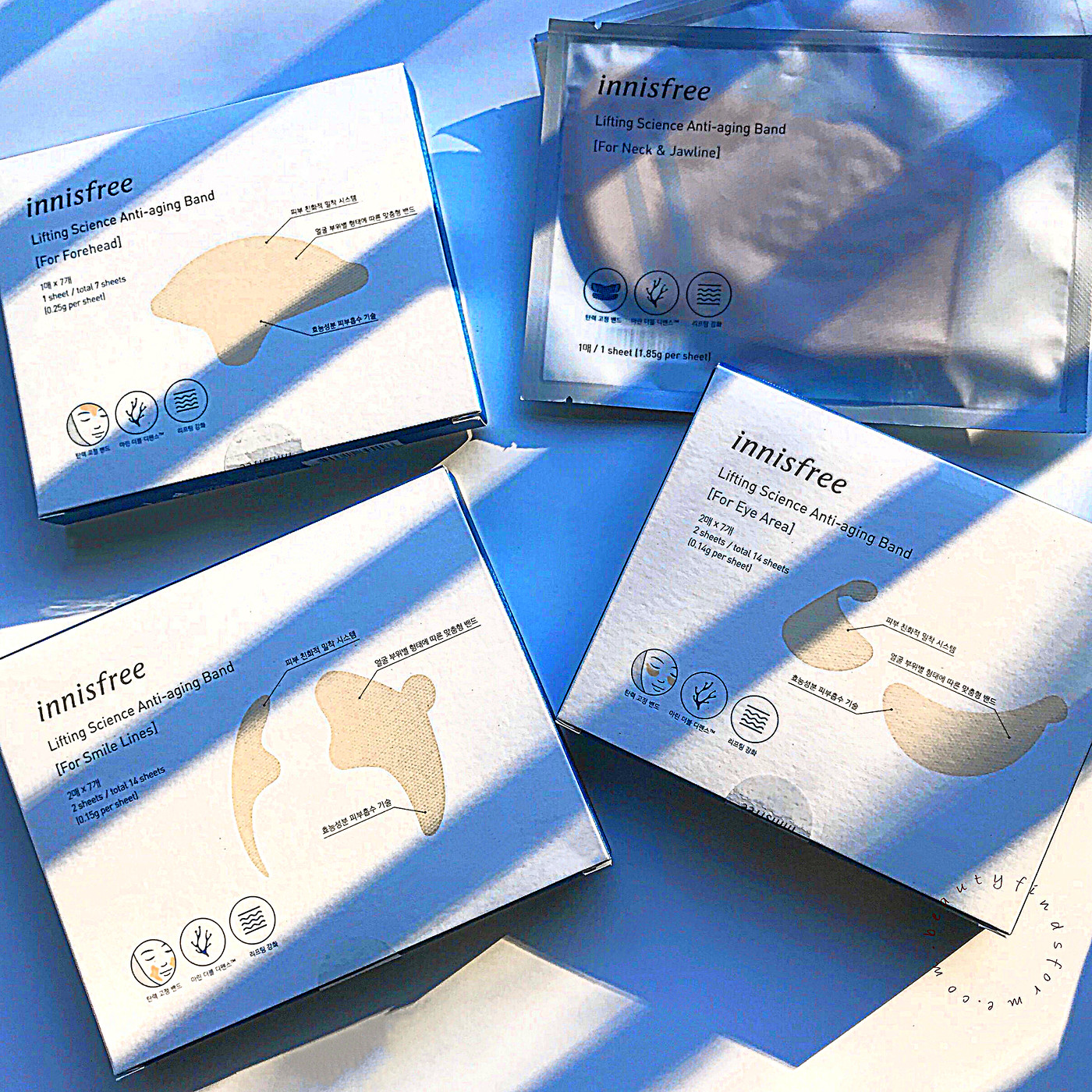 Oh BOY!  I was kinda geeking out over these products when I saw them,  so I knew I had to try them.  Innisfree came out with these "lifting" products, which look like they are made out that  breathable, athletic, self adhesive bandage material.  Premier K-Beauty online shop Jolse sent me the Lifting Science Anti-Aging Bands for Smile Lines, Forehead and Eye Area for review  and I purchased the Neck and Jawline masks.
I received some of these products complementary to review and was not paid.  All reviews are my own honest opinion and  I never have been asked to write copy for a brand.  This blog post might contain promo codes, affiliate and referral links, which using my links will help generate a small commission that helps support my blog at no extra cost to you.
My skin type and concerns:  Oily, aging, blemish prone, pores, hyper-pigmentation, fine lines and wrinkles.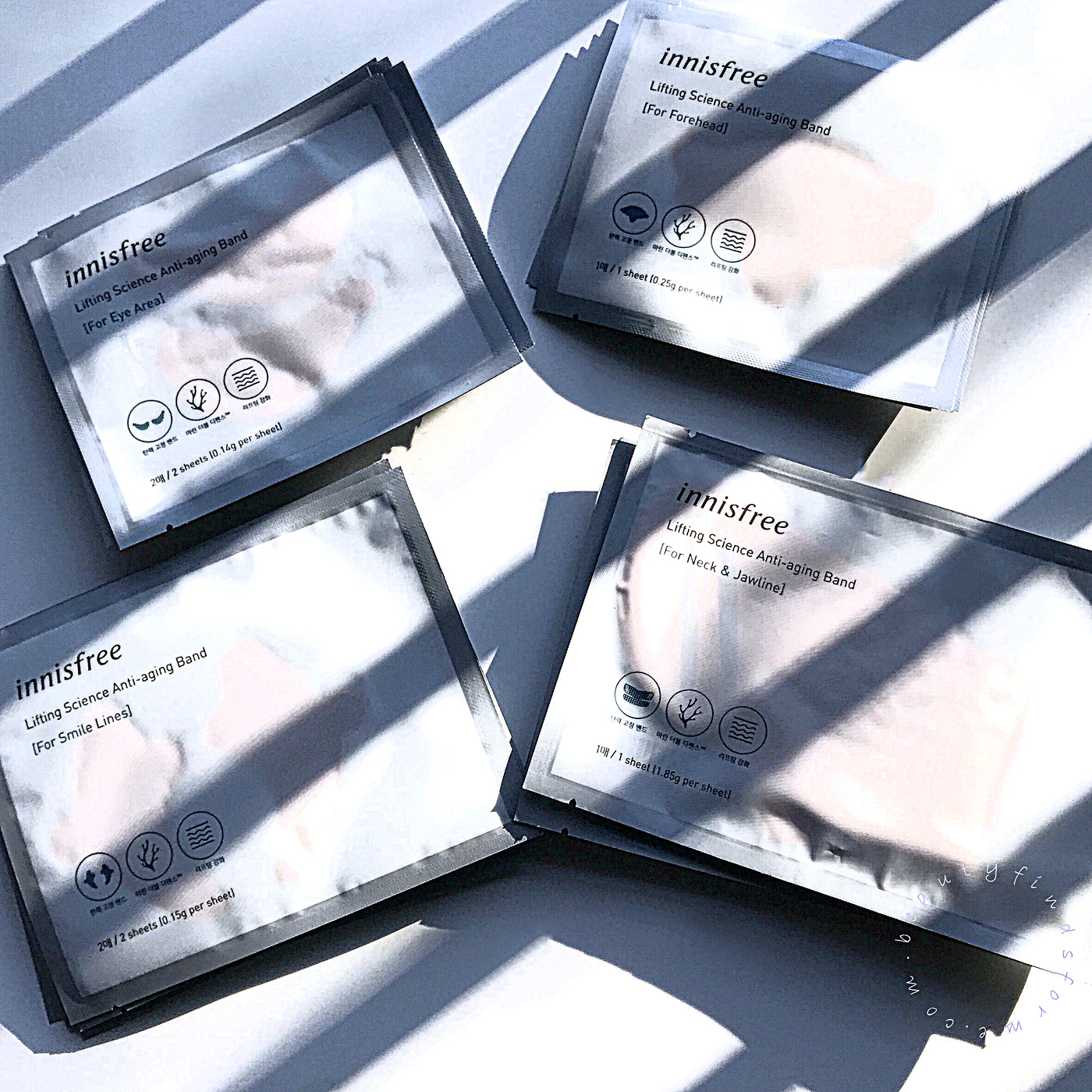 These Lifting Bands pretty much have the same description and believe it or not, the same ingredients.  Yep, these bands are infused with some skincare ingredients ~ it's not just a bandage.
Innisfree added some moisturizing ingredients in here with antioxidant and antibacterial squalane,  hydrogenated polyisobutene, a mineral oil substitute, that helps prevent water loss.  Silica helps strengthen your collagen and elastin, which in turn will help firm and tone your skin and plump up your skin, so fine lines and wrinkles are not as noticeable.  Oleanolic acid is extracted from olive leaves and it is an antioxidant and anti-inflammatory that helps aid in skin elasticity. 
There are two types of algae in here, including undaria pinnatifida.  Seaweeds are rich in nutrients, antioxidant polyphenols and polysaccharides, making it a hydrating ingredient. Finally antioxidant vitamin E is in here,  which soothes, moisturizes, heals and helps strengthen your skin barrier.  Now, I know what you are saying, it's just a mask ~ but these masks are left on your face for up to 60 minutes!
Ingredients: squalane, styrene/isoprene copolymer, hydrogenated polyisobutene, hydrogenated styrene/methyl styrene/indene copolymer, polyisobutene, isopropyl myristate, oleanolic acid, silica, water, undaria pinnatifida extract, propanediol, tocopherol, algae extract cosDNA
So, what are these?  These are anti-aging bands that are supposed to pull up saggy skin to help firm up targeted areas: eyes, smile lines, forehead frown lines and neck and jawline area.  The bands physically pull up the skin and keep it in place while you are wearing them.
The band sticks on your skin tightly but doesn't hurt or feel tight as the bands are infused with such moisturizing ingredients.  These bands can be used overnight as well and because the bands block air from permeating, the ingredients can be delivered more effectively. 
Now, Innisfree did do a 1 week clinical trial where the subjects stated that they saw improvement in their skin's elasticity, smoothness and saw a lifting effect.  I do not know how old the subjects were.  For reference point, I am over 45 years old with a chubby face and a double chin.  Yeah, so much extra information.
Eye Area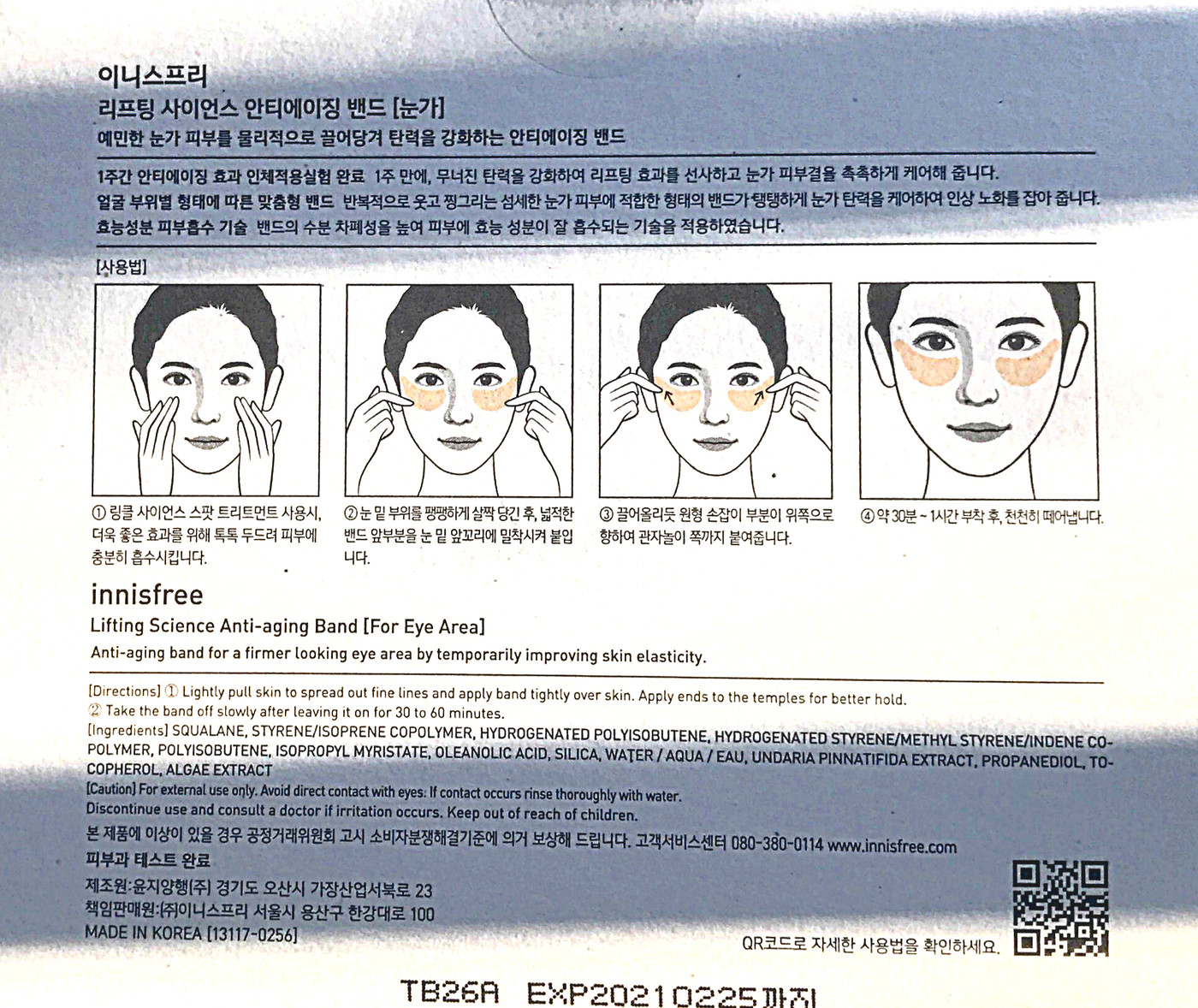 Comes in a box of 7 packets, 2 patches per packet.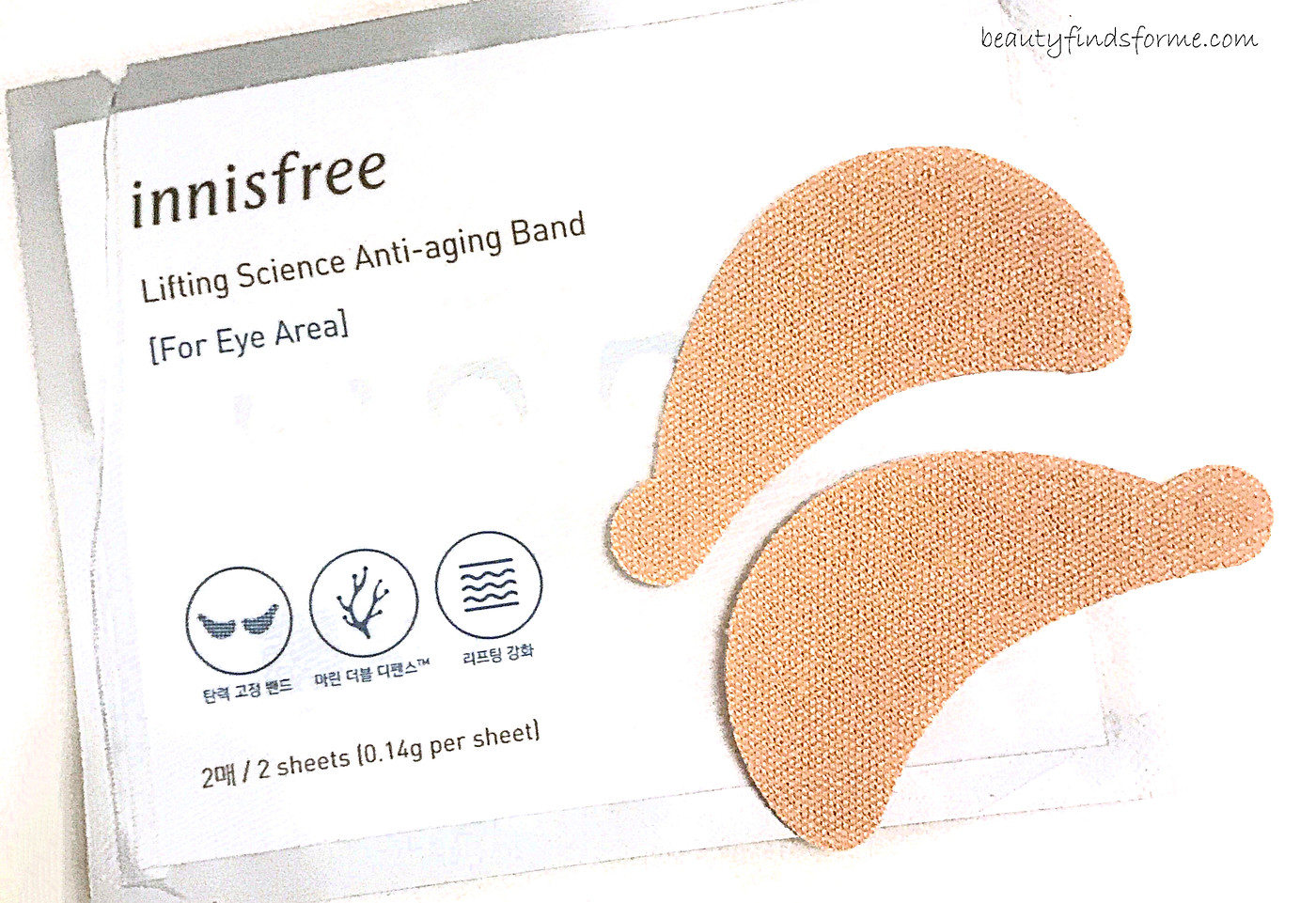 To use, lightly pull skin to spread out the fine lines and apply the band on  the skin.  You need to have the pointy ends going upwards towards your temple.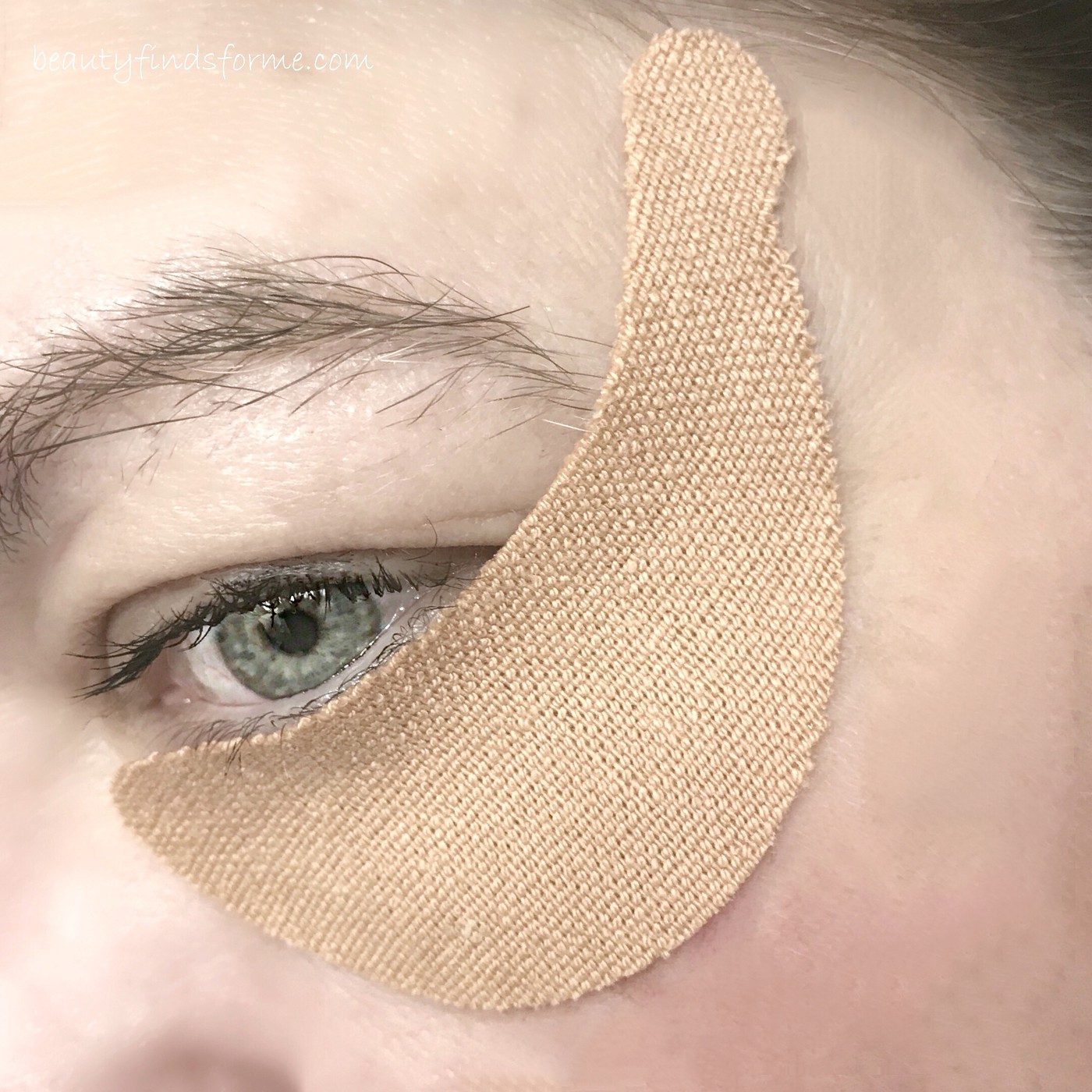 Forehead/Frown Lines Area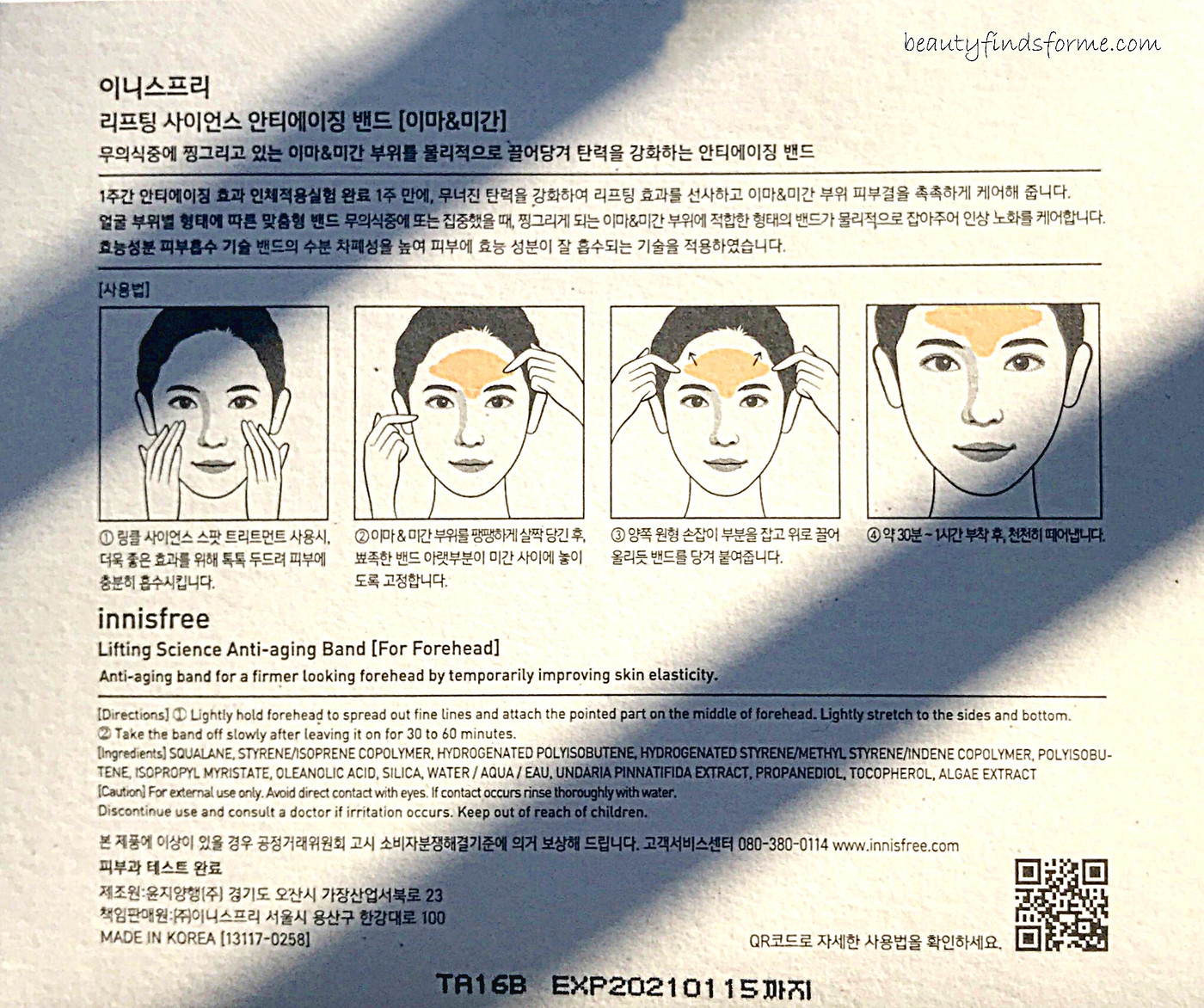 Comes in a box of 7 packets, 1 patch per packet.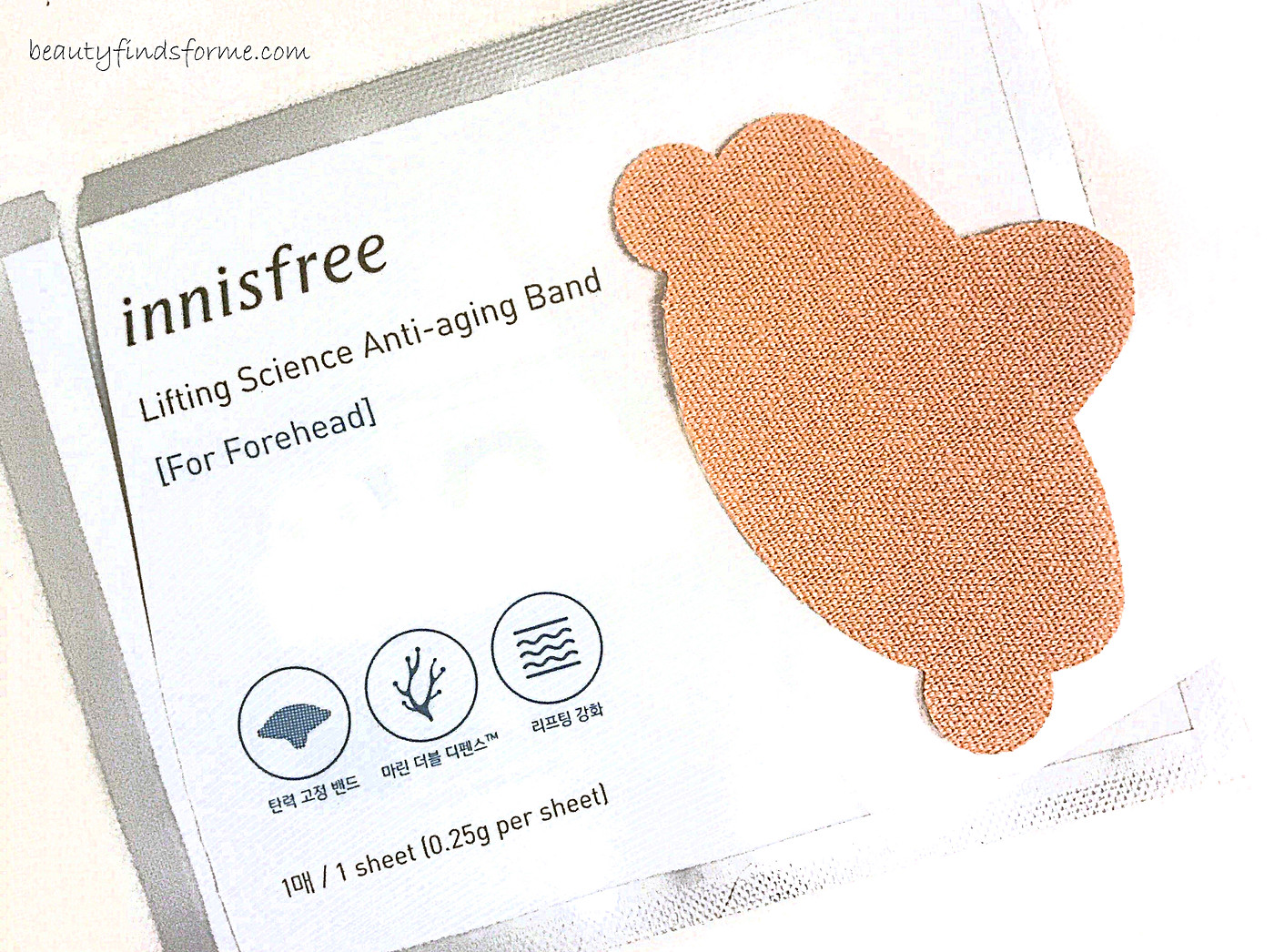 To use, lightly hold forehead area to spread out the find lines and attach the pointed part on the middle of the forehead.  You want the two points facing downwards on your face.  Stretch to the sides and bottom.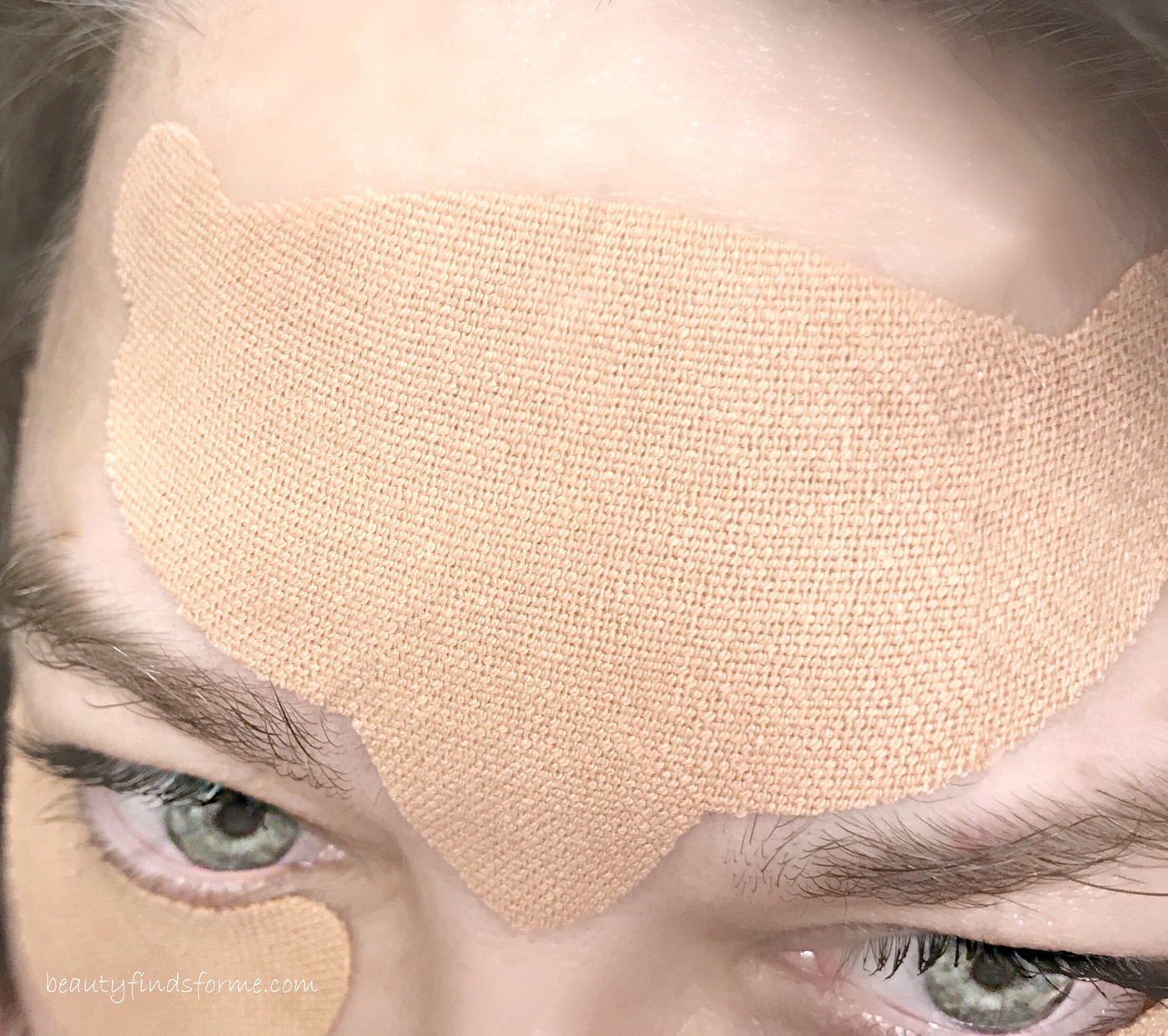 Smile Lines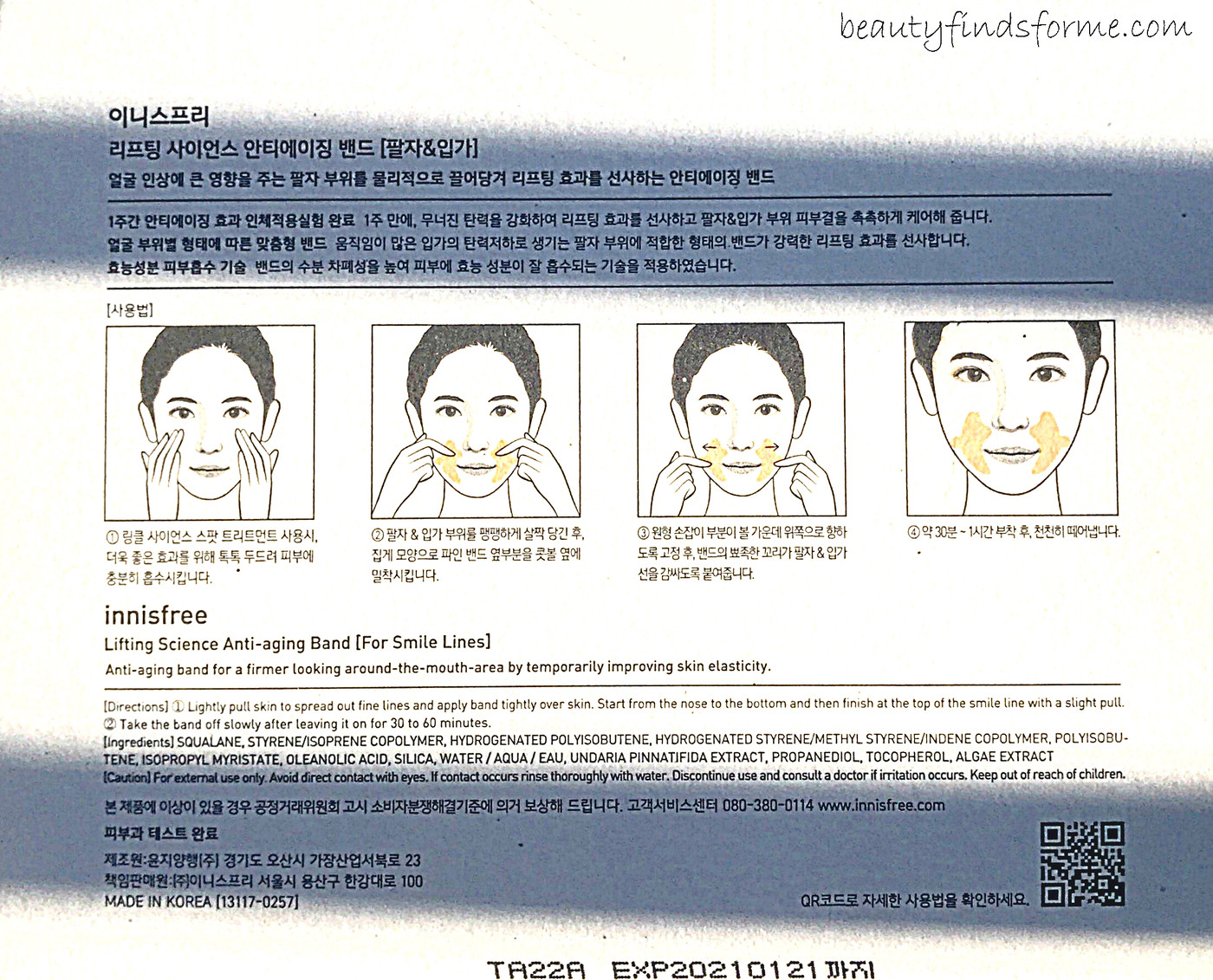 Comes in a box of 7 packets, 2 patches per packet.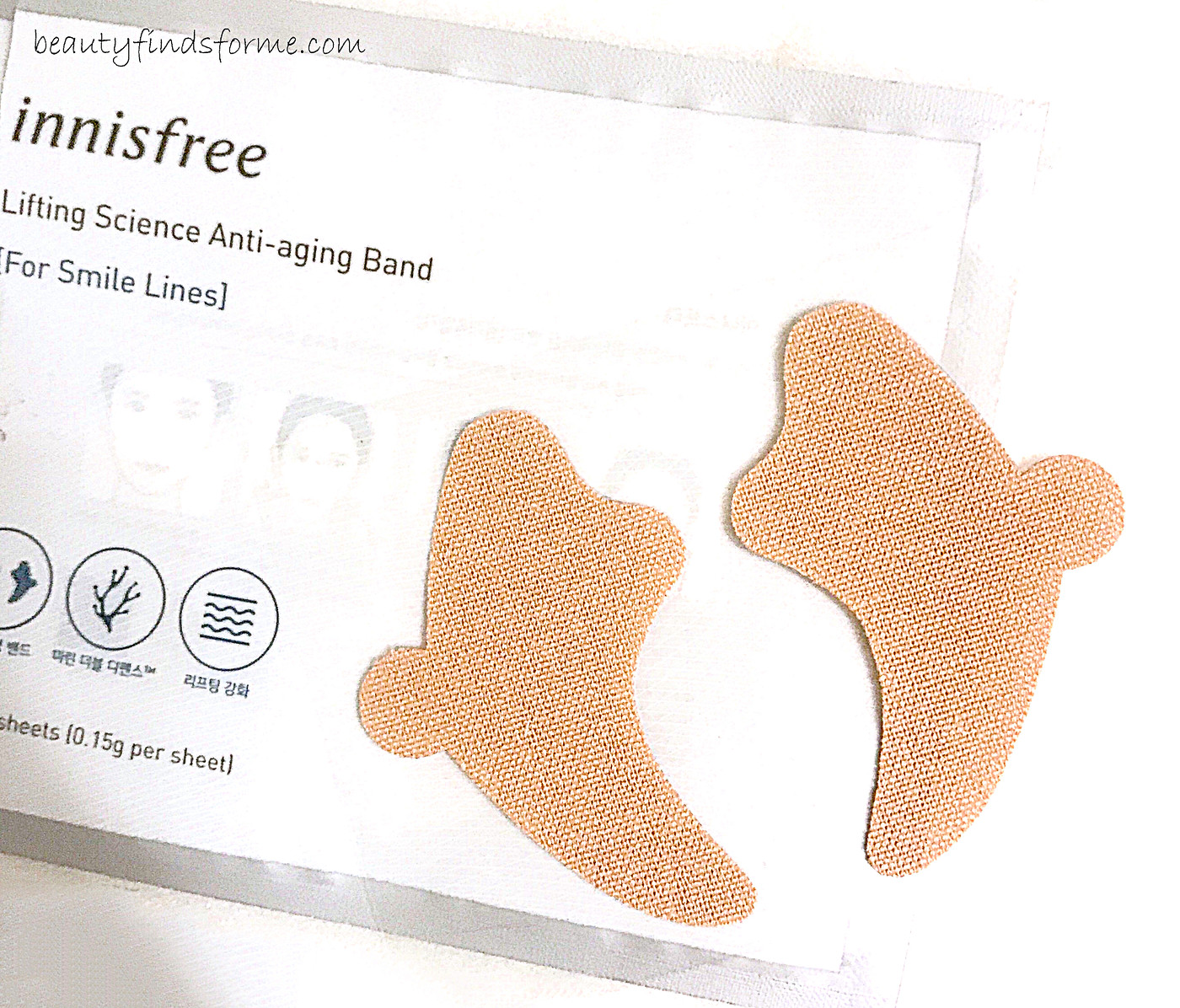 To use, lightly pull your skin to spread out the find lines and apply the band with the point facing towards your ears.  Pull that point out towards your ears to lift.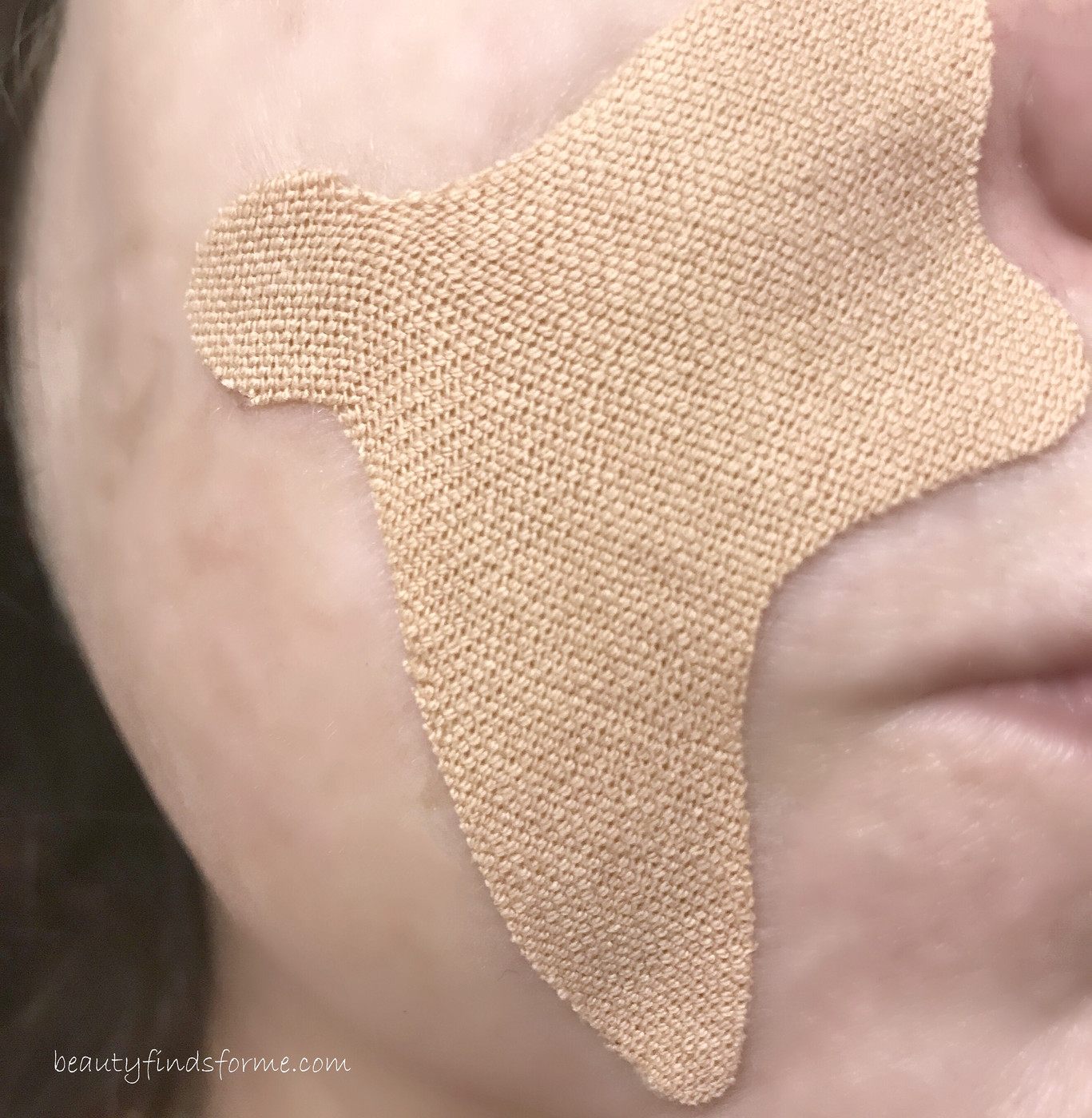 Neck and Jawline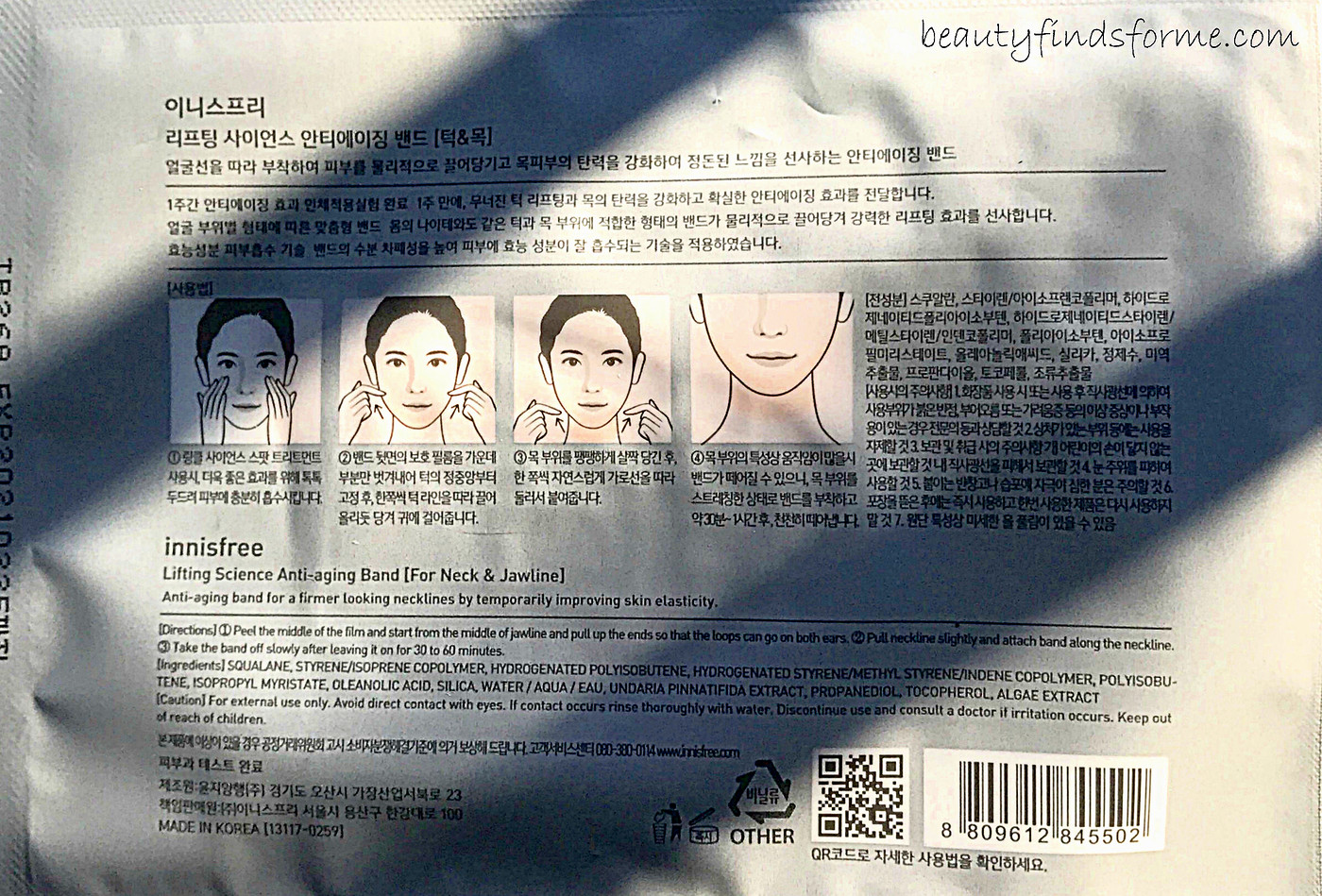 There is only one patch per packet.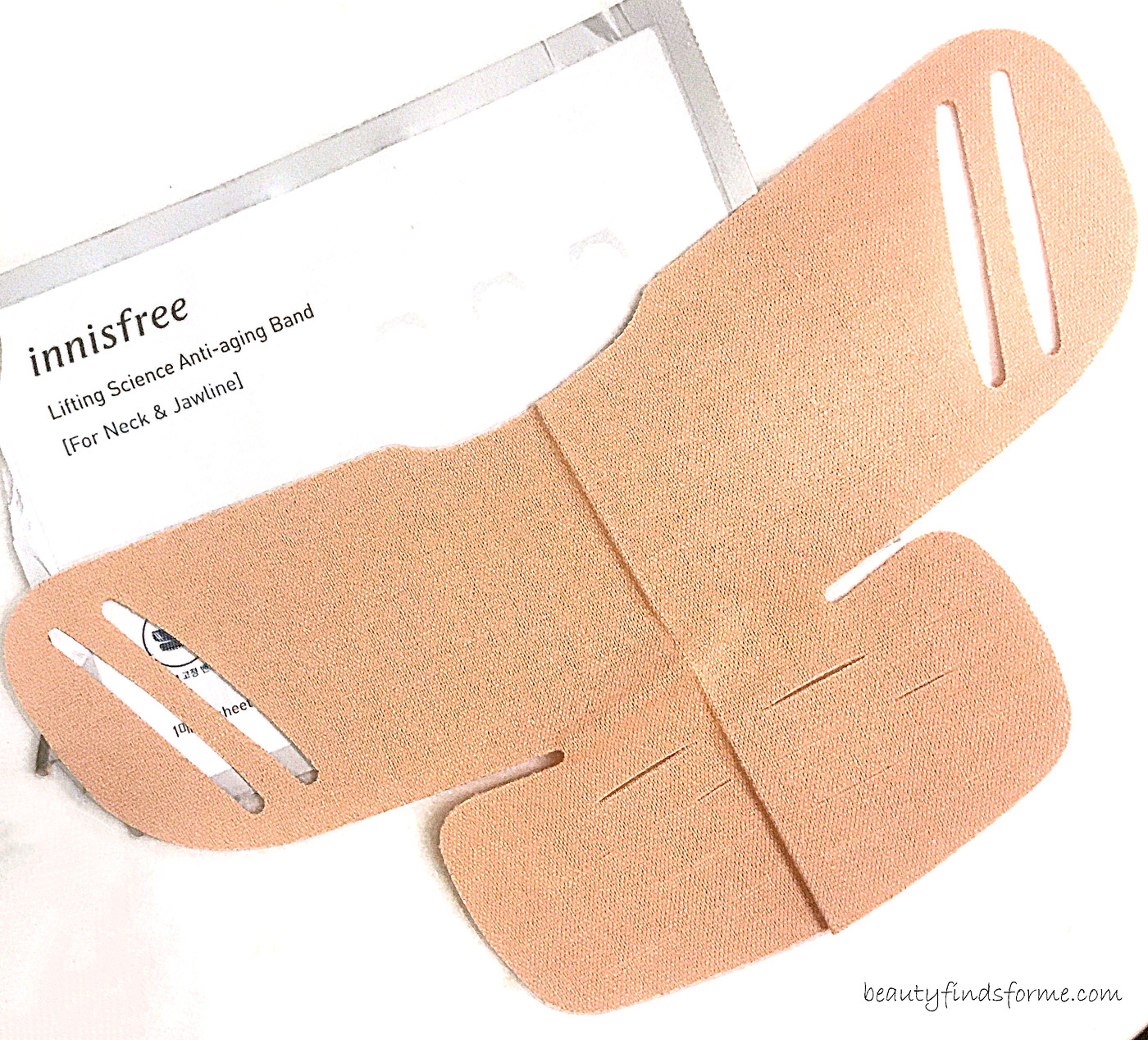 This is a huge mask as it covers the lower half of the face and under the neckline, going up to the ears.  Start in the middle of the jawline so the loops can go on both ears and pull neckline and attach the band along the neckline.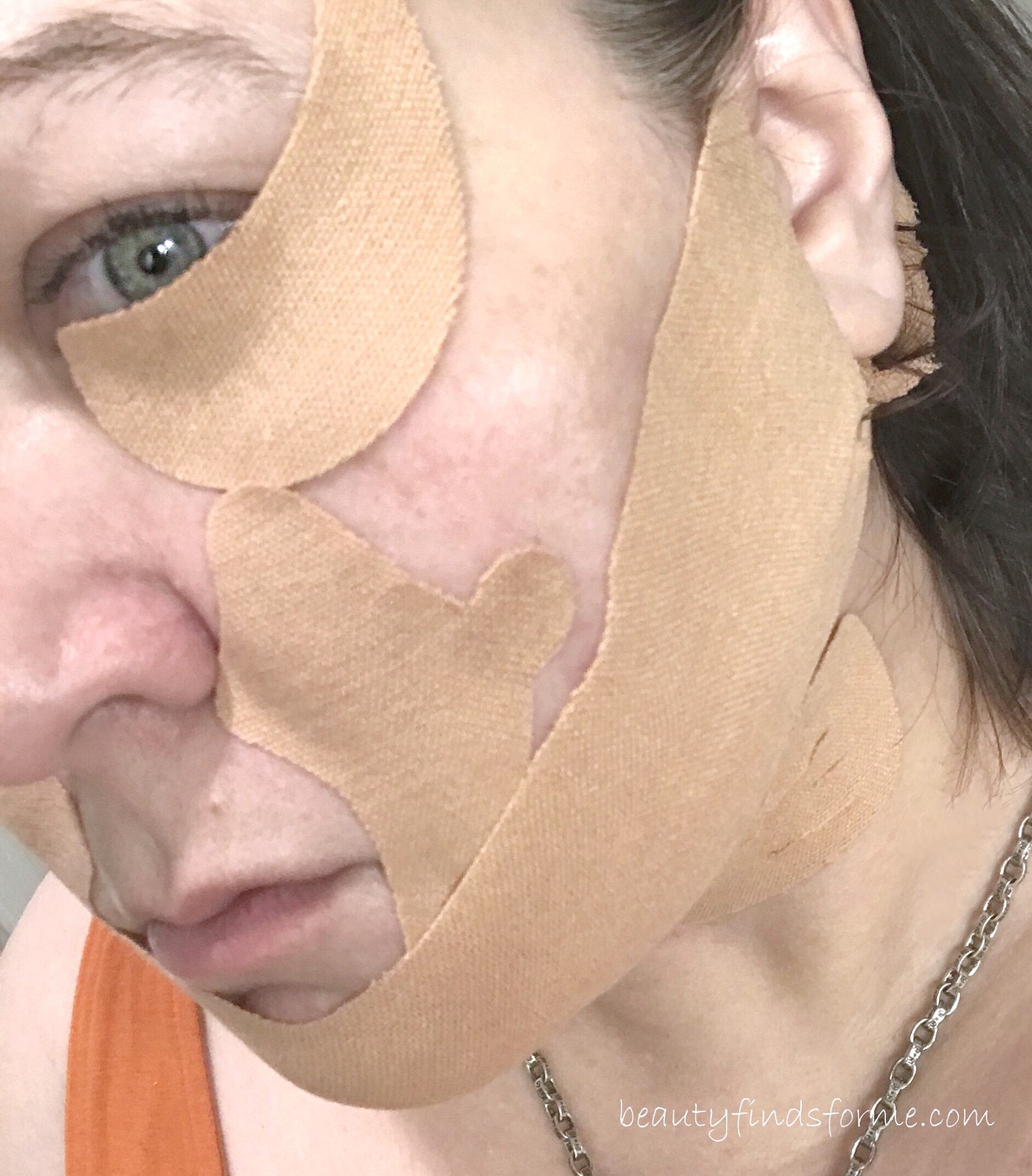 Leave the masks on for 30 to 60 minutes or even overnight.  You don't need all of them, like I had ~ just purchase the bands for the areas you wish to target.
All the masks except the Neck & Jawline were really simple and easy to apply.  I had issues with the Neck & Jawline mask as it kept doubling over as I was trying to get it in place ~ however, these bands do separate easily and they do not tear or stretch out of shape.  I felt like a mummy when I was wearing these and couldn't wait to remove them after an hour.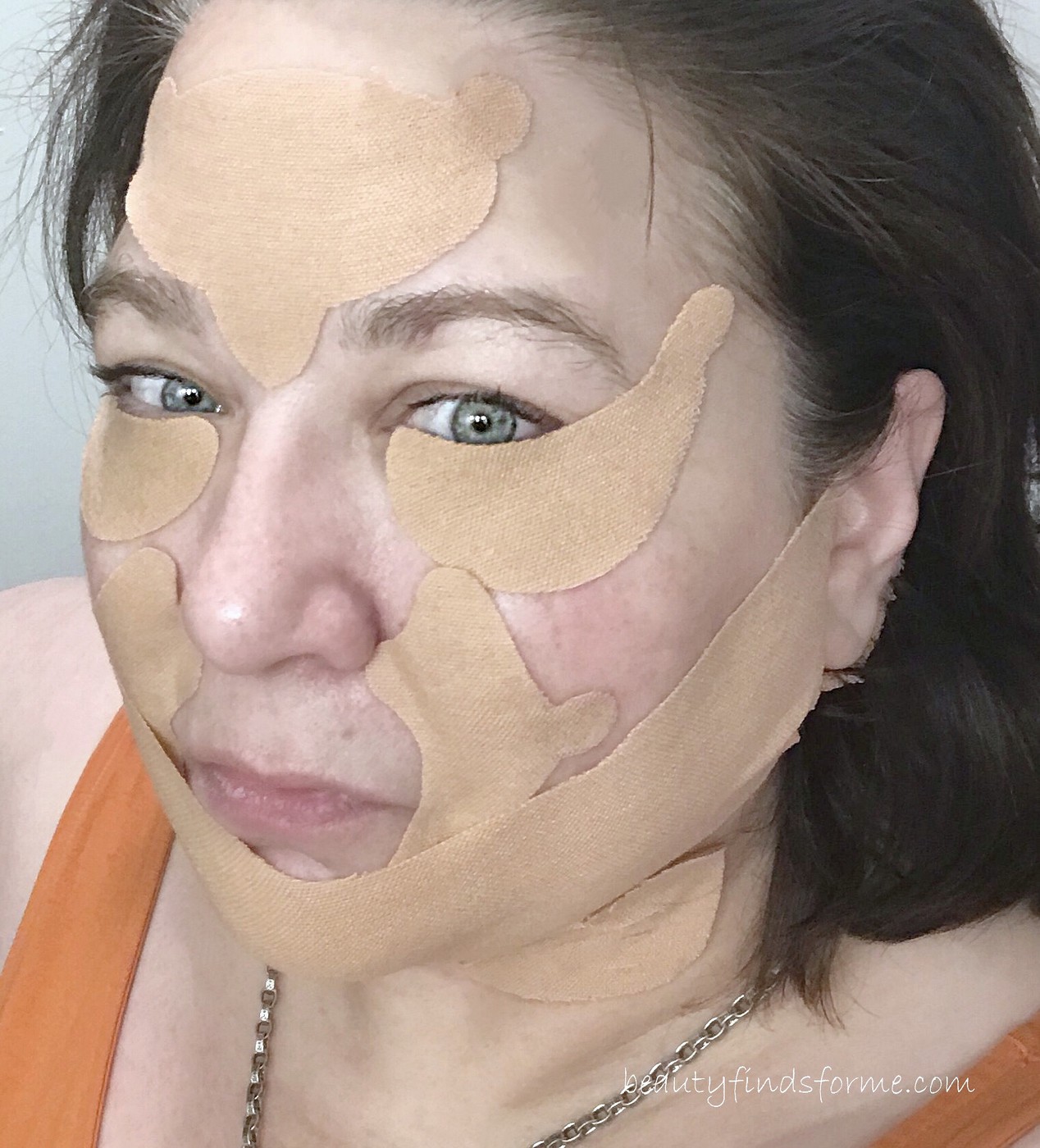 Now, for disclaimer, I have used up all of my patches before I came to the conclusion that my face is either too chubby, too saggy, not saggy enough, too old, not old enough or something as these were basically a fail for me.  I said basically as one of them masks actually did show some temporarily improvement when I used it.
These did moisturize my skin, so it didn't dry out and the removal was painless ~ they came off easily.  I did have to adjust and lift the patches while I was wearing them, so I don't think they adhere very well to oily skin.  
I didn't notice any lifting for my smile, forehead or eye area, which I was a bit sad especially for the smile area. However, the Neck & Jawline mask did show noticeable improvement ~ my jawline looked more defined and my double chin looked to be more tight and not as sagging.  Alas, that was temporarily and since these have to be on for 60 minutes for me, I probably would only use them before a special event.   
Now, someone who is much younger than me, Sandy at IG @ihopediversebeauty, reviewed these at her youtube channel and she didn't see much of a difference other than around her jawline.
Where to Purchase
Jolse carries all four of the Lifting Science Anti-Aging Bands plus a trial set, which includes the smile, eyes and forehead patches.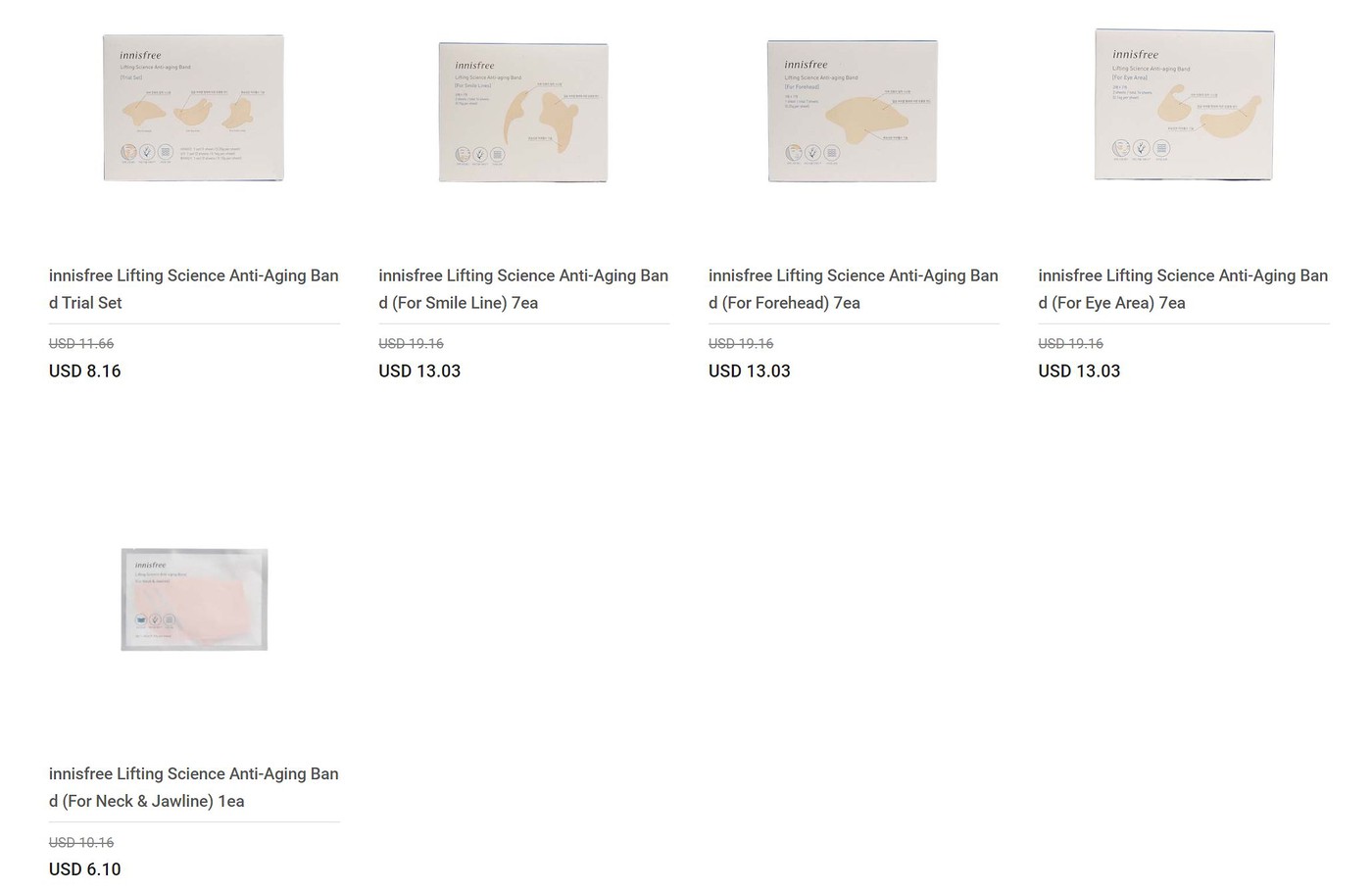 disclaimer: products received complementary for review purposes & contains affiliate links