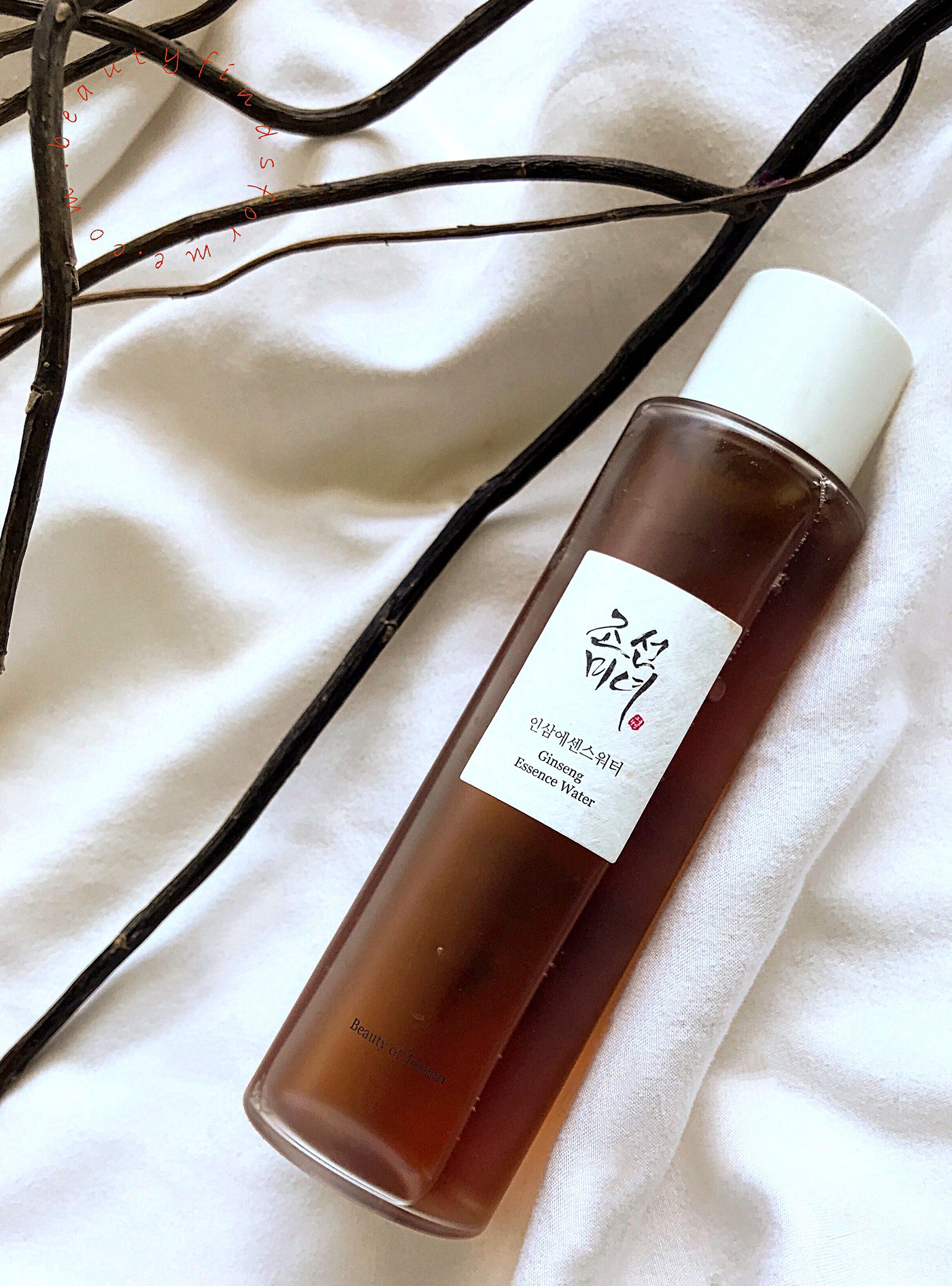 I have tried only a handful of Beauty of Joseon products and it has been a 50-50 love or meh/dislike skincare brand for me. However, when I saw this GINSENG Essence Water product, I was all for it ~ I love Sulwhasoo's Ginseng line and was wondering if this is similar to their First Care Activating Serum.  Jolse Cosmetic was kind enough to send me this Beauty of Joseon Ginseng Essence Water  for review purposes when I requested it.  If you haven't checked out this premier K-Beauty online store, you should!  Great service, free samples, free global shipping! 
Skin Type/Concerns: oily, blemish prone, aging concerns, pores, fine lines/wrinkles, hyper-pigmentation
I received these products complementary to review and was not paid.  All reviews are my own honest opinion and  I never have been asked to write copy for a brand.  This blog post might contain promo codes, affiliate and referral links, which using my links will help generate a small commission that helps support my blog at no extra cost to you.
Brand Info:  The Beauty of Joseon had only a few products for years but in the last couple of years, they have exploded with more products.  The inspiration for their products is the Joseon Dynasty ~ 1392 to 1897 ~ which is very famous and influential even today in modern Korea.  Beauty of Joseon uses ingredients that were prescribed in a guide for women's cosmetics and makeup tools ~ Kyuhab Chongseo.  That book focused on skincare that would result in clear, clean skin, using traditional herbal and fermented ingredients ~ Hanbang.  The Kyuhab Chongseo had a section on beauty water ~ I find that amazing!   Joseon re-creates those formulas, using key ingredients such as honey, orchids, soybean, rice bran and apricots ~ which will nourish your skin.
image beauty of joseon
Let's dive into a bit of a controversy here ~ Youtuber Odile Monod did go over the Beauty of Joseon Ginseng & Snail Serum, going into detail about the grade or lack of one in her Ginseng video around the 10:20 mark
Based on Odile's review, Beauty of Joseon uses cultivated ginseng, not wild ginseng and they do not mention the age of their ginseng at harvest time.  They do not use medicinal grade ginseng either ~  for example,  Sulwhasoo is very specific about the type and age of their ginseng ~ 6 year old wild red ginseng ~  and the older the root, the more effective and potent it is ~ AND more expensive.  I have to assume, based on what I read from other reviewers and the fact that Beauty of Joseon does not disclosure the age of the ginseng root at harvest time, that this is a young ginseng root and/or of lower quality.  Cultivated ginseng is less expensive than wild ginseng but it has less benefits as well
Also,  Beauty of Joseon was fined by The Ministry of Food and Drug Safety (MFDS) in Korea over their claims and quality of the ginseng they used, as you cannot make anti-aging claims with non-medicinal  grade ginseng.  So, please keep this in mind as I go over the ingredients and their benefits.  It's not to say that you won't get any anti-aging benefits from this Essence Water, but it won't be as effective as a $200.00 Sulwhasoo product would be.  That said, I did really like the  Beauty of Joseon Repair Serum with Ginseng + Snail Mucin, so I do think that for the price point, these are useful products.
This has 80% cultivated ginseng root water ~ it is the very first ingredient! This does have three cultivated ginseng ingredients ~ the root water, callus culture (think of stem cells) and fermented Panax ginseng  is used in anti-aging skin care products, as it is can stimulate the skin and activate the blood flow, which will increase toning and production of new skin cells. It also has anti-oxidant and anti-inflammatory properties, due to natural carbohydrate called saponin, and will help reverse damage caused by free radicals, such as hyper-pigmentation and also combat free radicals to prevent new skin damage of fine lines and wrinkles. Ginseng detoxes your skin and leaves it radiant and glowing. Applied topically, it helps stimulate collagen production to promote cellular renewal. Its herbal properties and usage dates back over 5,000 years.
2% niacinamide is a powerful antioxidant that acts as an anti-inflammatory, provides oil and pore control, improves your skin elasticity, enhance the skin barrier function and also it helps to even out skin tone and reduce post-inflammatory hyper-pigmentation, while dipotassium glycrrhizate aka licorice reduces flakiness in skin, anti-irritant and anti-inflammatory.  Licorice soothes skin, reduces redness, and can brighten and even out your skin tone.   
Anti-inflammatory panthenol helps with cellular renewal and is an effective moisturizer.  Panthenol is a natural humectant, which retains moisture and hydrates the skin. It also is a good lubricant on the skin, making skin look soft and smooth. Yeast derived adenosine (.04%) provides anti-wrinkle and anti-inflammatory benefits, while glucose is a humectant and skin conditioner.  Allantoin moisturizes, exfoliates and softens skin, making it look smooth and refined, while reducing and relieving irritation. Glyceryl glucoside is excellent for dehydrated skin, as it is a hydrating ingredient that will restore your skin barrier function.
Ingredients: panax ginseng root water(80%), butylene glycol, glycerin, propanediol, niacinamide, 1,2-hexanediol, water, hydroxyacetophenone, glyceryl glucoside, panthenol, xanthan gum, allantoin, dipotassium glycyrrhizate, adenosine, panax ginseng callus culture extract, dextrin, theobroma cacao (cocoa) extract, disodium EDTA, glucose, panax ginseng berry extract, panax ginseng root extract, lactobacillus/panax ginseng root ferment filtrate, ethylhexylglycerin, sodium hyaluronate cosDNA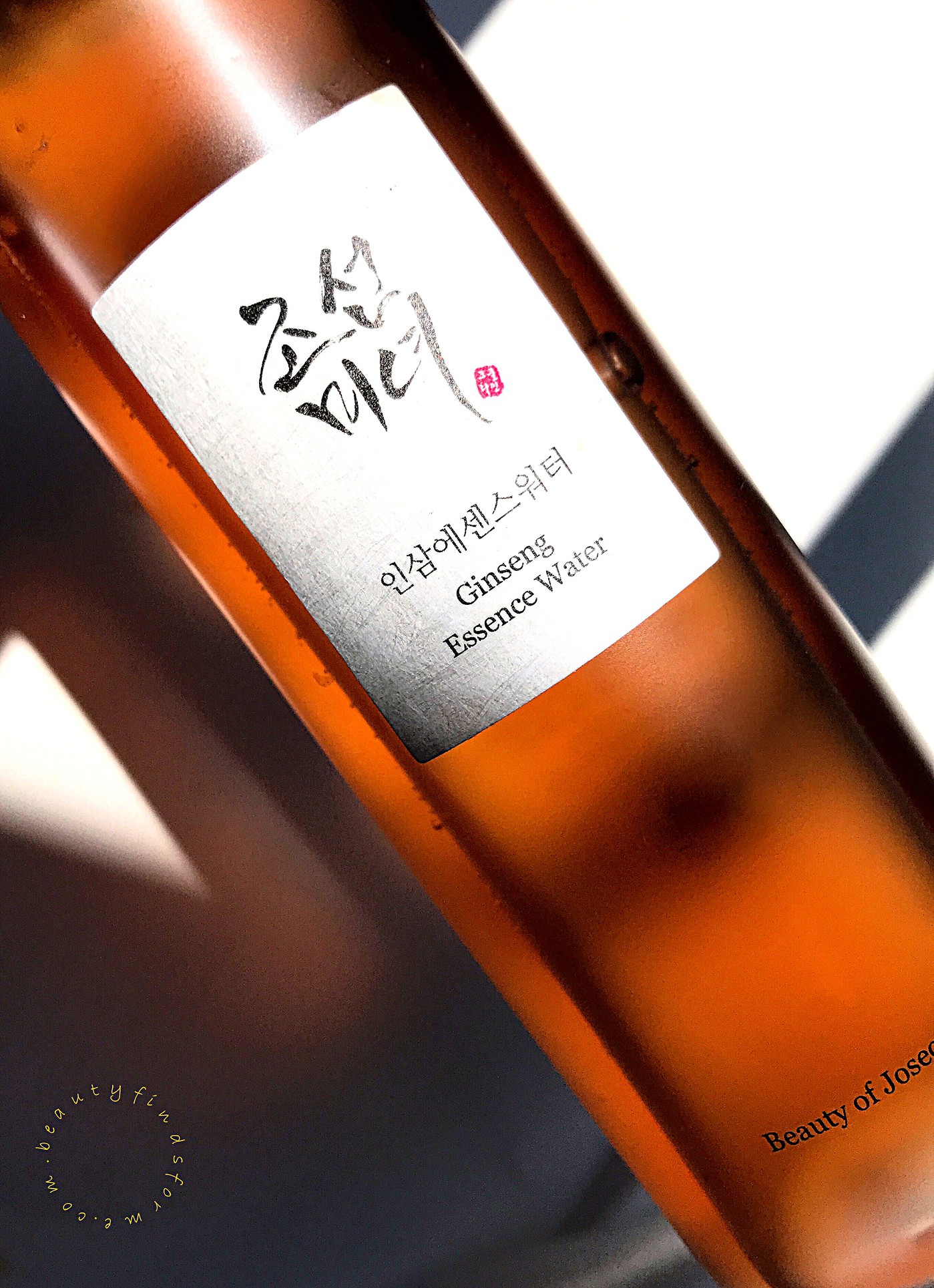 This comes in a nice tall clear plastic bottle with the antique-y style label.  I do love the simplicity of Beauty of Joseon's lettering and labeling ~ it looks like it would have come out in the Josean era.   It has the standard pin hole applicator, so you just tip and shake out.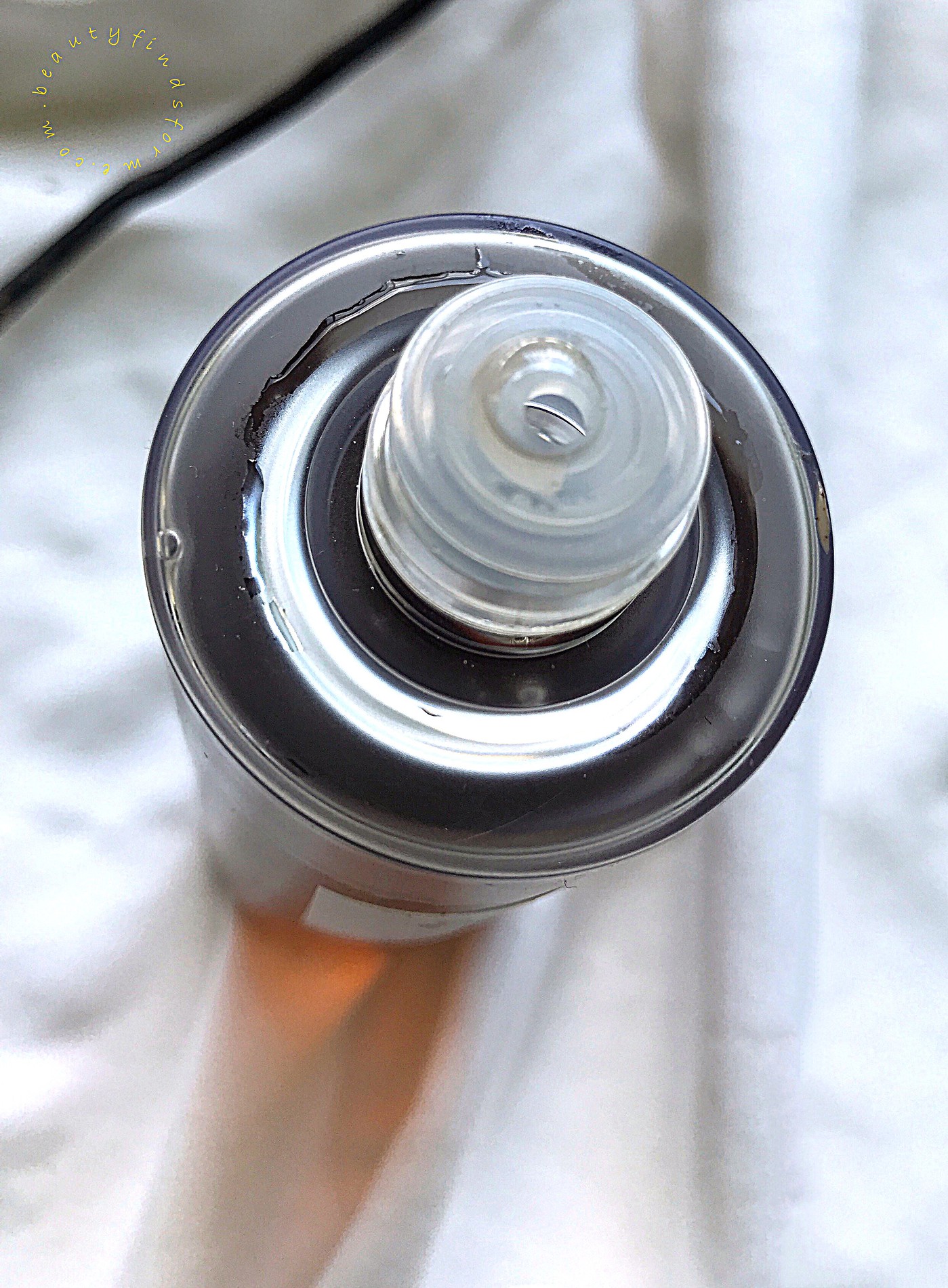 The Essence Water is an amber shade and this does have the lovely scent of ginseng to it ~ it is very watery and is not a thicker type of essence.   This has a pH level of about a 5.5, so it is mildly acidic.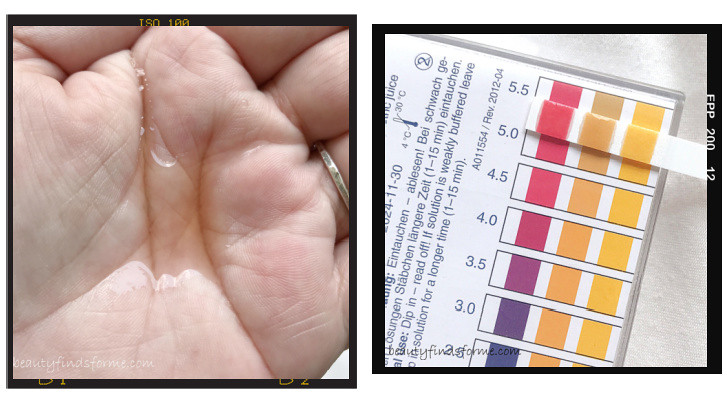 It is refreshing and very hydrating on my oily skin and leaves no greasy or tacky residue.  It is lightweight and I probably use way too much of it, as I love the scent and how plumped up it makes my skin without being heavy.   As far as the claims of being rich in antioxidants and it prevents fine lines and wrinkles, by promoting collagen production, I wouldn't bet the farm on that claim.  What this Ginseng Essence Water does is hydrate, calms and soothes the skin while feeling refreshing with a lovely herbal scent.  For the price tag, I am fine with this product ~ it is great for oily and oily-combo skin, so if you are looking to pick up your first Hanbang product with ginseng in it, this is a nice choice ~ just remember you do get what you pay for, and the ginseng in this product is not the same as what you find in high priced brands like Sulwhasoo and The History of Whoo.   
Where to Purchase
Jolse carries a lot of Beauty of Joseon skincare line, including their creams, ampoules, and this Ginseng Essence Water, which  sells for $15.96 for a 150 mL bottle (click here)
All prices are in USD ~   Jolse offers free global shipping plus gives a lot of samples out ~ the more you purchase, the more samples you get! Please note that the prices do fluctuate a little bit due to the WON to USD exchange rates. Make sure to check your coupon zone (click here) for money saving discounts. You need to log into Jolse first, then download the coupons before you use them. Coupon savings usually are $5.00 off a $50.00+ purchase, 5% off $100.00+ purchase and 10$ off a $200.00+ purchase

[ products received for review purposes.  blog post contains affiliate links ]