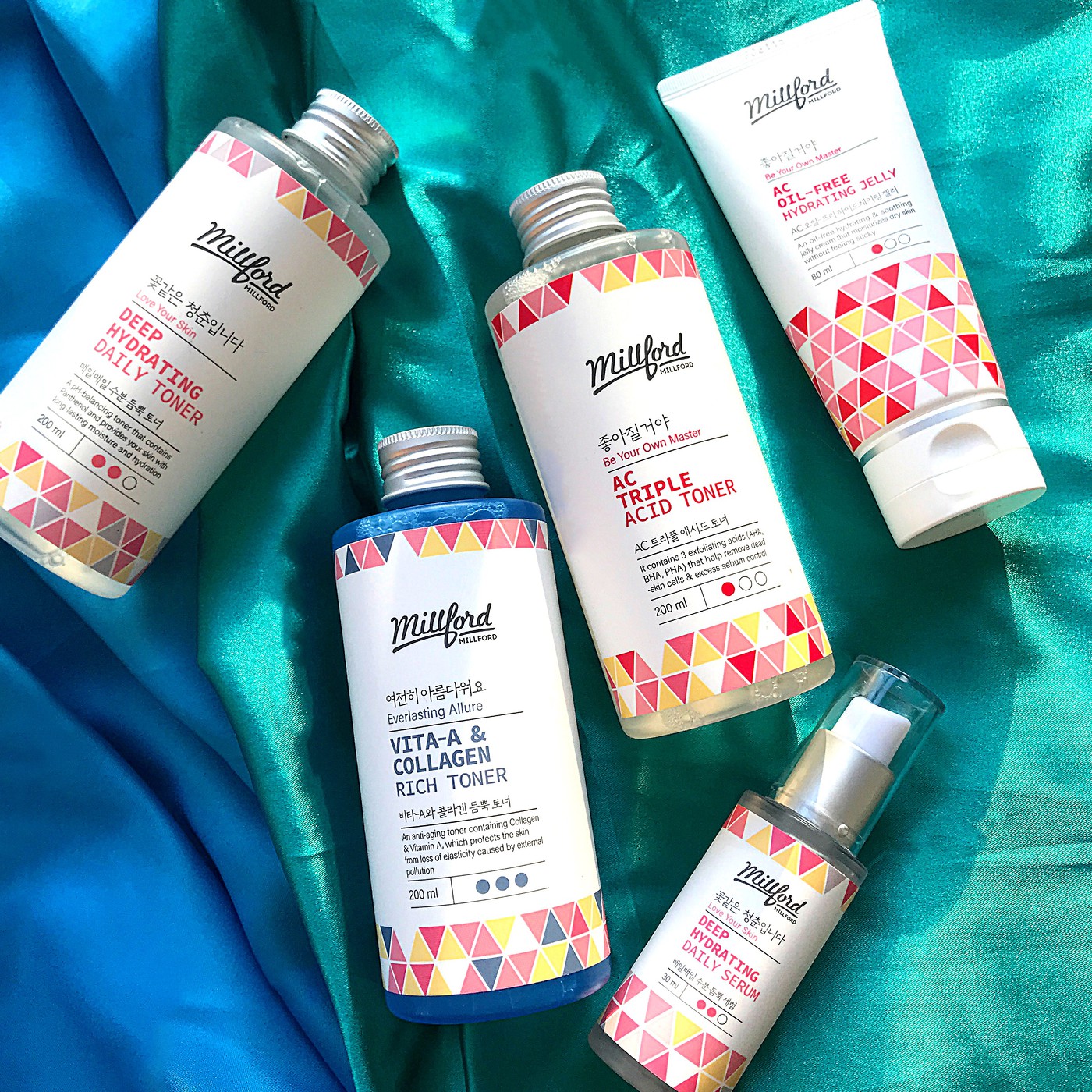 Have you heard about Millford Skincare?  This is a Korean skincare brand that launched in 2021, so you might not have heard about them.  Their brand name and skin care ingredients are Inspired after a visit to the Milford Sound Fjord in New Zealand. They have skincare products that work for all ages and all skin types, using nutritious ingredients.  They have several product lines: Be Your Own Master is for blemish prone skin, Everlasting Allure is anti-aging, Love Your Skin for deep hydration and One-For-All which is good for all skin types.  You can purchase Millford skincare at YesStyle.  I received these products complementary in exchange for a review from Millford and I decided to try all  of the toners  plus a couple of other products.     
Skin Type/Concerns: oily, blemish prone, aging concerns, pores, fine lines/wrinkles, hyper-pigmentation
I received these products complementary to review and was not paid.  All reviews are my own honest opinion and  I never have been asked to write copy for a brand.  This blog post might contain promo codes, affiliate and referral links, which using my links will help generate a small commission that helps support my blog at no extra cost to you.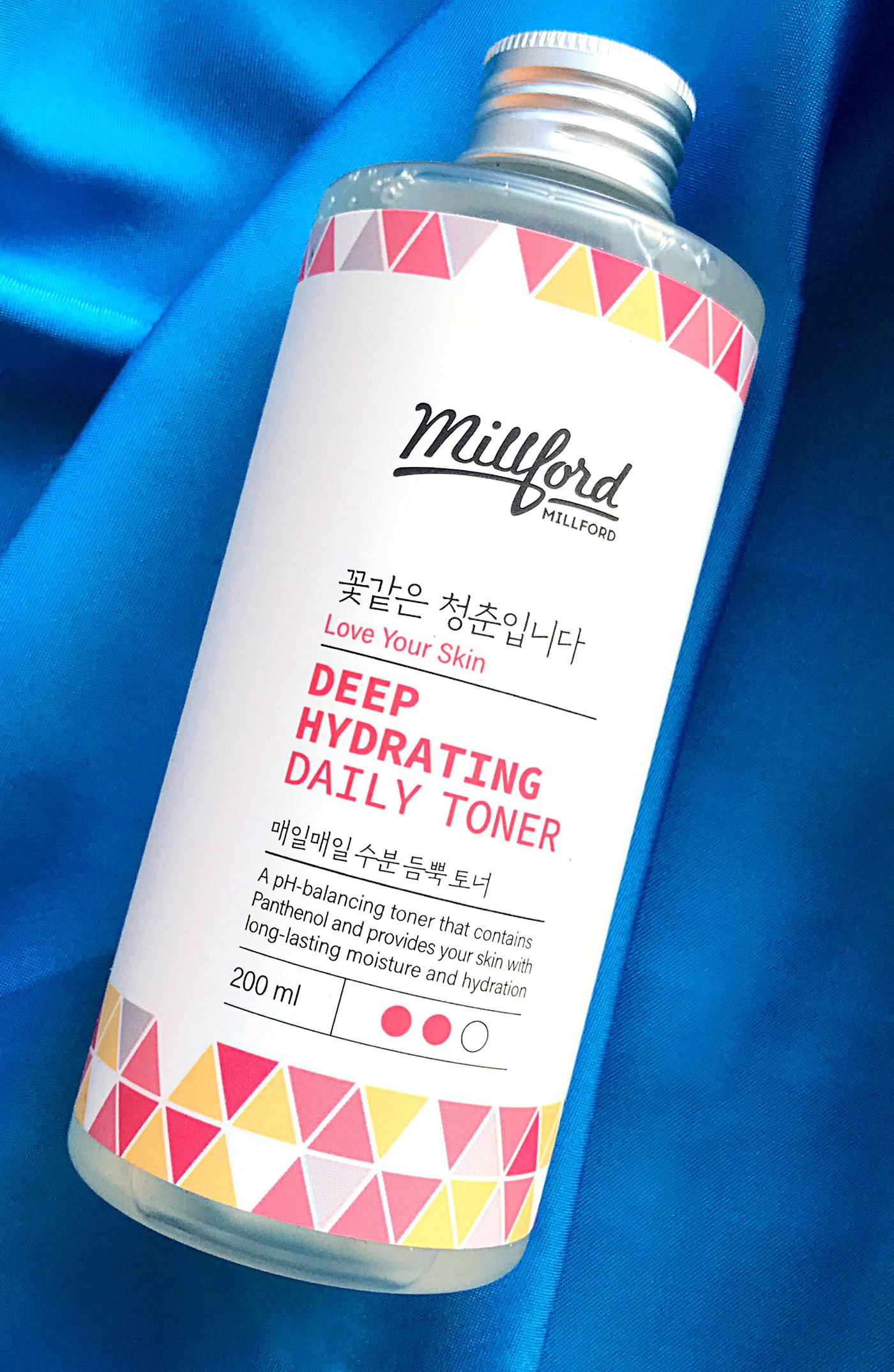 Deep Hydrating Daily Toner doesn't contain a lot of ingredients, but what it does have are very hydrating humectants ~  vitamin B5, anti-inflammatory panthenol  is a natural humectant, retaining moisture and hydrating the skin. It also is a good lubricant on the skin, making skin look soft and smooth.   Betaine reduces the appearance of fine lines and wrinkles, while attracting moisture  and relieving skin irritation, without any stickiness.  This also contains the popular duo of sodium hyaluronate and glycerin for hydration
Ingredients: Water, Butylene Glycol, 1,2-Hexanediol, Panthenol, Betaine, Sodium Hyaluronate, Glycerin, Citric Acid cosDNA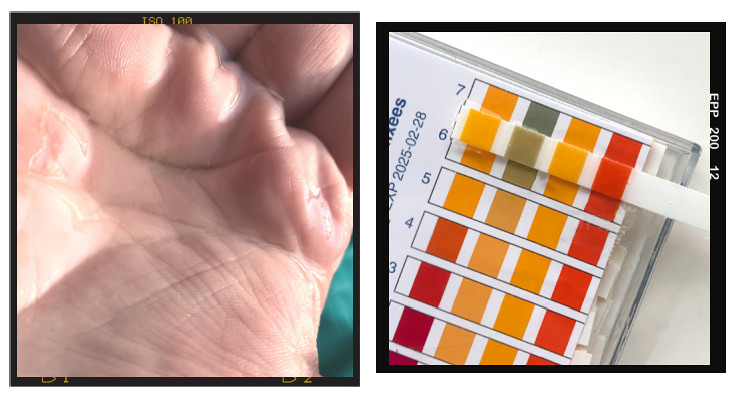 All of the toners come in tall 200mL plastic bottles with a tin cap that screws off and on.  This has a pin hole applicator and the Deep Hydrating Daily Toner is a watery, fragrance free toner that really delivers a nice refreshing burst of hydration without any tacky or greasy residue.  This is great for my oily, dehydrated skin as I can layer it multiple times without any stickiness.  This has a pH friendly level of about a 6.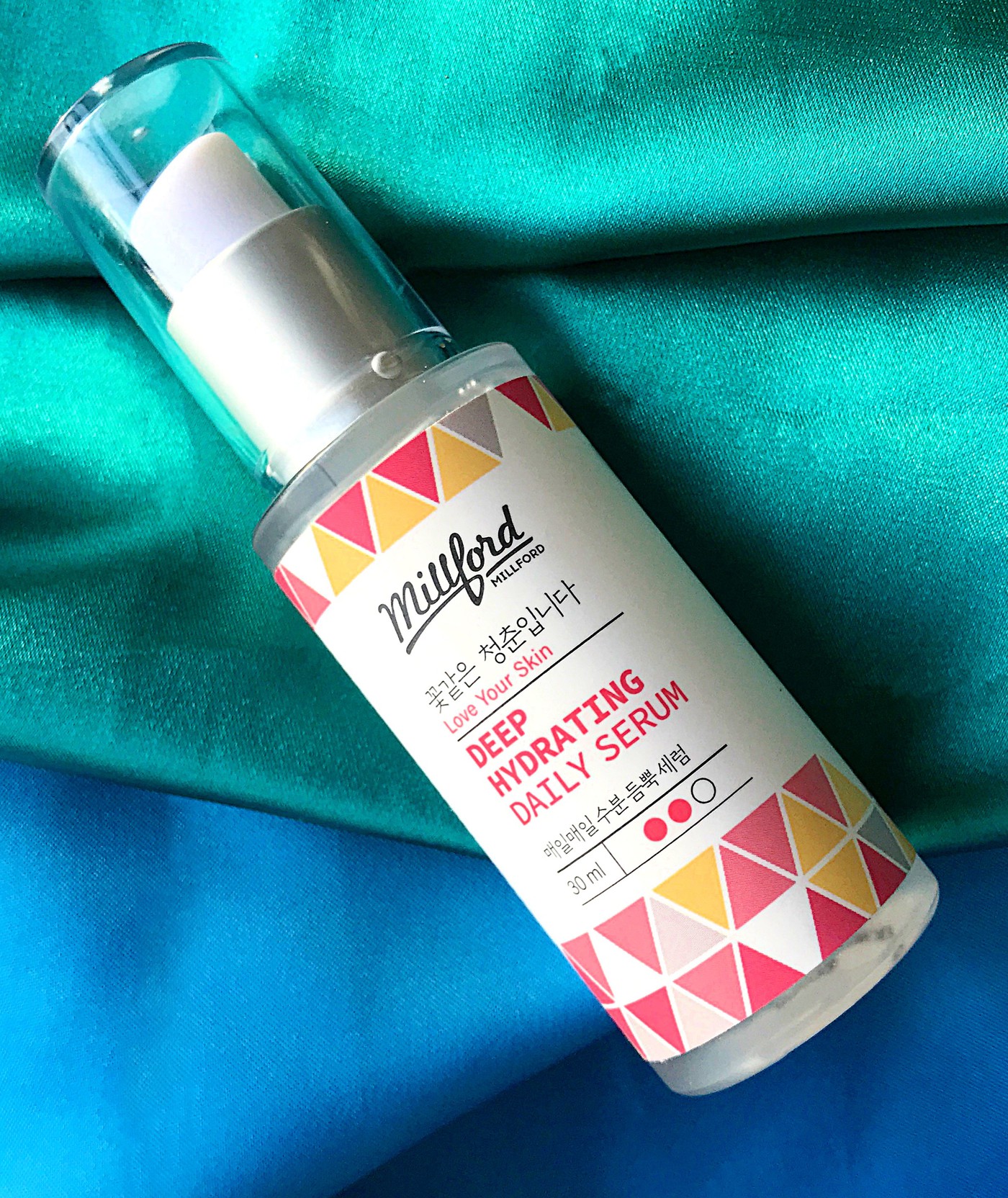 Deep Hydrating Daily Serum contains 6 different hyaluronic acids consisting of different molecular weight, so that it can provide hydration into the deepest layers of your skin and also attract and bind moisture to your skin.   This also has panthenol, glycerin, betaine and moisturizing allantoin, which also softens, exfoliates, reduces redness and relieves irritation.  
image from yesstyle
Ingredients: Water, Butylene Glycol, Panthenol, Glycerin, 1,2-Hexanediol, Betaine, Nelumbium Speciosum Flower Extract, Polysorbate 60, Pentylene Glycol, Allantoin, Xanthan Gum, Sodium Hyaluronate, Hydroxyethylcellulose, Hydroxyethyl Acrylate/Sodium Acryloyldimethyl Taurate Copolymer, Caprylic/Capric Triglyceride, Sodium Hyaluronate Crosspolymer, Hydrolyzed hyaluronic acid, Hydrolyzed Sodium Hyaluronate, Hyaluronic Acid, Ethylhexylglycerin, Citrus Limon (Lemon) Peel Oil, Citrus Aurantium Bergamia (Bergamot) Fruit Oil cosDNA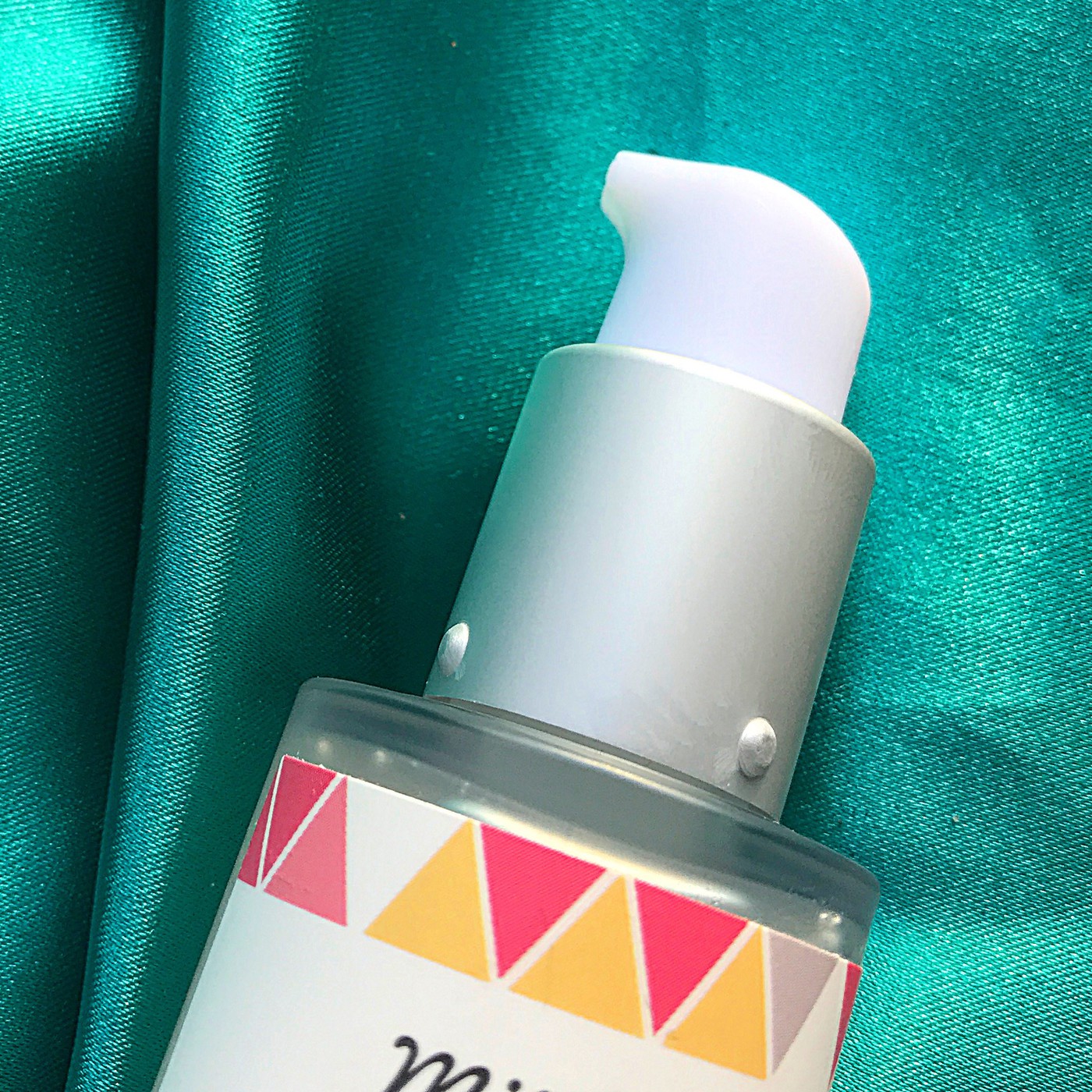 This is a gelly serum that is colorless and despite the EO's in here, this doesn't have a scent that I can pick up on.  It uses a pump applicator to dispense the product and I have to say, wow.  This stuff is VERY MOISTURIZING. 

It has that slightly tacky feeling on my skin when a product has a lot of humectants in it and it does leave my skin very dewy with a lot of the product sitting on top of it.  I use this at night time, as I don't care if my skin is sticky or not.  Although my skin is dehydrated, it is also oily, so I think this product is better well suited  for dry or damaged skin.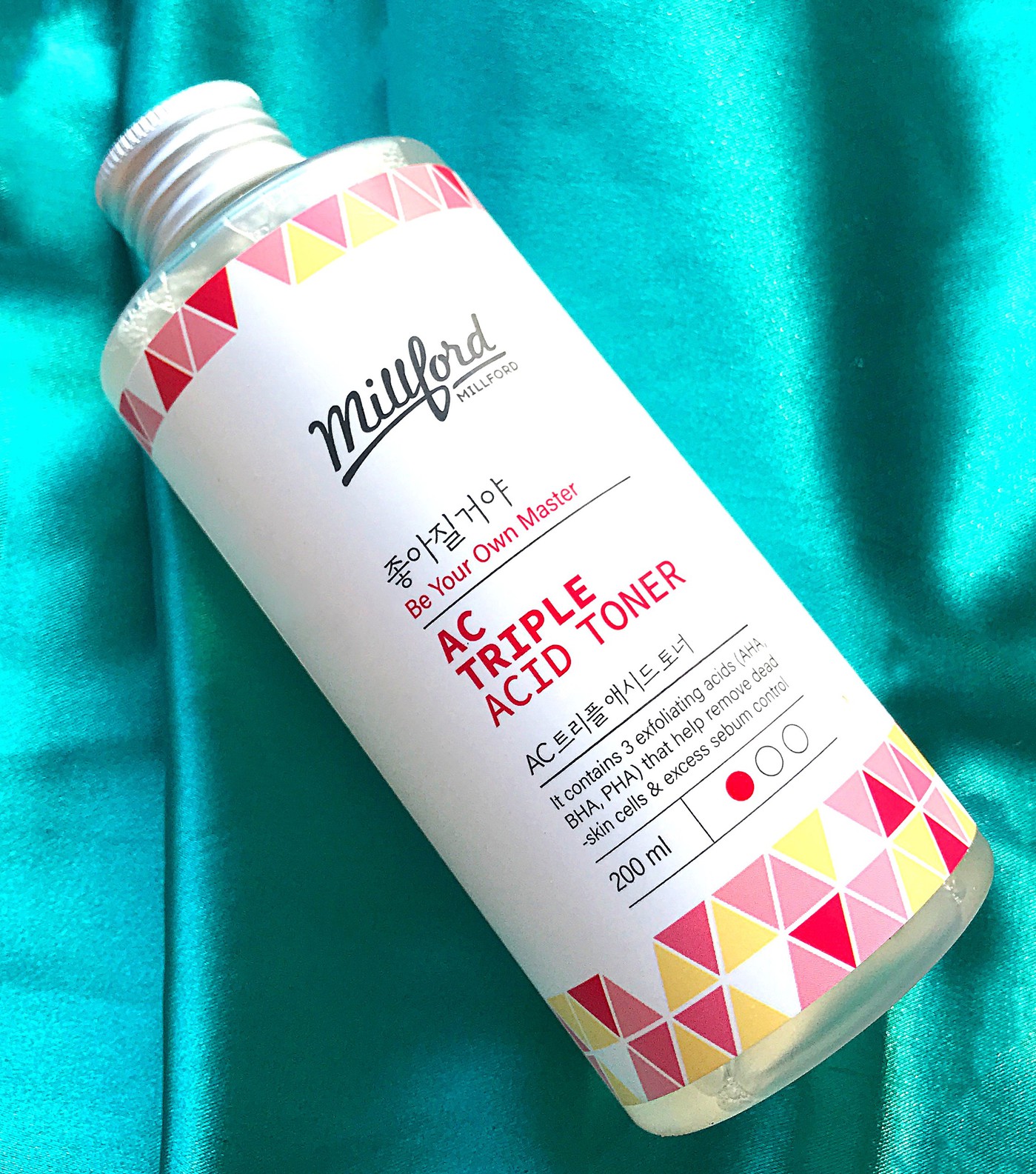 AC Triple Acid Toner is fantastic!  This is a 3-in-1 mildly exfoliating toner for blemish prone and oily skin types.  This includes two AHA with glycolic and lactic acids, helping to smooth your skin's texture, remove dead skin cells and dirt from the surface of your skin.  BHA's betaine salicylate and salicylic acid work deeper into the pores of your skin, removing dead skin cells, excess oil and gunk from your pores. PHA's  gluconolactone and lactobionic acid is similar to AHA, but is much more gentle, less irritation and does exfoliate the surface of your skin, while providing hydration. 
This also has hydrating sodium hyaluronate, panthenol and allantoin along with alcohol.  As an oily-skinned person, I rarely have issues with alcohol in my skincare, if it formulated correctly.  Since the ingredients in here are all hydrating ingredients, I see no issues with alcohol being in here
Ingredients: Water, Alcohol, Butylene Glycol, Glycolic Acid, Sodium Hydroxide, Lactic Acid, Polysorbate 20, Gluconolactone, Betaine Salicylate, Salicylic Acid, Lactobionic Acid, Polysorbate 60, Panthenol, Allantoin, Sodium Hyaluronate, Citrus Aurantium Bergamia (Bergamot) Fruit Oil cosDNA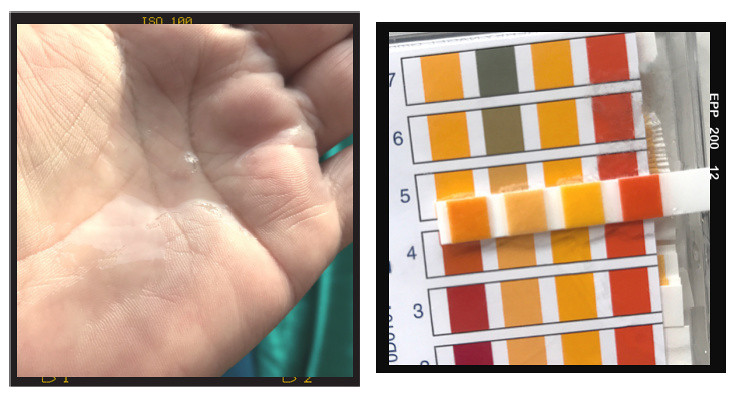 The bottle is the same as all the other toners and this toner has a mildly acidic pH level of about 4.5 ~  5, which I would expect with an acid toner.  This doesn't have a fragrance, which begs the question, why does Millford put essential oils in their skincare products, if they have no scent?    The AC Triple Acid Toner is very watery and I use cotton pads to apply, giving both a chemical and physical exfoliation.  This does seem to work nicely, unclogging pores, removing excess oils and making my pores appear smaller, all the while hydrating my skin and not drying it out.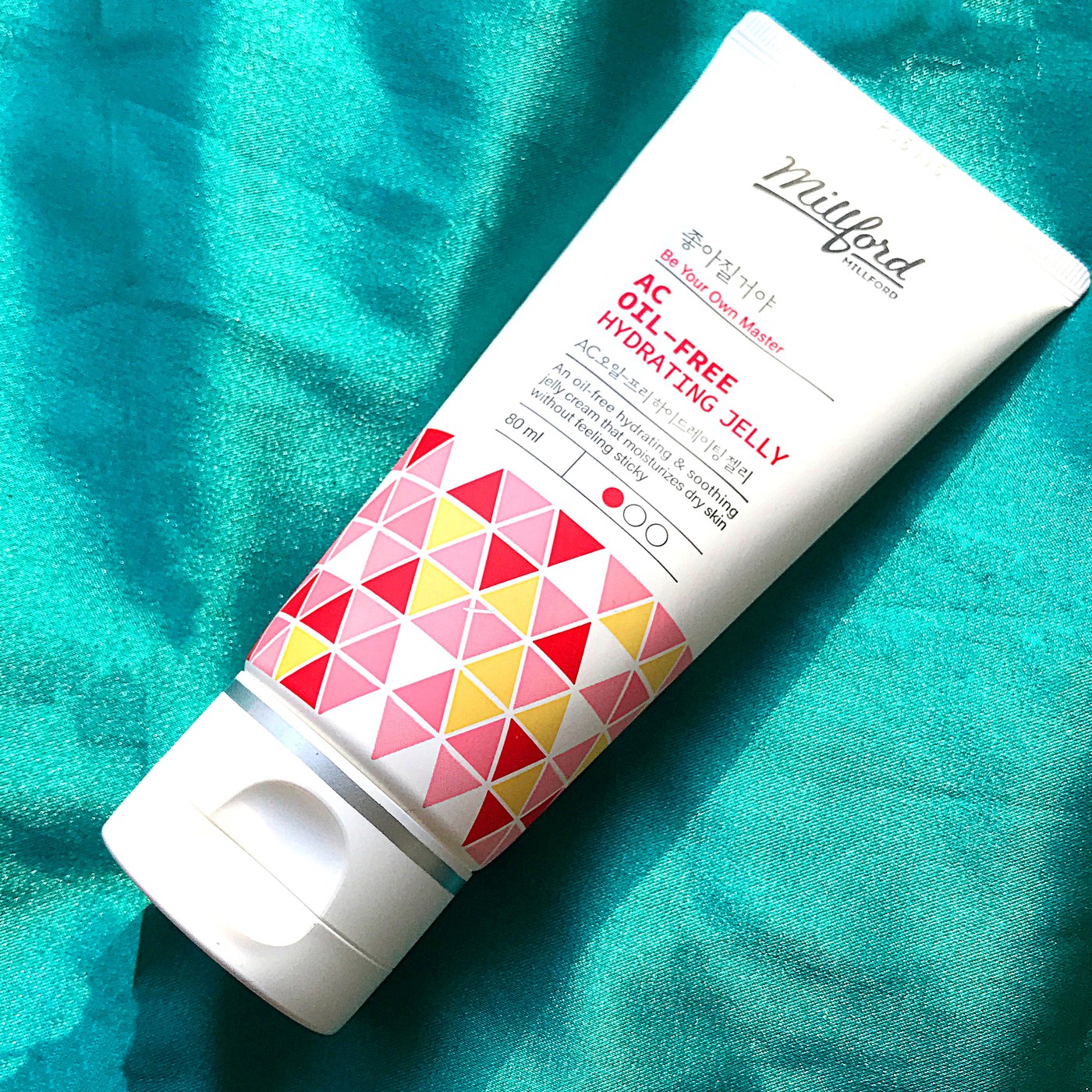 AC Oil-Free Hydrating Jelly is really lovely!  It reminds me a  lot of my HG Clinique Dramatically Different  Hydrating Jelly but at the fraction of the price.  Niacinamide is a powerful antioxidant that acts as an anti-inflammatory,  improves your skin elasticity, enhance the skin barrier function and also it helps to even out skin tone and reduce post-inflammatory hyper-pigmentation.   This also has hydrating glycerin, betaine, panthenol along with BHA betaine salicylate to help unclog pores of excess oil, dead skin cells and debris.  PHA gluconolactone keeps the surface skin tidy, by removing dead skin cells, hydrates and smooths skin. Some fermented goodies are in here ~ ferments are great for helping the skin's microbiome stay healthy with the good probiotic bacteria.    
Ingredients: Water, Butylene Glycol, 1,2-Hexanediol, Niacinamide, Glycerin, Dimethicone/Vinyl Dimethicone Crosspolymer, Betaine, Hydroxyethyl Acrylate/Sodium Acryloyldimethyl Taurate Copolymer, Arginine, Carbomer, Panthenol, Polyglyceryl-10 Myristate, Glyceryl Acrylate/Acrylic Acid Copolymer, Xanthan Gum, Ethylhexylglycerin, Ribes Nigrum (Black Currant) Fruit Extract, Yeast Extract, Betaine Salicylate, Lactobacillus Ferment, Gluconolactone  cosDNA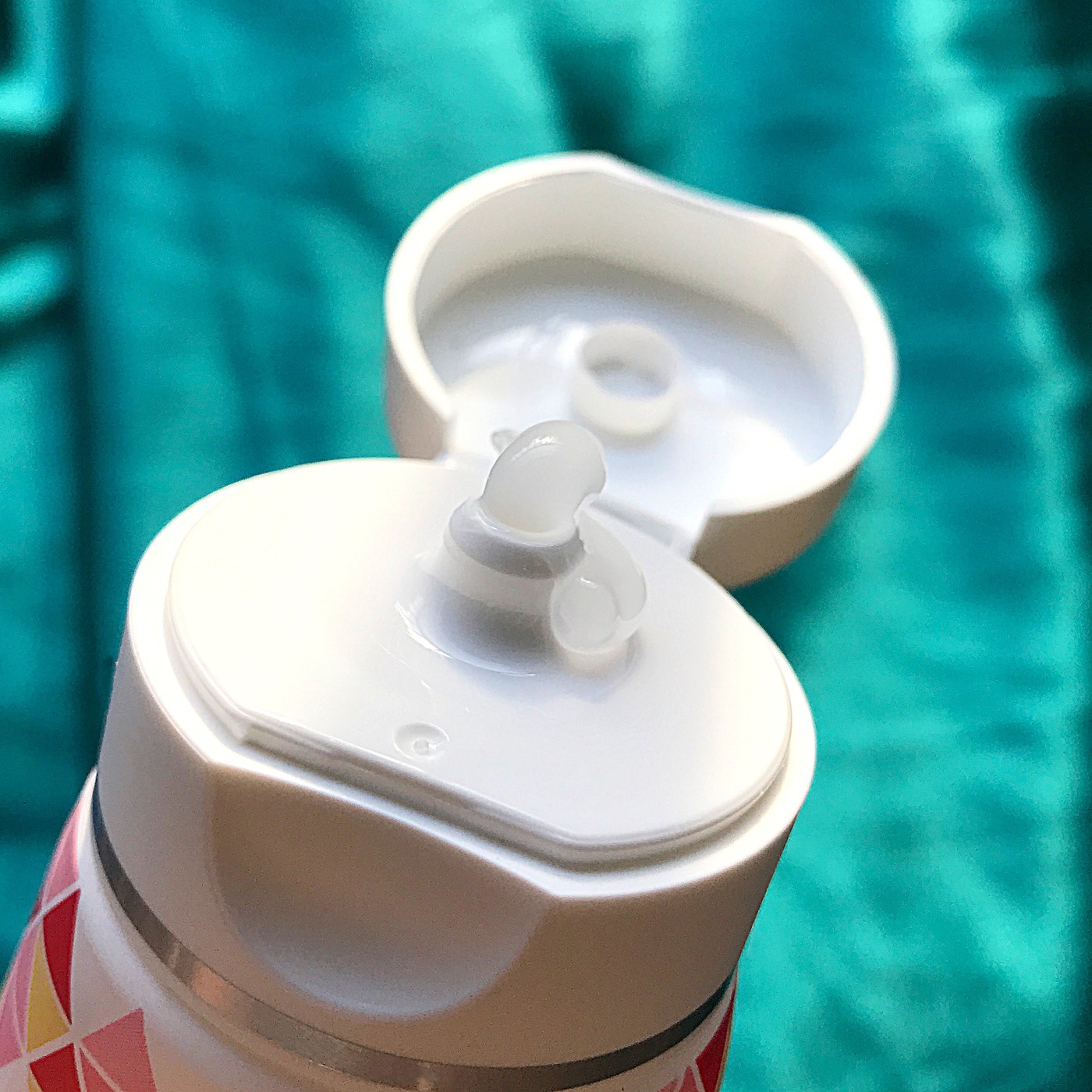 This is so nice for oily skin types.  It is hydrating, without being sticky and very refreshing on the skin.  This comes in a tube with a flip cap and the jelly is truly a gel. with no fragrance.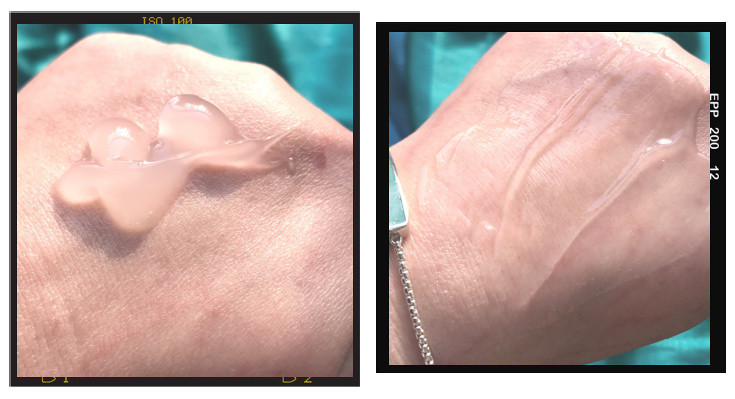 I can actually layer this on in the winter time, but I think this would be best in the summer time, when my oil and blemish production are much higher than right now.   It's no different than how I use Clinique Dramatically Different  Hydrating Jelly, I save that one for summer as well.  This is really lovely and I like this a lot!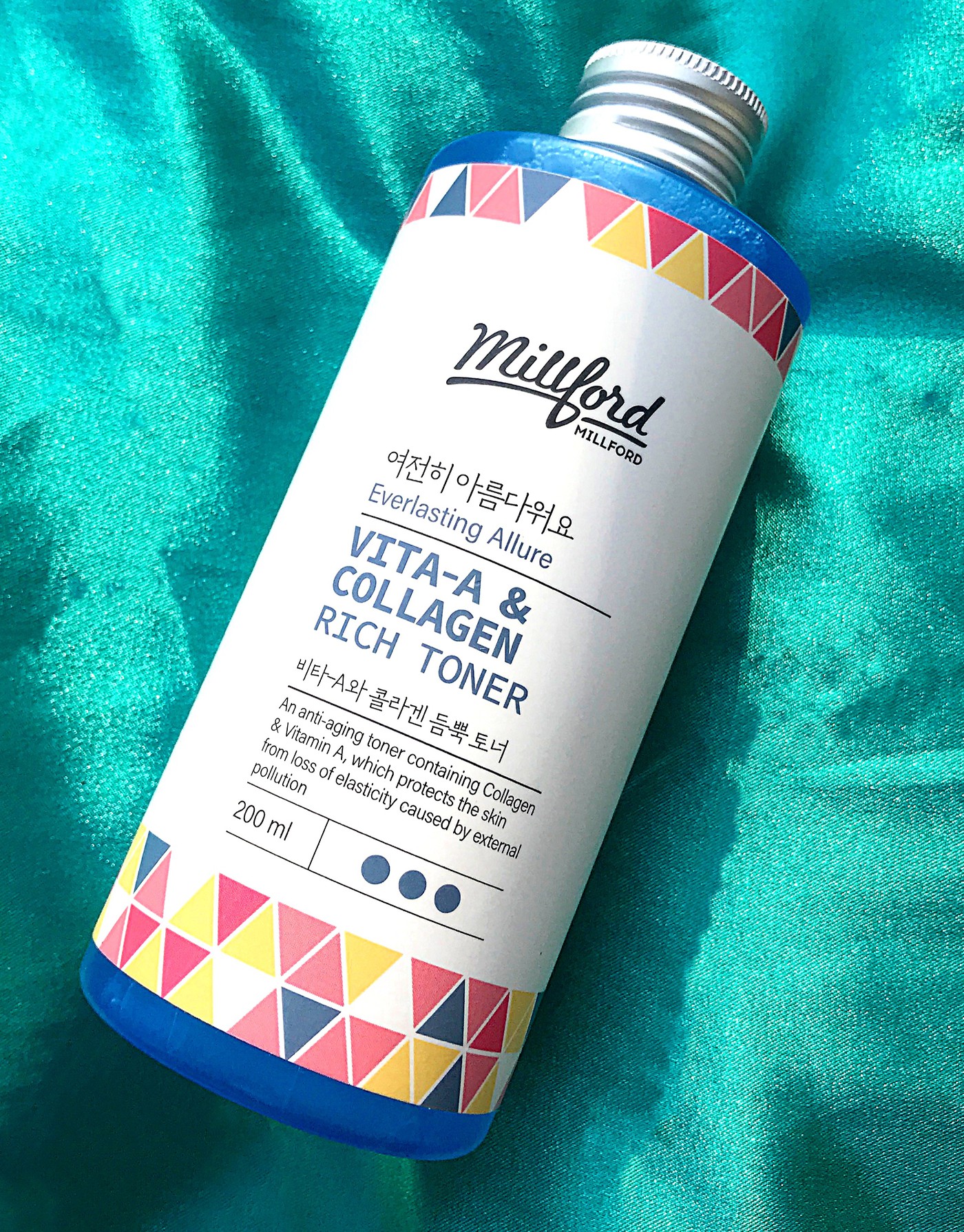 Vita-A & Collagen Rich Toner is another hydrating toner, but it is anti-aging!  It not only has 5000 ppm of hydrolyzed collagen which deeply moisturizes the skin, it has 1665 ppm of retinyl palmitate, vitamin A, which is an ester/derivative of retinol. It will convert to retinol and then to retinoic acid once it is applied and absorbed topically by the skin. Retinyl palmitate is less irritating than retinol, but its benefits are similar, but on a more gentle level, so effects will take longer.  This will not only help with blemishes but also help lighten PIH, age/sun-damage hyper-pigmentation and reduce fine lines and wrinkles, while making your skin smooth.  This also has hydrating glycerin, panthenol and sodium hyaluronate along with antioxidant vitamin E and moisturizing peanut oil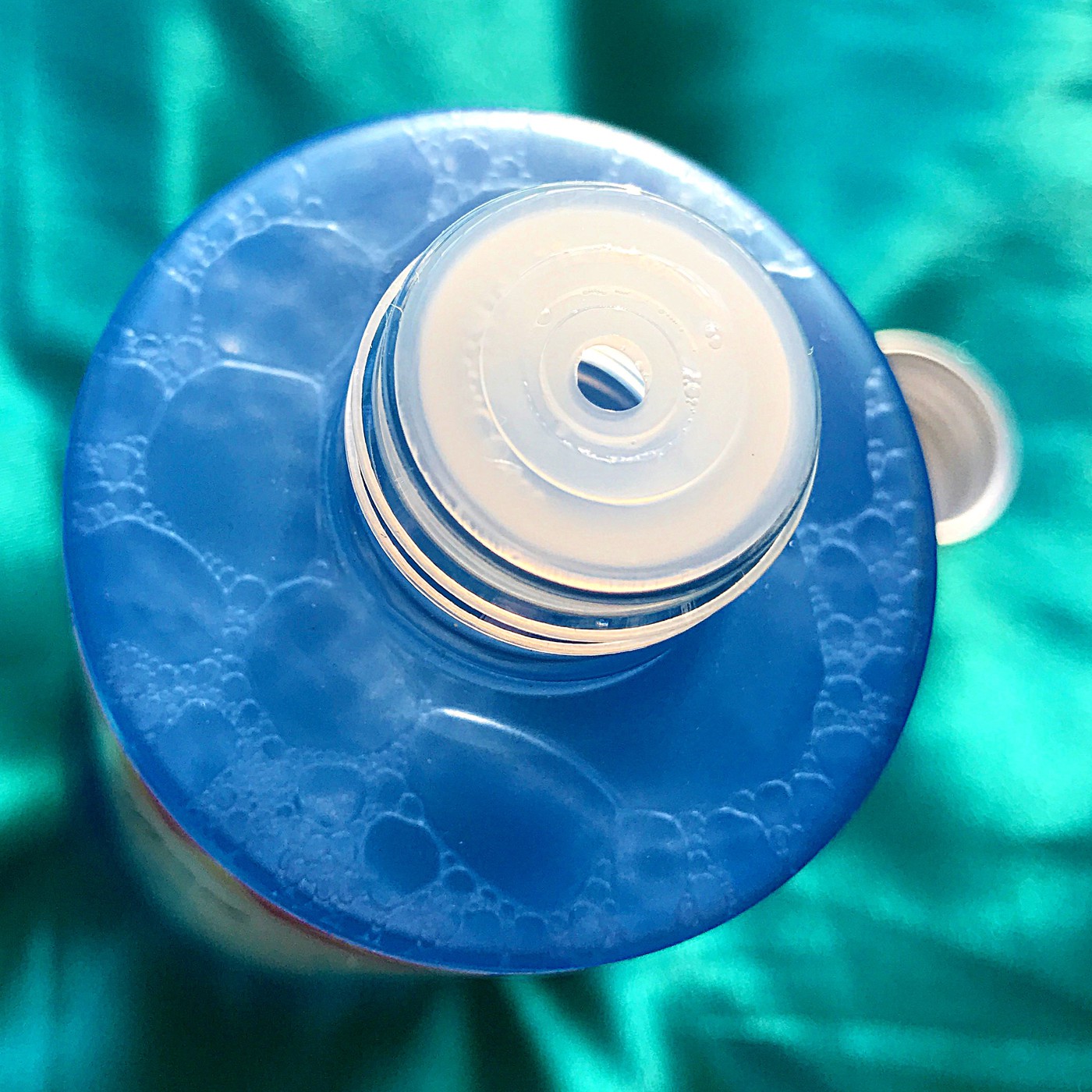 Ingredients: Water, Butylene Glycol, Glycerin, Panthenol, Betaine, 1,2-Hexanediol, Polysorbate 20, Allantoin, Hydrolyzed Collagen(5,000ppm), Citrus Aurantium Dulcis (Orange) Peel Oil, Adenosine, Sodium Hyaluronate, Retinyl Palmitate(1,665ppm), Arachis Hypogaea (Peanut) Oil, Tocopherol cosDNA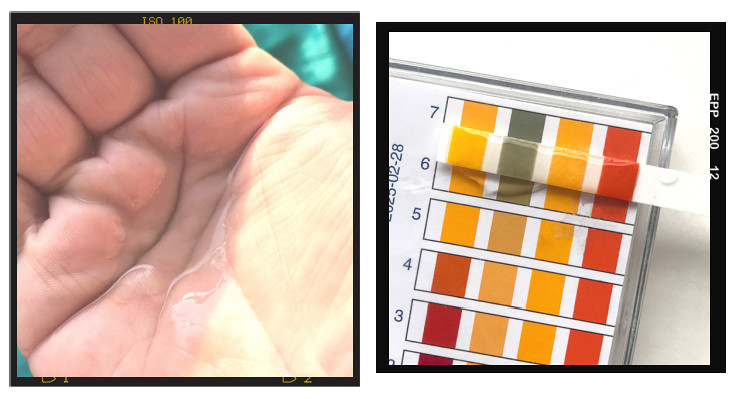 Instead of a clear toner bottle, the Vita-A & Collagen line comes in blue bottles and jars.  It is the same otherwise, with the screw-on cap and pin hole applicator.  This is a watery toner and it is the first product that I notice a scent with ~ orange, as this does have orange peel oil in it.   This has a pH level of 6.5 to 7 and it is very moisturizing.  I just need one layer with this one and I use it at night, as it is so rich for my skin.  However, no clogged pores or breakouts with this toner, and my skin is so baby smooth and supple when I use it.   
Where to Purchase
Yesstyle carries the all of the Millford products (click here) including cleansing foams and creams. All prices are in USD.  Don't forget to use my affiliate code of MICHELEYES which saves you additional money at YesStyle. 
[ products received for review purposes.  blog post contains affiliate links ]