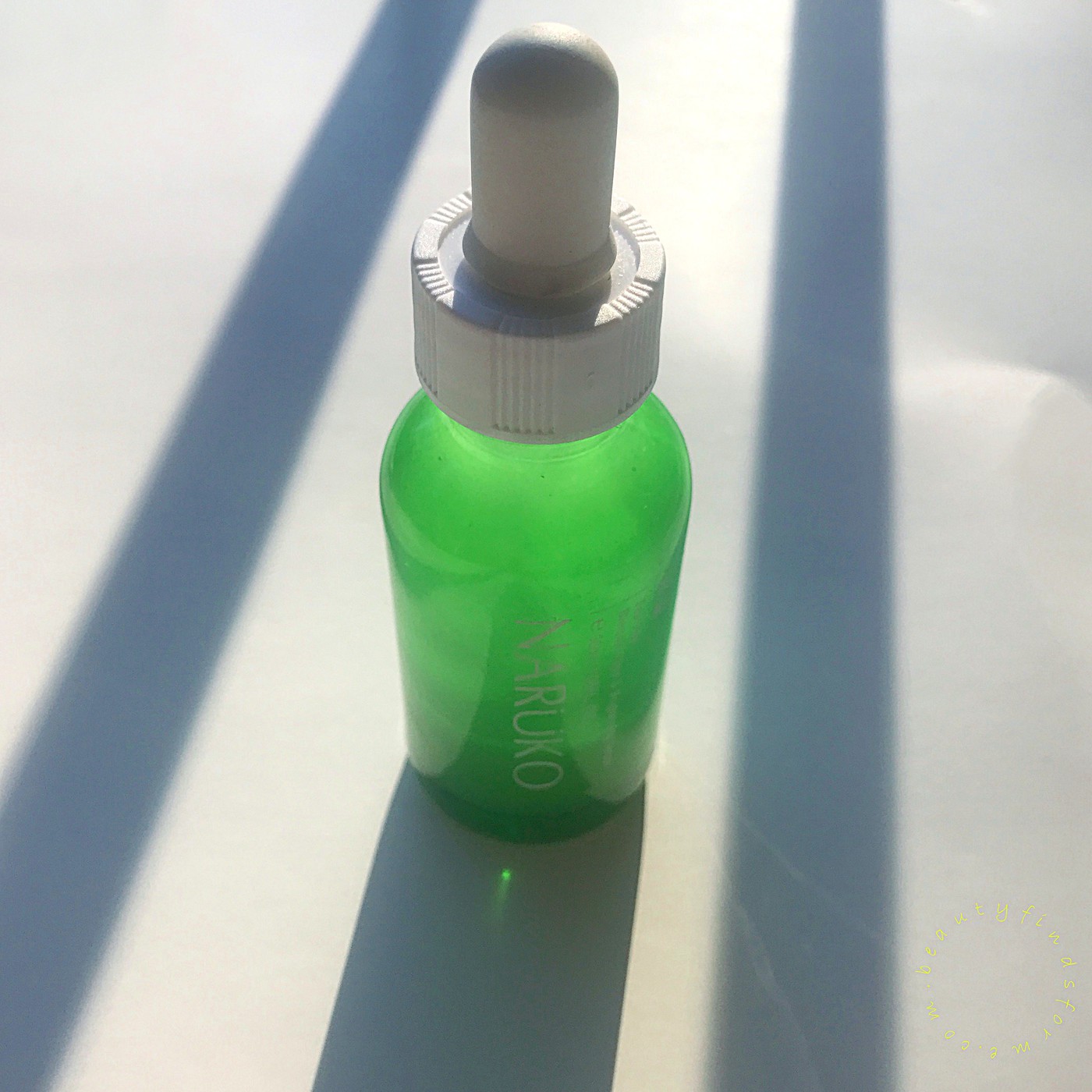 Naruko is one of my favorite skincare brands and it is pretty much due to two things, the Miracle Essence and their Tea Tree Line.  I have tried a lot of Naruko (see reviews here) ~ Naruko is a Taiwanese skincare brand that is very popular in its homeland!   Thankfully, I can purchase it at their Naruko USA or Naruko Canada stores ~ Those are pretty much the same store, but just have USA dollars in the USA store and Canadian dollars in the Canadian store. You can use CouponCode0527  promo code to save 10% off your orders at either Naruko Canada  or Naruko USA.  I don't make any commissions off the code, this is just a thank you for my readers.
I purchased the Tea Tree Blemish Clear & Brightening Serum (茶樹抗痘美白精華) this past summer during a huge sale they were having and this is going back on a repeat purchase during the summer months!   Did you know.. . Your oil production increases 10 to 20% for each degree the temperature of your skin rises?   Hot weather is not a friend to us oily skinned peeps and what I do is turn to some tea tree products to help keep my oily skin under control.
Skin Type/Concerns: Oily, blemish prone, pores, aging skin with fine lines/wrinkles and hyper-pigmentation (both sun damage and PIH)
All reviews are my own honest opinion and  I never have been asked to write copy for a brand.  This blog post might contain promo codes, affiliate and referral links, which using my links will help generate a small commission that helps support my blog at no extra cost to you.
Key Ingredients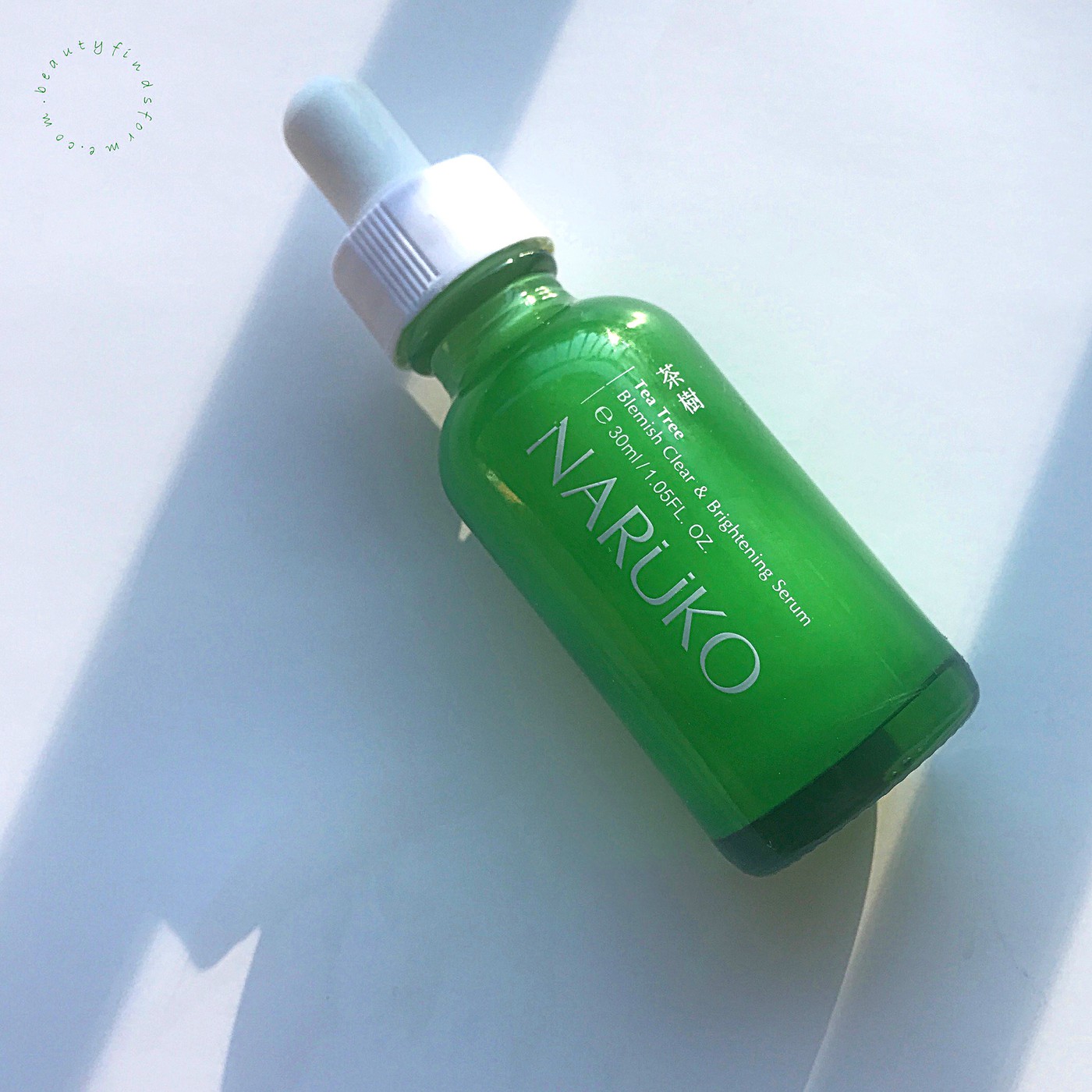 Of course, this serum contains Australian tea tree oil, known to be used for many infections and diseases due to its healing and disinfectant properties ~ antibacterial, fungicide, antiseptic, antimicrobial, antiviral and can help speed up wound healing and reduce scarring, as it is a cicatrisant. It helps with preventing dry, flaky skin and because of its antibacterial properties, can help heal current blemishes while reducing future blemishes and control excess oil. It helps with rashes, allergic skin reactions and fungal infections.
A BHA active that is especially beneficial for oily or clogged pores ~1% salicylic acid, which helps to combat acne, gently exfoliating your skin and removes dead skin cells and excess oil.  Salicylic acid is fat soluble, so it can really get to the oil that is inside your pores. 
Along with tea tree oil and BHA, this has some other blemish and oil fighting ingredients ~ saw palmetto helps balance your oil production while oligonucleotides-rich lentil seed has  anti-inflammatory, anti-aging and antioxidants benefits  ~ helping to firm skin by working with collagen production, refining pores and balancing oil production.  Pircotone olamine is an anti-bacterial that helps treat and prevent blemishes along with manuka oil ~ rich in β-triketones which regulates and soothes your skin. β-triketones also works well with  tea tree oil, by enhancing tea tree's  antibacterial benefits.
Three brightening ingredients in here, to help quickly fade PIH (post-inflammatory hyper-pigmentation) caused by blemishes ~ tranexamic acid is highly stable and it can help prevent the appearance of hyper-pigmentation at the skin's surface, as it reduces the production of melanin. Arbutin breaks down into hydroquinone, which is a compound that prevents melanin formation and is a common ingredient in skin-lightening products.  Niacinamide  is a powerful antioxidant that acts as an anti-inflammatory, improves your skin elasticity, enhance the skin barrier function and also it helps to even out skin tone and reduce post-inflammatory hyper-pigmentation.
This has  hyaluronic acid and gluconolactone, a mild PHA ingredient, that will keep your skin hydrated while AHA  glycolic acid also hydrates but does some mild exfolation along with the PHA. Patented SyriCalm™ CLR is derived from  antioxidant and skin-soothing mushroom poria cocos and antioxidant, skin conditioning  phragmites. These two together provide anti-inflammatory benefits and strengthens the skin against external stressors.
Naruko uses a patented formula consisting of 11 organic plant extracts certified by ECOCERT (France) called Phytoferulin in their products.  According to Naruko, Phytoferulin will help prevent hyper-pigmentation and environmental stress to your skin, while being a powerful antioxidant and brightening agent. This complex is very effective in hydrating your skin, but controlling oil. This blend of 11 concentrated herbal ingredients includes kalanchoe spathulata, glycyrrhiza glabra (licorice) root, alpine skullcap (scutellaria alpina), masterwort (peucedanum ostruthium), ginkgo biloba, alps wormwood (artemisia umbelliformis), leontopodium alpinum , alpine willowherb (epilobium fleischeri) , calendula officinalis, chamomilla recutita (matricaria) and  camellia sinensis (green tea) extracts.
Active Ingredients: Salicylic Acid 1%  Other Ingredients: Water, Cyclopentasiloxane, Alcohol, Niacinamide, Butylene Glycol, Methylpropanediol, Cetyl Ethylhexanoate, Triethylhexanoin, Gluconolactone, Polyacrylate Crosspolymer-6, Dimethicone, Sodium Hydroxide, Phenoxyethanol, Fragrance, Chlorphenesin, Panthenyl Ethyl Ether, Tranexamic Acid, Sodium Acrylate/Sodium Acryloyldimethyl Taurate Copolymer, Kalanchoe Pinnata Leaf Extract, Isohexadecane, Allantoin, Alpha-Arbutin, Bisabolol, Saccharide Isomerate, Lens Esculenta Seed Extract, Hydroxyaceophenone, Piroctone Olamine, Glycerin, Propylene Glycol, Ethylhexylglycerin, Polysorbate 80, Glycolic Acid, Melaleuca Alternifolia (Tea Tree) Leaf Oil, Sorbitan Oleate, Leptospermum Scoparium Branch/Leaf Oil, Tremella Fuciformis Sporocarp Extract, Sodium Hyaluronate, Artemisia Umbelliformis Extract, Calendula Officinalis Flower Extract, Camellia Sinensis Leaf Extract, Chamomilla Recutita (Matricaria) Flower Extract, Epilobium Fleischeri Extract, Ginkgo Biloba Leaf Extract, Glycyrrhiza Glabra (Licorice) Root Extract, Leontopodium Alpinum Extract, Peucedanum Ostruthium Leaf Extract, Scutellaria Alpina Flower/Leaf/Stem Extract, Sodium Citrate, Serenoa Serrulata Fruit Extract, Citric Acid, Phragmites Communis Extract, Poria Cocos Extract, Sodium Benzoate, Palmitoyl Tripeptide-5  cosDNA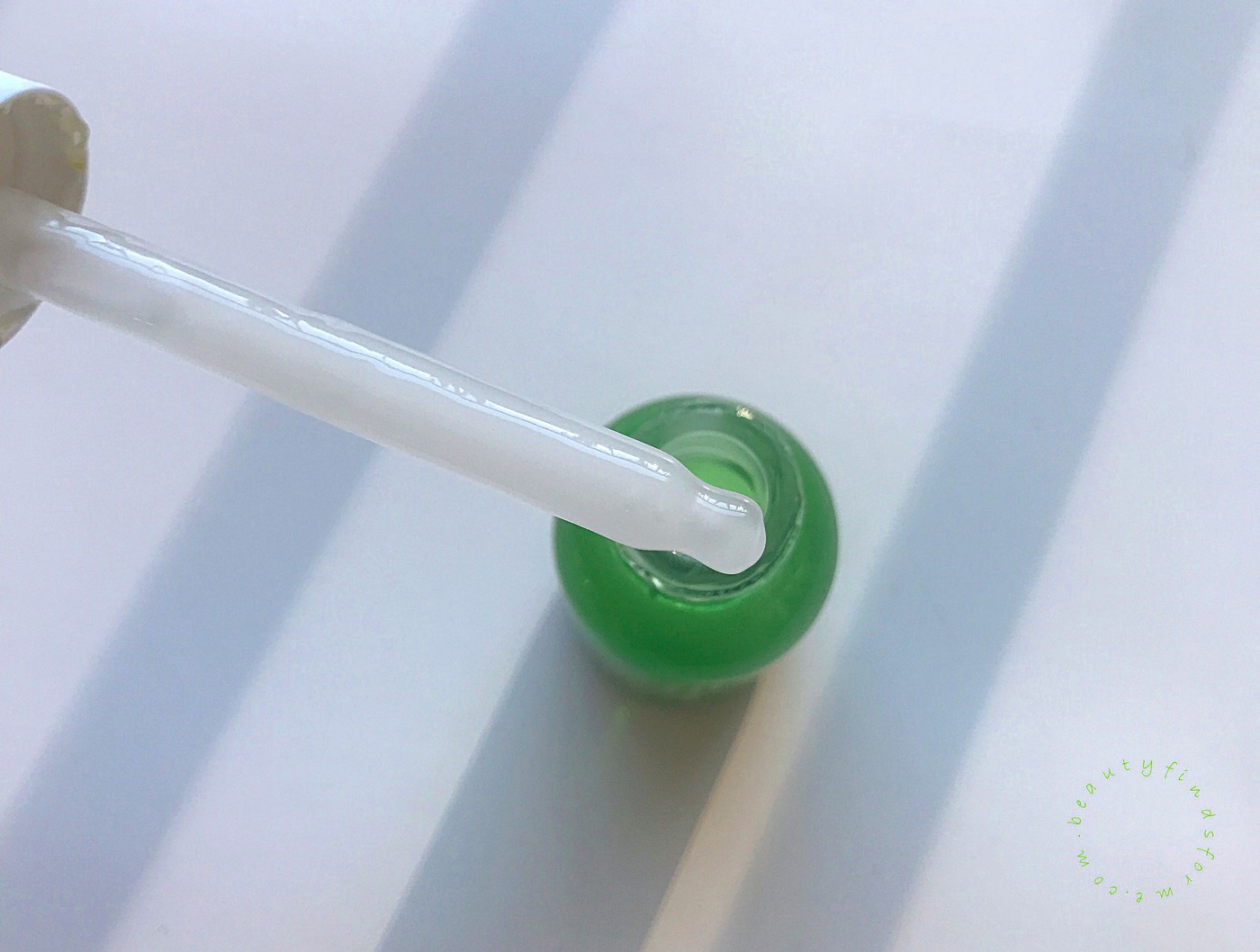 This comes in a green glass 30mL bottle and is initially packaged with a sealed cap and a separately sealed eye dropper applicator.  Remove the cap and then place the eye dropper applicator into the bottle.  The serum is a milky color but has a watery-gel texture.  It also smells wonderful ~ this serum has added fragrance and I think they added a citrus-mint scent to this, as there are no citrus or mint ingredients in this serum.  This also has a refreshing cooling effect, which is surprising to me, as again, no minty ingredients or even menthol.  There is alcohol in here, but I don't think that is what is causing that refreshing clean feeling on my skin. 

This absorbs REALLY well on my skin, no pilling and when I used this over the hot muggy days, I wished I could dunk my whole body in a vat of this stuff as it was so wonderfully cooling and fragrant. There is no sticky or tacky residue and this is very hydrating!  It doesn't leave my skin dewy but keeps my skin looking fresh and hydrated, without looking like an oily pepperoni on a freshly baked pizza.  This helped heal my  blemishes with minimum or no scarring  ~ I don't like using blemish treatments in the summertime that are a creamy texture, but more of a lightweight hydrating watery texture ~ in the hot months, it is all about hydrating watery goodness on my skin.  It goes without saying this doesn't clog my pores and I felt my skin looked more clear and clean, more even in skin tone.
What else can I say?  It's Naruko and a tea tree product.  'nuff said ~ I knew I was going to love it.

Where to Purchase
Naruko USA and Naurko Canada ~ For Naruko USA, use this link here  to purchase at $28.00 and Naruko Canada, use this link here to purchase at  $26.25.   Save < 10% by using my promo code of  CouponCode0527  either Naruko Canada  or Naruko USA.  I don't make any commissions off the code. 
Naruko USA offers flat rate shipping of $6.99 for orders under $74.99 and free shipping for orders over $75.00.   Naruko Canada is a bit more complicated so I did a screen shot here of their shipping rates.

Check out my other Naruko reviews too ~ you might find your next HG product!