[ blog post contains affiliate/referral links ]
Battlez posts were originally posted on my Instragram feed and are quick comparisons.  I will link to more in-depth reviews here at my blog if I have done one.

This time I take on vinegar hair rinses that smell like raspberry!  Vinegar hair rinses are amazing ~ they help detox and remove building and excess oil from your scalp and hair, provide nutrition and help strengthen your follicles.  I have oily hair and scalp, so I use my vinegar rinses quite a bit in the warmer weather ~ maybe 3 to 4 times a week.  In the cooler months, I use it about 1 to 2 times a week.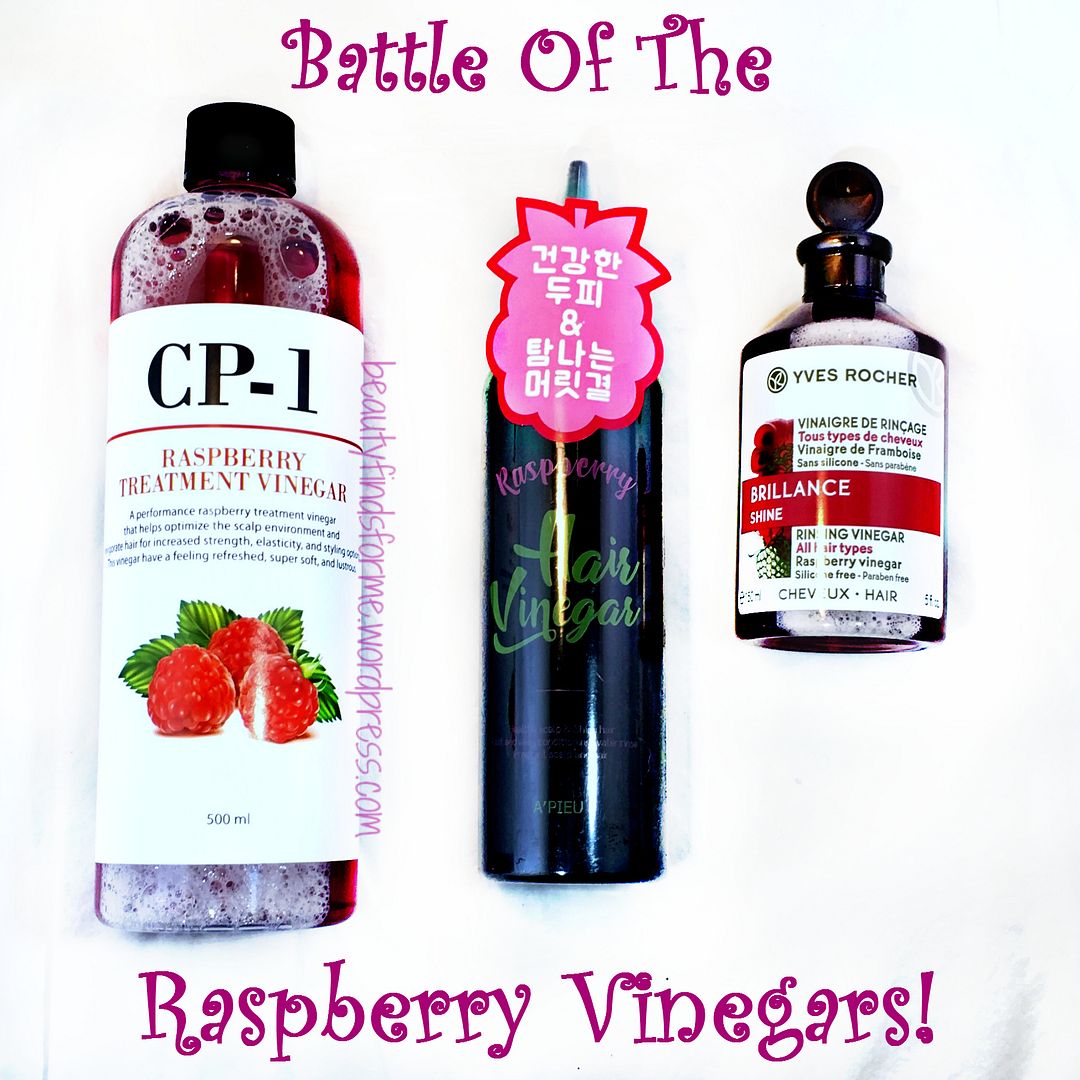 Another battlez that was  well received on Instagram!  These are fun to do 🙂    This time I pitted three products against each other.  I have the "gold" standard, zee French brand Yves Rocher Rinsing Vinegar up against A'Pieu Raspberry Hair Vinegar and Piolang CP-1 Raspberry Treatment Vinegar. I love using vinegar rinses on my hair ~ it helps remove buildup (both natural oils and product) and it softens and smooths your hair. The issue is that so many people do not like the scent of vinegar, but fortunately there are nice scented ones out there.
The gold standard with the Raspberry scented version is Yves Rocher, which is kinda sorta expensive  ~ about $20.00 for 150mL bottle. Now, the normal price is under $10.00 at Yves Rocher's online site, but good luck purchasing it there, because it is always sold old.  For some reason, Yves Rocher's version is very hard to get at their store in the USA.  Other countries don't seem to have this issue, so I had to purchase mine off eBay.
Now, I never used Yves Rocher before, but the lovely and funny effyoukoreancosmetics (well, it isn't eff, but you know)  asked me about it and I decided to purchase it and pit it against two  other raspberry vinegars that I had. I have lots of fine, straight and oily hair.
I liked that this has salicylic acid in it, as that is a great ingredient that dissolves oil and unclogs pores, which in this case would help your hair follicles not to get clogged.  Unclogged and healthy hair follicles means stronger and thicker hair.   But yikes, that pH level of a 2 ~ I would not want to use this one that often, as that is high and I don't wear sunscreen on my head. Yves Rocher has the least amount of ingredients.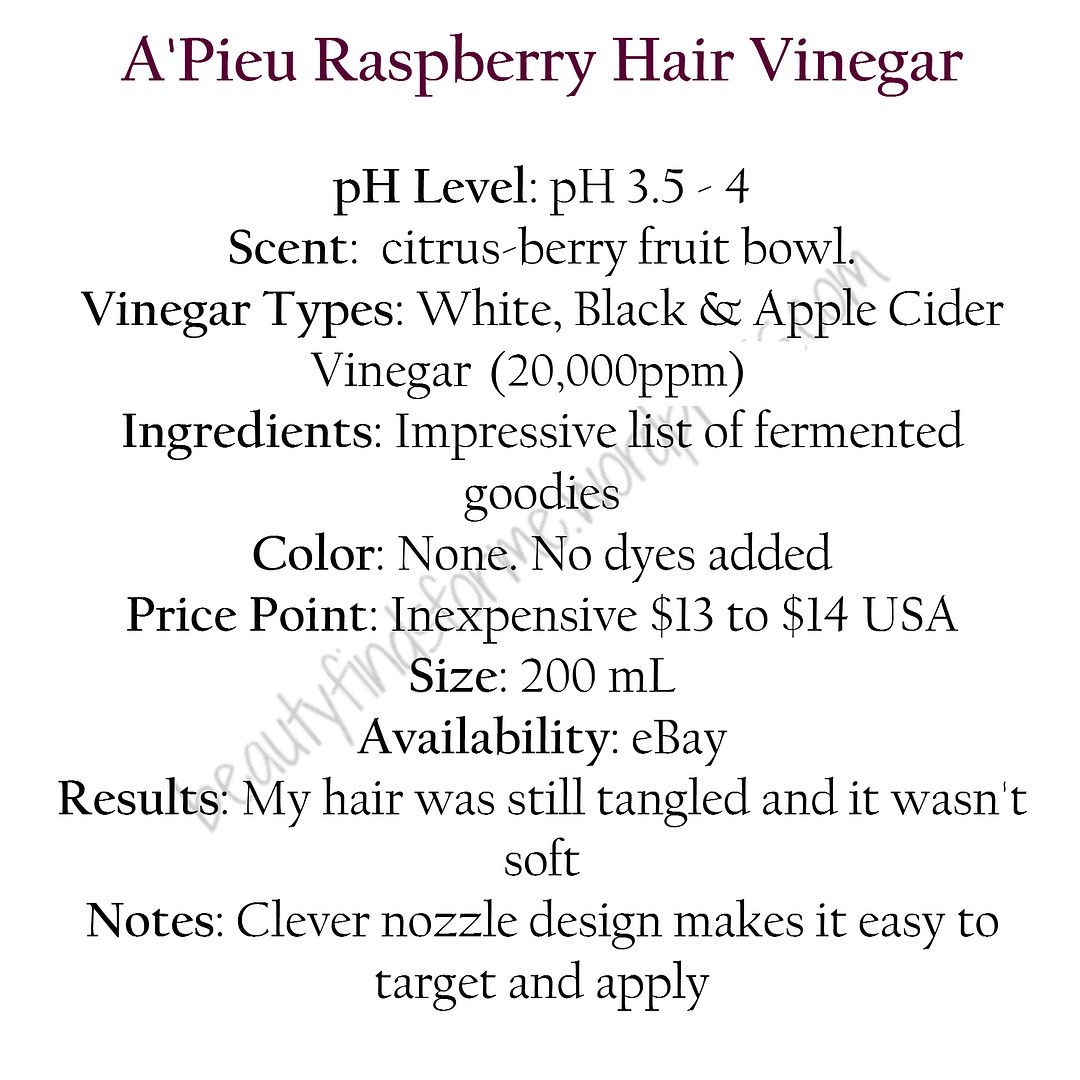 I love all of the soy and wheat proteins in this hair care product, along with the ferments and herbal ingredients:  Lavender helps regulate the amount of sebum our skin produces. Lavender balances the oil production of the skin and also helps speed up wound healing.  Rosemary  has antimicrobial effects and prevents bacteria from infecting pores. Tea Tree is known for its topical antiseptic and anti-fungal properties. It also reduces oil and sebum production on your skin, while not disrupting the moisture level.  The pH level is still pretty low, but better than a 2!
This has the highest concentrate of vinegar at 5% and it also has some lovely botanicals ~ lavender, rosemary (great for control oil, anti-bacterial, speeds up healing) as well as mondarda didyma (bee balm), which is an anti-septic and its fragrance is commonly used in hair tonics.  Peppermint also has anti-bacterial properties, cleanses and closes pores and contains salicylic acid, which can really cut thru and de-grease your scalp and hair.  This has a nice pH level of 5, which I feel happy about  ~ I can use this product more often.
Final Thoughts
🥉3rd Place: A'Pieu Raspberry Hair Vinegar: Mid-range in price. Didn't untangle and didn't soften my hair. This contains alcohol
🥈2nd Place: Yves Rocher Rinsing Vinegar: Most expensive of the three  due to availability here in the states. It didn't really untangle my hair, but it did leave it soft. This also contains alcohol
🥇1st Place: CP-1 Raspberry Treatment Vinegar: Cheap, cheap and CHEAP,  but the best of the lot. This has more vinegar in it than Yves Rocher and A'Pieu. This left my hair soft and not tangled. I mean REALLY SOFT. No alcohol
Seriously, I purchased two of the CP-1 without any previous knowledge of them because at $7.00 each, I wasn't going to be hurting if I hated it. So, there it is….  🏆🏆 The Winner is CP-1 and I have already purchased more bottles from Althea as I will be using them a lot in the hot summertime. What do you think? Are you going to give CP-1 a try? 
Where to Purchase

Piolang CP-1 Raspberry Treatment Vinegar
Yves Rocher Rinsing Vinegar
A'Pieu Raspberry Hair Vinegar
** Check out my Savings page first before purchasing!
[ blog post contains affiliate/referral links ]