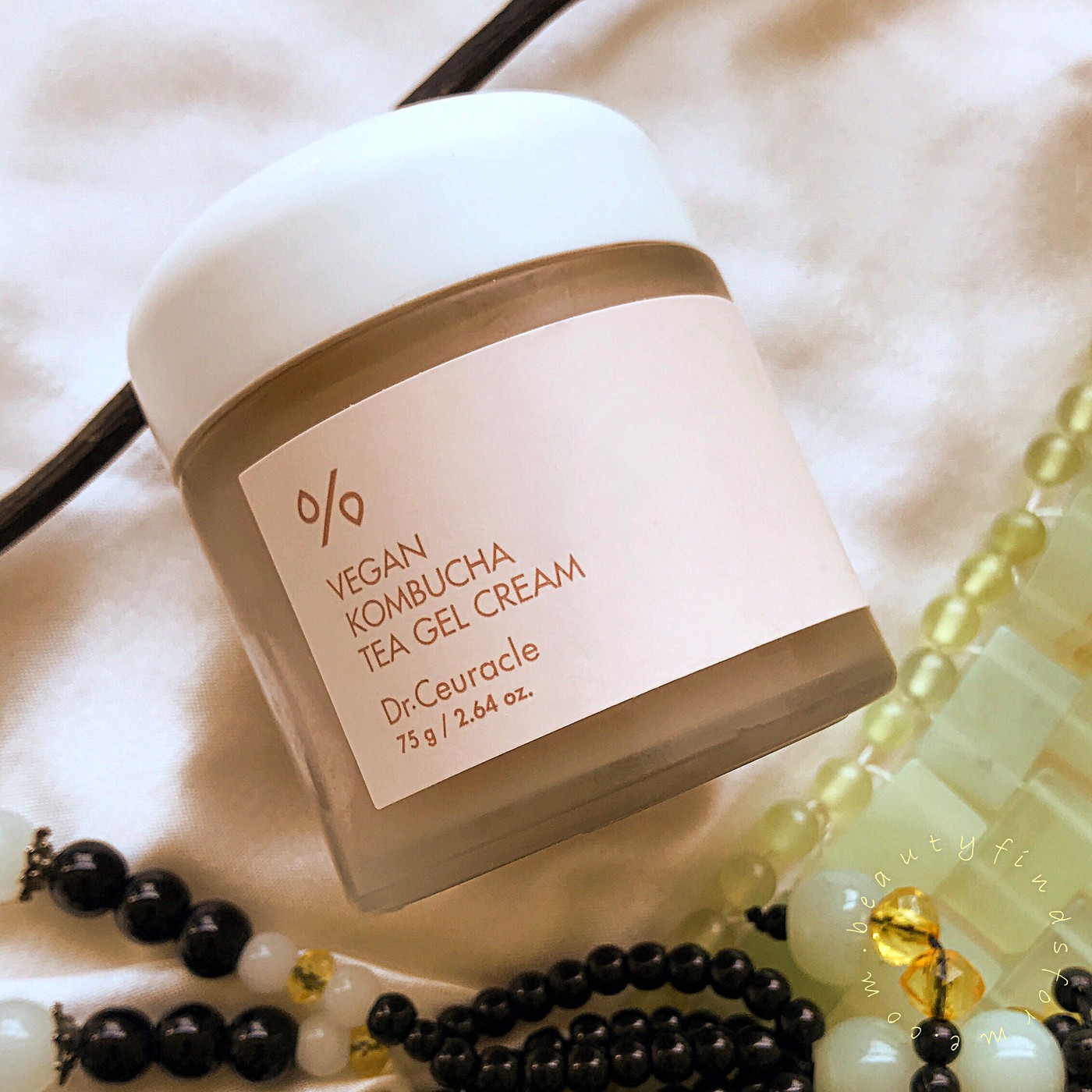 So several months ago, I reviewed Dr Ceuracle Vegan Kombucha Tea Essence (review here) and totally fell in love with it.  When I saw the K-Beauty online store OhLolly announce that they had the Dr Ceuracle Vegan Kombucha Tea Gel Cream, it was a no-brainer for me.   Dr Ceuracle used to be LeeGeeHaam, which I have reviewed several products from them before (click here), so I knew that the quality would be there.    OhLolly graciously sent me this product for review purposes.  
Skin Type/Concerns: Oily, blemish prone, aging concerns with fine lines/wrinkles and hyper-pigmentation
I received these products complementary to review and was not paid.  All reviews are my own honest opinion and  I never have been asked to write copy for a brand.  This blog post might contain promo codes, affiliate and referral links, which using my links will help generate a small commission that helps support my blog at no extra cost to you.
 Key Ingredients 
This is made with 79% (790,000ppm) of Vegan Tea Complex has purifying and antioxidant benefits. This complex is made up of the following ingredients
58.9% green tea water contains polyphenol antioxidants: catechins, tannins, flavonoids ~ all are anti-bacterial agents as well as acting as an astringent, retaining skin moisture and hydration.
The scarlet medicinal berry schisandra chinensis (omija berry) has been part of  traditional Chinese medicine for more than 2,000 years. This super herb is known for its anti-aging benefits, improving skin elasticity, firmness and suppleness.  
20% Kombucha tea extract is actually fermented black tea (camellia sinensis leaf extract + saccharomyces ferment filtrate), full of both pre & pro-biotics.  Fermented black tea is full of antioxidant catechin, helping to improve the clarity of your skin ~ think zit healing,   texture ~ think smoothing and soft, and  elasticity, while its pre-botiotics polyphenols help with anti-aging concerns, repairing and rejuvenating the skin. 
Fourth generation moisturizer polyquaternium-51 (lipidure) retains moisture better than beta-glucan and this also has super humectant hydrolyzed hyaluronate acid in here as well, which not only binds moisture to your skin, but attracts it to your skin. Speaking of beta-glucan, this also has that ingredient in here ~ beta-glucan will stimulate the production of collagen, speeds up wound healing, soothes and calms skin due to its anti-irritant and  strong anti-inflammatory properties; moisturizes, locks in natural moisture, anti-aging/anti-wrinkle due to its antioxidant properties while helping helps repair your moisture barrier.
Cacao seed extract is  rich in fatty acids, such as oleic, palmitic and stearic acids and will help combat free radicals and limiting the damaging effects on your skin, while softening and smoothing your skin   Sunflower seed oil is extracted by the decompressing method, which I think is steam extraction, but I could be wrong. Sunflower seed oil is a lightweight oil that has a high concentration of vitamin E,  a powerful anti-oxidant and may also help protect the skin from UV rays. It is known for its hydrating and moisturizing properties and it contains omaga-6 fatty acid, ceramides and proteins, so it really can help moisturize dehydrated skin while strengthening the skin barrier. 
Prebiotic fructooligosaccharides helps keep your microbiome healthy and balanced.  It can help in strengthening  your skin barrier, reduce inflammation due to irritation or blemishes and is also a natural hydrating ingredient.   Antioxidant niacinamide acts as an anti-inflammatory, improves your skin elasticity, provides pore care, enhances the skin barrier function.  Last but not least, it helps to even out skin tone and reduce post-inflammatory hyper-pigmentation..Antioxidant, skin soothing hydroxyacetophenone is synthetically made and is able to neutralize several different types of free radicals, as well as moisturizing the skin.  This has methylpropanediol which helps enhance the penetration of the product, so that the actives can go deeper into the skin layers.
Algae kombu (laminaria japonica) is a type of kelp and algae in general have  moisture binding properties so it hydrates and softens your skin. It also is rich in essential vitamins and minerals as well as amino acids and also has anti-inflammatory properties so your skin is smooth, less red and less swollen.  More anti-inflammatory, skin soothing ingredients that are common in Korea, are false daisy or eclipta prostrata and  burdock (arctium lappa) root  extracts.  Phellinus linteus grows on mulberry tree trunks and is also known as black hoof mushroom. It is an antioxidant and anti-inflammatory and has the ability to help with skin issues such as eczema.   This is vegan and cruelty free product.
Ingredients: Camellia Sinensis Leaf Water, Camellia Sinensis Leaf Extract, Saccharomyces Ferment Filtrate, Glycerin, Methylpropanediol, Water, Dicaprylyl Ether, Glycereth-26, Niacinamide, 1,2-Hexanediol, Laminaria Japonica Extract, Eclipta Prostrata Leaf Extract, Arctium Lappa Root Extract, Phellinus Linteus Extract, Theobroma Cacao (Cocoa) Seed Extract, Schisandra Chinensis Fruit Extract, Hydrogenated Lecithin, Rosmarinus Officinalis (Rosemary) Leaf Oil, Ammonium Acryloyldimethyltaurate/VP Copolymer, Carbomer, Tromethamine, Polyquaternium-51, Helianthus Annuus (Sunflower) Seed Oil Unsaponifiables, Fructooligosaccharides, Xanthan Gum, Beta-Glucan, Dextrin, Hydrolyzed Hyaluronic Acid, Butylene Glycol, Hydroxyacetophenone, Ethylhexylglycerin  cosDNA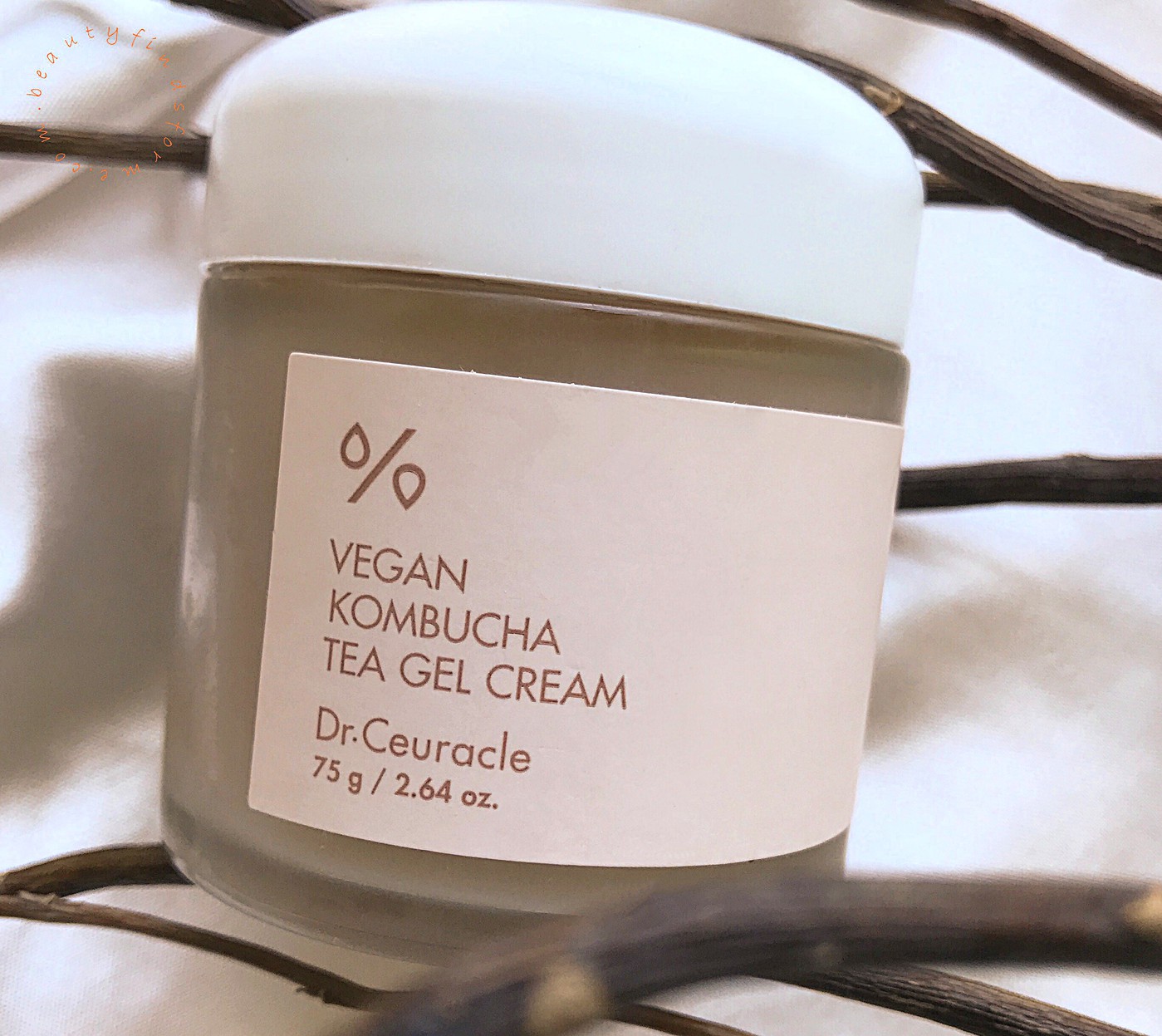 Okay, let's get into this!  First up, this comes in a lovely little matte glass pot of 75 grams.  It has the same domed white lid, which I know realize what Dr Ceuracle was doing here with both the Essences and now the Gel-Cream.  The product  packaging looks like a latte!  The foamy milk cap with the creamy milk tea color of the product.  And this gel cream does look like a milk tea pudding!   This is truly a gel-cream ~ neither gel nor cream, but right in the middle of the two.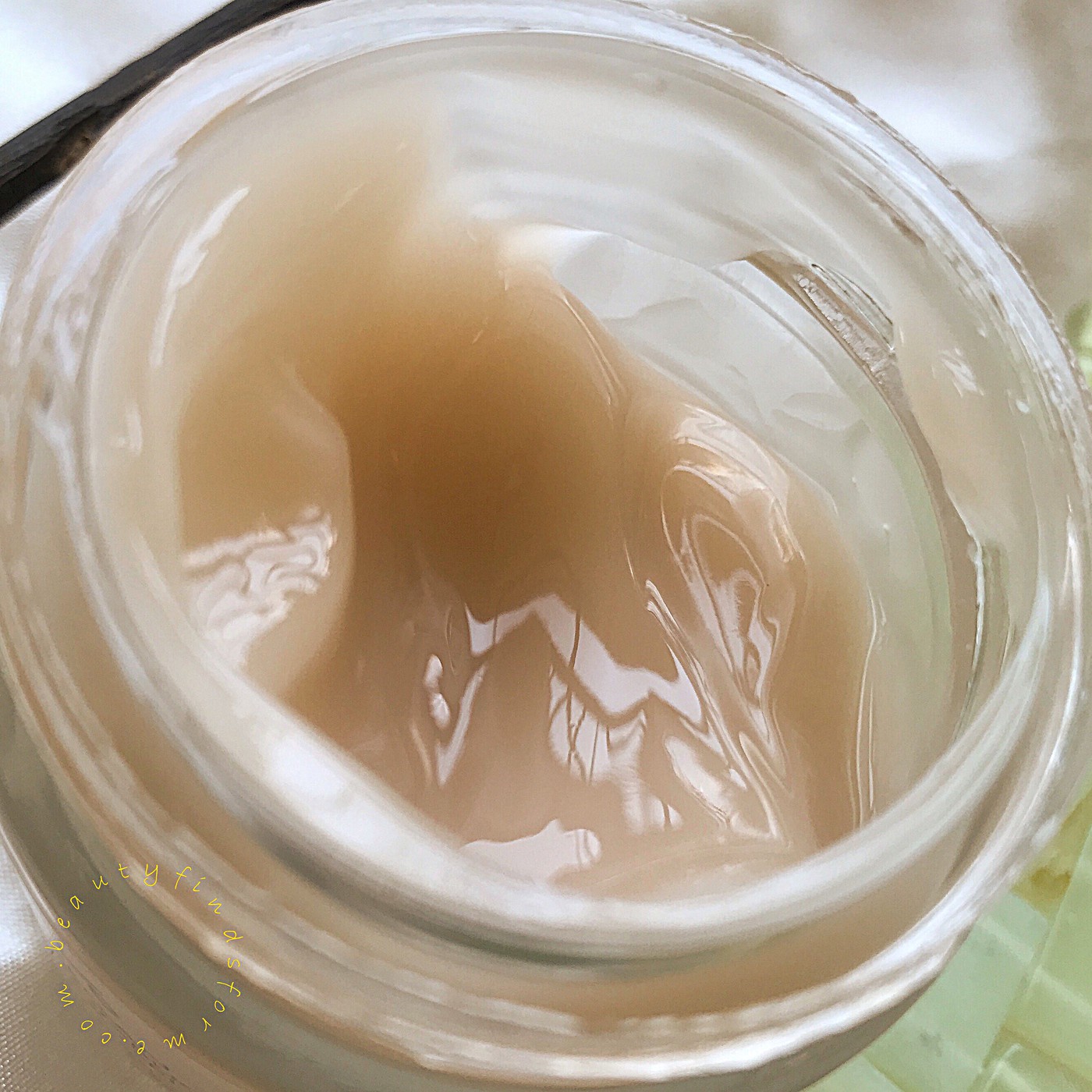 There is no scent to this product and it feels so slick and slippery but there are no dimethicones in here.   As I spread it around on my skin, the gel turns into a watery texture ~ but that is where the similarities to water ends!  This is very moisturizing and unlike a water, the moisturization lasts on my skin and due to the emollients in here, my skin feels soft and smooth.  I also feel a slight film on my skin, a protective barrier but this is good to help lock in my other skincare products as well as the moisture.  Now, I am not going to lie here ~ if I use too much, my skin can become oily quickly ~ this is not a mattifying product.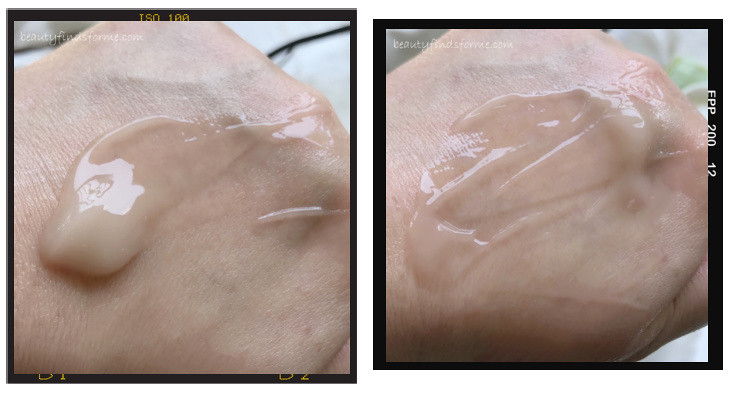 However, if I layer it on in small amounts, allowing my skin to absorb the product, gauging when my skin is sufficiently moisturized, I can gauge how much to use without my skin getting oily.  I have oily dehydrated skin, so I need to bring balance back to my skin ~ it is tempting to slather Dr Ceuracle Vegan Kombucha Tea Gel Cream all over my face as it FEELS so nice!  I also use this at night time, so I add more to my routine then, and in the morning, my skin is soft, supple and smooth. 
You can see how dewy my skin is after initial application, but it dries down nicely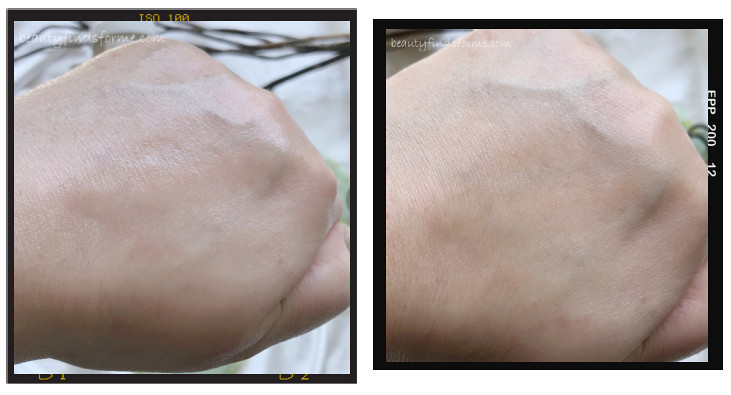 I have used this with the Dr Ceuracle Vegan Kombucha Tea Essence and I feel that those two together would make my skin very happy in the colder months during the day.  Since I am in the middle of a hot, humid Boston summer,  both of them together is a bit too much during the day time, but at night time, it is perfect.  Who can benefit from this Gel-Cream?  I would say anyone with dehydrated skin ~ whether you have oily, combo or dry, this gel-cream can be tailored to your skin's needs by adjusting the amount you apply on your face.  I recommend layering it on first in small amounts to know how much your skin needs, otherwise you might get discouraged with its deeply nourishing and moisturizing texture.   This is not pore clogging and I have had no skin irritations since I have been using it.  This is one of the better gel-creams that I have tried this summer (and I TRIED a lot!)
I had written that I had hoped to  see more vegan skincare items from Dr. Ceuracle, as more and more skincare enthusiasts are looking to Korean skincare to formulate vegan alternatives, and I am glad that they are expanding on this line!  What do you think will be next from them? 
Where to Purchase
You can purchase Dr Ceuracle Vegan Kombucha Tea Gel Cream at OhLolly for $32.00 (click here to purchase)  They also carry the Dr. Ceuracle Vegan Kombucha Tea Essence for $38.00 (click here to purchase)  and more Dr Ceuracle products (click here).  I hope they will carry the AC Line and the Probiotics line in the future!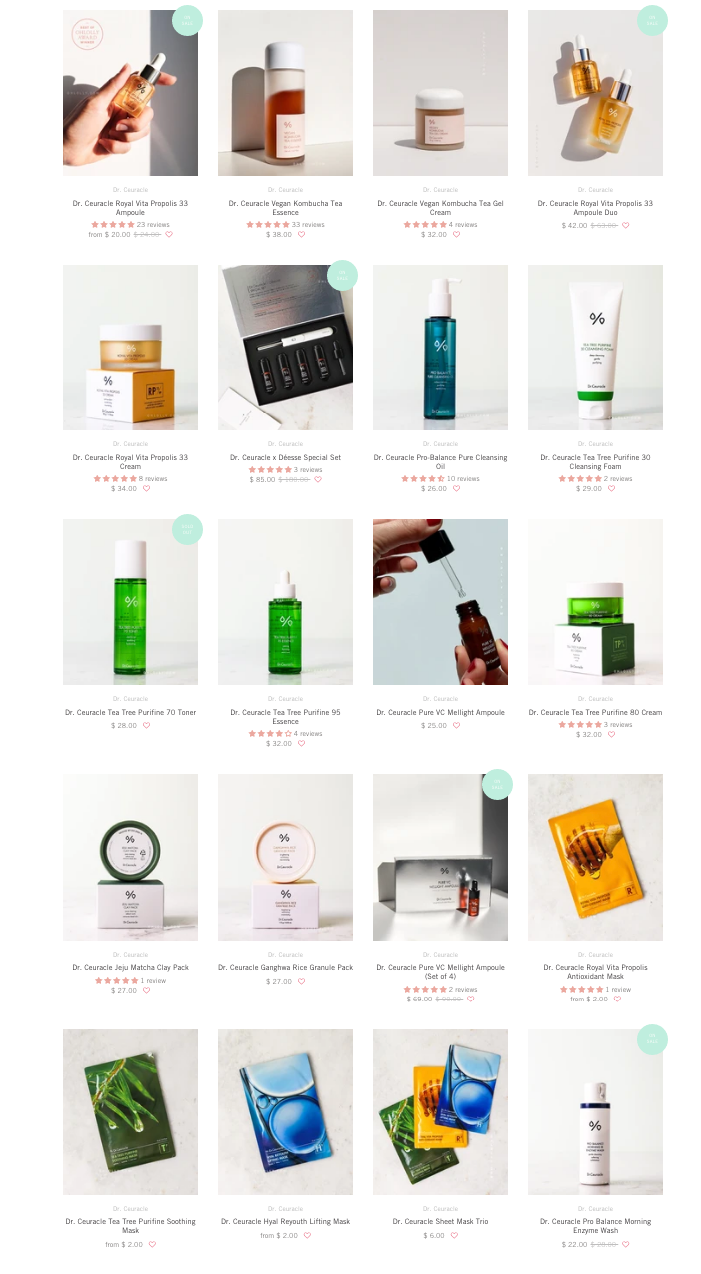 OhLolly has very reasonable shipping rates for within the USA ~ Flat rate of $6.95 via USPS and orders over $50.00  (after discounts) is free. Currently for International shipping, DHL Express is the only option due to COVID-19 and the rates are calculated at check-out by weight.  EU Shipping is not available right now due to the new VAT tax collection laws.  International customers will pay for any custom duties, taxes and fees. 
disclaimer: products received complementary for review purposes & contains affiliate links