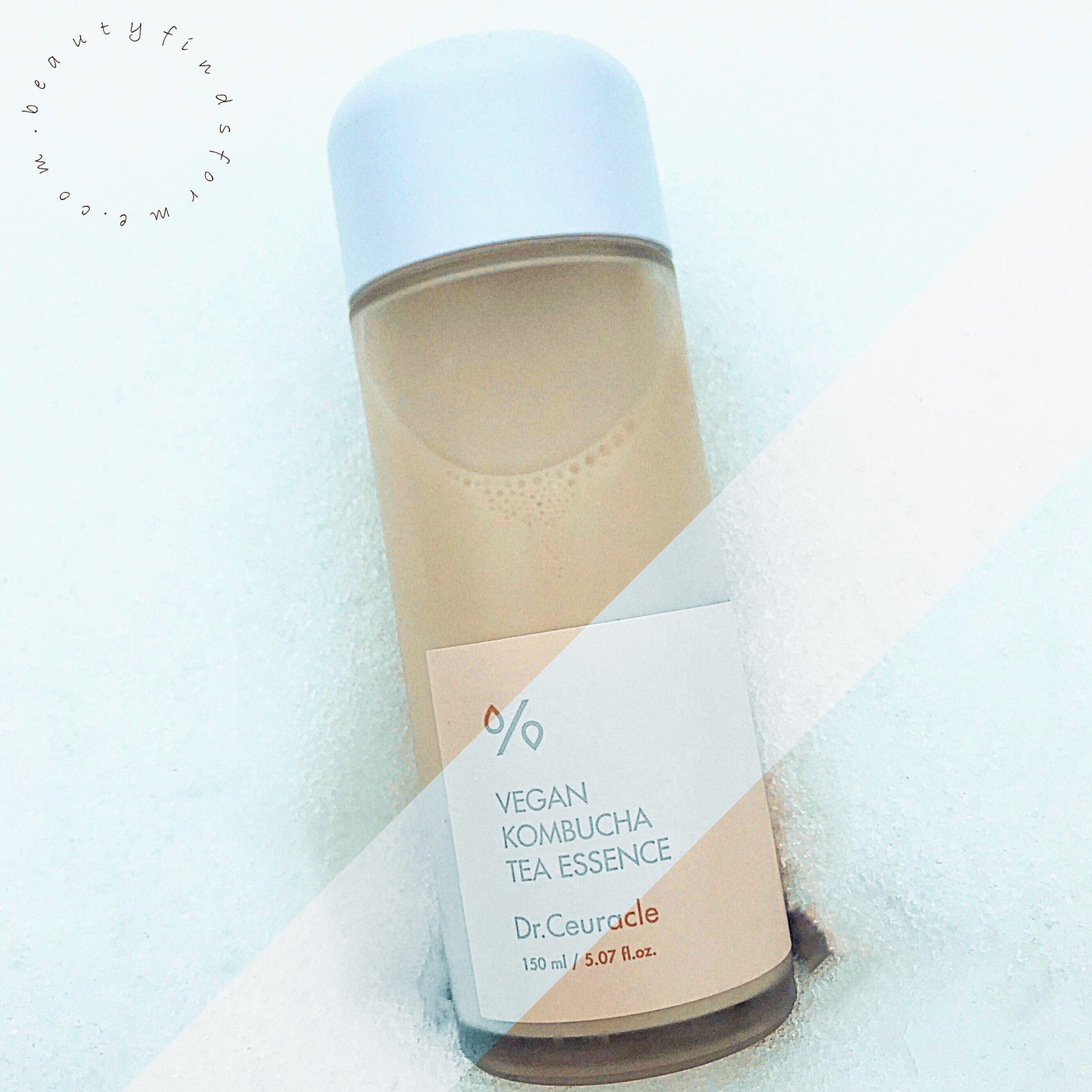 When I saw this at Jolse's new release section, I knew I wanted it.  Dr Ceuracle used to be LeeGeeHaam, which I have reviewed several products from them before (click here), so I knew that the quality would be there.  Dr Ceuracle Vegan Kombucha Tea Essence ~ Kombucha, Tea and an Essence ~ count me in!  Jolse, a premier K-Beauty online retailer store, sent me this product for review purposes.  
Skin Type/Concerns: Oily, blemish prone, aging concerns with fine lines/wrinkles and hyper-pigmentation
I received these products complementary to review and was not paid.  All reviews are my own honest opinion and  I never have been asked to write copy for a brand.  This blog post might contain promo codes, affiliate and referral links, which using my links will help generate a small commission that helps support my blog at no extra cost to you.
image from jolse
Made with a 15:85 oil: water ratio to create a balanced cream essence, that will absorb quickly, provide long lasting hydration and intensive nutrition to your skin. This is the first certified vegan skincare product from Dr. Ceuracle and I hope they continue creating formulas under their vegan line
Sunflower seed oil is extracted by the decompressing method, which I think is steam extraction, but I could be wrong. Sunflower seed oil is a lightweight oil that has a high concentration of vitamin E,  a powerful anti-oxidant and may also help protect the skin from UV rays. It is known for its hydrating and moisturizing properties and it contains omaga-6 fatty acid, ceramides and proteins, so it really can help moisturize dehydrated skin while strengthening the skin barrier.
780,000 ppm (78%) of Vegan Tea Complex has purifying and antioxidant benefits. This complex is made up of the following ingredients
58.9% green tea water contains polyphenol antioxidants: catechins, tannins, flavonoids ~ all are anti-bacterial agents as well as acting as an astringent, retaining skin moisture and hydration.
The scarlet medicinal berry schisandra chinensis has been part of  traditional Chinese medicine for more than 2,000 years. This super herb is known for its anti-aging benefits, improving skin elasticity, firmness and suppleness.  
20% Kombucha tea extract is actually fermented black tea (camellia sinensis leaf extract + saccharomyces ferment filtrate), full of both pre & pro-biotics.  Fermented black tea is full of antioxidant catechin, helping to improve the clarity of your skin ~ think zit healing,   texture ~ think smoothing and soft, and  elasticity, while its pre-botiotics polyphenols help with anti-aging concerns, repairing and rejuvenating the skin.  
Ceramides are lipids (fats) which are important in helping to repair and protect your moisture barrier. They will keep your skin hydrated and plump as they retain water. Ceramides are found naturally in your body and you lose the ability to produce as you age, so adding them to skin care products helps with anti-aging. Fourth generation moisturizer polyquaternium-51 (lipidure) retains moisture better than beta-glucan and this also has super humectant hyaluronate acid in here as well, which not only binds moisture to your skin, but attracts it to your skin.
This also has some botanicals in here of note ~ amaranth seed extract,  known as the "Treasure of Inca" and naturally contains squalane to deeply hydrate and moisturize your skin.  Amaranth has anti-oxidant properties and will increase cell activity, so it will help regenerate and protect your skin. Centella asiatica is a common herbal ingredient that is used medicinally to help speed up wound healing, such as blemishes and skin rashes. It also helps minimize the appearance of pores.  Figs have a high mucilage contain, which is a polysaccharide found in plants which store moisture and is similar to snail mucin and it helps lock moisture in your skin while softening and smoothing your skin. Japanese elm (ulmus davidiana) root has been used as a medicinal herb in Korea for anti-inflammatory benefits and to help skin issues.   Cacao seed extract is  rich in fatty acids, such as oleic, palmitic and stearic acids and will help combat free radicals and limiting the damaging effects on your skin, while softening and smoothing your skin.   As noted, this is vegan and cruelty free. 
Ingredients: water, triethylhexanoin, hydrogenated poly(C6-14 olefin), 1,2-hexanediol, methylpropanediol, butylene glycol, glycerin, trilaureth-4 phosphate, camellia sinensis leaf extract, saccharomyces ferment filtrate, camellia sinensis leaf water, helianthus annuus (sunflower) seed oil unsaponifiables, polyquaternium-51, sodium hyaluronate, ethylhexylglycerin, hydrogenated lecithin, dextrin, theobroma cacao (cocoa) seed extract, centella asiatica extract, ficus carica (fig) fruit extract, schisandra chinensis fruit extract, amaranthus caudatus seed extract, ulmus davidiana root extract, ceramide NP, tocopherol cosDNA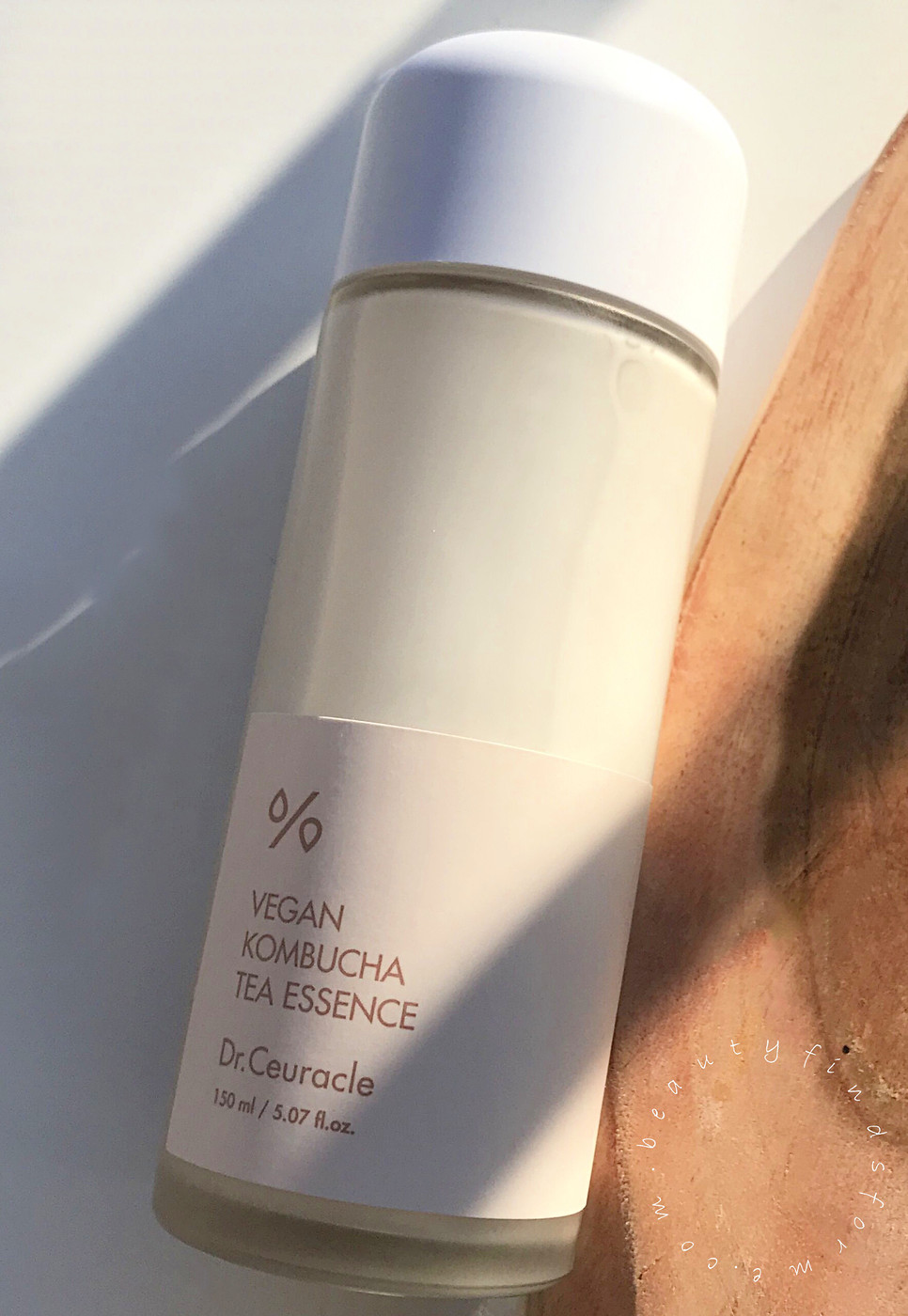 This multi-tasking, cream-essence hybrid comes in an impressive 150mL frosted glass bottle with a rounded matte white cap.  What it is inside can only be described as a tea latte.  Seriously ~ this product is beautiful.  You do have to shake it up to mix the oil and water mixture, but the before you shake it up, the upper half of the product is this creamy off white milky liquid while the lower half is a coffee colored liquid. Shake it up and you get your milk tea.  It truly is pleasing to the eyes and senses just looking at this product.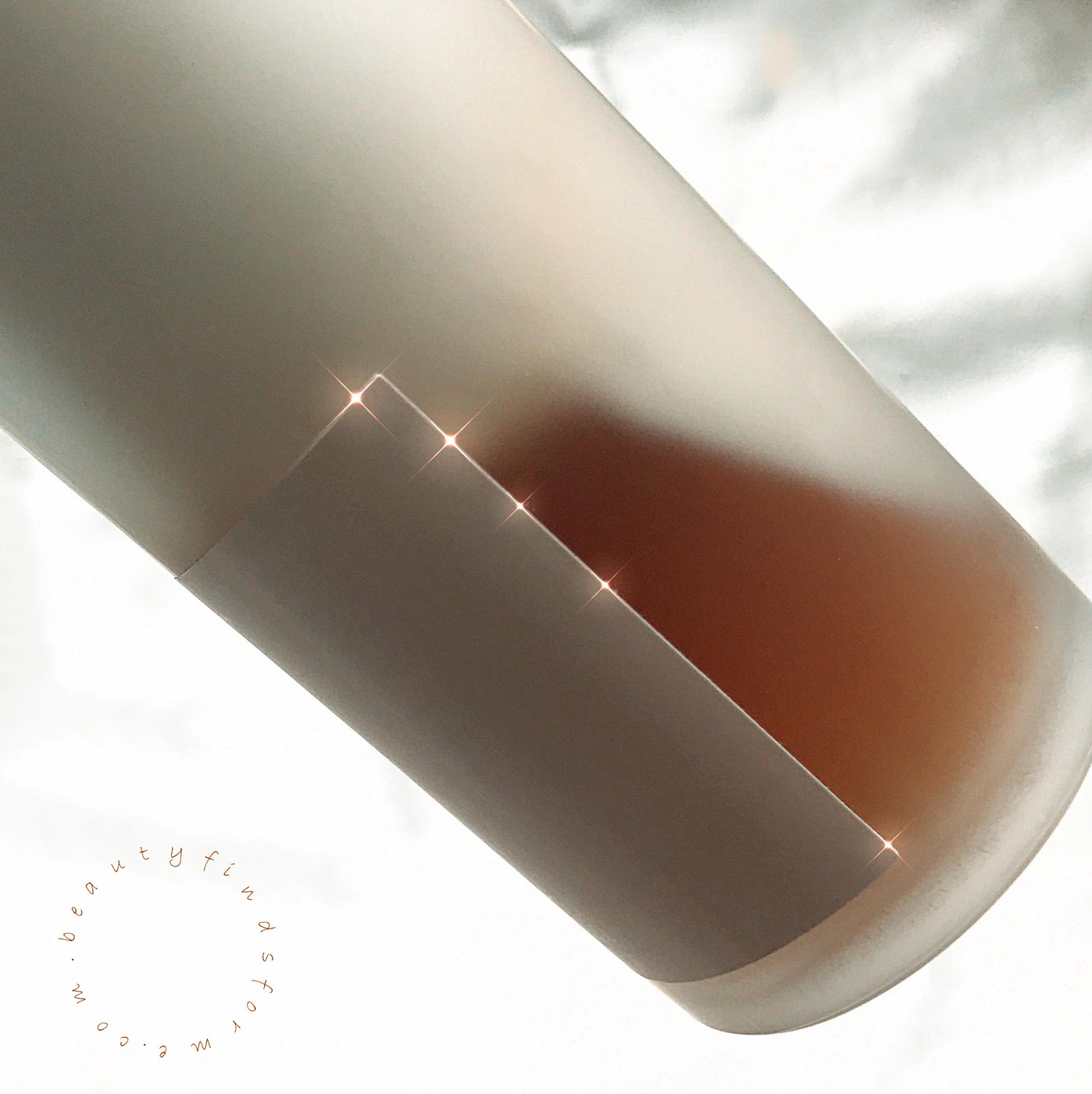 The liquid is a very pale beige color and it really has no scent that I can detect.  This has a pH level of 5.5 so it is mildly acidic.  I can feel the lipids in here as I slide this lightweight essence on my face with my hands and pat it in.  It doesn't leave any greasy or oily residue, but absorbs quickly without any stickiness.  My skin feels hydrated, plumped up and I can feel that protective barrier on my skin.  This essence does not irritate my skin and even though I have oily skin, it is dehydrated, so I sometimes layer it twice on my skin as it is feels so nice and if you have drier skin than me, you could do more layers!   My skin is smooth, soft and supple with a nice glow.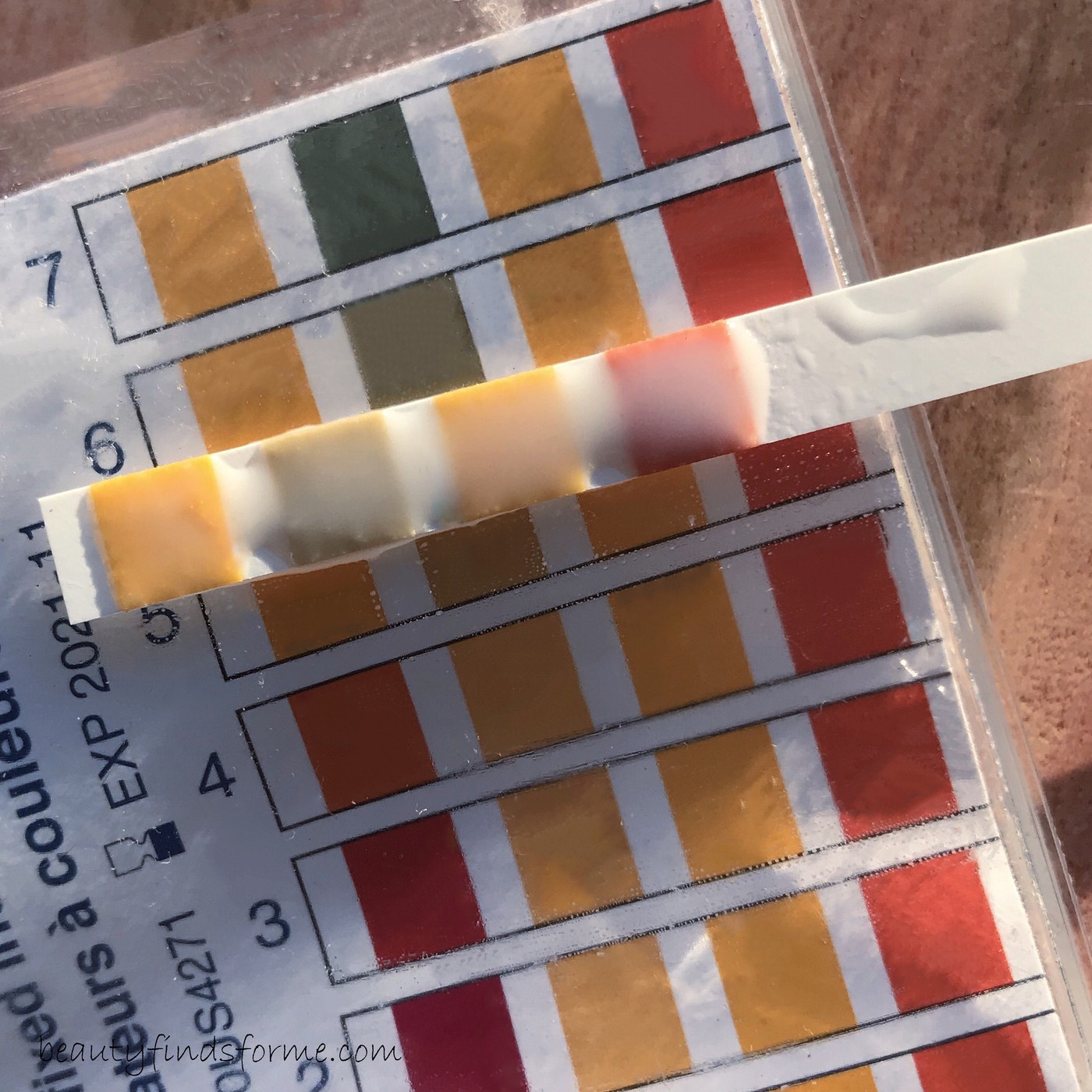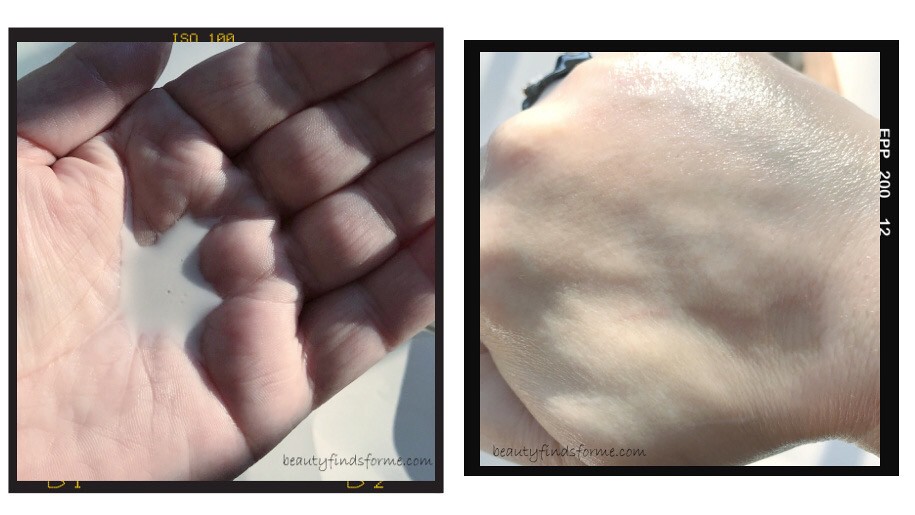 This product is marketed to function as a toner, essence and moisturizer all in one.   I would say I could skip other steps if I did more layers and then just plop a sunscreen over it, but for drier skin types, I would say you would still need a moisturizer.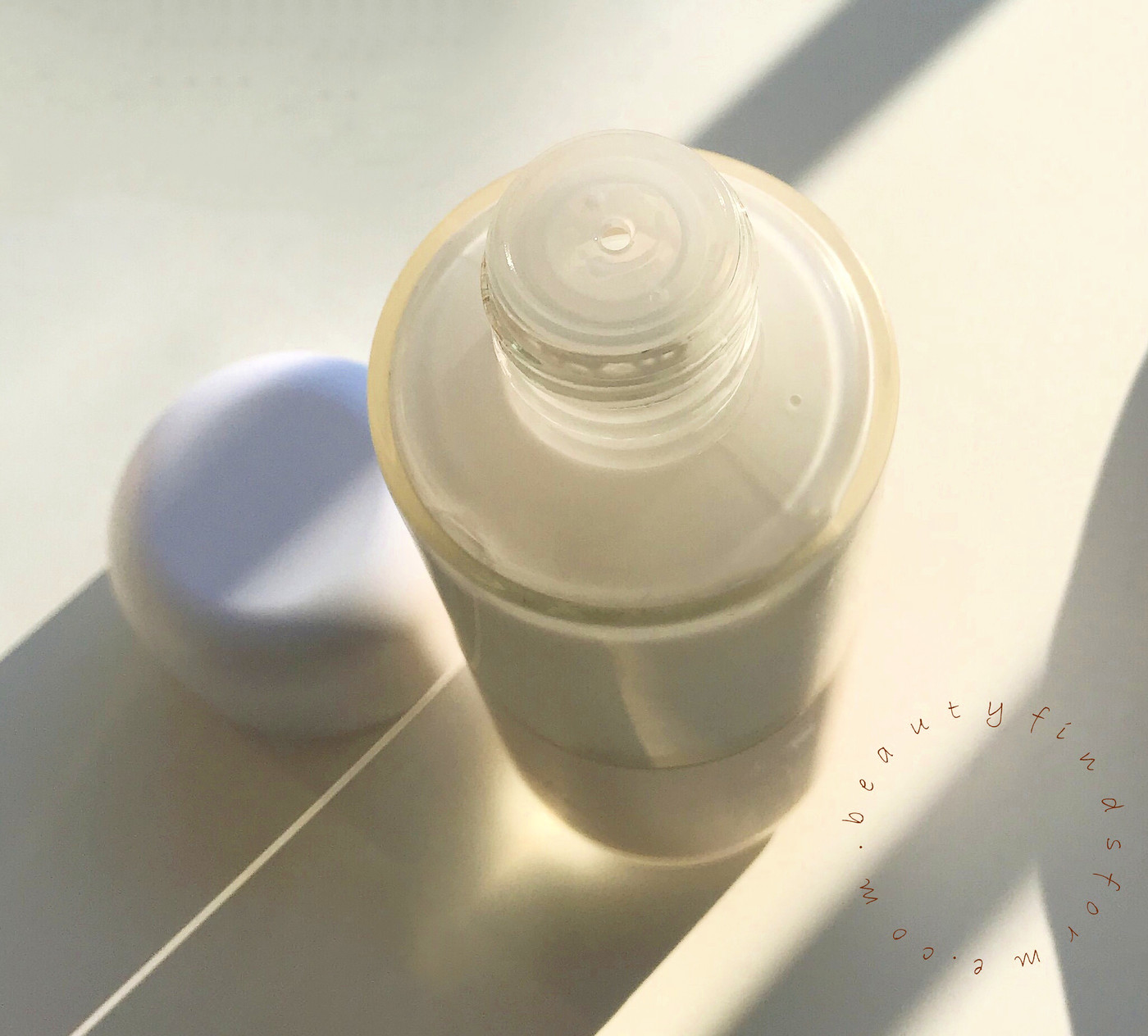 Milky toners and essences are all the rage now ~ Laneige really propelled the craze with their Cream Skin Toner & Moisturizer and other brands have followed with their versions.  Fresh really popularized the Kombucha toner with their Black Tea Kombucha Antioxidant Essence.  Both are fantastic products, but Dr. Ceuracle has taken the best from both ~ the creamy milkiness and the fermented tea ~ and made it the best version out there so far.     I think all skin types will love this product ~ if you loved Laneige Cream Skin Toner &  Moisturizer (aka Cream Skin Refiner) and Fresh's Black Tea Kombucha Essence, you will also love this product from Dr. Ceuracle.   I hope to see more vegan skincare items from Dr. Ceuracle, as more and more skincare enthusiasts are looking to Korean skincare to formulate vegan alternatives. 
Where to Purchase
Jolse carries this amazing (I highly recommend) Dr. Ceuracle Vegan Kombucha Tea Essence for $26.00  USD (click here to purchase)   Jolse offers free global shipping plus gives a lot of samples out ~ the more you purchase, the more samples you get! Please note that the prices do fluctuate a little bit due to the WON to USD exchange rates. Make sure to check your coupon zone (click here) for money saving discounts. You need to log into Jolse first, then download the coupons before you use them. Coupon savings usually are $5.00 off a $50.00+ purchase, 5% off $100.00+ purchase and 10$ off a $200.00+ purchase

disclaimer: products received complementary for review purposes & contains affiliate links