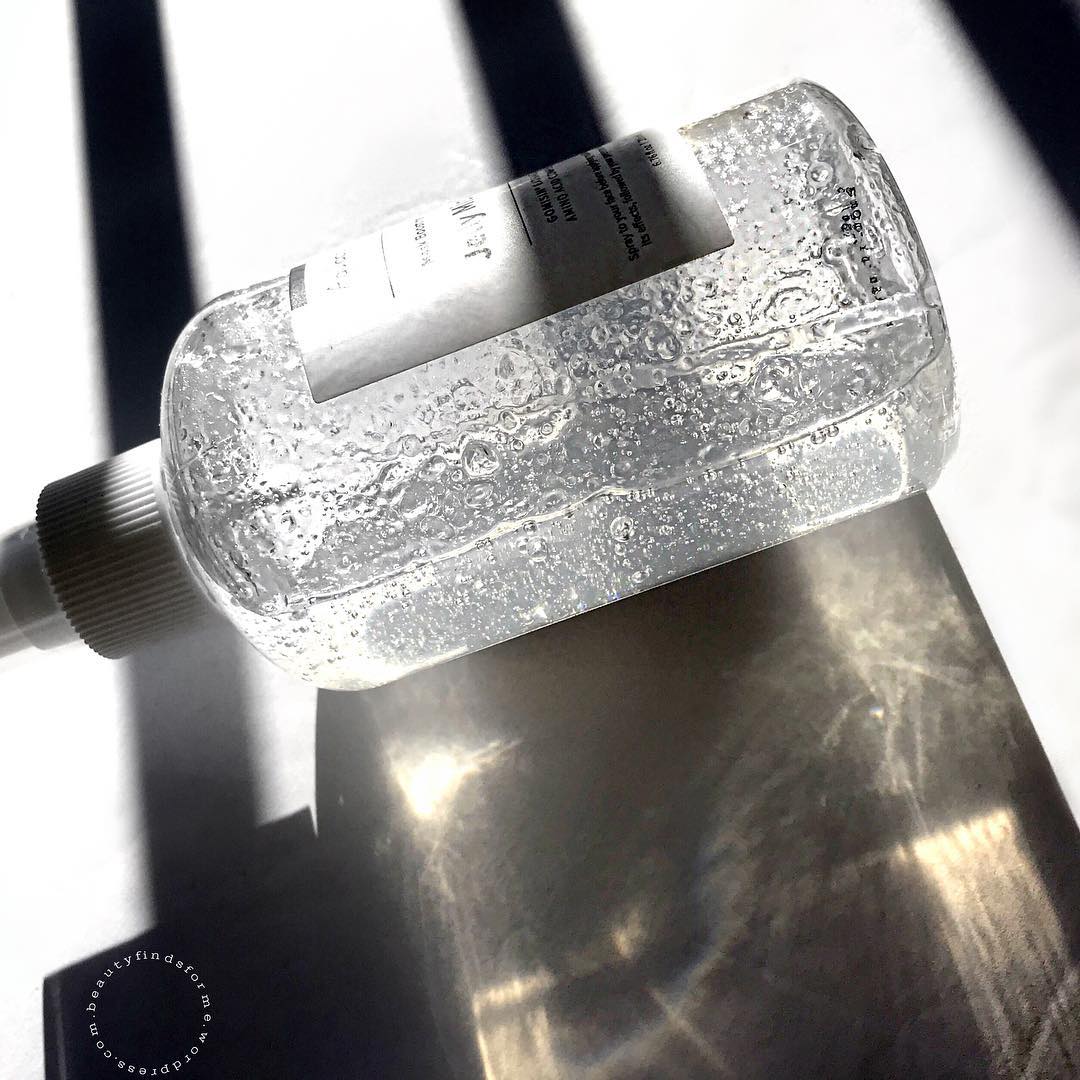 Founded in 2018, Aqulabo (Aqua + Laboratory) has four products now, all of which are pretty darn great!  Aqulabo is all about skin hydration, using EWG Green Grade rated ingredients.  They have a decade of R&D from their sister brand Elkurn. 
Skin Type/Concerns: Oily, blemish prone, pores, aging concerns with fine lines/wrinkles and hyper-pigmentation
I received these products complementary to review and was not paid.  All reviews are my own honest opinion and  I never have been asked to write copy for a brand.  This blog post might contain promo codes, affiliate and referral links, which using my links will help generate a small commission that helps support my blog at no extra cost to you.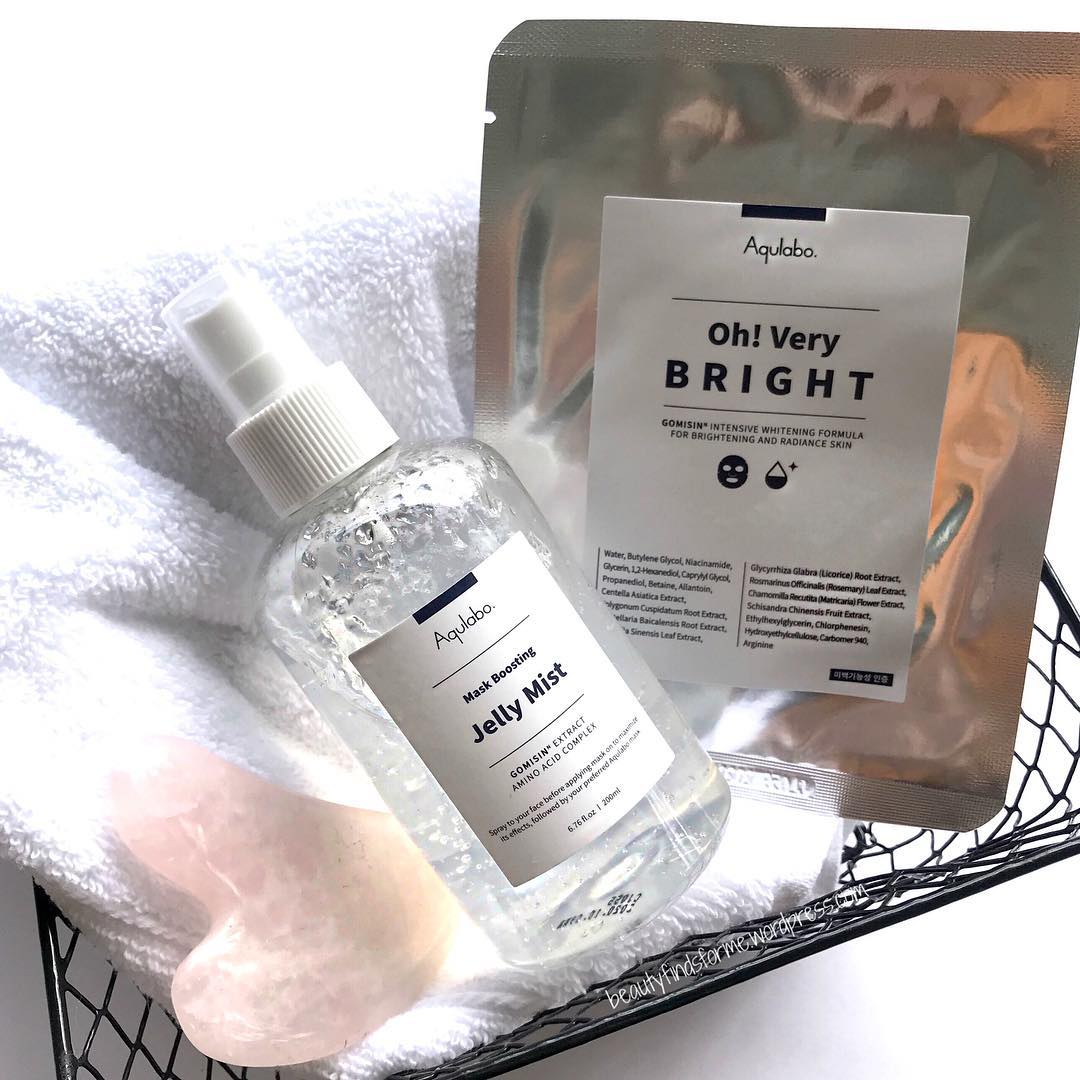 The first two Aqulabo products were given to me by Bemused Korea for review purposes. First up, let's talk about jelly! Mask Boosting Jelly Mist is such a COOL product. It looks like jello that hasn't quite set yet in the bottle ~ crystal clear and just beautiful to look at. It is made with an amino acid complex ~ looks like to be 17 amino acids ~ amino acids are anti-oxidants and can help repair, hydrate, soothe, smooth and brighten your skin. This also has Gomisin N, extracted from schisandra chinensi,which helps brighten your skin tone and acts as anti-inflammatory. This is made with 99% natural ingredients and 95% EWG green grade rating.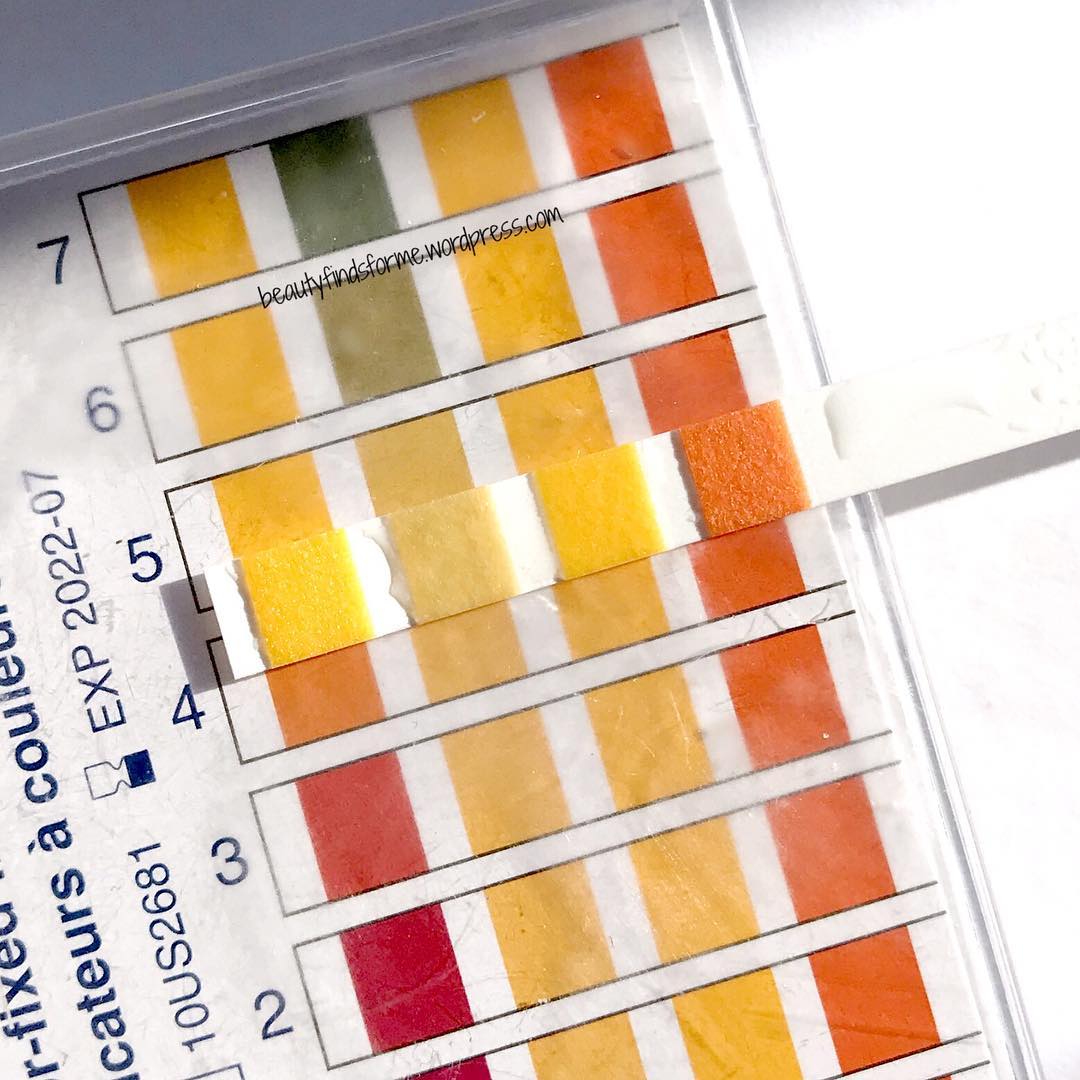 This looks like it would be very hard to spray out, but it isn't. I just shake the bottle once and then mist away ~ it leaves a nice fine coating on my skin and the mist doesn't go every which-way. Even though it states "mask boosting", I use this mist daily ~ I keep it in my shower caddy so once I am done showering, I mist my face with this skin balancing and non irritating pH 5 toner. It helps keep my skin hydrated when I am drying off, so my face doesn't dry up. This also works great as a mask booster ~ even when I don't use a brightening or calming mask, I find this helps with evening-out my skin tone and reducing redness. I REALLY love this jelly mist and I didn't think I was going to!
Ingredients: Water, Butylene Glycol, Glycerin, Schisandra Chinensis Fruit Extract, Glycine, Serine, Glutamic Acid, Aspartic Acid, Leucine, Alanine, Lysine, Arginine, Tyrosine, Phenylalanine, Threonine, Proline, Valine, Isoleucine, Histidine, Methionine, Cysteine, Ceramide NP, Hydrogenated Lecithin, Gellan Gum, Disodium EDTA, Sodium Chloride, Chlorphenesin, Propanediol, Calcium Lactate, Ethylhexylglycerin, 1,2-Hexanediol, Caprylyl Glycol cosDNA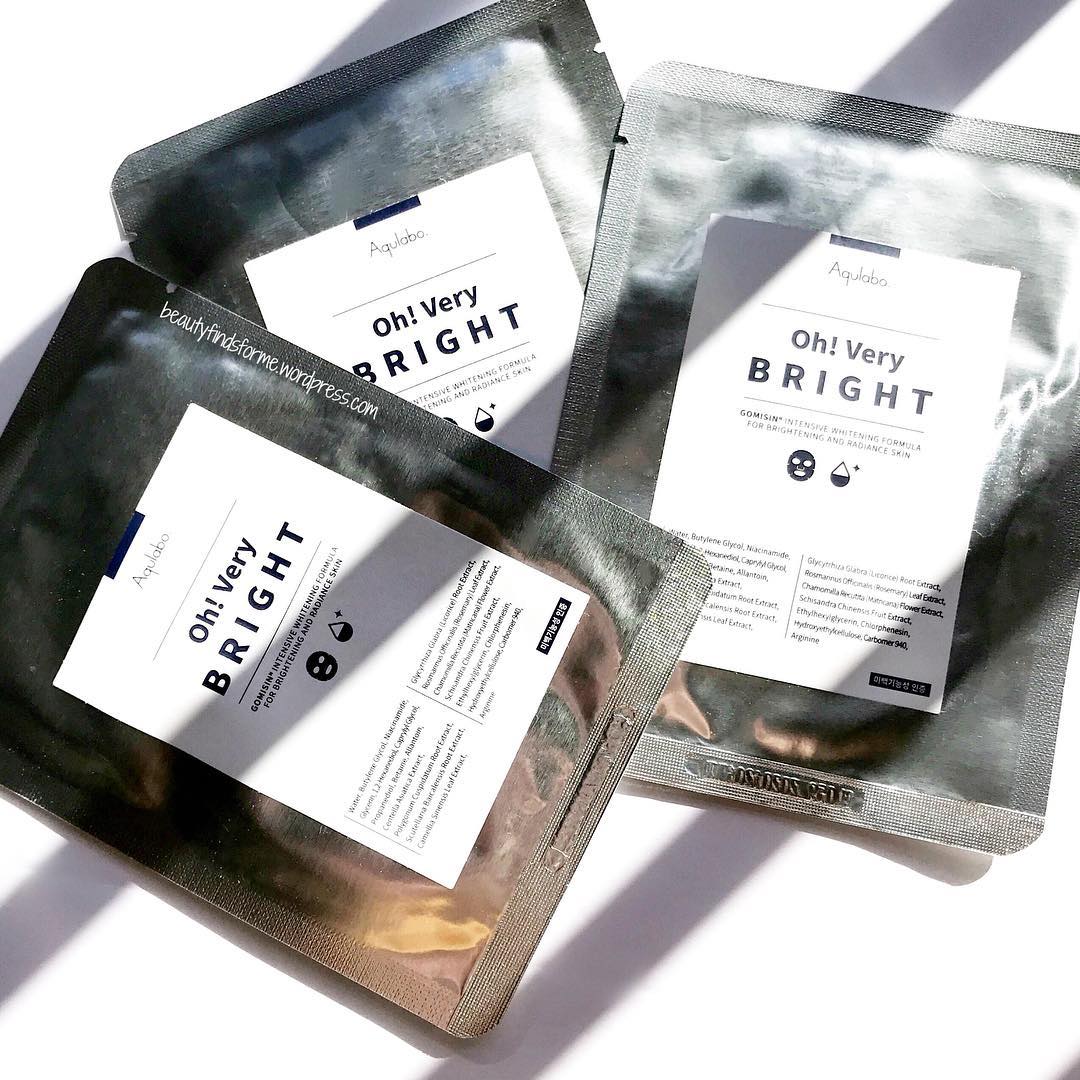 Oh! Very Bright Mask is the second product I tried and the packaging is pretty amazing with its bright metallic silver pouch. This is contains niancinamide and licorice, which we know are great ingredients for brightening AND it also has Gomisin N (schisandra chinensi) ~ which is more powerful than arbutin for a skin brightening effect. Betaine hydrates without stickiness and attracts moisture to your skin. Allantoin moisturizes and softens skin, making it look smooth and refined, while reducing and relieving irritation. This also has repairing and calming centella, soothing chamomile and anti-septic rosemary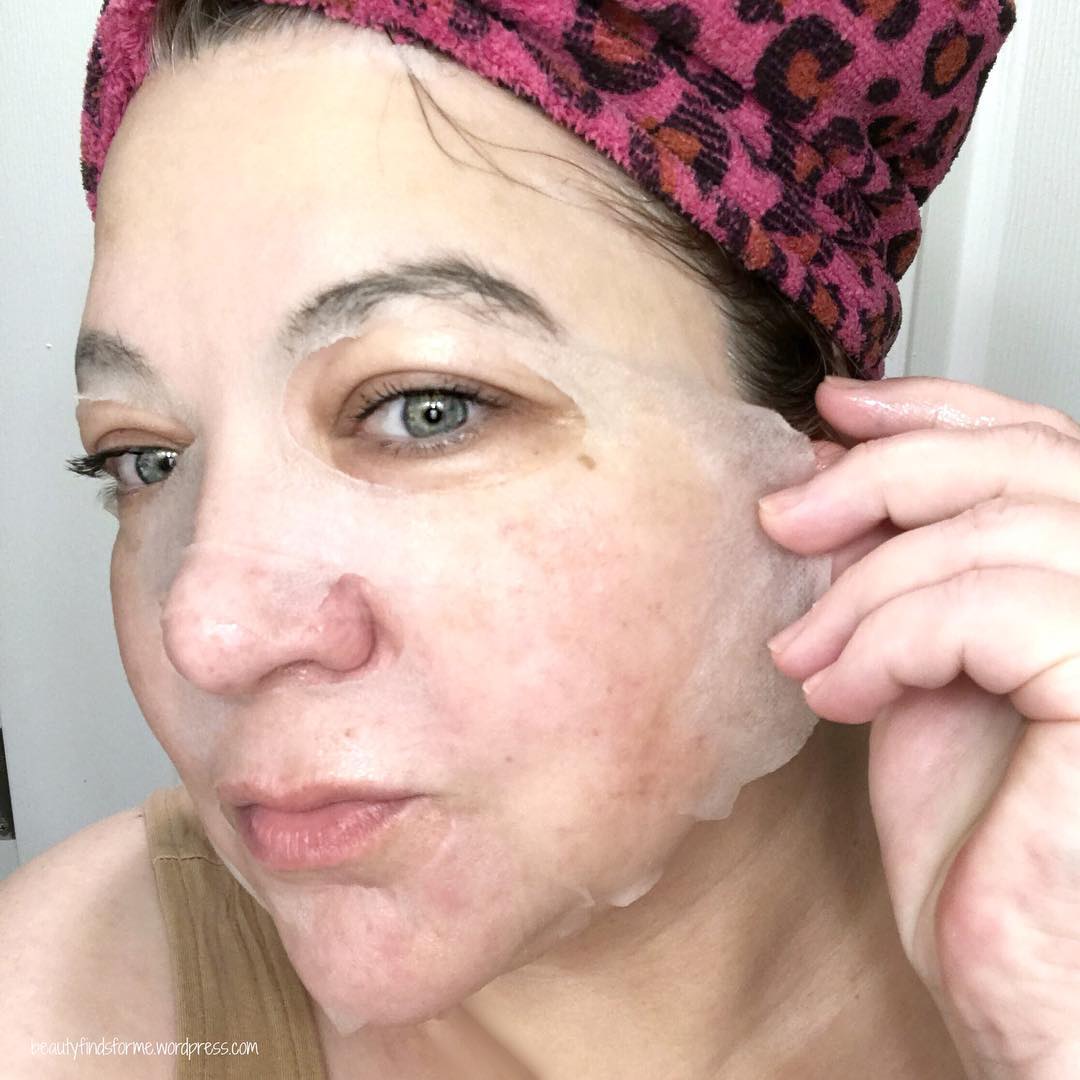 The mask is thick with a watery-gel essence and so the sheet mask is almost gelatinous. This is one mask that needs a plastic or paper protector as it took me a few minutes to carefully unfold this mask, as it was so jelly like! However, the fit is fairly decent on my big face ~ I would have liked more coverage on my nose (which isn't big, but it is wide). Not a lot of essence left over in the pouch as the mask really soaked it up. After 20 minutes, I removed and YASS! My skin looks brighter over all, less red and very hydrated. No sticky or tacky residue, so this means this is a great AM mask for me as well. .
Ingredients: Water, Butylene Glycol, Niacinamide, Glycerin, 1,2-Hexanediol, Caprylyl Glycol, Propanediol, Betaine, Allantoin, Centella Asiatica Extract, Polygonum Cuspidatum Root Extract, Scutellaria Baicalensis Root Extract, Camellia Sinensis Leaf Extract, Glycyrrhiza Glabra (Licorice) Root Extract, Rosmarinus Officinalis (Rosemary) Leaf Extract, Chamomilla Recutita (Matricaria) Flower Extract, Schisandra Chinensis Fruit Extract, Ethylhexylglycerin, Chlorphenesin, Hydroxyethylcellulose, Carbomer 940, Arginine cosDNA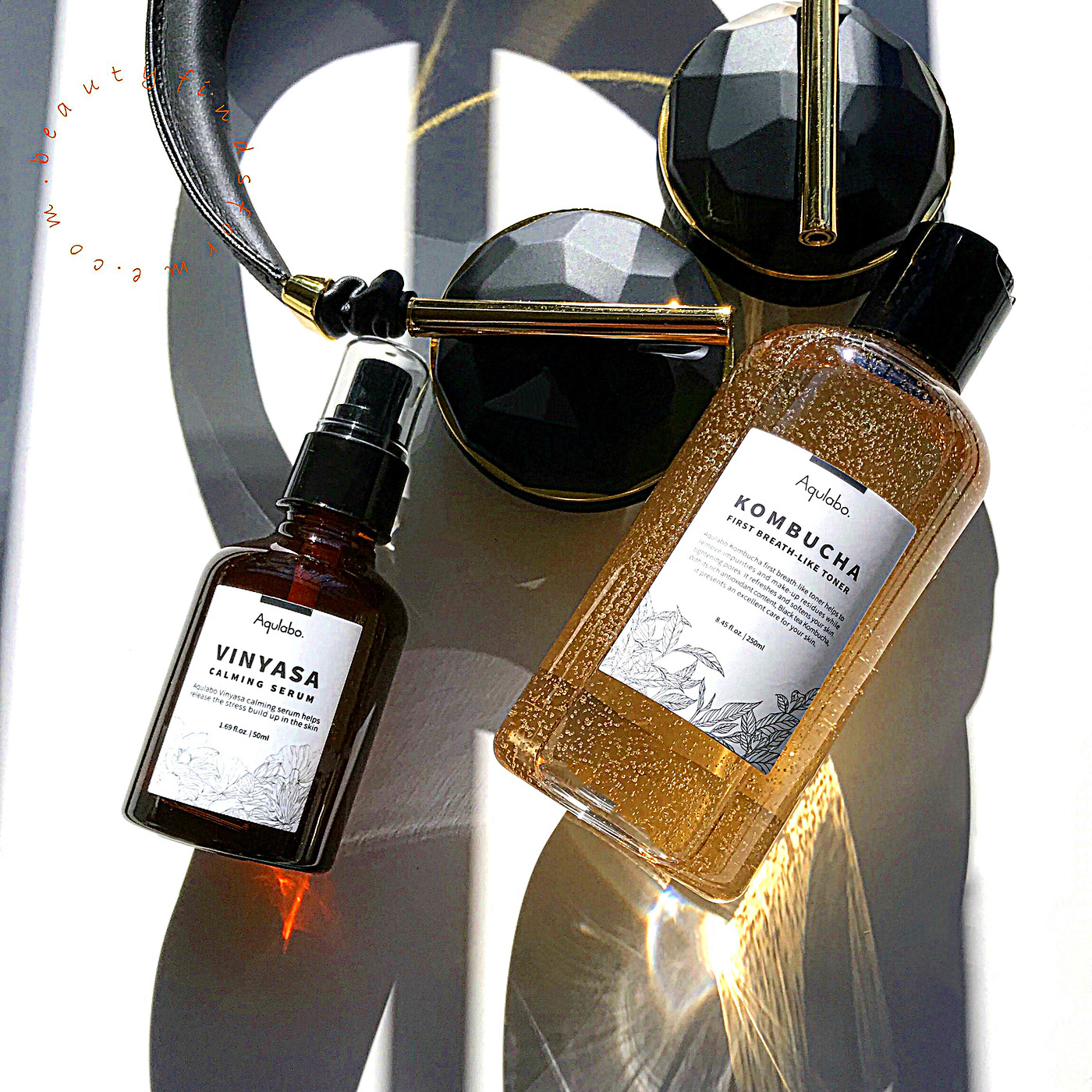 The next two products were courtesy of Aqulabo themselves and wow, they outdid themselves here.   Kombucha First Breath-Like Toner ~ I ain't gonna lie, when I saw this golden beauty on Aqulabo's IG feed, I was drooling. This is 88% fermented black tea water ~ that's yer kombucha!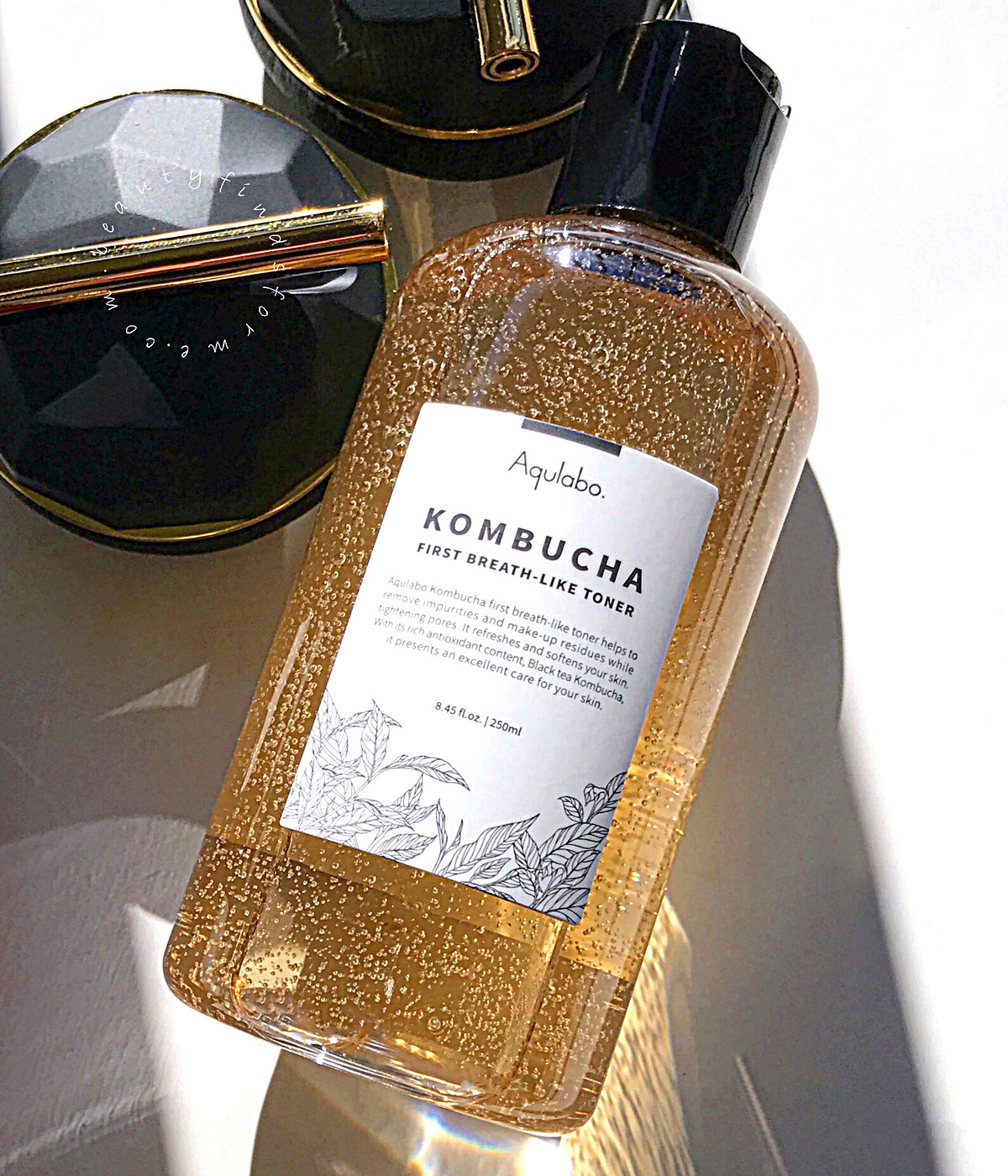 What is Kombucha? You might know it as a drink in the supermarket, great for your gut, full of both pre and pro-biotics, amino acids, minerals and vitamins ~ but it is also great for your skin. This is a First Treatment Essence (FTE), designed to be used after your cleansing step, helping to prep your skin and boost other skin care products ~ it does have other benefits as well. Fermented black tea is full of antioxidant catechin,helping to improve the clarity of your skin (think zit healing), texture (think smoothing and soft) and elasticity, while its prebotiotics polyphenols help with anti-aging concerns, repairing and rejuvenating the skin.
This also has more antioxidant tea in it ~ green tea leaf extract, Uuron-Cha Ekisu aka Oolong tea, along with a few more ferments with galactomyces and lactobacillus/honeysuckle. This also has antibacterial and antiseptic hinokitiol, derived from cypress trees. Betaine hydrates without stickiness and attracts moisture to your skin. Trehalose supplies concentrated moisture to your skin, retains moisture and prevents skin from drying out. Antioxidant arginine is an essential amino acid that promotes collagen production to combat aging.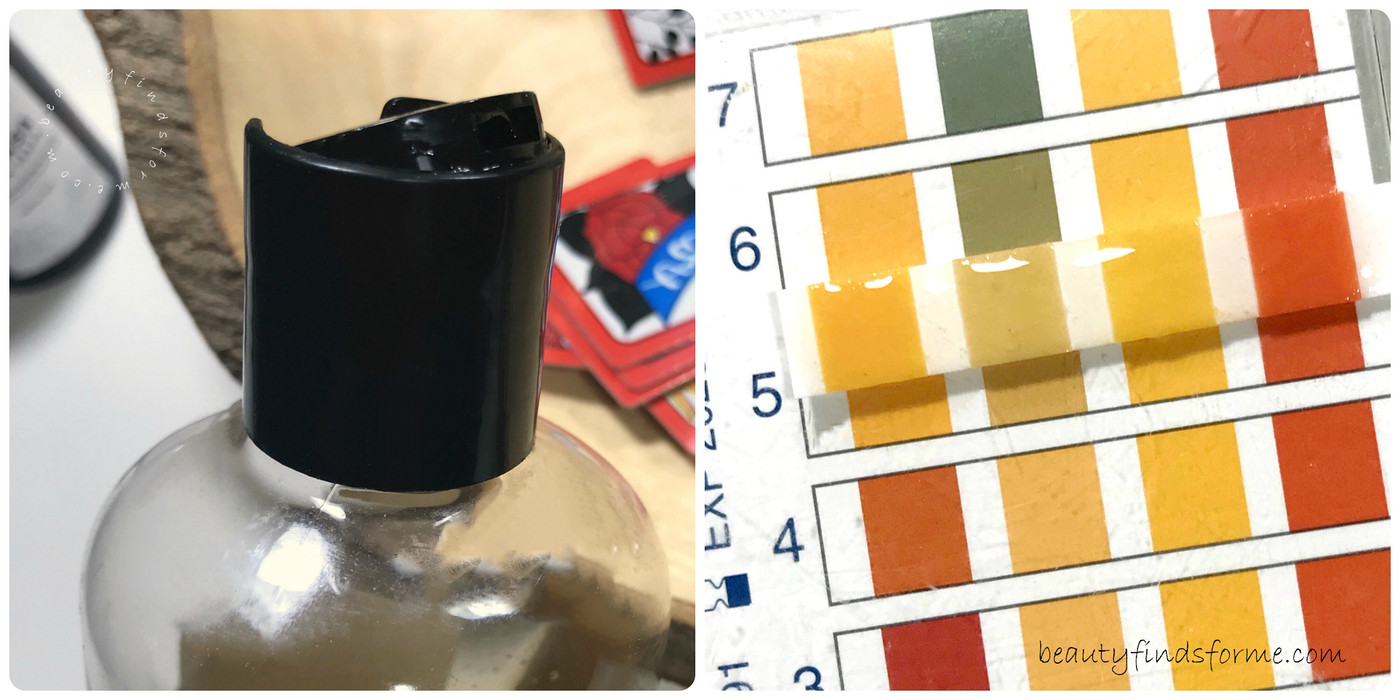 This has a very faint bitter scent to it and its pH level is 5. This is SO bouncy, so refreshing and I want to just have a bathtub filled with this FTE. There is no sticky or tacky residue and it feels so good on my skin. It is very hydrating, soothing and my overall skin tone looks more even and texture feels more smoother when I use this. I am almost done with this toner as I use it very liberally on my skin!  I would say this is BETTER than Fresh's Kombucha Antioxidant Facial Treatment Essence.   This is $21.00 for a HUGE 250mL bottle of golden dewdrops at Bemused Korea.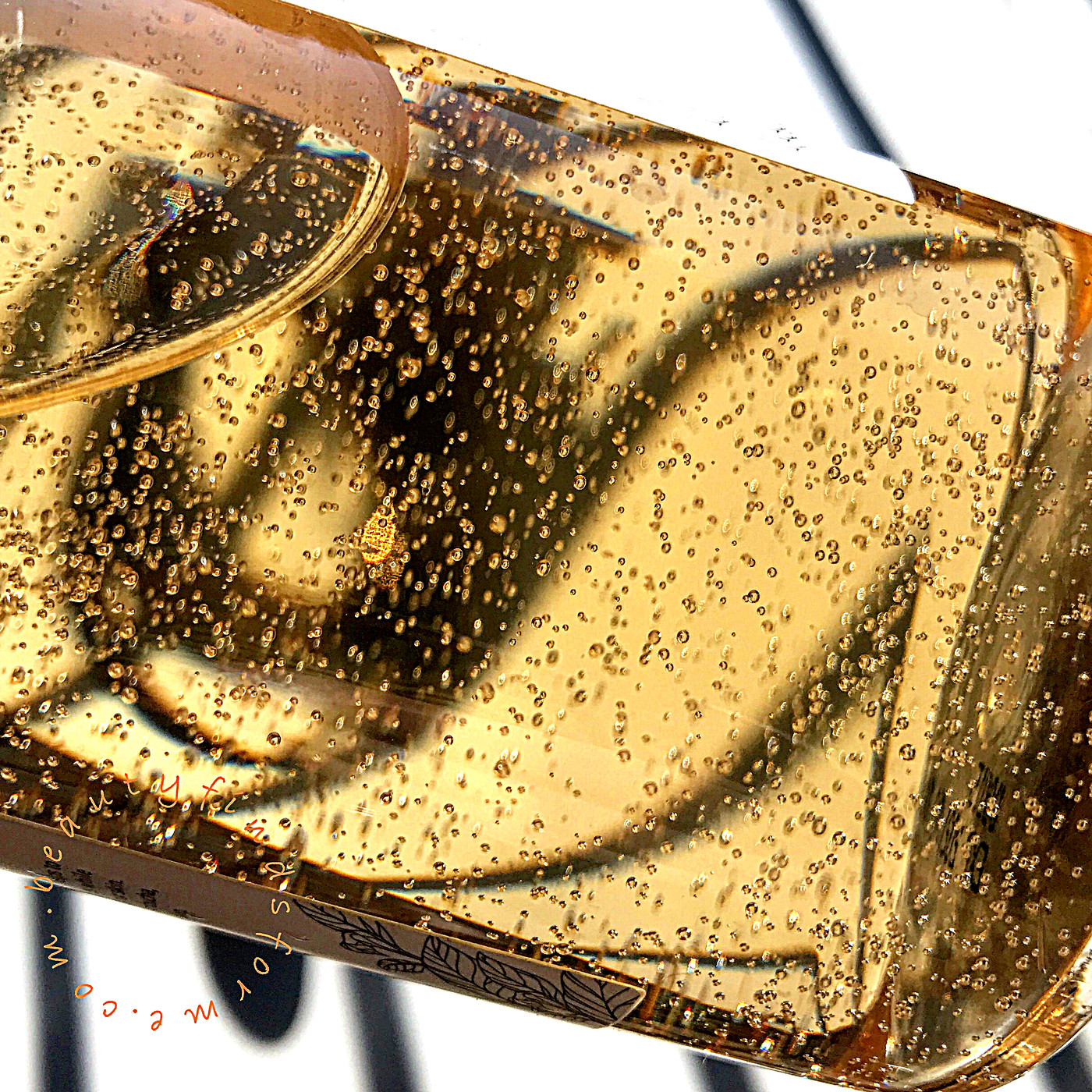 Ingredients: Camellia Sinensis Leaf Water(88.33%), Water, Glycerin, Betaine, Trehalose, Urea, Camellia Sinensis Leaf Extract, Camellia Sinensis Leaf Extract, Uuron-Cha Ekisu, Galactomyces Ferment Filtrate, Lactobacillus/Honeysuckle Flower Extract Ferment Filtrate, Ethylhexylglycerin, Caprylyl Glycol, Butylene Glycol, 1,2-Hexanediol, Hinokitiol, Chlorphenesin, Carbomer, Arginine, Rehmannia Chinensis Root Extract cosDNA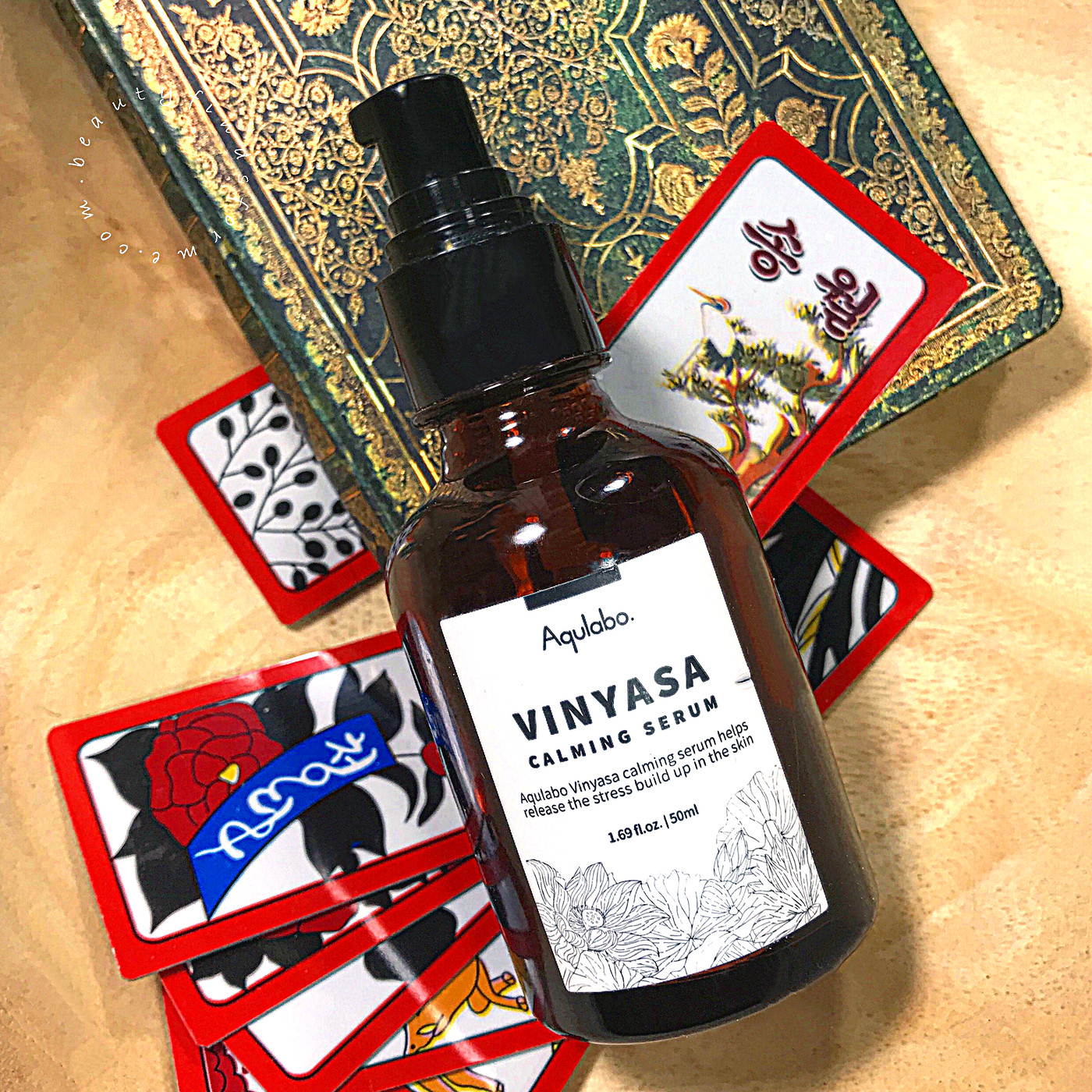 Vinyasa Calming Serum is made with 61.1% lotus flower water ~ lotus is a great ingredient, as it not only hydrates your skin and refines the texture to a more smoother finish, it makes your skin feel refreshed. It is rich in minerals, such as iron, copper and potassium to help restore health and glow to your skin, while reducing swelling.

It also contains flavonoids, amino acids, essential fatty acids and the big antioxidant ~ vitamin C which will help firm and tighten your skin over time. Lotus has multi-purpose benefits ~ it is an astringent, an emollient, with anti-bacterial, antimicrobial and anti-fungal proprieties, so it will keep your skin clean, moisturized and healthy.
Neuro peptide dipeptide diaminobutyroyl benzylamide diacetate helps prevent wrinkles by helping facial muscles to relax while palmitoyl tripeptide-5 helps firm skin. This also has calming and moisturizing beta-glucan, hydrating humancants glyceirn and sodium hyaluronate and soothing chamomile.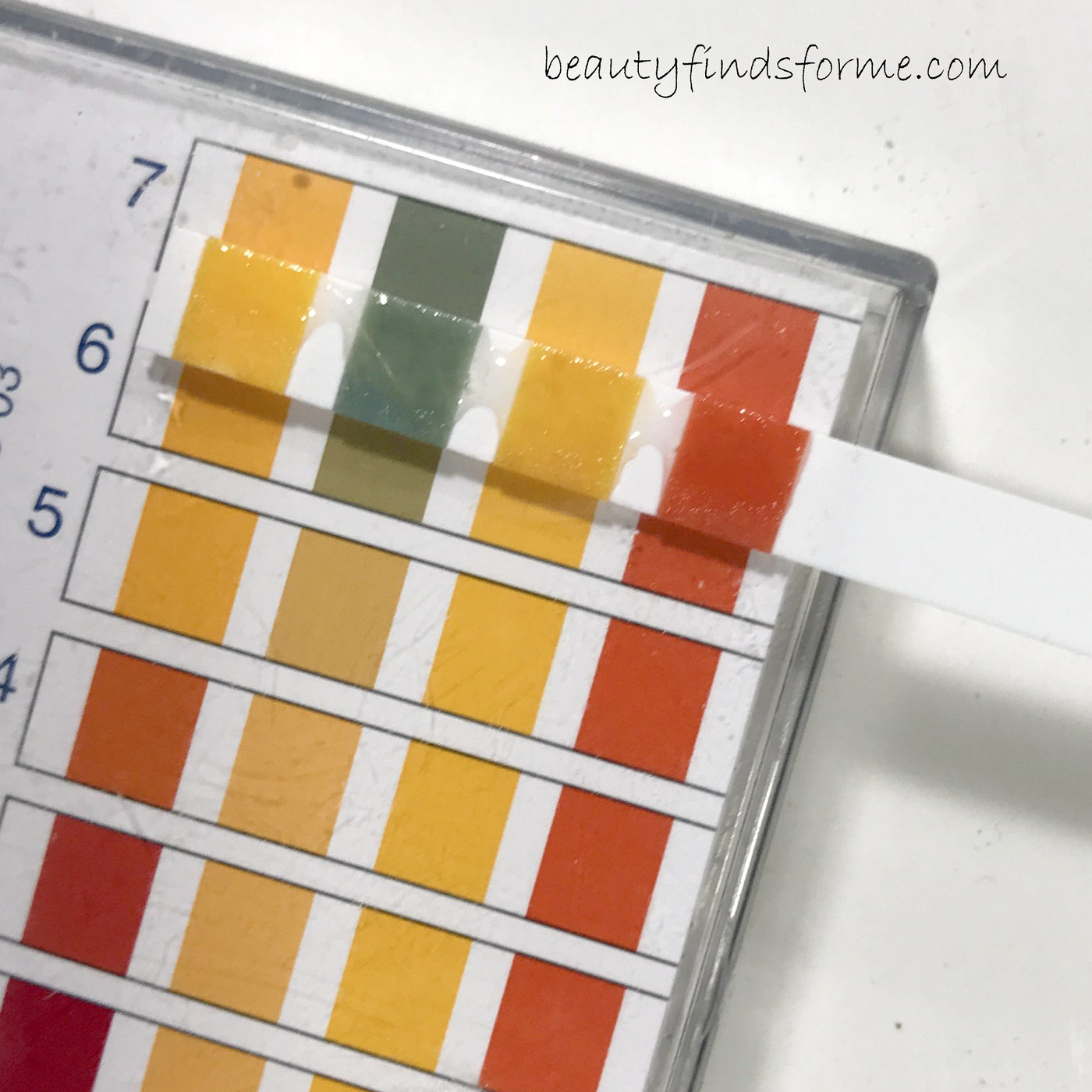 This is a scentless serum with a watery-gel texture that transforms to a very watery serum on the skin. It has a pH level of about 6.5 to 7. This does have a slightly tacky residue to it, but that goes away when I layer my moisturizer over it. This is a nice hydrating and  soothing serum.  I did feel it helped reduce redness on my skin. This is $32.00 for a 50mL bottle ~ the packaging on this is very nice ~ a dark amber bottle, pump applicator and the label has lotus flowers drawn on it!
Ingredients: Nelumbo Nucifera Flower Water (61.1%), Glycerin, Euglena Gracilis Polysaccharide, Zanthoxylum Piperitum Fruit Extract, Pulsatilla Koreana Extract, Usnea Barbata (Lichen) Extract, Sodium Hyaluronate, Dipeptide Diaminobutyroyl Benzylamide Diacetate, Palmitoyl Tripeptide-5, Nelumbo Nucifera Flower Extract, Nelumbo Nucifera Germ Extract, Pentylene Glycol, Portulaca Oleracea Extract, Chamomilla Recutita (Matricaria) Extract, Butylene Glycol, 1,2-Hexanediol, Beta-Glucan, Xanthan Gum  cosDNA
Verdict on Aqulabo products: FANTASTIC. I don't think you will be disappointed if you decide to try them. If I had to pick JUST two, it would be
Jelly Mist, as it is a skin booster, mask booster and I can create my own mask packs with it as well

Kombucha First Breath-Like Toner as it is such a lovely bouncy FTE, better than Fresh and much cheaper
Where to Purchase 
Currently, the best place to get these products is at Bemused Korea and they are an authorized retailer for Aqulabo and they do ship internationally.  Bemused Korea will ship free with purchases $50.00 or more.   
[ disclaimer: some products received for an honest & unbiased review  ]
Save