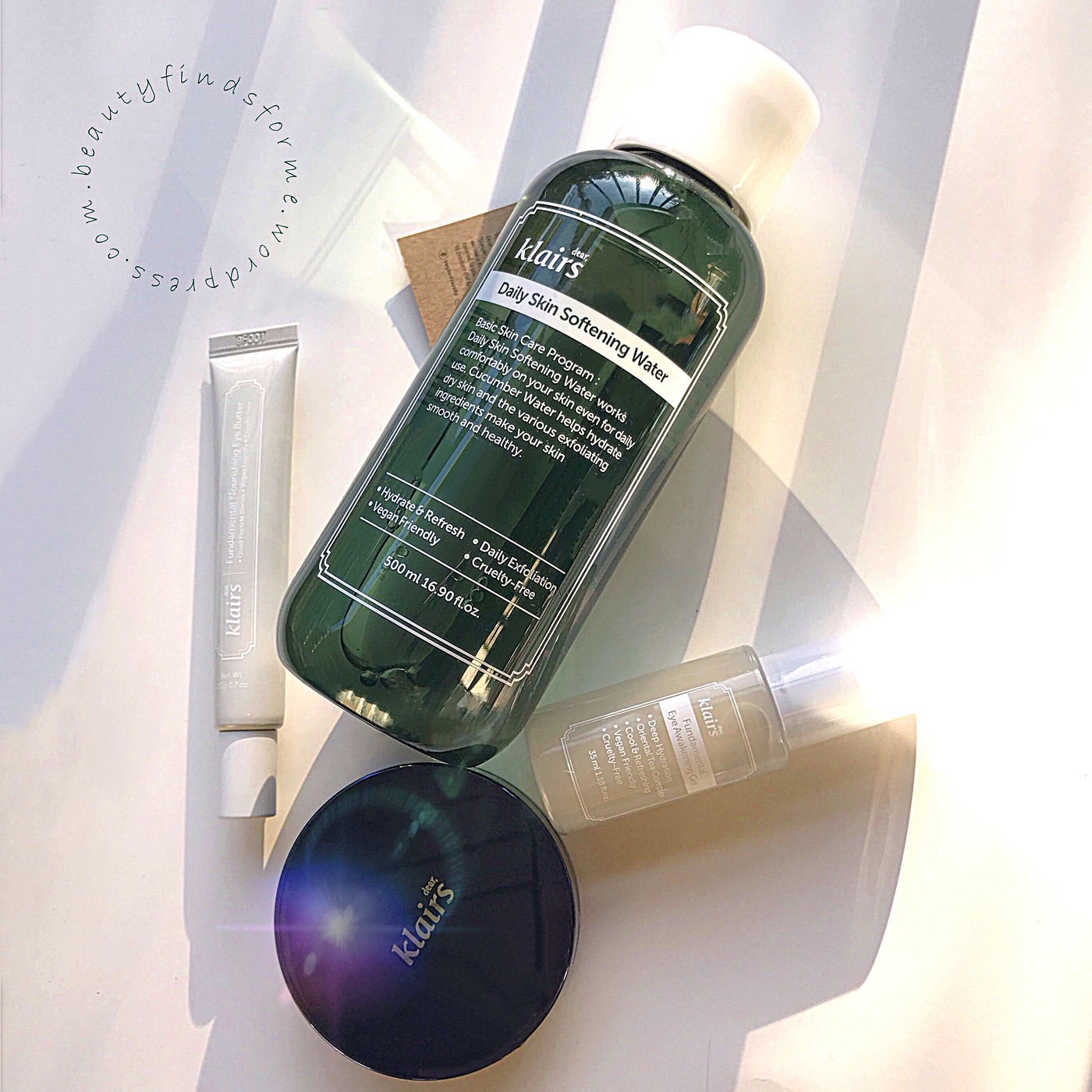 Klairs is one of my favorite K-Beauty brands from Wishtrend ~ I purchased my first Klairs product back in 2015 and have been in love with the brand since then ~ see my reviews here.  Klairs has changed over the years, listening to customers concerns and they have reformulated all of their products to be vegan.  Their formulas are effective, but mild enough for sensitive skin and free from fillers, alcohol, parabens and artificial dyes and fragrances.  Last fall, Klairs dropped five new products and I received four of them for review purposes ~ Fundamental Eye Awakening Gel, Fundamental Nourishing Eye Butter, Daily Skin Softening Water and BB Cushion Whenever. I will have a separate review on the BB Cushion Whenever.
image from wishtrend
Skin Type/Concerns: oily, blemish prone, aging concerns, pores, fine lines/wrinkles, hyper-pigmentation
I received these products complementary to review and was not paid.  All reviews are my own honest opinion and  I never have been asked to write copy for a brand.  This blog post might contain promo codes, affiliate and referral links, which using my links will help generate a small commission that helps support my blog at no extra cost to you.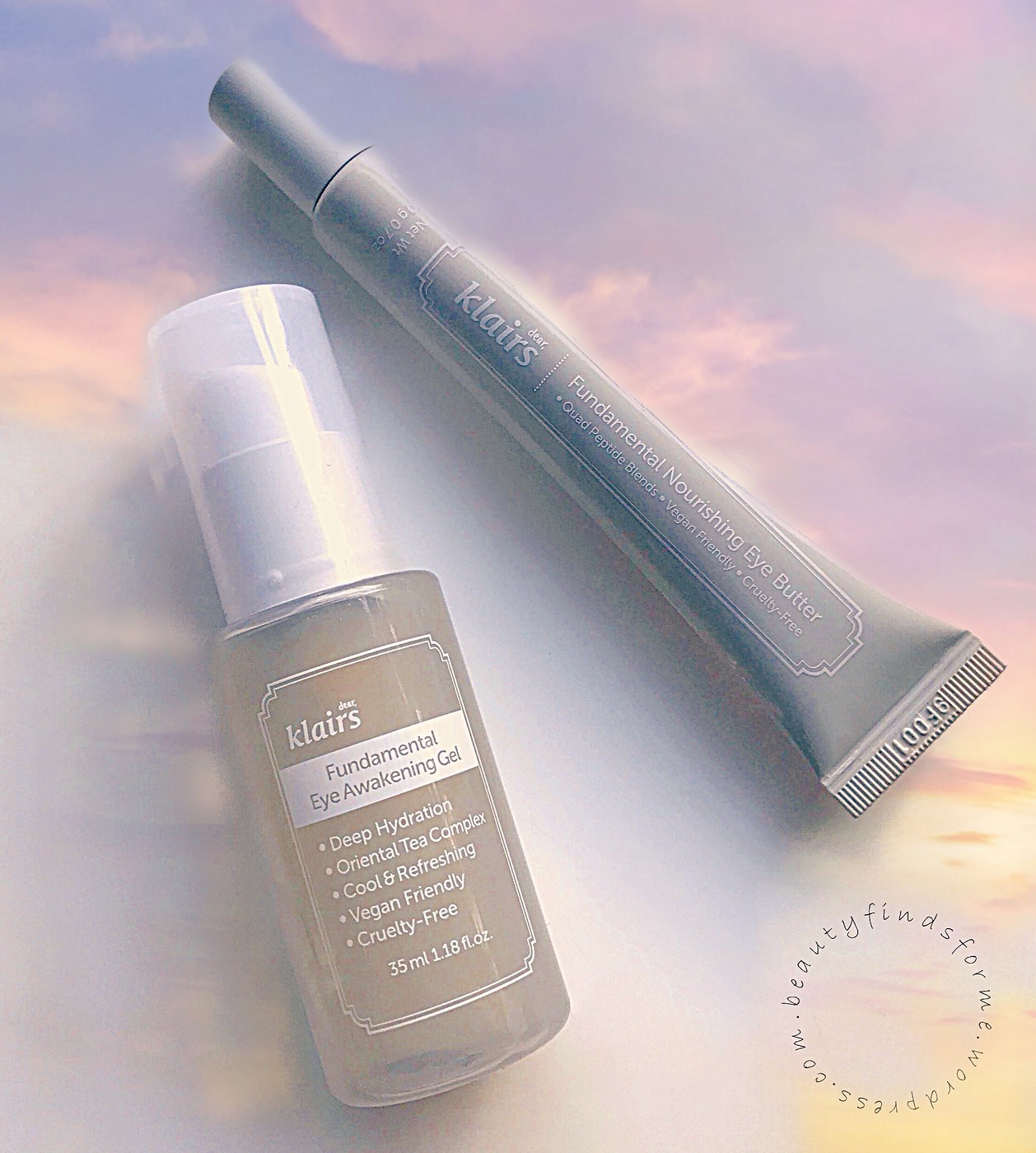 Since two of the products are from the newly launched Fundamental line, I thought I would do a skincare line introduction: The goal of the new Fundamental line is to help balance your skin, leaving it radiant and healthy.    These products will work on all skin types, but are especially great for those with oily to combination skin.  Dry skin types might not find these moisturizing enough.  They do not include added color or scents to them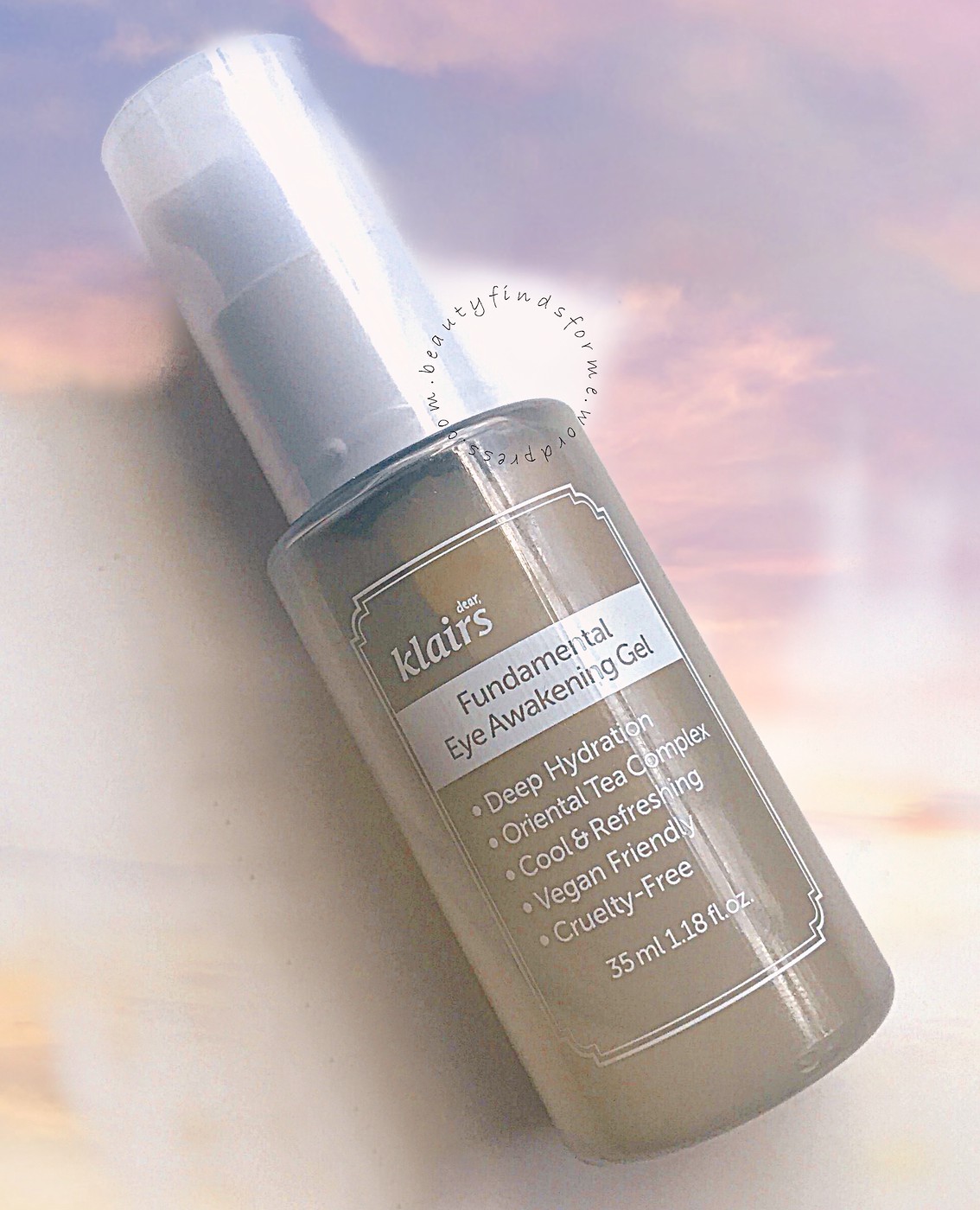 Fundamental Eye Awakening Gel This is a lightweight gel eye product that helps refresh and hydrate the skin around your eyes.   It has a lot of ingredients packed in this 35 mL bottle
Caffeine helps reduce puffiness, by stimulating and improving blood circulation
Phaseolus radiatus (mung/red bean) contains copper, which is a powerful anti-aging ingredient ~ it helps reduce the appearance of fine lines, wrinkles and hyper-pigmentation. It has cooling and brightening properties and it is also an anti-inflammatory, helping to reduce puffy eyes
Mugwort has been used in traditional European herbal medicine to help heal skin wounds and contains a rich source of antioxidants.
Hydrating humectants glycerin and sodium PCA make an appearance. Glycerin helps with healing of wounds, sealing in moisture and maintaining the skin's water balance, making the skin look healthy, moist, soft to touch, leaving your skin looking radiant and supple. Natural Moisturizing Factor sodium PCA will attract moisture continuously to your delicate skin around your eyes and keep dehydrated and dry skin soft and supple
Jojoba oil is both a moisturizing and skin softening ingredient and helps skin cells attract and keep moisturize.  It also penetrate your skin easily, aiding skin's increased flexibility and elasticity. Argan oil is chock full of nutrients, such as fatty acids and vitamin E. Its antioxidant properties help restore skin elasticity, leaving your skin feeling softer and plumper.
Tocopherol

is vitamin E, providing antioxidant and anti-aging benefits to

facilitate

radiant healthy skin, while helping to heal scars and skin issues.

Korean perilla is part of the mint family and besides being quite tasty, these huge leaves have antioxidant and anti-inflammatory benefits.  
This also has anti-aging peptides:  copper tripeptide-1 aids in the production of glycosaminoglycans (GAGs) which help support and maintain the production of collagen and elastin, making your skin firm and retain moisture. Acetyl hexapeptide-8 helps bind water to your skin, helps regenerate skin cells and reduce the appearance of fine lines and wrinkles.  Oligopeptide-29 is another powerful anti-aging ingredient that helps aid in the production of collagen, repairing and rejuvenating.  I am not sure what oligopeptide-32 is, as there isn't a lot of information out there ~ from what I have found, this peptide helps with skin issues such as scaly patches, redness and skin flakes.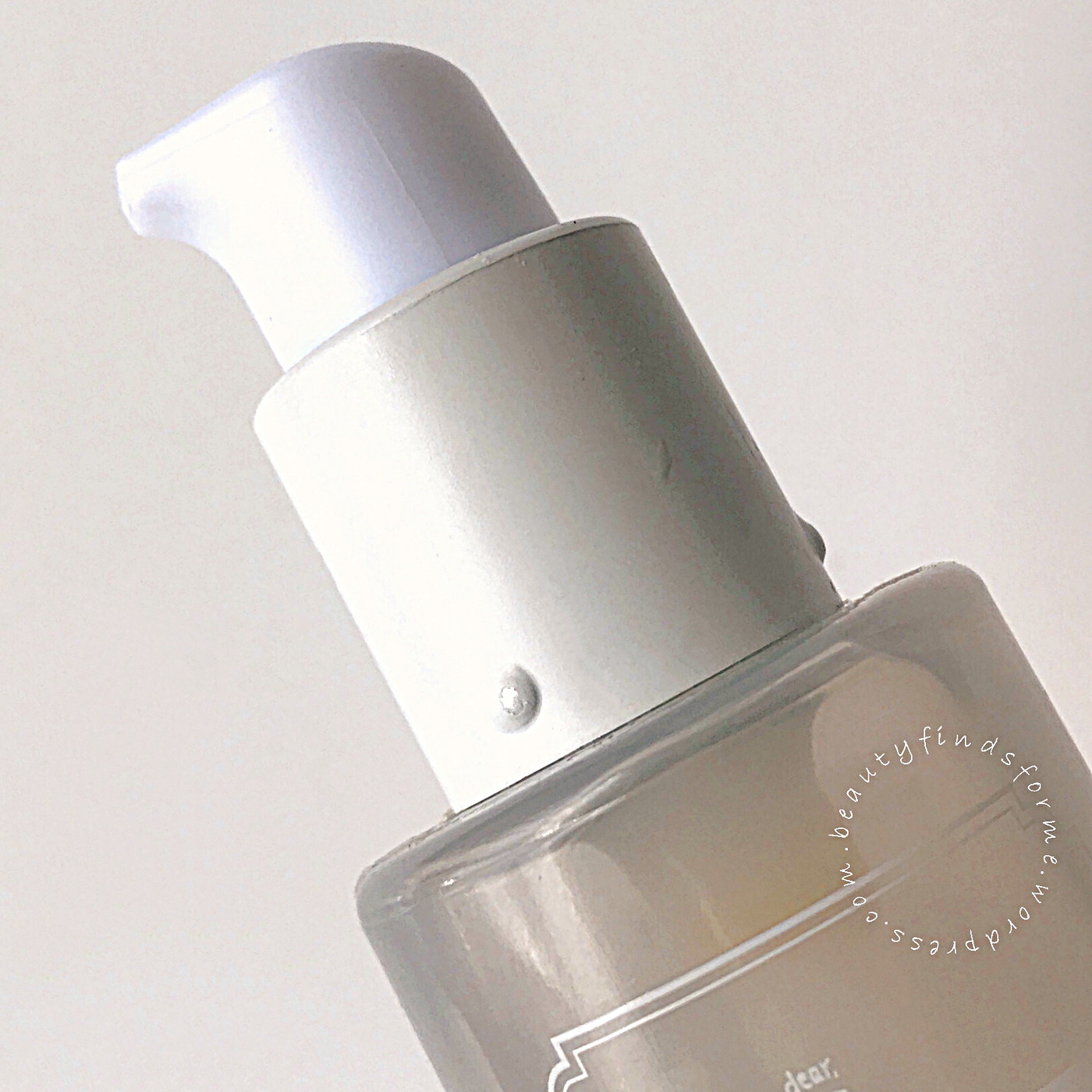 This gel moisturizer comes in a small 35 mL pump bottle and the gel is  slightly cloudy, with no scent.  The texture is very lightweight and not sticky at all.  It feels really cooling and refreshing on my skin ~ I can really say that this is primarily a hydrating product ~ it absorbs quickly with no tacky feeling.  I feel that this helps with puffiness and hydration ~ my fine lines and wrinkles seem to be plumped up but I haven't noticed tightening effects nor brightening benefits from using this.  However, this is a great first step in my eye care routine as it provides a good dose of moisture and cooling benefits.

Klairs also states that this product can be used all over your face as well and I have tried it ~ due to its fast absorption, my makeup doesn't cake or settle on my skin. If this was a bigger bottle, I would use it all over my face in the summer time, as it is so refreshing and helps with reducing puffiness and redness.
Ingredients: Water, Glycerin, 1,2-Hexanediol, Butylene Glycol, Propanediol, Argania Spinosa Kernel Oil, Simmondsia Chinensis (Jojoba) Seed Oil, Tocopherol, Caffeine, Phaseolus Angularis Seed Extract, Artemisia Princeps Leaf Extract, Camellia Sinensis Leaf Extract, Chaenomeles Sinensis Fruit Extract, Chrysanthellum Indicum Extract, Cinnamomum Cassia Bark Extract, Diospyros Kaki Leaf Extract, Perilla Frutescens Extract, Portulaca Oleracea Extract, Acetyl Hexapeptide-8, Copper Tripeptide-1, Oligopeptide-29, Oligopeptide-32, Carbomer, Hydroxyethylcellulose, Hydroxyethyl Acrylate/Sodium Acryloyldimethyl Taurate Copolymer, Polyglyceryl-10 Laurate, Sorbitan Isostearate, Caprylyl/Capryl Glucoside, Sodium PCA, Tromethamine, Ethylhexylglycerin  cosDNA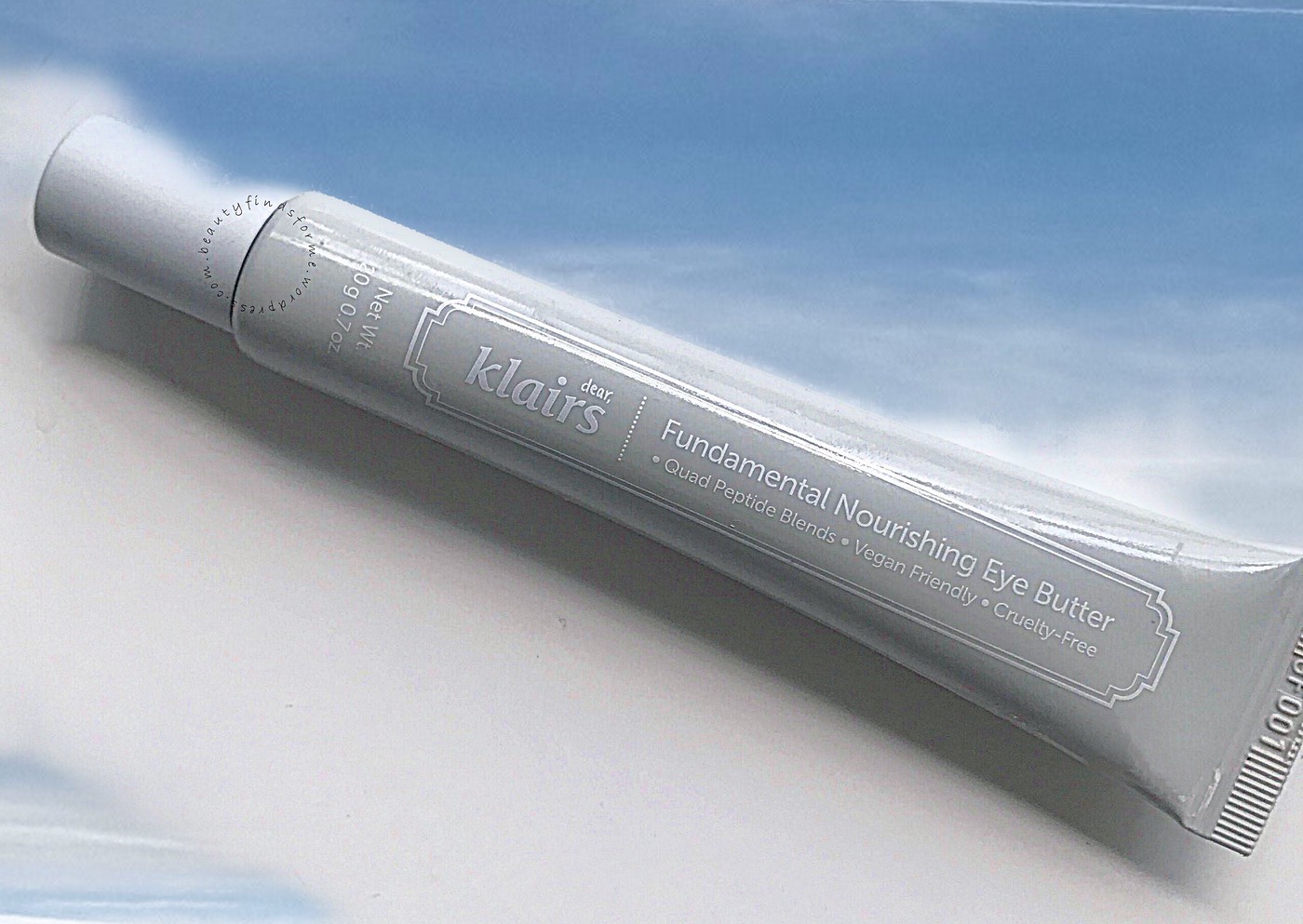 Fundamental Nourishing Eye Butter is pretty much the same ingredients as Eye Awakening Gel with additional moisturizing ingredients ~ it does have the peptides, caffeine, mung bean, mugwort and the cocktail of herbal ingredients: green tea, Chinese quince fruit,  golden chamomile, Chinese cinnamon bark and  persimmon leaves, full of antioxidants, anti-inflammatory,  purifying and soothing benefits. 
Tumeric is an anti-inflammatory that can calm your skin and helps bring a radiant glow to your skin, brightening it as it contains curcumin. This active anti-oxidant compound inhibits pigmentation and therefore, can help reduce hyper-pigmentation. 
Neem (melia azadirachta) calms and soothes skin that has been irritated, reduces inflammation and is an antioxidant.  
A trio of humectants, glycerin, hyaluronic acid and  panthenol, help attract moisture and hydrates the skin, keeping it soft and smooth.   
Ocimum sanctum (holy basil) is a great skin de-stresser ~ it is an anti-inflammatory and also can brighten hyper-pigmentation, 
Sunflower seed oil is a lightweight oil that has a high concentration of vitamins A and E, is a powerful anti-oxidant and may also help protect the skin from UV rays. It is known for its hydrating and moisturizing properties and it contains omaga-6 fatty acids.
Pantolactone helps condition your skin and can improve the appearance of your skin.  There are three very good emollients in here as well ~  arachidonic acid: moisturizing, emollient ::  oleic acid: moisturizing and regeneration properties :: palmitic acid: emollient, softens and soothes skin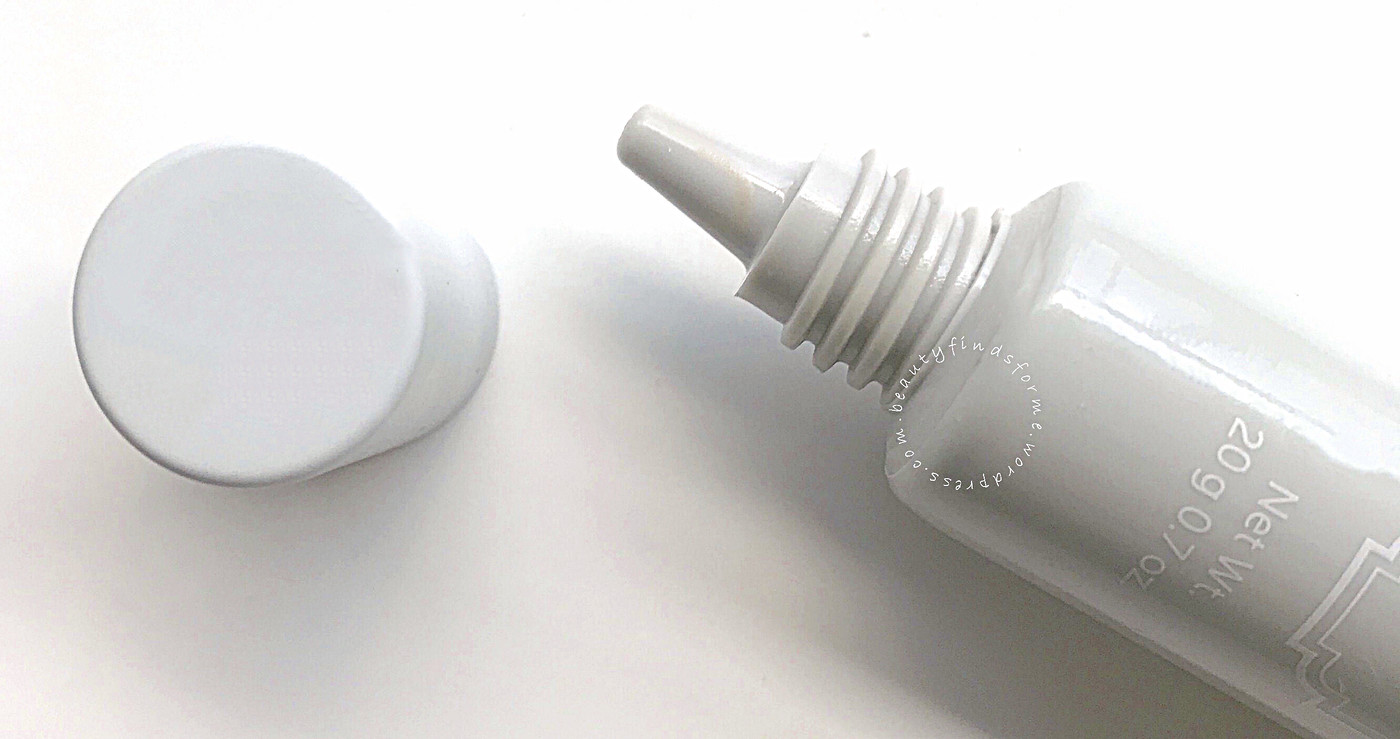 This eye cream/butter comes in a small 20 gram tube with a pointed tip applicator.  It is suitable for even those who are concerned about getting milia, those hard little nodules made up of keratin. This is a soft lightweight cream, like room-temperature butter and it has no scent.  

It spreads easily without tugging and even though it contains several nourishing oils and lots of emollients, this is not greasy or heavy.  It absorbs quickly into my skin and is a nice moisturizer.  I did not really notice any improvement in my fine lines or wrinkles, but it is a good moisturizing eye cream.  I think that if you are looking for an eye cream to use for the first time, this is a good one to try as it contains a lot of great anti-aging, anti-inflammatory and antioxidant ingredients and it is not a heavy cream.
Ingredients:  Water, Glycerin, Stearic Acid, 1,2-Hexanediol, Helianthus Annuus (Sunflower) Seed Oil, Betaine, Caffeine, Phaseolus Angularis Seed Extract, Artemisia Princeps Leaf Extract, Camellia Sinensis Leaf Extract, Chaenomeles Sinensis Fruit Extract, Chrysanthellum Indicum Extract, Cinnamomum Cassia Bark Extract, Corallina Officinalis Extract, Curcuma Longa (Turmeric) Root Extract, Diospyros Kaki Leaf Extract, Melia Azadirachta Flower Extract, Melia Azadirachta Leaf Extract, Ocimum Sanctum Leaf Extract, Acetyl Hexapeptide-8, Copper Tripeptide-1, Oligopeptide-29, Oligopeptide-32, Panthenol, Pantolactone, Hydrogenated Lecithin, Hydroxyethyl Acrylate/Sodium Acryloyldimethyl Taurate Copolymer, Sodium Hyaluronate, Glyceryl Stearate, Sorbitan Isostearate, Cetearyl Alcohol, Propanediol, Arachidic Acid, Oleic Acid, Palmitic Acid, Caprylyl/Capryl Glucoside, Ethylhexylglycerin cosDNA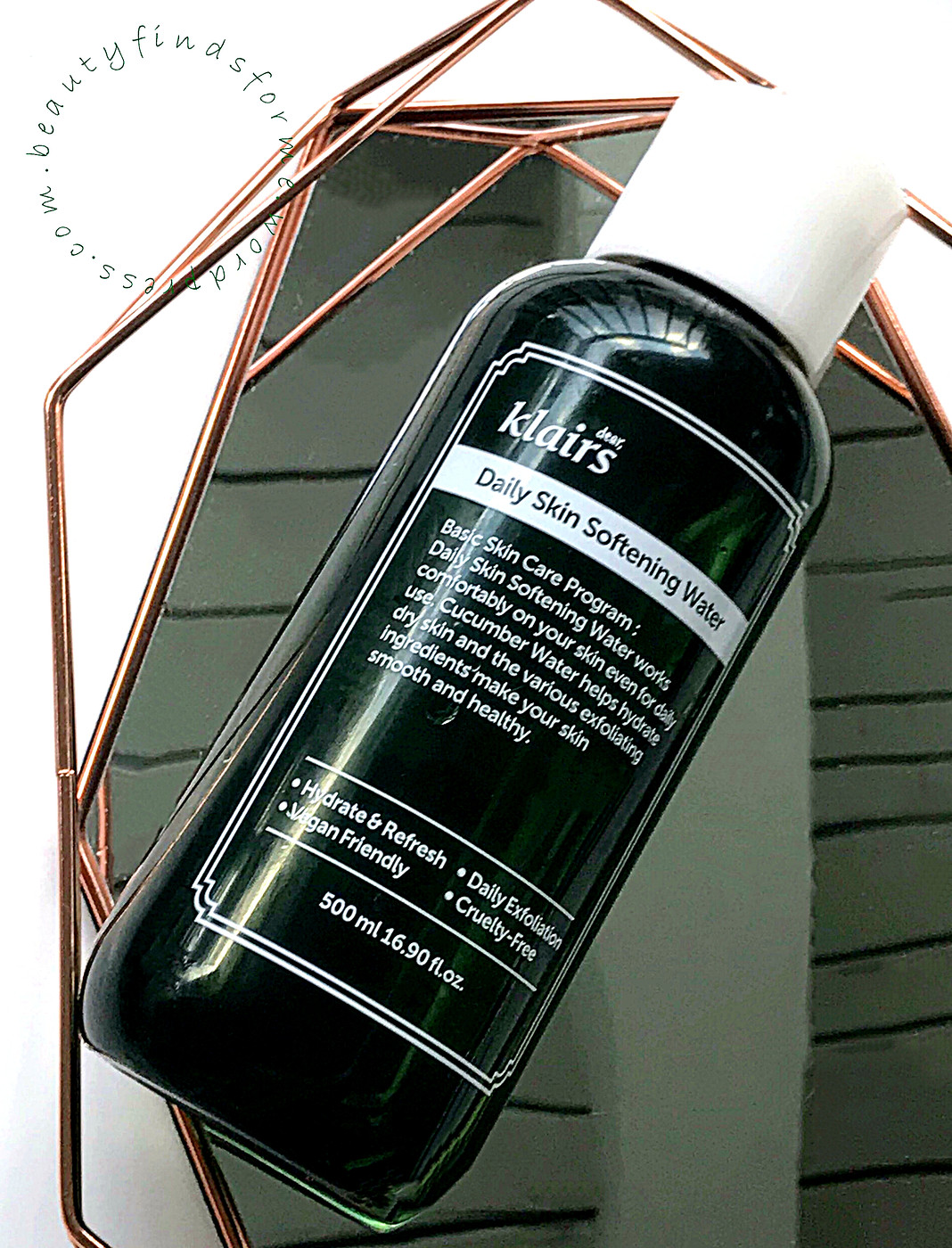 Klairs also came out with some softening watery toners as well ~ Daily Skin Hydrating Water with green tea  and Daily Skin Softening Water with cucumbers.  I wanted to give the Softening Water a try,  as the ingredients list looks fantastic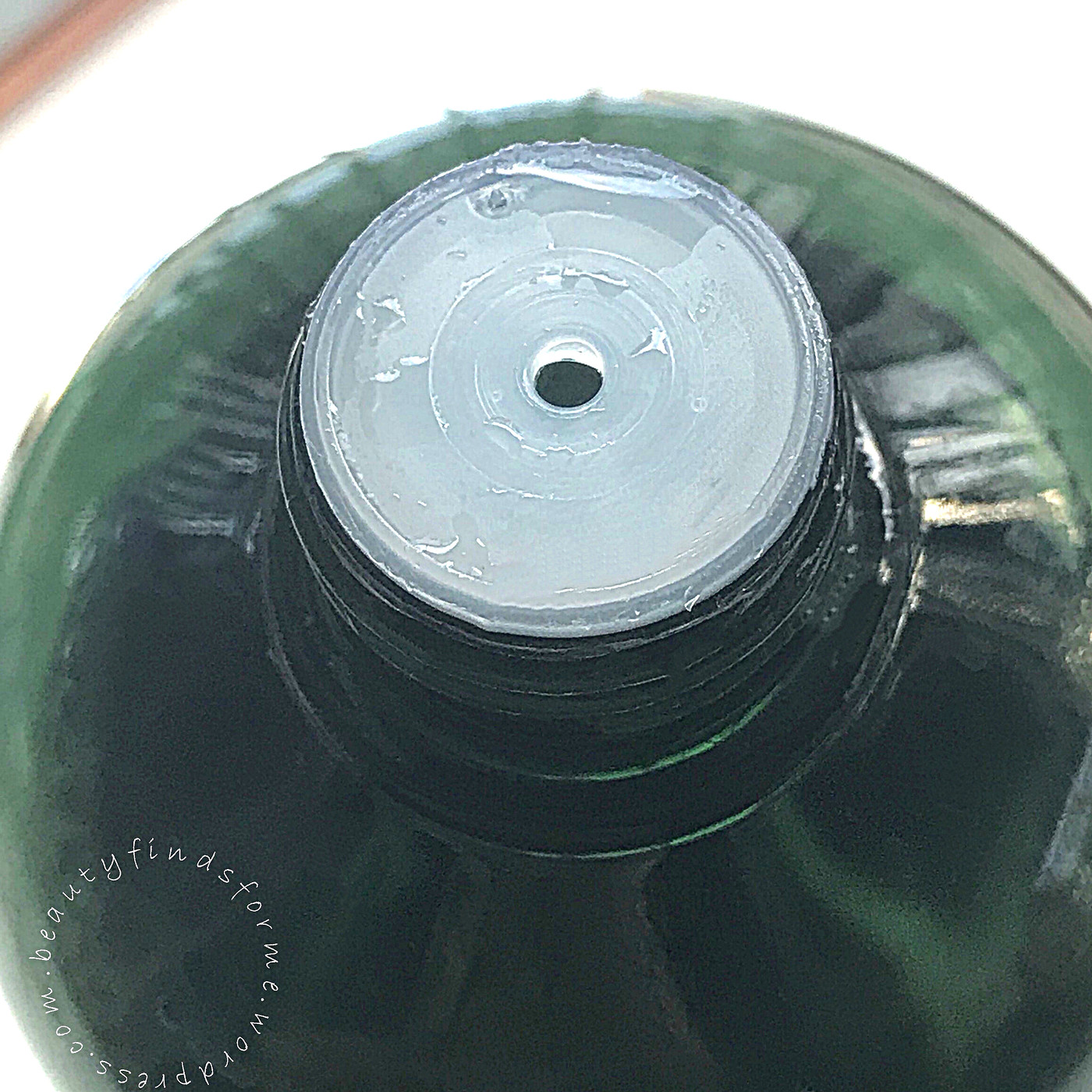 Daily Skin Softening Water contains some nice soothing and gentle natural exfoliators
45% of cucumber water is in here and ithelps to regulate the water and oil level of the skin to prevent appearance of blemishes, it is rich in vitamin C and  antioxidants so it helps combat free radicals. It also contains caffeic acid, which helps soothe and reduce inflammation on the skin. Cucumber has a high water content so it naturally moisturizes the skin. 
Apple is a vitamin-rich, anti-aging ingredient that contains antioxidants, promote cell health, moisturizes and helps heal sun-damaged skin. It is a natural astringent and can reduce the appearance of pores, as it can tighten the skin. Apple fruit extracts are perfect for oily skin and blemish prone skin types, aging skin, dull and uneven skin tones and it is a natural source of AHA's. 
Sugarcane is another natural source of AHA (alpha hydroxy acid) so it will exfoliate, brightening and smoothing the skin. It is also an antiseptic.   
Pantolactone helps condition your skin and can improve the appearance of your skin. This also has hydrating ingredients with glycerin, betaine and panthenol.
This comes in a whooping 500mL green bottle with a pin hole opening.  I will have to say, I LOVE this stuff ~ it is very watery, with little or no scent ~ alas, it does not smell like cucumbers.  It has a pH level of 4.5 to 5 which means it is skin balancing friendly and mildly acidic.  It is so refreshing and cooling on my skin.  I love this because I can use it many ways ~ my favorite is to help as a quick makeup remover and just cleanse my face from dirt, grime and oils when I get home from work or first thing in the morning.  This is not to replace washing my face properly, but just an interim step ~ I am ready to refresh my skin, but not quite ready to start my skincare routine.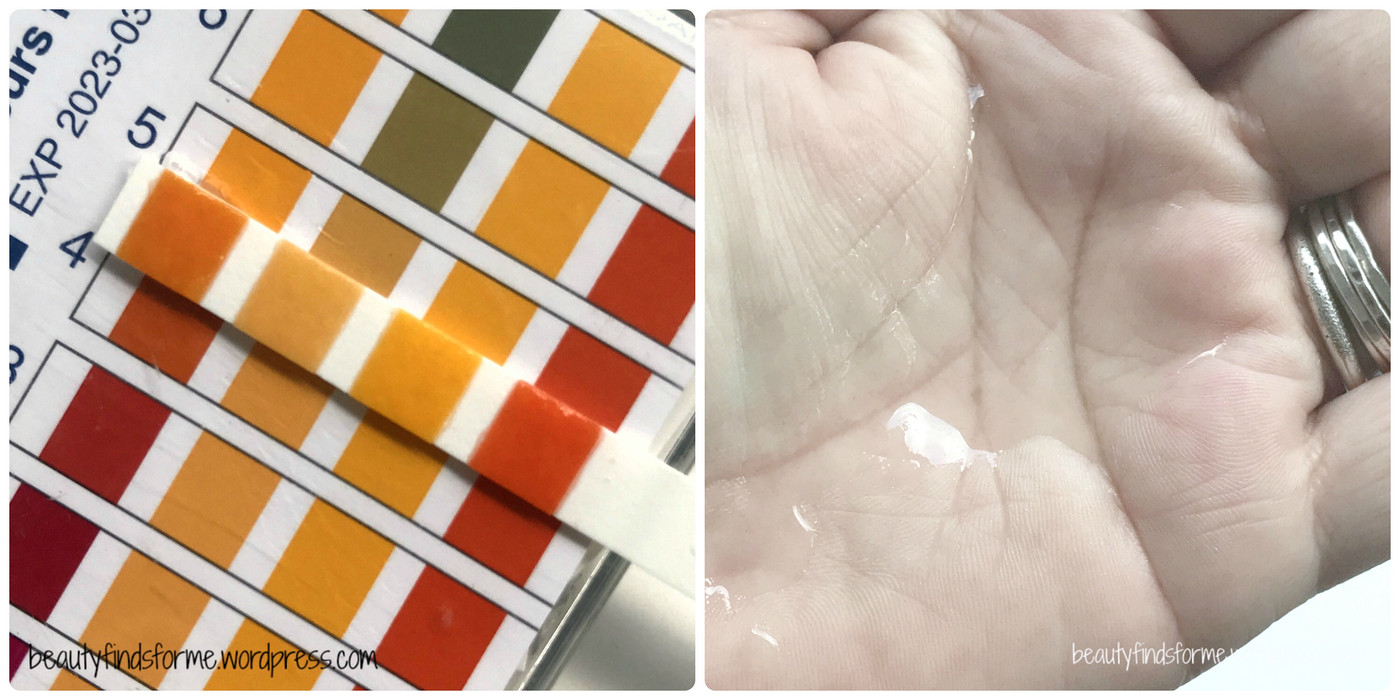 I also use this as a toner and it is perfect for multi-layering as it is so watery.  It absorbs quickly without a tacky residue.  I use this as a base for mask packs ~ either using cotton pads or a dry compressed face mask, I just soak them in this softener and then place the pads or mask on my face for a quick refreshing and soothing treat.  This is SUCH a huge bottle, I don't feel like it is going to waste!  I highly recommend this Softening Water and I hope to try the Hydrating one as well, as this product really exceeded my expectations!
Ingredients: Cucumis Sativus (Cucumber) Fruit Water (45%), Aqua (Water), Propanediol, 1,2-Hexanediol, Pyrus Malus (Apple) Fruit Water, Saccharum Officinarum (Sugarcane) Extract, Glycerin, Betaine, Panthenol, Pantolactone, Citric Acid (.15%), Sodium Citrate, Disodium EDTA  cosDNA
Where to Purchase
At Wishtrend!  Wishtrend carries the full line of Klairs products and I would say that the Daily Skin Softening Water is THE product I would recommend overall and the Fundamental Eye Awakening Gel is also a great product.  The Fundamental Nourishing Eye Butter is a solid eye cream for those just starting to use an eye cream or don't have a lot of fine lines or wrinkles just yet.  Don't forget to use my affiliate code, UNBOXINGWISHTREND, to get an additional 5% off your purchases.  
[ products received for review purposes.  blog post contains affiliate links ]