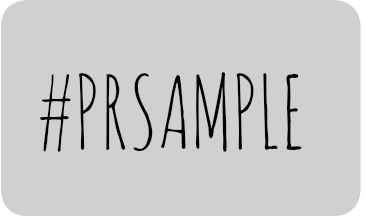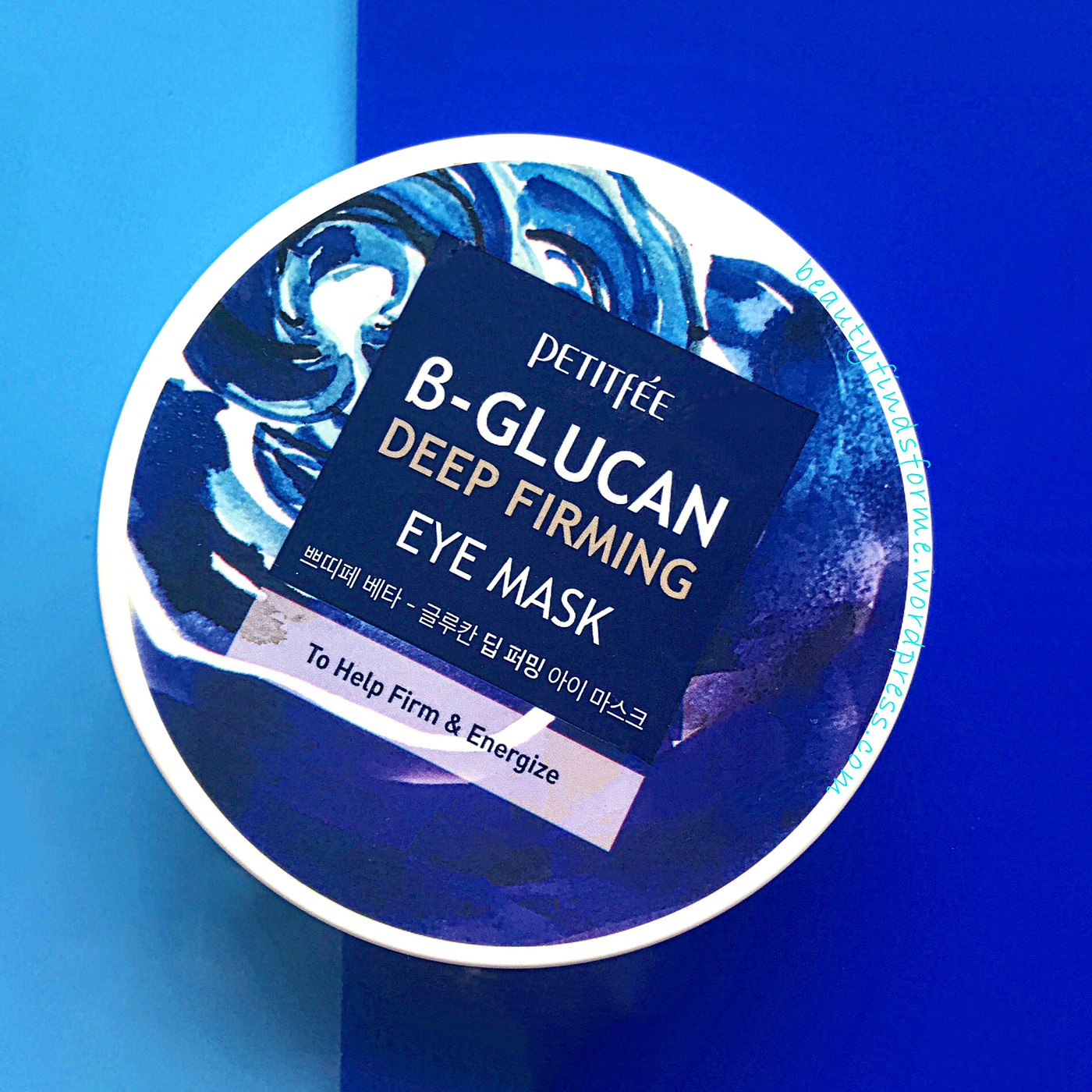 My obsession with eye products continues… Other than my fat (haha), I hate that the skin around my eyes has become wrinkled and crepey.  I am planning to look into botox and fillers to help with that this year, but even after those procedures, there is upkeep that has to happen in order to keep that skin hydrated and protected.  I love eye patches of all types and I was very interested in these from Petitfee, as they contain moisturizing beta glucan.   Petitfee is a very affordable brand and they have some really great products.   Premier Korean online store Jolse sent me the Petitfee β-Glucan Deep Firming Eye Mask for review purposes.
I received these products complementary to review and was not paid.  All reviews are my own honest opinion and  I never have been asked to write copy for a brand.  This blog post might contain promo codes, affiliate and referral links, which using my links will help generate a small commission that helps support my blog at no extra cost to you.
My skin type and concerns:  Oily, aging, blemish prone, pores, hyper-pigmentation, fine lines and wrinkles.
image credit from jolse
Well, the name has Beta Glucan in it (β-Glucan), but that ingredient is far down the list ~ however the Mushroom Complex in here does contain beta-glucan and those ingredients are high up in the list:
Ganoderma lucidum, aka reishi/lingzhi, is an Asian fungus. It is well known in Oriental herbal medicines and contains ganodermic acid and ling zhi-8 protein ~ anti-inflammatory and anti-allergenic ~ which help reduce skin inflammation, puffiness and fine lines and wrinkles. It also helps combat free radicals, healing damage and promoting cell regeneration.
Inonotus obliquus, aka chaga,  grows on birch trees and it really doesn't look like a mushroom ~ it looks like the charred remains on a tree ~ and it cannot be harvested by just plucking it off the tree.  It has to be chiseled off without harming the tree ~ and can be re-harvested many times over.  Chaga's health and restorative properties go back thousands of years and contains many benefits.  Chaga contains betulin, which is an anti-inflammatory, anti-bacterial, antiseptic and anti-viral compound and it helps the growth of new skin cells.  It also contains beta-glucan, which is a moisturizing anti-inflammatory.  Chaga also is a powerful anti-oxidant and it helps your skin be tone, firm and maintain its elasticity, which helps reduce fine lines and wrinkles.
Tremella fuciformis, aka snow fungus, is a white gelatinous parasitic fungus that has been used in TCM (traditional Chinese medicine) for centuries, as well as for culinary dishes. It draws water to the skin, just like hyaluronic acid, helping keep your skin hydrated and moist, plumping up fine lines and wrinkles. It is supposed to be 120% more efficient than HA, as its particles are smaller than hyaluronic acid ~ it penetrates your skin better and more easier.
Corthellus shiitake contains a rich source of concentrated kojic acid, which is a natural skin brightener, helping to brighten the skin, fade hyper-pigmentation while providing anti-inflammatory and antioxidant benefits.
Phellinus linteus grows on mulberry tree trunks and is also known as black hoof mushroom. It is an antioxidant and anti-inflammatory and has the ability to help with skin issues such as eczema.
image from jolse
Okay and of course, beta glucan ~ it helps heal and build our immune system, fighting off bacterial and viral infections, it also helps rebuild our skin's surface cells and to help restore collagen, by stimulating the skin tissue.   This is helps cellular turnover by creating new fresh skin cells while supporting existing structural cells.   It can penetrate deeply into our cellular matrix and get into the lower levels and help prevent wrinkles from where they are formed.   
This contains several humectant ingredients, which not only binds water to your skin, but attracts moisture as well: glycerin, sodium hyaluronate and amino acid betaine.  Humectants leave your skin feeling hydrated, soft to the touch, and supple. Centella derivative madecassoside is rich in saponins and is an anti-inflammatory while helping to minimize the appearance of pores.  Madecassoside helps soothe, reduce redness and inflammation and helps heal your skin.
Allantoin moisturizes, exfoliates and softens skin, making it look smooth and refined, while reducing and relieving irritation.   Brightening licorice and niacinamide will help brighten those dark circles over time.  There are no artificial pigments in this product.
Ingredients: water, butylene glycol, glycerin, polyglycerin-3, niacinamide, methyl gluceth-20, glyceryl glucoside, camellia sinensis leaf extract, hamamelis virginiana extract, portulaca oleracea extract, ganoderma lucidum extract, inonotus obliquus extract, tremella fuciformis extract, corthellus shiitake (lentinus edodes)  extract, phellinus linteus extract, glycyrrhiza glabra root extract, sesamum indicum seed extract, angelica gigas root extract, morus alba bark extract, paeonia lactiflora root extract, polygonum multiflorum root extract, scutellaria baicalensis root extract, sophora flavescens root extract, cimicifuga racemosa root extract, allantoin, betaine, beta-glucan, sodium hyaluronate, ethylhexylglycerin, madecassoside, aminobutyric acid, dipotassium glycyrrhizate, dipropylene glycol, hydroxyacetophenone, caprylyl glycol, 1,2-hexanediol, glycereth-25 PCA isostearate, acrylates/C10-30 alkyl acrylate crosspolymer, arginine, ammonium acryloyldimethyltaurate/vp copolymer, adenosine, disodium EDTA,, fragrance cosDNA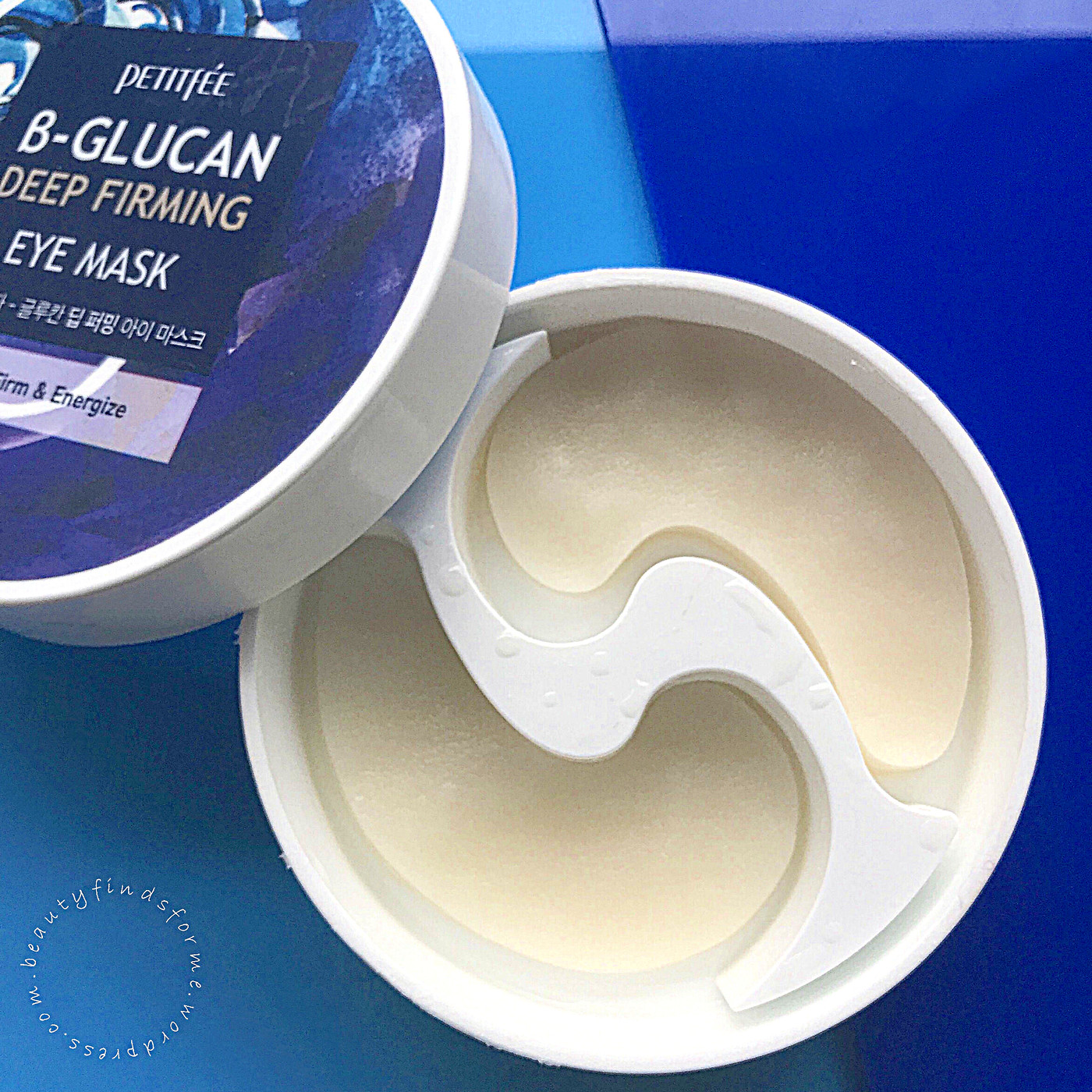 This comes in a nice plastic tub with a protective inner lid, tweezers that fit inside the lid and the eye patches/masks are split into two sections.   A lot of hydrogels just have the eye patches overlapping and it works for gels, but paper type patches have a tendency to bunch up if there is no structure in the tub.  This tub mimics the eye patches wave shape, so that they will always be flat and not wadded up in the corner of the tub. 
There are 60 patches, so it is good for 30 uses if you only use these under your eyes.  You can use these on your forehead and laugh lines around your mouth as well.  The pads look a little yellowish in the tub, but that is natural and they do not have any fragrance that I can pick up on.  The patches are made from bamboo, which provides a smooth fiber structure, so they are comfortable to wear and they pick up a lot of the watery essence.  These pads are SOAKED in it.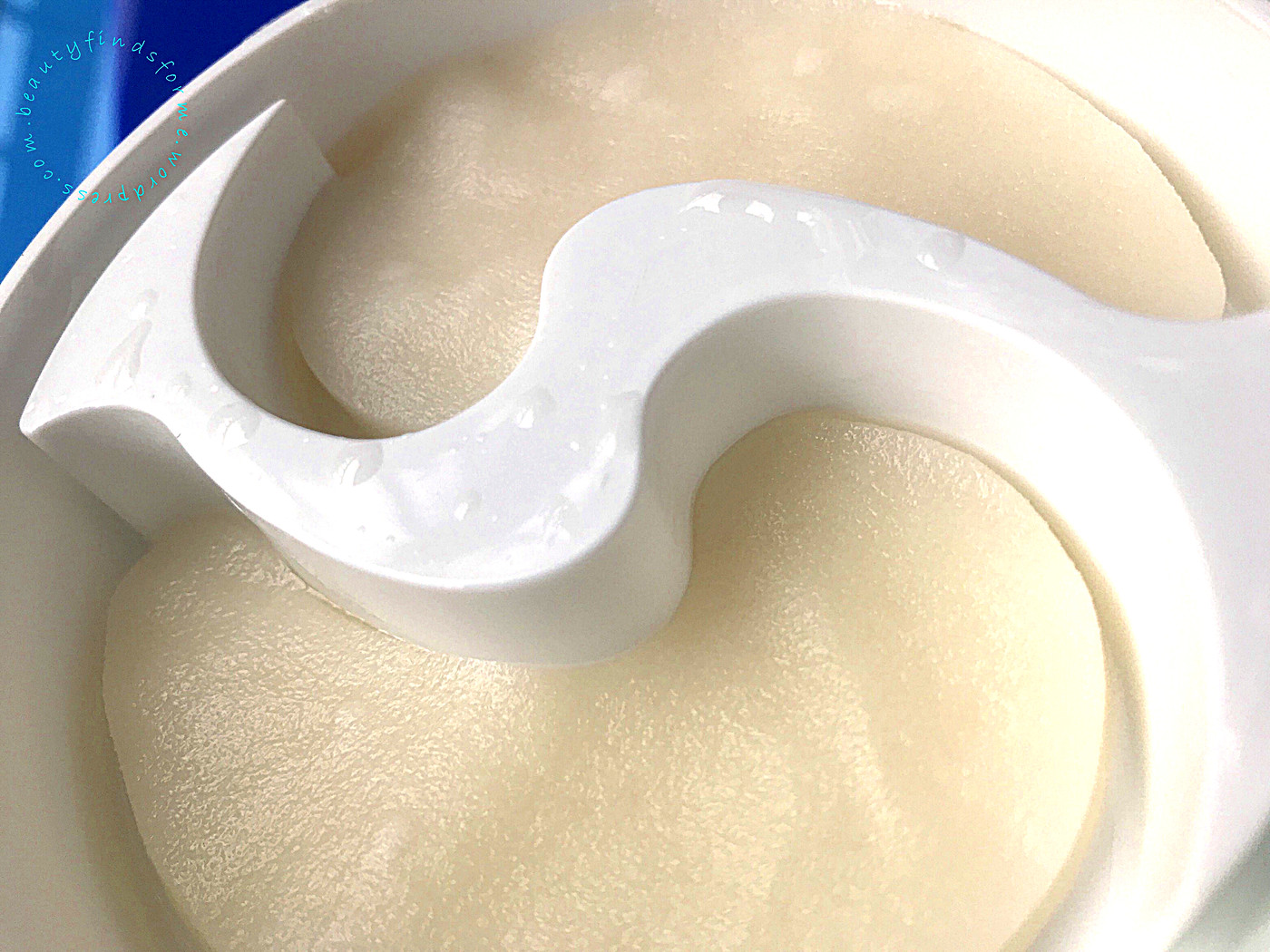 The eye patches are great as they are fairly large so they cover a wide area ~ from the inner corner of your eye to the outer edge where my crow's feet reside.  Now, I like to put the thinner side under my inner corner and have the larger part of the patch towards the outer edge, but there isn't a right or wrong way to place these under your eyes.  Some people might like to have the larger side under the inner corner, as that would tackle puffiness and eye bags.
Unlike hydrogel eye masks, there is no wait time for these to adhere AND STAY where you put them on your face.  These are like sheet masks, so the paper won't slip and slide down your face.  I like to apply these whenever I feel the need to ~ right now, I am wearing them as I write this review!  Normally, I will slap these on after I get out of the shower in the morning and then remove them after I blow dry my hair.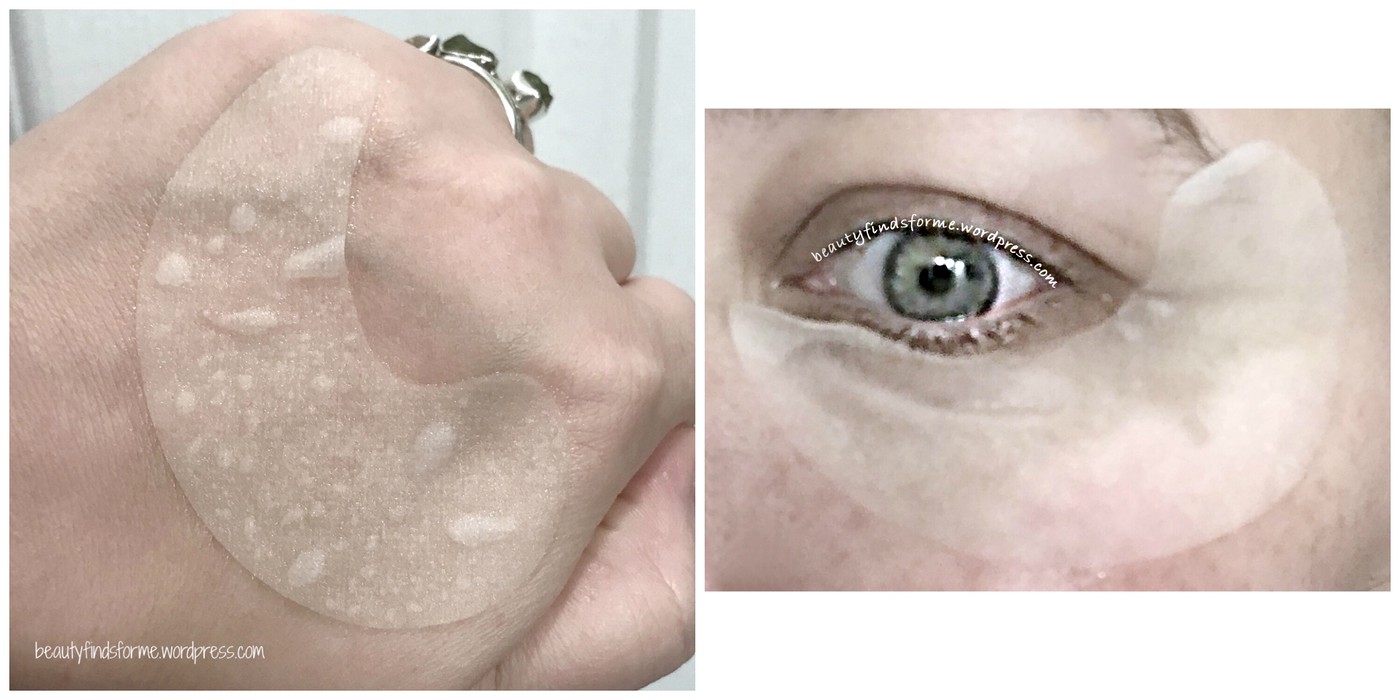 Results:  Well, I haven't noticed any brightening with them, but I did notice that my skin is very hydrated, so the fine lines and wrinkles are plumped up a bit.  I also feel that these helped with depuffing and reducing the puffiness under my eyes, but I didn't think that these helped tighten the area under my skin.   I would recommend these for hydration and anti-inflammatory purposes ~ for the price point and all the great ingredients, you really can't go wrong with them.  Unboxing Beauty Tip: Keep your eye patches in the frig for a cooling and soothing treat. 
Final Thoughts
I would repurchase these ~these are economical and really do hydrated my under eye area. Have you tried these yet?  What did you think of them or are you interested in trying them?  
You can purchase this at Jolse for under $12.00 USD  (click here) ~  All prices will fluctuate slightly due to the Korean Won/USD conversion.  Jolse has free shipping all the time, ships internationally and gives out free samples.

disclaimer: this product was sent to me for review purposes. all opinions are my own and are unbiased