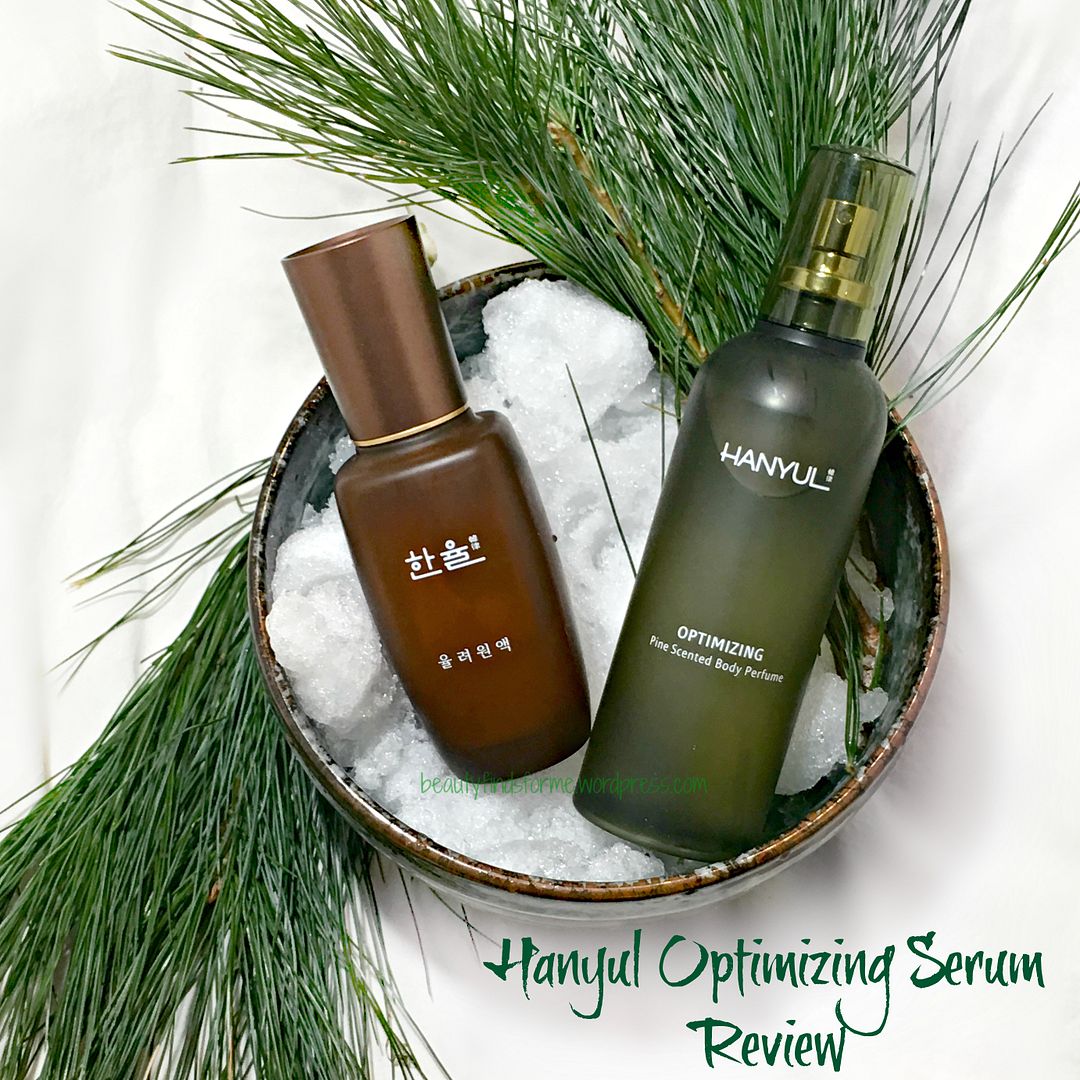 Warning ~ this blog post is very picture heavy!!  Last year, I saw on one of my absolute favorite IG bloggers and enabler-in-chief, effyeahkoreancosmetics (I linked to her IG account as I probably cannot use that word here!!) had purchased this amazing gift set from Hanyul.   I hunted high and low for it and as it was a limited edition release, so I had to go through Korean Buddy at the time to purchase it. 
Hanyul is part of the Amore Pacific family and you can find their products at the Aritaum malls and outlets in the USA (click here) or you can purchase them online at many different shops ~ I will link a few below at the end of this review.  Hanyul is their line of Traditional Korean Medicine (Hanbang) in skincare
They say mothers know best. We've found this to be true especially when it comes to natural skincare. Hanyul is a brand inspired by the traditional folk remedies and medicinal practices carried on for centuries by women in their homes. In combination with modern technologies and formulas our brand is inspired by these mild, but effective remedies passed down from mothers to their children for generations. Amorepacific's years of accumulated knowledge for creating skincare combine our mother's traditional wisdom with scientific advancements. Our products are made with the same traditional and local ingredients including Korean plants and grains such as rice, brown pine needles, artemesia, baekhwago(Korean mushroom), Korean chrysanthemum, and our native seoritae(Korean bean).  (source)

Hanyul Optimizing Serum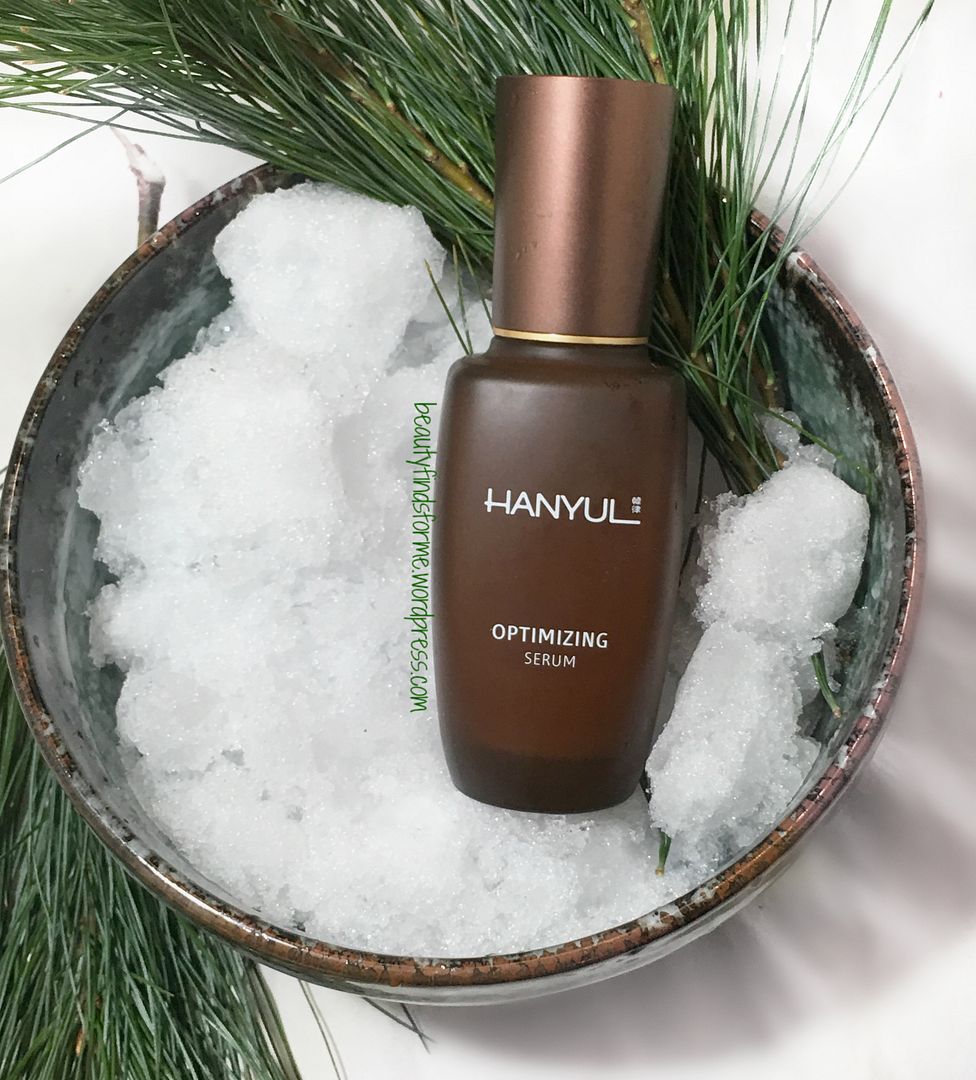 Just a bit of information on this serum ~ Hanyul refers to this as a Boosting Serum, so it is supposed to go on after you wash your face and before you apply your toner. 
It is a serum version of an FTE, as it is made with fermented pine needles and has a very watery texture to it.  I have read it is similar to Sulwhasoo First Care Serum in terms of a skin booster.
This contains 83% of Korean Medicine concentrated ingredients that will help re-balance distressed skin and restore your skin's original brightness and healthy tone by restoring your skin's ability to regenerate.  This product claims that it will increase your skin's luster by 55% and within 3 weeks, your skin will be more healthy.
Description: Anti-wrinkle Functional Cosmetic
The beauty of balance is discovered from land as well as Korean mothers' wisdom, which has been
transmitted from generation to generation. Raw ingredients are discovered from the land of Korea. A processing method is discovered from traditional Korean wisdom transmitted from generation to generation.  The beauty of balance is discovered from nature and tradition.
Extracts from brown pine needles, which have natural vitality, give the skin a powerful boost by restoring its clear and healthy complexion. Their nutrients help the skin maintain its ideal condition and prevent it from damaging. These benefits help the skin achieve its optimum balance, which Hanyul refers to as "Yullyeo"
A clear and healthy skin is a well-balanced skin. Inspired by the wisdom of Korean women in the past, the product restores the skin's natural day and night functions.
A mother's wisdom instilled in Yullyeo (Optimum Balance). Throughout the ages, Korean mothers have used pine needles,  an effective antioxidant, to relax the skin. This follows the natural order of Ziwuliuzhu (子午流注) , which is "to be active during the day and stay dormant at night". To start off the day, mothers would drink pine needle tea in the morning, take baths in pine-infused water or place a pouch full of pine needles next to their pillow to relax. This helped them achieve a healthy and balanced life.
Ingredients of Note
Pine Needles aka Pinus Sylvestris, if you want to be formal and use its Latin name.  Let's see what Hanyul states about their product ~ it contains fermented brown pine needles, which has four times the active compounds and benefits of green pine needed.  Pine needles have been used for over 4,000 years in Korean medicine and its uses span topical use for anti-aging and age reversal to internal uses for a healthy heart, strength and vitality.  Hanyul harvests the needles in October and then they are cleansed before placing in clay pots to ferment and concentrate its benefits into a golden oil.
Pine needle oil has anti everything ~ antimicrobial, anti-septic, anti-fungal, anti-inflammatory and is rich in antioxidants such as carotenoids and vitamins A, C and E, which help combat free radicals.  Vitamin C also plays an essential role in producing collagen, which helps keep your skin firm and smooth.
Pine oil contains tannin, so this will have a natural pore tightening effect as it is an astringent.  It has been used to help treat skin issues, such as acne, eczema and itching.  Since it is an anti-inflammatory, it will aid in reducing redness and swelling and as an anti-septic and antimicrobial, it will help speed up healing on wounds . It will help reserve skin damage caused by free radicals, helping to tone and lessen the appearance of fine lines and wrinkles.
This also contains both soybean and fermented soybean extracts ~ full of antioxidants, soybeans moisturize, help reduce the appearance of fine lines and wrinkles, helps firm skin and can reverse UV sun damage over time. It has anti-inflammatory properties so it helps reduce blemish swelling and redness. The power of soybeans contain amino acid glycine, which helps repair damaged tissue and to speed up healing, which means it is great for blemish prone skin as well. Polypeptides are found in fermented soybeans and are very moisturizing and help "plump up" your fine lines and wrinkles. Genistein is so important as it is an anti-aging ingredient and soybeans can also boost elasticity in your skin as it can stimulate and aid in the production of collagen.
This serum has so many other great ingredients in it as well, angelica, cnidium, mungbean, barley, mulberry, rice and job's tears, just to name a few more of the very hanbang-ladened ingredient list!
Ingredients: angelica acutiloba root extract, cnidium officinale root extract, alcohol, butylene glycol,water, dimethicone, glycine max (soybean) seed extract, pinus sylvestris leaf extract, phaseolus radiatus seed extract, bacillus/soybean ferment extract, hordeum distichon (barley) extract, morus alba leaf extract, tricholoma matsutake extract, oryza sativa (rice) extract, coix lacryma-jobi ma-yuen seed extract, carthamus tinctorius (safflower) seed oil, lithospermum erythrorhizon root extract, prunus armeniaca (apricot) kernel extract, phaseolus angularis seed extract, theobroma cacao(cocoa) extract, glycerin, dextrin, methoxy PEG-114/polyepsilon caprolactone, sodium methylstearoyl taurate, adenosine, acrylates/C10-30 alkyl acrylate crosspolymer, hydrogenated lecithin, tromethamine, disodium EDTA, phenoxyethanol, fragrance cosDNA analysis

Product Packaging
Okay, this is a limited edition release so I have to mention the packaging on it.  It comes in a textured brown cloth box with a metallic gold, stylized pine needles down the front.  Open the box up, and the two products are nested inside a box that have more of the stylized pine needles design
The inside cover has some information on the product stamped in gold lettering, which from what my crude translation app tells me, states something like "In the early morning, the fresh wind blows through the branches of the pine tree."  And something about how the fragrance of the pine tree excites our senses or something like that… haha  
This also comes with a nice information sheet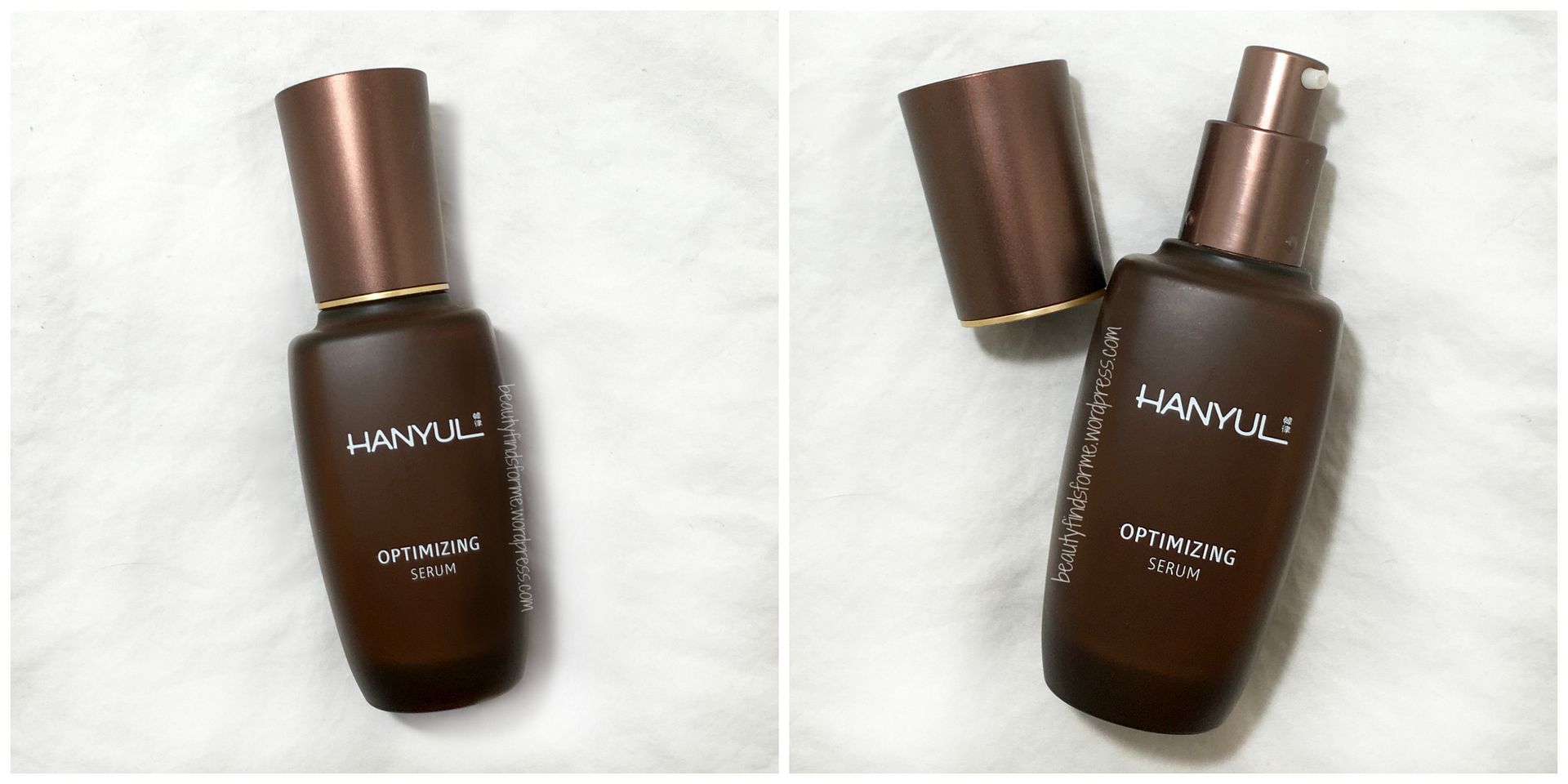 The Optimizing Serum comes in a 70mL frosted glass brown bottle and has a bronze cap and lid.  The bottle is in a rounded rectangular shape and it feels heavy in my hand, not flimsy. This is an elegant bottle ~ the name is in English on one side and is in Hangul on the other.  It has a nice pump applicator that doesn't forcefully squirt out its contents.   The bottle has been revamped, so if you see a rounder, more squat bottle, don't worry about it.  It is the same product ~ the new bottle is like mine ~ more rectangular and long. I happen to love the new packaging as it is so classy looking.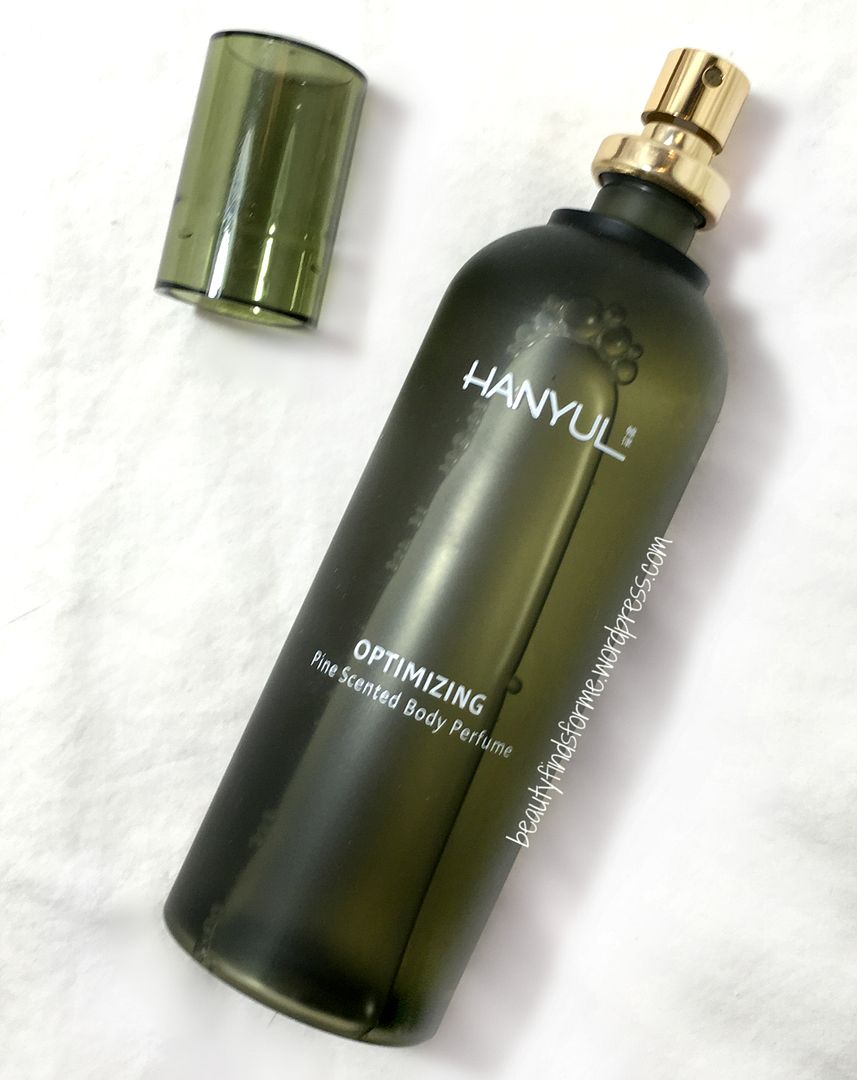 The Pine Scented Body Perfume comes in a tall 150mL frosted plastic forest green bottle with translucent green cap and a gold pump.  Once again, the name of the product is in English on one side and Hangul on the other.

Performance
This is a lovely light golden color, translucent serum ~ it is very watery and fragrant ~ but for me, it is a fragrance that I love.  The best way I can describe is to think of yourself in the middle of pine forest and you wander out into a meadow full of wildflowers, which is surrounded by the forest.  The scent is like that ~ pine and floral.  If you are hesitant because you might think…hmm, pine… don't be ~ this is not like a pine scented cleanser!  Despite that alcohol is 3rd ingredient in the list, it does not smell like it contains alcohol.  This is very lightweight and runny, without being  greasy or oily ~ it has an immediate cooling effect on my skin when I apply it.   I do use it right after cleansing and if I am also using an FTE, I will apply the more watery product first.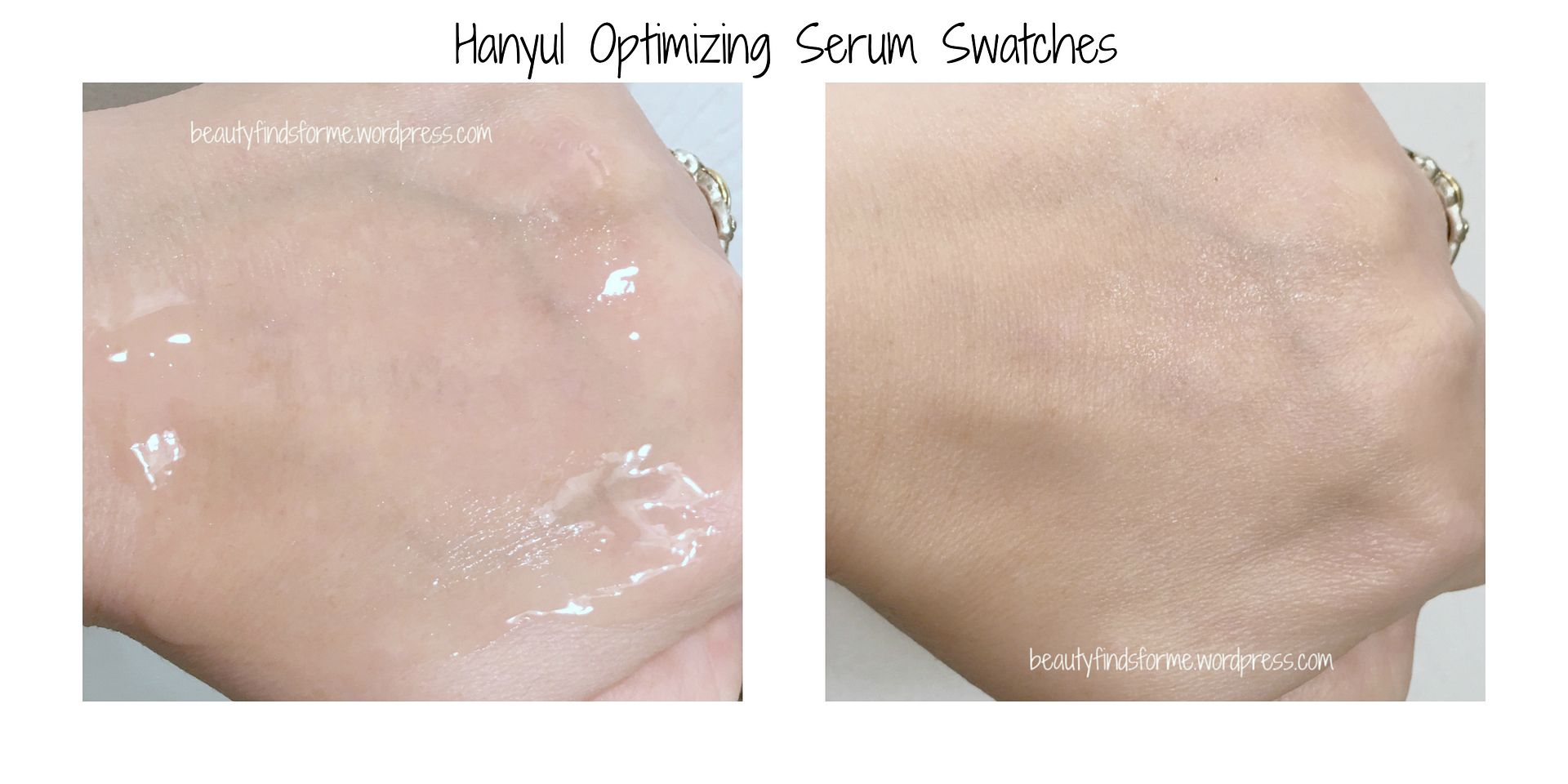 It absorbs very quickly and other than the hydrating and cooling sensation on my face, I don't even feel that I put a product on my face ~ it really doesn't not leave a sticky or greasy residue at all. This is a very clean serum in the sense that it doesn't leave a "footprint" on my face.  I just use one pump and that covers my face fully.
Other Stuff…. For those interested, as this is a watery product, I did do a pH test on it. Its level is about 5, maybe slightly under, so it is mildly acidic.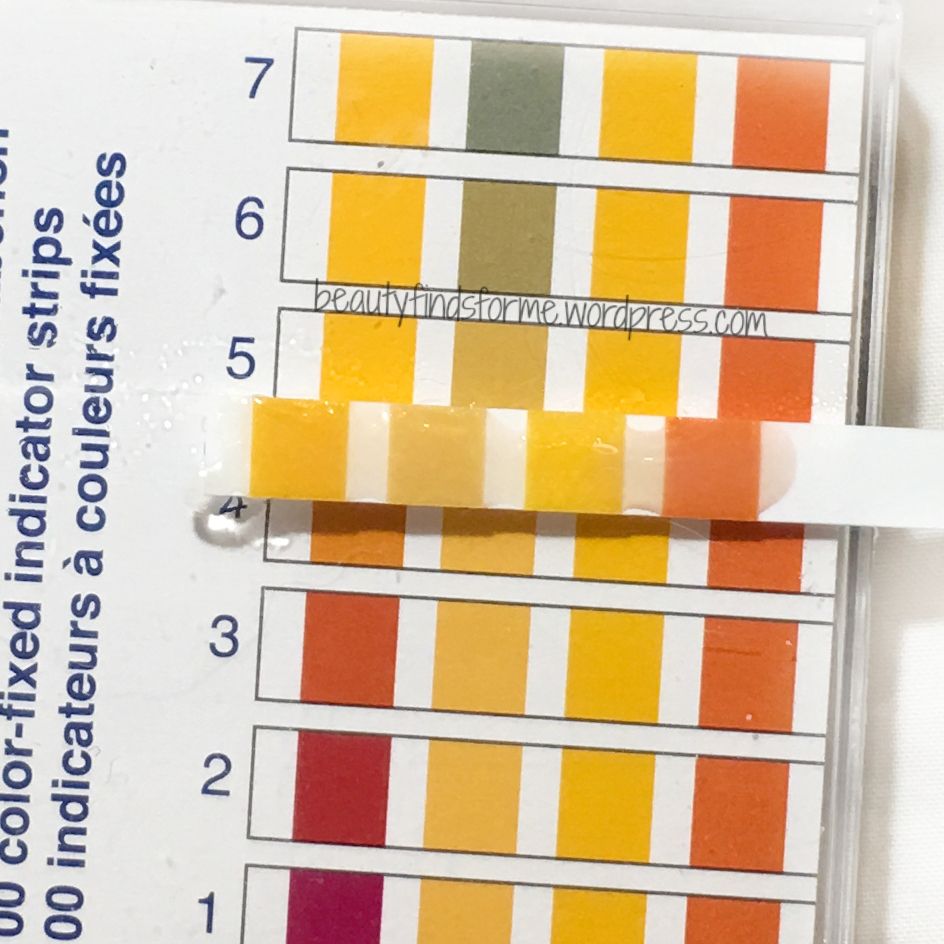 Hydration ~ on average, this increased my moisture level by 53%, so it is delivering a nice hydrating kick to my skin.
I do feel it helps my other skin care products absorb better into my skin after I use this and it really does restore hydration to my skin after cleansing.  I have not experienced any breakouts or redness when I use this and that is why it is going back into my skincare routine.  I honestly believe this has had a huge effect in keeping my blemishes away and calming my skin.  I had stopped it for a while to introduce other products and I can tell the different from when I was using it ~ clearer skin, more smooth.   It seems to boost other skincare products and their benefits while making sure my skin is not compromised.  I know that sounds funny, but I can really see the difference when I use this product.
Hanyul's Yakson Beauty Tip
Follow this top to maximize the benefits of the product. Yakson refers to the soothing and caring hand of a mother.
Tip 1. Warm your hands. Rub your hands together to warm up your hands. This will help the product absorb better.
Tip 2. Deliver natural energy to the skin. Apply the product all over your face. Use the palm of your hand to gently stroke your forehead, cheeks and chin outwards. Apply extra pressure along the contours of your face.
Tip 3. Don't forget the finishing touch. Lightly press the areas around the lips with your fingers for the perfect finish.
Hanyul Pine Scented Body Perfume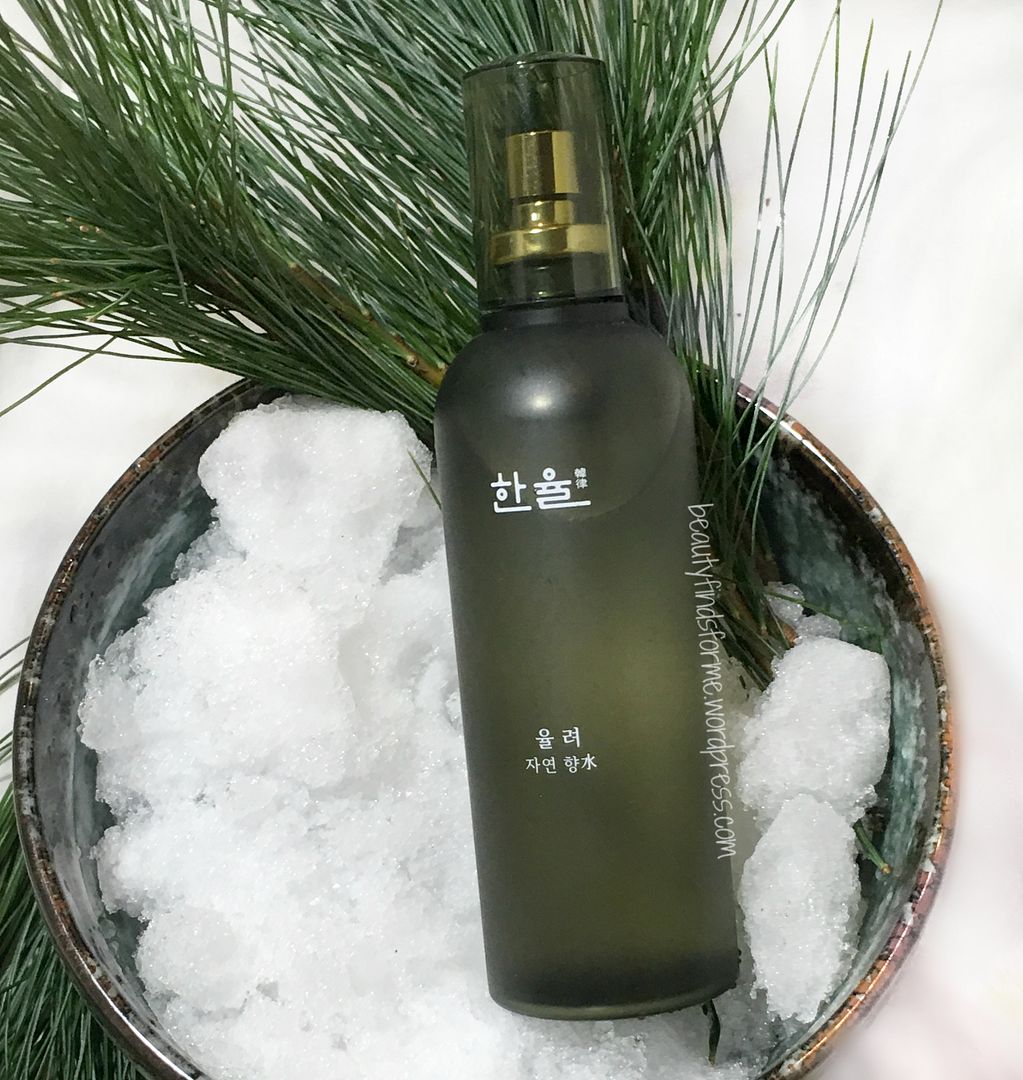 This is a body mist that came with the gift set ~ it is part of the limited edition release and it smells just like the serum ~ very fresh, pine-floral and it is cooling on the skin.  I love this body mist and every time I use it, I feel I should be flitting through a forest.  It is really a nice scent and if you can, I recommend purchasing the kit that has it, as you won't be able to purchase this anywhere else.
Final Thoughts
Hmmmm, would I repurchase? Yeah, I would and I did.  I purchased another one of the limited edition kits as I am sure that going forward, I will just purchase the serum and not the body spray.  I didn't have "booster" serum in my skincare routine before the Hanyul Optimizing Serum and I think this is the only one I want.   I love the scent, I love the packaging, I love how hydrating and refreshing it is on my skin plus the added benefits of it seems to help keep my blemishes and redness under control.   If you are sensitive to alcohol, I do not recommend this product, but if you don't have issues with it, I highly recommend this. I know I will continue purchasing this as my First Serum.  Have you tried Hanyul Optimizing Serum?  What did you think of it? Any other Hanyul products?   I want to try ALL the HANYUL THINGS!!! 
Where to Purchase
Some of my links are affiliate where I make a very small commission at no cost to you or I have referral links, where you can save money and I receive a small credit at the store ~ again, no cost to you.
Serum
Serum Kit
Korean Buddy:  When all else fails, you can shop around at Korean only sites and purchase it through a shipping service.  Korean Buddy is the one I use and you can also ask them to find it for you.  I have use them many times in the past and always been pleased with their service.  Save 50% off handler fee  by using my blog url as a referral https://beautyfindsforme.wordpress.com with your first purchase
[ blog post contains affiliate and referral links ]