[ disclosure: items received for review purposes.  contains affiliate links ]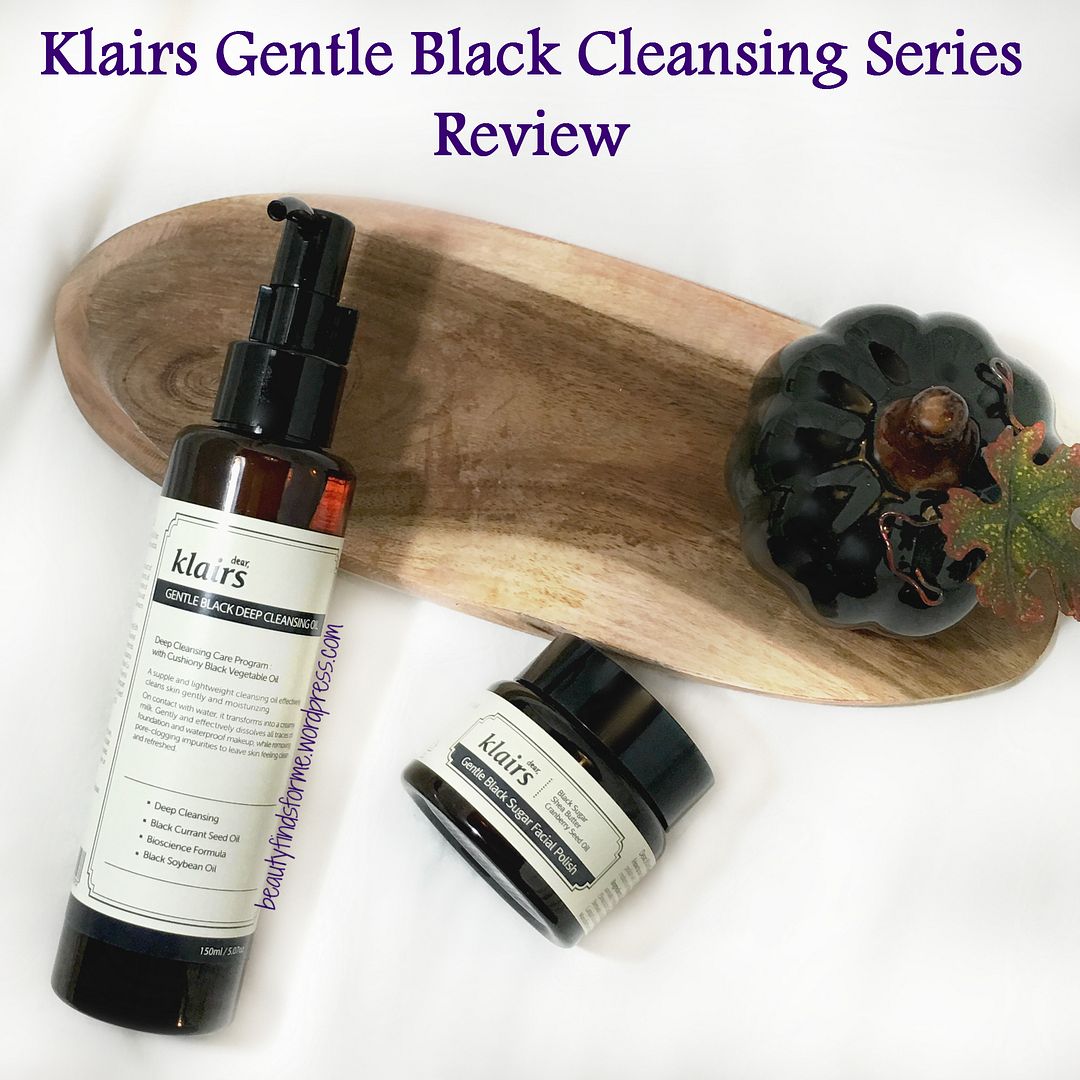 One of the first K-Beauty shops I purchased from is Wishtrend ~ over 3 years ago, it was one of the few places that carried cosRX, I'm From and Klairs products, plus they also offered sets of bundled skincare products that work together ~ many of my earlier blog posts around cosRX and Ciracle were due to purchases from Wishtrend (click here to read).  I loved the Klairs Supple Preparation Facial Toner (review here) and I never understood why Klairs products were not more popular at the time.  Since 2014, several shops have been carrying Klairs, so imagine my surprise after I recently had a really nice Skype chat with Wishtrend affiliate manager Hae Na and the CMO and co-founder of Wishtrend, Eddie Baek, and found out that Klairs is one of several brands that Wishtrend makes ~ they also make the OST Vitamin C care line and Jungle Botanics hair and body line.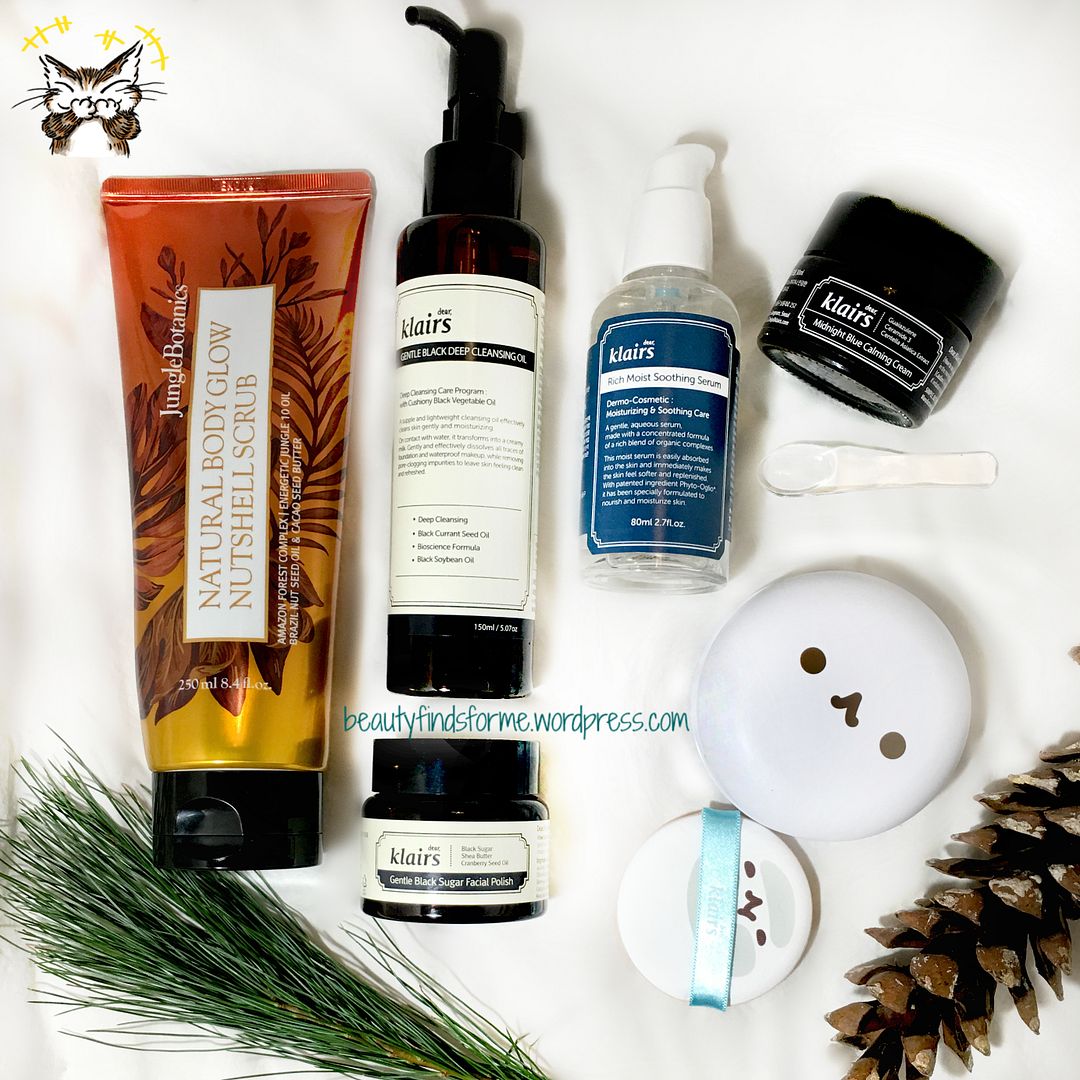 I was fortunate to choose several items from their lines and I have been currently testing and using most of them!  The only item I haven't tried up yet is the Klairs Rich Moist Soothing Serum, but that will happen this spring.  Look for reviews on all of these products at my blog 🙂  Many thanks to both Hae Na and Eddie for sending these great products to me. 
Skin Type/Concerns:  Oily, blemish prone, aging skin with hyper-pigmentation and fine lines/wrinkles
Klairs Gentle Black Deep Cleansing Oil
Cleansing oils are used as the 1st step in the 2-step method of facial cleansing. I used to be afraid of putting oils on my very oily skin, but not anymore!  I learned that oil cleansing doesn't add oil to your face and it allows the stubborn makeup to dissolve pretty quickly without any harsh effects to your skin.  You just massage the oil onto your dry skin ~ I've done with wet skin, so it does work either way ~ and gently remove the makeup. Depending on how much makeup and dirt you have on your face, your oil will turn quite dark as it is picking up all of that makeup/grime.  Add water to your face and the oil should turn into a milky like emulsion and rinse away clean.  The 2nd step is a foaming cleanser, which will remove any additional cleansing oil product, as well as excess oil and dirt on your skin.
Klairs calls their product "Black", not because the oil is black, as it isn't ~ it is a clear, very watery oil with very faint green-herbal scent to it.
It is called black because is contains natural oils from soybeans (black beans), black sesame and black currant seed. Black beans and sesame seed oils contain protein and iron, which help firm up skin and anthocyannin, which helps remove dirt and oil   Soybeans are full of antioxidants and moisturize, help reduce the appearance of fine lines and wrinkles and help firm skin. It has anti-inflammatory properties so it helps reduce blemish swelling and redness. The power of soybeans contain amino acid glycine, which helps repair damaged tissue and to speed up healing, which means it is great for blemish prone skin as well, and it helps control sebum production.  Black Sesame oil contains a powerful antioxidant, vitamin E, and helps minimize pores while nourishing your skin. It has linoleic acid, which is an anti-inflammatory, and contains vitamin D and B complex as well, which with the vitamin E, helps reduce scarring. Massaging with sesame oil also has a detox effect, helping to unclog pores and remove dirt and debris.   Black Current oil also is an antioxidant that will nourish, soften and moisturize your skin and it has anti-inflammatory and antibacterial benefits so it helps for soothing and healing skin issues.  It will help promote skin cell renewal as well. 
This also has other oils in it ~ jojoba, cranberry and andiroba as well as Vitamin E and shea butter, to really help break up makeup and dirt, while deeply nourishing and moisturizing your skin. 
Ingredients: Caprylic/Capric Triglyceride, Cetyl Ethylhexanoate, Isononyl Isononanoate, PEG-7 Glyceryl Cocoate , Isopropyl Myristate, Simmondsia Chinensis (Jojoba) Seed Oil, Glycine Soja (Soybean) Oil, Sesamum Indicum (Sesame) Seed Oil , Ribes Nigrum (Black Currant) Seed Oil , Tocopheryl Acetate , PEG-20 Glyceryl Triisostearate , Polysorbate 20, Fragrance, Butyrospermum Parkii (Shea Butter) , Carapa Guaianensis (Andiroba) Seed Oil, Vaccinium Macrocarpon (Cranberry) Seed Oil  cosDNA analysis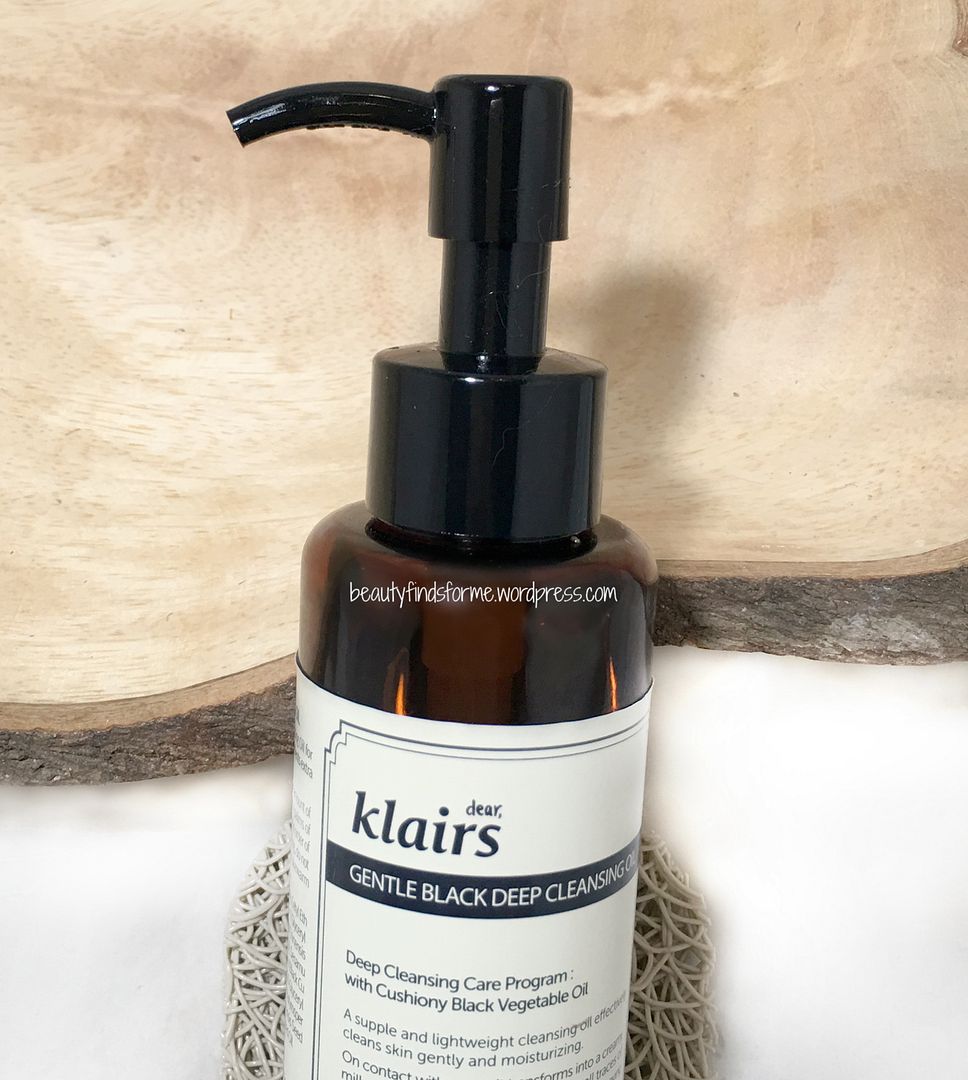 This is in a sturdy brown-clear bottle and a really nice pump that doesn't squirt too forcefully ~ nothing worse than getting oil all over your sink and bathroom floor!  As I mentioned before, it is a runny oil and has a light herbal scent.  I use a couple of pumps on my face, massage it in, focusing on my eye area as I use some pretty stubborn mascara and eyeliner.  It doesn't sting my eyes and I feel that this works well with oily and blemish prone skin, as it doesn't clog my pores or cause me to break out.  After rinsing off, my face does feel moisturized, but not greasy.  There is no oily residue with this cleanser even if I do not follow up with a foaming cleanser.
Description: KLAIRS' Gentle Black Deep Cleansing Oil is composed of various vegetable oils that are helpful for skin care. Easily washable texture allows mild yet effective cleansing of dirt and makeup without causing any trouble or irritation. Gentle Black Deep Cleansing Oil is the best cleanser to maintain skins moisture even after cleansing.   Experience the hypo-allergenic formula for sensitive skin.
Cleansing Test:  I used some of my stubborn makeup below ~ theBalm Meet the Matte Hughes, Clinique Mascara, Jessies' Girl Eyeliner, Tonymoly Tony Delight Tint, Innisfree Cream Eye Shadow  among other makeup items.  I really put a lot on my hand to show you how well it performs with heavy makeup.  Keep that in mind if you are a  no or light makeup wearer.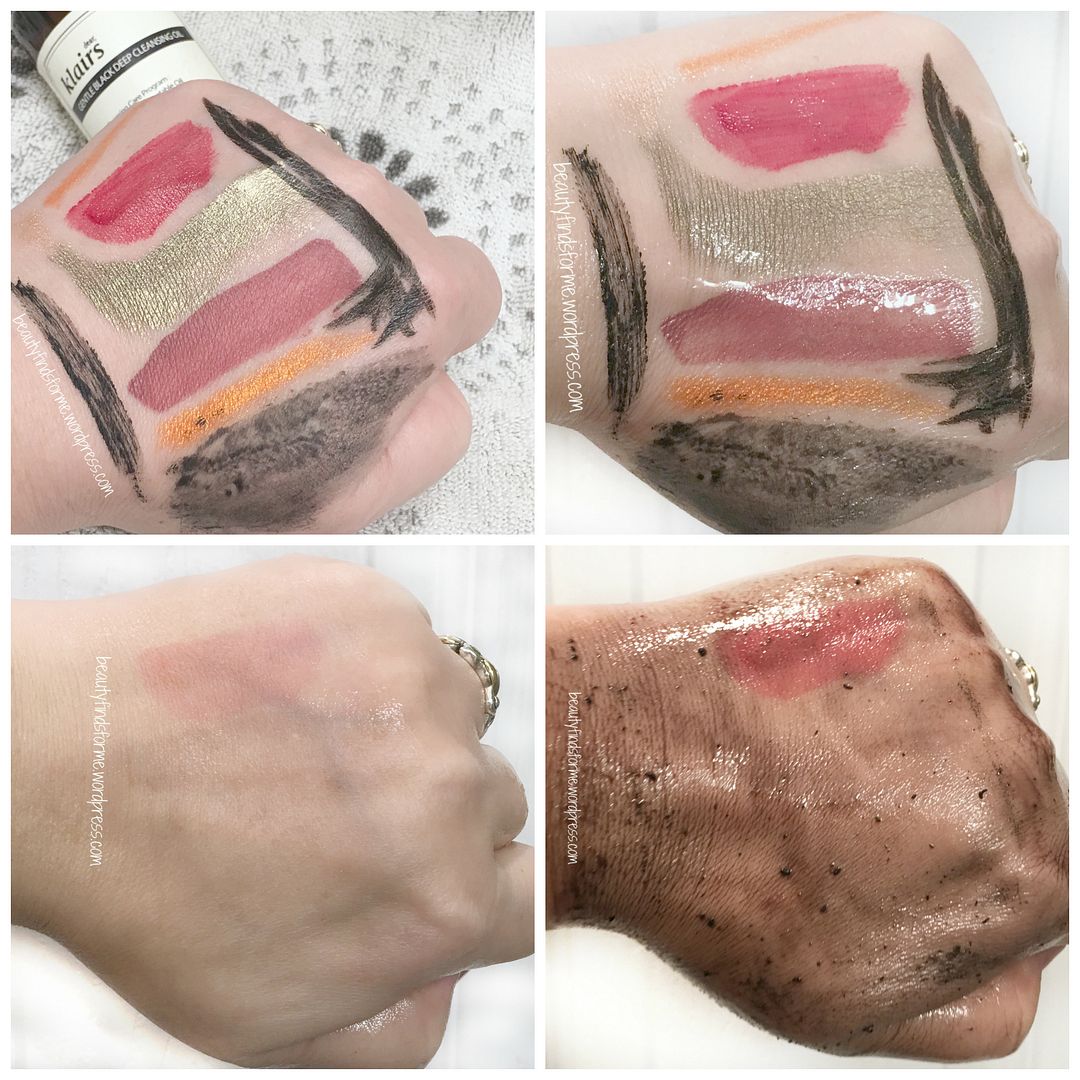 I massaged the oil on my hand for about 60 seconds and rinsed off.  You can see it removed most of the makeup except the Tonymoly and Innisfree products, just leaving behind a faint stain.   My verdict:  This cleans exceptionally well!  Considering most people do not wear this much makeup all at once, I think that it has no issues at all with normal makeup usage.
Klairs Gentle Black Sugar Facial Polish
I love a good sugar facial scrub ~ I have oily skin and I love to exfoliate!!  Sometimes a good physical exfoliator is just what my face needs ~ it helps unclog pores quickly, removing dirt and gunk, excess oil and just smooths and softens my skin.   This is one has Black Strap Powder, which is actually molasses and this is what Wishtrend is calling "black sugar". Molasses is the byproduct from the sugar cane plant has been processed to make refined sugar and it is thick, dark and sticky ~ and very sweet!  It is very concentrated and has minerals and nutrients such as manganese (anti-aging), iron,  vitamin B6, copper, potassium, magnesium and calcium.  Molasses has anti-bacterial properties and will  detoxify and clarify your skin by gently exfoliating dead skin cells.  This also has shea butter, which not only deeply moisturizes, but protects, soothes and repairs your skin.  More soothing, anti-aging oils with cranberry and andiroba, along with licorice root to help brighten and even your skin tone.  Vitamin E is a potent antioxidant, combating free radicals and reversing their damage to your skin, while helping your skin lock in moisture.  Klairs Gentle Black Sugar Facial Polish does not contain alcohol, parabens, artificial colors and it is eco-friendly with no animal testing. 
Ingredients: Caprylic/Capric Triglyceride, Black Strap Powder, Cetyl Ethylhexanoate, Petrolatum, Glycerin, Tocopheryl Acetate, Butyrospermum Parkii (Shea Butter), Candelilla Wax Esters, Peg-7 Glyceryl Cocoate, Polysorbate 20, Beeswax, Cetyl Alcohol, Glycyrrhiza Glabra (Licorice) Root Powder, Fragrance, Carapa Guaianensis Seed Oil, Vaccinium Macrocarpon (Cranberry) Seed Oil cosDNA analysis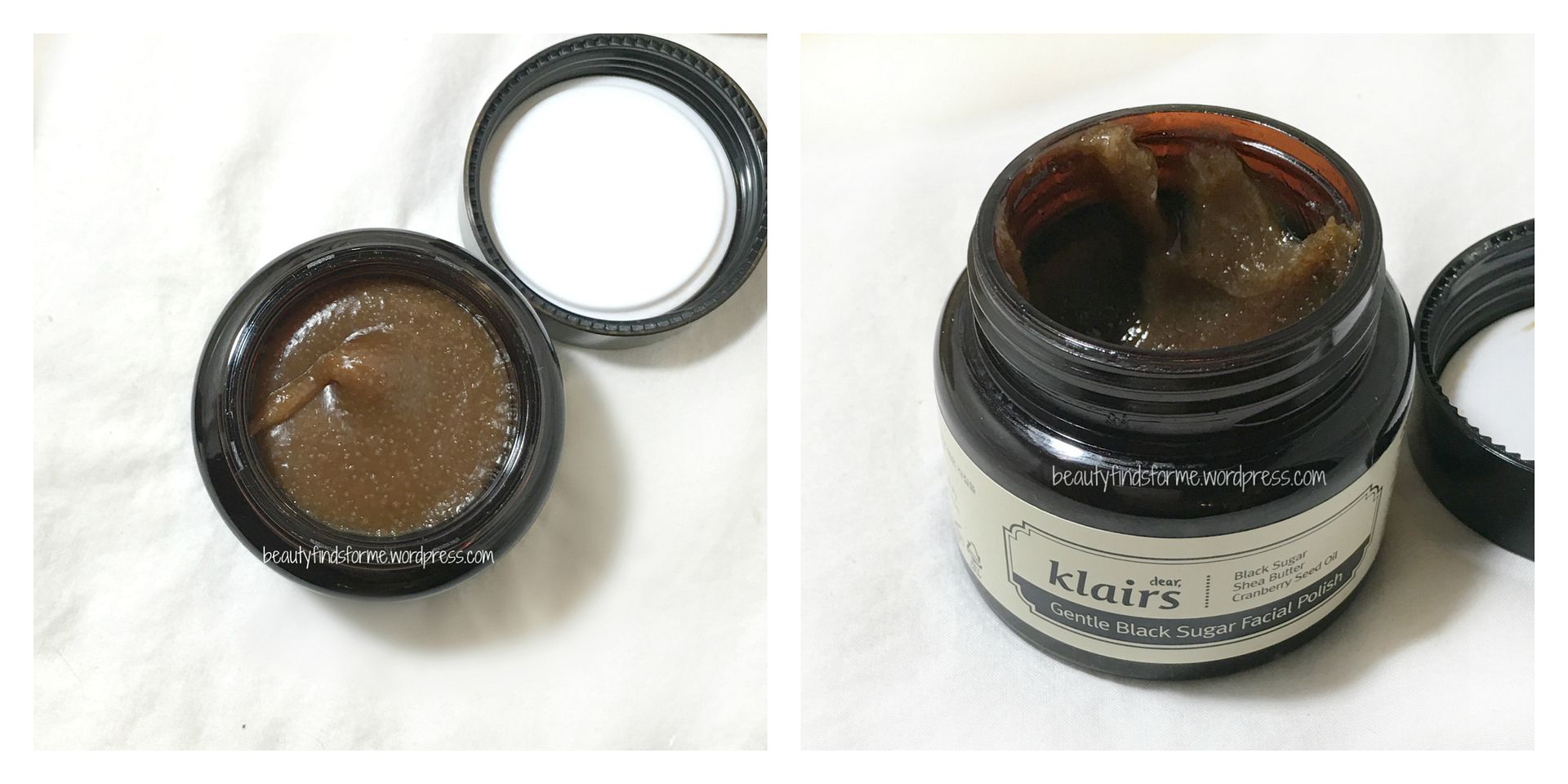 Once again, Klairs houses its product in a nice sturdy container.  My complaint is that this tub is TOO SMALL!! It is only 60 grams and I would love to see a 100 gram jar of this sugar scrub.  The texture is almost like a thick gel paste with lots of little sugar (molasses) grains within it. It is a soft brown color and it is a sugar-sweetly herbal scented product.
Description: This sugar scrub for face contains an abundance of black sugar. Black sugar aids in the removal of dead skin cells and blackheads. It exfoliates of dry skin with ease and adds a glossy smooth look to the skin. When the seasons change, the skin tends to become a bit uneven with dry patches. These dry patches and cause makeup to apply unevenly and look "caked". By using the Klairs Gentle Black Sugar Scrub for Face once a week, you can achieve smooth soft skin that is perfect for makeup application. If you use Klairs gentle black sugar scrub with a cleansing oil, you can see even better results!
I really like the soft texture with the fine grains ~ it does a great job of exfoliating my face, leaving it smooth and soft.  You can see below with the photos the sugar grains in the scrub, even when wet.  After rinsing off, the nourishing oils leaves "water drops" on my skin, as my skin is very moisturized, but it isn't greasy!  This really helps remove any flaky bits of skin that I have around my blemishes and nose area.  I think this is strong enough for oily skin like myself, but it is also gentle for sensitive and dry skin as well.


Extra Tips
Wishtrend has some extra tips on using both the oil and the scrub together.  If you want deep pore cleansing, add the oil to the scrub and on a clean, dry face, apply it to your T-Zone and where ever you have whiteheads and blackheads.  Massage for a minute and leave on for another minute, then rinse off.
If you have sensitive skin and need to remove blackheads, first cleanse and massage your face with the cleansing oil for one minute. Do not rinse off.  Then massage the sugar polish on your nose and other blackhead areas on your skin for 30 seconds, in a circular motion.  Rinse off with lukewarm water and then use your normal second cleanser.
Final Thoughts
I had been wanting to try more from the Klairs line and I am so glad I picked these two products to try.  The oil cleanser works beautifully on removing makeup and dirt, without leaving a greasy feeling and has a light pleasant scent.   The scrub is also a great product ~ I like this better than Skinfood's Black Sugar Scrub ~ but I feel like I have to really restrict the usage of this item due to the small size of the jar and I don't want to!  I hope Wishtrend makes this in a bigger size ~ maybe 120 grams, as I have the feeling I will use this up quickly.  I certainly would purchase a larger size!  If you are looking to expand your facial cleansing routine and are looking for products to try, I do recommend both of the Klairs Black Gentle cleansing products.  Have you tried these before?  What did you think of them?
Where to Purchase
Wishtrend has several options to purchase these items ~ as either individually or in a kit
Kits
SOL Kit Gentle Black Pore Cleansing Kit for Oily Skin ~ this comes with 3 full sized Klairs products: Gentle Black Deep Cleansing Oil, Gentle Black Sugar Facial Polish and Gentle Black Sugar Charcoal Soap for $44.90 USD
Wish, Try, Love Kit Large Pores Kit ~ All full sized products: 3 from Klairs ~Gentle Black Deep Cleansing Oil, Gentle Black Sugar Facial Polish and Gentle Black Sugar Charcoal Soap  ~ and Skinmiso Pore Corset Serum, Skin & Lab Glacial Clay Facial Mask and I'm From Silicon Brush  RV $82.40 USD with free shipping
Klairs Best of Trial Kit

~ full of foil samples from their Klairs line: Rich Moist Soothing Mask(full size mask), Gentle Black Deep Cleansing Oil, Supple Preparation Facial Toner, Rich Moist Soothing Serum, Rich Moist Soothing Cream, Midnight Blue Calming Cream and Illuminating Supple Blemish Cream SPF 40/PA++  RV $2.90
If this is your first time shopping with Wishtrend, you can save $5.00 off your purchase by using my friends referral number ~ 092847308  ~ and you will receive the coupon. Register first and enter the my code in the form labeled "friends invitation program" and wait for the coupon before you place your order.  Also, remember to save your welcome and any order emails from Wishtrend.  They usually have discount and free shipping codes just for your use in them, so you can save even more money on your next order!

You automatically receive Free Shipping with purchases $69.00 USD and over
Don't forget to check out Wishtrend's Free Shipping Product Selection

Wishtrend ships globally
[ disclosure: items received for review purposes. contains affiliate links ]