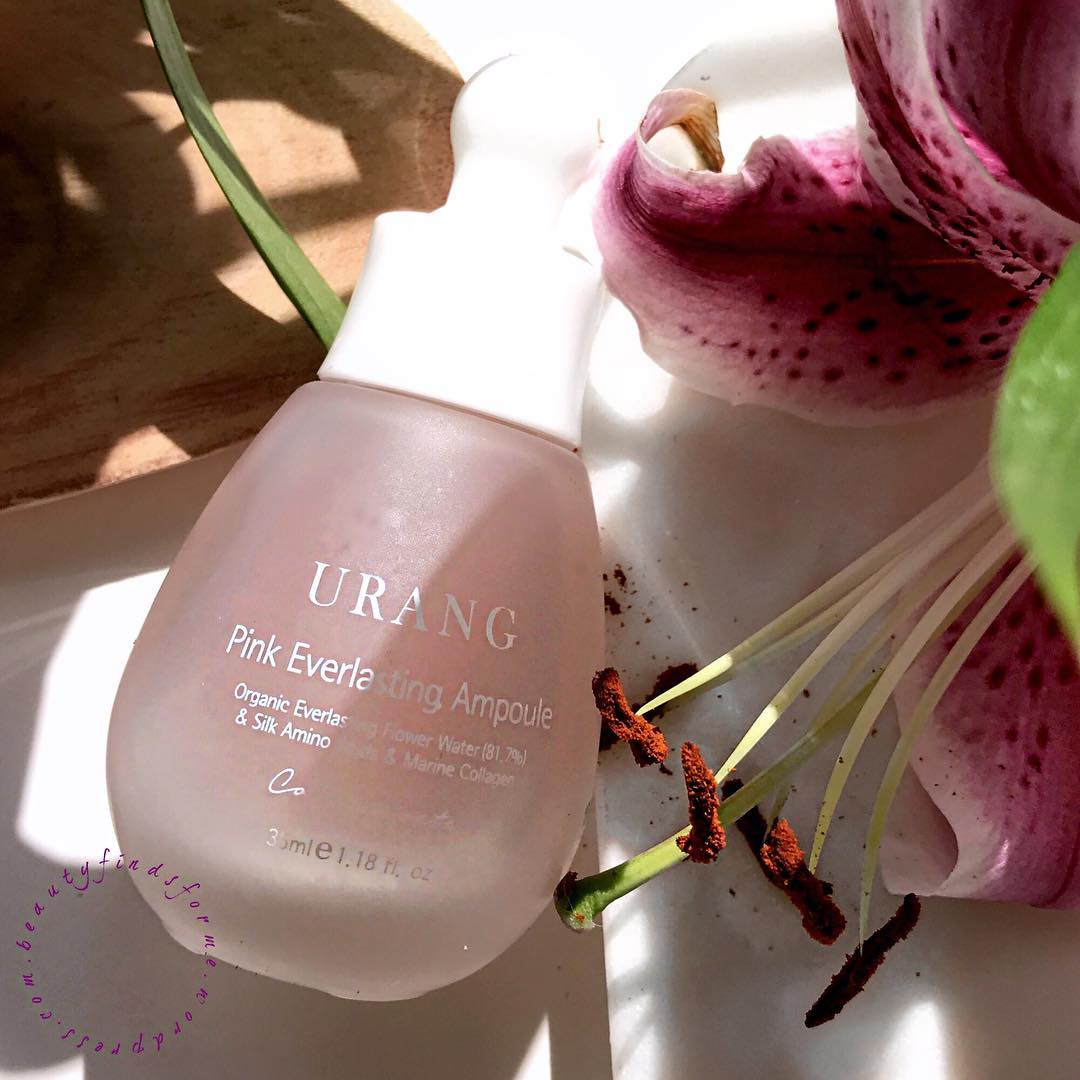 I have tried several products from Korean brand, Urang, in the past ~  They do have a lot of products with rose in them or oils, so for the most part, I couldn't use a lot of their product line up ~ but I what I could use, I really enjoyed a lot.   Last August, they started to tease and show a pink ampoule, so when they finally released it, I went over to their Korean site, translated the page and discovered that this was a product I could use.  I purchased it promptly and have been using it for a couple of months now. 
URANG (Ultimate Radiant + Natural Glow) is a mix of natural, organic and aromatherapy and it shows with their formulas. They contain safe ingredients suitable for all ages and use a unique blend of proven botanticals and natural sources.  URANG skincare line contains an average of 88% of organic ingredients and 99.89% of natural ingredients. Organic is a specific term in the industry and it was grown without synthetic fertilizers, pesticides, antibiotics, irradiation, genetic engineering and so on. Organic means that the farms involved use systems that will help enhance the soil, biodiversity and other criteria and the organic term must certified as such.  Natural means they are minimally processed ingredients and do not contain any hormones, antibiotics or artificial flavors.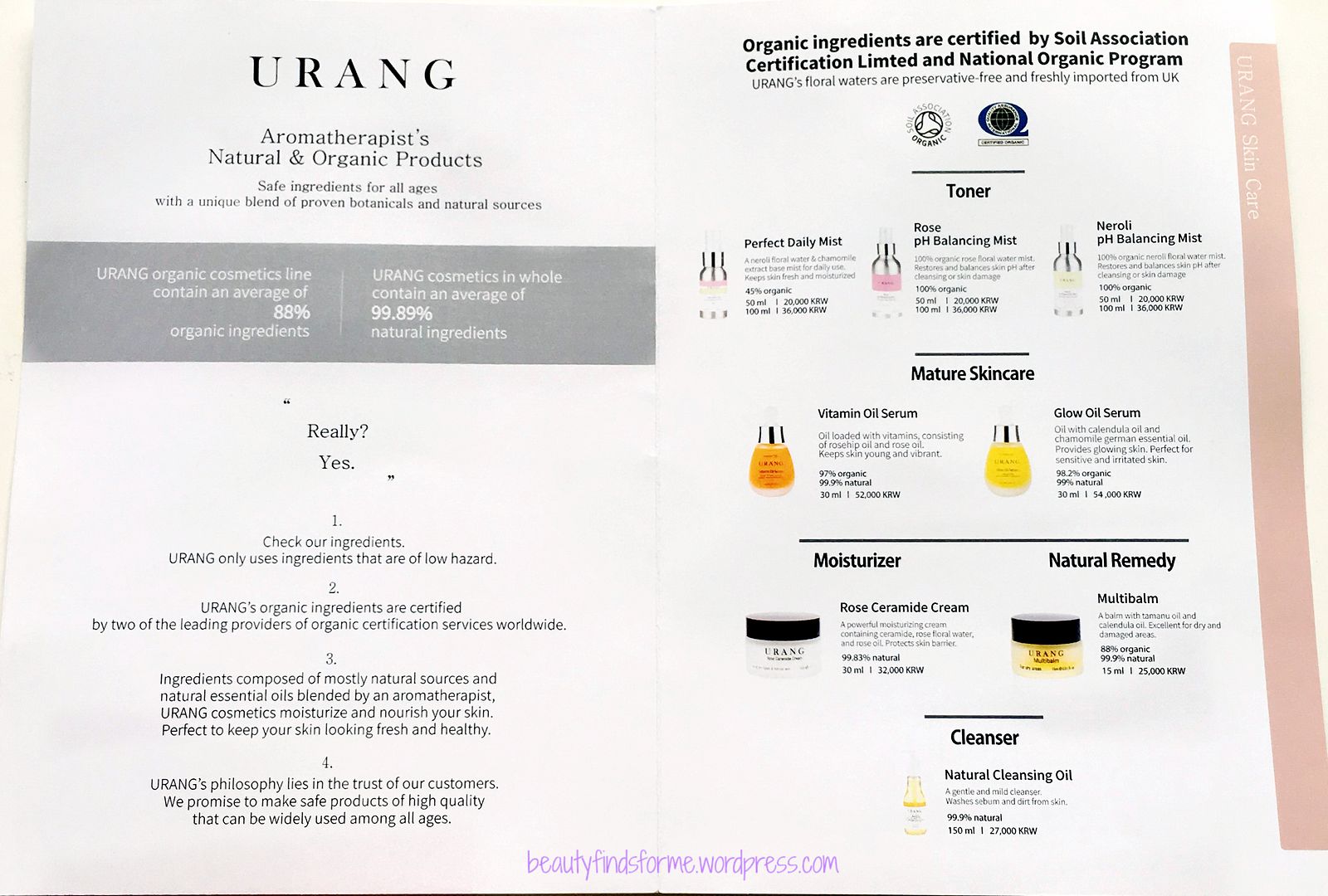 URANG only uses ingredients that are low hazard, according to EWG and their organic ingredients are certified by two of the leading providers of organic services,  the Certified by Soil Association Certification Limited and National Organic Program.  URANG's floral waters are preservative free and imported from the UK.  Urang is cruelty-free brand and offers several vegan skincare products.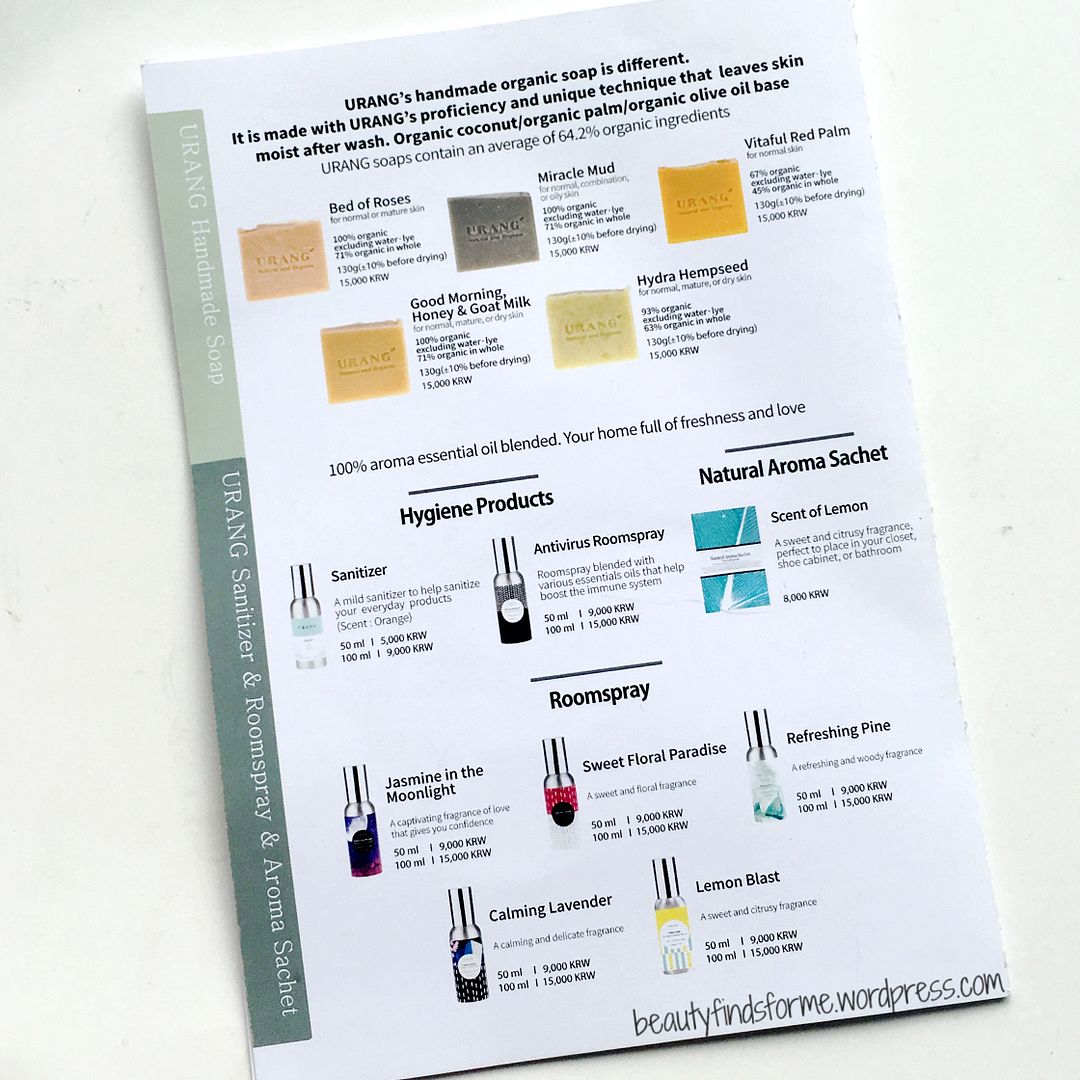 URANG uses natural, high quality ingredients from mostly natural sources and essential oils blended by an aromatherapist, so their skincare products will help moisturize and nourish your skin, keeping it fresh and healthy. 
Skin Type/Concerns: Oily, blemish prone, aging, hyper-pigmentation, fine lines/wrinkles
 All reviews are my own honest opinion and  I never have been asked to write copy for a brand.  This blog post might contain promo codes, affiliate and referral links, which using my links will help generate a small commission that helps support my blog at no extra cost to you.
Ingredients
Helichrysum Italicum, otherwise known as Everlasting or Immortelle, is best known for its high levels of anti-oxidant and anti-inflammatory benefits.  It helps combat free radicals, aiding in slowing down aging skins of fine lines and wrinkles, while helping to repair and provide nutrition and elasticity to damaged skin, restoring cells,  while reducing the appearance of scars, fine lines, wrinkles and even hyper-pigmentation. 
For centuries, this was used as a medicinal plant due to its anti-inflammatory, anti-oxidant, healing and antibacterial benefits as well as being full of flavonoids and diketones (helps with fading scars).  Since this flower is an antibacterial and anti-fungal ~ and add that with its soothing and calming benefits, this is an ingredient that is really good for blemish prone skin too.  Helichrysum Italicum is a rare plant that is only found in a few spots around the globe and Urang sources its Helichrysum Italicum from the mountains of Sardinia, Italy and it is steam distilled into oil and water.  It takes 1 ton (1000 kg) of Helichrysum Italicum flowers to produce 1 kg of Helichrysum Italicum oil and 1 bottle (1000kg)  of Helichrysum Italicum flowers to produce 200 to 250 grams of Helichrysum Italicum flower water.  Urang Pink Everlasting Ampoule contains 81.7% Helichrysum Italicum flower water along with Helichrysum Italicum flower oil. 
Silk amino acids (SAAs) contain serine, an amino acid that helps support collagen production, resulting in elasticity and binding moisture to your skin. This has marine collagen, extracted from the scales/skin of saltwater fish, which is full of amino acids proline and glycine, and is an excellent humectant and moisturizer for your skin.  This has several more humectants with glycerin and sodium hyaluronate, which helps attract moisture and binds it to your skin.  Sodium hyaluronate has a lower molecular weight that hyaluronic acid, so it can penetrate your skin more easily. Sucrose is another humectant that helps attract and retain moisture, but it has a natural AHA ~ glycolic acid ~ that will help refine and moisturize your skin. while protecting it from toxins and external stressors. Betaine is an amino acid that is a humectant and anti-irritant, providing silky smooth skin and soothes and calms skin.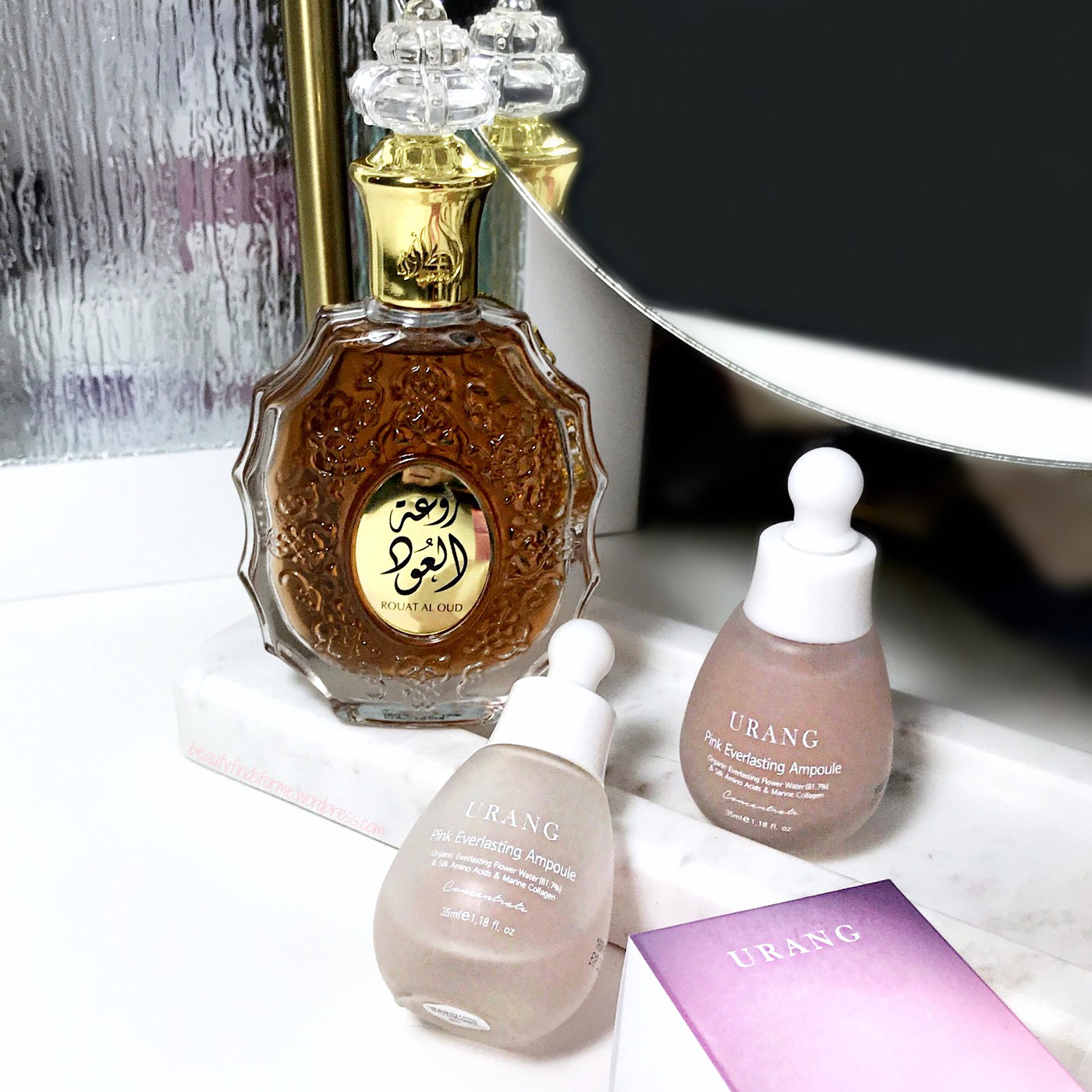 Healing and calming herbs: centella is a common herbal ingredient that is used medicinally to help speed up wound healing, such as blemishes and skin rashes. It also helps minimize the appearance of pores, and since it stimulates collagen production, it will make your skin more supple and firm.  Lavender has amazing wound healing proprieties due to its antibacterial, antiseptic and anti-inflammatory compounds. It also adds to the amazing natural scent of this product ~ the other scent is grapefruit, so this has a citrus-lavender scent, which is very spa-like and aromatherapeutic.    
The natural pink color comes from cyanocobalamin, which is vitamin B12 ~ I know this because my vitamin B12 liquid is a bright red!   This synthetic ingredient is believed to help strengthen your skin and act as an anti-inflammatory.    All ingredients are rated green level from EWG's Skin Deep database and this ampoule contains 99% natural ingredients with 85.7% certified organic ingredients and is formulated without artificial fragrances, additives, harmful chemicals or preservatives, so use within 6 months after opening.
Ingredients: Helichrysum Italicum Flower Water(81.7%)*, Silk Amino Acids, Hydrolyzed Collagen, Centella Asiatica Extract*, Betaine, Glycerin*, Cyanocobalamin, Zanthoxylum Piperitum Fruit Extract, Pulsatilla Koreana Extract, Usnea Barbata (Lichen) Extract, Sclerotium Gum, Citrus Paradisi (Grapefruit) Peel Oil*, Sodium Hyaluronate, Hydrolyzed Corn Starch, Sucrose, Helichrysum Italicum Flower Oil*, Lavandula Angustifolia (Lavender) Oil*   cosDNA (* Organic ingredient)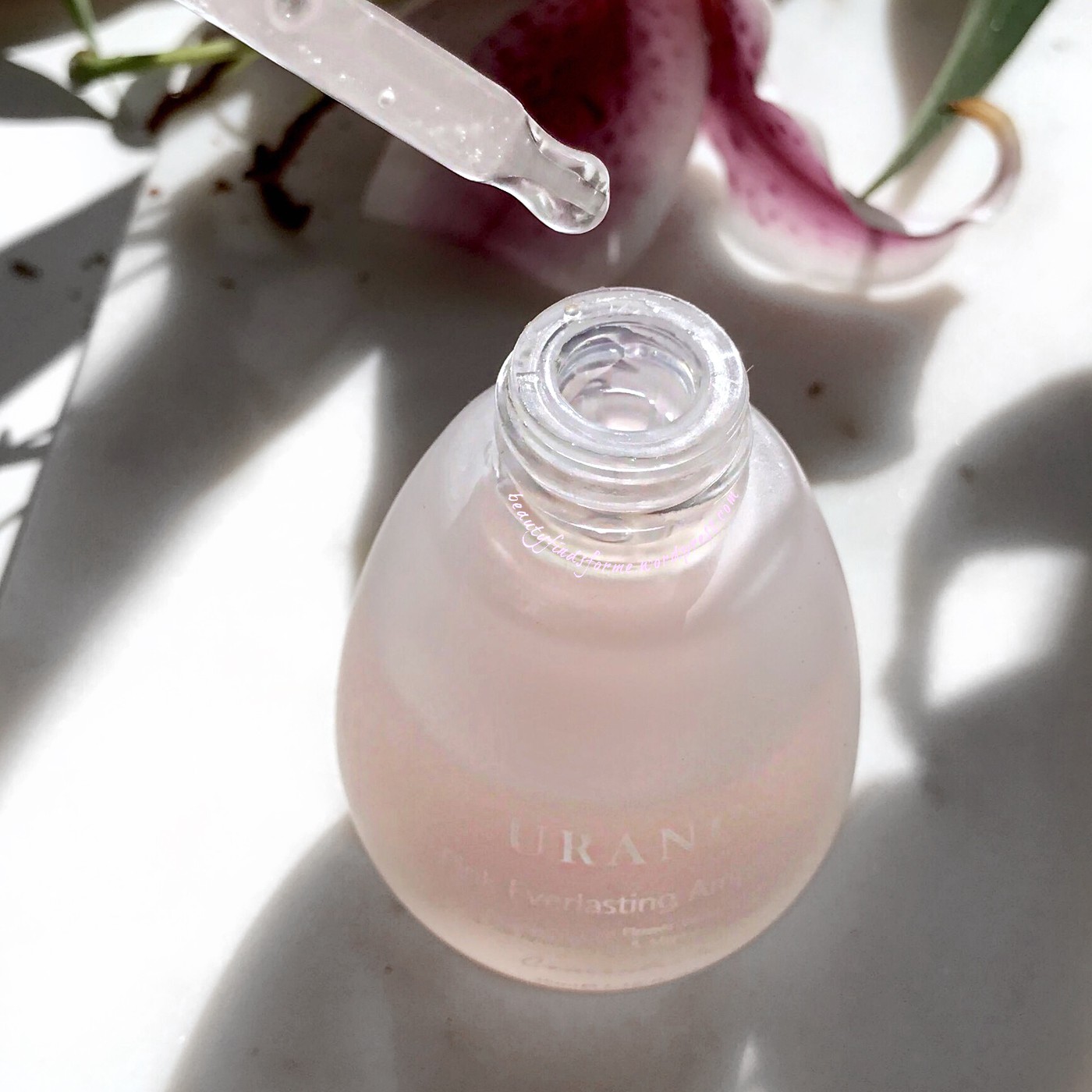 This comes in the classic Urang squat little glass jar ~ looks like a pot-bellied vase ~ that has a clear, slightly frosted finish. Eye drop applicator picks up this slightly slippery serum that is a lovely light pale pink in color.  The scent is amazing and I think that is why I fell in love with this ampoule ~ scents can make or break a product and in this case, for me at least, it made it.  It is a herbal lavender scent with fresh grapefruit tones to it ~ it is very relaxing and soothing.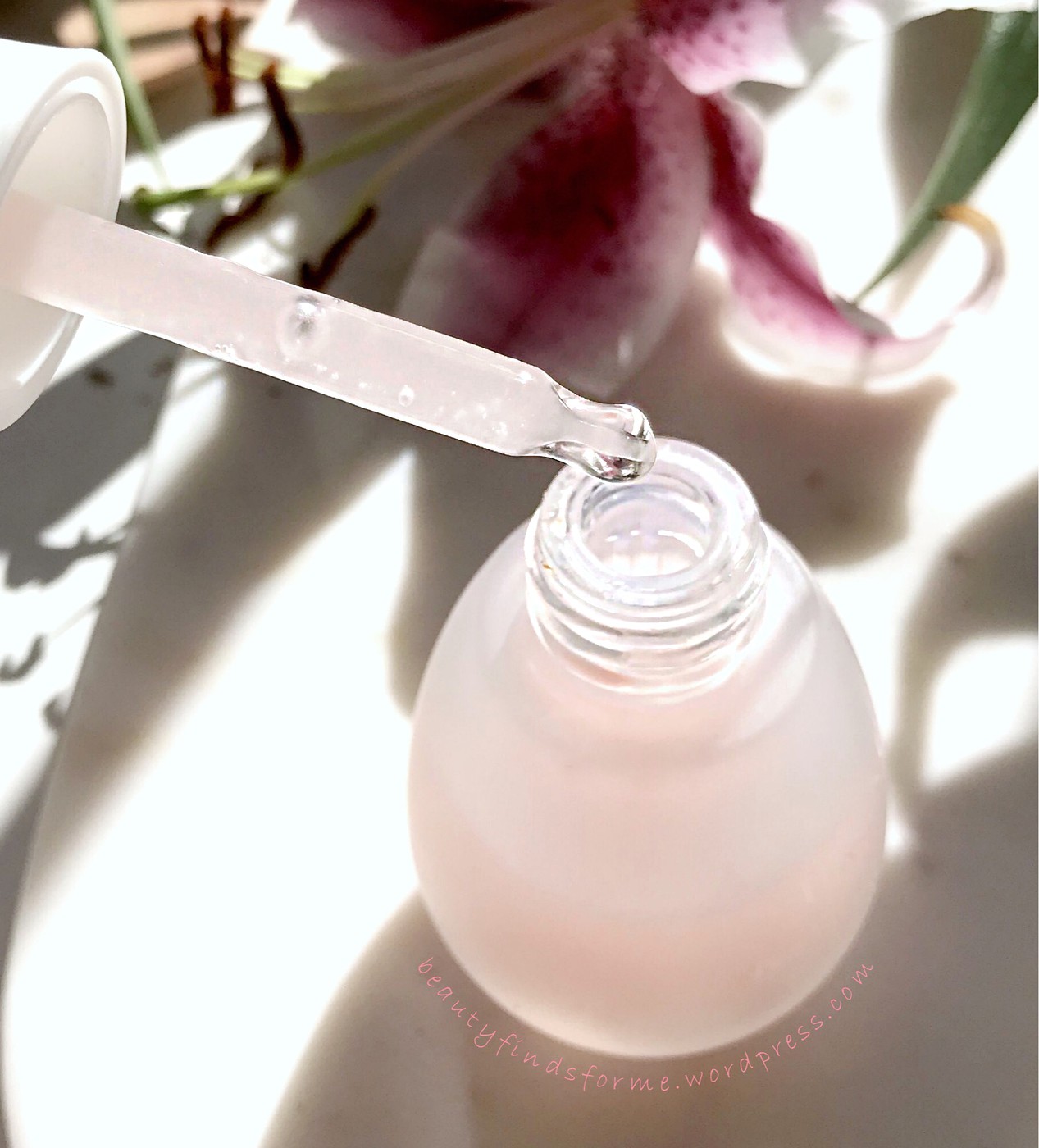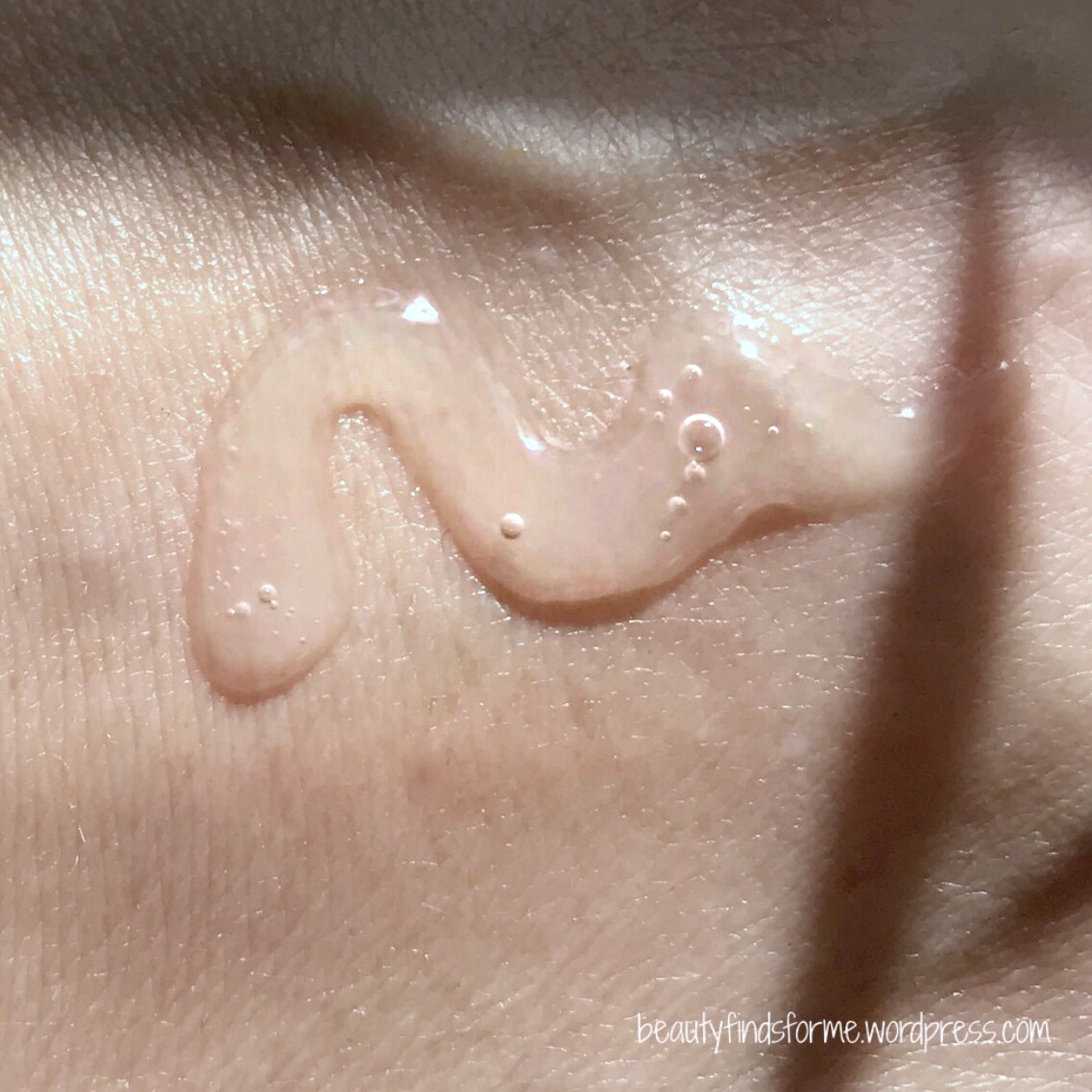 The texture is not sticky ~ it does have a slick viscosity to it so you can do that "look at the how it sticks together" test with your fingers, but it really doesn't stick together, like snail ferments.   The Pink Everlasting Ampoule is very lightweight product and not at all heavy on my skin. In fact, I had to recheck the ingredients as I felt it must have silicones in it, but it didn't!

It feels very silky smooth on my skin, absorbs nicely without any tacky residue.  My skin feels hydrated, soft, supple and I feel that it helps give my skin a nice glow as well, without being "moist".  I almost feel it leaves a light "barrier" on my skin, filling in the fine lines and wrinkles and plumping them up.  If you have drier skin than mine, you can add this into your oils or creams ~ for me, I like to use this before I add my moisturizer, by itself.   My skin has been quite dehydrated lately, so my readings are very unhappy ~ this did initially increase my moisture levels by 81% and decreased my oils by 22%, so I am very happy with the results!
Before: Moisture: 27   Oil: 41
After:   Moisture: 49   Oil: 32
Final Thoughts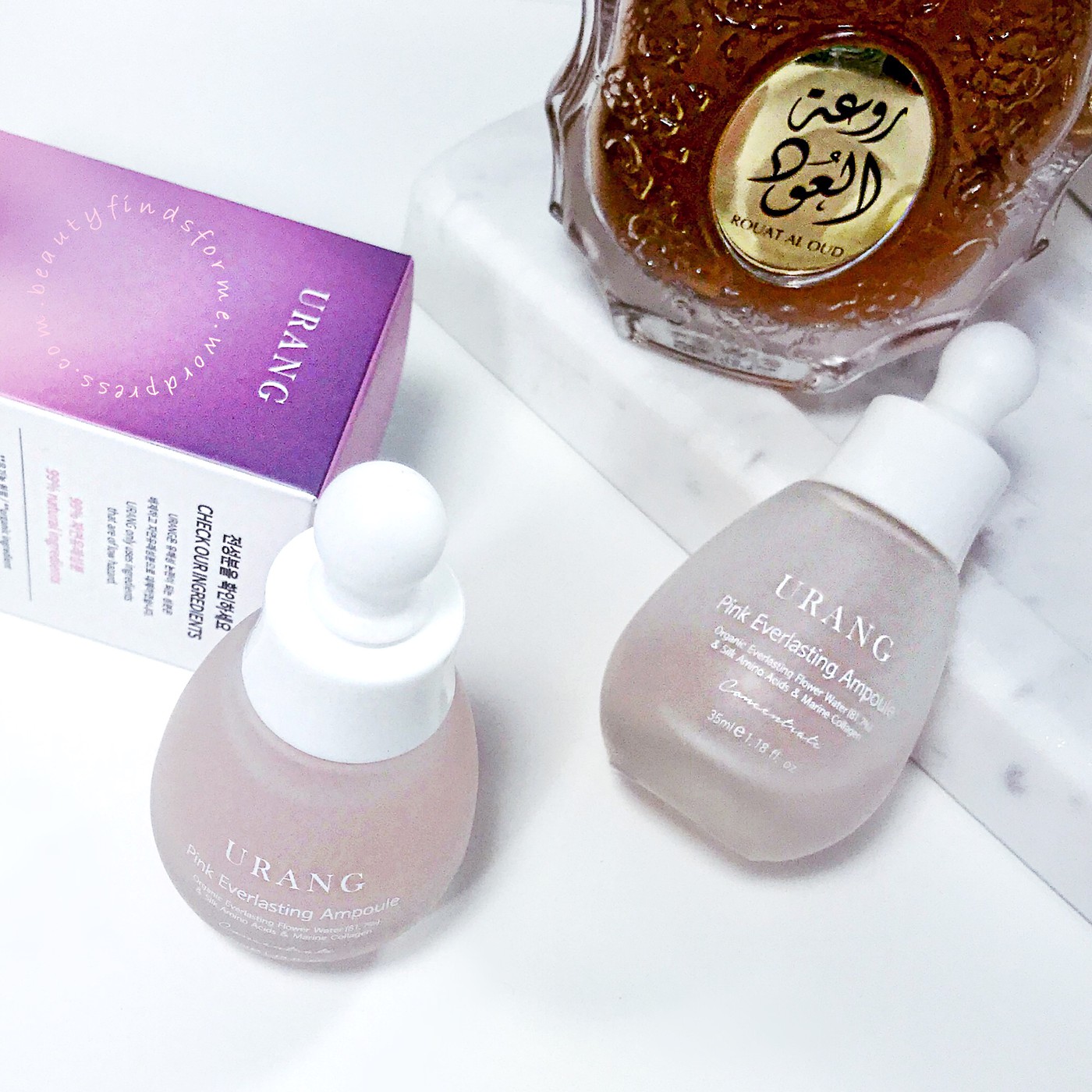 So what does this do for my skin?  It keeps soft, supple, hydrated, gives my skin a bit of a glow, while plumping up my fine lines and wrinkles.  It doesn't break me out and in fact, the antibacterial benefits of the ingredients help heal my blemishes and it is calming as well.   It FEELS great on my skin and SMELLS fantastic ~ It is a bit of luxury for my skin.  This is why I love it ~ I haven't noticed any lightening of hyper-pigmentation but I do feel this is a product that I will want to continue to use long term.  It is a bit pricey at over $60 USD, but I have purchased another bottle recently from Amazon USA as they had a 20% off flash sale.  I will continue to purchase it and one bottle looks like it will last me 4 months, so I won't need a new one until springtime.  Sometimes, the heart wants what the heart wants and this is one of those products.  I love everything about it, except the price tag!

Where To Purchase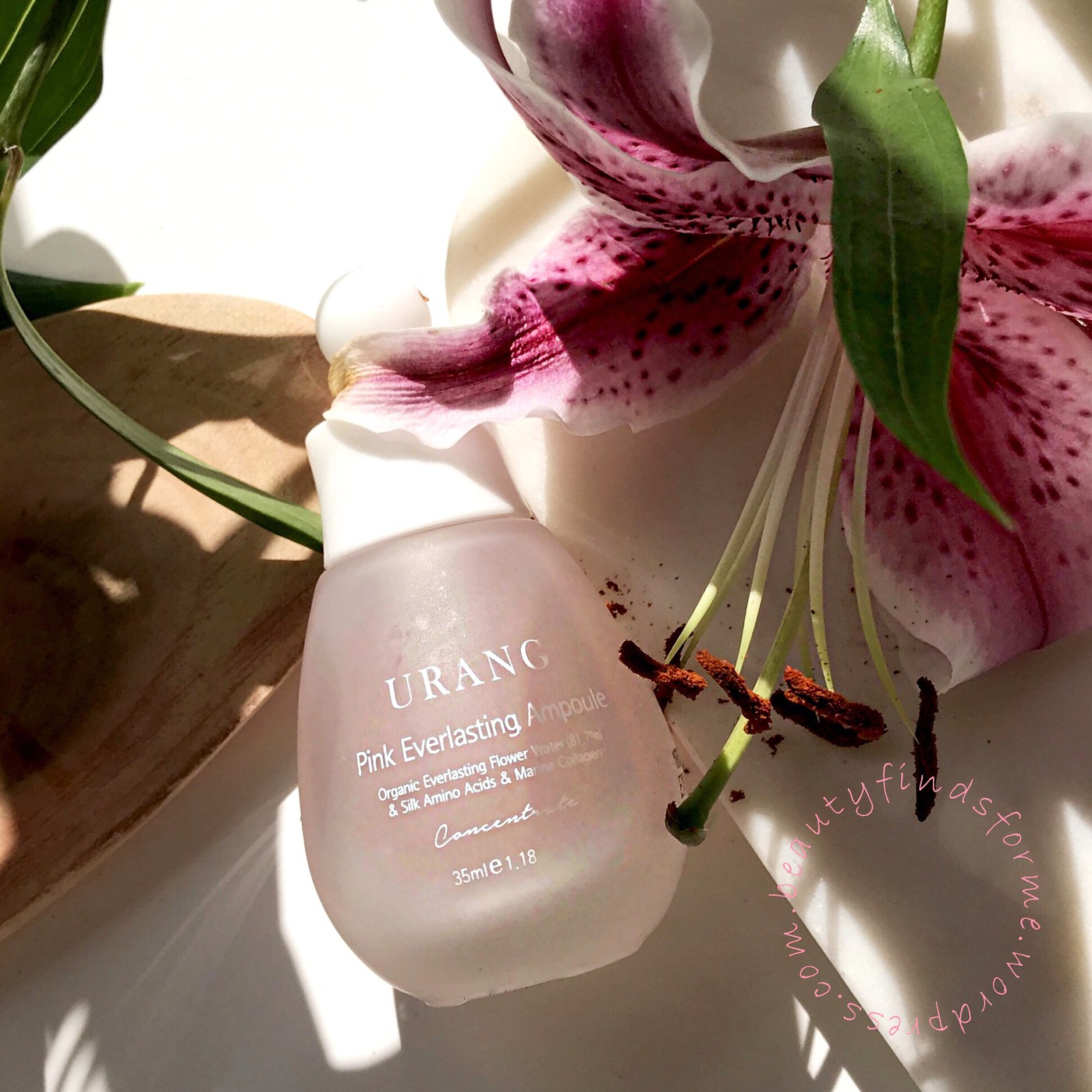 I purchased my original bottle  from the Urang Korean website but since that time, it is now available in several different online stores!  The price tag hovers around $64.00 USD for a 35 mL bottle ~ this is the ONE time that I wish Urang would supersize their product ~  but if you follow these shops on Instagram and subscribe to their newsletters, you can take advantage of their sales.   Click on the store name below to purchase 
If you cannot find Urang in your country,  I suggest using a shipping service and ordering from their website ~ if you are in Korea, you obviously can order directly from their site, www.urangnatural.com.   I recommend Korean Buddy (click here) ~ I have used them many times in the past and have always been pleased with their service.  All you have to do is send them the links and they will come up with the product total.  You pay them, they get the products, weigh it and then give you the shipping costs.  If you have never used Korean Buddy before, you can save 50% off the handling fee by using my blog as a referral https://beautyfindsforme.wordpress.com  
[ disclosure: contains affiliate and referral links ]