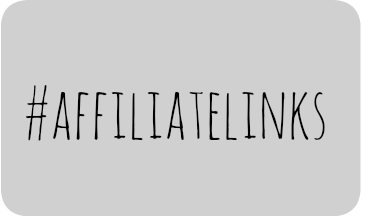 I am VERY late in posting my March Kloverbox!! I did get this a couple of weeks ago, so I did have a chance to try some of the items.    This month focuses on the St. Patrick's  Day Theme, so it is VERY green!  My favorite color!   Kloverbox is a subscription box that not only is natural and has a focus on indie brands, but they also find unique and interesting products as well.
Kloverbox is an eco-friendly, organic lifestyle box and I love how they introduce new, unique and innovative products each month.  Kloverbox delivers deluxe and full size products and I have been impressed with their packaging and curating of their boxes. You can subscribe to Kloverbox  either as a month-to-month at $25/monthly, 3 month subscription at $23.75/monthly or a 6 month subscription at $22.50/monthly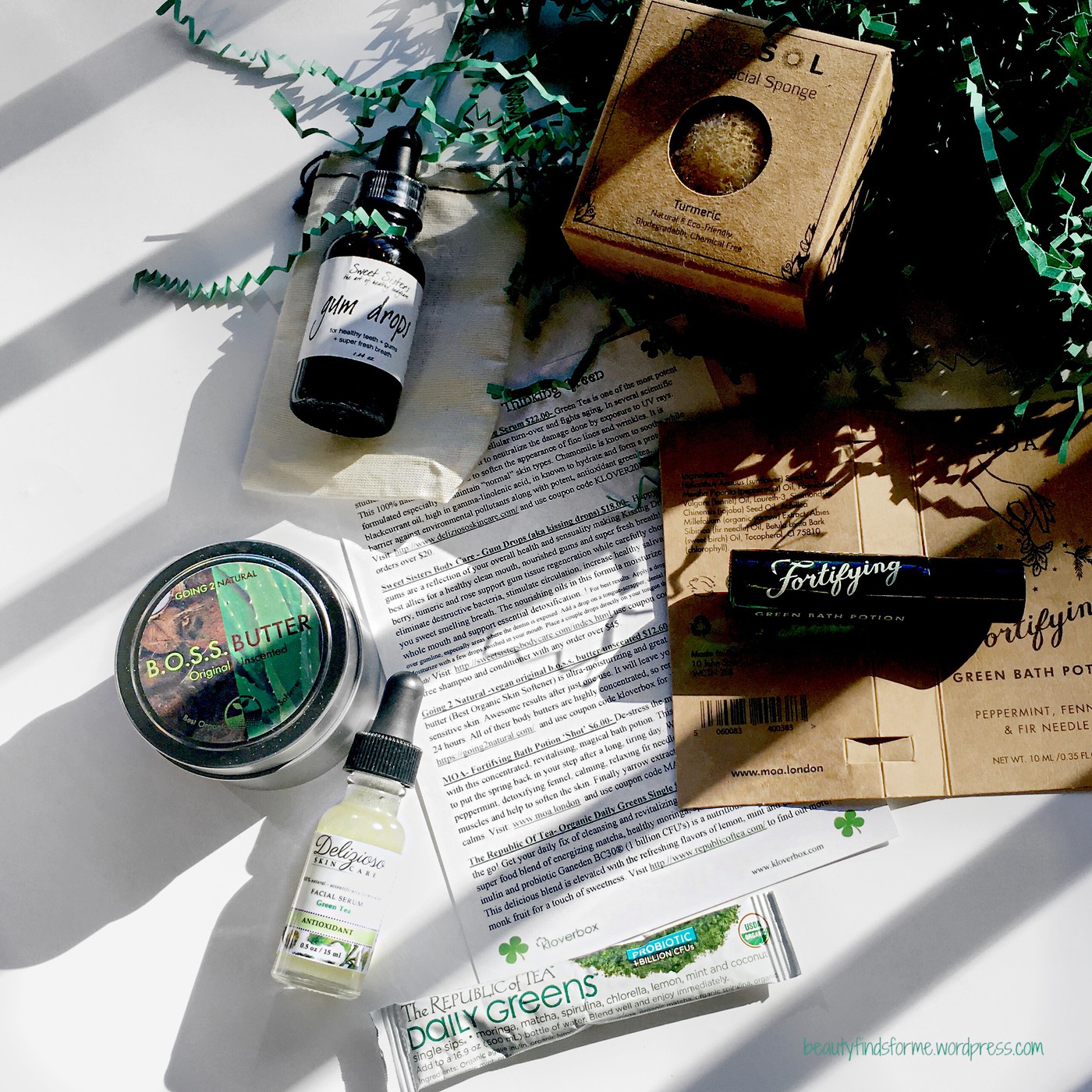 Informational Card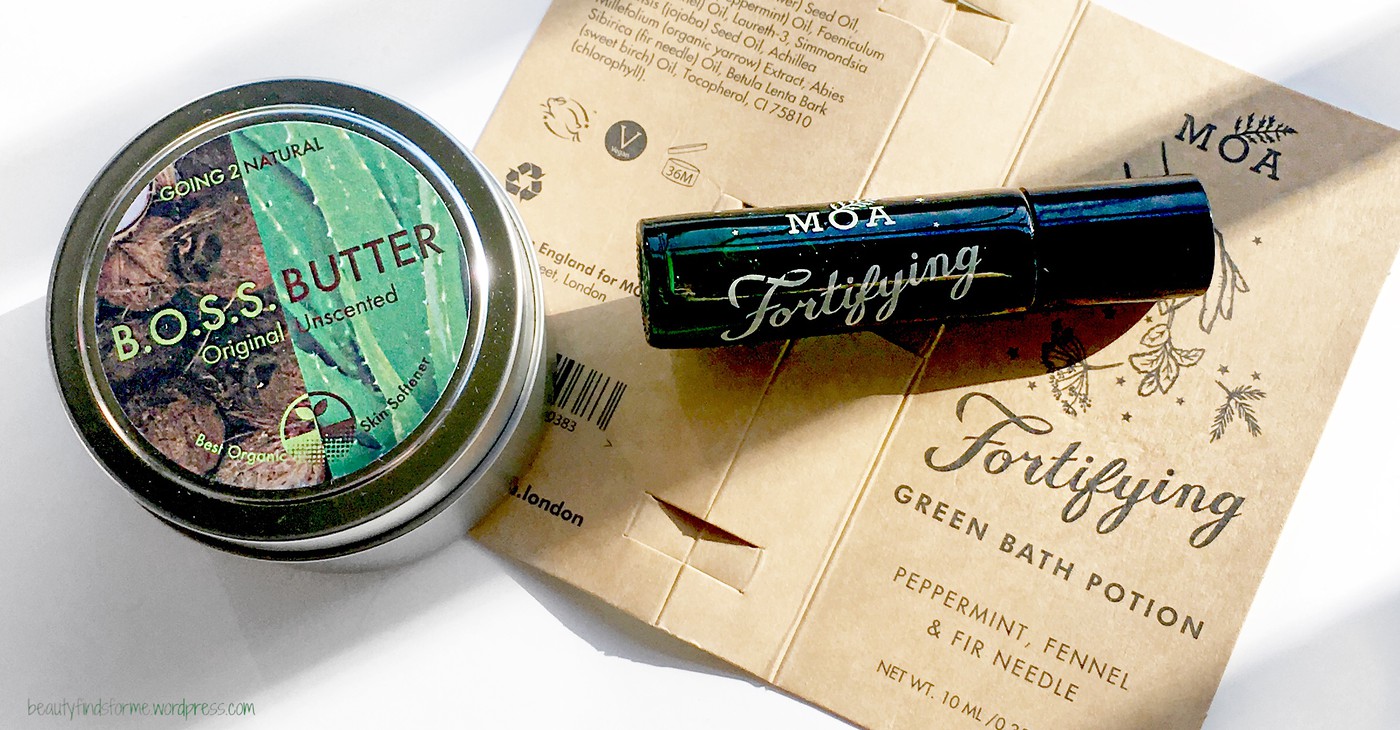 Going 2 Natural- Vegan Original b.o.s.s. Butter in Unscented  This is great ~ Body butters are one of my favorite things to get and since this is unscented, I know it won't compete with my perfumes and fragrances.  I actually love to use body butters on my feet ~ at night, I smear a lot of my feet, top off with some cotton socks and let that rich creamy moisturizing butter work its magic on my feet.  This is very creamy and you don't need a lot as it is so moisturizing and nourishing.  This contains organic and unrefined shea Butter along with cold pressed coconut oil and healing aloe vera.   This also has tumeric so that helps with scarring and brightening.  This is free from artificial ingredients, fragrances, dyes, parabens, GMO's, synthetics and only USDA Certified Organic, non-GMO and wild crafted ingredients are used to make this body butter.  They never test on animals and it is gluten free.   4 oz RV $12.60  Promo Code:  Use kloverbox at  Going 2 Natural and get 15% off your purchases.  Expires June 2018.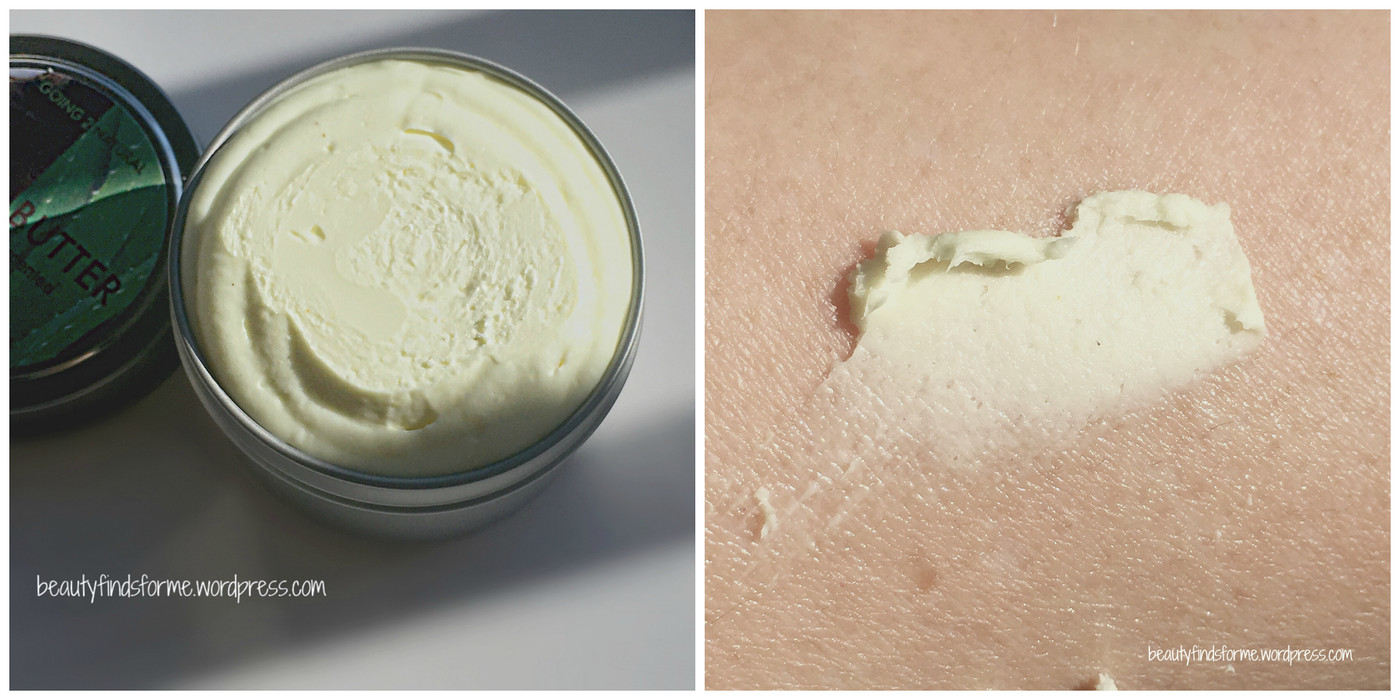 Ingredients: organic shea butter, organic coconut, organic cold-pressed unrefined castor oil, organic aloe vera, organic turmeric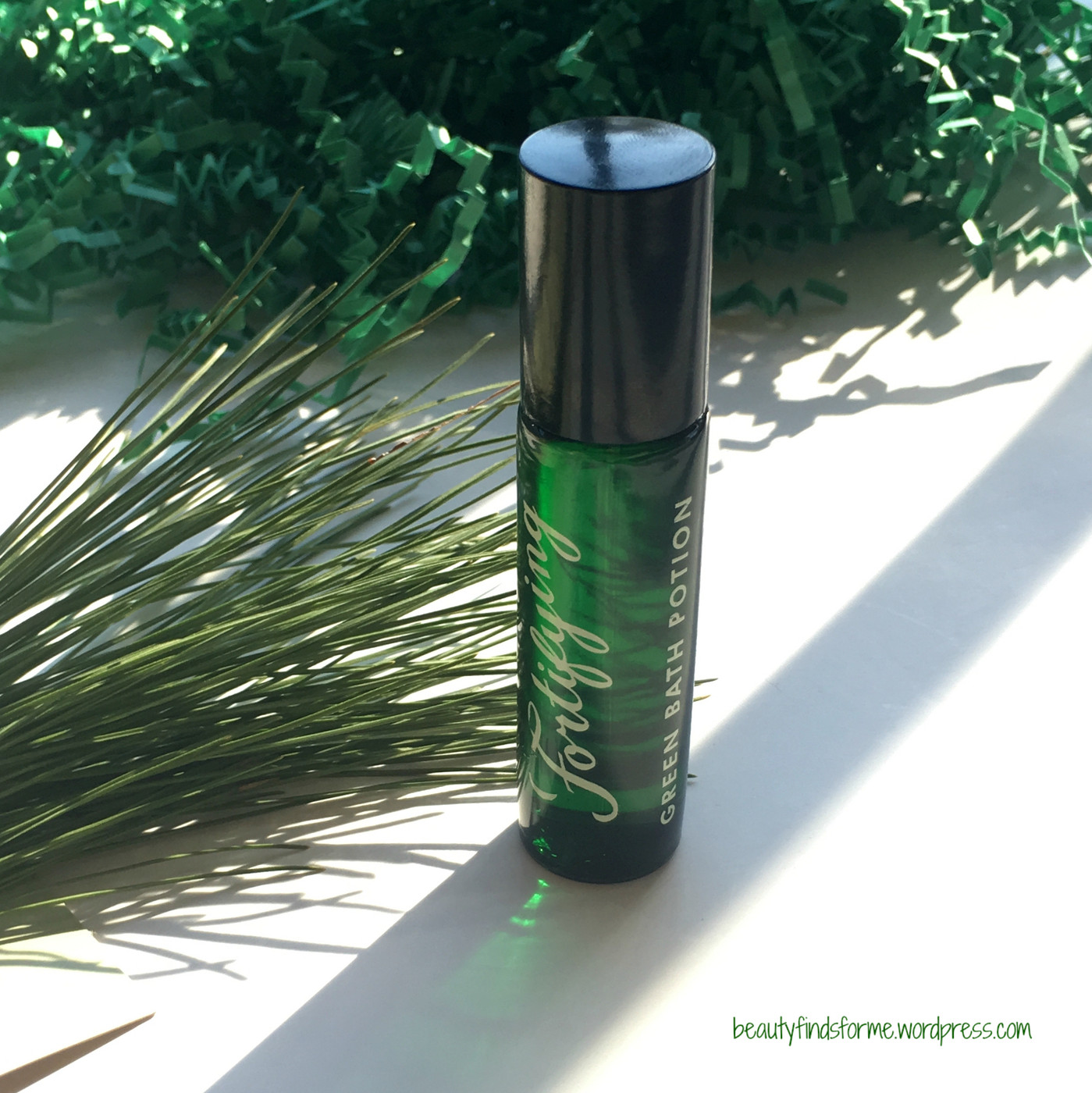 MOA (Magic Organic Apothecary) Fortifying Green Bath Potion in Peppermint, Fennel & Fir Needle  I feel like I am in Snape's Potion class here!  This lovely green tube is full of an herbal scented oil bath liquid that is so refreshing and invigorating!   It's top note is mint, but I can also smell the pine in here ~ not so much the fennel, but that could be more apparent once I dump this into a bath.  Peppermint helps refresh and tone your skin, fennel is good to detox and pine needles are, of course, calm and soothing.  This also has sweet birch extracts which helps relax and sooth muscles while softening your skin, along with yarrow ~ another calming and soothing ingredient.  This is made with certified organic ingredients with no petrochemicals, SLS or artificial preservatives.  Made in London and inspired by old herbal folklore,  this is cruelty free and vegan.   Donot use as a massage oil, apply directly to skin or use during pregnancy.  10 mL one time use RV $6.00   Promo Code:  Use magic25 at MOA London and save 25% off your purchases
Ingredients: Helianthus Annuus (sunflower) Seed Oil, Mentha Piperita (peppermint) Oil, Foeniculum Vulgare (fennel) Oil, Laureth-3, Simmondsia Chinensis (jojoba) Seed Oil, Achillea Millefolium (yarrow) Extract, Abies Sibirica (fir needle) Oil, Betula Lenta Bark (sweet birch) Oil, Tocopherol, CI 75810 (chlorophyll).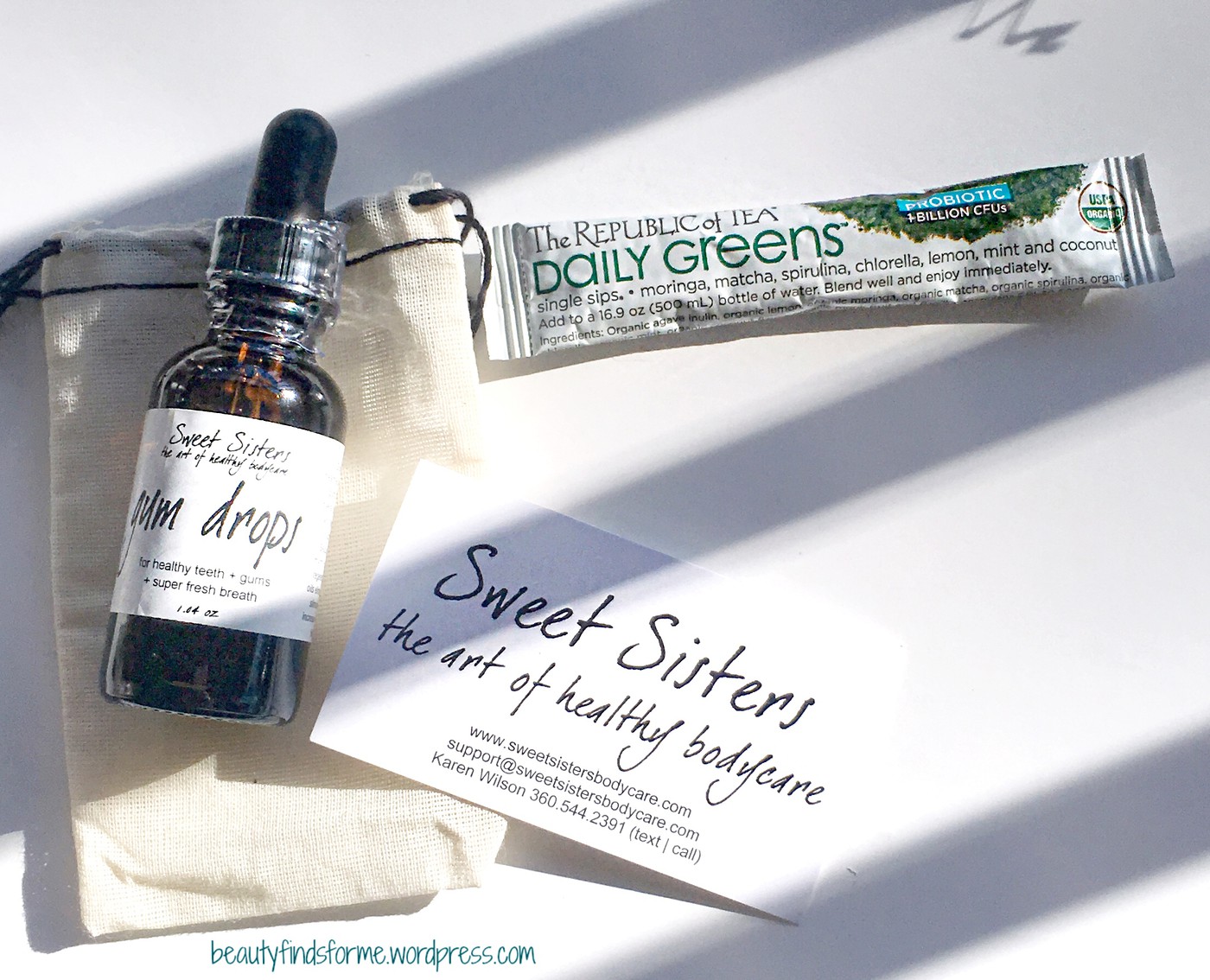 Sweet Sisters Body Care – Gum Drops (Kissing Drops) Sweet Sisters is an artisan, handcrafted company that provides lovely everyday luxuries.  This is a breath fresher liquid that you can rub on your gum line to help promote healthy gums or place a drop or two on your tongue to get an instant burst of freshness.   Not only does this freshen your breath, but helps promote healthy gums  ~ The ingredients were carefully chosen for oral care: "seabuckthorn berry, tumeric and rose support gum tissue regeneration while carefully chosen essential oils eliminate destructive bacteria, stimulate circulation, increase healthy saliva production and give you sweet smelling breath. The nourishing oils in this formula moisturize and nourish your whole mouth and support essential detoxification".   Alas, I cannot use rose, so I will gift this to my mother.  It sounds amazing but there it is!  This brand sounds AMAZING and I hope to see more of them in future Kloverboxes!  1 oz RV $18.00  Promo Code:  Use kloverbox at Sweet Sisters and receive free shampoo and conditioner with any order over $45.00
How to Use: Apply a drop or two to your fingertip + rub over gumline, especially areas where the dentin is exposed. Add a drop on a tongue-scrapper, dental floss +/or gum stimulator. Moisturize with a few drops swished in your mouth. Place a couple drops directly on your tongue throughout the day for super fresh breath
Ingredients: organic jojoba oil, rose hip seed oil, essential oils of cinnamon, clove, sea buckthorn berry CO2, rose otto, oregano, tumeric, peppermint, spearmint + tea tree, rose hip seed CO2 ext
The Republic of Tea – Organic Daily Greens Single Sips Sample  Yeah!!  We got a foodie item ~ this time it is from The Republic of Tea ~ This is made with a blend of superfoods ~ matcha, moringa, spirulina, chlorella and agave inulin and ganeden BC30(R) (1 billion CFU's) ~ all to help cleanse, revitalize, energize your body so it is healthy ~ it contains both a prebiotic in agave and a probiotic in ganeden, so it helps keep your insides and gut running smoothly. There is about 65mg of caffeine in each single sip package and just add to 500 mL (16.9 oz) of water and shake until blended.  This contains no sugar, glutens or calories and is organic!  I cannot wait to try this out tomorrow.  RV $1.43 
Ingredients: organic agave inulin , organic lemon, organic moringa, organic matcha, organic spirulina, organic chorella, organic mint, organic coconut flavor, organic monk fruit, Bacillus coagulans GBI-30-6086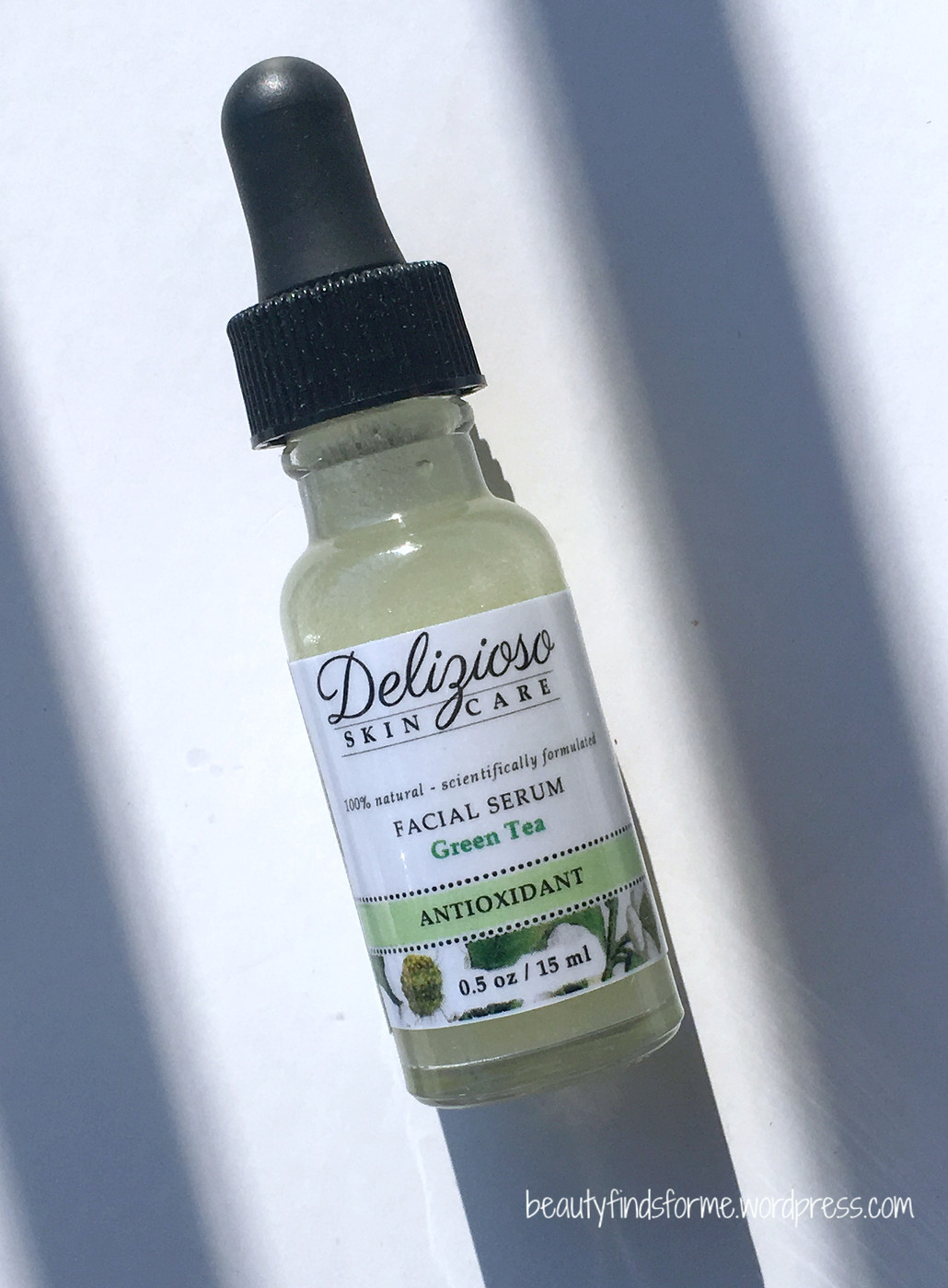 Delizioso Skin Care Green Tea Soothing Serum  OMG I am so thrilled to see Delizioso back in Kloverboxes!  I love this brand ~ I got a makeup remover  last year and a great coupon where I did purchase several items from their shop.   Freshly crafted in Canada, this is their green tea soothing serum, and its base is made from organic aloe vera.  It is very thick and nourishing ~ a little sticky, so I use it at night time before a moisturizer.  This has a slightly bitter herbal scent to it, but it isn't unpleasant.  I do like this a lot as I find it very soothing and calming on my skin, provides a moisture barrier and really helps hydrated my skin.   This is made fresh with 100% natural, certified organic ingredients and is cruelty free and vegan.  Does not contain SLS, mineral oils, fragrances, silicones, parabens, phthalates, phenoxyethanol, alcohols and  synthetic ingredients. 15 mL RV $22.00  Promo Code: Use kloverbox to save 20% off at Delizioso for orders $20.00+

Description: Green Tea is one of the most potent antioxidant ingredients that promotes cellular turn-over and fights aging. In several scientific studies, green tea extract was shown to neutralize the damage done by exposure to UV rays. This 100% natural serum works to soften the appearance of fine lines and wrinkles. It is formulated especially to maintain "normal" skin types. Chamomile is known to soothe while blackcurrant oil, high in gamma-linolenic acid, in known to hydrate and form a protective barrier against environmental pollutants along with potent, antioxidant green tea.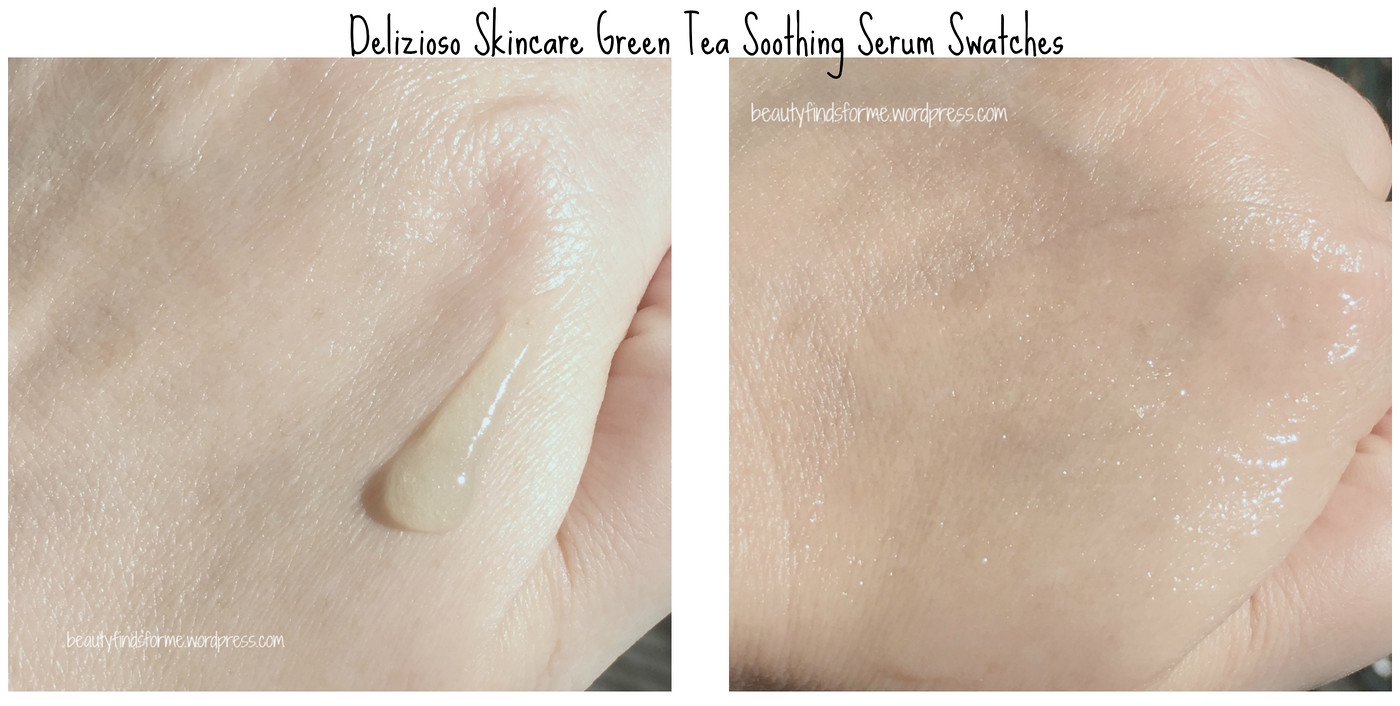 Ingredients: *Aloe Barbadensis Leaf (Aloe) Gel (Thickened with Organic Alginate from Seaweed), *Oryza sativa (Rice Bran) Oil, *Prunus avium (Cherry Kernel) Oil, *Ribes Nigrum (Black Currant) Oil, *Passiflora incarnata (Passion Flower) Oil, *Vitis vinifera (Grape Seed) Oil, *Camellia sinensis (Green Tea) Extract, Matricaria recutita (Chamomile Blue – Anti-Inflammatory) Essential Oil, Cedrus atlantica (Cedarwood Blue -Soothing) Essential Oil, Ananas comosus (Pineapple) Extract, *Saccharum Officinarum (Sugar Cane) Extract, *Acer Saccharum (Sugar Maple) Extract, Citrus Aurantium Dulcis (Orange) Fruit Extract, Citrus Medica Limonum (Lemon) Extract, Cananga odorata (Ylang Ylang) Essential Oil, Jojoba Proteins and Populus Tremuloides Bark Extract, Leuconostoc/Radish Root Ferment Filtrate, Sambucus Nigra (Elder) Fruit Extract  cosDNA    (* = Certified Organic)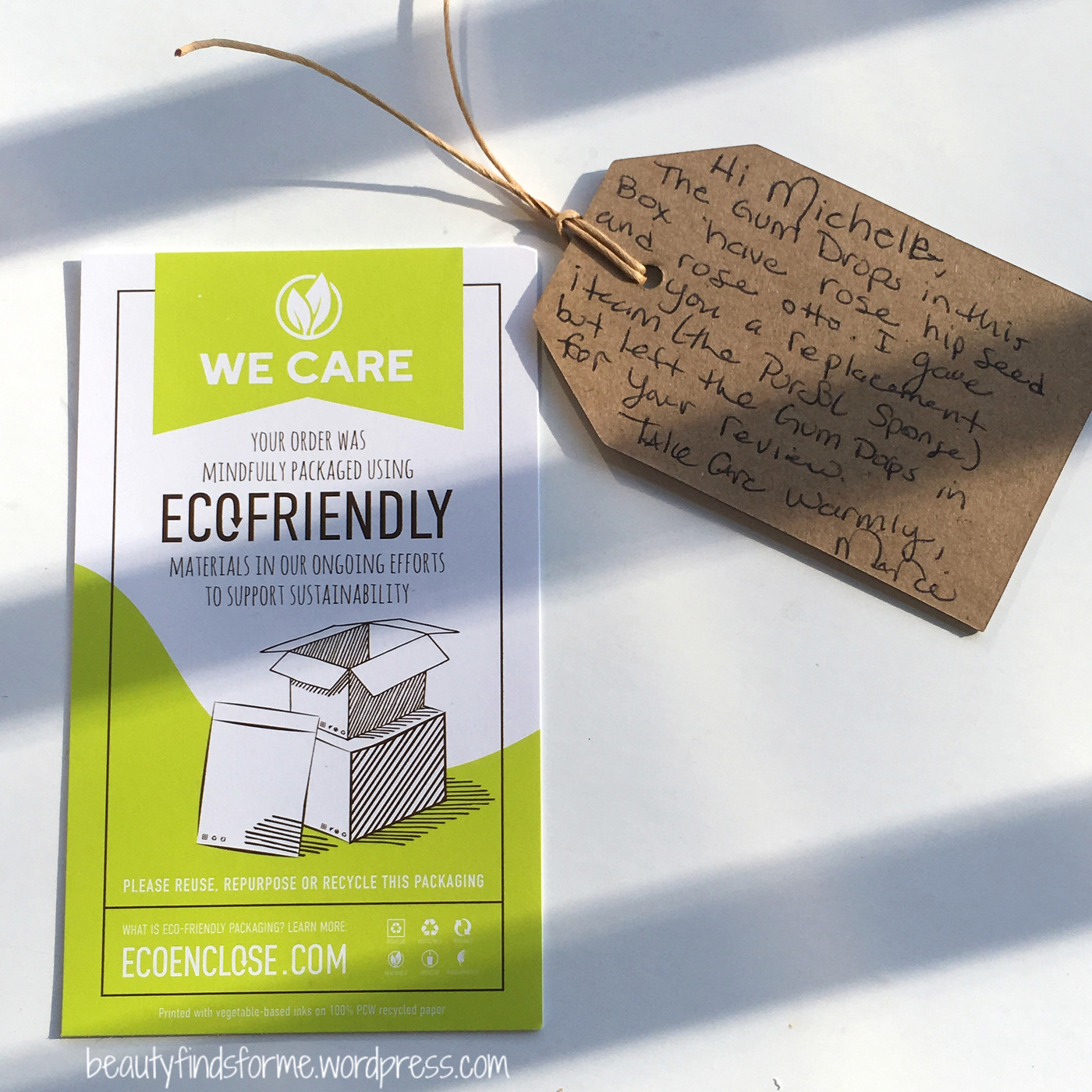 Kloverbox sent me an extra item this month due to the rose ingredients in the Gum Drops product and I do love this item.  dI have gotten it before from Kloverbox and it is the PureSol Konjac Facial Sponge in Tumeric.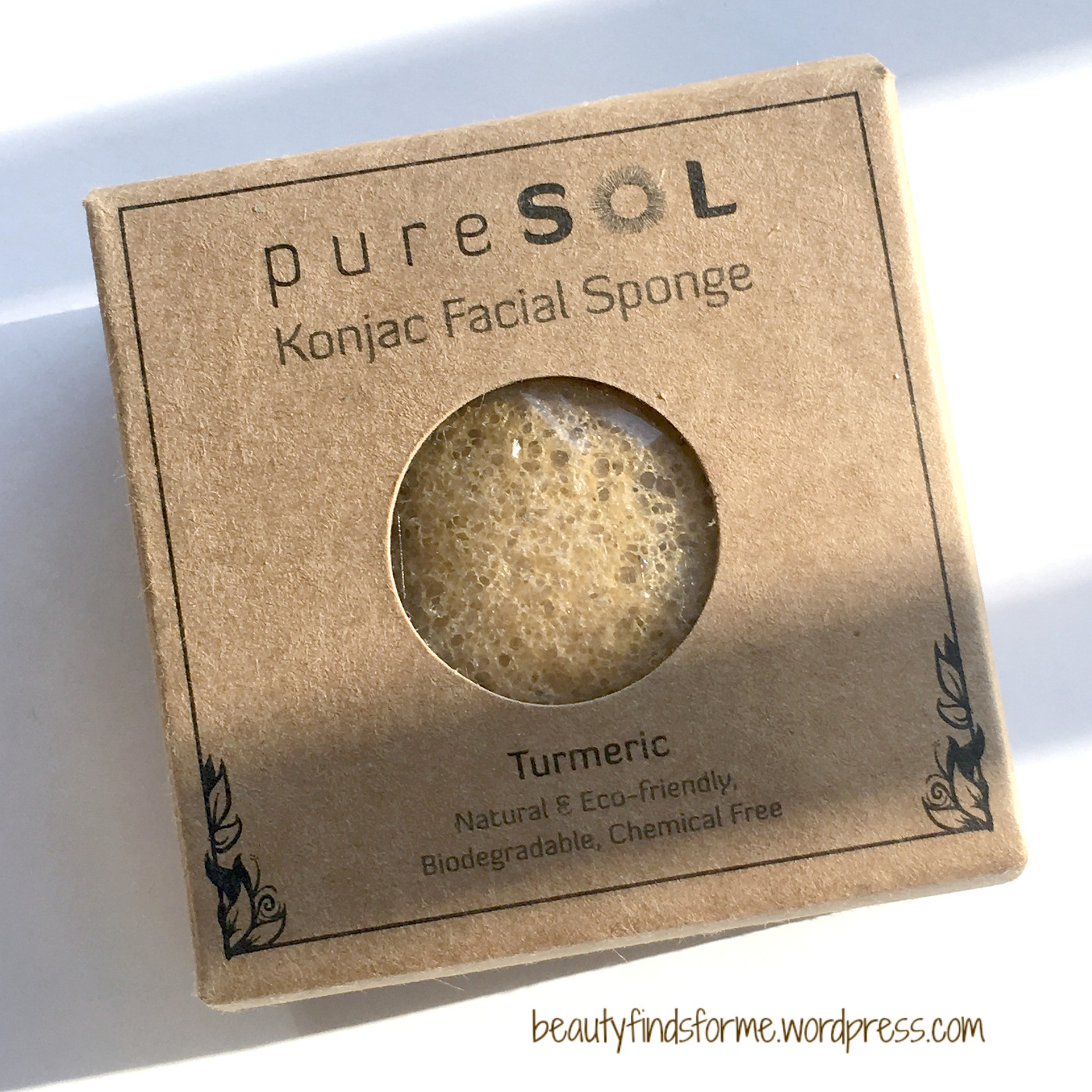 pure Sol Konjac Facial Sponge in Turmeric     I have used pure Sol Konjac sponges before and I do like them.  They come with a little plastic suction cup and hook so you can hang your sponge up in the shower.  Konjac sponges look small, hard and not at all something you would want to cleanse your face with.  Once you get this sponge good and wet, it will expand 2-3 times its size and become super soft, spongy and it will have a gelatinous feel to it.  Konjac is highly fibrous, which is why is it an excellent material for exfoliation. With pureSol's sponge, you can use with or without cleanser ~ I like to use cleanser, as my face is oily and I need the extra cleansing.   However, this one is infused with turmeric, which is a first for me. I've seen these little sponges infused with charcoal, green tea, clay but never turmeric.  Turmeric is excellent for exfoliating and helps reduce fine lines, wrinkles and fades hyper-pigmentation. It is also perfect for blemish prone skin, as it has antiseptic properties.  I am pretty excited to try this one out! This sponge is biodegrade, cruelty free and vegan.  Don't toss it out when you are done, use it in your compost or your flower pot.  RV $9.29  
I LOVE this month's box!  The Green Tea Serum is a treat to use and great during these transitional months from winter to spring, love the body butter (already smearing it on my feet to soften them up!) and I am saving my green potion from MOA for when I need to really feel refreshed!  The Gum Drops sound just lovely, but I cannot use them ~ however, thanks to the ladies at Kloverbox, they remembered my allergies and sent me the pureSol sponge ~ which I love!  And finally, can't wait to try out my superfood green blend in some water this weekend.  I paid $15.00 due to a Black Friday promo code + renewing 3 month subscription and received a value of $58.00, not including the pureSol sponge.  Do you subscribe to Kloverbox?  What was your favorite product this month?

Current Promo:  Want to save 10% off your subscription?  Use my referral link here    One and three month terms automatically renew, the six month is a one time purchase.   The monthly subscription has an option to skip a month!

Next Month's Spoiler
I am so happy that Kloverbox is doing sneak peeks!!  April's Theme is Earth's Day and the spoiler is AMAZING.

April Sneak Peek
BADALA  Earth Inspired Kalenjin Druzy Earrings $18.   Since launching in Kenya, BADALA has since expanded employment programs to women and artisans across East Africa, Central America, and domestic sex trafficking survivors. We are thrilled to joining BADALA in this journey to see poverty and sex trafficking ended! To find out more please visit: https://www.badala.org/ Your April Kloverbox will feature Peacock Kalenjin Druzy Earrings. Add some sparkle to any look with these stunning metallic druzy earrings. *Hypo allergenic gunmetal posts. *Stunning charcoal faux druzy. *12mm-8mm diameter. *Made with love in Honduras.  Value: Your April Kloverbox is valued over $55
---
[ descriptions in italics from linked website.  contains referral link and affiliate links ]