[ disclosure:  products received for review purposes. post contains affiliate links providing a small commission at no cost to you ]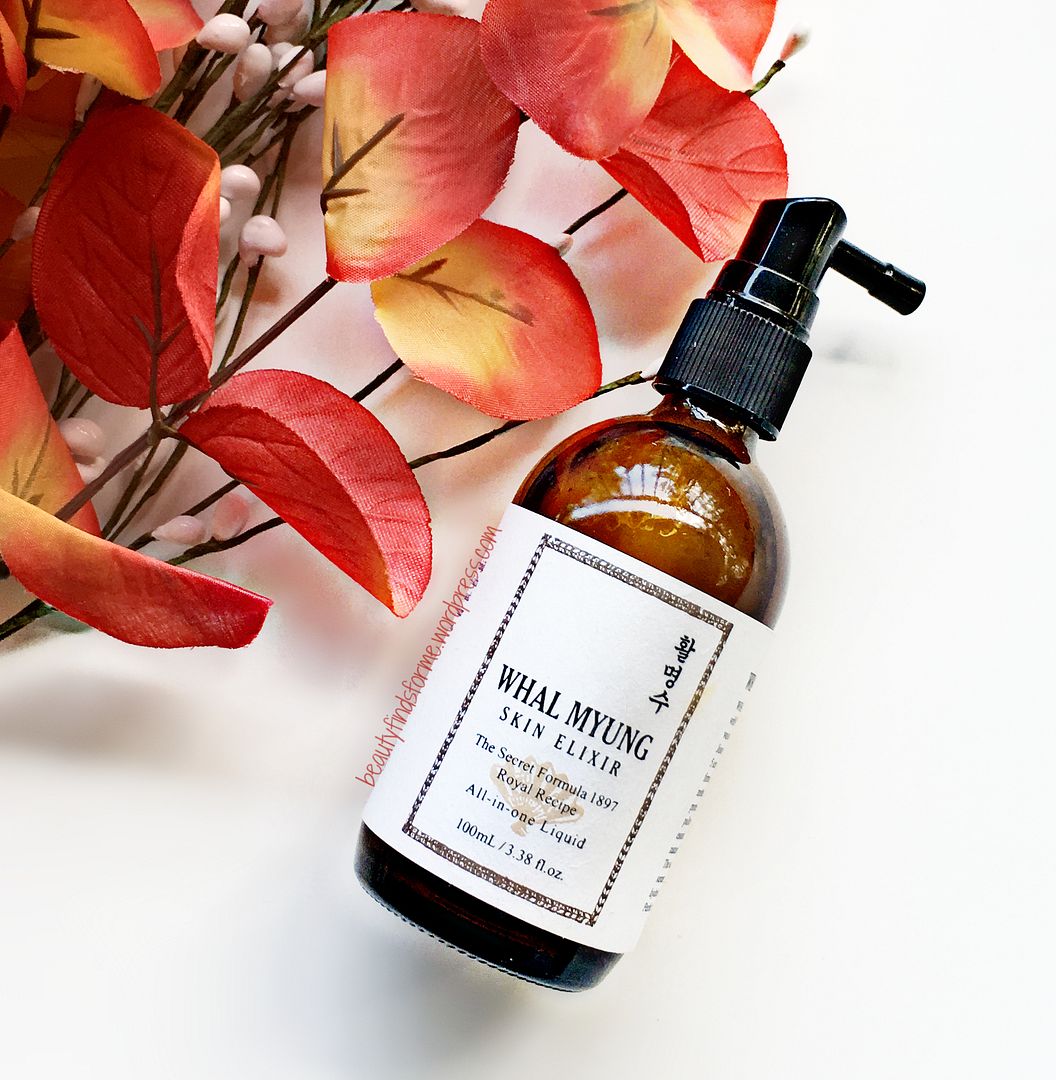 So, this is a bit confusing.  Yes, in my disclosure, I state that this product was received for review purposes, but that is because Whal Myung sent me this beautiful Elixir and other goodies AFTER I purchased this Elixir from Nordstroms!  I had order this from Nordies and they neglected to send me the spray mist nozzle ~ alas, Nordstroms did not want to help me and told me I could return it.  So, I reached out to Whal Myung via their Instagram account to see if I could get my spray mist nozzle and they quickly sent one to me.  I started chatting with Whal Myung about their Elixir and if they had plans for future products (they do!) and they then sent me their Elixir and some other goodies to boot!  So, the Elixir that I have been using is the one that I purchased and I had plans on reviewing it anyway, but I do have an additional Elixir and some gifts that came from Whal Myung, which I will show at the end of this review.

Skin Type/Concerns: Oily, blemish prone, aging with fine lines/wrinkles and hyper-pigmentation
About Whal Myung and Dong Wha Pharmacy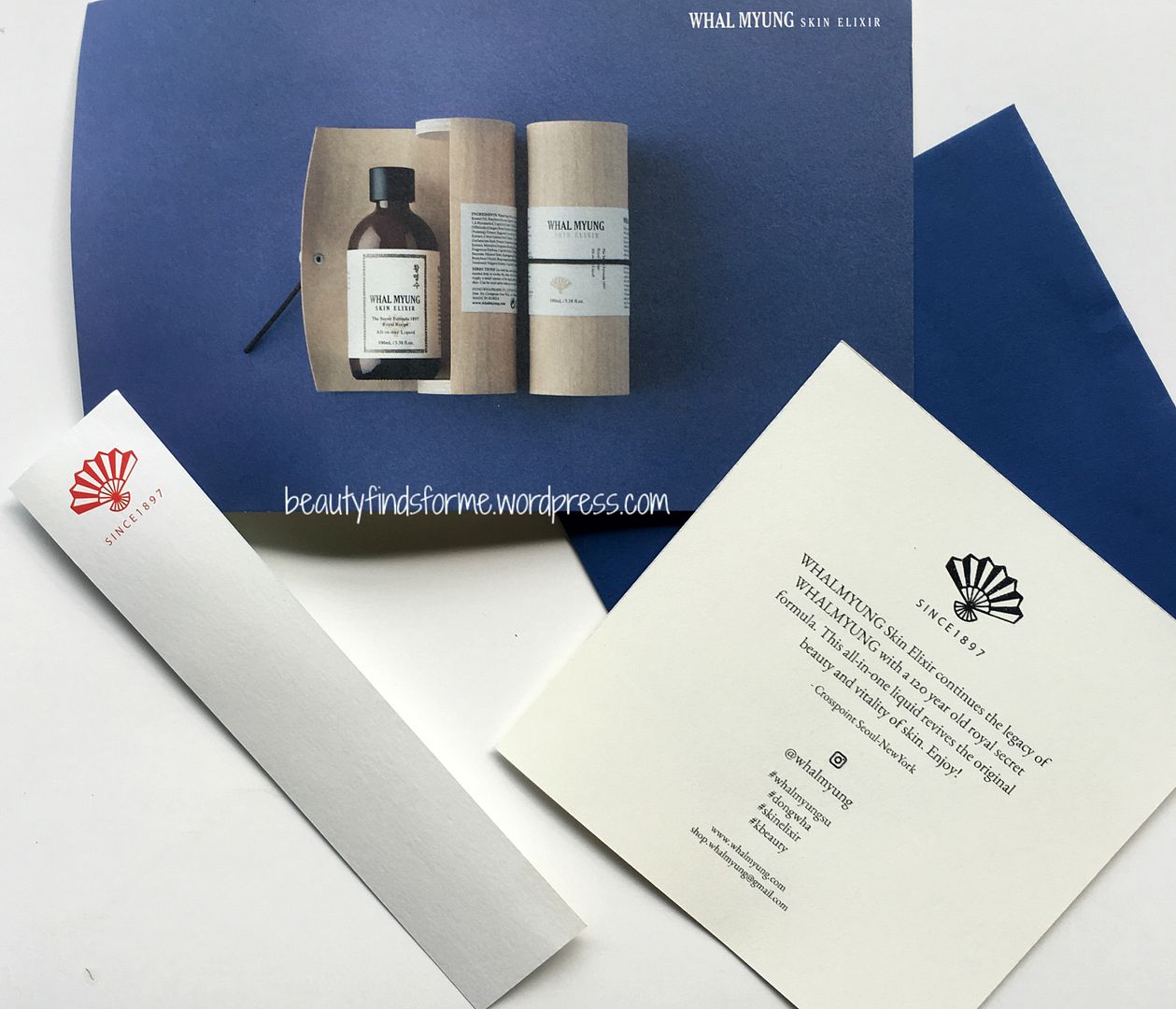 I found an article about the Dong Wha Pharm and its history on Korea Net, an information online site operated by the Korean Culture and Information Service (KOCIS) (source).  Dong Wha Pharm opened its doors in 1897 and is the first and oldest Korean pharmaceutical company.  They created a medical herbal digestive drink, Whal Myung Su (hwal-myung su), which is in the Guinness World Records as Korea's oldest branded product!   They also own the oldest trademark with their fan-shaped logo ~ Bu Chae Pyo
image credit korea.net
Whal Myung Su literally means "life-saving water" and was created for the Royal Family of Korea's Joseon Dynasty.  It soothes and treats digestive problems, with its formula made from acacia, cinnamon and dried cloves.  Dong Wha Pharm has created other versions of this medical herbal drink and today, over 100 million bottles are sold annually.  They create 400 different types of medicine with exports to 30 countries around the world
Left: Early photo of Dong Wha Yak Bang company.  Right: Whal Myung Su ~ 117 year history  image credit korea.net
In 2017, Dong Wha Pharm branched out to skincare and launched a "royal secret formula" skincare line to help celebrate their 120th year anniversary.   The Whal Myung Skin Elixir is based on the formula in their famous Whal Myung Su, selecting 5 herbs from the Whal Myung Su Secret Formula 11 herbs and adding them into a nourishing, lightweight moisturizing all in one toner, serum and oil ~ creating a skin elixir or emulsion.

 Description: Traditional methods provide natural efficiencies that can protect your skin from environmental pollutants and bring the most essential benefits to your skin.  The antioxidant-rich and multipurpose emulsion calms, nourishes, deeply hydrates and revitalizes skin. Perfect for all skin types and all ages.
This moisturizing and soothing elixir contains some very nourishing and rich moisturizers ~ Argan oil  is the second ingredient in this product and it is chock full of nutrients, such as fatty acids and vitamin E.  Its antioxidant properties help restore skin elasticity, leaving your skin feeling softer and plumper. It also works well with helping to clear up acne, believe it or not. It is not greasy and it soothes your "troubled" skin, and helps balance your skin by adding natural moisture. It helps heal the damaged skin cells and it also reduces inflammation.  Shea butter contains a rich source of concentrated natural vitamins and fatty acids ~ oleic, stearic, palmitic, linolenic ~ and is highly moisturizing and nourishing. It helps repair your skin, as well as reduce skin inflammation due to its lupeol cinnamate compound. It also smooths your skin to protect it from drying and it strengthens your skin over time as it helps aid in the collagen production. 
Squalane penetrates and absorbs rapidly into your skin and has anti-oxidant properties, helping prevent UV damage and hyper-pigmentation age spots, helps cellular growth and is an anti-bacterial. This is an excellent moisturizing ingredient. This ingredient also helps extend the shelf life of other oils, so this product is very stable.   Ceramides are lipids (fats) which are important in helping to repair and protect your moisture barrier. They will  keep your skin hydrated and plump as they retain water. Ceramides are found naturally in your body and you lose the ability to produce as you age, so adding them to skin care products helps with anti-aging.
This also contains the 5 herbal ingredients that are in Whal Myung Su Secret Formula 11:  Ginger contains 40 antioxidant compounds that help with anti-aging, removes toxins and stimulates your blood circulation.   It combats and prevents damage from free radicals, helping improve elasticity which makes your skin firm, toned and less wrinkles.  It have anti-bacterial properties to help fight off infections, it is also an anti-septic and antimicrobial, which helps keep blemishes away and its anti-inflammatory properties help reduce redness and swelling of the skin.   It also helps reduce the appearance of hyopigmented scarring ~ these scars are lighter than your skin tone and occur when your skin loses its pigmentation ~ it is the exact opposite of hyper-pigmentation.   It also is a skin brightener and can help even out your skin tone by inhibiting the production of melanin.  Clove has antiseptic and anti-microbial properties, with some antioxidant properties.  It helps purify your skin, removing the bacteria that can cause blemishes and inflammation.  Clove is rich in vitamin A and C, as well as minerals sodium, iron and phosphorus.
Citrus Unshiu (mandarin orange) helps tighten pores, brighten your skin's complexion, while controlling hyper-pigmentation.  Cinnamon has anti-inflammatory properties, so it will help soothe, reduce swelling and redness and will also moisturize your skin.  This ingredient is also an astringent, anti-septic and antibiotic, so it will help with pore and blemish control.  Nutmeg is an astringent and contains anti-inflammatory proprieties, so it helps with skin issues ~ it can help reduce infection and swelling and can also lighten blemish scarring and hyper-pigmentation.

This also contains soothing and healing mugwort, which has been used in traditional herbal medicine to help heal skin wounds and contains a rich source of antioxidants.  It is famous for its skin purifying properties and mugwort infused water has been used for bathing ~ it has anti-aging benefits and keeps your skin healthy.  Its primary benefit is as an anti-inflammatory and it is quite soothing and gentle on the skin.  Artemisia helps reduce redness, rashes and other skin issues, including allergic reactions.  It contains a rich source of  vitamin C, essential amino acids  such as histidine, valine, leucine, and isoleucine. It also has non-essential amino acids including arginine, glutamic acid, glycine, serine and tryosine. Mugwort helps heal skin wounds, such as blemishes, as it has anti-bacterial and anti fungal properties and it is a topical anesthetic.  It contains a rich source of antioxidants as well and has been known to reduce and lighten hyper-pigmentation caused by age, sun damage and blemishes. 
This elixir is free of silicone, phthalates, sulfates and parabens.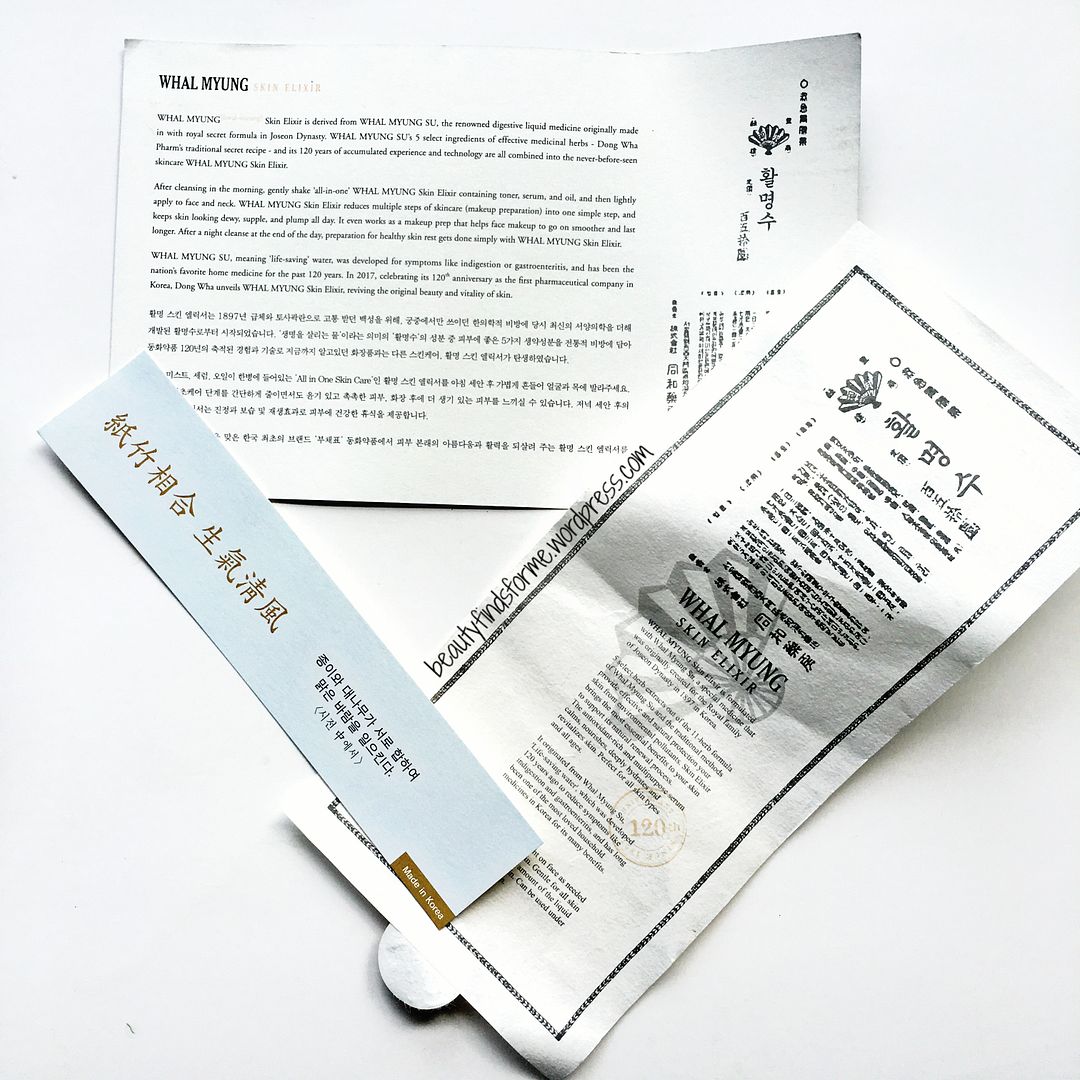 Ingredients: Water, Argania Spinosa Kernel Oil, Butylene Glycol, Glycerin, Lecithin, 1,2-Hexanediol, Caprylic/Capric Triglyceride, Zingiber Officinale (Ginger) Root Extract, Myristica Fragrans (Nutmeg) Extract, Eugenia Caryophyllus (Clove) Flower Extract, Citrus Unshiu Peel Extract, Cinnamomum Zeylanicum Bark Extract, Eriobotrya Japonica Leaf Extract, Myristica Fragrans (Nutmeg) Kernel Oil, Fragrance, Caprylyl Glycol, Ethylhexylglycerin, Sucrose, Mineral Salts, Hydrogenated Phosphatidylcholine, Pentylene Glycol, Butyrospermum Parkii (Shea) Butter, Artemisia Vulgaris Extract, Squalane, Ceramide NP  cosDNA analysis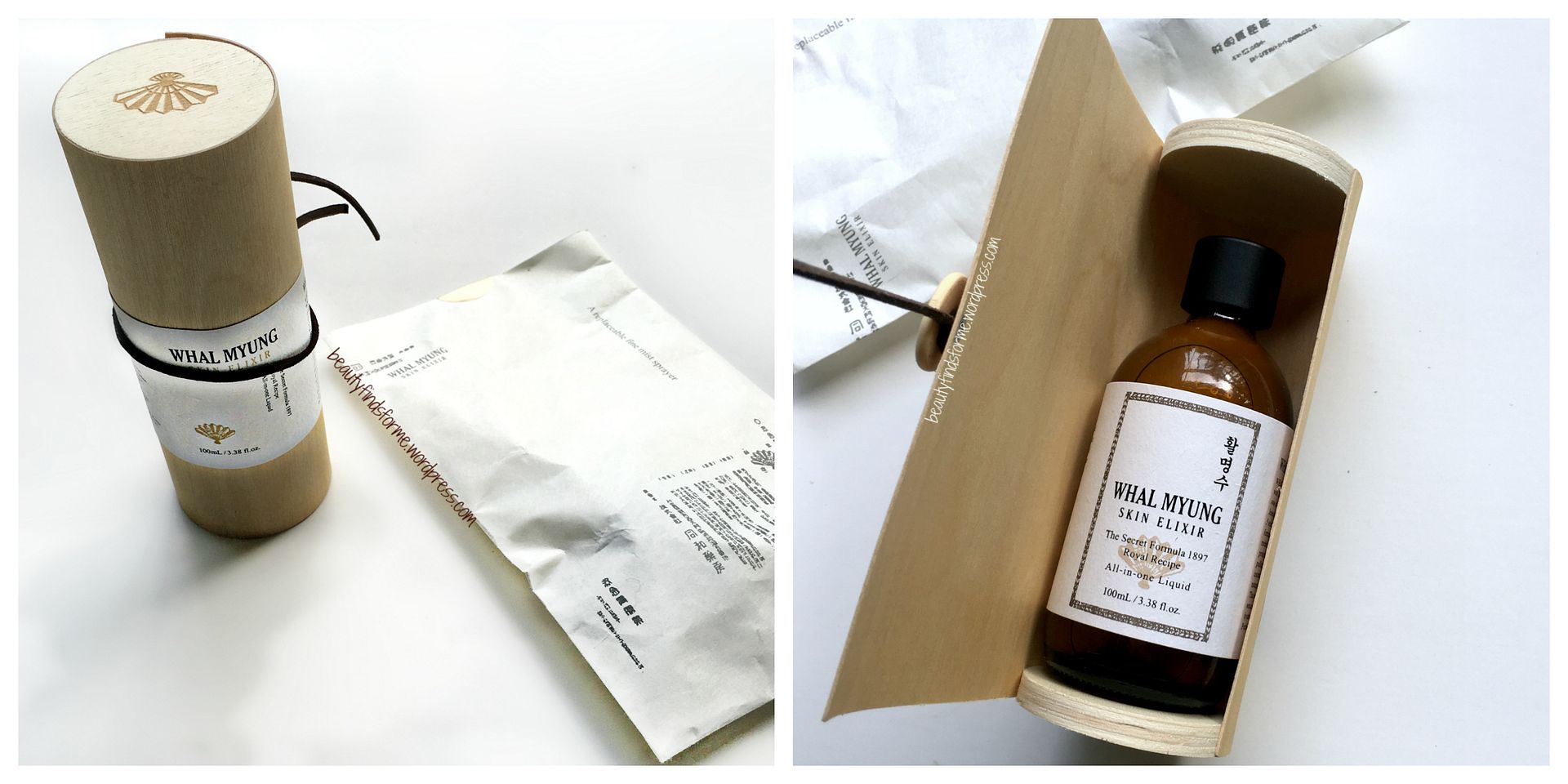 The packaging on this product is amazing ~ this emulsion comes in a beautiful brown apothecary glass 100 mL bottle with a twist off black cap.  The jar comes in a thin wooden cylinder, stamped with the Dongwha logo of a fan, and a suede tie with a button closure.  When I opened up the cylinder, the jar was wrapped in some paper with information about the elixir.  There is a spray mist pump that comes with this but that comes in its OWN envelope!!  If you order this from Nordstrom's, make sure you get this item if you want to mist your face. It should come automatically, but it doesn't always.  If you don't get it, you could use this elixir with a cotton pad to apply.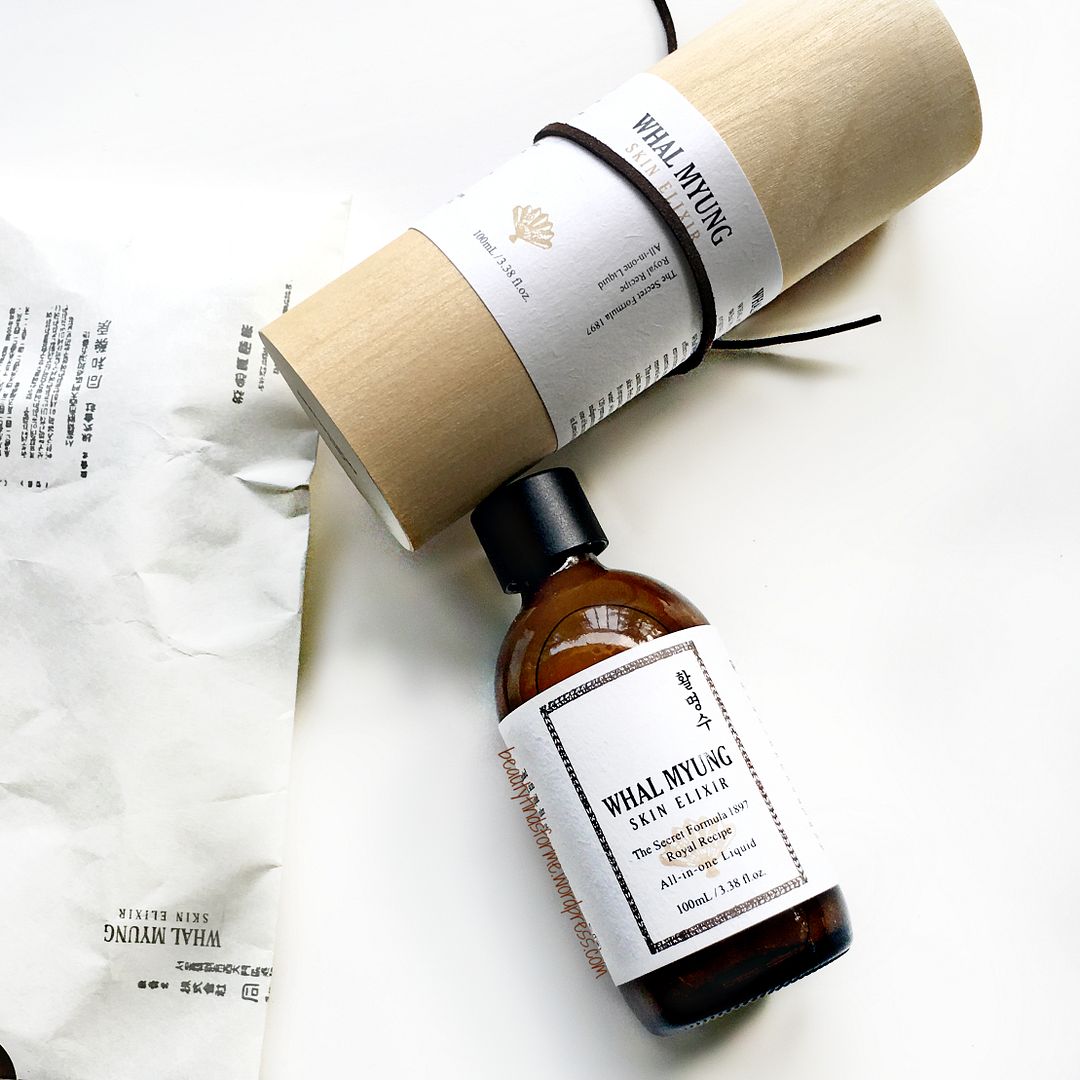 The spray nozzle is actually a tube and it can be quite brisk on my face, if I hold it up close to my skin.  The best way to mist with this elixir is to first shake the bottle, to mix the oils with the watery herbal extracts and then have it a few inches away from your face to mist.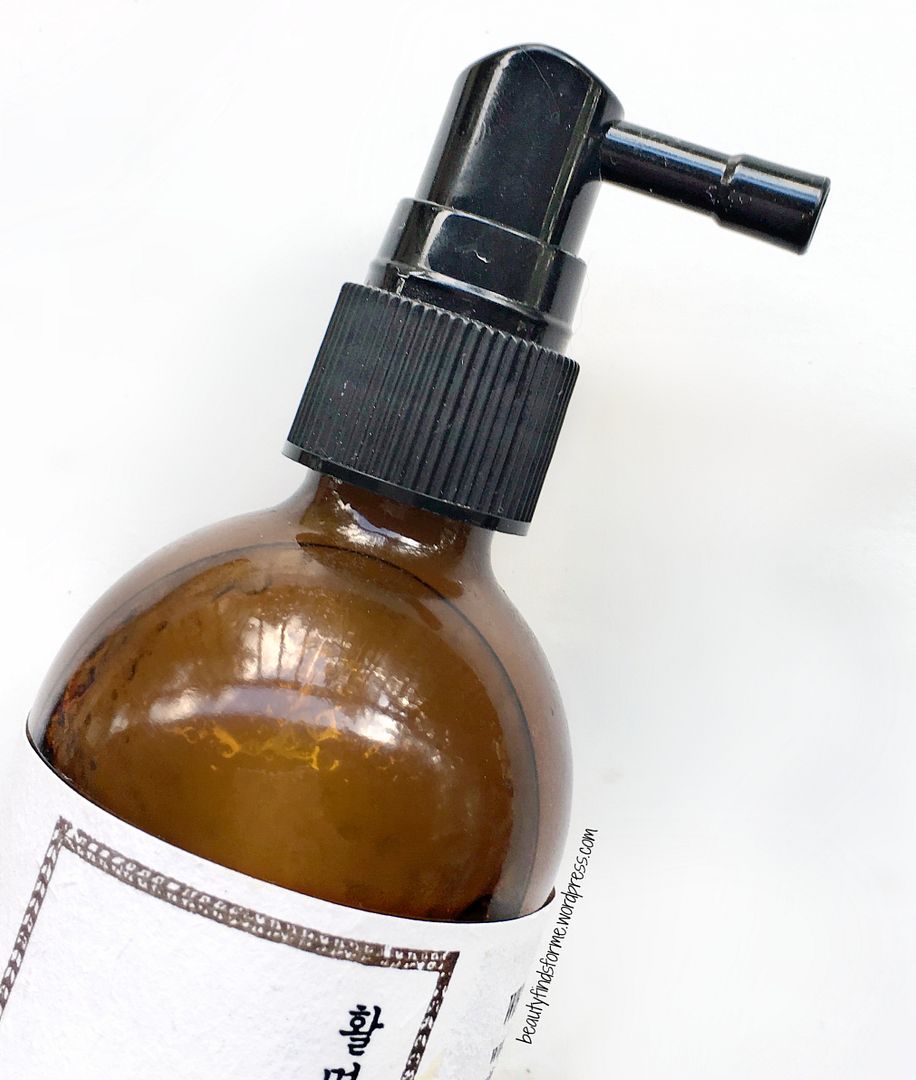 Whal Myung Skin Elixir doesn't smell like much of anything to me ~ if anything, it has a slight warmth to it, if that makes any sense ~ it is a little sweet, a little warm ~ probably from the oils and the herbal mix. However it is so faint, that I just view this as odorless, although someone with a better nose for these things might be able to detect a stronger scent.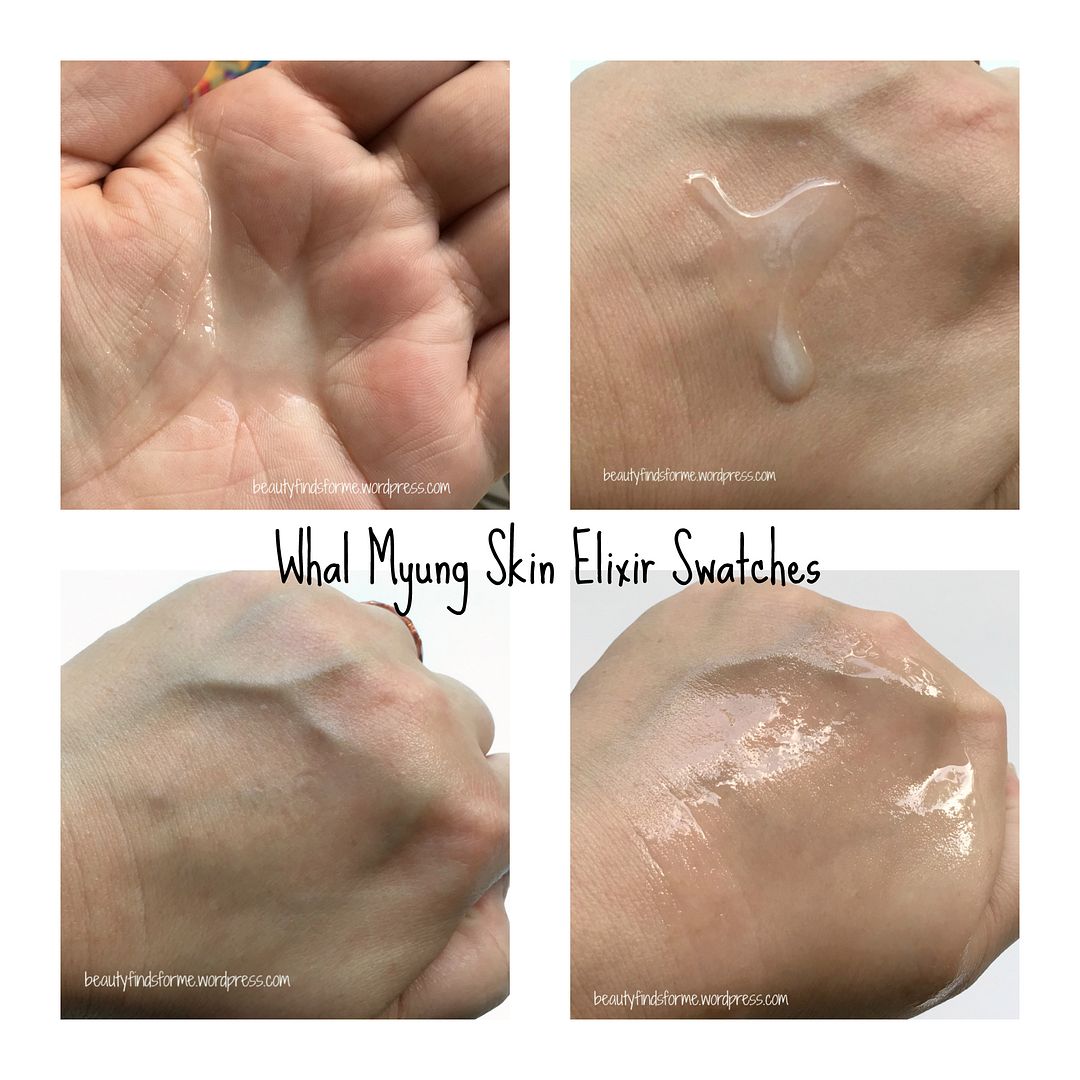 It is a slightly milky watery product ~ the milkiness is coming from the oils in here, but it doesn't feel oily at all.  It leaves my skin feeling smooth, soft and supple ~ however, if I put too much on, I can feel a lipid barrier on my skin ~ it isn't sticky or tacky, but it is there.  This increases both my moisture and oil levels by 22% which is a decent uptick in hydration ~ since it does have oil as its second ingredient,  I feel that this is more about locking in moisture and creating a barrier to prevent moisture loss.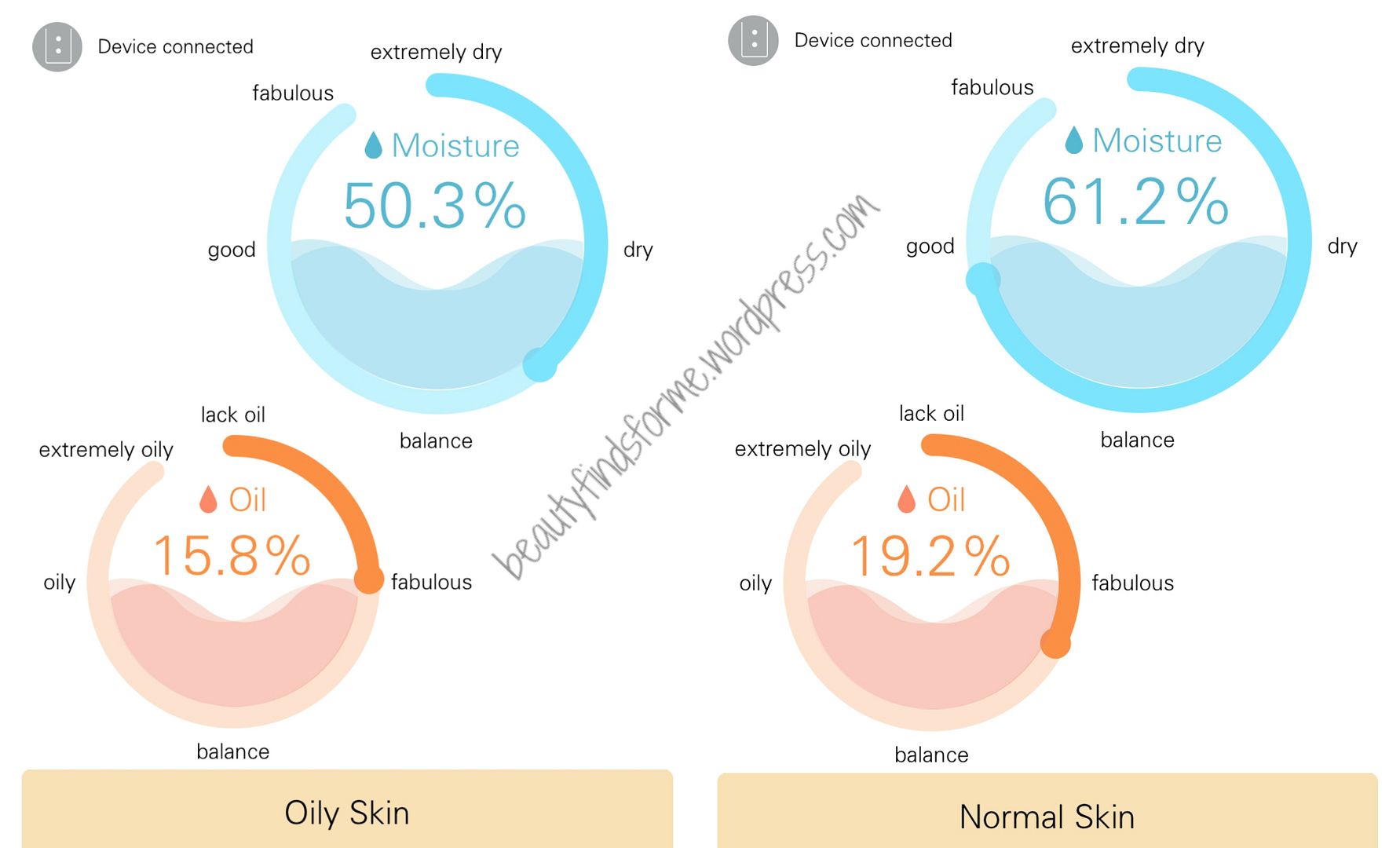 Because of this, I actually use this product near the end of my skin care routine ~ layering my watery, hydrating skincare items first and then using my elixir afterwards ~ it gives my skin a burst of moisture and calming ingredients, while locking in my previous steps.  In fact, this elixir is considered an emulsion by Whal Myung's description, so it makes sense I would use this as my last step, as I find it to act like a facial oil, but without the heaviness.  For those who follow and read my reviews, you know that I shy away from most cream products on my face, but use lotions or emulsions instead.
Final Thoughts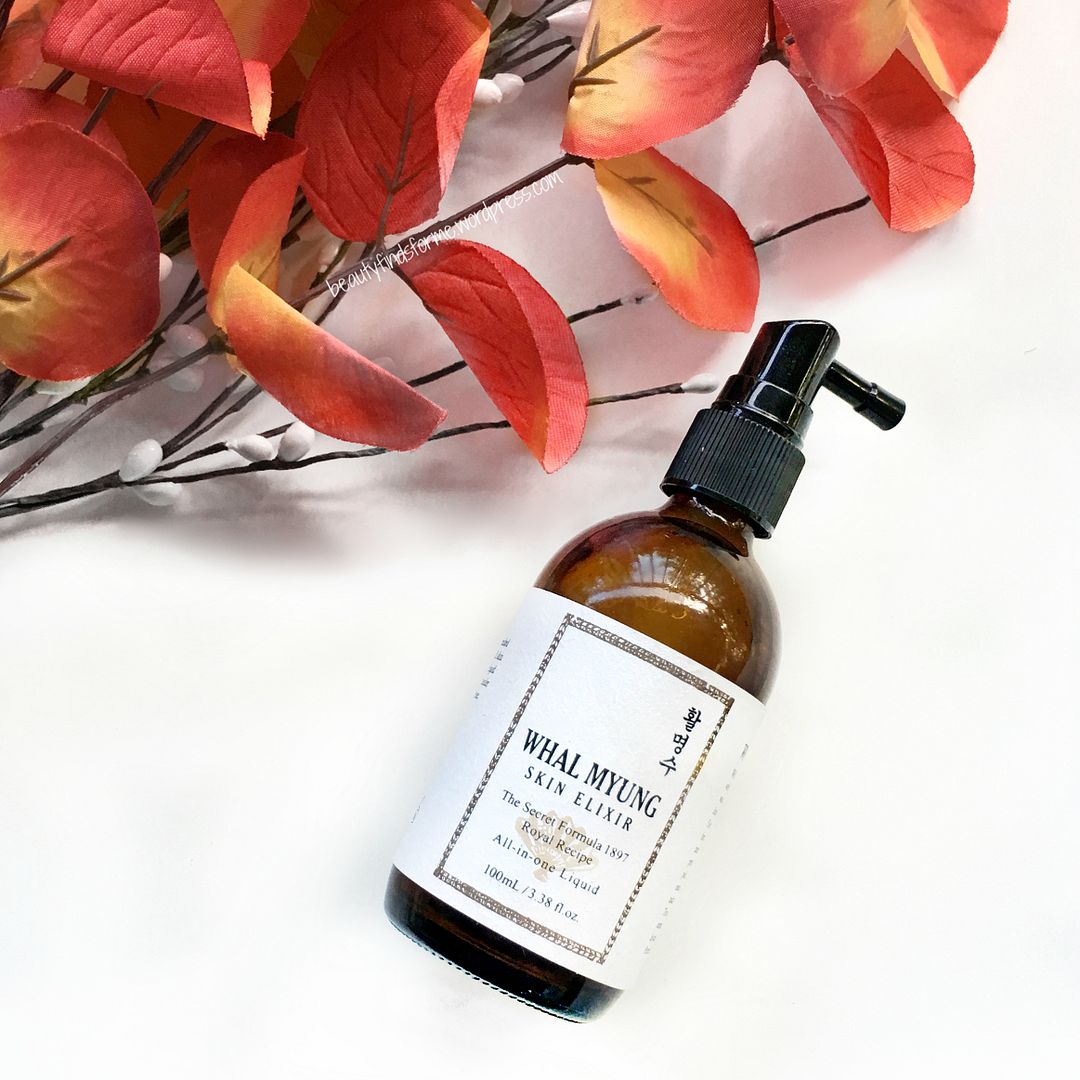 This is one of my favorite new brands that I have tried.  I love that this nourishing product works for my oily skin quite well ~ it doesn't cause breakouts and in the cooler months, it is perfect as the last step in my daytime skin care routine ~ my skin just absorbs this quite well.  During the warmer months, this is a staple in my night skin care routine, because I do not mind the more dewy finish.  Depending on the type of skin finish you want ~ dewy or normal, you can use more or less of the product and even apply it after your makeup ~ lightly misting your face ~ this skincare elixir will impart a lovely glow that isn't sticky.  Be careful not to over mist, as one of the top ingredients is argan oil ~ this is very light, but any oil product will cause your skin to be oily if you over do it.  This elixir is very versatile and can replace several products ~ it is so hydrating, soothing and moist, locking in moisture in my skin. I can see myself using this when I get sunburns, as it is just so calming. I am glad I have another bottle of this emulsion, as I will be using this year-round!
Beautiful Gifts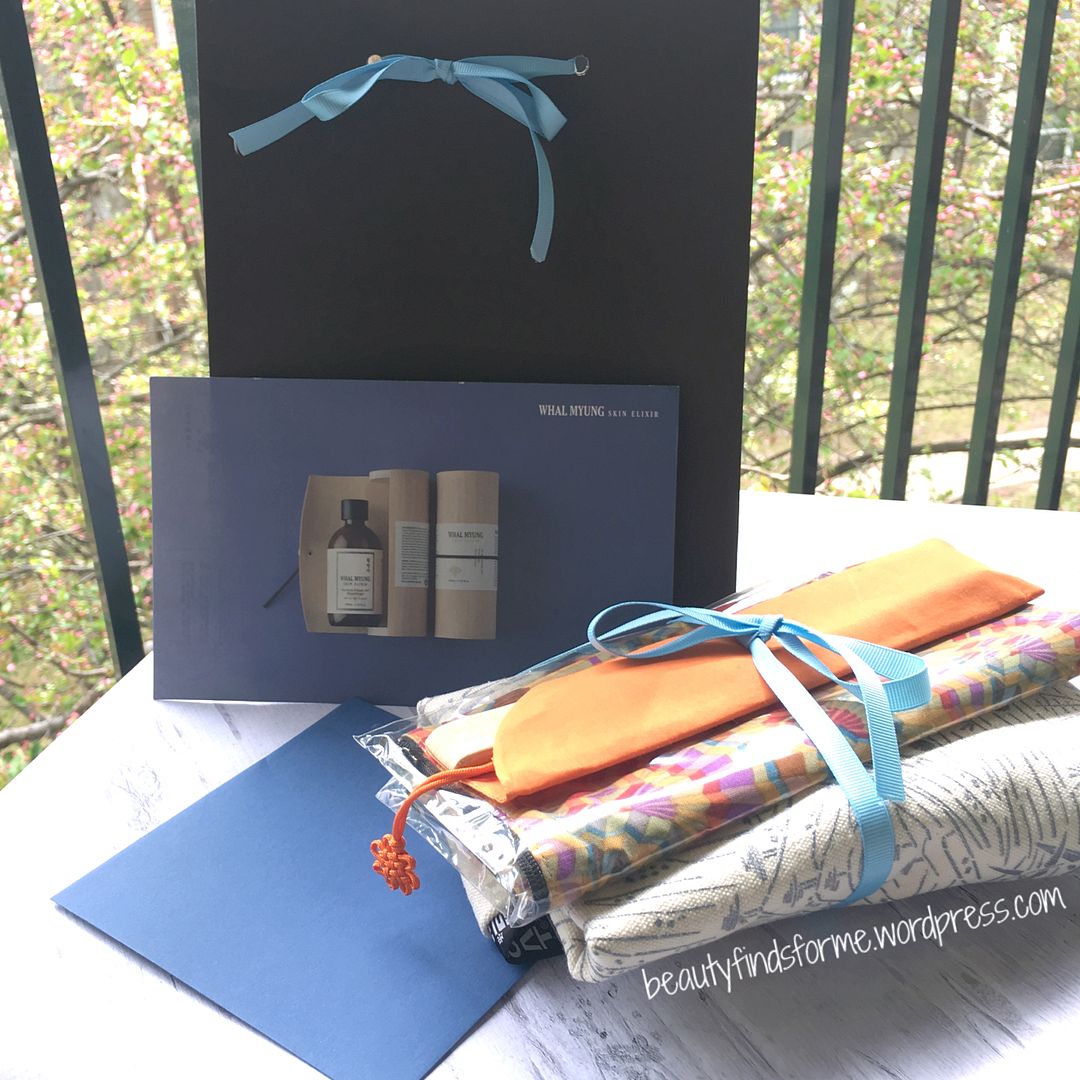 I am honored that Whal Myung has reposted some my photos on Instagram and providing more information about the products and designs.  The descriptions in italics are from Whal Myung's Instagram captions to my photos.  When they sent me the additional elixir, they also sent me some beautiful gifts as well.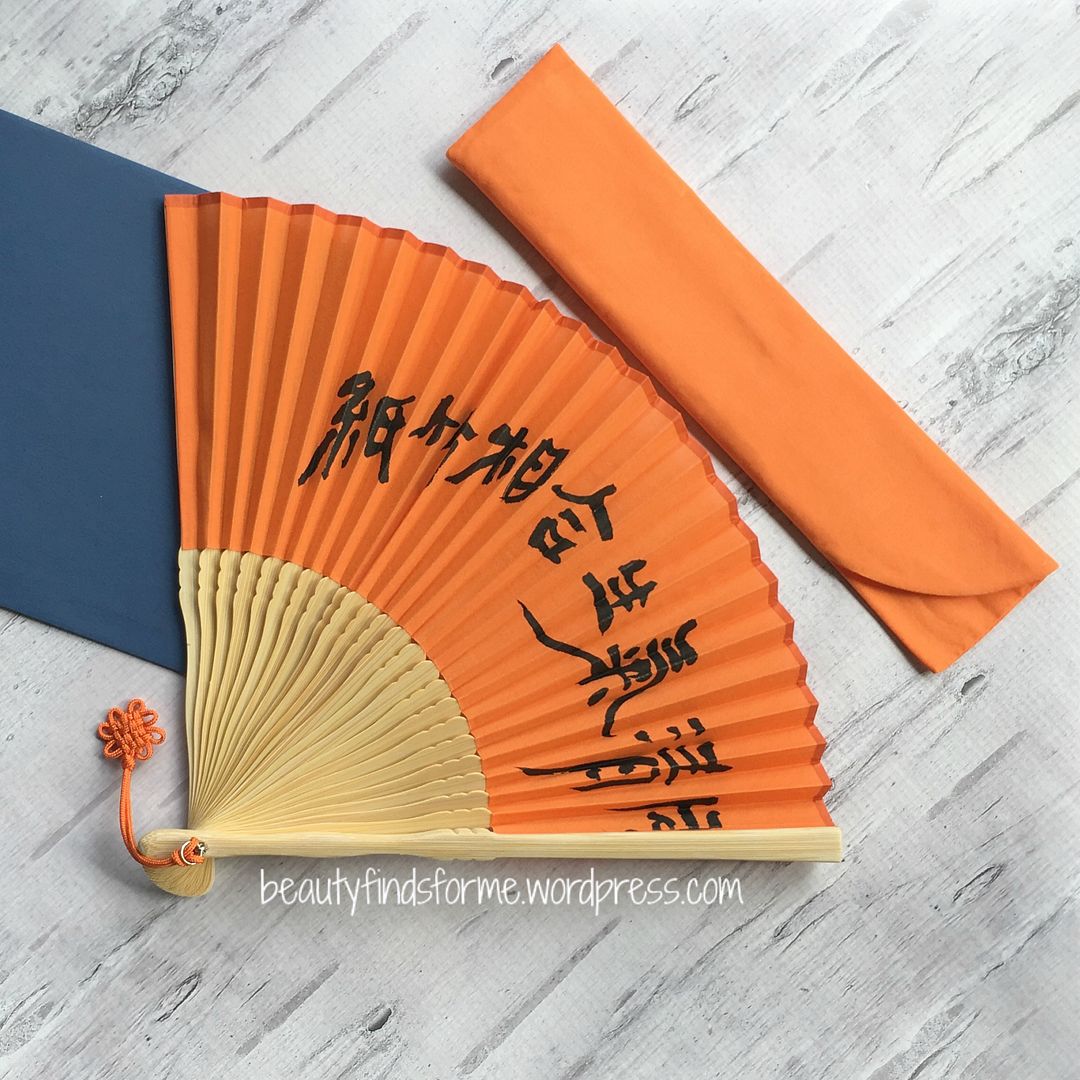 紙竹相合 生氣清風 "Harmony of paper and bamboo, a fresh wind ascends."

Buchaepyo (folding fan)  as the first registered trade mark, Dong Wha becomes the first manufacturing and pharmaceutical company in Korea.
This is a beautiful wooden fan with flame colored insert.  Look at the frog (tassel) at the end of the fan and it came in a matching flame colored pouch.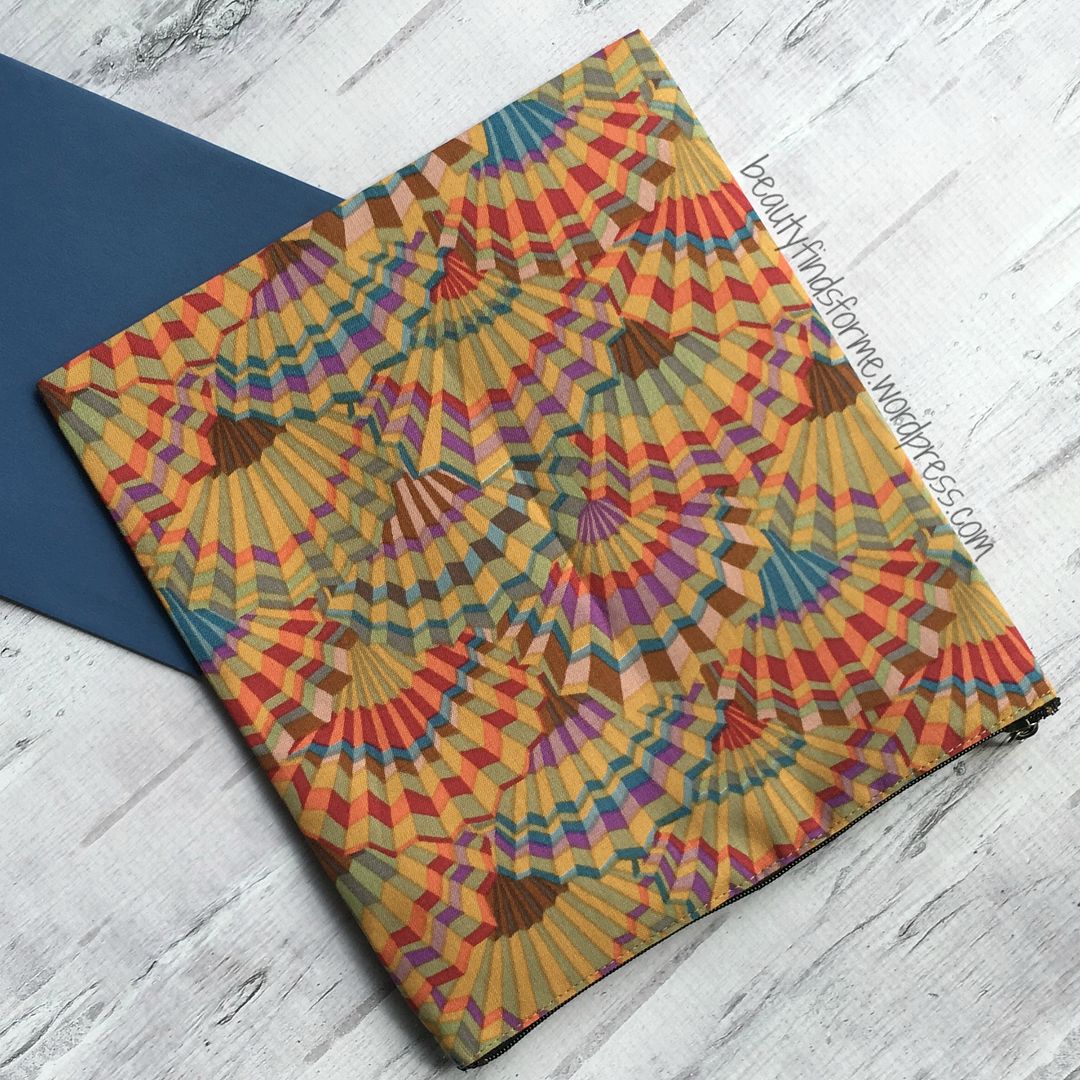 A beautiful pouch with Dongwha's 'Bu-chae' trademark. 'Bu-chae' meaning 'folding fan' in Korean, originates from the Book of Poetry of Ancient China- it literally means "Harmony of Paper and Bamboo, Clear Winds Ascend". The poem incorporates our philosophy that people will prosper when they live in peace and harmony.
I love this pouch with its warm shades with sudden pops of color in blue and orange.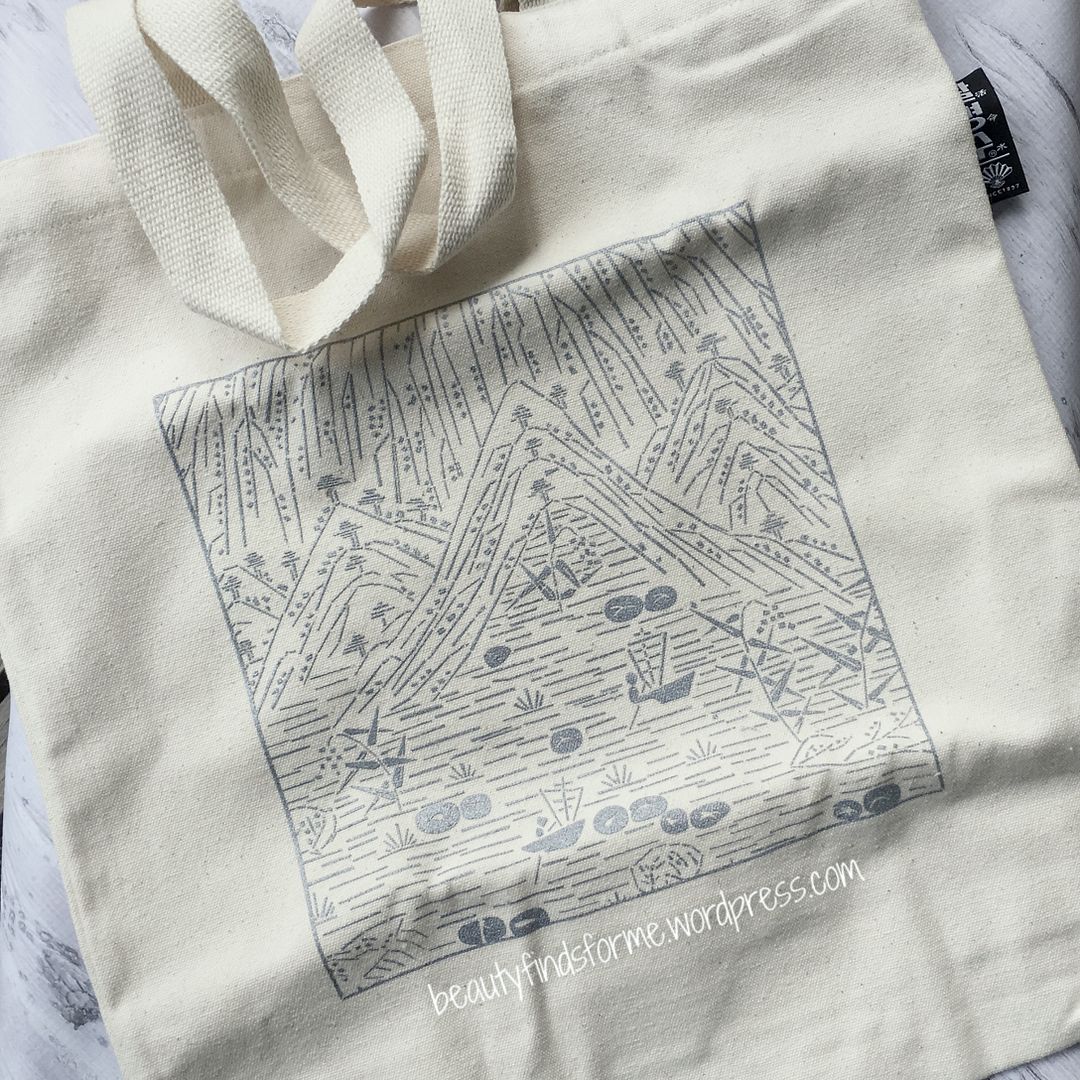 A beautiful cotton tote bag with a design that looks to be a farming community, against a background of mountains.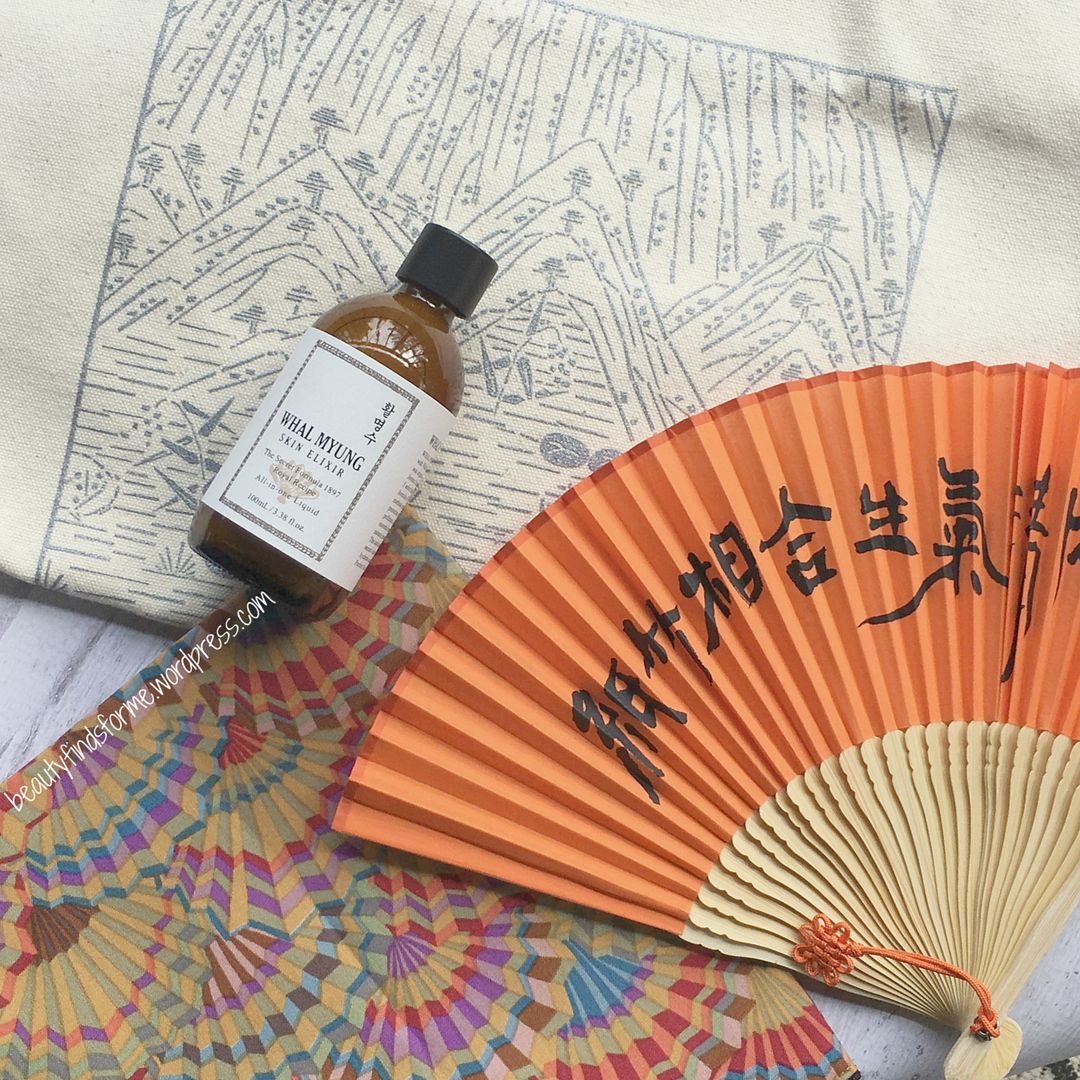 Purchase
It looks like Nordstroms has restocked Whal Myung Skin Elixir!  You can also purchase it from Dongwha Whal's website directly.  It is $58.00 for a 100 mL bottle with a mist sprayer.   I am not sure if Dongwha Whal ships internationally, but Nordstrom's does ~ read more here about International Shipping
[ disclosure:  products received for review purposes. post contains affiliate links providing a small commission at no cost to you ]