[ products were provided for review purposes.  blog post contains affiliate/referral links ]
Battlez posts were originally posted on my Instragram feed and are quick comparisons.  I will link to more in-depth reviews here at my blog if I have done one.  
This battlez was requested by two of my friends on Instagram ~ @effyeahkoreancosmetics (it isn't eff ~ lol) and  @littlehauls.  Naruko La Creme Face Renewal Miracle Essence VS Swanicoco The Bio Therapy 1st Essence.  Two FTE's, with two different results.

Skin Type/Concerns: Oily, blemish prone, aging skin with hyper-pigmentation and fine lines/wrinkles.
What is an FTE (First Treatment Essence)?  There are two types of essences ~ the first type is a traditional essence ~ it is thicker than water and is used somewhere between the toner and moisturizer steps. I use those types of essences interchangeably with serums. Naruko La Creme Face Renewal Miracle Essence is the other type of essence, called First Treatment Essence (FTE) and is also known as First Essence, Treatment Essence and/or Treatment Toners ~ these are very watery concentrated formulas with fermented ingredients, very nutrient-enriched and it preps your skin, while providing benefits that will help reduce/prevent fine lines and wrinkles, dull and uneven skin tones. These are boosters and provide an instant shot of hydration and nutrients to your skin and prep your skin to accept your other skincare products.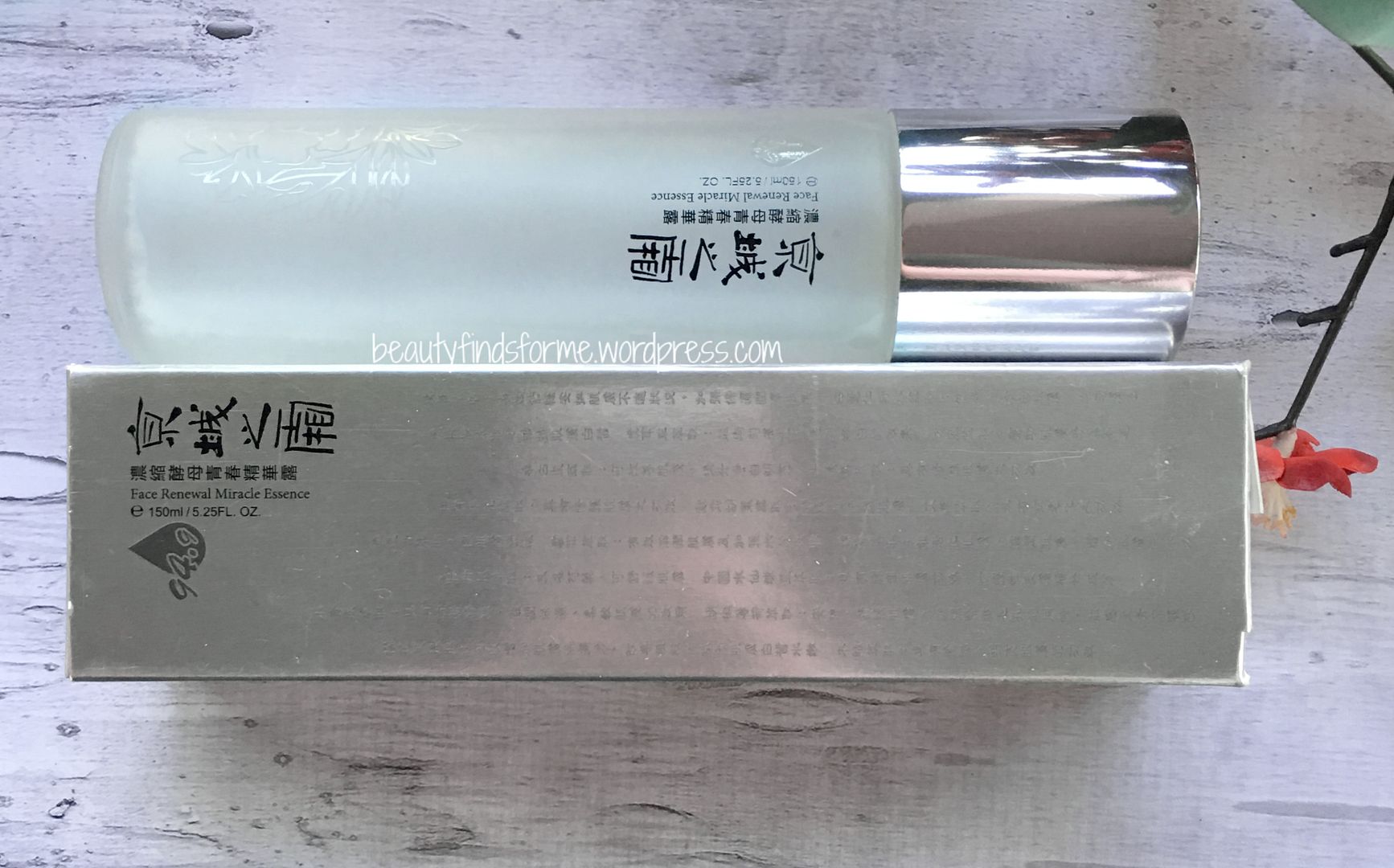 Naruko La Creme Face Renewal Miracle Essence Full Review Here
Ingredients: Ystract™ (94.9%) (oryza sativa lees extract), purified water, alcohol, glycerin, phenoxyethanol, chlorphenesin, propanediol, yeast extract, sodium lactate, achillea millefolium extract, actinidia chinensis (kiwi) fruit extract, aesculus hippocastanum (horse chestnut) extract, alchemilla vulgaris extract, aloe barbadensis leaf extract, ananas sativus (pineapple) fruit extract, arctium lappa root extract, arnica montana flower extract, artemisia umbelliformis extract, calendula officinalis flower extract, camellia sinensis (green tea) leaf extract, centella asiatica (gotu kola) extract, chamomilla recutita flower extract, chondrus crispus (carrageenan) extract, citrus grandis (grapefruit) peel extract, corallina officinalis (algae) extract, cucumis sativus (cucumber) fruit extract, dioscorea opposita (wild yam) root extract, epilobium fleischeri extract, equisetum arvense (horsetail) extract, equisetum hiemale (horsetail) extract, gingko biloba leaf extract, glycyrrhiza glabra (licoric) root extract, hamamelis virginiana (witch hazel) extract, jobs tears (coix lacryma-jobi) water, kalanchoe pinnata leaf extract/kalanchoe spathulata leaf extract, ledebouriella divaricata (fang feng) root extract, leontopodium alpinum (edelweiss) extract, malva sylvestris (mallow) extract, mentha piperita (peppermint) leaf extract, melissa officinalis (lemonbalm) extract, morus alba (mulberry) root extract, narcissus tazetta bulb extract, oryza sativa (rice) bran extract, panax ginseng root extract, papain, peony (paeonia suffruticosa) root extract, peucedanum ostruthium (masterwort) leaf extract, pisum sativum (garden pea) extract, plantago major seed extract, polygonum cuspidatum extract, poria cocos extract, pueraria lobata root extract, rhodiola rosea extract, rosa damascena flower water, rosmarinus officinalis (rosemary) leaf extract, sakura (prunus yedoensis) leaf extract, salvia officinalis (red sage) leaf extract, sambucus nigra (elderberry) flowers, saxifraga sarmentosa extract, scutellaria alpina flower/leaf/stem extract, snow fungus (tremella fuciformis) extract, thyme (thymus serpillum) extract, tilia cordata (linden) extract, triticum vulgare (wheat) protein, undaria pinnatifida (wakame/seaweed) extract, veronica officinalis (common speedwell) extract, vitis vinifera (grape) fruit extract, willow (salix alba) bark extract, zingiber officinale (ginger) root extract, iodopropynyl butylcarbamate, soy amino acids, potassium sorbate, sodium benzoate cosDNA analysis
Swanicoco The Bio Therapy 1st Essence Full Review Here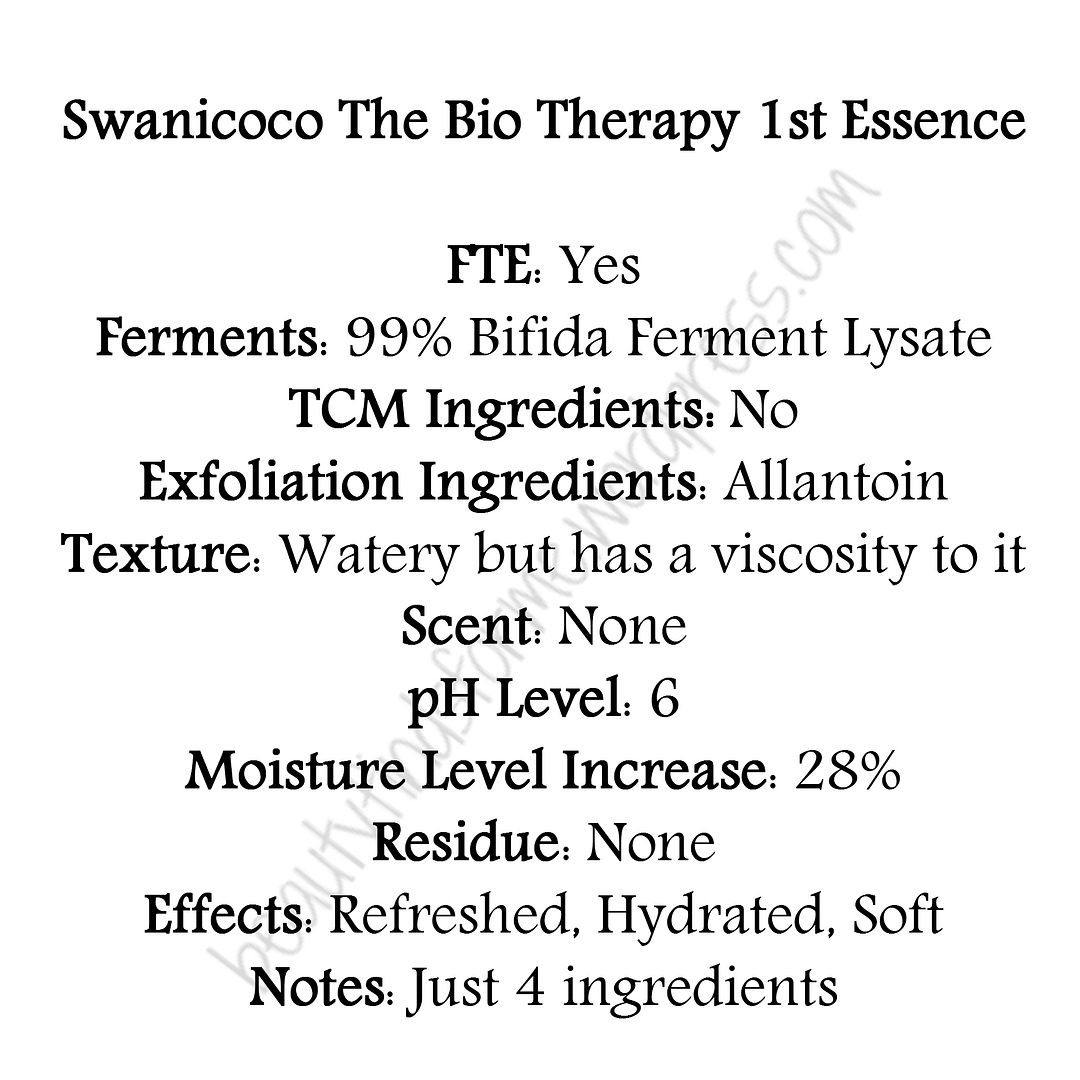 Ingredients: Bifida Ferment Lysate (99%), Butylene Glycol, Allantoin, Xanthan Gum cosDNA analysis

Swanicoco has no scent, is a bit more "thicker than water", only has 4 ingredients, whereas Naruko has a ton of ingredients, smells like sake and is just like water in its consistency

 
Final Thoughts
Welp, they are FTE's but they are different! It is a draw ~ a tie. Naruko is made with a slew of hanbang ingredients along with fermented rice extracts whereas Swanicoco is made with four ingredients and uses a probiotic as its ferment ~ Bifida Ferment Lysate. The results from them are different as well ~ Naruko is more brightening and radiant whereas Swanicoco is more on the refreshed, soft and  hydrated skin. Either one of these products is a winner  🏵 🥇It just depends on what you are looking for in an FTE.  Both of these products were supplied by the brand for review purposes
Where to Purchase

Naruko La Creme Face Renewal Miracle Essence  
Naruko, of course!  Naruko has several different stores around the world too.   Naruko USA  Naruko USA will also give free gifts and you earn points when you purchase at their store.  These reward points then can be converted to spend on any product you want.  They sell this essence in different configurations. Don't be alarmed by the prices in the actual link ~ once you add it to the cart, you will see the discounted price that I have listed here. For USA orders, if you order $40.00 or more, you automatically get free shipping.  Naruko USA will ship internationally, so check here for more information.
Swanicoco The Bio Therapy 1st Essence
[ products were provided for review purposes. blog post contains affiliate/referral links ]