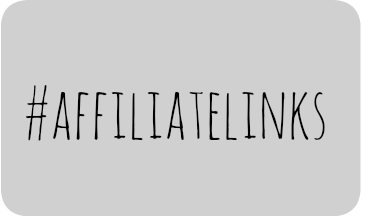 Surprise, surprise ~ We get Purple in our first box for the new year!  What is Yogi Surprise?   

Yogi Surprise Jewelry Box
2 handmade pieces + 1 organic treat

Handcrafted in Bali. Fair Trade

$65+ retail value in every box

$24.95/month + free shipping
The Jewelry box will contain two handcrafted yoga inspired jewelry pieces, that are fair trade, sustainably harvested materials, nickle-free, lead-free and cadmium free.  These are made in Bali, Indonesia and 10% of all proceeds will be given to education the Balinese families to make these beautiful pieces.  It also contains an organic treat.

This month's theme is Crown Chakra ~ "There's a certain sense of mystery and excitement that comes with ringing in the New Year. Suddenly, we're reminded that life is precious and that we must embrace self exploration to create a meaningful life. This is why, for the month of January, we're providing you with two beautiful pieces of jewelry designed to help you balance your Crown Chakra. At the every core of this Chakra is serenity, joy and a deep sense of peace in knowing  everything in the Universe is one. Commonly represented by the colors white and purple, and symbolized by the flowering violet lotus, a balanced  Crown Chakra will help you see the bigger picture of your life so can get clear about your higher purpose. Healing amethyst beads will help stimulate your Crown Chakra as it puts you in touch with the  Divine, enhancing your sense of intuition and cognitive perception. With a renewed sense of self, you'll  naturally feel inspired to welcome 2018 and all of its challenges with an open mind and a passionate heart."
Informational Card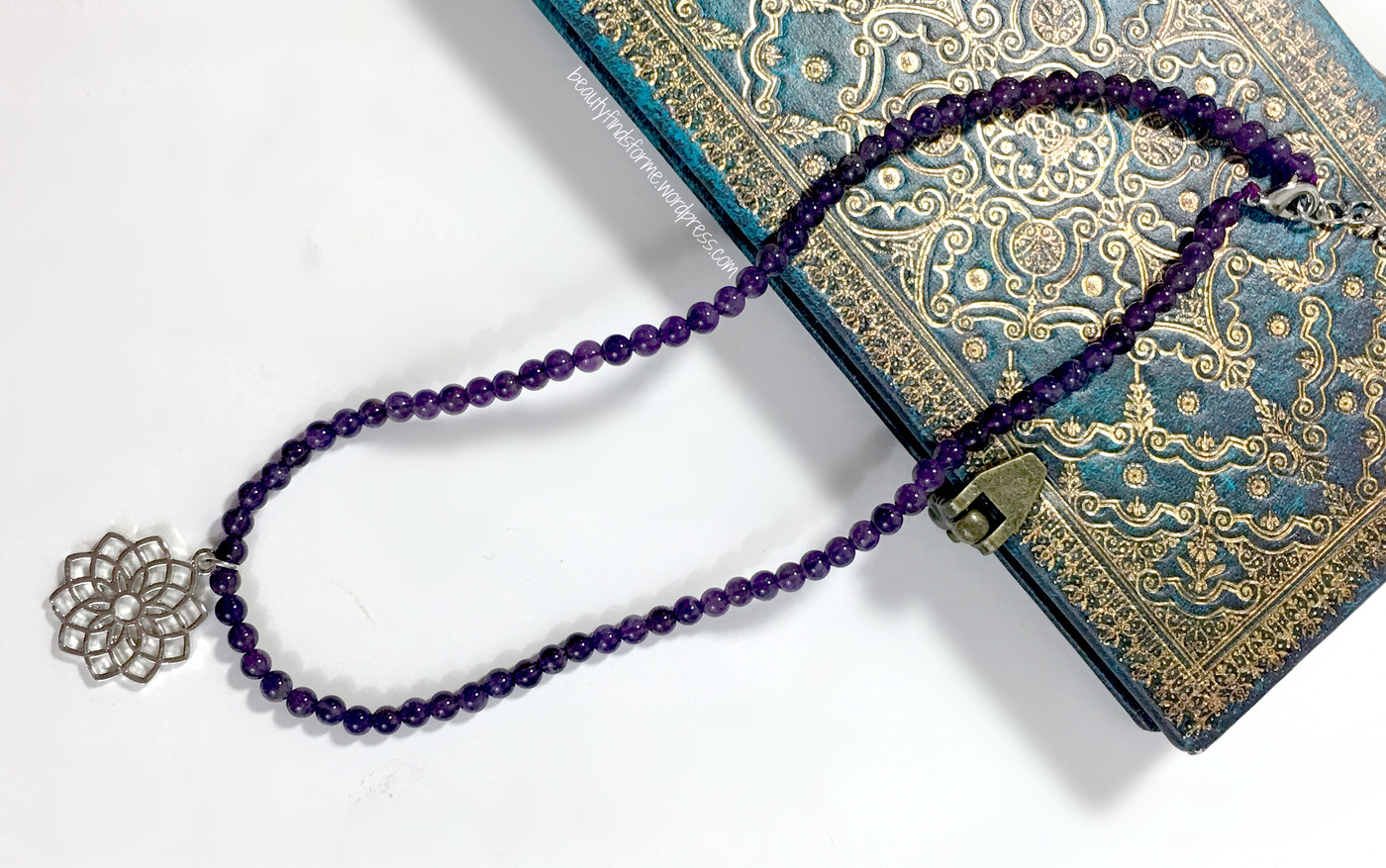 Amethyst Necklace  At first glance, I didn't think I was going to care for this necklace that much as it just seemed so dainty.  But it grew up on me.  The vivid purple amethyst mini-beads with the bright silver-toned Crown Chakra symbol pendant, a representation of a 1,000-petaled lotus, is actually quite lovely.  This is more of a necklace I would wear when it is warmer outside, as the length is only 18 inches ~ 16 inch necklace plus a 2 inch extender ~ so it doesn't sit well over bulky winter sweaters.  The pendant is 1 inch long, so this hits nicely on the neck.  RV $39.00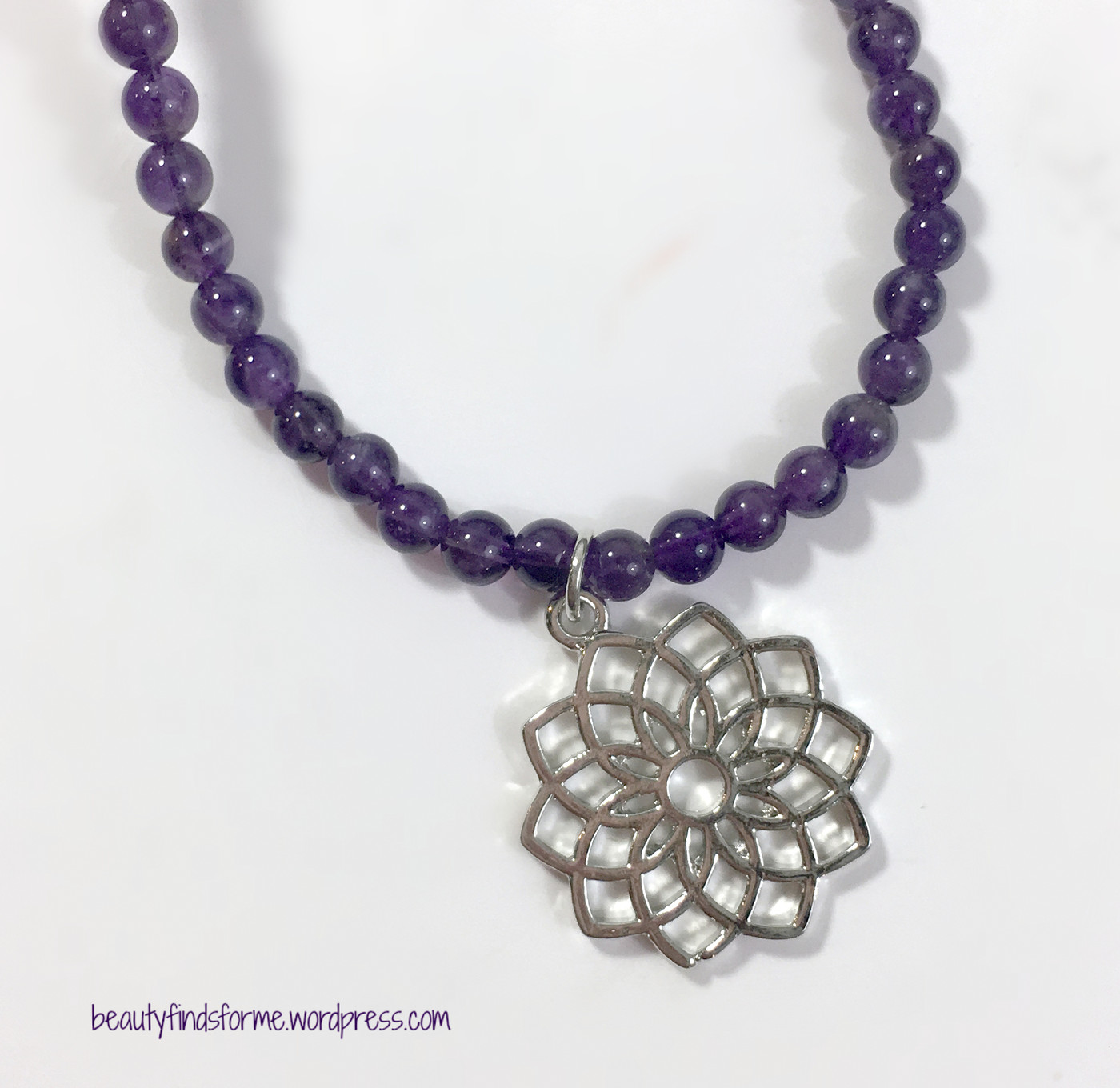 Amethyst:  Balancing the Crown Chakra, Third Eye and Crown Chakras and is the color of Spirituality.  Amethyst promotes emotional centering.  Metaphysically amethyst encourages you to develop common sense and to become more emotionally centered and focused.  Amethyst is especially beneficial when worn over the throat or heart chakras and also can help with insomnia. If you place a piece of amethyst under your pillow at night it is said to help nightmares and assist in a more restful sleep. It is also said to help enhance prophetic dreams when placed under ones pillow at night or worn as a piece of jewelry while sleeping.  source
Crown Chakra – The Seventh Chakra: The crown or the seventh chakra is located at the top of the head. Just as the Root or First Chakra connects us to the Mother Earth, the Crown Chakra is our connection to the Universe. In fact, the Seventh Chakra disperses the Universal energy or life force into the six other chakras located below it. In Sanskrit, the Crown Chakra is termed as the Sahasrara (the 'thousand fold' Chakra), since it is pictured as a lotus having thousand white petals.  Learn more at Color Meanings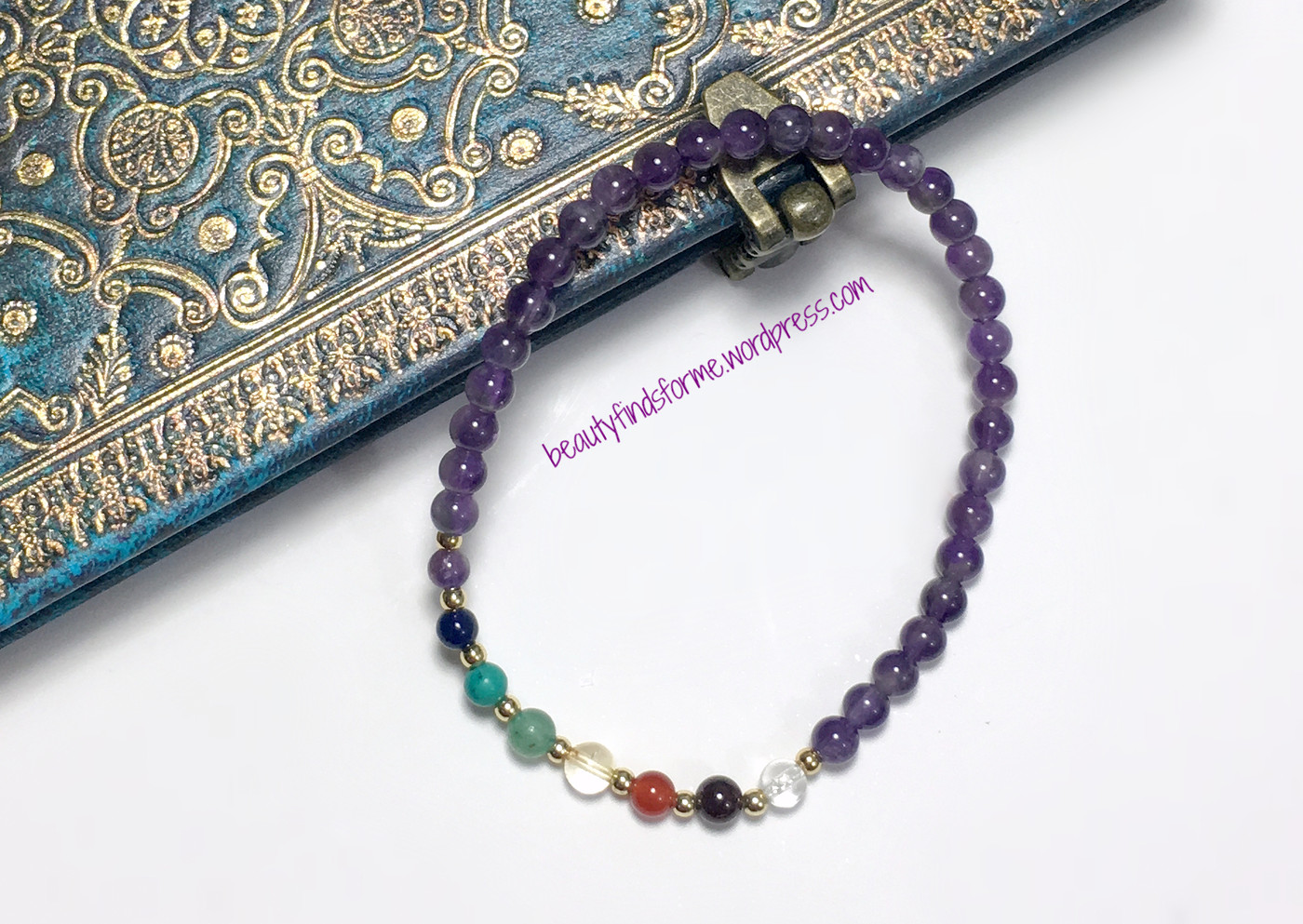 Amethyst Bracelet  If you know me, you know I dislike dainty jewelry and this was another item that I was like meh at first.  However, Yogi Surprise made this a good length ~ 6.5 inches, so it is great for stacking!  It doesn't pinch and you can actually add a lot of bracelets to this and it doesn't get lost.  This has the beautiful matching amethyst mini beads to the necklace, but there is an added detail of 7 other beads ~ lapis, turquoise, aventurine, citrine, carnelian, garnet and clear quartz ~ separated by tiny gold toned spacers ~ that represent the other Chakras.   Really lovely bracelet!  RV $32.00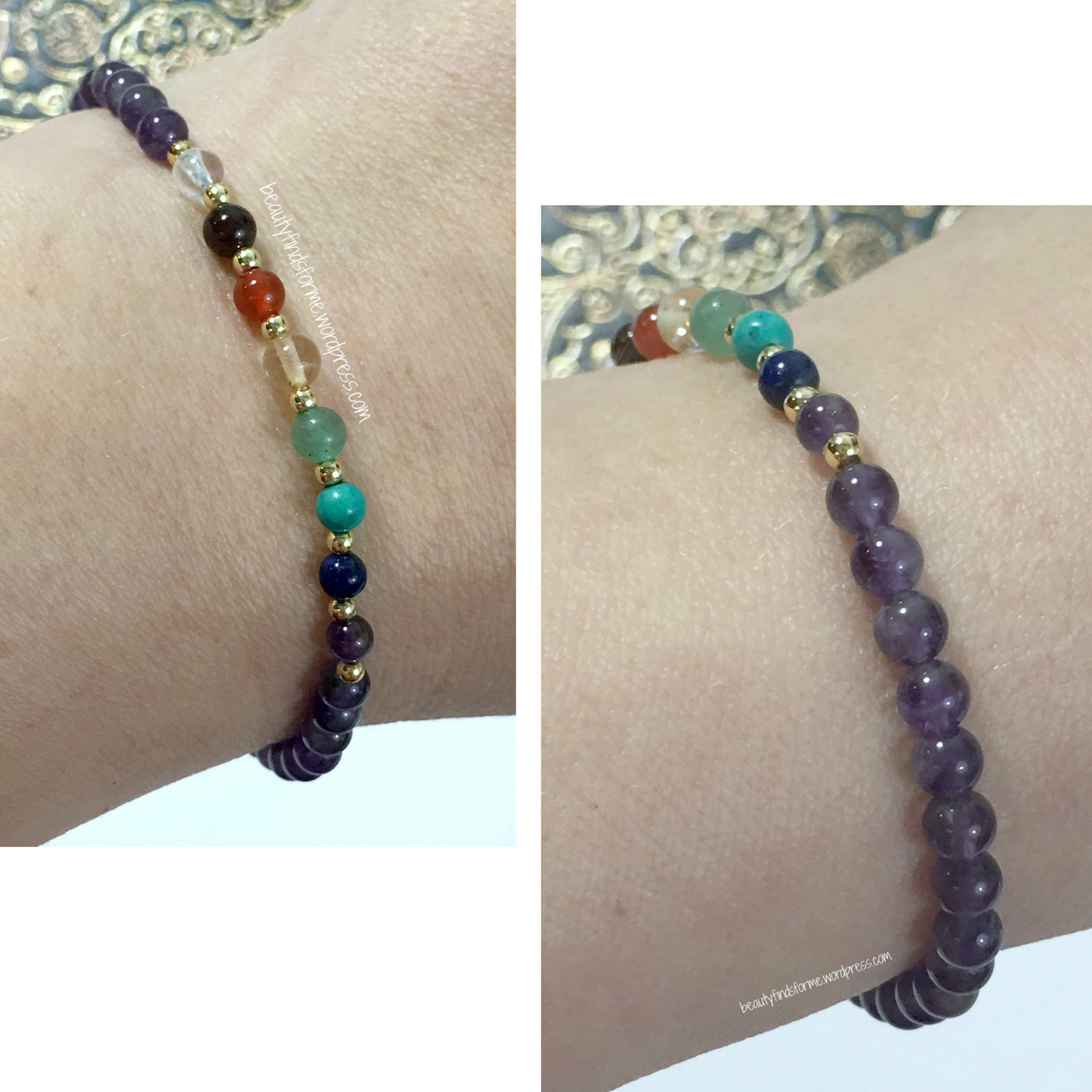 Root Chakra: Garnet

Sacral Chakra: Carnelian

Solar Plexus Chakra: Citrine

Heart Chakra: Aventurine

Throat Chakra: Turquoise

Third Eye Chakra: Lapis 

Crown Chakra: Amethyst 

Amplifies All Chakras: Clear Quartz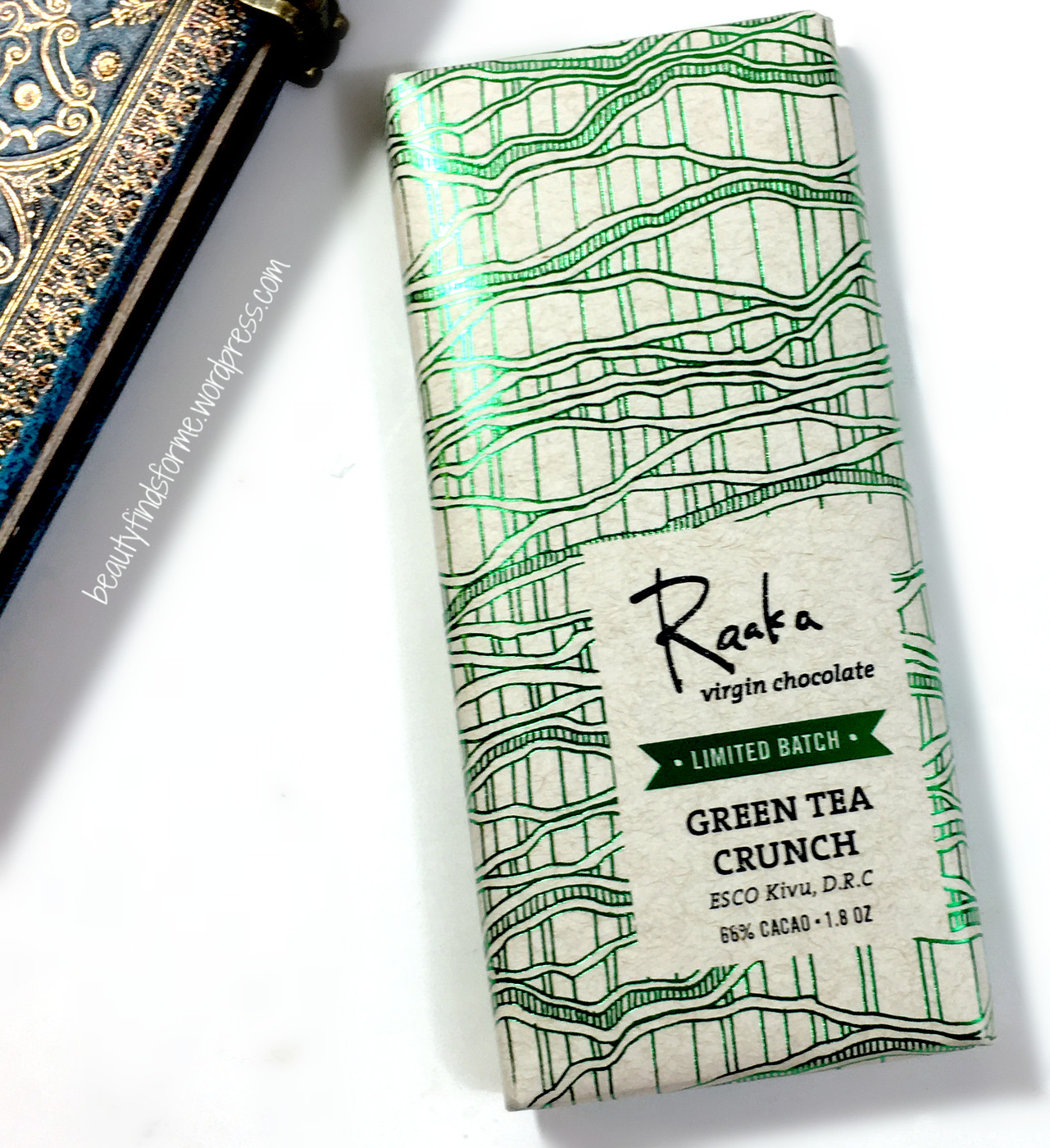 Raaka Green Tea Crunch omg green tea, dark chocolate with toasted brown rice and puffed quinoa. I am sick right now, but you bet I will eat this when I am better!!  This is made with 66% forastero single origin cacao beans from Eastern Congo and made in Red Hook, Brooklyn, New York.  This bar is vegan, soy free, gluten free, organic, Kosher and non-GMO project verified and it is a raw chocolate, as Raaka does not roast the cacao beans.  They engage in fair trade practices and paid at least $500.00 per ton above market price.  1.8 oz RV $10.00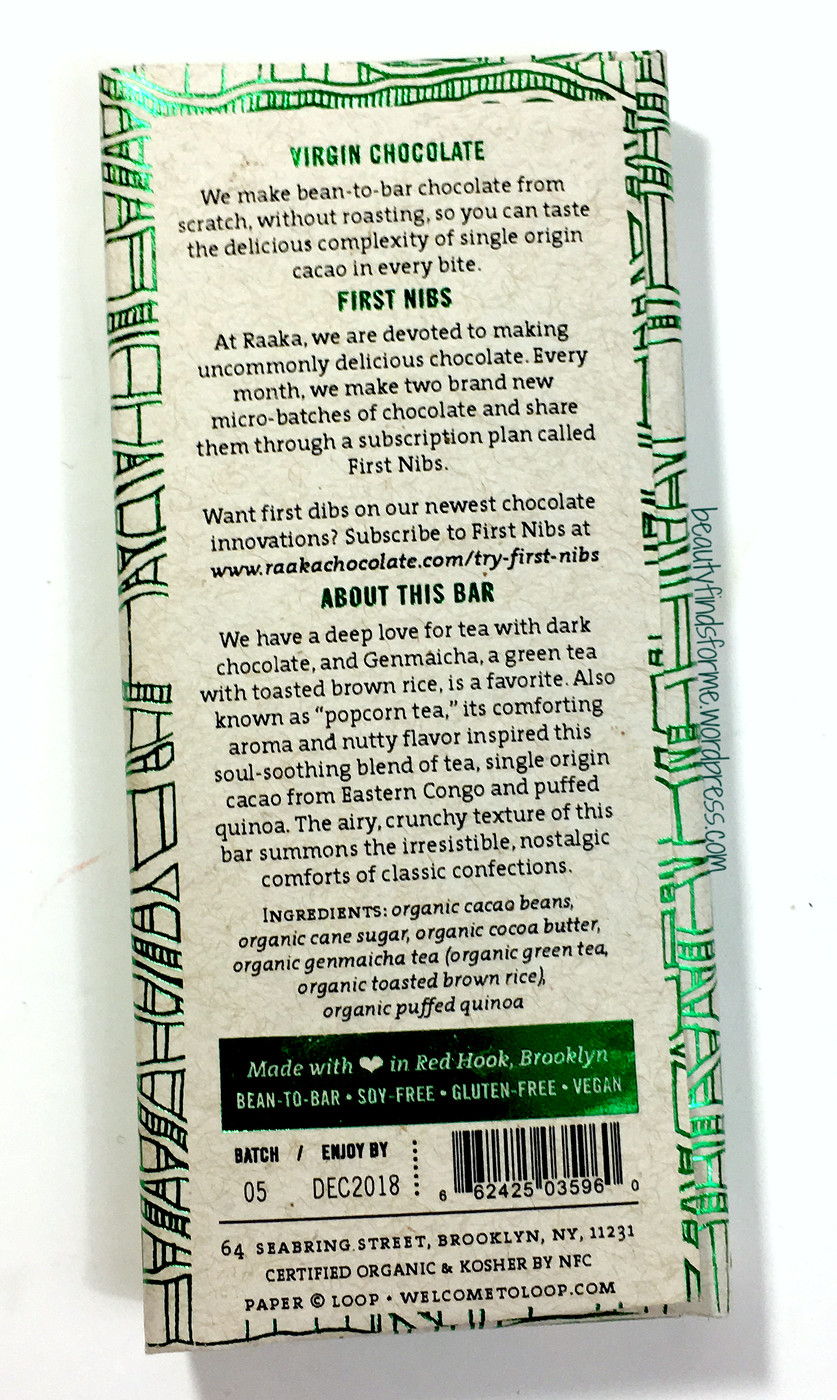 Description:We have a deep love for tea with dark chocolate, and Genmaicha, a green tea with toasted brown rice, is a favorite. Also known as "popcorn tea," its comforting aroma and nutty flavor inspired this soul-soothing blend of tea, single origin cacao from Eastern Congo and puffed quinoa. The airy, crunchy texture of this bar summons the irresistible, nostalgic comforts of classic confections.
Ingredients: organic cacao beans, organic cane sugar, organic cocoa butter, organic genmaicha tea (organic green tea, organic toasted brown rice), organic puffed quinoa

I might have been a bit disappointed when I opened my Yogi Surprise Jewelry Box this month, but after trying out the necklace and bracelet, I am pleasantly surprised (haha no pun intended) with the items!  This isn't as nice as last month's box, but I do love that the colors are vibrant and the jewelry is well made ~ although I do not feel they are worth anything over $20.00 each.  I do love Raaka chocolates, so I can't wait to try it out!  This box has a Yogi Surprise retail value of a penny shy of $81.00  ~ I go by the value of the pieces to m Part of the proceeds from this box will go back to the local artisans that made these items and help educate their community.

Do you subscribe to Yogi Surprise?  Which box do you get and what was your favorite item this month?  Let me know in the comments below, I would love to read them 🙂
If you are interested in signing up to Yogi Surprise for either their Lifestyle or Jewelry box, I would love it if you used my affiliate link    Check out the spoilers for next month's boxes below!    If you sign up for the Lifestyle box, use YOGILOVE to get 15% off the life of your subscription!

Next Month Spoilers



[ all descriptions in italics from linked website.  this blog post contains referral & affiliate links ]