[ disclosure: product received complementary for review purposes. contains referral code & affiliate links ]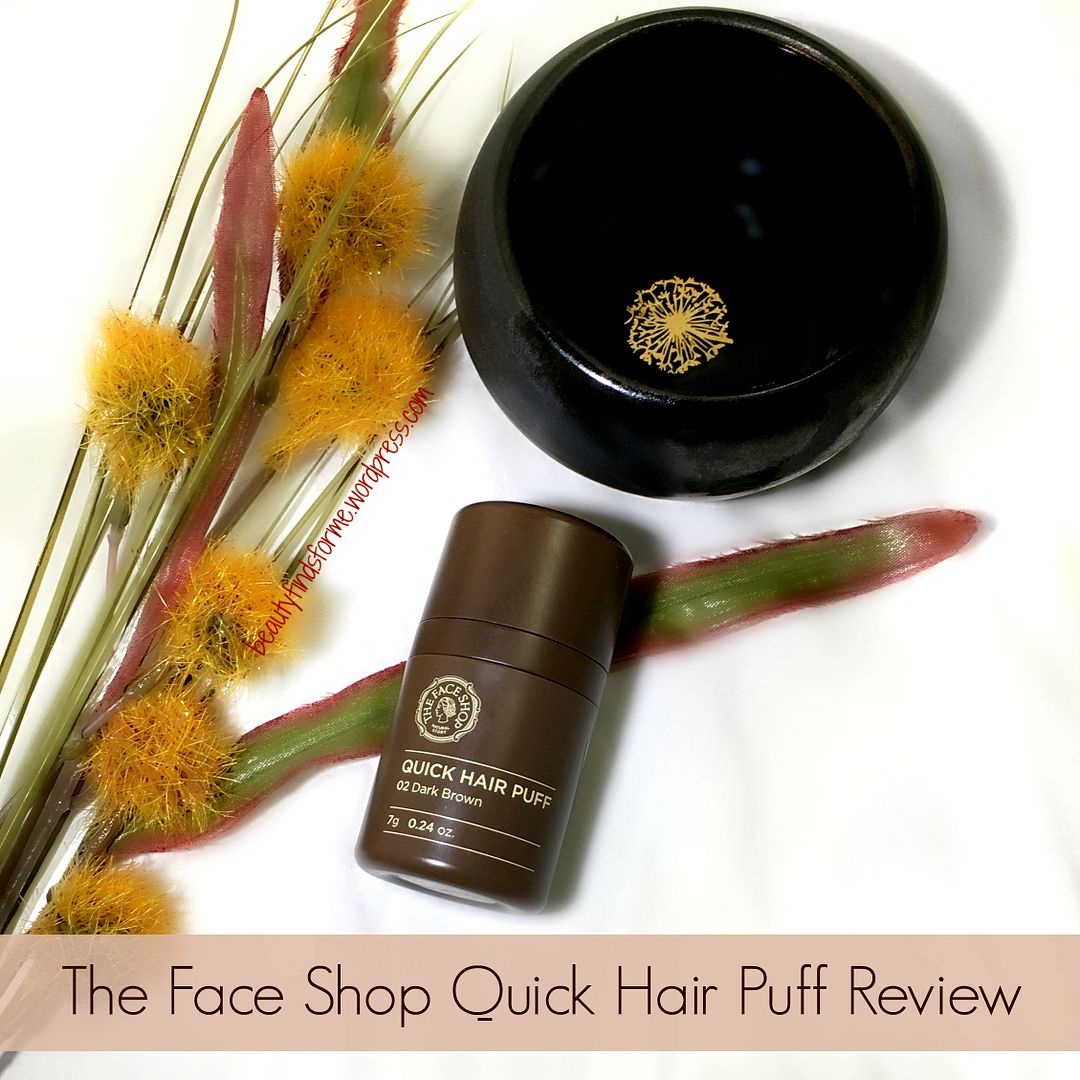 BB Cosmetic, which is an online shop that I have review items for in the past (press samples and my own purchases), graciously sent me The Face Shop Quick Hair Puff in #2 Dark Brown several months ago and I am finally getting around to my review!  It took a while as it is a tough product to test.  I will explain in the review why!  Many thanks to BB Cosmetic for sending me this product for review.

I have used a lot of temporary hair coloring products ~ from sprays to applying a powder with a brush, I have had some success with them.  I wanted to try The Face Shop Quick Puff because it is a powder, but with a puff, not a brush!  What I am hoping this product will help with  ~ I have a lot of hair, but it is fine and my scalp does show through especially around my cowlick.  I have sweeping side bangs that help camoflague my cowlick, but still… It really looks like I am BALD there, when I am not.  Also, I have graying temples and I do color my hair, but I was looking to see if this product could help cover some of those grays when I am in-between colorings.
This comes in 2 shades ~ 01 Natural Brown, which is the lightest color. This is for blondes, strawberry blonds and light brunettes.   02 Dark Brown is for brunettes and those with dark auburn hair.  BB Cosmetic only had Dark Brown, but I think I would have chosen this shade anyway, as my hair isn't that light.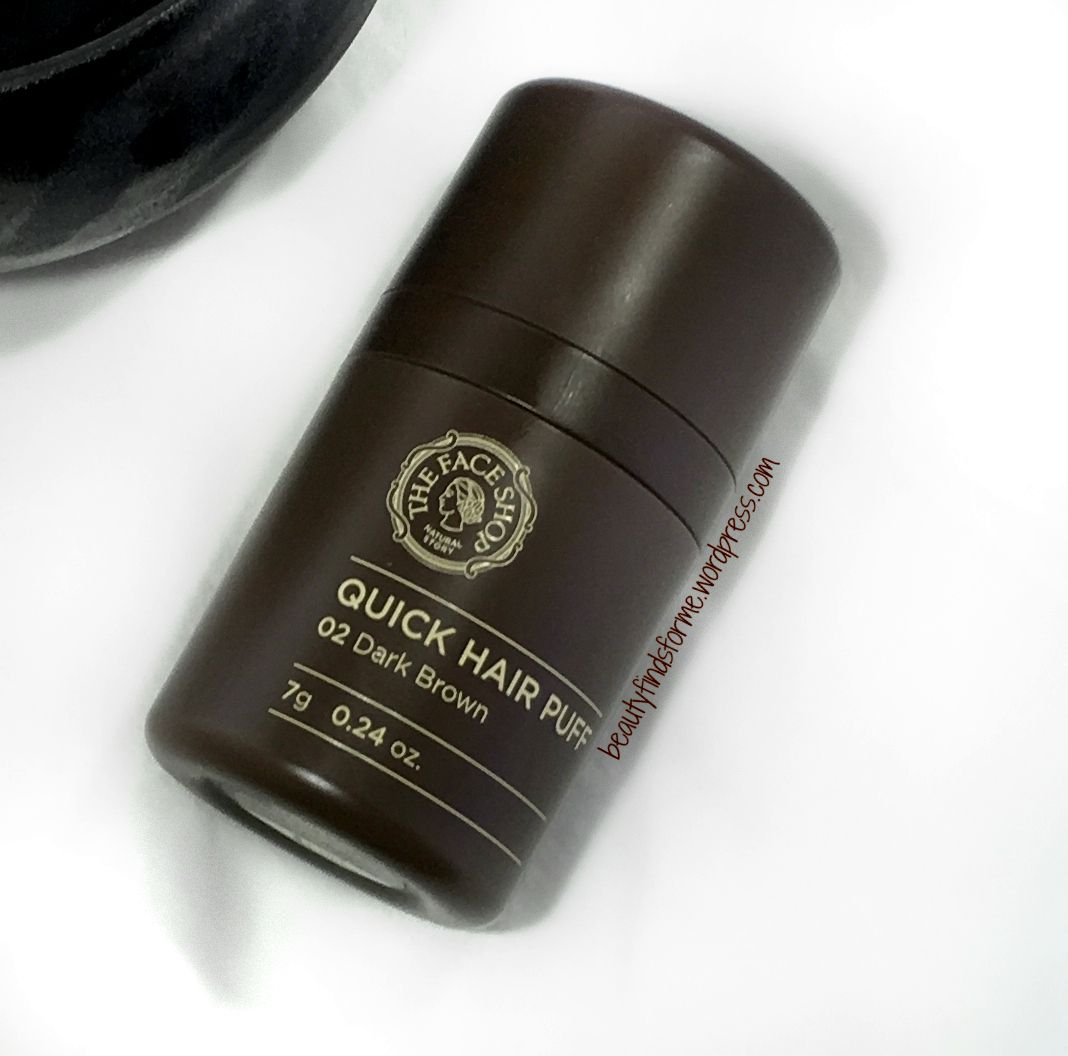 This isn't just some talc with coloring in it.  It does contain some nourishing and protecting ingredients, such as UV protector titanium dioxide along with repairing silica, which is essential for healthy hair. It helps repair damaged hair tissue along the hair shaft, revitalizing damaged hair or over-processed hair.  Soy is found in hair care products as it is believed that this ingredient can help prevent hair loss ~ it is also an anti-inflammatory and antioxidant.  Ginseng has been used in Asian skincare and hair care products for centuries and it is thought to help stop hair loss and to promote hair growth, by stimulating and energizing your scalp.  It contains saponins, which help thicken hair, while aiding in new hair growth. There is a study that has been done that shows that it can help with hair growth,  conducted by Korea University College (study)
Ingredients: talc, mica, caprylic/capric glycerides, triethoxycaprylylsilane, titanium dioxide (CI 77891), alumninum dimyristate, aluminum hydrioxide (CI 77002), silica, glycine max (soybean) seed extract, water, butylene glycol, polygonum multiflorum root extract, polygonatum officinate rhizome/root extract, panax ginseng root extract, artemisisa princeps leaf extract, 1,2-hexanediol, black oxide of iron (CI 77499), red oxide of iron (CI 77491), yellow oxide of iron (CI 77492)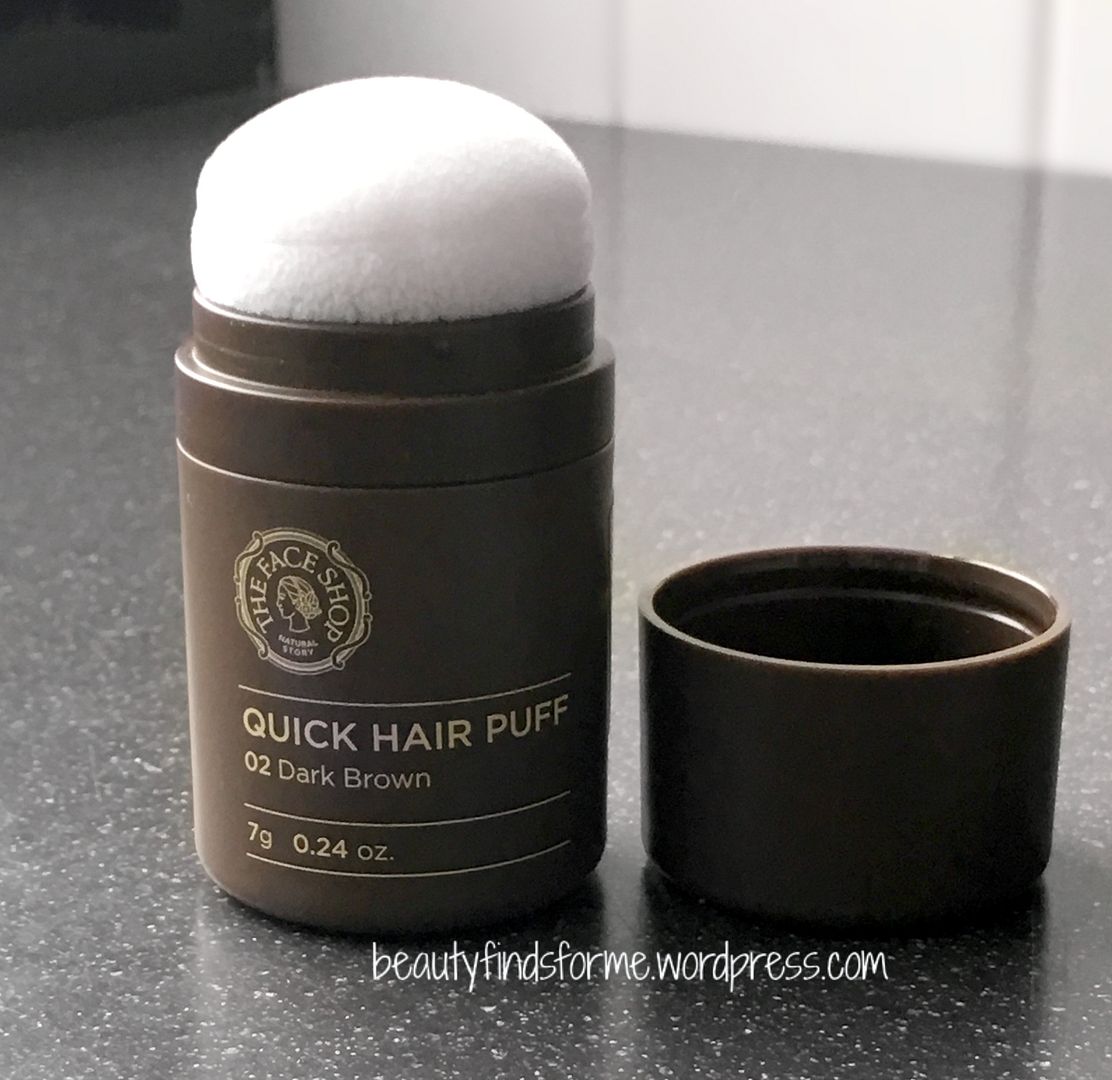 This comes in a nice, tidy little tube with 7 grams of product and the cap does sit nice and snugly on the tube.  When you first get it, you have to unscrew the top off which has the puff on it, as you need to remove the sealing sticker that is under that top.  Once that is removed, you can screw the puff top back on and you will never have to take that piece off again.  The actual cap of the piece has a round mirror on the end, which you can use to help find your patches and then pat  away with the product.  I never used it, as my areas were not at the back of my head, but I do think that is quite handy!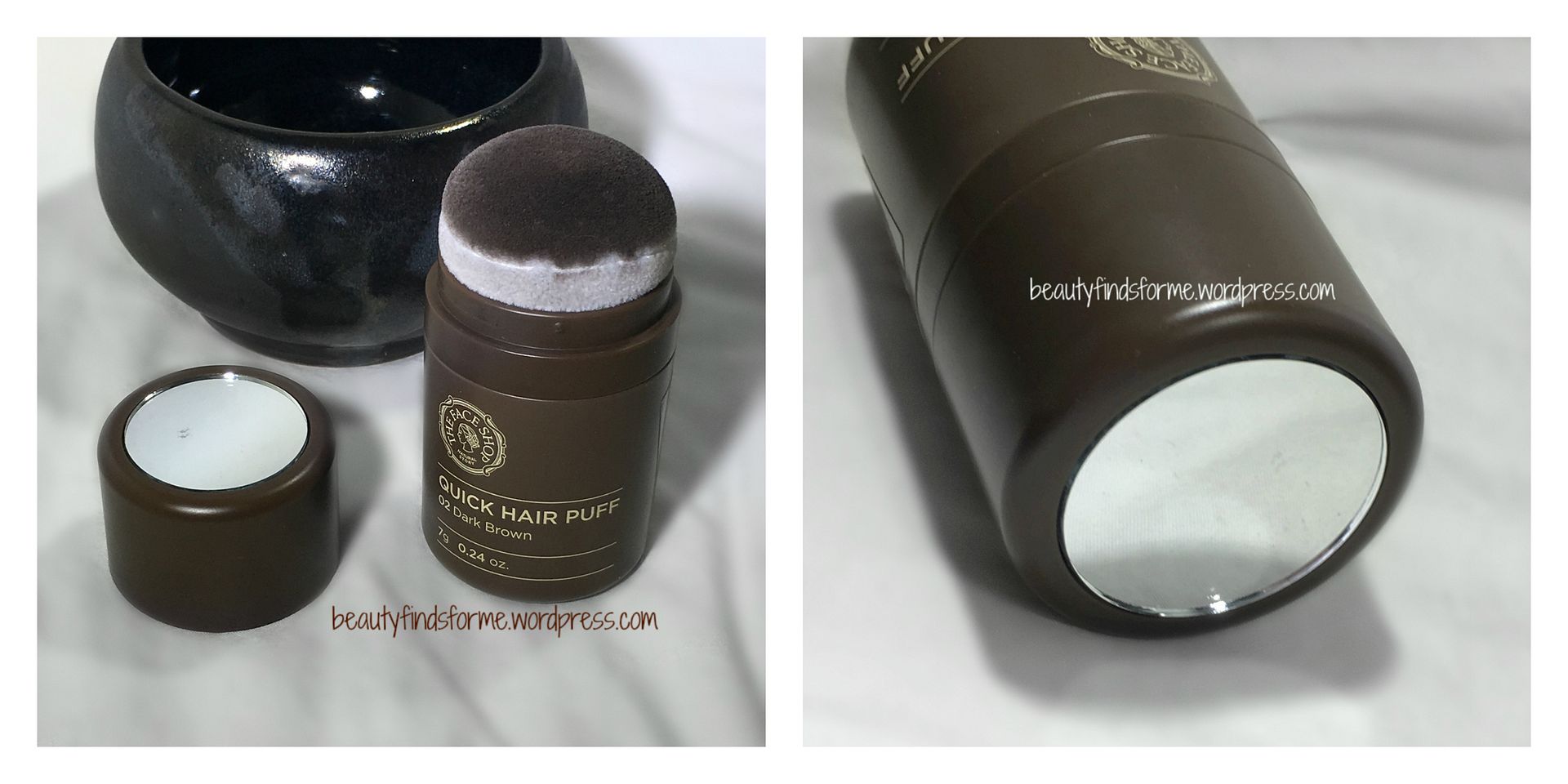 02 Dark Brown is VERY dark brown ~ but it can be blended out a bit with the puff.  The below shot is fairly accurate with the color shade.  I point that out, as my hair test swatches are all over the place in color tone.  It is very matte too, so if you want really shiny hair after applying this, you might want to experience with a hair gloss mist.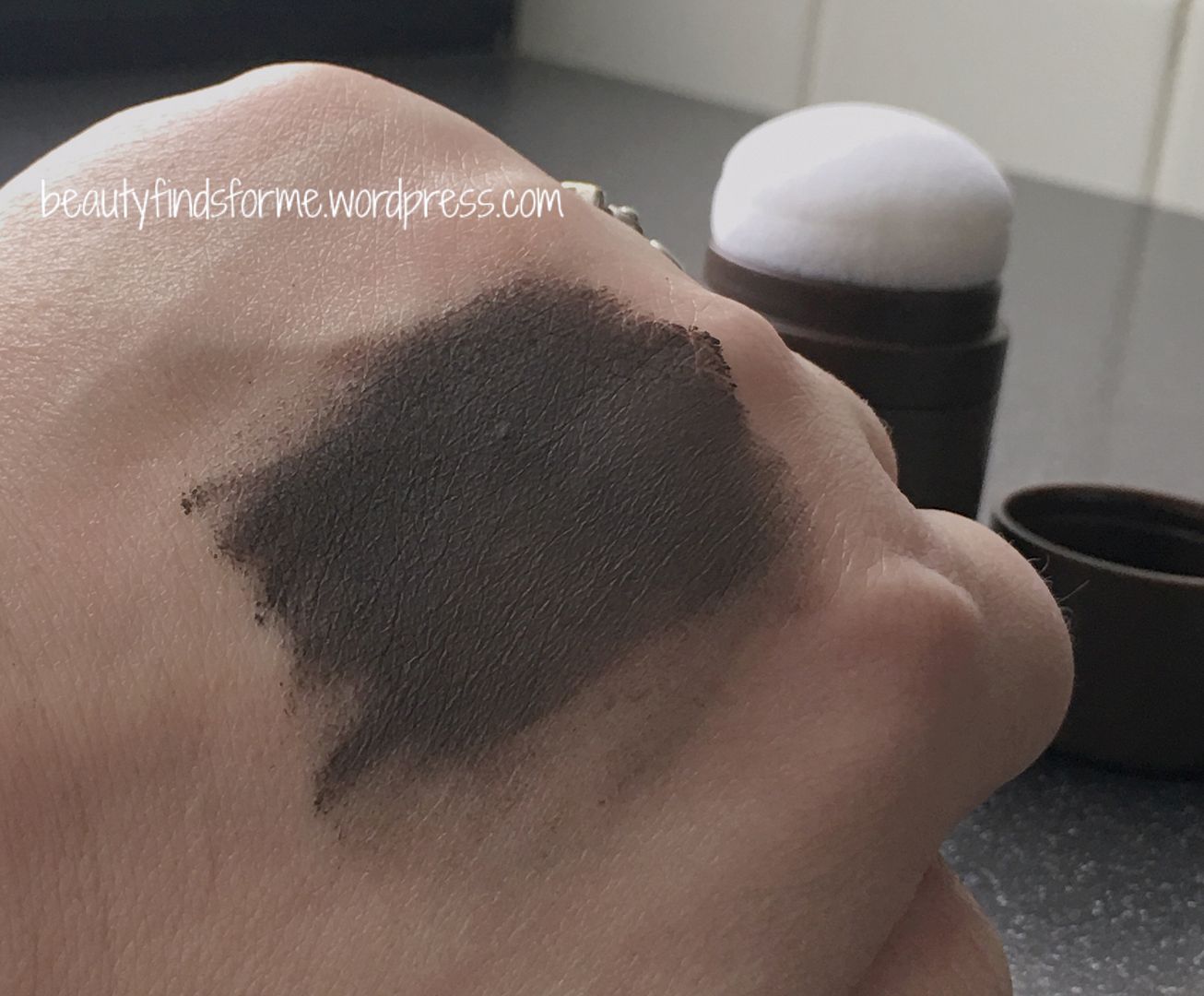 Photo Tests
Uggh. I apologize in advance for the inconsistent exposures and color balance in the photos.  However, since this is more of a "how well did it cover my scalp and gray hairs?" test, I think I can be forgiven!! lol  The photo on the left is untreated, photo on the right has The Face Shop Quick Puff applied. 
You can see the grays around my temples and also where my cowlick is.  I also part on that side, so it is very apparent how "bare" that area looks.   After I used the puff, I think it filled in my bare patches quite nicely, although I don't think it did a great job of adhering to my gray hairs.

Another view of the dreaded cowlick.
What I Noticed
I found that this powder does have a nice matte finish and it does work really well on "coloring" the scalp.  This helps give my hair the illusion that it is thick and not baby fine.  I really liked that it has an oil absorbing formula, as I do have an oily scalp.  This powder seems to be fairly water and sweat proof, as it didn't rub off or fade on me during the course of the day.  However, it will wash off with a good rinse, so I have to think that if you get caught in a rain shower or go swimming, this is not going last!
What I had problems with ~ obviously, the puff.  It is great if I am working on my hair that is no where near my face, but once I start patting that puff near my temples, there is no precision.  Because of this, I colored "over the lines", and had to do some major cleanup around my temples.  Also, the powder fall out can be bad if you aren't careful.  This powder has staying power, so if you get it on your face, you cannot just "flick" it away with a facial brush.  I had to use a damp cotton pad and Q-tips to remove that excess and clean up my temple line.   I also recommend NOT to do your makeup before you apply this because of that.
This product doesn't really adhere that well to hair strands either ~ so whereas it filled in my scalp area, the gray hairs didn't really get good coverage.  That said, The Face Shop doesn't market this product to cover gray hairs, but to fill in your bare scalp areas, which it does really well.  The reason why this review took so long to do, was that I was trying to test out the gray hair coverage so I had to test it when my grays were coming out.  It wasn't something that I could just do on a whim as I had to wait for them to appear.

All in all, I am pretty happy with this product ~ it did what it said it would and I like that it has staying power and for normal activity, it is water and sweat proof.  It has nourishing ingredients plus it helped control the oil on my scalp.  I wish the puff could be more precise in its application and I also wish it came in more colors, as I really fell in-between the 01 and 02 shades.  Have you tried any hair products like this one?  A spray or powder?  Let me know in the comments with the brand and how it worked for you!

Where To Purchase
You can purchase The Face Shop Quick Hair Puff in #2 Dark Brown  (click here) at BB Cosmetic. Use my promo code of YW36SVN21HU  for 8% off your purchases.
[ disclosure: product received complementary for review purposes. contains referral code & affiliate links ]



Save
Save