Now, I am not a fan of brands that take an ingredient that can be easily found and do an obscene markup on it ~ Kopari, I am talking to you.  It is taking advantage of the customer, who may not be aware that you can find 100% organic coconut oil elsewhere and for a much better price AND it is raw and cold pressed,  additional benefits that other brands do not have.  Who am I talking about?  Skinny & Co, of course!  I have been using a couple of Skinny & Co Coconut Oil products for a few years now ~ their 100% pure raw organic oil and Peppermint Pull Oil ~ if you practice oil pulling (basically swishing oil in your mouth for 20 minutes),  you need to try this one as the minty taste really helps mask the oil taste.  Musely, a fantastic eco-friendly, organic shop, sent me the latest in Skinny & Co's products ~ which introduces me to their new skincare line!  I received three products in their Raw Beauty Bundle Kit, which comes with a sugar scrub, a multi-use facial oil, lip balm and a nice wooden spoon!

Skinny & Co uses only hand picked, wild harvested Vietnamese coconuts, not plantation grown and they are single origin and single species.  No "unknowns" here and they are cold pressed, extracted with their patented Nutralock System™, keeping the temperatures under 90ºF,, which means it is 100% raw, leaving all the beneficial nutrients inside the oil. Each 16 oz jar is made with 12 coconuts and takes three times longer than other processes to create.  A lot of other brands who claim to be cold processed actually aren't ~ they heat up to 120ºF prior to pressing and then use cold pressed afterwards.  Skinny & Co guarantees that their oil is 100% pure, wild-harvested, raw coconut oil. I love using their plain coconut oil in smoothies, adding it to my tea or coffee and to substitute butter.  It is so creamy and has a nice mild coconut taste.  All of Skinny & Co's products are free from chemicals, preservatives, solvents and fillers and only contain all natural 5 or less ingredients, with their 100% raw, cold-pressed alkaline coconut oil as the star ingredient!

Coconut oil is very beneficial in skin care products, because contains powerful antioxidants and antibacterial properties.  It contains saturated fats, which keep the skin smooth and retain the moisture on skin, and over time, as these fats are penetrated under your skin, it will give your skin an even tone and reduce the appearance of pores. Three fatty acids ~ capric, caprylic and lauric acid ~ help protect your skin from microbial infections that can get into open wounds or even through your pores. Coconut oil also contains Vitamin E, which is essential of healthy skin ~ its growth, repair, smoothing and protecting.  It also prevents premature aging and wrinkling of the skin, due to its antioxidant properties.  It is also rich in other vitamins and minerals ~ vitamins C, B1, B3, B5 and B6, iron, phosphorus, calcium ~ and natural proteins which help soothe and moisturize your skin.  It helps add moisturize back to dry skin, leaving it smooth and glowing.  Its vitamins C and copper will enhance your skin elasticity, so that it can prevent wrinkles, sagging skin and hyper-pigmentation.

You can use coconut oil as a face cleansing oil, as it is very efficient at removing makeup, excess oil and dirt.  It also is a great moisturizer, not only for your face, but all over your body.  You can use coconut oil on your hair if you have curly, damaged or dry hair as it is deeply nourishing.  If you oil pull, coconut oil is a great one to use, as its taste is light and pleasant.
Skinny & Co. Exfoliating Vanilla Sugar Body Scrub   Now, above is the photo when I first received this scrub and I want you to notice that the coconut oil and brown sugar is separated.  This is normal and most likely your scrub will have separated in transit too.  I will talk about that later on.  This scrub is made with just 3 ingredients ~ Skinny & Co's whipped cold-pressed, 100% raw coconut oil, vanilla bean and coconut sugar ~ all organic ingredients and is vegan and cruelty free. This all natural scrub is so good, that people have even started adding it this to their coffee!! I haven't yet, but I think I will have to now ~ lol
The first thing I notice when I open up the 9 oz jar is the scent.  OMG, this smells so good ~ the mix of vanilla and sugar makes me think of a nice crème brûlée ~ not overly sweet, just warmly scented.  The next thing I see is the whipped coconut oil and sugar just separated in my jar and this stuff is HARD right now because the oil is solidified.  Before I can start using it, I need to mix it up.  What I did was to take the jar, with the lid firmly screwed on, and  run it under some warm water for a few minutes, until the coconut oil turns to liquid. I then set the jar upright, removed the lid and mixed the scrub with the oil ~ it can get messy, so I usually remove 1/3 of the scrub mix into a smaller bowl and mix whatever is left in the jar until the oil and sugar is incorporated and then slowly add back in the scrub I removed, mixing all the time.
This does sound like a PITA, but once mixed thoroughly, I have had no issues of the product separating again.
The texture is firm, yet soft – it holds it shape as I scoop it out of the jar, like a firm dough. I can then apply it on my arms and legs and it doesn't crumble or fall away from my skin, but sticks to it, allowing me ample time to massage this gentle exfoliator into my skin.  This sugar scrub doesn't melt away the second it comes into contact with water, so I can get a good scrub going before rinsing off.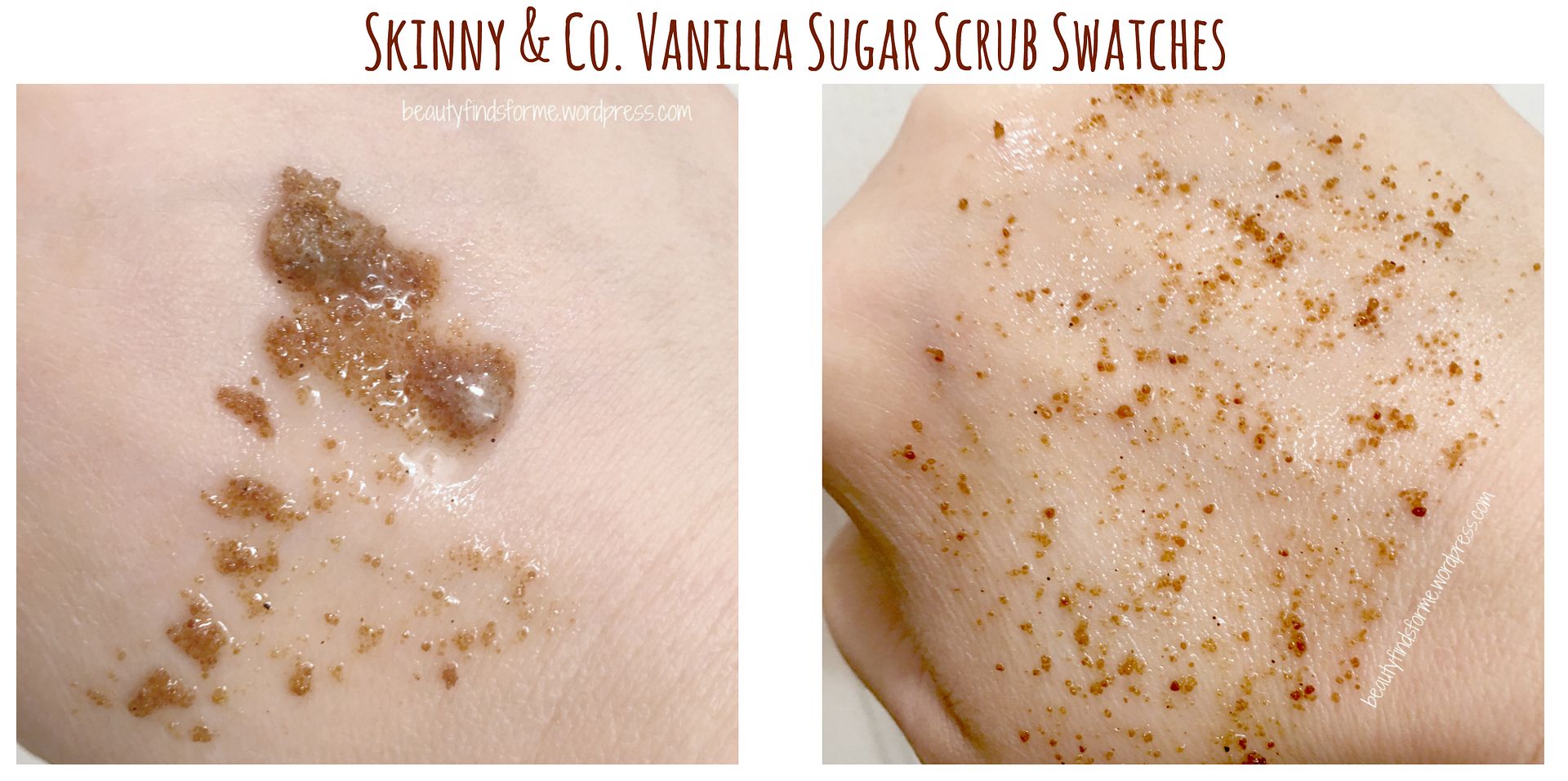 This scrub leaves behind a moisturizing coconut oil film that I just pat into my skin.  My skin feels so soft and smooth, and smells great, while glowing with the coconut oil.  I also love using this as a lip scrub too, just add a little bit to my lips and massage gently, and rinse.  I must admit, I do like to "taste" this scrub while I do this!
Skinny & Co Calming Facial Oil  This facial oil contains only 4 ingredients ~ the first being Skinny & Co's coconut oil and the other three are therapeutic-grade essential oils, and is vegan and cruelty free.  Lavender is one of my favorite scents and this calming facial oil contains this healing and soothing ingredient. Lavandula Angustifolia helps regulate the amount of sebum our skin produces.  It also balances the oil production of the skin and also helps speed up wound healing.  This also has Roman chamomile, calming your skin while relieving redness effectively as it has antioxidant, antibacterial and anti-inflammatory properties. It helps to relieve skin issues and irritations because it soothes and lessens swelling and redness, while healing skin and stimulating cellular renewal. The fourth ingredient in this raw, pure coconut facial oil is holy basil,  a basil that  is found on the Indian subcontinent and has been used in traditional Ayurveda medicine for hundreds of years ~ this oil is an antioxidant, helping to reduce the damage from free radicals and is can help heal blemishes.  It also helps protect healthy cells from toxic radiation and chemotherapy (source).
I love the 4 oz hexagon glass jar this comes in!  This oil will stay in a solid form unless it is too warm and then it will liquify.  If you want it to be solid during the hot months, just leave it in the frig and it will firm up.  This smells just like lavender and it is so soothing and calming to the senses.  It does turn to liquid the second it touches your skin, so you don't have to worry about absorption ~ this oil absorbs nicely and without a greasy residue, just leaving behind soft and supple skin.
Coconut oil is very moisturizing and nourishing, so I only need a little for my face ~ this oil has a long shelf life, so don't worry about it going rancid quickly.  This oil is pH balanced due to its base of coconut oil and it can be used several ways as it is a versatile product: a facial oil ~ I use this at night time;  makeup remover ~ just put some on your cotton pad and wipe away makeup and as an oil cleanser ~ the first step in your double cleansing routine.  It works really nicely as a first cleanser.  It won't irritate your eyes as it is not made with chemicals or preservatives.  
I also love using it as a body moisturizer before night time ~ the calming scent of lavender helps me fall asleep and my skin is protected and healing with this oil.   Skinny & Co also makes other variations of this facial oil ~ Rejuvenating Essential Facial Oil with rose, sandalwood, ylang ylang and patchouli oils and Clarifying Moisturizing Facial Oil with frankincense, tea tree, lavender and holy basil oils.  I got the following idea from their other variations ~ I have acne prone skin and wanted to boost my oil with some blemish busting ingredients.
To recap: I took 1 tablespoon of this facial oil and added it to a small container. I then added 8 to 10 drops of tea tree essential oil, which is an anti-septic blemish busting ingredient, and mixed well.   When I am ready to use this, I scoop out what I need and then added my "windex" of products to this ~ Alive:Lab Centella Dressing Powder.  Just a few shakes of this powder goes a long way and then I applied the mixture to my skin.  Centella is an amazing healing herb and is used medicinally to help speed up wound healing, such as blemishes and skin rashes. It also helps minimize the appearance of pores.  This is my night time moisturizer and then I apply a sleep pack over it.  My skin is refreshed, soft and smooth, and I haven't really been experiencing blemishes when I used this mixture. One tablespoon of this oil will last me a week, so I keep my little container in the frig, which also makes it feel really nice and cooling on my skin while I apply it.
Skinny & Co Peppermint Lip Balm This lip balm is made with the patented 100% raw, NutraLock™ coconut oil, cocoa butter, sustainably-sourced beeswax, vitamin E and peppermint ~ it is a smooth, hydrating and moisturizing lip balm that leaves a refreshing tingle and taste due to the peppermint, while locking in the moisture and protecting your lips, year round.  This leaves a nice subtle gloss as well.   Since this does have beeswax in it, it is not vegan
Final Thoughts
This bundle by Skinny & Co is a good deal at $60.00 ~ you get 3 full sized items, plus a wooden spoon for your scrub.  You might think that they are expensive, but I can say that you don't need a lot of these products to make them work ~ the facial oil will last me a long time, even with my use of it as a body moisturizer!  I only need a couple of walnut sized ball of the scrub to help exfoliate my legs and arms and it has the added bonus as acting as a skin moisturizer.  The lip balm is refreshing and keeps my lips nice and soft.  Have you tried any Skinny & Co's products?  Once I started using them, I never looked back ~ I think they have one of the best coconut oils out there.
Where to Purchase
Musely carries these products plus so much more!  I have a favorites at Musely, where you can see products that I love or am interested in trying (click here)  I am interested in other products from Skinny & Co, such as their body butter and soaps.

Other products used in this review
[ disclaimer: products received complementary for review purposes.  contains affiliate links ]