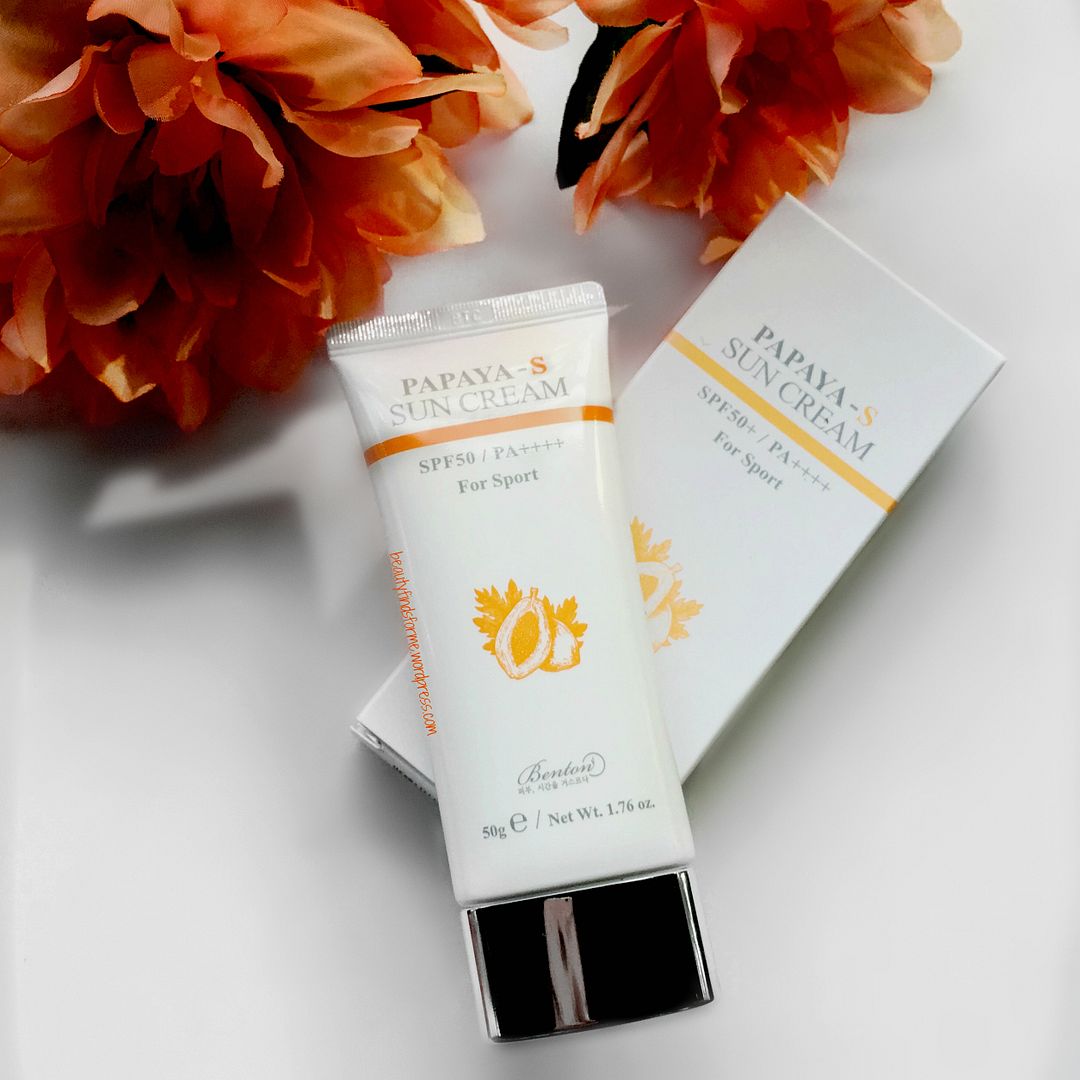 This is the 3rd new release for the summer from Benton and I got to try them all!  Many thanks to Benton for generously supplying these products for review.  I have reviewed  Cacao Moist And Mild Cream, the Papaya-D Sun Cream SPF38  PA+++  and now, this version of a Sport Sunscreen.   I do love my Benton products, especially their Aloe, Snail Bee and Fermentation lines ~  see my reviews  here.  This is the second sun screen that Benton has produced, so I will give you an initial impression and a comparison to the Papaya-D version.   I am giving an initial impression review, as I have only used this for a little over a week.

Skin Type/Concerns: Oily, blemish prone, aging concerns with fine lines/wrinkles and hyper-pigmentation
Just Fun Info:  Ever wonder how Benton came up with their name?  Well, according to their webside, it came from a movie
The name and definition of Benton took its motives from the movie 'The Curious Case of Benjamin Button' (also known as 'Benjamin Button goes backwards in time' in Korea) which had a warm touch on many people's heart. In the movie, Benjamin is born as an old man and he becomes younger and younger as time goes by and ultimately dies as a new born baby. Benjamin happens to deeply fall in love with a woman named Daisy. However, as time goes by and as Benjamin becomes younger he has no choice but to leave Daisy. What if Daisy could have also turned back time on her physical appearance, wouldn't she be happier? It may just be a fictional movie, but wouldn't most people have the same desire to be young again? Benton's desire is to turn back the time of your skin. Unlike the instant temporary effect created by the chemical ingredients, we hoped to improve skin care by using the natural ingredients in our products which will help regain your skin to its original healthy condition.  (source bentoncosmetics.com)
Papaya-S Sun Cream is a physical and chemical sunscreen for effective sun protection. Physical sunscreens typically leave a white cast and provide relatively less UVA protections than  chemical ones. Mixed with a chemical sunscreen, Papaya-S Sun Cream effectively protects skin from both UVA and UVB rays. SPF50+/PA++++ is the highest factor available in South Korea and  is suitable for outdoor activities.
What is it?
According to Benton, Papaya-S Sun Cream is their sport sunscreen, that is both sweat and water proof.  It  light weight, moisturizing sunscreen with a minimal white cast.  It is both a chemical and physical sunscreen, so it will be interesting to see how white the cast is on my skin.  The star ingredient is payapa and Benton seems to really love the papaya extracts here, with 4 different types of payapa ingredients.   According to Benton, it is good for all skin types.  It will address the following needs and concerns
Sun protection for outdoor activities

Strong protection against both UVA and UVB

Natural tone-up

Light and moist texture

Skin care and sun protection at the same time

Minimal white cast
Star Ingredients
Just like the Papaya-D sunscreen, there are four papaya ingredients in here ~ this contains 43% papaya fruit water, 5000 ppm of papaya seed oil, 750 ppm papaya fruit extract and 100 ppm of papain.  Papaya is an antioxidant, as it has vitamins A, C and E along with carotenoids and polyphenols, helping to reduce inflammation of your skin, as well as nourishing it.  Papaya seed oil will help make your skin smooth and supple, while retaining moisture in your skin. Papaya contains an enzyme called papain which has anti-inflammatory and anti-bacterial benefits. It will exfoliate your skin without irritation by gently loosening dead skin cells and removing them from your skin, making your skin smooth, vibrant and healthy. Papain solves a variety of skin issues, such as acne, dry skin and premature aging while providing pore and sebum care.

Now, this is a SPF50+/PA++++  so it is a stronger sunscreen and should be enough protection.  This sunscreen is both sweat and water proof, so it is suitable for outdoor treks, water sports, beach and sporting activities.  Or just if you are outside all day long ~ at a fair, shopping, vacation.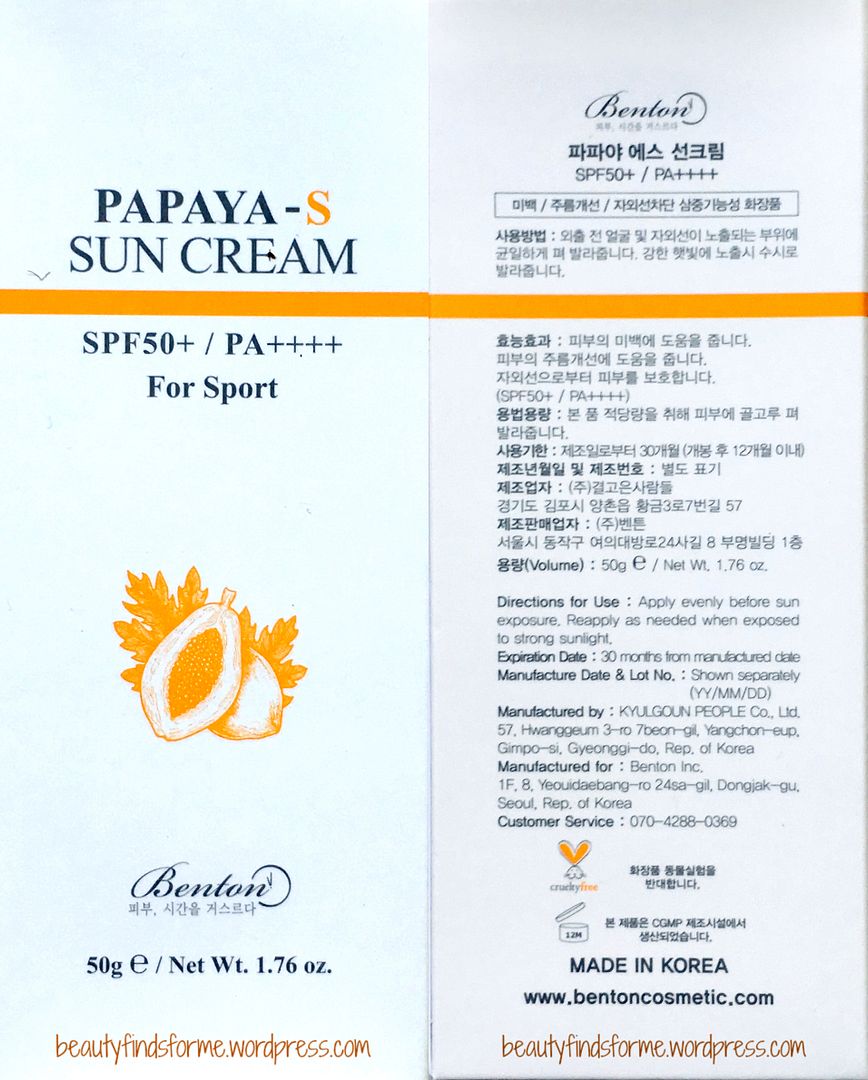 This sunscreen offers broad spectrum protection, which means is that it will deflect both types of UV rays ~ UVA and UVB ~ and will not allow them to penetrate into your skin layers.  SPF (sun protection factor) ranks based on protection from Ultraviolet B (UVB) shortwave ways.  PA is the amount of sunscreen offers from Ultraviolet A (UVA) long-wave rays.  The more plus signs after the PA rating, the more protection you will get from UVA rays.  UVB is what causes sunburns and reddened skin and has direct links to cancer.  UVA is what causes us to tan, and age ~ wrinkles and deep lines are caused by UVA exposure.  This contains five sunscreen ingredients:  Ethylhexyl methoxycinnamate (Octinoxate), which protects against UVB rays, 2 physical blockers with zinc oxide and titanium dioxide (TiO2), both blocking UVA/UVB rays and provides that white cast and bis-ethylhexyloxyphenol methoxyphenyl triazine (Tinosorb S) absorbs UVA/UVB rays. Finally, diethylamino hydroxybenzoyl hexyl benzoate, which provides UVA protection.

This also contains patented Aquaxyl, a hydrating compound made from ingredients derived from vegetable origin sugars ~ xylitylglucoside, anhydroxylitol, xylitol and glucose. Aquaxyl will also reinforce your skin barrier function, limiting water loss in your skin and preventing skin dehydration on a cellular level.  This product is not gluten free, as xylitylglucoside is derived from wheat sugars and this also contains beeswax. This also has some nourishing and rich antioxidants in sunflower oil and shea butter.  Niacinamide is another powerful antioxidant that acts as an anti-inflammatory, improves your skin elasticity, enhance the skin barrier function and also it helps to even out skin tone and reduce post-inflammatory hyper-pigmentation, while yeast derived adenosine provides anti-wrinkle and anti-inflammatory benefits.   This also has beta-glucan in it, helping to stimulate the production of collagen, speeds up wound healing, soothes and calms skin due to its anti-irritant and strong anti-inflammatory properties, moisturizes, locks in natural moisture, anti-aging and anti-wrinkle due to its anti-oxidant properties and also helps repair your moisture barrier.

Please note that this does contain geranium oil, for those who might be sensitive to essential oils. Benton makes a point that the Papaya-S Sun Cream will provide the following skin care benefits:
Provide strong sun protection, while nourishing your complexion.

Effectively protects skin from UV rays and external stressors with outdoor activities


Physical and chemical sunscreen protection

Natural Tone-Up (I assume this means evening out your skin tone)

Ingredients: Carica Papaya (Papaya) Fruit Water(43%), Titanium Dioxide, Ethylhexyl Methoxycinnamate, Zinc Oxide, Octyldodecanol, Dicaprylyl Carbonate, Coco-Caprylate/Caprate, C12-15 Alkyl Benzoate, Cetyl PEG/PPG-10/1 Dimethicone, Pentylene Glycol, Niacinamide, Helianthus Annuus (Sunflower) Seed Oil, Diethylamino Hydroxybenzoyl Hexyl Benzoate, Glycerin, Bis-Ethylhexyloxyphenol Methoxyphenyl Triazine, Water, 1,2-Hexanediol, Polyglyceryl-3 Diisostearate, Magnesium Sulfate, Beeswax, Aluminum Hydroxide, Dimethicone, Propanediol,Hydrogen Dimethicone, Disteardimonium Hectorite, Carica Papaya Seed Oil(5000ppm), Glyceryl Caprylate, Dimethicone/Vinyl Dimethicone Crosspolymer, Triethoxycaprylylsilane, Panthenol, Butyrospermum Parkii (Shea) Butter, Beta-Glucan, Carica Papaya (Papaya) Fruit Extract(750ppm), Xanthan Gum, Xylitylglucoside, Anhydroxylitol, Xylitol, Adenosine, Carthamus Tinctorius (Safflower) Bud Extract, Disodium Adenosine Triphosphate, Papain(100ppm), Algin, Glucose, Geranium Maculatum Oil  cosDNA analysis

This cream comes in a 50 gram flatted white tube with an orange papaya on the front with orange and grey lettering.  Again, the new products from Benton are different from the past products, as they never did prints before on their products.  This has a bright silver toned rectangular cap and a blunt tip applicator.  This cream is thicker, white and has an oily feel to it, as it is an oil-in-water emulsion sun cream.  It also has a lovely scent of geranium, which is a slightly spicy, earthy floral.


This is a thicker sunscreen and as I mentioned, it has a more oily texture.  And it is white.  It does leave a slight white cast on my skin and if I get my skin wet, it becomes more apparent. That said,  I consider this to be a sports sunscreen, so who cares if I have a white cast or a dewy finish?  This is to protect my skin and I have put sunscreens on my nose and cheeks that were in different colors.  This does have a slightly greasy finish on my skin.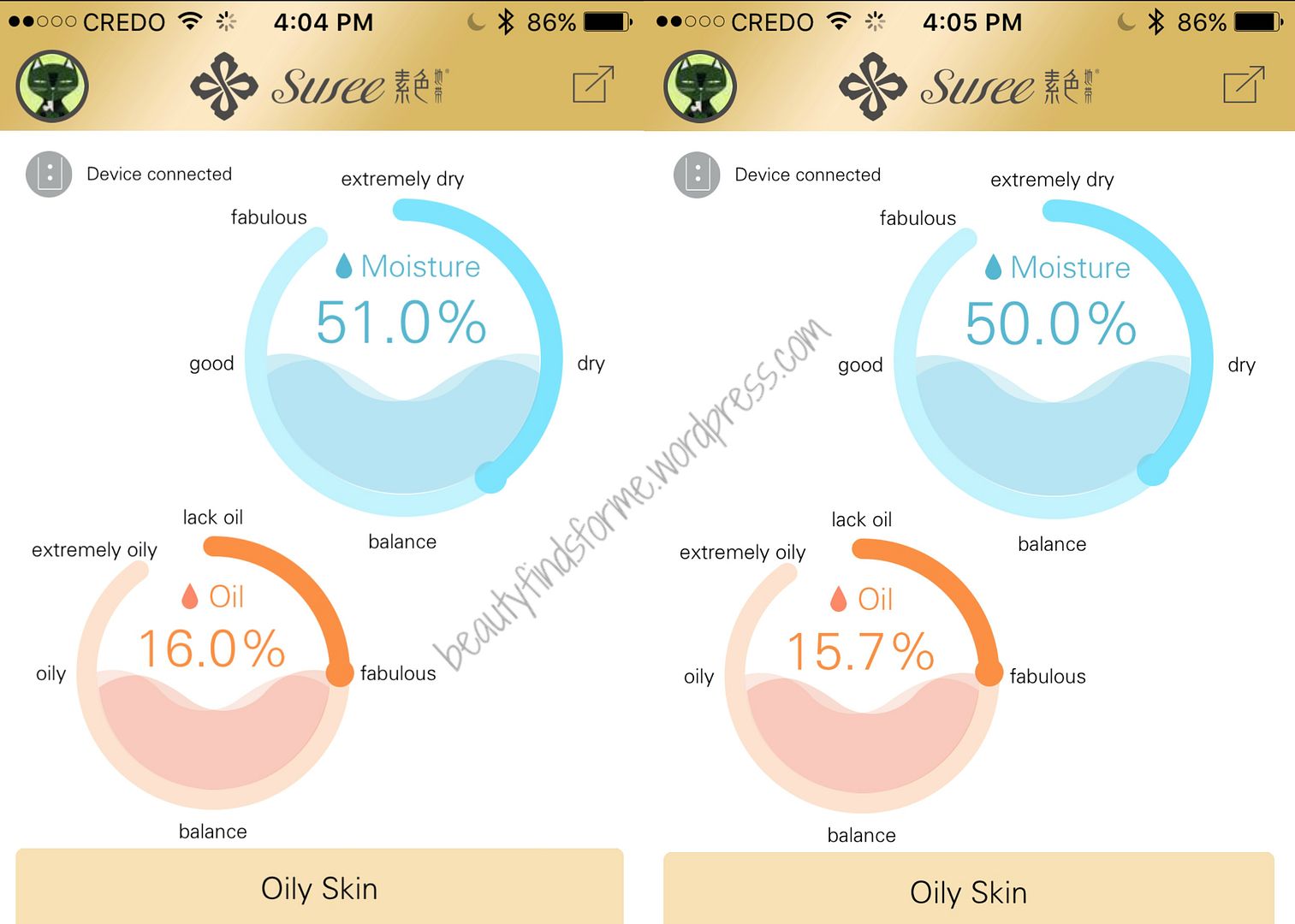 As far as moisture/oil levels, this sunscreen decreased both my moisture and oil levels by about 2% and my skin was still considered oily.  Just to prove that I wasn't dreaming, I did capture the times ~ about a minute apart.  I think this is because of the oil-in-water formula.  When I did put this on my face, my face was a shining beacon ~ I could have been a lighthouse!!  However, this works well as a neck and body sunscreen and that is how I used it for the last week.

This is a water-proof sunscreen and when I did my band-aid test, it did provide a lot of protection from the sun.  I didn't notice any difference with the skin under the band-aid and the skin that was exposed to the sun with this sunscreen.  That said, I wasn't at the beach, but just driving back and forth to work ~ my left arm is usually hanging outside of the car or leaning on the window, so it is exposed to the sun for a good 2 hours a day.  I would expect that if I was doing more outdoor activities, I would reapply more often, but it still would provide ample protection.

Mini Comparison
I decided to do a quick comparison between the Papaya-D and Papaya-S suncreams.  The first obvious difference is the SPF and PA rating 
Papaya-D: SPF38  PA+++ 
Papaya-S: SPF50+/PA++++
Papaya-D is not water/sweat proof, whereas Papaya-S is.  You would need to reapply Papaya-D more often than Papaya-S if you use both as a normal sunscreen.  Papaya-D has a lime scent, Papaya-S has a geranium scent, both scents are unisex. They both leave my face greasy and with a white cast, with Papaya-S having a stronger white cast. The texture is quite different between the two ~ Papaya-D almost has a fluffy texture to it compared to the more oily emulsion of Papaya-S.


Papaya-D is more of a lotion whereas Papaya-S is quite thick in its lipidiness (ie oily ~ I really cannot think of other words for OILY. S is oily. period).  They both contain 4 types of papaya ingredients
Papaya-D: 55% papaya fruit water, 5000 ppm of papaya seed oil, 750 ppm papaya fruit extract, 100 ppm of papain
Papaya-S: 43% papaya fruit water, 5000 ppm of papaya seed oil, 750 ppm papaya fruit extract, 100 ppm of papain
There are 4 UVA/UVB ingredients in Papaya-D
Ethylhexyl methoxycinnamate (Octinoxate): UVB rays

Bis-ethylhexyloxyphenol methoxyphenyl triazine (Tinosorb S): UVA/UVB 

Physical blocker titanium dioxide (TiO2): UVA/UVB , white cast

Isoamyl p-methoxycinnamate (Amiloxate): UVB 
There are 5 UVA/UVB ingredients in Papaya-S
Ethylhexyl methoxycinnamate (Octinoxate): UVB rays

Bis-ethylhexyloxyphenol methoxyphenyl triazine (Tinosorb S): UVA/UVB 

Diethylamino hydroxybenzoyl hexyl benzoate:  UVA

Physical blocker zinc oxide: UVA/UVB, white cast

Physical blocker titanium dioxide (TiO2): UVA/UVB , white cast
Papaya-D has these ingredients that Papaya-S does not
Ammonium Acryloyldimethyltaurate/VP Copolymer

Caprylic/Capric Triglyceride

Cetearyl Alcohol

Cetearyl Olivate

Citrus Aurantifolia (Lime) Oil

Citrus Medica Limonum (Lemon) Fruit Oil

Dipotassium Glycyrrhizate

Glyceryl Stearate

Isoamyl p-Methoxycinnamate

Juniperus Communis Fruit Oil

Simmondsia Chinensis (Jojoba) Seed Oil

Sodium Gluconate

Sorbitan Olivate

Stearic Acid

Tocopherol




 
Papaya-S has these ingredients that Papaya-D does not
Beeswax

Beta-Glucan

Butyrospermum Parkii (Shea) Butter

Cetyl PEG/PPG-10/1 Dimethicone

Coco-Caprylate/Caprate

Diethylamino Hydroxybenzoyl Hexyl Benzoate

Dimethicone

Dimethicone/Vinyl Dimethicone Crosspolymer

Disteardimonium Hectorite

Geranium Maculatum Oil

Hydrogen Dimethicone

Triethoxycaprylylsilane

Magnesium Sulfate

Octyldodecanol

Polyglyceryl-3 Diisostearate

Triethoxycaprylylsilane

Zinc Oxide
Final Thoughts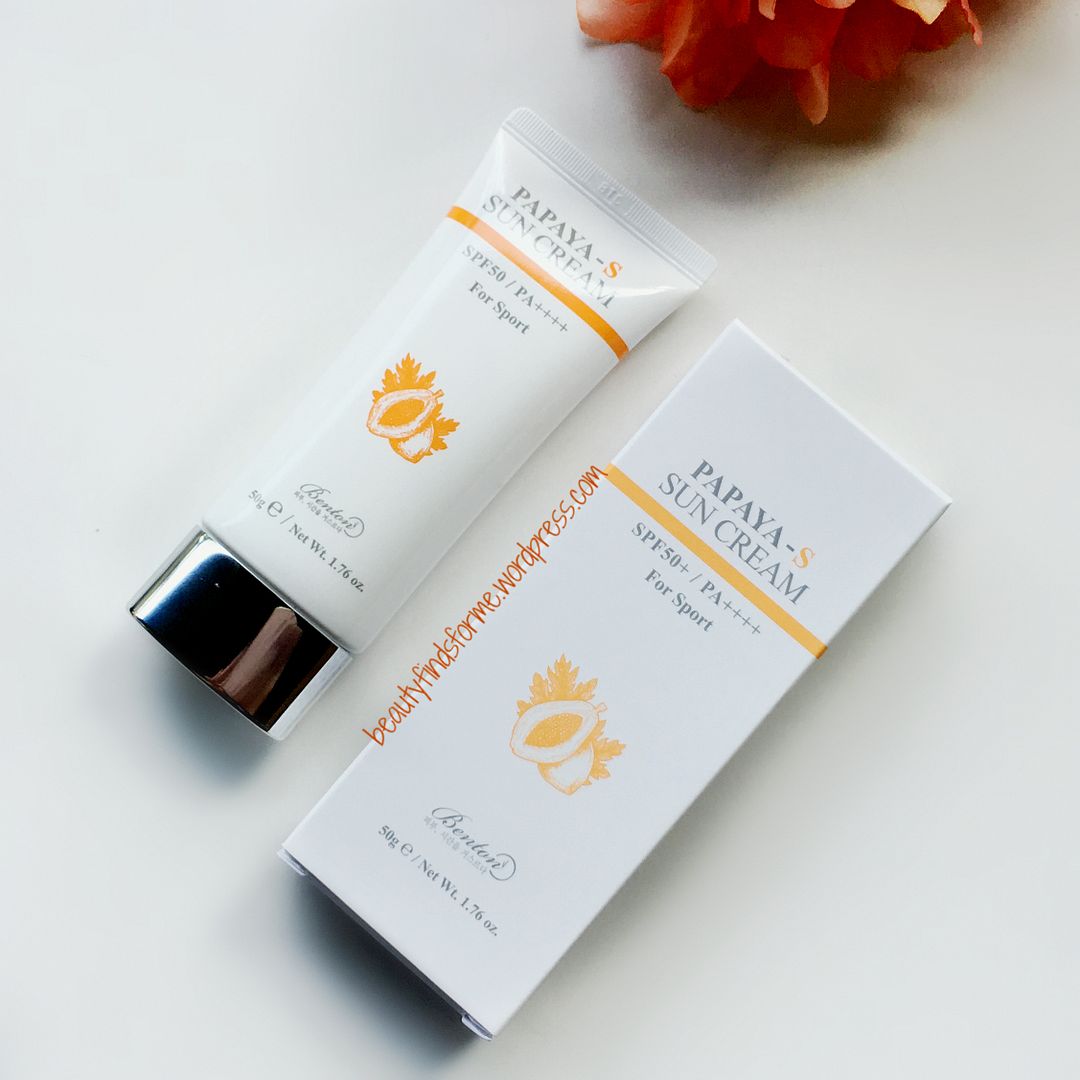 Despite the fact that the Benton Papaya-S Suncream is more oily, more white cast-y than Papaya-D Suncream, I actually like this one better.  Why? Because it is marketed as a sports sunscreen, so it isn't for every day usage ~  unless, of course, I am an athlete, which I am not!  I have no issues with a sports sunscreen having a white cast or making my face an oil pit, as I am not looking to "look my best" if I am being really active.  This is a good sweat and water proof sports sunscreen and it is one I will use for when I am outdoors doing outdoorsy stuff  Have you tried Benton Papaya-S Sun Cream?  Did you like it?  Or are interested in purchasing it?  Let me know in the comments below! 
Disclaimer: Benton requested that a review be made within 7 days, so that is why you might see a lot of these reviews around.  They also will give $50.00 worth of skincare goodies to reviews they deem the best one.  I do not know how they will chose their best review ~ if it is based on the content or just a glowing review.

Where to Purchase
This was just released, so right now, I only found it on a few sites. Benton is very popular,  however, so it is a matter of time before it will be more wildly available.  Check out my Promo/Referral (click here) page for coupons and referral discounts at some of these stores before purchasing ~ you might save some money.  This is a 50 gram tube and you should be able to purchase this for $20.00 USD and under.



[ disclaimer: product received for review purposes.  all opinions are my own ]