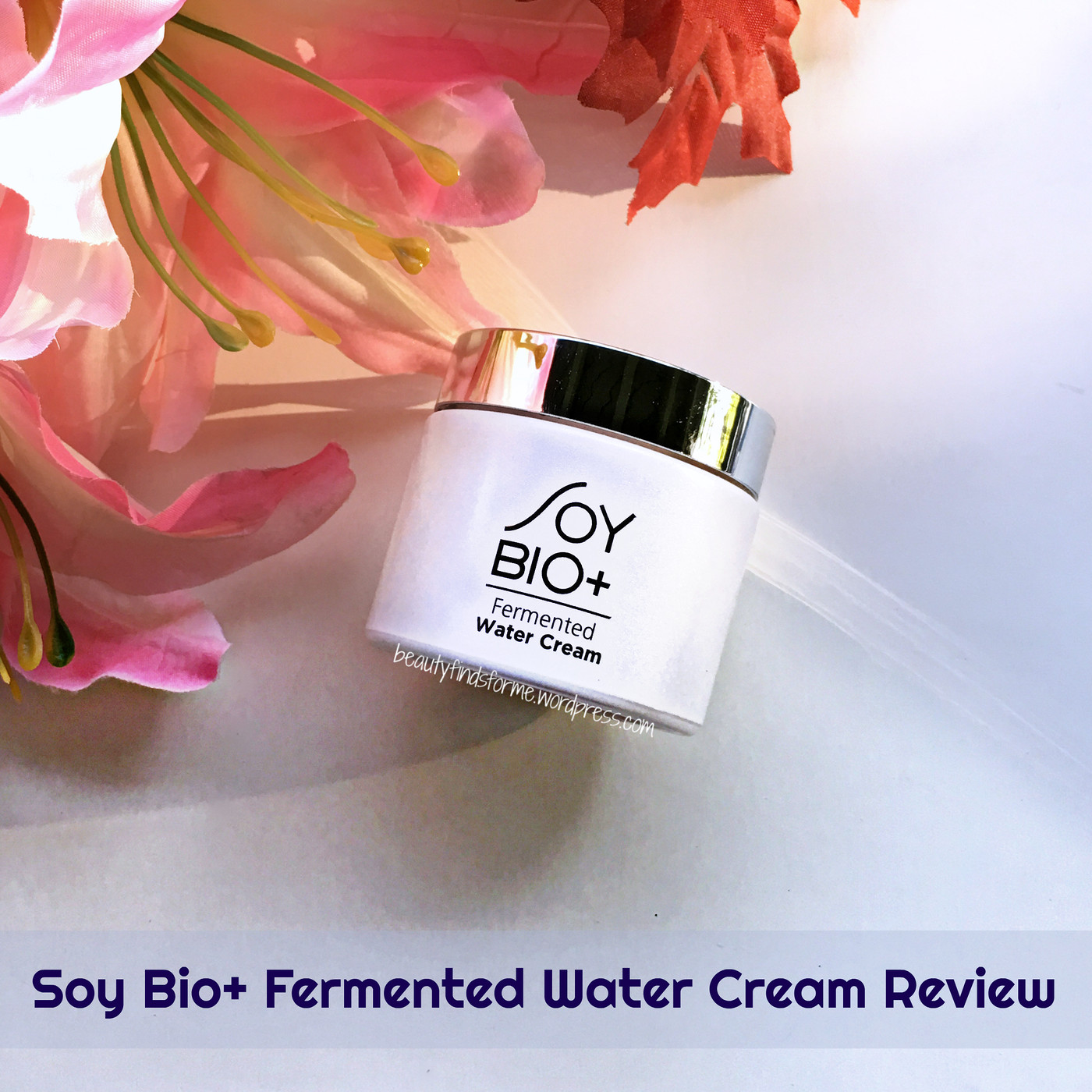 Back in 2014, when Memebox was Global (sigh), they gave us a couple of Soy Bio+ items ~ the small little fermented lumpoule (I guess lump means lumps of soy beans and poule for ampoule – all I know is that I kept singing "She's lump, she's lump, she's in my head…da da dada" oh gawd, it is back in my head again!!) Away, the ladies on the infamous HUGE Memebox chat thread loved and adored this lumpoule and wanted to nab it so bad. It was so hard to find online and it was even more difficult to get it shipped to the USA back then.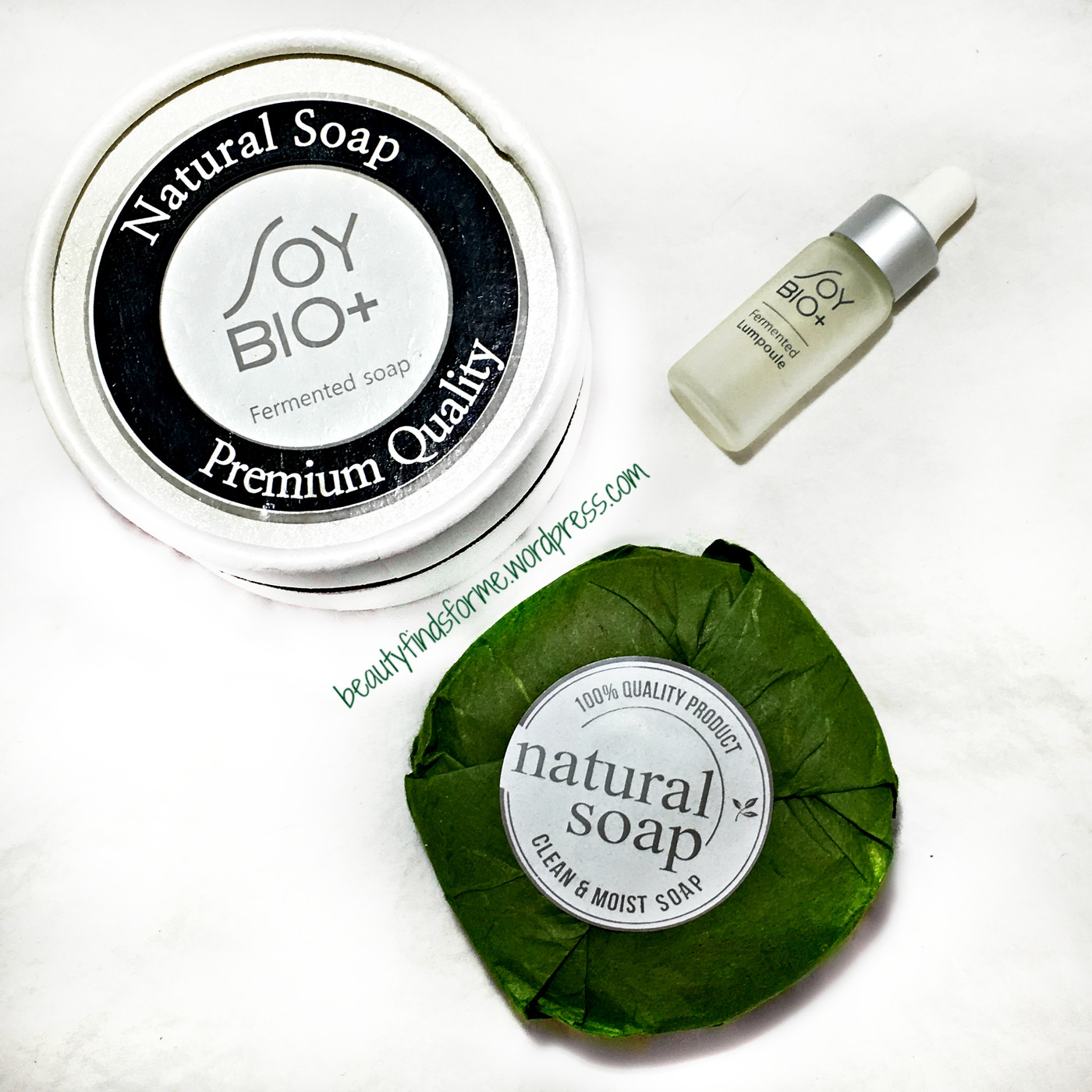 Then Memebox gave us this soap, which a lot of people didn't want, but I did and I managed to swap and get 3 of these fermented lovelies.. This is my last one and alas, it looks like Soy Bio+ doesn't make it anymore. That said, I kept a tiny teeny bit of the original mini lumpoule essence because I was sure I was going to get my hands on some more Soy Bio+ and wanted to compare.  I was lucky enough that SoyBio+ sent me a lovely package with their products for review purposes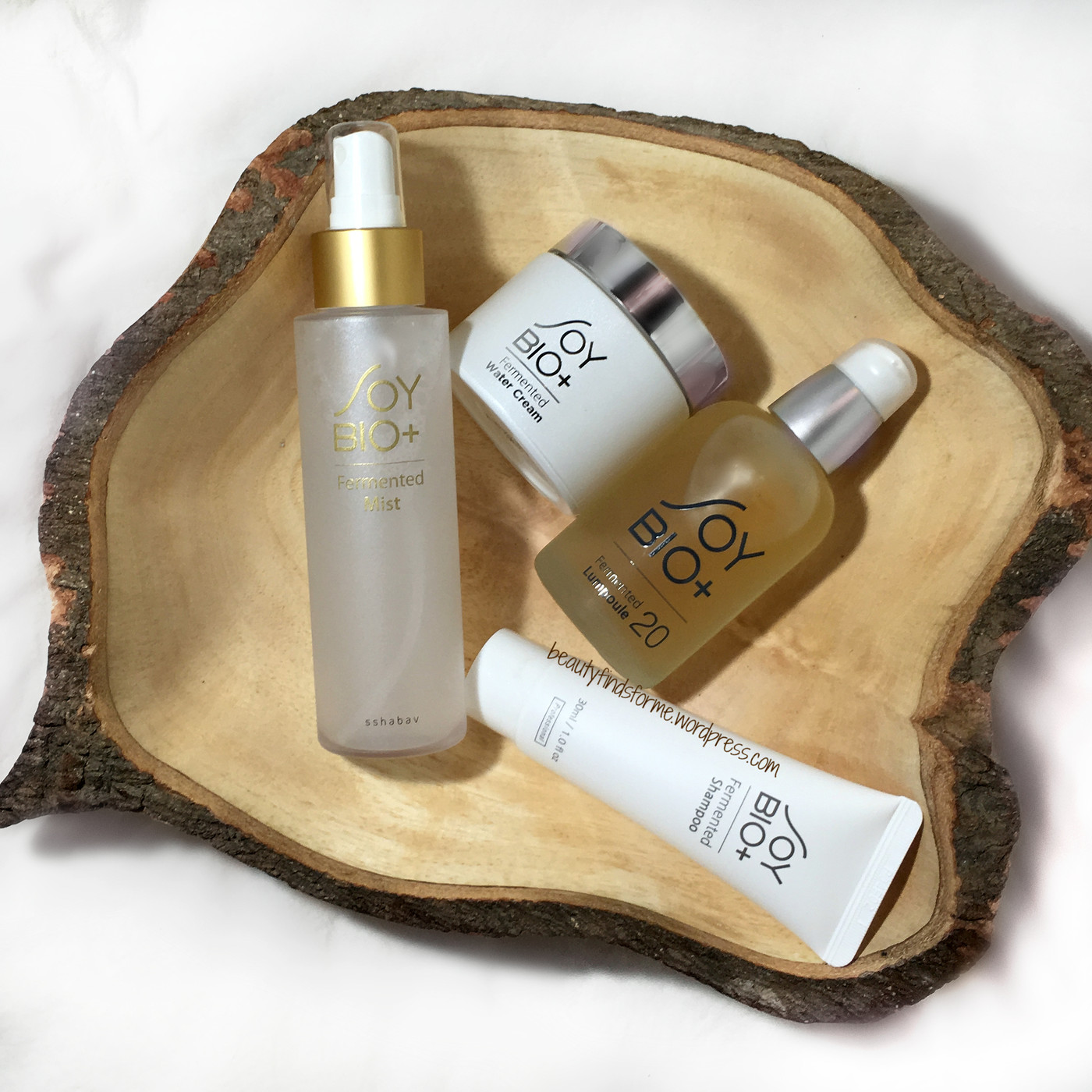 As there is no USA supplier for this brand, I am taking my sweet time to try them out fully and enjoy them, as once they are gone, I will have to either pay very high EMS shipping costs or go through a shipping service. 
Ingredients of Note
Oh there are so many great ingredients in here ~ by the way, I translated the list myself, as there was no English translation anywhere, so all mistakes are my own.  The very first ingredient is fermented soybeans ~ which have shown wonderful results on my oily, aging skin.  Full of antioxidants, soybeans moisturize, help reduce the appearance of fine lines and wrinkles, helps firm skin and can reverse UV sun damage over time. It has anti-inflammatory properties so it helps reduce blemish swelling and redness. The power of soybeans contain amino acid glycine, which helps repair damaged tissue and to speed up healing, which means it is great for blemish prone skin as well. Polypeptides are found in fermented soybeans and are very moisturizing and help "plump up" your fine lines and wrinkles. Genistein is so important as it is an anti-aging ingredient and soybeans can also boost elasticity in your skin as it can stimulate and aid in the production of collagen. Soy Bio+ produces their soybeans from sshabav Organic Farm, located in North Jeolla Province.
Fermented ingredients in skin care products are highly moisturizing and also have antibacterial properties, which is why my blemish-prone skin loves it so much.  There are a lot of ton of fermented ingredients in here besides soybean ~ grape has antioxidant, anti-inflammatory, anti-fungal, anti-microbial properties. It contains AHA malic acid, so it also helps gently exfoliate, locks moisture in your skin, while boosting other ingredients to better penetrate your dermal layer; barley seed is an antioxidant that helps preserve skin elasticity and protect against free radical damage, keeping your skin supple and toned, while acting as an anti-inflammatory, reduce hyper pigmentation and remove toxins;  rice helps keep your skin clear and moisturized, while helping to even out your skin tone by reducing hyper-pigmentation. Due to its own natural alcohol content, it is an astringent and also contains antibacterial properties to help control blemishes;  pumpkin, rich in vitamins A, C and E, will help repair and reverse free radical skin damage, while softening and soothing your skin.  It contains natural enzymes to help gently exfoliate and remove dead skin cells and unclogging pores; pomegranate contains high levels of vitamin C to promote collagen creation and also has whitening effect.
This has extremely hydrating glycerin and sodium hyaluronate along with beta glucan, which stimulates the production of collagen, speeds up wound healing, soothes and calms skin due to its anti-irritant and strong anti-inflammatory properties, moisturizes, locks in natural moisture, anti-aging and anti-wrinkle due to its anti-oxidant properties and also helps repair your moisture barrier.  Brightening ingredients are also included with niacinamide and mulberry bark, which will help lighten and brighten your skin tone.  This has soothing healing herbals as well, with lavender and chamomile, known for their anti-inflammatory benefits.  Adenosine is yeast derived and has anti-aging, anti-wrinkle and anti-inflammatory properties.
Whew ~ this cream has a lot of great ingredients in it!  Can you see why I was so eager to try it out?
Ingredients: soybean fermented extract, glycerin, cyclopentasiloxane, cyclohexasiloxane, niacinamide, caprylic/capric triglyceride, dimethicone, dimethicone/PEG-10/15 crosspolymer, cetyl PEG/PPG-10/1 dimethicone, simmodsia chinensis (jojoba) oil, olea europaea (olive) fruit oil,citrus aurantium dulcis (orange) oil, purified water, propanediol, sodium hyaluronate, morus alba (mulberry) bark extract, saccharomyces/caragana sinica root ferment extract, glycine max (soybean) seed extract, chamomilla recutita (matricaria) flower/leaf extract, rosmarinus officinalis (rosemary) extract, lavandula angustifolia (lavender) extract, monarda didyma leaf extract, ocimum basilicum (basil) leaf extract, salvia officinalis (sage) extract, origanum vulgare leaf extract, mentha viridis (spearmint) extract, lemon balm extract, zanthoxylum piperitum fruit extract, pulsatilla koreana extract, usnea barbata (lichen) extract, beta glucan, adenosine, aspergillus/rice ferment extract, aspergillus/saccharomyces/barley seed ferment extract, lactobacillus/soybean ferment extract, lactobacillus/pumpkin ferment extract, lactobacillus/portulaca oleracea ferment extract, lactobacillus/punica granatum fruit ferment extract, saccharomyces/vitis vinifera (grape) ferment extract, butylene glycol, caprylyl glycol, scutellaria baicalensis root extract  cosDNA analysis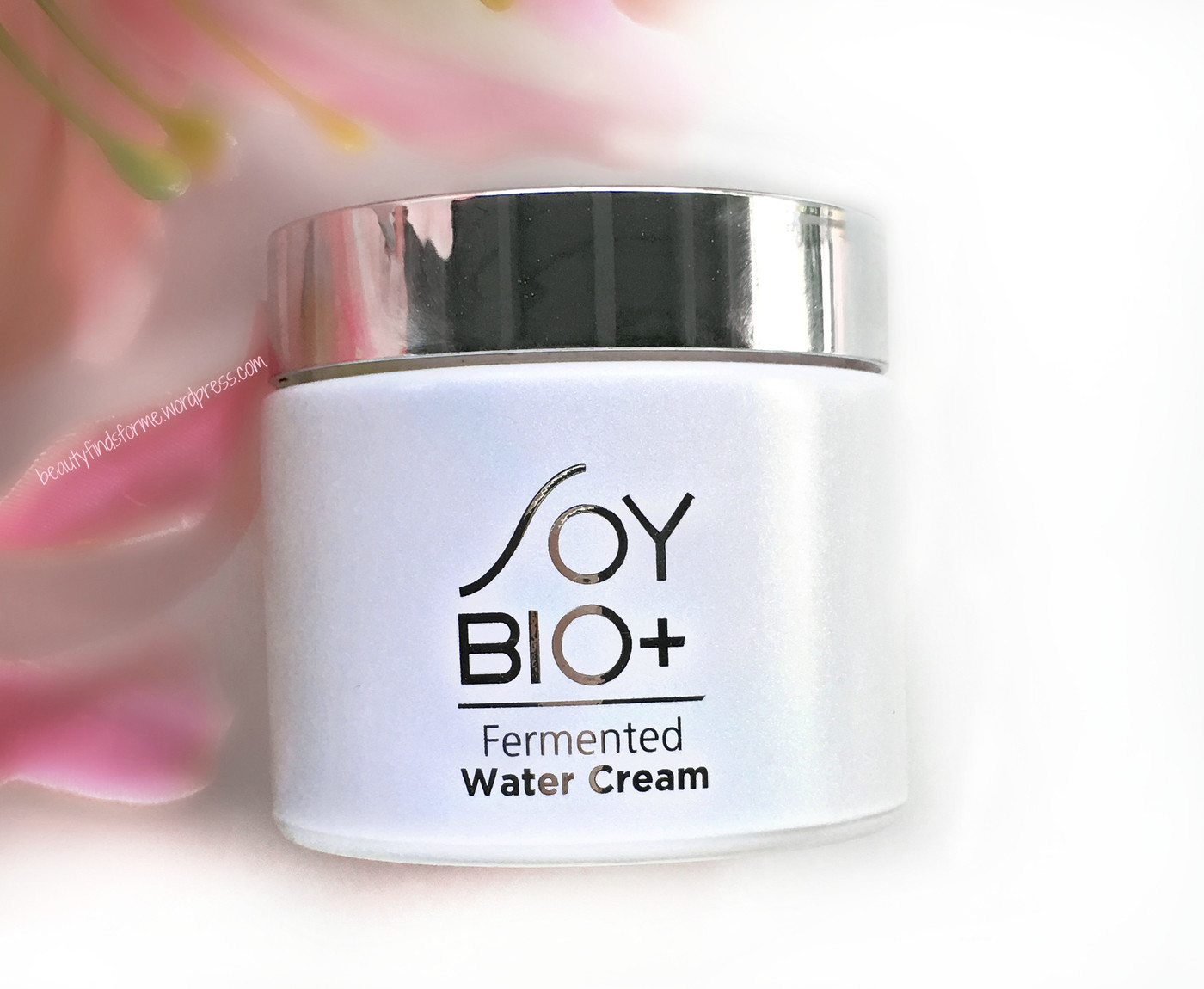 This lovely cream comes in a white glass jar with silver lid.  It also has a spatula, but I rarely use one with this cream.  The texture of this cream is insane~ it looks like a normal gel cream in the jar, until you try to scoop it out ~ then you realize that this is very much a watery gel and not a cream at all.  The color is a translucent white and its scent is divine ~ it is a bright sparkling lemonade.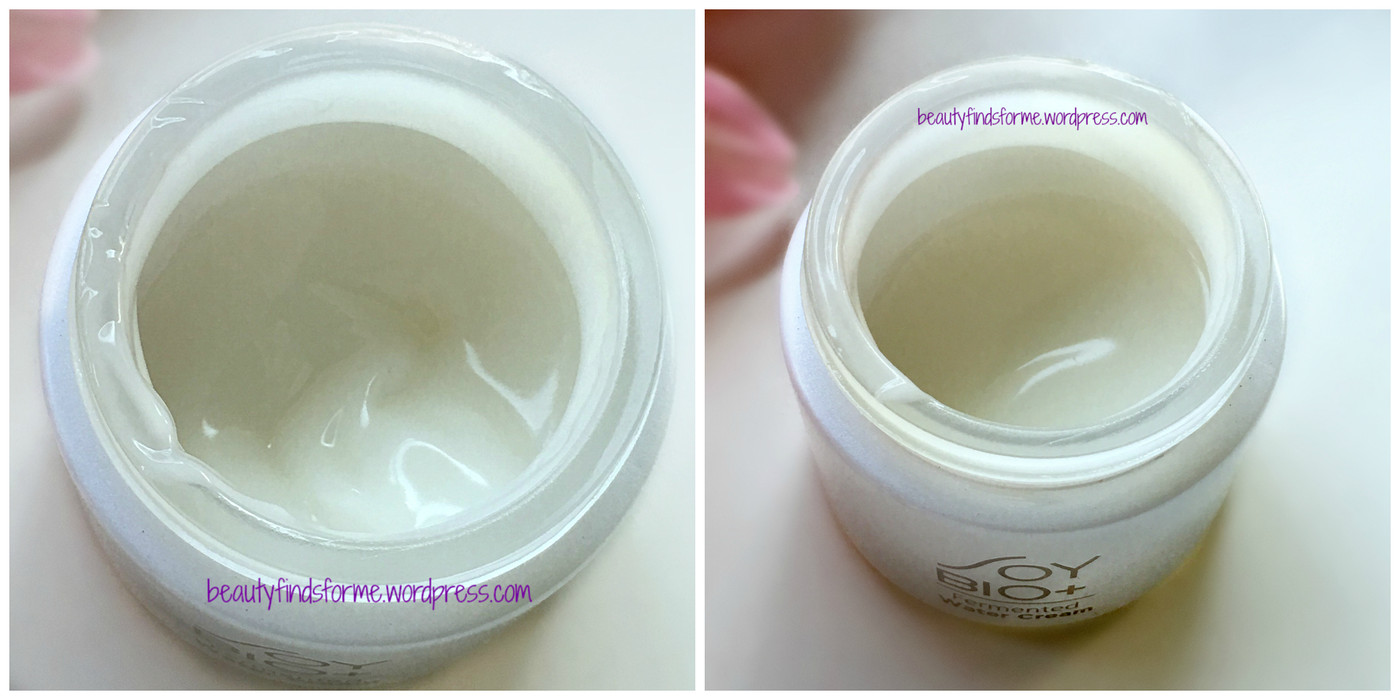 This gel turns to a watery essence fairly quickly on my skin ~ and my skin just soaks it up too!  This is a massive water bomb, but it doesn't leave any sticky or tacky residue.  It is so hydrating and refreshing ~ there is a cooling sensation on my face every time I use it.  My skin is moist and supple and this gel cream is so soothing on my skin.  I have not experienced any negative reactions using it, such as blemishes or rashes.

It increases my water moisture level by 33% and decreases my oil levels by 38% ~ making my oily skin normal.  Now, if you have dry skin, you will need a more occlusive layer over this watery cream, because it won't be enough for your skin type.  For me and my oily skin, I am thrilled that this reduces my oil levels, while dosing my face in moisture!  This is a fantastic gel-cream for oily skin types, especially in warmer weather.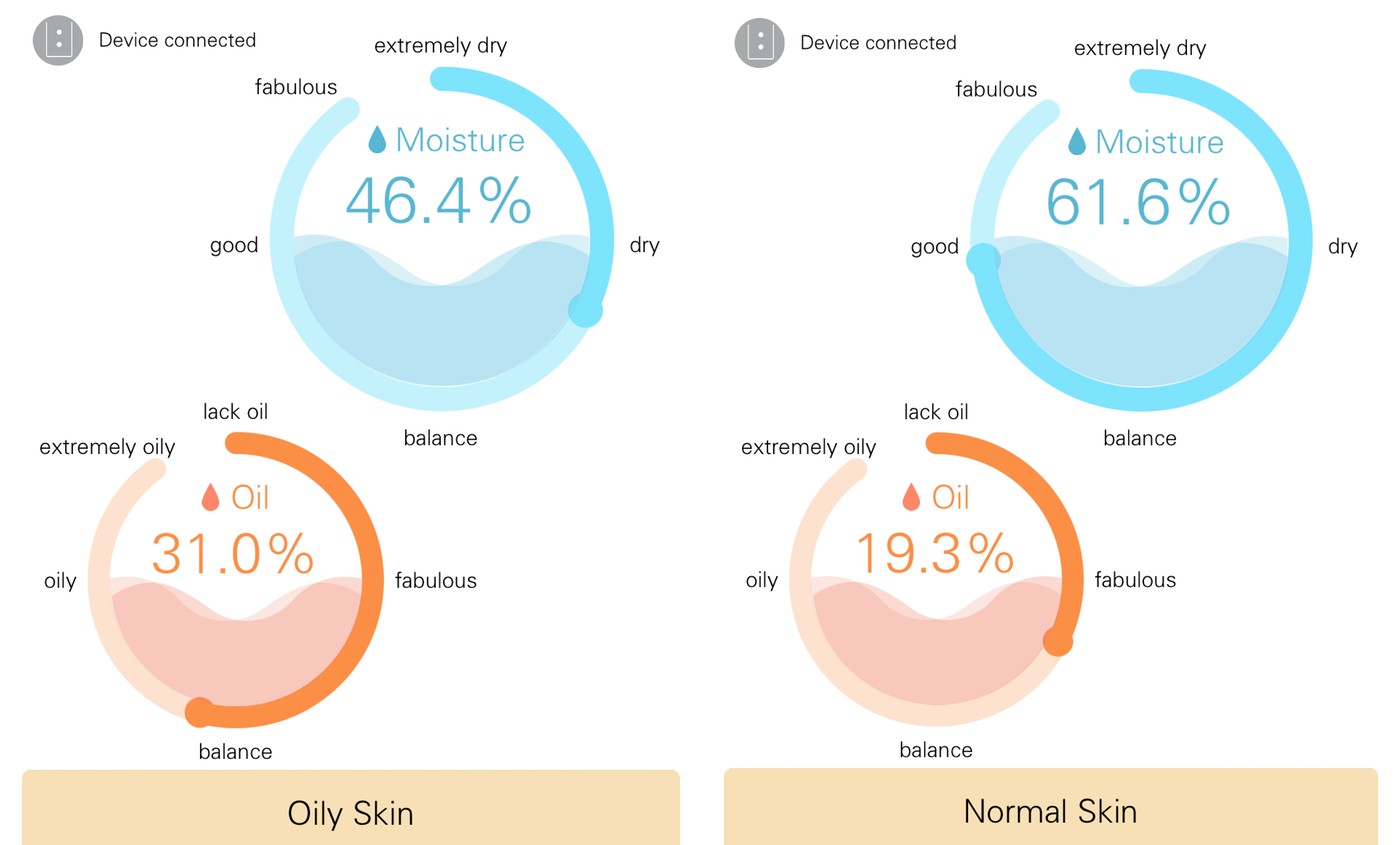 Final Thoughts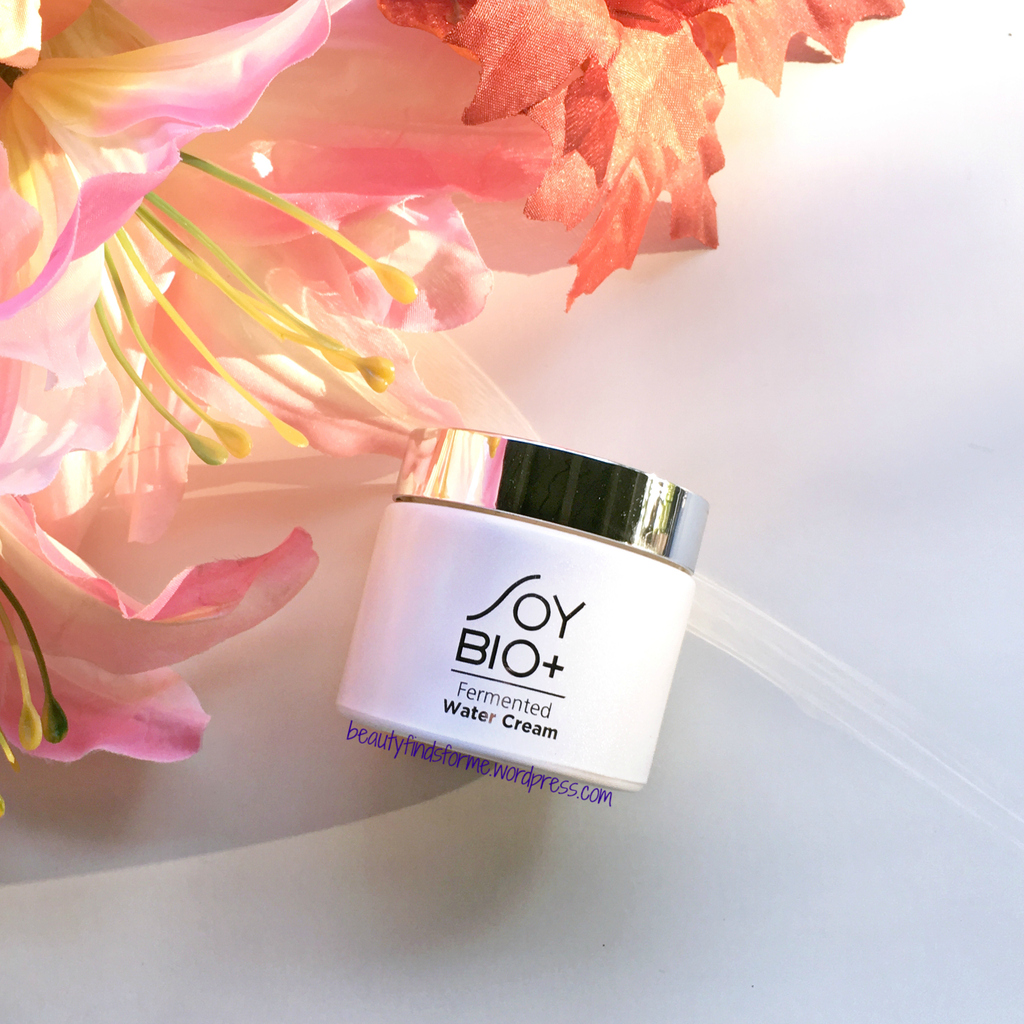 I love this fermented water cream by Soy Bio+  ~ I am half way thru my jar, as a little goes a long way ~ it is that hydrating!  I am going to be sad when it is done and I will have to suffer the high cost of overseas shipping, as this product is not sold in the USA.  It is hydrating without being heavy or greasy, it soothes and refreshes my skin with a citrus scent and cooling sensation.  Soy Bio+ Fermented Water Cream also gives my skin that "plump" look, by reducing the appearance of fine lines in my skin and giving my skin an overall bright look.   I am not one to love cream products and even gel-creams are suspect as they can be sticky or too dewy.  This one, however, is AMAZING.  It delivers exactly what I need ~ which is to hydrate my oily skin and reduce the oil in my skin, while giving me a nice glow.  I will purchase this.  Even with EMS shipping.  It is that GOOD.
Bonus Mini Review
I reviewed the deluxe sample of SoyBio+ Fermented Shampoo on Instagram and I will review it here as well, in case you missed it.  It is believed that even hair loss can be prevented by soy extract, so although I am not really losing hair, it doesn't hurt to try it.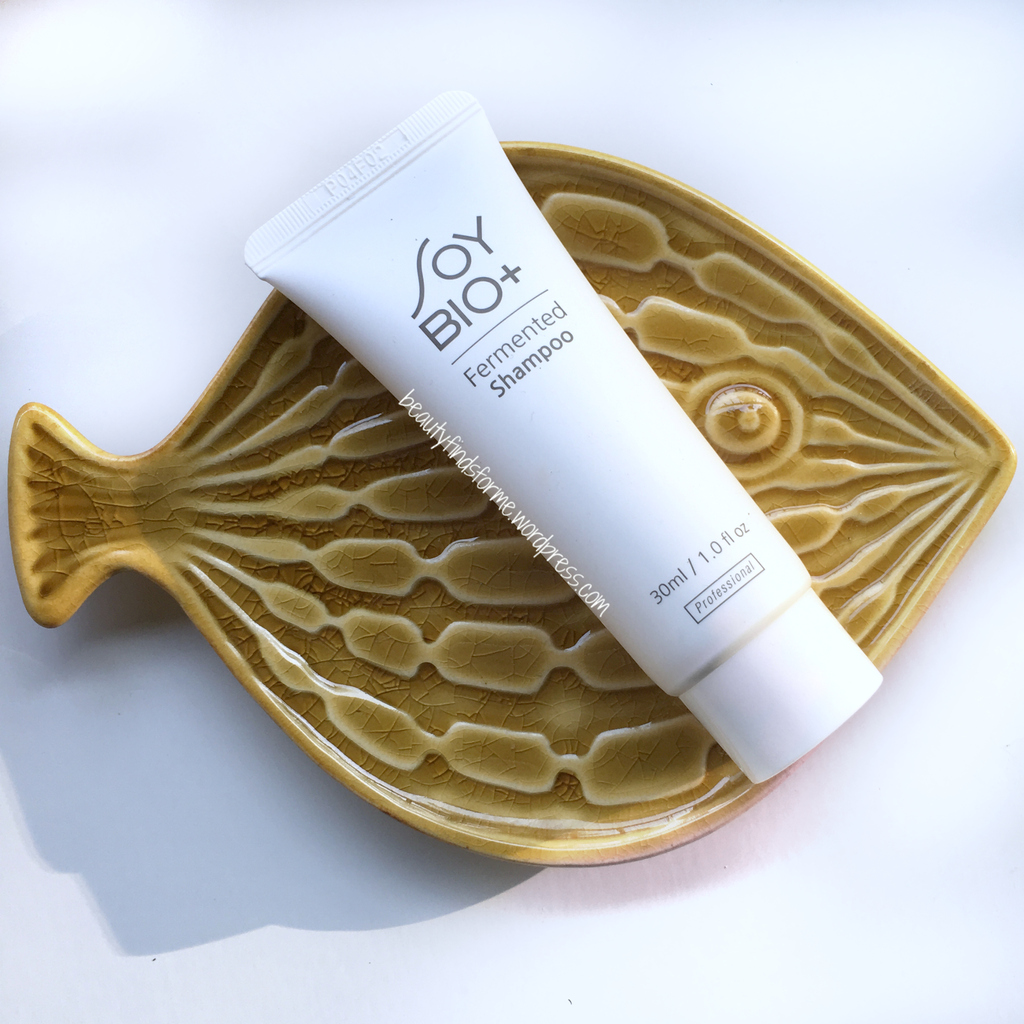 This shampoo is a nice light golden shade and has an earthy scent to it, very grain-like. However, once I applied to my hair and starting lathering up, I started smelling menthol and a light tingling on my scalp. This is a mild refreshing shampoo ~ so if you do not like a cool tingling shampoo, but would like to benefit from the tea tree, peppermint and spearmint oils, this one is for you. I really enjoying using this and the surprise of going from a grain-scent to a menthol-minty scent. I have oily hair/scalp, so I enjoyed the fact that this shampoo does a gentle detox on my scalp, so that my both my hair and scalp are clean and healthy.  
Ingredients: Soybean Fermented Extract, Ammonium Laureth Sulfate, Ammonium Lauryl Sulfate, Glycerin, Caprylyl/Capryl Glucosidel, Cocamidopropyl betaine, Polyquaternium 7, Amodimethicone, Guar Hydroxypropyltrimonium Chloride, Cocamide DEA, PEG-14M, Dimethicone, Laureth-23, Laureth-3 , Melaleuca Alternifolia (Tea Tree) Leaf Oil, Rosmarinus Officinalis (Rosemary) Leaf Oil, Salvia Sclarea (Clary Sage) Oil, Peppermint Oil, Glycol Distearate, Methylparaben, Salicylic Acid, Citric Acid, Panthenol, Cetrimonium Chloride, Disodium EDTA, BHT, Menthol, Morus Alba Bark Extract, Saccharomyces/Caragana Sinica Root Ferment Extract, Chamomilla Recutita (Matricaria) Flower/Leaf Extract, Rosmarinus Officinalis (Rosemary) Extract, Lavandula Angustifolia (Lavender) Extract, Monarda Didyma Leaf Extract, Ocimum Basilicum (Basil) Leaf Extract, Salvia Officinalis (Sage) Extract, Origanum Vulgare Leaf Extract, Mentha Viridis (Spearmint) Extract, Lemon Balm Extract, Silk Amino Acid, Angelica Gigas Root Extract, Rehmannia Chinensis Root Extract, Cnidium Officinale Root Extract, Astragalus Membranaceus Root Extract, Fragrance  cosDNA analysis

Where to Purchase
This is the bad part ~ I only know of one place you can purchase this that will ship worldwide.  The company has a presence on Naver as well.   This cream is around $33.00 USD (34,000 won ₩) for a 80 mL jar

11ST Shipping Internationally with EMS option ONLY.  I don't get it ~ why EMS only?    To ship to the USA, it is an additional 24,430 ₩, which means the total of this cream is almost $60.00!!! 
Naver (Korean only)   Delivery is 2,500 ₩.
Naver also sells a skincare kit, which includes the Fermented Mist, Fermented Lumpoule 20 Serum and this cream for 100,000 ₩
If you are interested in the shampoo, it is sold at both places as well and there is a scalp treatment too!  Naver has sells the shampoo and scalp treatment in multiple configurations too.
Fermented Shampoo  38,000 ₩ ($36.66 USD) for 500mL
Fermented Scalp Tonic  64,000 ₩ ($60.00 USD)
You can purchase Soy Bio + at 11st, but wow, the shipping rates are so expensive!  What I recommend is using a shipping service, such as Korean Buddy and order it via Naver.  You can then have different shipping options with Korean Buddy, so you can save a lot of money that way. EMS is so expensive and really isn't worth it unless you are shipping a lot of heavy items.  If this is your first time with placing an order with Korean Buddy, you can save 50% off handler fee using my blog url as a referral https://beautyfindsforme.wordpress.com  ~ just cut and paste my URl into the referral section in their order form.

Please, please some shop in the USA pick this brand up ~ it is amazing ~ I have loved their products from the early Memebox Global days and I really want this brand to be popular here. But no Glow Recipe or Soko Glam ~ they will charge the crap of this amazing product.  Grrr…..
[ disclaimer: products received complementary for review purposes.  contains referral link ]
Save
Save
Save
Save
Save