This month's theme is All About Mom ~  I'm not a mom, but I really appreciate all of the scents this month!   The other month, Herb Stop  changed their labels so they are oil resistant and will not smudge the print if you get oil on them which is really smart ~ I was always smudging the color and print off the labels.  Now, they have changed their packaging, which I will go into after I explain… What is Herb Stop?

Herb Stop is located in Pine, AZ and has been recognized by the community and the state of Arizona  with a variety of awards.  They only use ingredients from  reliable and ethical sources and all of their essential oils are 100% pure, with the exception of their precious oils ~ such as Jasmine, Rose, Neroli, Sandalwood ~ and those will be blended with jojoba oil.    You will receive a box of 4 bottles, either 1/6 oz or 1/3 oz)  that can be essential oils, essential oil blends and/or roll-on essential oil blends.  You will also receive information about your oils and how to use them, including safety information.   Each box is $19.99 which includes shipping, USA only and Herb Stop will start mailing them out during the 10th thru 17th of every month.   Herb Stop has over 200 varieties essential oils alone, which means the boxes will be very different each month ~ as there are also custom-made blends as well.   You can auto subscribe here.   Use Promo Code BFFM15  and receive 15% off your first box!
So, as I mentioned, the packaging changed ~ Herb Stop has created custom mailing boxes with their logo and when you open up the box, the oils are nestled safely in their own little cubby and there is a nice foam top to protect them.  This is very smart as before they were bubble wrapped and taped together, where as now, it is very nice looking as well as very professional!  I love it.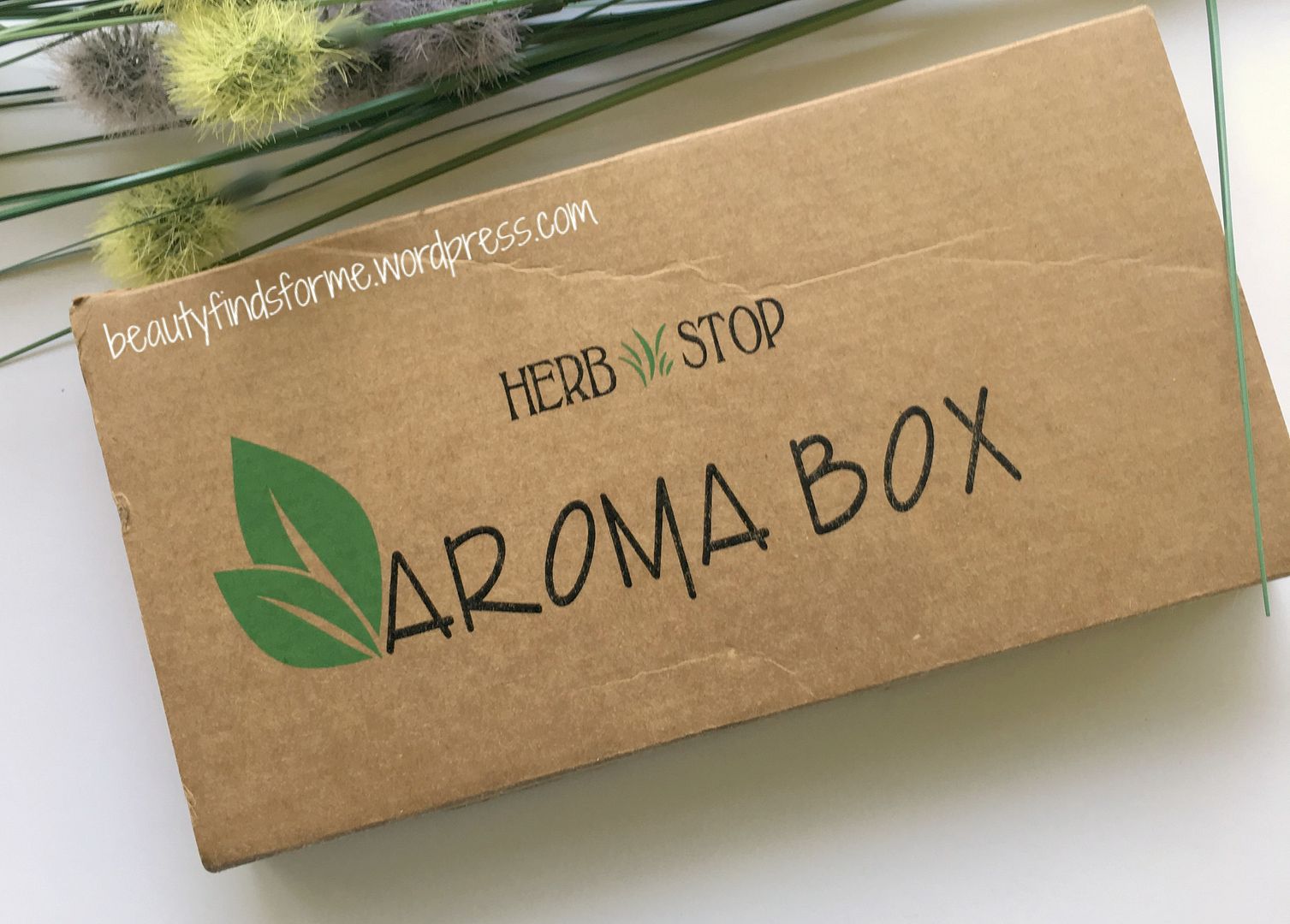 What's In Your Aroma Box?
All of the essential oils, unless otherwise noted, have a screw top lid and there is a plastic lid inside that has a tube, so that you don't spill out all of your oil if you drop the bottle (and it doesn't break).  I also like that the oils are in dark cobalt blue glass bottles to help protect them from UV rays and light.  Unless noted otherwise, all of the pure essential oils are 100% natural, pure essential oils, vegan and vegetarian safe, non-GMO and no additives. Bottled in the USA.

Aphrodite Aromatherapy Roll On  We are back to an oil roll on, which can be used either as a perfume or treatment oil.  Made with scents that are known for sensuality, confidence and mood lifting, it also helps support hormonal balance.  This is a really nice scent ~ I can smell the orange right away with the drier, woody scent of Ho Wood.  Then the Ylang Ylang makes an appearance with herbal undertones.   Very nice oil blend! This is 100% natural and vegan  RV $15.95
Description: Aphrodite is made with essential oils that are know to be sensual, encourage confidence, lift mood and for increasing the feminine.  Aphrodite's exotic blend of essential oils makes it a lovely perfume as well.

 Ingredients: 100% Pure Essential Oils of Orange, Ylang Ylang, Ho Wood, Sage and Fir in a base of organic golden jojoba oil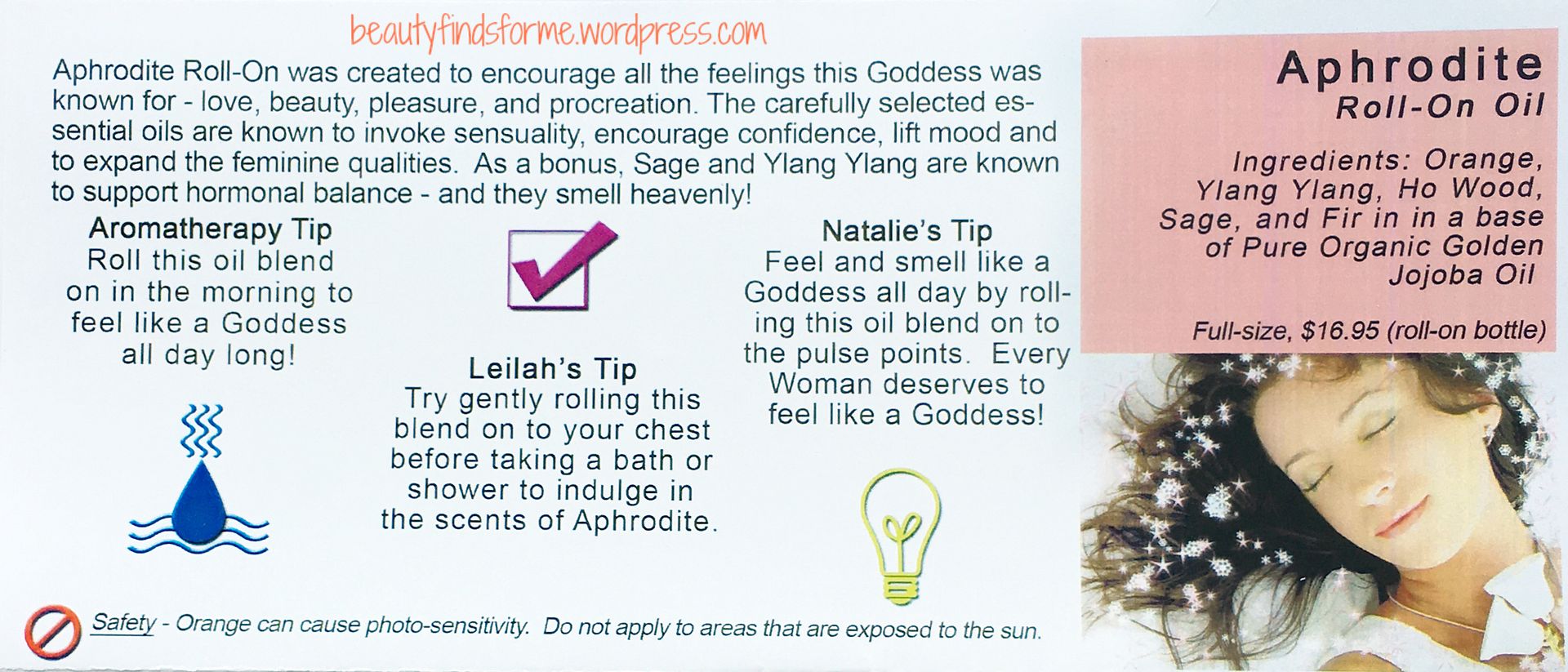 Palmarosa (cymbopogan martinii) Essential Oil Palmarosa was used originally to help fight off colds, flue, coughs and other ailments, as it is an anti-everything (viral, bacterial, fungal) and it would also help with depression.  It is also used in skincare products, as it balances oil production, tones, firms and aids in cellular renewal and also moisturizes.  It is similar in its scent to geranium, but I don't smell that at all.  Palmarosa is more of a green-lemon scent to my nose than a rose-like scent.  To be honest, this is the least favorite in the box for me, but I will mix it with lemongrass or lemon oils and see if it improves.   5mL RV $3.60

Description:   Traditionally used as an anti-viral, anti-bacterial, anti-fungal, for colds, flu, sinusitis and coughs. Herbalists use Palmarosa to ease morning fatigue and for mild depression. Use Palmarosa in skin care for its nourishing, balancing and regenerative properties for all skin types, promoting skin healing. It may also be helpful for scars, rashes, wrinkles, regenerative and regulates oil production of the skin, for dry skin. Emotionally, Palmarosa is calming, refreshing and clarifying.*

Ingredients: 100% Pure Cymbopogan martinii (Palmarosa) Essential Oil.

Origin: India

Parts Used: Grass

Extraction Method:  Steam Distilled

Food Chemical Codex:  Yes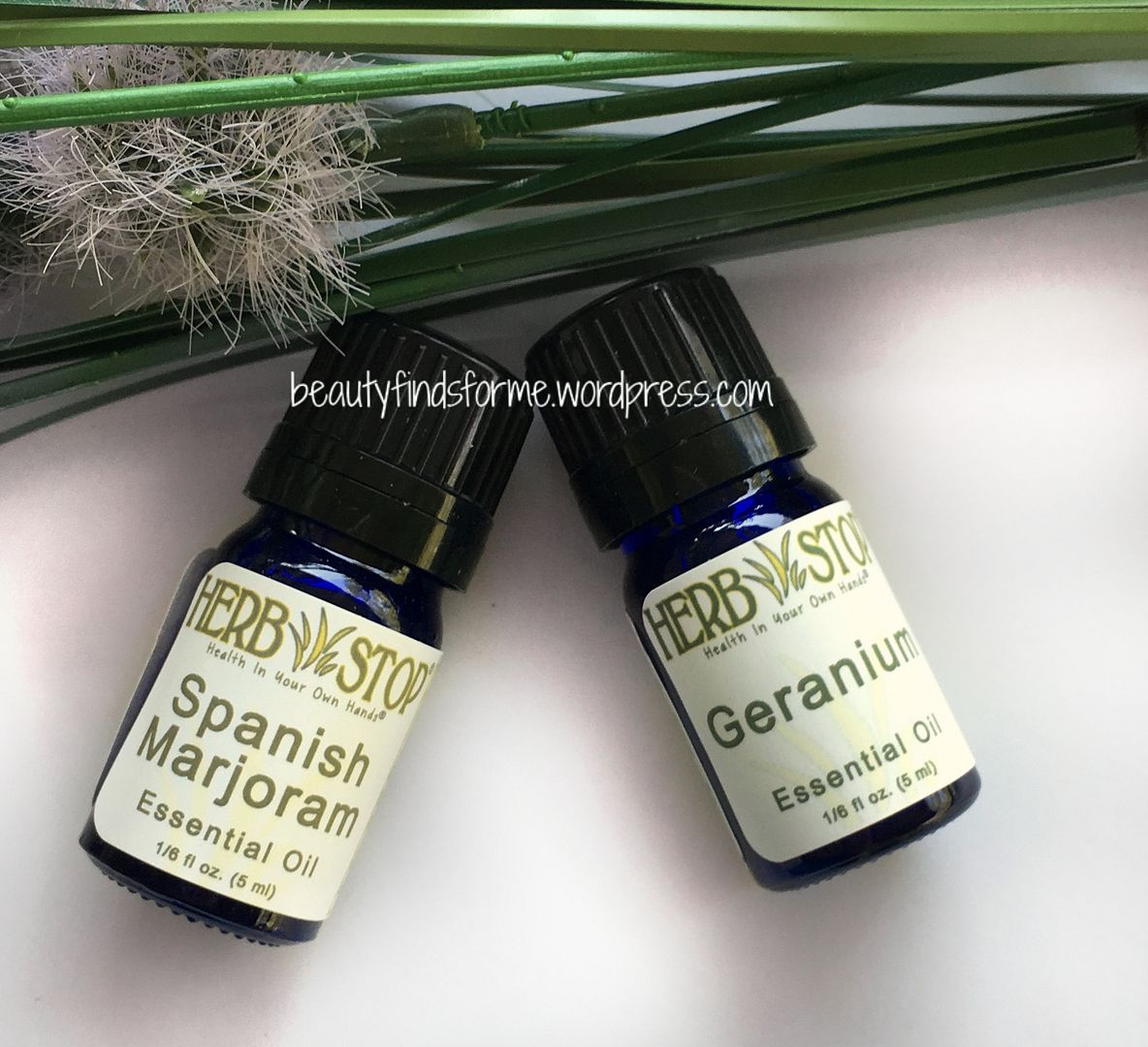 Spanish Marjoram (thymus mastichina) Essential Oil  I like this scent a lot ~ it is a spicy-sweet herbal scent, very invigorating and pungent.  Spanish marjoram has been used since ancient times as a traditional herbal medicine by the Greeks and Romans ~ it was a symbol of love, honor and happiness as well.  This oil blends well with lavender and bergamot, creating a relaxing, yet uplifting scent.  5 mL RV $5.07
Description:  Traditionally used as a soother, calmer, analgesic and antispasmodic. Commonly used for menstrual cramps, regulating blood pressure, as an anti-viral and for immune boosting. Emotionally, Marjoram is used for creating closer connections with other individuals.

Ingredients:   100% Pure Thymus mastichina (Marjoram) Essential Oil.

Origin:  Spain
Parts Used: Flower/Leaves
Extraction Method: Steam Distilled
Food Chemical Codex: Yes

Geranium(pelargonium graveolens) Essential Oil  This oil is commonly used as a substitute for rose essential oil, as it does smell like rose-like.  I honestly think it smells prettier than rose, as I pick up some herbal notes in this oil as well.  Whenever I get a product that smells like rose, but I don't have an allergic reaction, I know that it is most likely geranium/rose geranium oil that has been used.  This helps with respiratory issues, skin issues and also with mood disorders.   5 ml RV $11.30
Description: Geranium has been known to have a special affinity to the female body. Traditionally used for respiratory problems, helping immune function, and improving circulation. May be helpful in treating acne and oily skin, dandruff, eczema and greasy hair.  Commonly used for anxiety, depression, tension and PMS. Emotionally, this oil is stimulating, uplifting and energizing. Geranium is supportive and brings comfort during great transitional times, such as menopause and puberty.
Ingredients: 100% Pure Pelargonium graveolens (Geranium) Essential Oil.
Origin: Egypt

Parts Used: Leaf

Extraction Method: Steam Distilled
Food Chemical Codex: Yes
Herb Stop also included a "Mom to the Rescue Blend" recipe: 20 drops geranium, 10 drops palmarosa, 10 drops marjoram ~ blend all essential oils in a glass bottle and add a few drops in your lotions and hair products. They also have included a promo code to save 10% off any of their full sized oils and roll-on's in their shop  ~ use ABMYP17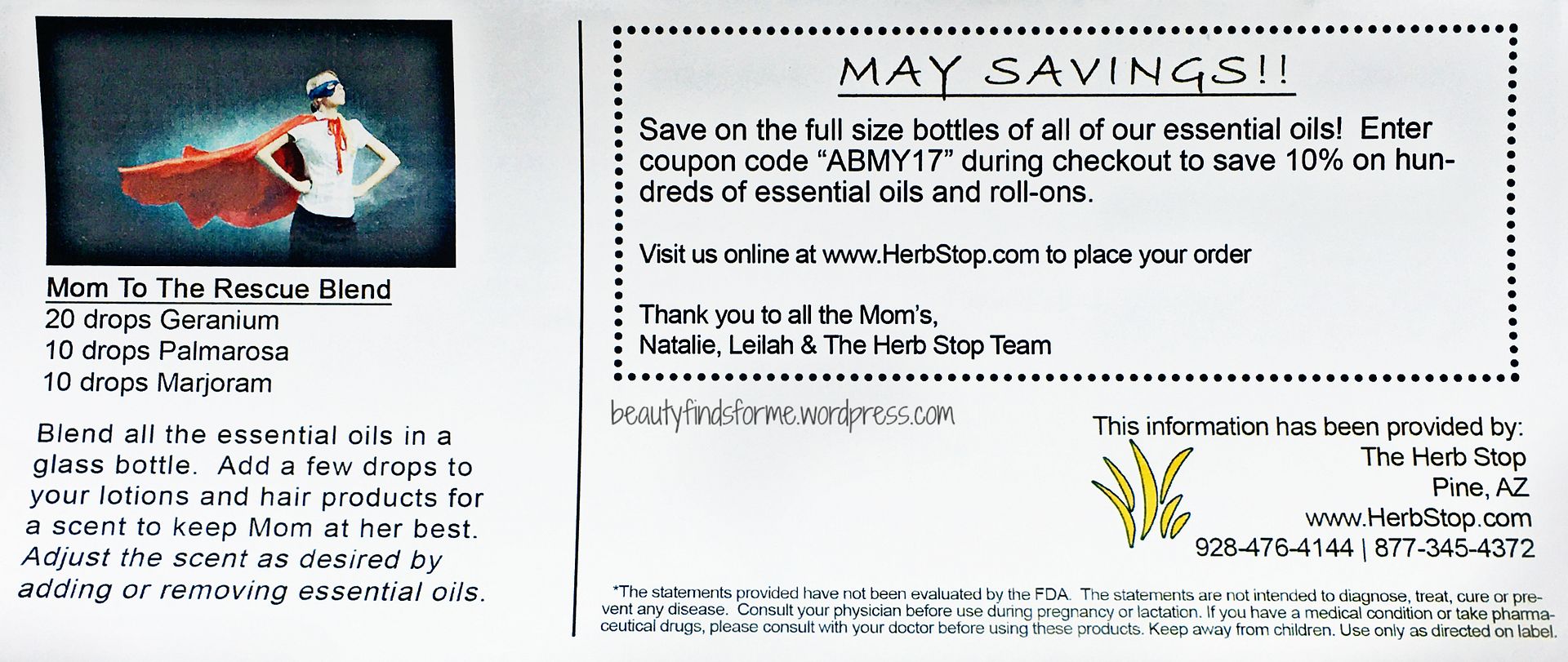 I am pretty happy with my "Mom" oil box ~ other than the geranium oil, the other oils were new to me and I am pretty happy that they mix well with some of my favorite scents, like lemon, lavender, bergamot.  I also love the new box and packaging ~ this makes the oils very secure in transit plus the logo and design is really nice!  I paid $19.99 for this and received a value of almost $36.00!   If you are interested in subscribing, you can do so here and use promo code BFFM15  to receive 15% off your first box!
Please note, essentials oils are not to replace seeing a doctor if you have serious ailments or issues.  However, aromatherapy, scents and herbal tinctures/oils have been used for centuries with great success.   I would never state that this should replace seeing your doctor, but if you know your body and you have discussed this with your doctor, you should be able to use essential oils for minor treatments.

Have you signed up for Herb Stop's essential oil box?  Are you interested in doing so?

[ all descriptions in italics from Herb Stop. Blog post contains affiliate link ]
Save
Save
Save