[ disclosure:product received for review purposes. blog post contains affiliate and referral links ]
Ahhh, my love for Hanyul continues ~ I am truly enjoying this Hanbang brand and I have reviewed the Hanyul Optimizing Serum earlier this year ~ review here ~ and it is my absolute favorite first serum and I do notice a major difference with my skin when I don't use it.  Aritaum USA sent me two deluxe sizes of the Optimizing Mask, which is 30 mL (1 oz) in total ~ the full size version is 80 mL, so I was able to get about a month's worth of use out of these items.  I had used them when the weather was a bit cooler in the Boston area, near the end of winter, so I really got the full moisturizing benefits of this sleep pack.  This review is long overdue, as I should have written it a month ago when I ran out of the product! Many thanks to MinJi at Aritaum USA for sending me these products.

Hanyul is part of the Amore Pacific family and you can find their products at the Aritaum malls and outlets in the USA (click here) or you can purchase them online at many different shops ~ I will link a few below at the end of this review.  Hanyul is their line of Traditional Korean Medicine (Hanbang) in skincare
They say mothers know best. We've found this to be true especially when it comes to natural skincare. Hanyul is a brand inspired by the traditional folk remedies and medicinal practices carried on for centuries by women in their homes. In combination with modern technologies and formulas our brand is inspired by these mild, but effective remedies passed down from mothers to their children for generations. Amorepacific's years of accumulated knowledge for creating skincare combine our mother's traditional wisdom with scientific advancements. Our products are made with the same traditional and local ingredients including Korean plants and grains such as rice, brown pine needles, artemesia, baekhwago(Korean mushroom), Korean chrysanthemum, and our native seoritae(Korean bean).  (source)

Hanyul Optimizing  Mask
Description: The brown pine needle fermentation solution makes skin feel smooth and soft again the next morning by taking care of skin's rhythm during the night. At the last step of skincare, the optimized consistency wraps skin during the night to prevent loss of moisture; the aroma of refreshing pine tree provides a comforting feel. At the last step of skincare, apply on the face and neck in a massaging motion. Tap skin with both hands to promote absorption.
The actual full size product comes in a jar and looks like this: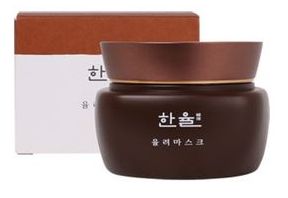 The beauty of balance is discovered from land as well as Korean mothers' wisdom, which has been
transmitted from generation to generation. Raw ingredients are discovered from the land of Korea. A processing method is discovered from traditional Korean wisdom transmitted from generation to generation.  The beauty of balance is discovered from nature and tradition.
Extracts from brown pine needles, which have natural vitality, give the skin a powerful boost by restoring its clear and healthy complexion. Their nutrients help the skin maintain its ideal condition and prevent it from damaging. These benefits help the skin achieve its optimum balance, which Hanyul refers to as "Yullyeo"
A clear and healthy skin is a well-balanced skin. Inspired by the wisdom of Korean women in the past, the product restores the skin's natural day and night functions.
A mother's wisdom instilled in Yullyeo (Optimum Balance). Throughout the ages, Korean mothers have used pine needles,  an effective antioxidant, to relax the skin. This follows the natural order of Ziwuliuzhu (子午流注) , which is "to be active during the day and stay dormant at night". To start off the day, mothers would drink pine needle tea in the morning, take baths in pine-infused water or place a pouch full of pine needles next to their pillow to relax. This helped them achieve a healthy and balanced life.
Ingredients of Note
Well of course, fermented pine needles! Pine Needles aka Pinus Sylvestris ~   and according to what Hanyul's literature tells me, fermented brown pine needles has four times the active compounds and benefits of green pine needles.  Pine needles have been used for over 4,000 years in Korean medicine and its uses span topical use for anti-aging and age reversal to internal uses for a healthy heart, strength and vitality.  Hanyul harvests the needles in October and then they are cleansed before placing in clay pots to ferment and concentrate its benefits into a golden oil.  That golden oil is then used to create the Optimizing series.

Pine needle oil has anti everything ~ antimicrobial, anti-septic, anti-fungal, anti-inflammatory and is rich in antioxidants such as carotenoids and vitamins A, C and E, which help combat free radicals.  Vitamin C also plays an essential role in producing collagen, which helps keep your skin firm and smooth.  Pine oil contains tannin, so this will have a natural pore tightening effect as it is an astringent.  It has been used to help treat skin issues, such as acne, eczema and itching.  Since it is an anti-inflammatory, it will aid in reducing redness and swelling and as an anti-septic and antimicrobial, it will help speed up healing on wounds . It will help reserve skin damage caused by free radicals, helping to tone and lessen the appearance of fine lines and wrinkles.
As this is a sleep pack, it needs to have some rich, moisturizing occlusive ingredients ~ which it does: squalane, which penetrates and absorbs rapidly into your skin and has anti-oxidant properties, helping prevent UV damage and hyper-pigmentation age spots, helps cellular growth and is an anti-bacterial.  This is an excellent moisturizing ingredient.  Shea butter and safflower seed oil are both highly nutritious  ~ shea butter contains a rich source of concentrated natural vitamins and fatty acids ~ oleic, stearic, palmitic, linolenic ~ and is highly moisturizing and nourishing.  It helps repair your skin, as well as reduce skin inflammation due to its lupeol cinnamate compound.  It also smooths your skin to protect it from drying and it strengthens your skin over time as it helps aid in the collagen production. Safflower oil is an ancient medicinal remedy and contains oleic acid, which also helps protect and moisture your skin.
Hanyul Optimizing Mask contains a couple of humectants as well: trehalose, which supplies concentrated moisture to your skin and helps retain moisture, preventing your skin from drying out. Glycerin will moisturize and hydrate the skin, leaving your face feeling smooth and soft. 

This contains four essential acids: Lauric acid, derived from coconuts, not only moisturizes, but helps bust blemishes. Palmitic acid is a fantastic emollient along with stearic acid.  Stearic acid also prevents moisture loss in your skin and helps strengthen your skin's barrier. Myristic acid is a lubricant and absorbs quickly into your skin.
Tow of my favorite ingredients are also in this cream as they target two of my concerns ~ hyper-pigmentation and wrinkles: niacinamide (vitamin B3)  is a powerful antioxidant that acts as an anti-inflammatory, improves your skin elasticity, enhance the skin barrier function and also it helps to even out skin tone and reduce post-inflammatory hyper-pigmentation. Adenosine is an amino acid and it became popular after it was found to help improve the reduction of wrinkles, with its anti-aging, anti-wrinkle and anti-inflammatory properties. 
Just like the serum, this sleep pack has so many other great ingredients in it as well ~ angelica, cnidium, mulberry, fungi and job's tears, just to name a few more of the very hanbang-ladened ingredient list!
Ingredients: water, propanediol, glycerin, sodium lactate, cetyl ethylhexanoate, niacinamide, DI-C12-13 alkyl malate, dimethicone, squalane, cyclopentasiloxane, cyclohexasiloxane,pinus sylvestris leaf extract, morus alba leaf extract, tricholoma matsutake extract, prunus armeniaca (apricot) kernel extract, coix lacryma-jobi ma-yuen seed extract, angelica acutiloba root extract, carthamus tinctorius (safflower) seed oil, lithospermum erythrorhizon root extract, cnidium officinale root extract, theobroma cacao(cocoa) extract, trehalose, adenosine, C12-16 alcohols, C12-20 alkyl glucoside, c14-22 alcohols, glyceryl stearate,dextrin, lauric acid, methoxy PEG-114/polyepsilon caprolactone, myristic acid, behenyl alcohol, butylene glycol,butyrospermum parkii (shea) butter, stearic acid, arachidyl glucoside, arachidyl alcohol, ethylhexylglycerin, xanthan gum, palmitic acid, polysorbate 20, polyacrylate-13, polyisobutene, PEG-100 stearate,phytosteryl/behenyl/octyldodecyl lauroyl glutamate, hydrogenated lecithin, hydrogenated castor oil isostearate,hydroxypropyl starch phosphate, disodium EDTA, phenoxyethanol, fragrance cosDNA analysis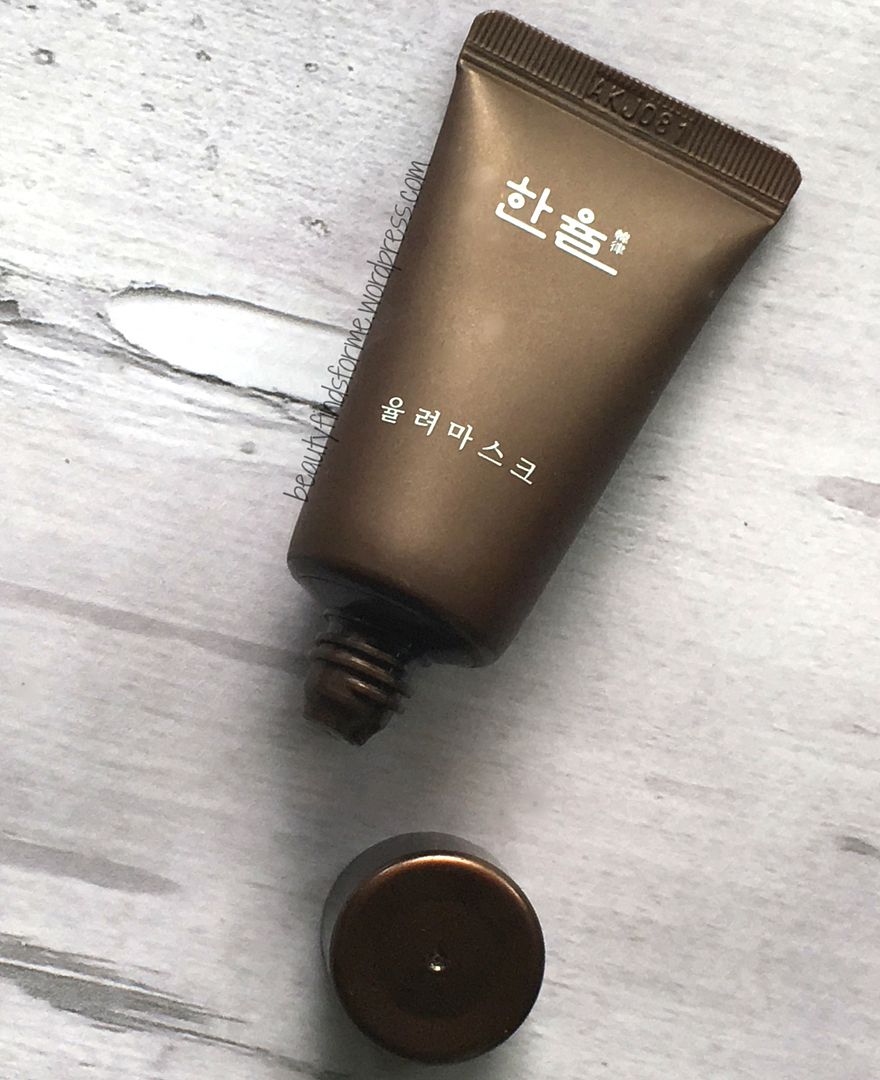 Since this is a deluxe size and not the full size item, I won't really talk about the packaging as the deluxe size is a tube and the full size is in a jar. I do have plans on purchasing the full sized item and I will update this blog post with that information at that time.

This sleeping mask will result in smoother and softer skin by the morning ~ your skin needs to recover daily ~ think of it as a reset or reboot.  According to Hanyul, the crucial time period when your skin is trying to recover and repair itself, is between 10pm and 2am in the morning.  Apply your night time skin products before that time frame, so that your skin can use all of the beneficial nutrients and ingredients while it is trying to repair itself.  As the last step of your nighttime routine, Hanyul Optimizing Mask will provide your skin with a protective barrier to lock in ingredients and prevent your skin from drying out.  The scent is so lovely and calming and it is relaxing ~ it is similar to lavender in its effects to my senses.  It has the same pine-wildflower scent as the serum ~ very soothing.
This sleep pack is so creamy ~ it is a light beige color and its texture is medium weight ~ it is thicker than a lotion, but it isn't heavy.   When I apply it on my face, the cream just glides across my skin and then melting into my skin for full absorption.  I can really tell the difference with the texture of my skin where I applied it ~ immediately, my skin feels so soft, smooth and supple ~ the 3 S's!!  There is also a noticeable barrier on my skin with this sleep pack ~ I can definitely tell that there is something on my skin, but it doesn't feel greasy or sticky ~ my fingers just seem to slide across my skin where I have applied it.  It is hard to explain ~ it isn't oily, but think of it like ice or glass ~ you slide across ice or glass due to no friction ~ that is how this feels to me. Not sticky, not greasy, not oily ~ just really smooth, moist skin.
Hydration ~ on average, this increased my moisture level by 18% by itself.  However, as this is a sleep pack, I do not use it alone ~ I make sure I use skincare products that are much more hydrating, as the purpose of a sleep pack is to lock in all of the juicy goodness with a nice occlusive product.   This also normalizes my oily skin as well. 
Despite some occlusive ingredients in this cream, my skin did not have a negative reaction to this sleep pack ~ such as acne breakouts.  My skin in the morning was soft, smooth and not dry but still supple.  I think that this cream has been formulated nicely for skin types that aren't too dry and can be used for oily to normal skin types.  I am not sure if it is rich enough for really dry skin types.  I had someone ask me on my IG feed once about Hanyul products and how they are marketed for 20 to 30 year olds and if I agreed with that.  I don't, actually.  Many skincare products are marketed to that age range ~ but that is because of models and trying to sell a product using an younger and beautiful person.  That doesn't mean the skincare product is for that age-range only.  I have, as I pointed out numerous times, oily skin.  Many skincare products that have older models and spokespersons do not work for my skin type, as they are really marketed for dry, thin skin.  I have older skin, but it is oily, thick mature skin, so I look for lightweight products that aren't heavy or greasy on my skin, as it cannot absorb those types of skincare products.  
My point is this ~ know your skin and don't purchase something that isn't appropriate for your skin type. I would never recommend an alcohol-based astringent, for example, to someone who has very dry skin. However, for my oily peeps, I would ~ because it is appropriate for our skin types. You can be in your 20's with very dry and thin skin ~ and might like using a product that is marketed for mature skin.  Don't let people tell you that a product isn't marketed for you based on age.  It should be based on skin type and your own personal skin issues and concerns you are trying to address.
Hanyul's Yakson Special Care Tip
Yakson refers to the soothing and caring hand of a mother.
When you want to supply more nutrition during the cold and dry seasons, apply the mask thickly on your clean face and neck in the morning.  Leave on for 5 to 10 minutes and then wipe away only the residue that is left on your skin with a tissue.  Recommended 2 to 3 times weekly during the cold, dry seasonal changes.
I have tried this special care tip ~ this is great for when you are going outside in the wintertime ~ whether it is skiing, skating or just shoveling snow, by applying the sleep pack to your skin, letting it sink it and then removing any residue left, really helps keep your skin supple and soft with that extra protective barrier.
Final Thoughts
I already have plans to purchase this sleep pack in a full size.  I think this sleep pack was just fantastic during the month that I used it and I do feel it is perfect for my skin type for the winter months.  It is just enough to supply my skin with rich moisturizers without leaving my skin all shiny and oily in the morning ~ some sleep packs do that.  I love this scent as well and the creamy nature of this sleep pack which is so easy to apply without any sticky residue.  My skin is not dehydrated, not flaky or itchy ~ and I feel that I have replenished my skin with protective butters and oils when I used it.  Have you tried Hanyul Optimizing Mask?  What did you think of it? Any other Hanyul products? I am currently trying out a few products from the Artemisia Watery line from Hanyul.

Where to Purchase
Some of my links are affiliate where I make a very small commission at no cost to you or I have referral links, where you can save money and I receive a small credit at the store ~ again, no cost to you.  This sleep pack varies between $29.00 to $45.00, depending on where you shop.

Korean Buddy:  When all else fails, you can shop around at Korean only sites and purchase it through a shipping service.  Korean Buddy is the one I use and you can also ask them to find it for you.  I have use them many times in the past and always been pleased with their service.  Save 50% off handler fee  by using my blog url as a referral https://beautyfindsforme.wordpress.com with your first purchase
[ product received for review purposes. blog post contains affiliate and referral links ]