May ~ graduating classes and the transition to summer ~ I love summer.  I even love the muggy heat.  What is Yogi Surprise?   

Yogi Surprise Jewelry Box
2 handmade pieces + 1 organic treat

Handcrafted in Bali. Fair Trade

$65+ retail value in every box

$24.95/month + free shipping
The Jewelry box will contain two handcrafted yoga inspired jewelry pieces, that are fair trade, sustainably harvested materials, nickle-free, lead-free and cadmium free.  These are made in Bali, Indonesia and 10% of all proceeds will be given to education the Balinese families to make these beautiful pieces.   It also contains an organic chocolate treat.

This month's theme is "Creative Divine Mother"~ Some of the brightest, most vivid colors of spring reveal themselves through the light of the sun's rays during the month of May.  Mother Nature paints her natural landscapes with shades of green and floral hues so beautifully, it's enough to inspire us to tap into our sense of creativity.  As you look toward the cheerful, bustling energies of life bursting all around you this month, let us help you express yourself as freely and creatively as you can with our Boho style jewelry pieces featuring bright, warm colors paired with cooler springtime hues to bring balance to your creative energies throughout the rest of the spring.  It's time to break through your fears and embrace who you really are!
Informational Card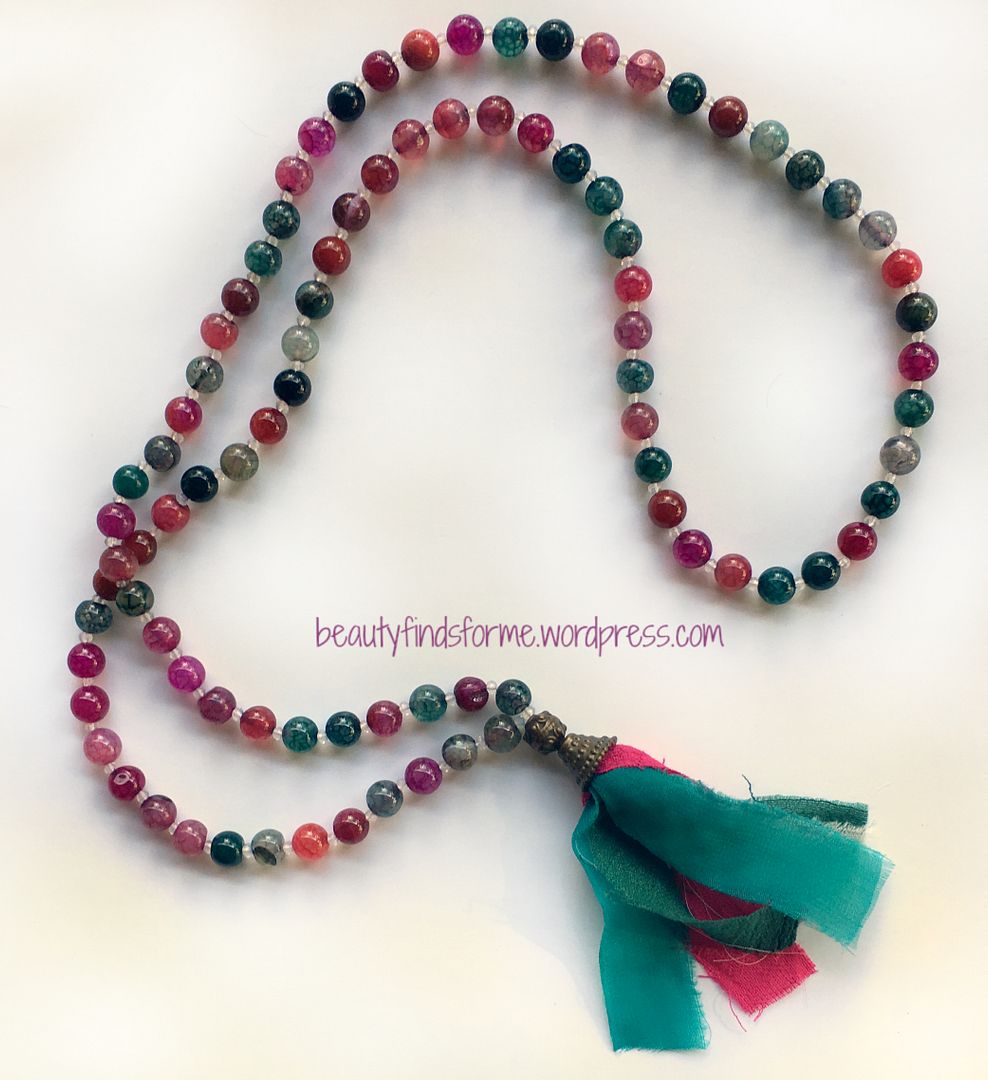 Creative Boho Mala  This is a beautiful multi-color necklace with beads of reds, purples, pinks, greens, blues and aquas separated by small clear faceted quartz beads.  The necklace is 110% better looking in person! I wasn't sure about this necklace when I saw the preview, but now, I love it.  This has 3 inch beaded brass end-cap that has a lot of impact, with multi-colored strips of fabric as the tassel.  The beaded necklace is 32 inches in length with a 3 inch tassel, for a total of 35 inches.  RV  $65.00
Mala are an ancient tool to help focus when you meditate and pray.   This is a symbol of the never ending cycle, and each bead is a Sanskrit prayer or mantra in sets.   You move the beads in rhythm with your breathing and it will help you center and quiet your mind, focusing on the mantra.    Mala beads can be used regardless of your religious beliefs as a mediation tool and will help you relax and calm your mind, body and spirit.

Creative Wrap Bracelet  This is also a beautiful piece of jewelry ~ with bright pinks agate and purple amethyst beads and rows of faceted clear/milky white beads with gold toned square beads and beaded beads scattered thru-out the bracelet.  The tassel in the photo is much longer than the tassel in RL and I don't care for it being so short, so I will remove it ~ If it had been the longer pink tassel, that would have been stunning, but this stubby short length just looks stupid.  This 10 1/2 inch bracelet wraps around my wrist 3 times snugly and I can also wear this as a necklace, as it stretches nicely over my head.  RV $32.00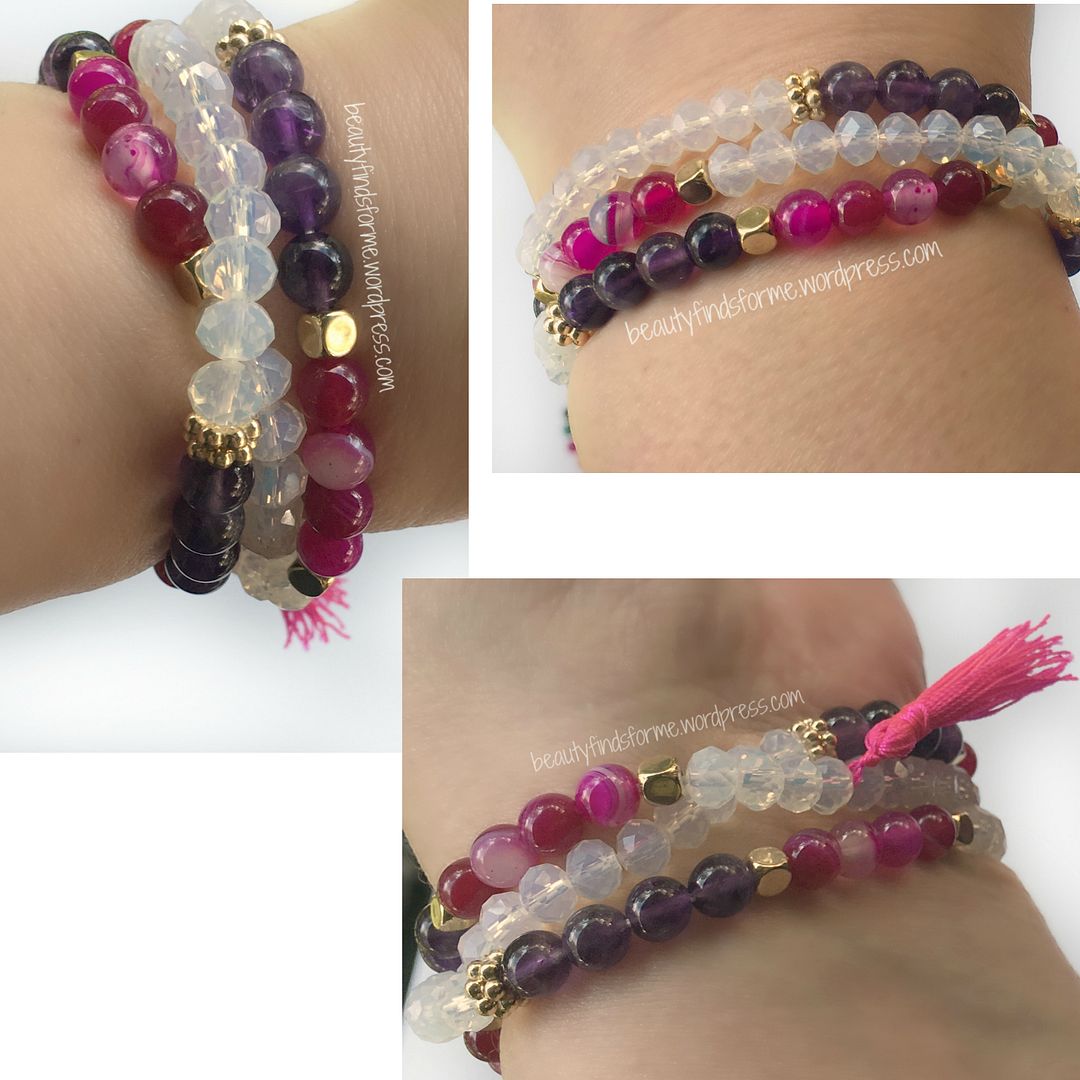 Amethyst:  Balancing the Crown Chakra, Third Eye and Crown Chakras and is the color of Spirituality
Amethyst promotes emotional centering.  Metaphysically amethyst encourages you to develop common sense and to become more emotionally centered and focused.  Amethyst is especially beneficial when worn over the throat or heart chakras and also can help with insomnia. If you place a piece of amethyst under your pillow at night it is said to help nightmares and assist in a more restful sleep. It is also said to help enhance prophetic dreams when placed under ones pillow at night or worn as a piece of jewelry while sleeping.  source
Agate is a stabilizing, strengthening influence and will help balance emotional, physical and intellectual energies and harmonize the positive and negative forces. It helps remove negative energies and transform them, while cleansing.  It has warm and protective properties that encourage security and confidence.  source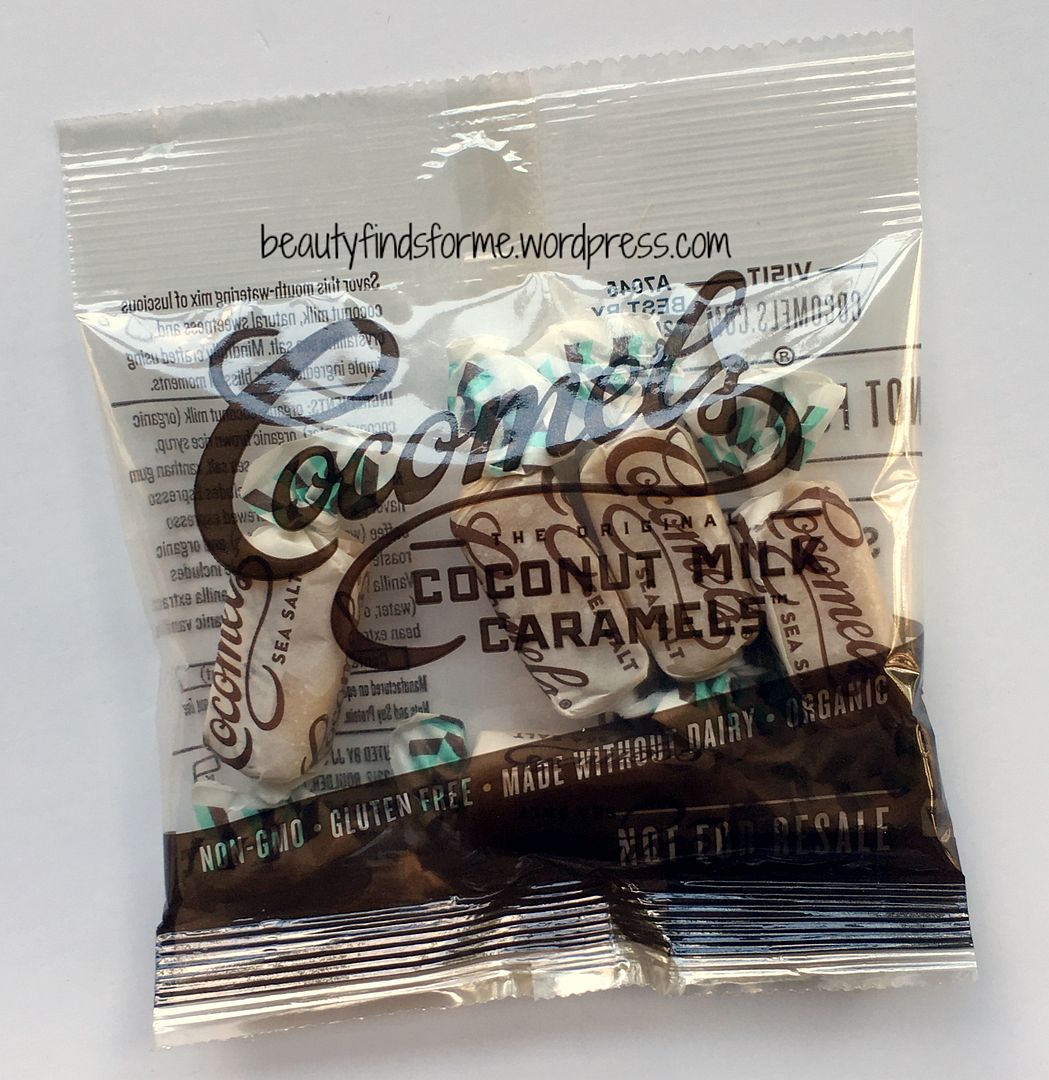 Cocomels   I rarely eat caramels because they stick in my teeth badly, but there are exceptions. Cocomels are one of those exceptions ~ I have tried these before and I am like Snuffles when he gets a treat.

These are coconut milk caramel candies made from sustainably sourced and organic ingredients that are vegan, non-GMO and free from gluten, corn syrup and soy.  They are so smooth and creamy tasty ~ with just the right amount of sweetness.  These are delicious!  There is a quote about these caramels ~"Like if a rainbow and a unicorn had a baby" Vegitorials   I wouldn't GO THAT far, but these are darn good. RV $1.49
Description: The one that started it all! Smooth coconut milk makes the Cocomel like no other caramel. A mouth watering, smooth and decadent artisanal treat with a delicious and unique flavor. in a word, Blissful! Cocomels also include the many benefits of coconut oil rather than dairy fat.  Cocomels are award-winning, smooth and creamy caramels made with coconut milk instead of dairy. They are made with premium ingredients, organic sweeteners and deliver a unique and delicious, mouth-watering experience that is healthier than average candy.
Ingredients: organic coconut milk (organic coconut, water), organic brown rice syrup, organic dried cane syrup, sea salt, xanthan gum
I am pleasantly surprised this month!  I really was determined to hate the necklace, but once I received it, it is just so pretty and I love the bright and vibrant colors this month.  Summer is almost here, so it is time to bring out some colorful items.  The ribbon tassel is a nice and different touch.  This month's box reminds me of Mardi Gras with its greens, purples and pinks. And of course, the Cocomels ~ if you never tried them before, you really need to try them!   This box has a Yogi Surprise retail value of $98.49 ~  I go by the value of the pieces to me and once again, I feel that this box is worth it!  Part of the proceeds from this box will go back to the local artisans that made these items and help educate their community.

Do you subscribe to Yogi Surprise?  Which box do you get and what was your favorite item this month?  Let me know in the comments below, I would love to read them 🙂
If you are interested in signing up to Yogi Surprise for either their Lifestyle or Jewelry box, I would love it if you used my referral link   They are currently running a 10% off special for the first month, no promo code needed.   Check out the spoilers for next month's boxes below!    If you sign up for the Lifestyle box, use YOGIFRIEND to get 20% off the life of your subscription!

Next Month Spoilers



If you sign up now, you get a free gift worth $20.00 ~ Chakra Healing Stones  (these came in the May box ~ see my unboxing here)
Jewelry Box  Summer Lotus/OM Necklace $41  As we prepare for the arrival of the Summer Solstice next month, we want to offer you a jewelry piece designed to promote calmness, balance, and peace during this stimulating time of year. Our Summer Lotus/OM necklace features summery violet and white colors to help you open your crown chakra and connect deeper with yourself. Adorned with beautiful amethyst stones, we'll be encouraging you to wear this piece whenever you need to tap into your intuition for greater inner strength as you plan to take on new and exciting adventures this summer. + one more handcrafted jewelry piece and decadent chocolate treat!

Lifestyle Box  Adora Mood Boost Chakra Roll On  $12  Bring yourself back to a place of balance with this all-natural roll on designed to open your chakras and stimulate your senses. A lovely natural alternative to perfume, its unique blend of essential oils, absolutes, and gem and flower essences will get you back to your healthy center.
The Chakra Bible $14.99  Dive into the pages of this book to get acquainted with every aspect of chakra work and learn how to open these energetic hotspots in your body. Whether you're a beginner or seasoned yogi, understanding the spiritual power of the seven chakras can help you take your creativity to new heights — both on and off the mat.
[ all descriptions in italics from linked website.  this blog post contains referral & affiliate links ]