[ disclosure: some products were received in exchange for a review.  contains affiliate links for a small commission ]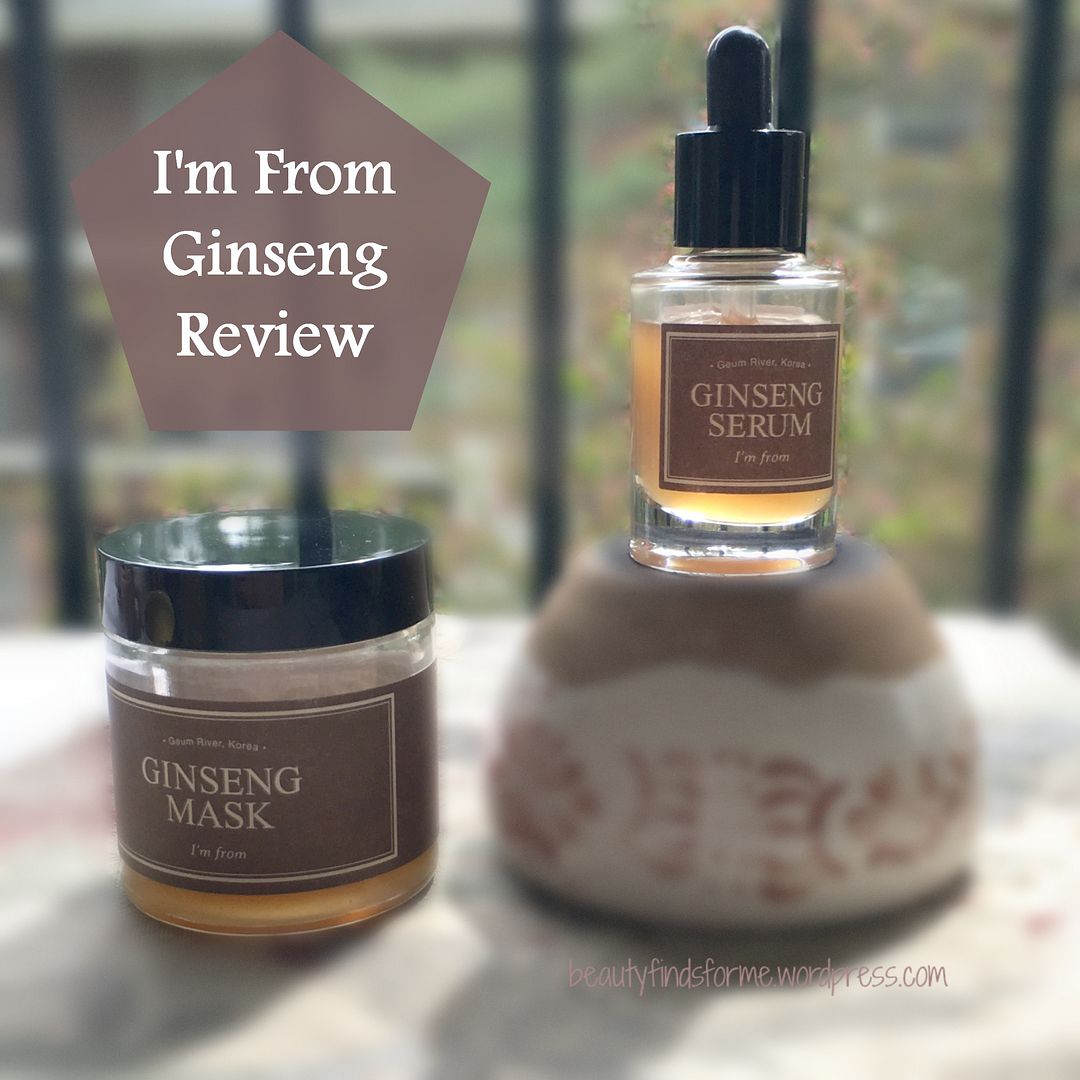 I am a HUGE fan of I'm From wash off mask packs ~ one of the first purchases I made at Wishtrend back in 2014, was a Honey Box (here), which I purchased to get that lovely honey mask pack (review here). I have also tried their Tree and Volcanic Mask packs as well (reviews here). Those are all stellar items and I was thrilled when I saw a sneak peek of the latest item from I'm From ~ a Ginseng Serum. I was lucky enough to be selected by Wishtrend to review this item and I also purchased the I'm From Ginseng Wash Off Mask Pack as well, since I love mask packs!  It has taken me a while to write this review but my mind was set already a while ago. I was hoping that I would learn to love this line and my verdict is fifty-fifty.

Skin Type/Concerns:  Oily, blemish prone, aging skin with hyper-pigmentation and fine lines/wrinkles.
About I'm From Ginseng



The following is from their press release and explains where I'm From sources their ginseng and why they chose that area.
From Geumsan County, South Chungcheong Province Korea's Geumsan County is home to a species of Korean ginseng that has a history of 1,500 years. Due to its great natural environment, it has been evaluated as the ideal location to cultivate ginseng of the highest quality in the world. Geumsan ginseng contains about 30 various saponins, including ginsenoside, while western ginseng on the other hand contains only 13~15 kinds of saponin, which is half of that of Geumsan ginseng.
** Ginsenoside : Contrary to saponin, which is found in an abundance of various other plants, this is a component that carries special pharmacological efficacy, found only in ginseng.
During the process of turning ginseng into ginseng extract, changes occur in the percentage of its main components. Ten components that aren't originally present in ginseng, or were only present in small quantities – such as antioxidants and heavy metal detoxing agents – are newly formed or multiply in content. The I'm From Ginseng Line is formulated with ginseng extracts to give antioxidant benefits to the skin.  Because ginseng extract is made with a moisture content of less than 14%, it is possible to store the taste, scent and active ingredients of ginseng in a concentrated state for a long time. Meticulous control of temperature, time and pressure is required until one ginseng is made into ginseng extract. Through this process, a new active ingredient unique to ginseng extract was discovered.

Panax Ginseng is used in anti-aging skin care products, as it is can stimulate the skin and activate the blood flow, which will increase toning and production of new skin cells. It also has anti-oxidant and anti-inflammatory properties, due to natural carbohydrate called saponin, and will help reverse damage caused by free radicals, such as hyper-pigmentation and also combat free radicals to prevent new skin damage of fine lines and wrinkles. Ginseng detoxes your skin and leaves it radiant and glowing. Applied topically, it helps stimulate collagen production to promote cellular renewal. Its herbal properties and usage dates back over 5,000 years.  Ginsenosides also known as ginseng saponin, has had numerous studies that show it is effective as a anti-wrinkle, anti-aging, anti inflammatory and brightening ingredient and can aid in the production of collagen.  It helps increase elasticity, improves blood circulation to your skin and also is a superb moisturizer.  Ginsenosides are compounds only found in ginseng and are an excellence source of anti-oxidants.
I'm From Ginseng Serum
Along with 6 year old red ginseng extracts (7.98%) and ginseng oil, the serum also contains licorice, which not only brightens, but also reduces flaking and with refine your skin texture.  It is also an anti-irritant and anti-inflammatory.  This also has glycosaminoglycans, which  contain glucosamine and glucuronic acid  and is considered a NMF (natural moisturizing factor), resulting in increased hydration, leaving your skin soft, supple and toned.  This ingredient also brightens your skin, helping reduce the scarring and redness that you can get from blemishes.  Glycerin and hyaluronic acid will help hydrate your skin and retain moisture, while several hanbang ingredients (green tea, peony, angelica, Da Huang) will contribute to anti-aging, anti-inflammatory and antioxidant benefits, without clogging your pores. 
Ingredients: Water, Red Ginseng Extract (7.98%), Butylene Glycol, Betaine, 1,2-Hexanediol, Camellia Sinensis Leaf Extract, Glycerin, Panax Ginseng Seed Oil, Glycyrrhiza Uralensis (Licorice) Root Extract, Paeonia Albiflora Root Extract, Angelica Gigas Root Extract, Rheum Palmatum  Da Huang) Root Extract, Angelica Pubescens Root Extract, Schizonepeta Tenuifolia Extract, Phellodendron Amurense Bark Extract, Hydroxyethylcellulose, Cyclopentasiloxane, Dimethiconol, Bis-PEG-18 Methyl Ether Dimethyl Silane, Ethoxydiglycol, Acrylates/C10-30 Alkyl Acrylate Crosspolymer, Tromethamine, PEG-60 Hydrogenated Castor Oil, Ethylhexylglycerin, Hydrolyzed Glycosaminoglycans, Hyaluronic Acid, Glyceryl Polyacrylate, Adenosine, Disodium EDTA, Fragrance cosDNA analysis

Description: This serum will help nourish and enrich your fatigued skin, while helping rejuvenation and repair your skin.  The I'm From rejuvenating serum is formulated ginseng extract created from the best ginseng cultivated from Geumsan County. Formulated with 7.98% concentrated Ginseng Extract and it is designed to naturally enhance blood circulation to make your complexion look more lively while replenishing the necessary nourishment for healthier, younger skin.  The I'm from rejuvenating serum is formulated with the concentrate of high-quality ginseng extract at its purest.
I love the packaging on this bottle! The dark golden amber serum looks so pretty in the clear glass bottle and I do like the label aesthetics. This has a nice eye-drop applicator that does a great job of picking up and depositing the serum ~ if you think that is a big deal, it is. My   Swanicoco Skin Expert One Step Plant Original Pure Ampoule (review) has a horrible eye dropper applicator that has a hard time picking up the product. The serum is a nice medium weight to it, it isn't too thick or too watery, but it still is slightly runny on my skin.  
After patting it into my skin, I can see a bit of gloss and does have a sticky residue if I apply too much.  I do start out with smaller amounts and build up so I don't have that sticky residue. Since this has a richer
texture, I use this at night. 
One of its pluses is that it does balance my skin moisture/oil levels, going from oily to normal skin.  However, it is not an extremely moisturizing serum, as it only increased my moisture level by 12% but it did normalize my skin.
Claims
High-concentrate Nutrients Ginseng extract penetrates deep into the skin to increase elasticity and make the complexion more luminous from the inside out.
Increase Elasticity: The highly-concentrated Ginseng extract tightly adheres to the skin, working to add elasticity to flat, lifeless skin.
Skin Purifying: The concentrated antioxidant properties of the Ginseng extract purifies skin that is fatigued from external stimuli and accumulated waste.
How do I rate it against its claims?  Well, I do feel that when I use this, my skin looks more brighter in the morning, as well as soft and supple.  As far as skin purifying goes, I suppose since my face didn't break out into a pizza when I used it, it helped control acne.

However, the scent. Half of why I was SO excited about this serum was I love the scent of ginseng. If you are going to marketing a hanbang product, I want it to smell like herbs. The scent in this product is just so distracting. It is a strong, heavily perfumed floral scent with just a bit of ginseng lurking under the covers, but make no mistake.  This does not smell like ginseng.   I don't really have that sensitive of a nose and I can tolerate a lot of heavy scents without any issues. However, there a few scents I just cannot tolerate and one of them is a fake perfume floral scent. Now, I do know that some people will love this scent over a hanbang scent, so I will not say don't purchase this item.  That said, if you are looking for an unscented product or one that smells like ginseng, this one isn't it. I feel that the small gains in using this product does not outweigh the negative scent, which is a shame. I was really ready to love this item and embrace it as the newest item from the I'm From brand, but I just cannot. I honestly did try but the scent is just way too distracting for me.
I'm From Ginseng Mask
I love love love wash off mask packs.   If you follow me on Instagram or read my blog regularly, you know I do mini reviews quite a bit on wash off mask packs.  Now, this mask has the same strong floral scent as the serum, but unlike the serum, I will give this a two thumbs up. This contains 3.97% of 6 year old red ginseng and also contains similar ingredients as the serum ~ licorice, glycosaminoglycans, glycerin, hyaluronic acid and hanbang ingredients.  This also contains isohexadecane, which is a rich creamy emollient made from iso-paraffin.  It leaves skin feeling silky without any greasy residue which makes it particularly good for oily skin types.
Ingredients: Glycerin, Red Ginseng Extract, Butylene Glycol, Panax Ginseng Seed Oil, Glycyrrhiza Uralensis (Licorice) Root Extract, Paeonia Albiflora Root Extract, Angelica Gigas Root Extract, Rheum Palmatum Root Extract, Angelica Pubescens Root Extract, Schizonepeta Tenuifolia Extract, Phellodendron Amurense Bark Extract, Malt Extract, Ethoxydiglycol, Hydrolyzed Glycosaminoglycans, Hyaluronic Acid, Boswellia Serrata Resin Extract, 1,2-Hexanediol, Water, Ethylhexylglycerin, PEG-60 Hydrogenated Castor Oil, Isohexadecane, Polysorbate 80, Sodium Acrylate/Sodium Acryloyldimethyl Taurate Copolymer, Fragrance cosDNA analysis

This mask comes sealed and has a plastic spatula to help scoop out the goop.   I'm From Ginseng Mask is actually a wash off, warming mask.  I have tried warming masks before and I haven't been a huge fan as I don't feel that they really warmed up  ~ Innisfree Ginger Warming Mask, I am looking at you ~ this mask was a delight to look at and the scent was amazingly ginger (review here)   However, not only did the Innisfree Ginger Warming Mask not warm up, it also made my pores huge. I was willing to give I'm From a chance, as I have loved all three of their wash off mask packs.
This mask pack is nice and thick, like maple syrup and it is very fluid.  The color is a lovely dark amber shade and it is translucent when applied to my skin.
It is in a deep dark amber shade and when I applied it to my face, I immediately started to feel some tingling warmth. Not burning heat, but enough that felt really nice on my skin. I massaged my skin as per the instructions and then left on for 10 minutes.  By the way ~ if you get some of this in your mouth, it is fairly sweet tasting.  And OMG, if you get it in your eyes, you should wipe it out immediately ~ it doesn't sting, but the warmth from the mask really is uncomfortable on my eye ballz.  This is a very sticky, gloopy mask, so be prepared to have things like hair (of all species) stick to your face while you wear it!  When I rinsed off the mask, I was totally surprised by the results.
Claims
Heating Solution: The natural heating properties of ginseng opens the pores to release impurities, and aids the absorption of active ingredients.
High-concentrate Nutrients:  Filling in the skin with nutrients where there once was impurities, this serum thoroughly hydrates the skin to make it shiny and healthy.
Increase Elasticity: The highly-concentrated Ginseng extract tightly adheres to the skin, working to add elasticity to flat, lifeless skin.
Skin Purifying: The concentrated antioxidant properties of the Ginseng extract purifies skin that is fatigued from external stimuli and accumulated waste.
Yeah, I think I'm From got a winner here ~ The mask did heat up, helping to soften dead skin cells and remove excess oil, dirt and impurities from my pores, while making my pores look smaller.  My skin looked refreshed, brighter and glowing after using this mask.  My face also felt smooth and soft, while being hydrated.  Despite the strong scent, I loved this mask!  
Anti Aging Facial Massage
This is a nice video that Wishtrend put out and the massaging techniques using I'm From Ginseng Mask start at 12:22
Final Thoughts
As I said at the beginning of this blog post review, my verdict is 50-50.  I felt that despite some of the benefits with the serum, such as normalizing my skin moisture/oil balance, the scent was just too distracting for me and I disliked it so much.  However, if you love floral scents, you will really enjoy this serum.   The mask, on the other hand, had the opposite reaction from me.  Despite the scent, the benefits of using the mask really won out and I loved how this was so effective in cleaning my pores and brightening my skin tone!  It truly is a fantastic mask and it just goes to prove to that I'm From really KNOWS how to make great masks.  I hope that I'm From will look into making this smell more hanbang or even unscented ~ I am not sure why they chose to go this route with their Ginseng line, as their other lines smell normal ~ the I'm From Honey series is smells just like honey, Vitamin Tree smells like brewed tea to me and the Volcanic version doesn't really have a scent at all. 
https://www.instagram.com/p/BTa39Dml1Rm
I'm From is coming out with another new line that is floral ~ Magnolia ~ which will include a Wake Essence and a Sleep Mask Pack. I am very excited about this as magnolia extracts are known for its moisturizing and brightening capabilities without any sticky or greasy residue. The scent also has been known to help calm and soothe your senses, so it makes great sense to have it in a sleep pack.  When I was a child, my home had several magnolia trees and I love that scent! I have the feeling money is just going to be tossed at these two products when they are released

Where to Purchase
You can purchase both of these products at Wishtrend, along with their whole I'm From series.
This product doesn't have free shipping, but if you add on any item from their free shipping section, your shipping will be free.

If this is your first time shopping with Wishtrend, you can save $5.00 off your purchase by using my friends referral number ~ 092847308  ~ and you will receive the coupon. Register first and enter the my code in the form labeled "friends invitation program" and wait for the coupon before you place your order.  Also, remember to save your welcome and any order emails from Wishtrend.  They usually have discount and free shipping codes just for your use in them, so you can save even more money on your next order!
You automatically receive Free Shipping with purchases $69.00 USD and over
Don't forget to check out Wishtrend's Free Shipping Product Selection

Wishtrend ships globally
[ some products were received in exchange for a review. contains affiliate links for a small commission ]