[ contains affiliate links ]
For those who are looking for Target Beauty Boxes, they currently went on sale!  This time, two boxes at $7.00   Click here to order
I am getting both and the Naturals looks amazing!

Target Beauty Box   
Hello……Piece of Mind.  We're all about a little R&R. Inside this box you'll find a few of our latest obsessions—inspired by moments of zen. 
La Roche-Posay Toleriane Purifying Foaming Cleanser – 0.5 oz  Daily cleanser with ceramide-3 and prebiotic Thermal Water gently cleanses without leaving pore-clogging residue.
Sally Hansen Double-Duty Base & Top Coat – 0.45 oz  2-in-1 strengthening formula preps and protects with nylon & pro-vitamin B5 for long-lasting, chip-resistant nails.
Tip: Wear it alone between manicures for a professional look
HASK Argan Oil Repairing Deep Conditioner – 1.57 oz  Hydrating argan oil works to restore and soften dry, damaged, chemically treated or over-processed hair.
Dr Teals Lavender Foaming Bath – 3 ozvvUnwind with essential oils that help soothe the senses, relax tense muscles and provide relief from stress. Why not? Make it a weekly ritual for healthy body and mind.
eb5 Facial Cleanser – 0.35 oz  Soap-free, non-foaming formula exfoliates with lactic acid and nourishes with oat protein and vitamins E & B5.
Rimmel Colour Precise White Eyeliner  Colored liquid liner with a super-precise applicator for flawless, highly pigmented lines—bold or fine.  Hint: Use this for a new take on the cat eye. Apply above or below for a bold look.
Banana Boat Dry Balance SPF 30 – 1 oz  Soak up the vitamin D. SPF 30 with a matte finish makes for smart sun care without shine.
Target Beauty Box – Naturals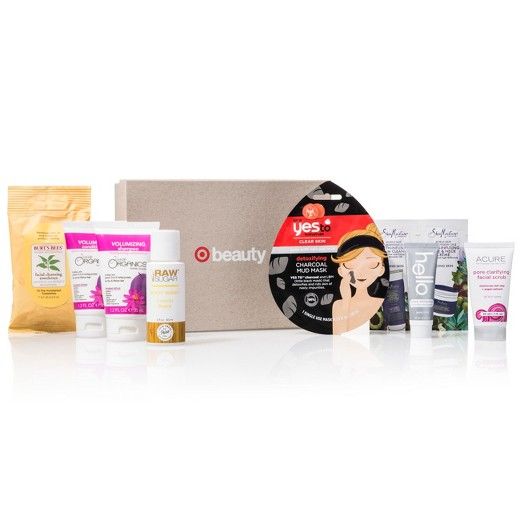 Hello…..Pure & Simple Good, clean fun. That's what you'll find inside this box. We've gathered a few of our all-natural obsessions—with better-for-you ingredients you can feel good about. 
SheaMoisture Kukui Nut Facial Cream Cleanser + Face & Neck Cream – 5ml  Blend of kukui nut and grapeseed oils delivers youth-infusing vitamins and antioxidants to help protect against aging
Juice Organics Deluxe-Size Volumizing Shampoo & Conditioner – 1.2 oz each  Volumizes, thickens and promotes healthy hair growth with passion fruit, soy protein and barley protein for fuller hair.
Burt's Bees White Tea Extract Facial Cleansing Towelettes – 10ct  Infused with white tea extract, calming cucumber and aloe to gently remove dirt, oil and makeup for all skin types.  Hint: These are small enough to keep in your gym bag or purse for an instant refresh on the go.
Hello Extra Whitening Pure Mint Flouride Toothpaste – .85 oz Whitens teeth naturally; free of dyes, artificial sweeteners or flavors, microbeads, preservatives and gluten.
Yes To Tomatoes Detoxifying Charcoal Mud Mask – 1ct Made with charcoal to naturally draw out impurities, help fight and prevent acne, and remove excess oil.
ACURE Pore Clarifying Red Clay Scrub – 1 oz  Moroccan red clay draws out impurities while black jojoba beads gently exfoliate to reveal clearer, smoother skin.  Tip: Remove after it's turned a lighter color (but is still a little sticky) to get all the benefits without over-drying skin.
Raw Sugar Lemon Sugar Body Wash – 2 oz  Processed with ColdPress Technology and packed with vitamin C, antioxidants and essential oils to cleanse & nourish skin

  [ blog post contains affiliate links ]