It's still called Mask Genie for now, but the website has been re-branded to Maskophy and you can purchase the mask pouches, called Bliss Spa, in a "subscription" style now.  I ordered a 3 month Bliss Spa set and for some reason, my bag was overlooked and shipped out late.  It is funny, because I probably was the first one to sign up for the new subscription service!!  I am happy to see Genie back with this service as I have missed it these past few months.

Bliss Spa by MaskGenie is a subscription of masks ~ facial sheet mask, body masks, wash off masks and hair masks.  The owner lives in Hong Kong and she (Genie) finds masks that are popular, trending, new ingredients and determines which ones she feels are worthy for her customers to try.   Shipping is extremely fast ~ within a couple of weeks, I get my pouch.  You can order the 8-10 mask pouch for $24.99 and that includes shipping and she just doesn't ship to the USA ~ Maskophy ships all over the world.  "Receive a mystery selection of 8-10 masks that cares for your skin from head to toe, and for all the skincare concerns you may have. All products are carefully chosen and curated by us, all in order to give you the best selection of the craziest, coolest, and hottest trends!" ~ from Maskophy.  I also have a special coupon code for my readers ~ save 5% off any purchase at Mask Genie ~ use code BEAUTYFINDS5

I do need to find out how Genie wants her pouches to be called ~ Bliss Spa by MaskGenie or Bliss Spa by Maskophy!  So confusing!   Maskophy also will be selling other items, like accessories and jewelry too!
Pouch Revealed!

This is Bliss Spa #1
Dr Althea Herb Therapy Velvet Mask (Korea) No. #1 Moisturizing Hydrate/Refresh/Comfort    I think this will be my favorite mask in the set as I love the packaging with its old school type writer font and botanicals and the concept of a herb mask!  This contains green tea, calendula and chamomile, which are anti-oxidant, anti-inflammatory and soothing ingredients.  I am familiar with Dr Althea masks but am not a fan of their hydrogels.  This is a sheet mask, so I am sure I will love this much better!  RV $3.10
Description: 95% natural moisture ingredient with mild herb therapy mask shet. Fine velvet sheet with natural essence, each drop absorbs with a perfect fit. Velvet sheet gives a clean and perfect fit. 237% moist improvement (clinical trial) FDA certification. Made with ultrafine fiber for a better absorption and deeper penetration of the serum. Velvet mask delivers 4 times more active ingredients than regular sheet masks. Chamomile extract promotes a healthy glow of the skin as it heals and restores its natural moisture content. Green tea purifies to soothe skin, reduces acne-causing bacteria and diminishes breakouts. Suitable for all skin types. Allergy tested and dermatologist recommended. Not tested on animals.
Ingredients: purified water, glycerin, dipropylene glycol,methylpropanediol, caprylic/capric triglyceride, polysorbate 60, olea europaea (olive) fruit oil, hexylene glycol, butylene glycol, hydroxyacetophenone, hydroxyethylcellulose, trehalose, carbomer, arginine, allantoin, PEG-20 hydrogenated castor oil, sorbitan isostearate, 1,2-hexanediol, squalane, camellia sinensis leaf extract,coptis japonica root extract, schizandra chinensis fruit extract, zingiber officinale (ginger) root extract, dipotassium glycyrrhizate, glycyrrhiza glabra (licorice) root extract, citrus grandis (grapefruit) seed extract, panthenol, tocopheryl acetate, disodium EDTA, chamomilla recutia (matricaria) flower water(99.3ppm), calendula officinalis flower water (99.3ppm), acorus calamus root extract, fragrance, chlorphenesin, sodium hyaluronate, glyceryl caprylate, caprylyl glycol, perilla ocymoides leaf extract, citric acid, hydrogenated lecithin, potassium sorbate, sodium benzoate, cholesterol, ceramide 3 cosDNA analysis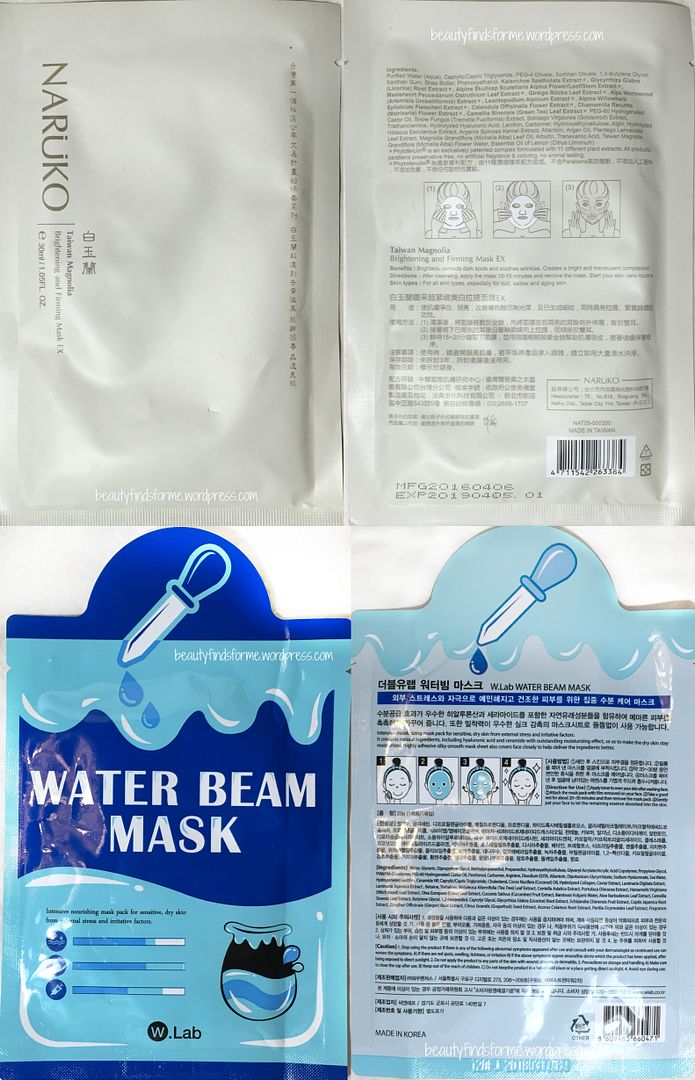 Naruko Taiwan Magnolia Brightening and Firming Mask (Taiwan) I am a huge fan of Naruko products and have tried a lot of their masks ~ funny enough, it was MaskGenie who introduced me to this brand with the snail mask (which I didn't like so much).  I have reviewed a lot of the masks here and will repeat my review of this one ~ which is one of my favorite Naruko masks  RV $2.25
This one is very different from the other Naruko masks ~ it has a creamy milky essence and it is a V-Line mask, which means it has a neck mask attached to the face mask.  There are 4 loops, 2 on the neck and 2 on the face, where you loop that around your ears and it tightens the mask across and up your face, lifting your skin while you wear this mask.  The essence smells wonderful, like magnolias and this Brightening & Firming mask is for "mature" skin (which is me!!), helping to brighten and tone your skin.  The mask sheet is thicker than most of the Naruko masks, as it has to tighten across your face, so it is a stretchy material ~ once I applied this to my face and hook the loops around my ears, I felt pretty tucked in there!  I tried to show the sides of my ears and the neck piece, which is why the photo looks so funny!  Not the most comfortable position to take a selfie ~ but this mask is very comfortable to wear ~ a lot of V-line masks are so tight I feel like they are about to slice thru my ears, but this one has the right amount of "lifting" and tightening without too much pressure.  Because of the V-line loops, I felt that the coverage around my chin and nose area was really lacking.  There isn't a lot of essence left over in the package, but this mask has enough rich creamy essence that I was able to leave it on for 40 minutes.  I didn't notice any tightening, but I did notice an immediate brightening of my skin complexion and my skin was very moist and hydrated.  I really enjoyed using this one and I plan to purchase a box or two from Naruko ~ I found it to be very soothing and relaxing to wear, with great results.
Ingredients:Purified Water, Caprylic/Capric Triglyceride, PEG-4 Olivate, Sorbitan Olivate, 1,3-Butylene Glycol, Xanthan Gum, Shea Butter, Phenoxyethanol,  Kalanchoe Spathulata Extract*,  Glycryrrhiza Glabra (Licorice) Root Extract*, Alpine Skullcap Scutellaria Alpina Flower/Leaf/Stem Extract*, Masterwort Peucedanum Ostruthium Leaf Extract*, Ginkgo Biloba Leaf Extract*, Alps Wormwood (Artemisia Umbelliformis) Extract*, Leontopodium Alpinum Extract*, Alpine Willowherb Epilobium Fleischeri Extract*, Calendula Officinalis Flower Extract*, Chamomilla Recutila (Matricaria) Flower Extract*, Camellia Sinensis (Green Tea) Leaf Extract*, PEG-60 Hydrogenated Castor Oil, Snow Fungus (Tremella Fuciformis) Extract, Solidago Virgaurea (Goldenrod) Extract, Triethanolamine, Hydrolyzed Hyaluronic Acid, Lecithin, Carbomer, Hydroxyethylcellulose, Algin, Hydrolyzed Hibiscus Esculentus Extract, Argania Spinosa Kernel Extract, Allantoin, Argan Oil, Plantago Lanceolata Leaf Extract, Magnolia Grandiflora (Michelia Alba) Leaf Oil, Arbutin, Tranexamic Acid, Taiwan Magnolia Grandiflora (Michelia Alba) Flower Water, Essential Oil of Lemon (Citrus Limonum)  cosDNA analysis    *Phytoferulin is an exclusively patented complex formuated with 11 different plant extracts.  All products are free from parabens, preservatives, artificial fragrance and coloring, no animal testing
W.Lab Water Beam Mask (Korea) I do not believe I have ever tried a W.Lab mask before ~ I have heard of their Honey Beam mask, but I am glad this one was in the pouch instead ~ This is an intensively moisturizing mask with sea water, sea weed extracts, hyaluronic acid and ceramides with a soft sheet mask. It also has the kitchen sink in here with this list of ingredients ~ tea tree, centella, witch hazel, olive, aloe, cucumber, bamboo, caviar, coconut, licorice, ginger and grapefruit, just to name several on a long list of ingredients.   RV $3.90
Description: Intensive moisturizing mask pack for sensitive,dry skin from external stress and irritating factors. It contains natural ingredients, including hyaluornic acid and ceramide with outstanding moisturizing effect, so as to make the dry skin stay moisturized. Highly adhesive silky-smooth mask sheet also covers face closely to help deliver the ingredients better.  Powerful effects of a combination of seawater, hyaluronic acid, and ceramide it soothes and thoroughly moisturizes the irritated skin.  With the adoption of soft and thin natural pulp sheet reduces stimulation but enhances adherence.   Over 20 kinds of natural ingredient a safe natural recipe is adopted for the gentle and safe application even to the sensitive skin.   It has strength to pull up to 1,000 times more moisture than its own weight and thus can supply a lot moisture to the skin and also helps from moisturizing protection barrier on the surface.
Ingredients: Water, Glycerin, Dipropylene Glycol, Methylpropanediol, Propanediol, Hydroxyethylcellulose, Glyceryl Acrylate/Acrylic Acid Copolymer, Propylene Glycol, PVM/MA Copolymer, PEG-60 Hydrogenated Castor Oil, Panthenol, Carbomer, Arginine, Disodium EDTA, Allantoin, Dipotassium Glycyrrhizate, Sodium Hyaluronate, Sea Water, Hydrogenated Lecithin, Ceramide NP, Caprylic/Capric Triglyceride, Cholesterol, Cocos Nucifera (Coconut) Oil, Hydrolyzed Collagen, Caviar Extract, Laminaria Digitata Extract, Laminaria Japonica Extract , Betaine, Trehalose, Melaleuca Alternifolia (Tea Tree) Leaf Extract, Centella Asiatica Extract, Portulaca Oleracea Extract, Hamamelis Virginiana (Witch Hazel) Leaf Extract (0.01%). Olea Europaea (Olive) Leaf Extract, Cucumis Sativus (Cucumber) Fruit Extract, Bambusa Vulgaris Water, Aloe Barbadensis Leaf Extract, Camellia Sinensis Leaf Extract, Butylene Glycol, 1,2-Hexanediol, Caprylyl Glycol, Glycyrrhiza Glabra (Licorice) Root Extract, Schizandra Chinensis Fruit Extract, Coptis Japonica Root Extract, Zingiber Officinale (Ginger) Root Extract, Citrus Grandis (Grapefruit) Seed Extract, Acorus Calamus Root Extract, Perilla Ocymoides Leaf Extract, Fragrance cosDNA analysis

SNP Jelly Vita Brightening Toning Mask with Vitamin C  (Korea)  This mask is made from tencel, which is a wood fiber product and is very strong and absorbent.  This is a jelly essence mask, which is something that in the last year, has really taken off ~ I think it started with the I'm Sorry masks and then the Banobagi masks.  I love these jelly masks ~ I can keep them on my face for an hour and my skin feels so refreshed and hydrated.  This is a brightening mask, due to the niacinamide and vitamin C extracts, so I am pretty happy to have this one!  RV $2.50

Description: This jelly mask contains skin vitalizing vitamin C and jiggling high concentration jelly essence that penetrate refreshingly into the skin to create a healthy and vibrant looking skin. Also contains acerola extracts, kiwi extracts and niacinamide ingredients, transforming dull and lifeless skin into transparent and radiant skin. A jelly type mask loaded with a cocktail of essential vitamin C to revitalize dull and fatigued skin and bouncy jelly formula essence that refreshingly absorbing into skin. Acerola extract and kiwi extract nourish the skin and transform dull and pale looking skin into clear and gorgeous skin by working together with skin whitening niacin amide.
Ingredients: Water, Butylene Glycol, Glycerin, Niacinamide, Bis-PEG-18 Methyl Ether Dimethyl Silane, Sodium Hyaluronate, Malpighia Emarginata (Acerola) Fruit Extract, Olea Europaea (Olive) Leaf Extract, Actinidia Chinensis (Kiwi) Fruit Extract, Portulaca Oleracea Extract, Citrus Limon (Lemon) Fruit Extract, AmmoniumAcryloyldimethyltaurate/VP Copolymer, Acrylates/C10-30 Alkyl Acrylate Crosspolymer, PEG-60 Hydrogenated Castor Oil, Xanthan Gum, Dextrin, Arginine, Phenoxyethanol, Ethylhexylglycerin, Ascorbyl Glucoside, Benzyl Glycol, Butoxydiglycol, Raspberry Ketone, Disodium EDTA, Fragrance cosDNA analysis

itibiti Yogurt Mask (Korea) I keep calling this the itty-bitty yogurt mask ~ haha.  This has 1000 ppm of yogurt, which is a soothing ingredient that contains lactic acid ~ a lovely AHA. So, not only will it moisturize, but it will gently remove dead skin cells too.  RV $1.99
Description: Wrinkle-improving functional cosmetics  ~ Yogurt contains moisturizing extracts and nutritional mask pack. Yogurt contain lactic acid, bacteria, fermented extract, to cultivate a soft, moist skin supplying moisture and nutrition to give tired skin. Lemon, pomegranate, apple, and fruit extracts for smoother and more supple skin. Adenosine ingredient helps to improve wrinkles
Ingredients: water, glycerin, methylpropanediol, yogurt extract (1000ppm), polysorbate 80, hydroxyethylcellulose, adenosine, disodium EDTA, camellia sinensis leaf extract, lactobacillus/lemon peel ferment extract, lactobacillus/punica granatum fruit ferment extract, pyrus malus (apple) fruit extract, aloe barbadensis leaf extract, sodium hyaluronate, phenoxyethanol, carbomer, triethanolamine, fragrance cosDNA analysis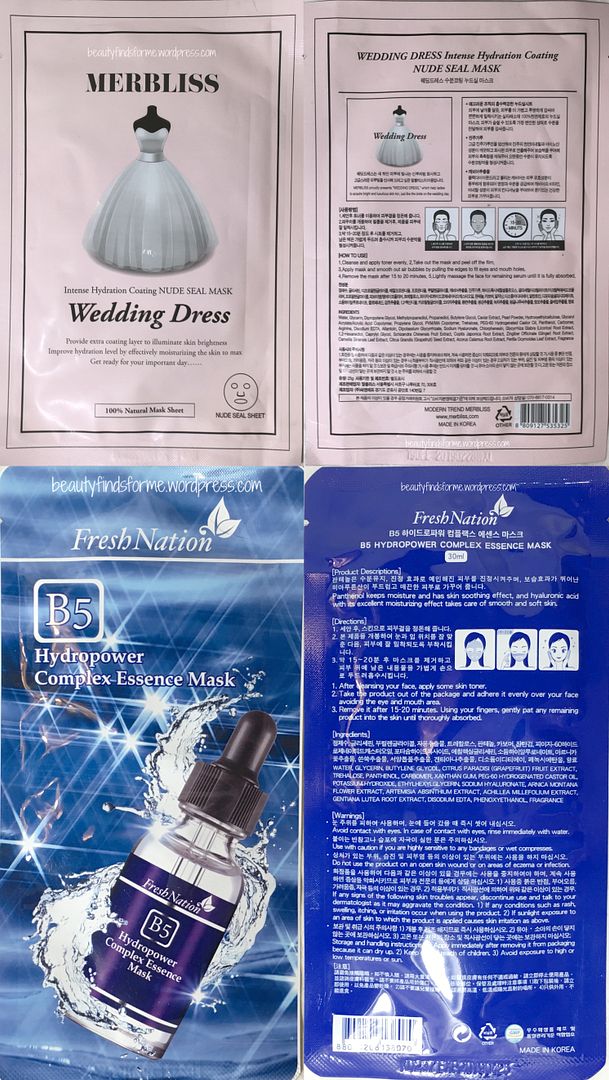 Merbliss Wedding Dress Intense Hydration Coating Nude Seal Mask (Korea)  According to Tracey at Beautius, this is a hot seller in Korea right now! This seems to have a sheet mask that adheres very closely to your skin. I have two of these, as Beautius gave me one, so I will have to try this one soon.  It is a brightening and hydrating mask with some pore tightening (astringent) ingredients as well.   RV $2.99
Description: Merbliss makes a triumphant return with a unique and elegant wedding-inspired series. Among those items, MERBLISS wedding dress intense hydration coating nude seal mask has enjoyed wide popularity. The mask contains advanced pearl powder to brighten the skin. It can also improve the hydration level for a long term. The transparent nude seal cotton sheet is as light as a feather, excellently adhere to your skin with super water retention. We're sure you not want to miss this MERBLISS sheet mask! Merbliss Wedding Dress Mask intensely rehydrates and soothes dry skin. Formulated with Pearl powder extract and caviar extract, the mask delivers amazing skin brightening and moisturizing effects. In minutes, the skin is hydrated and soft and you can see a luminous change in your skin tone.
Ingredients: water, glycerin, dipropylene glycol, methylpropanediol, propanediol, butylene glycol, caviar extract, pearl powder, hydroxyethylcellulose, glyceryl acrylate/acrylic acid copolymer, propylene glycol, PVM/MA copolymer, trehalose, PEG-60 hydrogenated castor oil, panthenol, carbomer, arginine, disodium EDTA, allantoin, dipotassium glyzerrhizate, sodium hyaluronate, chlorphenesin, glycyrrhiza glabra (licorice) root extract, 1,2-hexanediol, caprylyl glycol, schizandra chinensis fruit extract, coptis japonica root extract, zingiber officinale (ginger) root extract, camellia sinensis leaf extract, citrus grandis (grapefruit) seed extract, acorus calamus root extract, perilla ocymoldes leaf extract, fragrance cosDNA analysis
Fresh Nation B5 Hydropower Complex Essence Mask (Korea) I have never heard of Fresh Nation before, so another new mask brand!  This contains Vitamin B5 (panthenol), which leave your skin highly conditioned along with 80% hyaluronic acid, so your skin will be soft, smooth and moisturized.  RV $2.75
Description: Panthenol keeps moisture and skin soothing effect while 80% hyaluronic acid, with its excellent moisturizing effect, takes care of smoothing and softing skin
Ingredients: water, glycerin, butylene glycol, citrus paradisi (grapefruit) fruit extract, trehalose, panthenol, carbomer, xanthan gum, PEG-60 hydrogenated castor oil, potassium hydroxide, ethylhexylglycerin, sodium hyaluronate, arnica montana flower extract, artemisia absinthium extract, achillea millefolium extract, gentiana lutea root extract, disodium EDTA, phenoxyethanol, fragrance cosDNA analysis


Daycell RE-DNA Dual Effect Eyezone Pack (Korea)  And wrapping up the first Bliss Spa bag, an eye patch!  That is so hard to photograph as it is a shiny shiny silver that just reflects back on everything!  haha  This is a brightening and anti-wrinkle eye mask, and it contains EGF, epidermal growth factor, which is a protein that aide in cell renewal.  It will help strengthen the delicate skin around your eyes and improve its tone.  This also contains two brightening ingredients, niacinamde and adenosine, which will help fade hyper-pigmentation, along with a lot of anti-aging amino acids and peptides.  Alas, this has rose as one of the top ingredients, so I will not be putting these near my eyes!  It's totally okay, because there are so many other masks in this month's selection that I can use 🙂   RV $2.50
Ingredients: water, butylene glycol, glycereth-26, propylene glycol, niacinamide, fomes officinalis (horseshoe jannabi mushroom) extract, sweet almond seed extract, rosa centifolia flower water, witch hazel water, glycerin, glycine, glutamic acid, serine, aspartic acid, leucine, alanine, lysine, tyrosine, phenylalanine, threonine, picoline, valine, isoleucine, histidine, methionine, tocopheryl acetate, sodium hyaluronate, hydrogenated lecithin, ethanol , ceramide 3, betaine, adenosine, dipotassium glycyrrhizate, trehalose, human oligopeptide-1, bis-PEG-18 methyl ether dimethyl silane, PEG-60 hydrogenated castor oil, PEG-40 hydrogenated castor oil, carrageenan, carbomer, triethanolamine, allantoin, disodium EDTA, ethylhexylglycerin, phenoxyethanol, methylparaben, propylparaben, fragrance cosDNA analysis
So, the renamed MaskGenie starts out as a success with its selection of new masks and new brands!  Merbliss is a hot brand in Korea right now, and there are a lot of brightening and hydrating masks in here, which I am a huge fan of!  Jelly masks are very popular and Naruko masks are always welcomed!   I paid $24.99  for this pouch, which included shipping, and received a retail value of almost $22.00.  This is a pretty high value pouch, as shipping from Hong Kong is not inexpensive and should be factored in with the cost, as you are supporting an indie, woman-owned business. Do you get this month's pouch from MaskGenie? What are you looking forward to trying out?

If you are interested in MaskGenie Bliss Spa pouches,  just go to her online store and you can place your order that way ~ currently, this pouch is sold out, but Bliss Spa #2 and #3 are available.  Use coupon code  BEAUTYFINDS5 to save 5% off any purchase there.

[ All items purchased with my own money ]
[ descriptions in italics from the product's linked site ]
[ may contain affiliate links ]