[ disclosure: products received for review purposes. contains affiliate links ]
Memebox is starting to shift their focus to their house brands starting in May 2017, which include Nooni, BonVivant, I'm MEME and Pony Effect products.   BonVivant recently came out with some new masks ~ facial and a peel off ~ courtesy of Memebox ~ and I am happy to review them for you. I will be reviewing the new Nooni Advanced Repair Therapy Radiance Turnover Peel Pads in a later blog post.
Skin Type and Concerns:  Oily, blemish prone, with aging concerns ~ hyper pigmentation, sun spots, fine lines and wrinkles.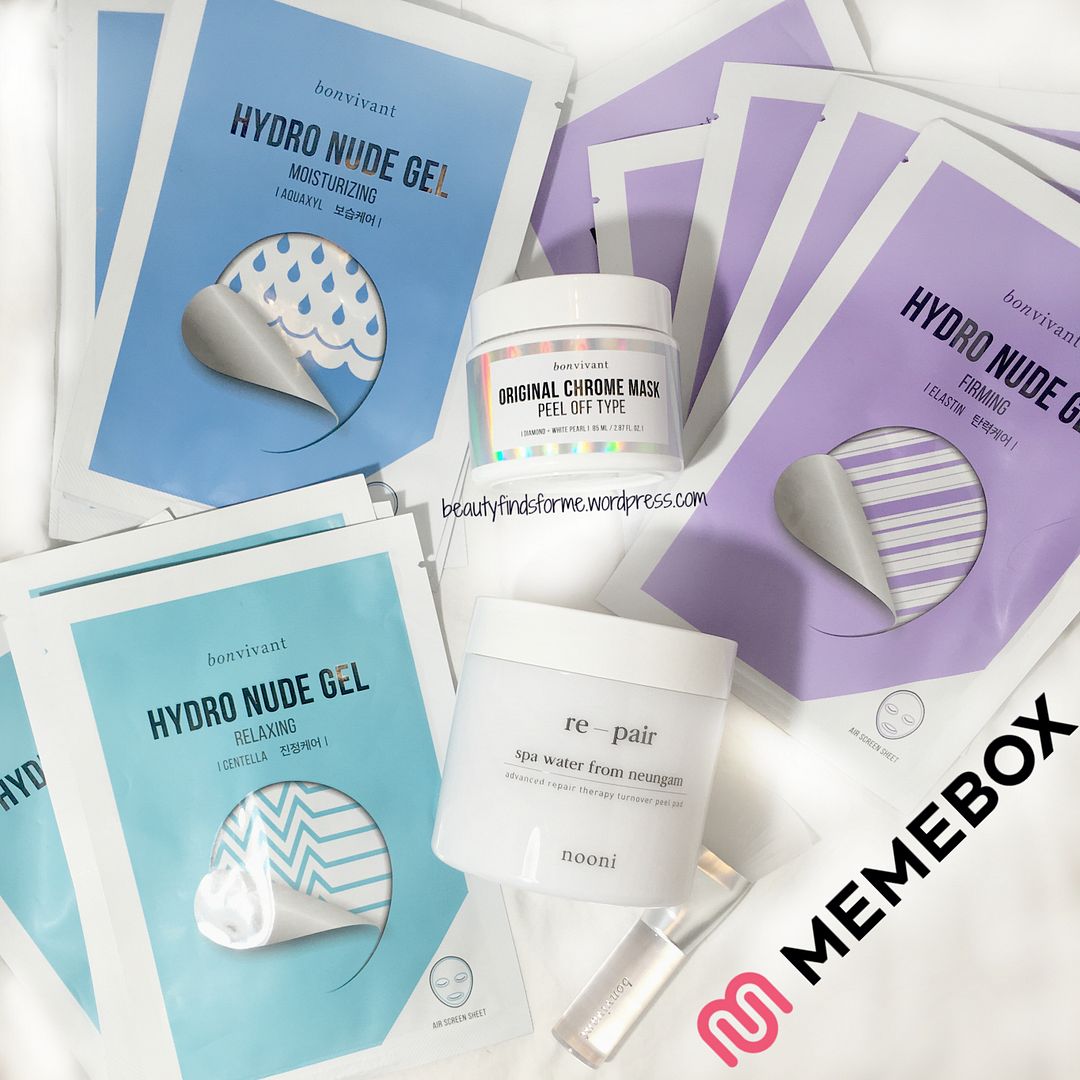 BonVivant makes really quality masks ~ I love the Aloe Real Plant Fibers Mask, Botanical Mask packs (review) and their trio of clay masks (review).  I am not normally a fan of hydrogel masks, as they usually are 2 pieces, where the lower half just slides off my face and I find them to be fussy and not worth the effort. I am always messing up the placement on my face and I just feel like everything is out of control with that sliding mask.  BonVivant came out with their Hydro Nude gel masks and I was interested because the description stated
"BonVivant's Hydro Nude Gel Mask line is a series of advanced hydrogel masks derived from Red Algae, which are loved for its hydrating, calming, and firming skincare benefits. The sheets' natural fibers are compressed into thin, triple layers and infused with gel essence, so it hugs your skin, locks in moisture, and keeps air out for longer hydration. They're the most transparent and thinnest sheet masks from Bonvivant yet! 
What's the hype about Bonvivant's new Hydro Nude Gel Masks? Here's the breakdown. Basic cotton sheet masks tend to absorb the essence and stretch easily, so your skin loses out on moisture. Then there are basic hydrogel sheet masks, which are more effective at helping skin absorb ingredients, but the fabric is thick and heavy, so they slip and slide around. Thankfully, the next-level Hydro Nude Gel Masks are a cut above the rest! They're natural, super thin, and saturated with ingredients transformed into gel form, so they comfortably conform to your face shape and skin. Outside air is blocked out, and nutrients are delivered directly into skin, so skin stays hydrated and recharged longer."
Hugs my skin… and then there was this image and the mask looks textured ~ and it is "slip resistant"
A textured, slip-resistant hydrogel?  Well, of course I want to try them!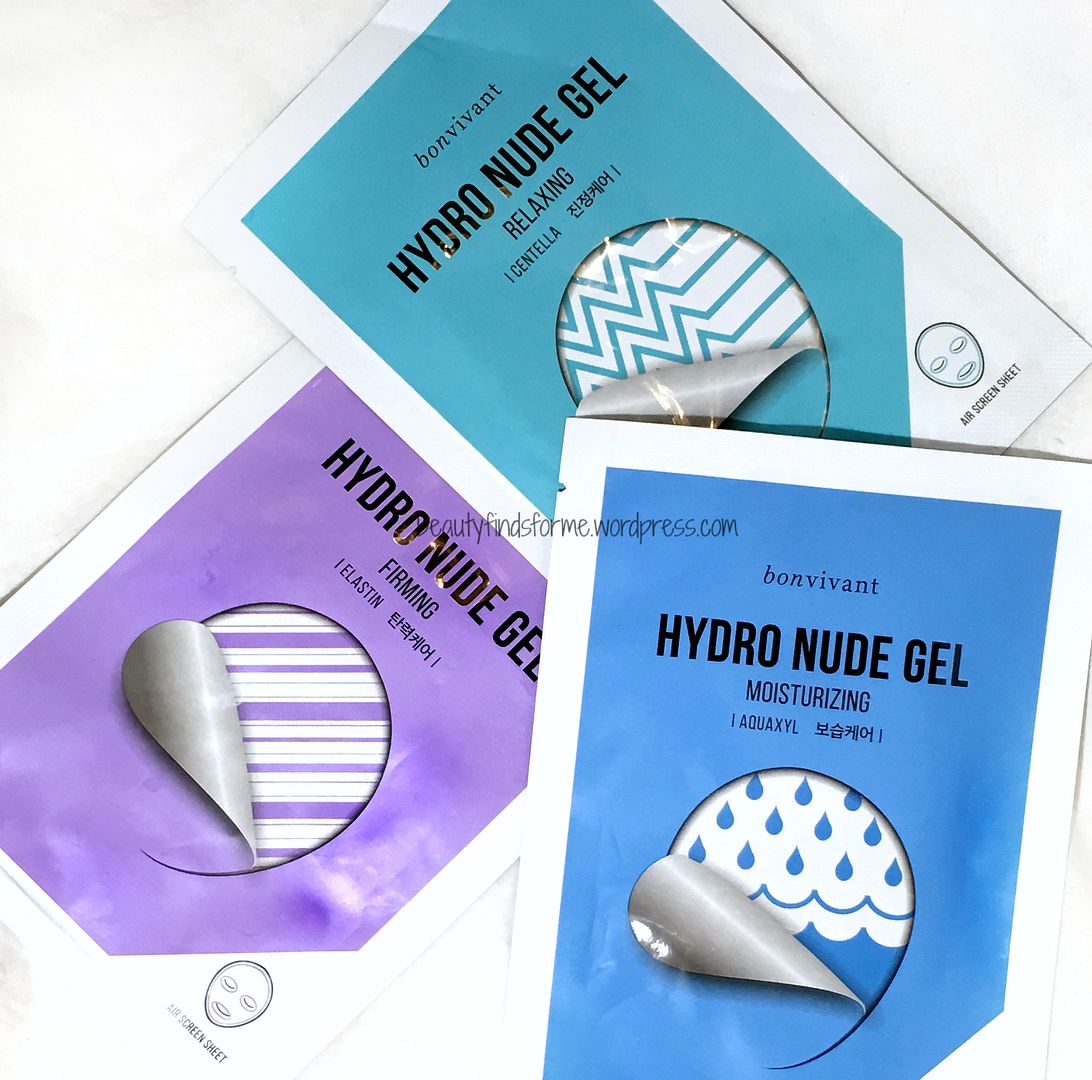 There are 3 varieties in the BonVivant Hydro Nude collection and they are all free from triclosan, coal tar, formaldehyde-releasers, mineral oil, sodium lauryl sulfate, sulfates, propylene glycol, alcohol, talc, parabens, MIT, PEG, phthalates, dyes, silicones, formaldehyde and TEA ingredients.  These masks retail for $2.00 at Memebox USA.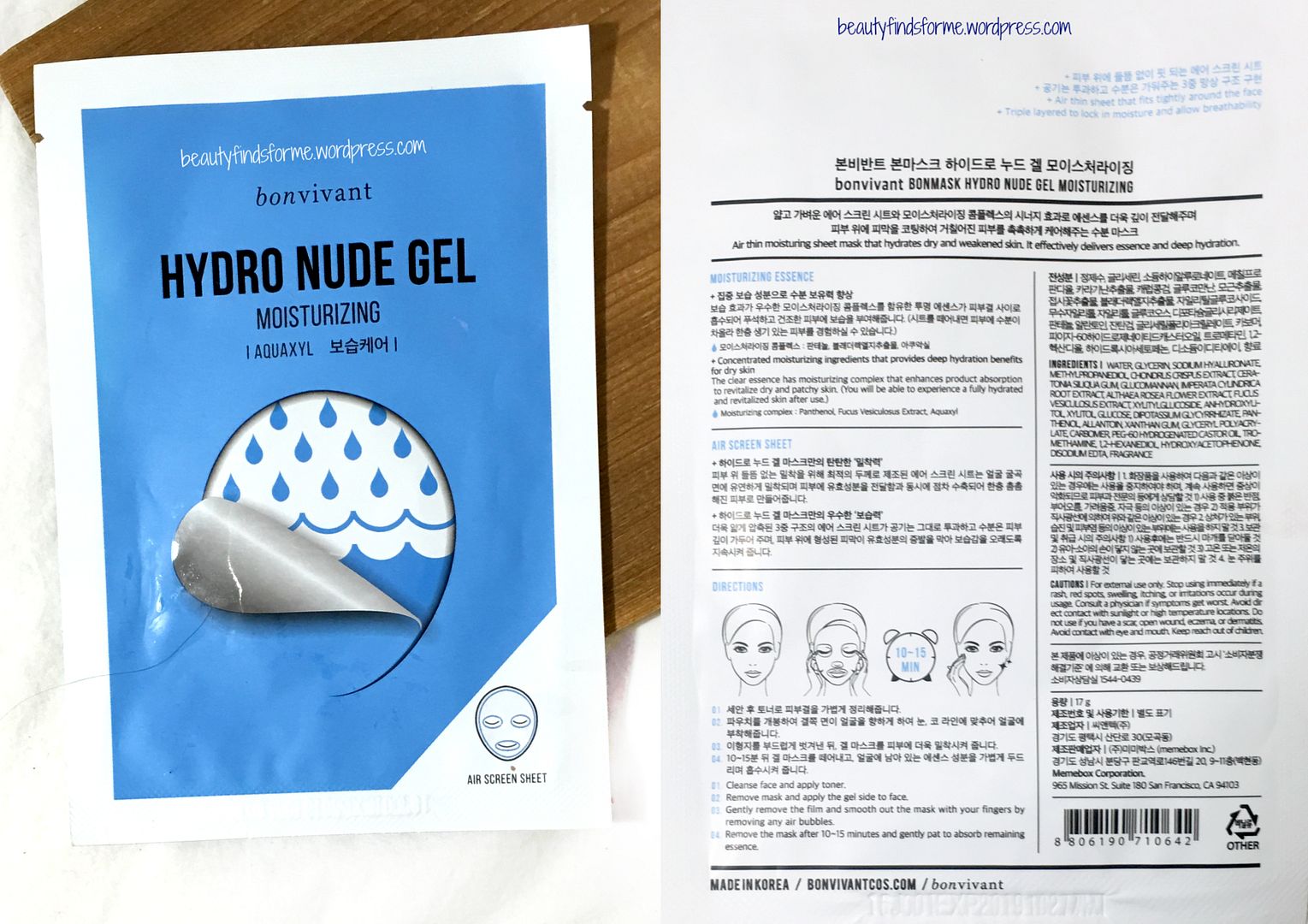 BonVivant Hydro Nude Gel Moisturizing (Aquaxyl)  The back of the mask package states "Concentrated moisturizing ingredients that provides deep hydration benefits for dry skin. The clear essence has moisturizing complex that enhances product absorption to revitalize dry and patchy skin (You will be able to experience a fully hydrated and revialitzed skin after use).  Moisturizing complex: panthenol, fucus vesiculosus extract, aquaxyl"
Panthenol (vitamin B5) helps cellular renewal and is an effective moisturizer. It is derived from plants and this ingredient comes from Vitamin B5. Panthenol is a natural humectant, which retains moisture and hydrates the skin. It also is a good lubricant on the skin, making skin look soft and smooth. It is also an anti-inflammatory

Fucus Vesiculosus is from bladderwrack alga (seaweed) and is rich in antioxidants, polysaccharides, amino acids, essential oils, fatty acids, vitamins and minerals and will help combat free radicals that damage your skin and helps reduce inflammation, elasticity and hydrates your skin.

Aquaxyl (xylitylglucoside + anhydroxylitol + xylitol ) is a humectant, which will attract and lock in the moisture in your skin, and it will also help other ingredients to absorb better as well.

All of the masks are similar in how they "look"  ~ I only will go into detail with the Moisturizing mask, as the other two masks look and fit the same.   This mask has a lot of clear watery essence both on the mask and in the package ~ so I pat on that extra essence on the areas where I know the mask will dry quicker ~ my forehead, nose area and chin ~ and it comes with a thin paper film (protector) to help stabilize the hydrogel and make it easier to apply to the face. I can notice that the gel is textured ~ the gel is facing upwards on my hand below on the right hand side and if you look in the lower left hand corner of that photo, the turned up corner shows the paper film.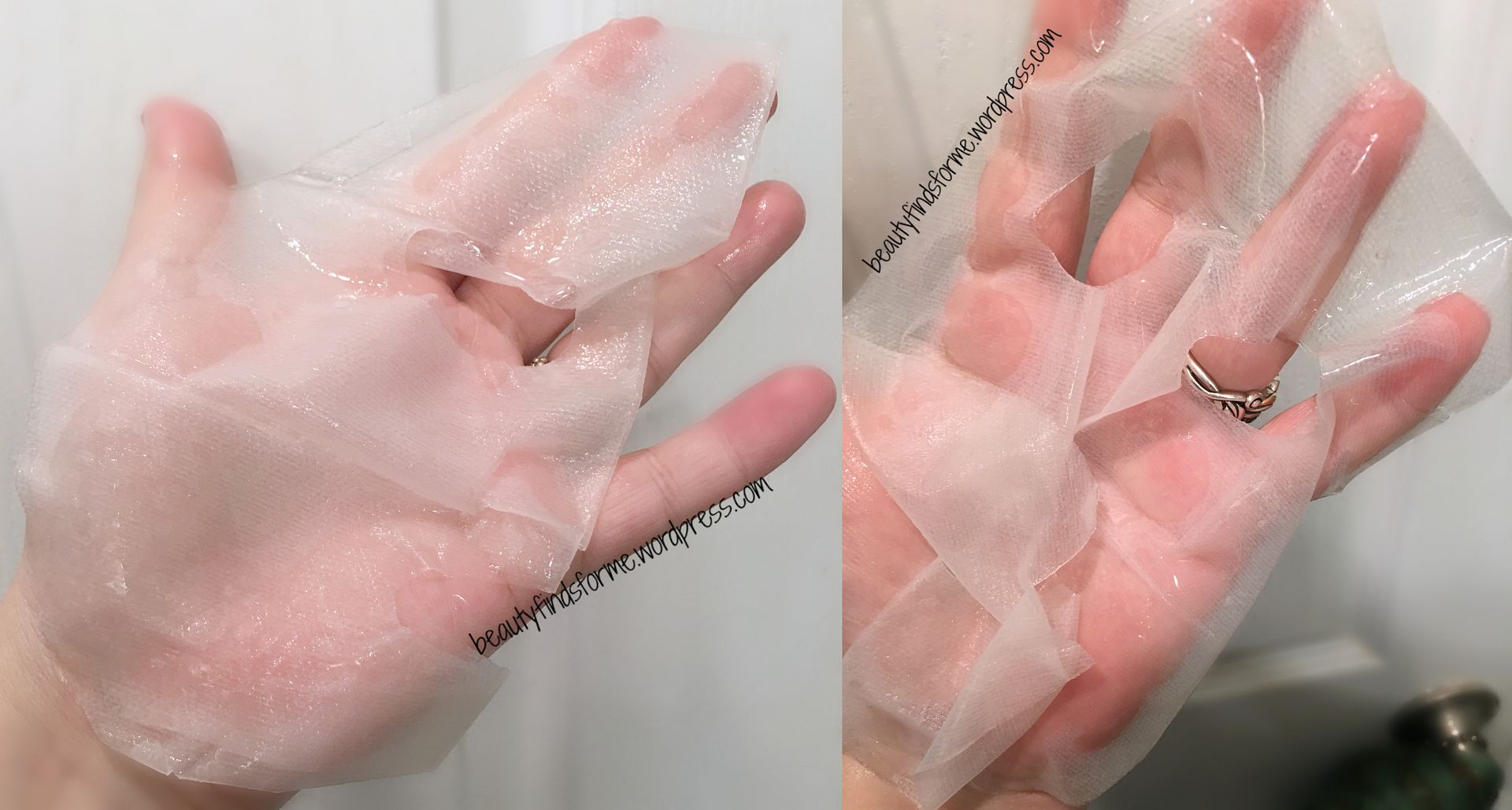 It is easy to apply on my face, gel side towards my skin  and there is no slipping around once I adhere it. But removing the paper film is very difficult.  In fact, the first time I used these masks, I wasn't even aware there was a paper film to remove!  I thought it was part of the mask.  Since the paper is facing outwards, I just leave it on for 5 minutes or so ~ it will start to pull away as the hydrogel starts to adhere and hug my skin better. Once it does that, I just remove the paper film.  The initial fit is loose fitting as the gel does not adhere that closely in some spots.  However, as the mask dries down, the gel starts to draw into my skin and it becomes a very close fitting mask.  These masks have a nice cooling effect while it is on my skin and even after I remove it.    Be warned:  I look very grumpy in the photos.  That is just how my face settles and there is nothing wrong!  lol  I tried smiling and I look crazy with these masks.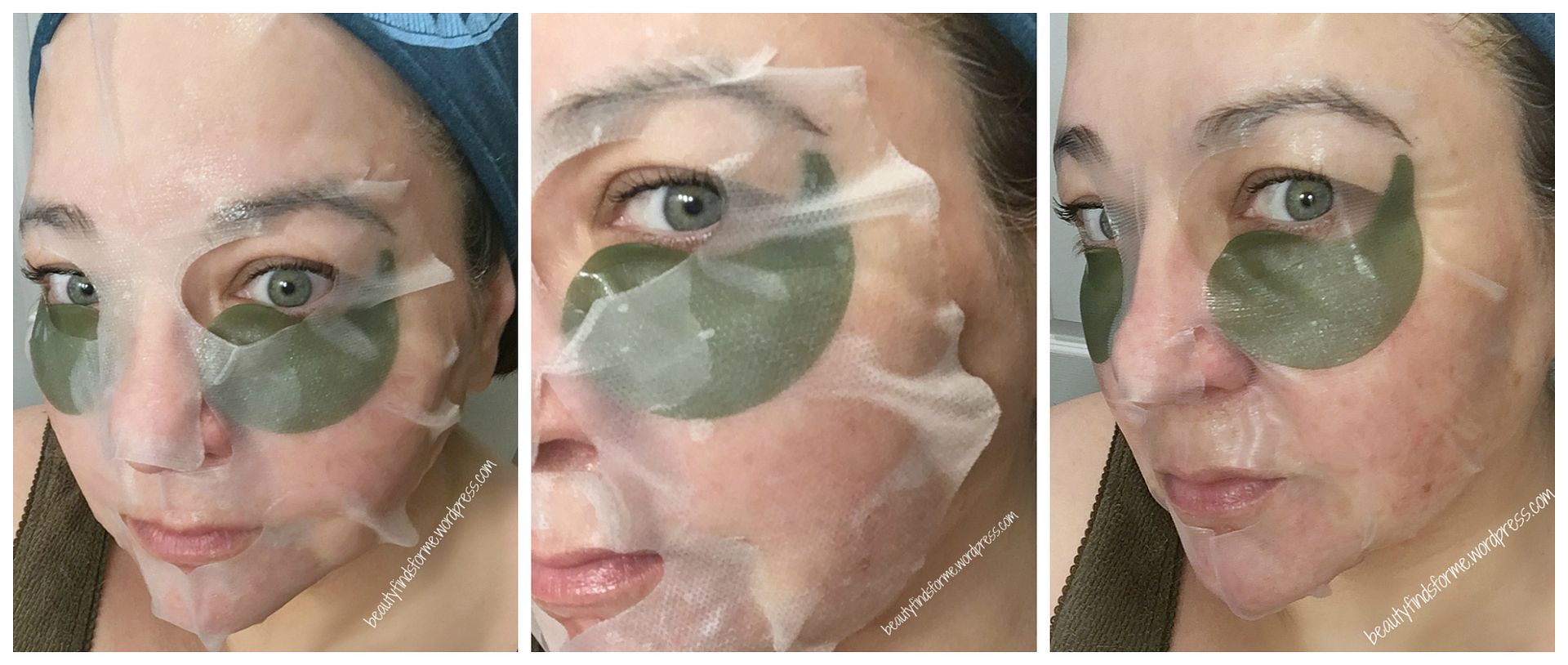 1: freshly applied mask ~ you can see the paper and the loose fit.  2: mask is drying down, the paper is pulling away from the hydrogel.  3: removed paper film, the mask will continue to tighten on my face but you can see that the fit is much closer here.
I leave the hydro nude gels on for about 35 minutes and I could leave it on for another 10 minutes without any issues.  It just peels right off my skin!
So, now onto to the Moisturizing mask review ~  The essence scent is very light, a little bit like a bitter-floral scent.  I didn't really notice any major moisturizing effects and I have oily skin, so I am not sure how these would work for dry skin.  My face did feel hydrated and there was no tacky or sticky residue on my skin ~ I did notice that my pores looked tighter and cleaner ~ probably because this gel sucked out the dirt!   This is a nice mask, but it isn't my favorite of the trio.
Ingredients: Water, Glycerin, Sodium Hyaluronate, Methylpropanediol, Chondrus Crispus Extract, Ceratonia Siliqua Gum, Glucomannan, Imperata Cylindrica Root Extract, Althaea Rosea Flower Extract, Fucus Vesiculosus Extract, Xylitylglucoside, Anhydroxylitol, Xylitol, Glucose, Dipotassium Glycyrrhizate, Panthenol, Allantoin, Xanthan gum, Glyceryl Polyacrylate, Carbomer, PEG-60 Hydrogenated Castor Oil, Tromethamine, 1, 2-Hexanediol , Hydroxyacetophenone, Disodium EDTA, Fragrance cosDNA analysis
BonVivant Hydro Nude Gel Firming (Elastin)  The back of the mask package states "Concentrated anti-aging ingredients that reduce the appearance of wrinkles and firm skin. The transparent  essence has anti-aging complex that enhances absorption to provide elasticity to weaken skin.  (You will be able to experience a fully hydrated and revialitzed skin after use).  Firming complex: Adenosine, Hydrolyzed Elastin, Acetyl Hexapeptide-8″
Adenosine is yeast derived and it became popular after it was found to help improve the reduction of wrinkles. It helps improve your skin's texture and also reduces wrinkles. 
Hydrolyzed Elastin is a protein that is found in your connective skin tissue and blood vessels and helps keep your skin firm and toned. 
Acetyl Hexapeptide-8 is an anti-aging peptide that helps bind water to your skin, regenerate skin cells and reduce the appearance of fine lines and wrinkles
Once again, this unique gel mask is actually textured and I appreciate that it doesn't slip and slip all around my face like a regular hydrogel.  With this mask, I didn't notice a particular scent. After I removed the mask, I noticed something… Firming performance:  My skin was so "bouncy" ~ when I tapped my finger against the side of my cheek, I could see how firm my skin looked and how it actually bounced! So now I know what a firming mask is supposed to do to my skin as I could never tell before with other masks.  I am a huge fan of the Firming mask!
Ingredients: Water, Glycerin, Sodium Hyaluronate, Methylpropanediol, Chondrus Crispus Extract, Ceratonia Siliqua Gum, Glucomannan (derived from konjac), Acetyl Hexapeptide-8 , Plankton Extract, Hydrolyzed Elastin, Adenosine, Dipotassium Glycyrrhizate, Panthenol, Allantoin, Xanthan gum, Glyceryl Polyacrylate, Carbomer, PEG-60 Hydrogenated Castor Oil, Tromethamine, 1, 2-Hexanediol , Hydroxyacetophenone, Disodium EDTA, Fragrance cosDNA analysis

Bonvivant Hydro Nude Gel  Relaxing (Centella)  The back of the mask package states "Concentrated anti-blemish ingredients that minimizes large pores and calms troubled skin. The transparent  essence has anti-blemish complex that enhances absorption to minimize pores and calm troubled skin.  Relaxing complex: Centella Asiatica Extract, Melaleuca Alternifolia (Tea Tree) Leaf Oil, Chamomilla Recutita (Matricaria) Flower Extract"  Well, you know I will love this mask!!

Centella Asiatica is a common herbal ingredient that is used medicinally to help speed up wound healing, such as blemishes and skin rashes. It also helps minimize the appearance of pores, and since it stimulates collagen production, it will make your skin more supple and firm.
Melaleuca Alternifolia (Tea Tree)  is known for its topical antiseptic and anti-fungal properties and help target and treat blemish-prone skin. It also reduces oil and sebum production on your skin, while not disrupting the moisture level.
Chamomilla Recutita (Matricaria) can calm down the skin and relieve redness effectively as it has antioxidant, antibacterial and anti-inflammatory properties. It helps to relieve skin issues and irritations because it soothes and lessens swelling and redness, while healing skin and stimulating cellular renewal. 

This mask has that triple combo to help heal, protect and soothe my poor skin while reducing excess oil. More on the material that the mask is made from ~ it is made from red algae, which is known for hydrating, soothing and firming properties and is compressed into 3 thin layers and infused with gel essence. This is a one piece hydrogel, of which I am very happy about because when I use a 2 piece mask, the lower half always falls off!  The watery essence in this mask is minty scented. Now, with this mask, I was able to remove the paper right off the mask. The mask is textured, so there is something there for me to hold on to, instead of a slick surface, but I was unable to get that paper removed with the other 2 masks, so maybe I just got lucky with this one.  This felt cooling and refreshing on my face and I wish I could have left it on for a full hour ~ but had to remove it after 30 minutes, because I had to be somewhere and couldn't have a mask still stuck to my face! At first, my skin felt a bit "tacky" but the essence dried down quickly and my face looked very fresh and felt hydrated without any oily or greasy residue. My pores looked smaller  ~ many hydrogels make my pores look HUGE ~  and I felt that this did what it claimed to do ~ reduce oil, tighten up the appearance of pores and reduce the inflammation and redness on blemishes. No matter what you might think of Memebox brands, their Bonvivant masks are a total winner in my opinion. I have tried several different versions of their masks and they all have been great!
Ingredients: Water, Glycerin, Sodium Hyaluronate, Methylpropanediol, Panthenol, Chondrus Crispus Extract, Ceratonia Siliqua Gum, Glucomannan, Melaleuca Alternifolia (Tea Tree) Leaf Extract, Centella Asiatica Extract, Chamomilla Recutita (Matricaria) Flower Extract, Melaleuca Alternifolia (Tea Tree) Leaf Oil , Dipotassium Glycyrrhizate, Allantoin, Glyceryl Polyacrylate, Carbomer, PEG-60 Hydrogenated Castor Oil, Tromethamine, 1, 2-Hexanediol , Hydroxyacetophenone, Disodium EDTA, Fragrance  cosDNA analysis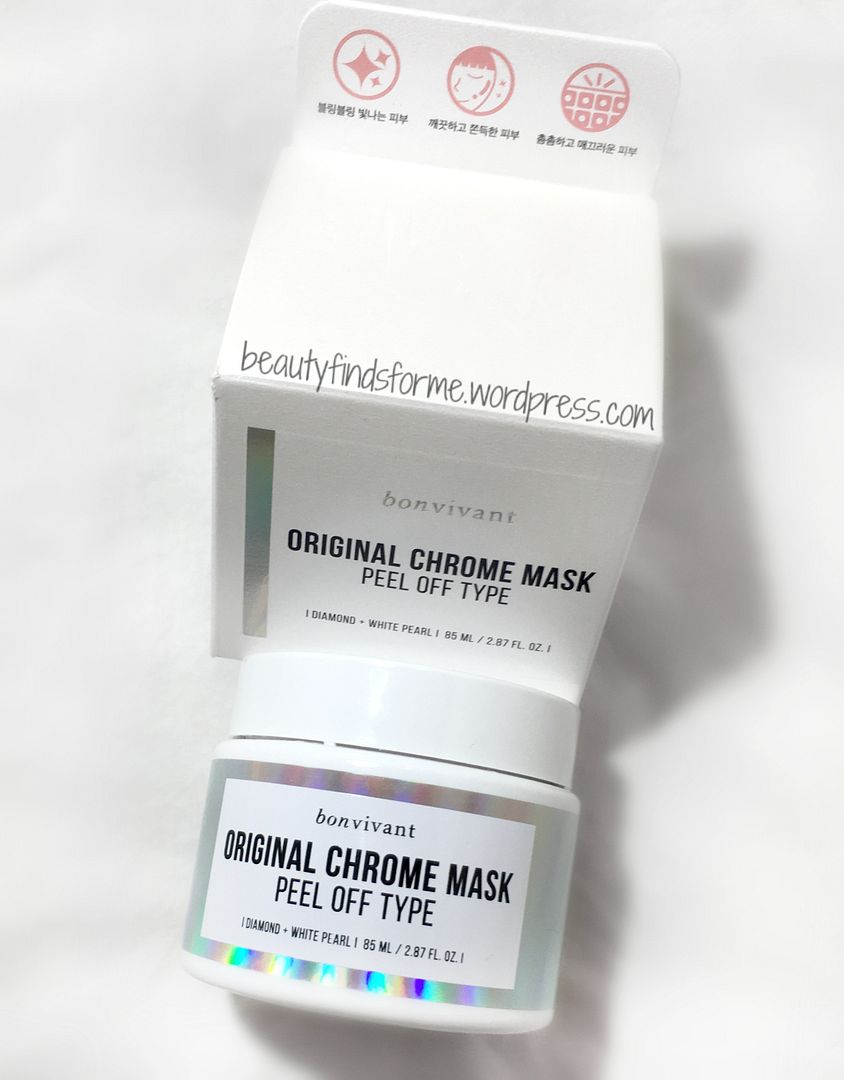 Bonvivant Original Chrome Mask  I am not sure why it is called Original, as I don't see an updated version 😉  This is a dup of the infamous chrome mask which is very expensive.  Before I actually give my opinion on this peel off mask, there are two things that I think you should know. This is a peel off mask, so it will contain alcohol and it does smell like alcohol. Most peel off masks I know of contain this ingredient and smell like it too! The second thing is to properly get the benefits of this mask, you must apply a medium to thick layer ~ this is also very common for peel off masks. If you apply it too thinly, it will not peel off and I have read some reviews complaining about how hard this was to remove.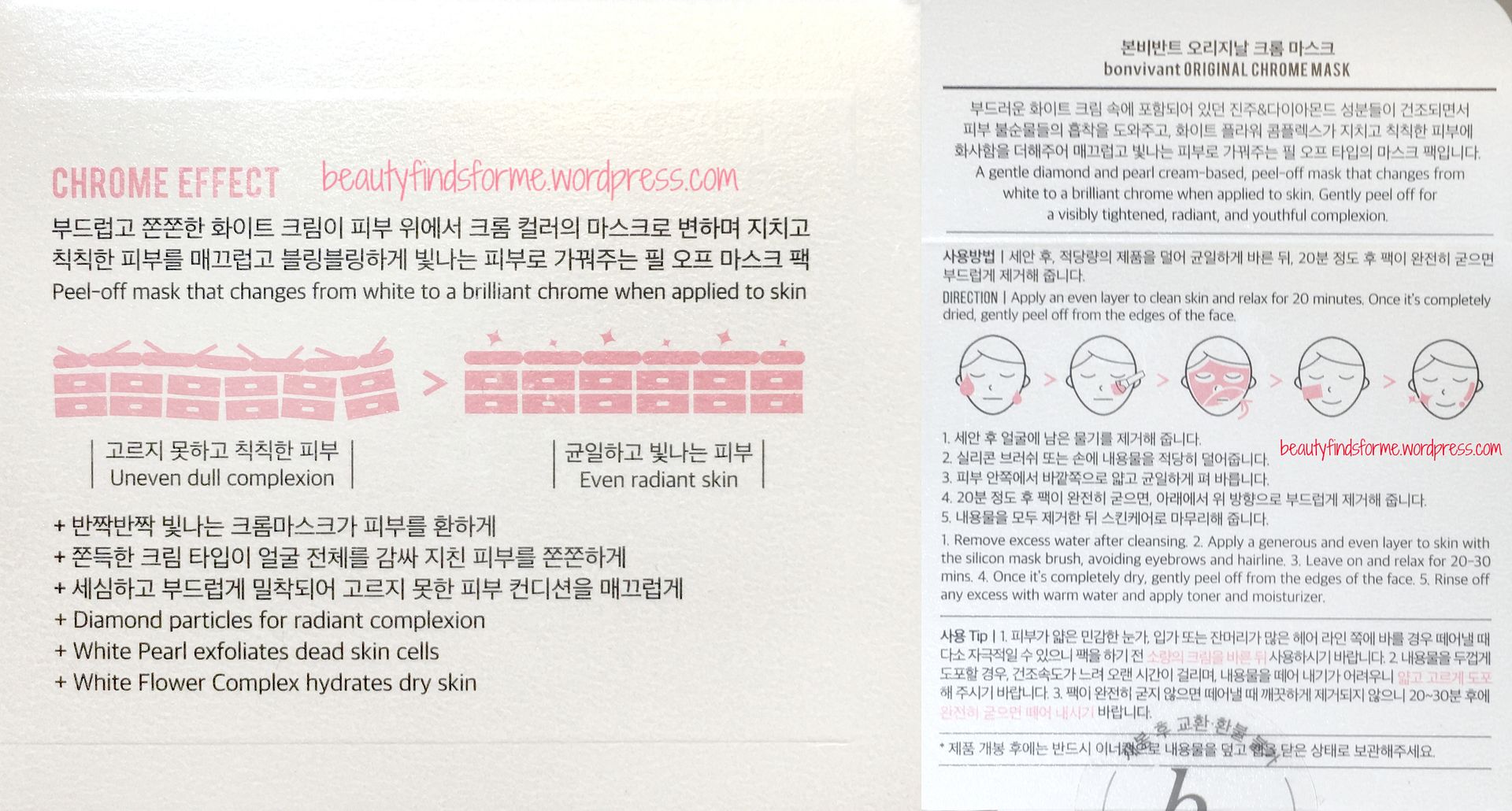 According to the description, this is a gentle, diamond and pearl cream-based peel off mask that goes on white but turns to a bright silver (or chrome) when it is drying.  You apply a medium even layer to the skin and leave on for 20 minutes or completely dry.  It is very gloppy, very liquid (I am not sure why it was described as cream based) and sticky silver-white mask.  I used both a BonVivant Silicon Pack Brush, which Memebox also supplied, and my fingers to apply. It has a nice cooling sensation as it dries down on my face and I did feel like the Tin Man looking in the mirror!
This mask contains pearl powder which exfoliates and brightens, diamond powder to remove impurities and rice bran extract to help nourish and moisture your skin, while improving your skin's texture and antioxidant oats which act as an anti-aging ingredient.  This also has a "White Flower Complex", which consists of lily, jasmine, orange flower blossom, elder flower and magnolia, which will nourish your skin, leaving your skin more bright and soft.  Thankfully, it doesn't smell floral. After it dried down ~ it was about 30 minutes as I did apply a thick layer, I just peeled off, starting at my chin and moving upwards ~ it came off in one big sheet, leaving some chrome trails on my face, which I removed with some cleansing water. My face did look brighter and my pores looked tighter, while my face was mattified ~ this is probably due to the bentonite in the product, which absorbs excess oils while detoxing.  
This is what it looks like afterwards. Hmmm, a dead ringer for those grays Fox Mulder was always chasing..
Cons: The tub container. This should be in a tube form, as it is so messy and sticky and gloppy. Other than that, I like this mask! It has entertainment value with the bright silver color and it really did clean out my pores and reduce the appearance of them.
Ingredients: Water, Polyvinyl Alcohol, Alcohol, Glycerin, Synthetic Fluorphlogopite, Titanium Dioxide (CI77891), Bentonite, 1, 2-Hexanediol, C12-14 Pareth-12, Salvia Hispanica Seed Extract, Centella Asiatica Extract, Houttuynia Cordata Extract, Xanthan Gum, Hydroxypropyl Methylcellulose, Propanediol, Ethylhexylglycerin, Tin Oxide, Fragrance, Disodium EDTA, Allantoin, Pearl Extract, Butylene Glycol, Avena Sativa (Oat) Kernel Extract, Palmitoyl Tripeptide-5, Sambucus Nigra Flower Extract, Citrus Aurantium Dulcis (Orange) Flower Extract, Magnolia Liliflora Flower Extract, Plumeria Rubra Flower Extract, Lilium Tigrinum Extract, Amethyst Powder, Tourmaline, Diamond powder, Topaz, Ruby Powder  cosDNA analysis

Final Thoughts
I really loved the Firming and Relaxing BonVivant Hydro Gel Nude masks ~ those had immediate, although temporary, effects on my skin and I will want to purchase these in the future.  The Moisturizing one is good too, but I found that I can get the same benefits from the other two masks, plus more. These hydrogels don't slip and slide, they stay put and they have a good thin, textured feel to them, while cooling your face.  The BonVivant Original Chrome mask is fun and it actually works for me!  I felt it did remove the gunk out of my pores, helped mattify my skin while leaving my skin looking more brighter in its skin tone.  It is a solid duplicate to the expensive GlamGlow GravityMud Firming Treatment mask at less than 1/2 the price.   Have you tried any of the new BonVivant masks?  Which ones ~ what did you think of them?
Where to Purchase
Memebox carries the BonVivant Hydro Gel Nude Masks for $2.00 each

You can purchase the BonVivant Chrome Mask at Amazon (click here).  I am not sure why Memebox is going to Amazon for their house brands and I have asked them about it. It might be ~ and this is just a theory ~ that Memebox USA has sold out of it in their warehouse and has linked it to Amazon until they get it back in stock.    Memebox does sell the BonVivant Silicon Pack Brush  (click here) directly for $2.00
For my International Friends, you can find these products at other shops that ship internationally, such as Gmarket (click here) or use a Shipping Service.  If you want to purchase directly from the Memebox Korea, use this link as it displays all of the BonVivant items they carry.  Unless you live in Korea, you will have to use a shipping service and I recommend Korean Buddy. You can save 50% off handler fee with Korean Buddy Shipping Service by using my blog url as a referral https://beautyfindsforme.wordpress.com with your first purchase
[ disclosure: products received for review purposes. contains affiliate links ]