Using certified organic ingredients that are mainly sourced from family-owned farms, Primally Pure creates holistic and organic skincare and home goods products.  I decided to take a bit of detour from my normal blogging to get into home goods ~ creating a space that smells good and makes you feel comfortable is also self-care.  I have been severely depressed for several years now and decided it is time to get out of my blue funk.  I want to feel better about myself and stress free when I am in my home space, and I am de-cluttering and cleaning my home ~ it is a long way from being clutter free, but I feel good when I take my bags of trash out and donate clothing to our local shelters. Primally Pure allows my home to smell uplifting and rejuvenating.   I was sent these items from Primally Pure complementary for review purposes. 
BFCM Sales: 20% off sitewide with free USA shipping through  11/29/2021 with promo code BFCM20 
I received these products complementary to review and was not paid.  All reviews are my own honest opinion and  I never have been asked to write copy for a brand.  This blog post might contain promo codes, affiliate and referral links, which using my links will help generate a small commission that helps support my blog at no extra cost to you.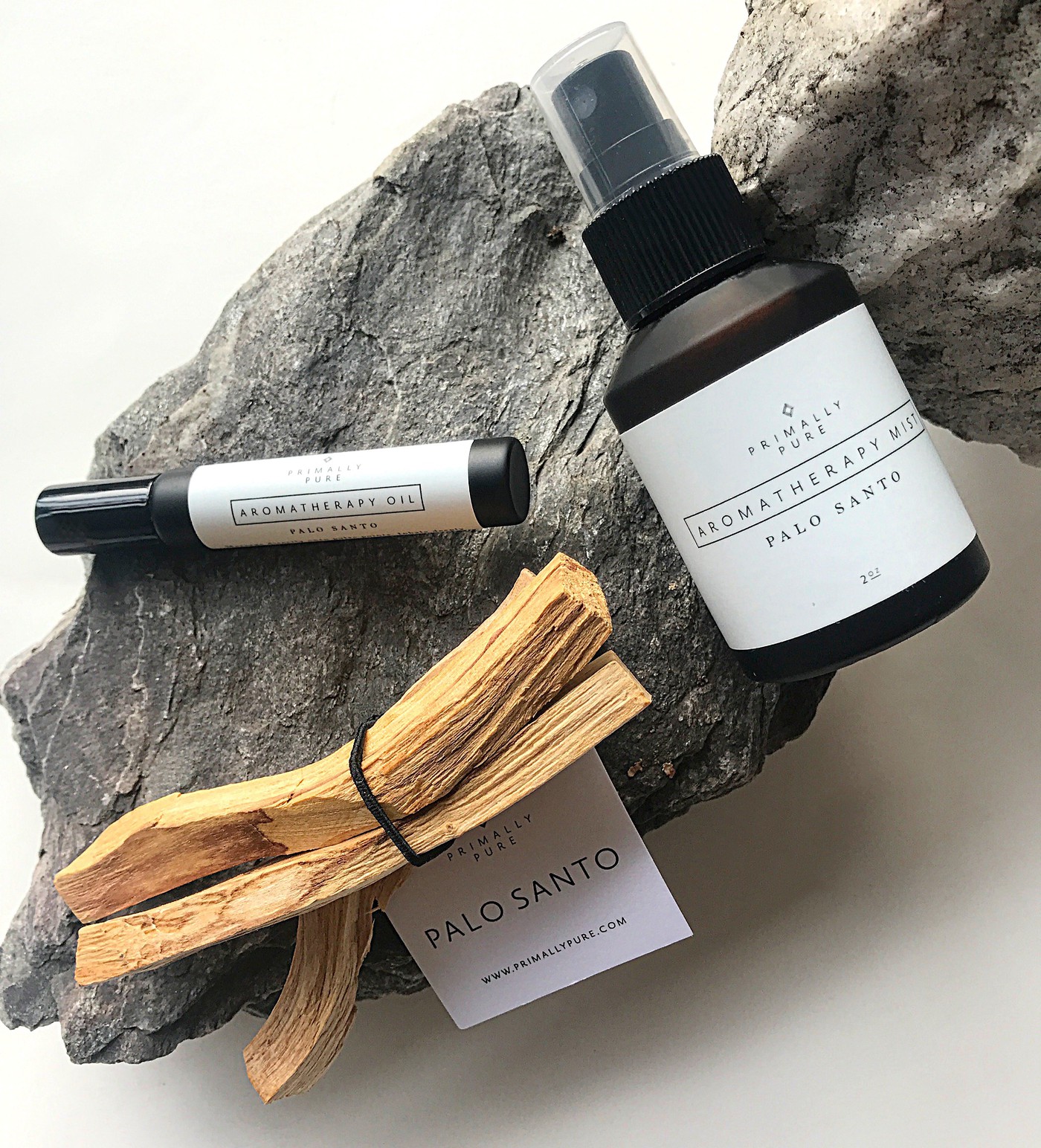 I am a huge fan of aromatherapy and Palo Santo is one of my favorite scents for holistic healing. Palo Santo is a tree that grows along the coast of South American and means "Holy Wood" in Spanish. Part of the citrus family., it is also related to frankincense, myrrh and copal.  It has a blend of scents that is sweet and almost intoxicating ~ pine, mint and the citrus lemony scent and it is very pungent, but in a good way.  Palo Santo is known to help relax and reduce anxiety,  with an uplifting scent that helps calm you due to its antioxidant-rich phytochemical terpenes. It helps purify the air and just creates a lovely scent space. 
Palo Santo Collection ($80.00) contains an Aromatherapy Mist, Aromatherapy Oil and Sticks.  You can also purchase these separately.  The Aromatherapy Mist is blended with wild harvested Ecuadorian Palo Santo hydrosol along with organic artisan crafted sweetgrass hydrosol, a fresh, sweet grassy note.  There are additional woody notes of sandalwood and cedar, making me feel like I have been transported to a forest.  It is truly an uplifting yet calming scent and I like to spray this in my bedroom before I go to sleep.
Ingredients: Wildcrafted Palo Santo Hydrosol, Grape Alcohol*, Sweetgrass Hydrosol*, Essential oils of Wildcrafted Palo Santo, Sandalwood*, Wildcrafted Greenheart Wood, Wildcrafted Cedarwood *organic
Palo Santo Aromatherapy Oil contains a base of organic jojoba oil to ensure that it is diluted properly.  The wild-harvested Palo Santo has potent levels of terpenes:  D-limonene, monoterpenes and anti-inflammatory properties which relieve stress and provide healing.  This has a very different scent than the mist ~ the oils in here are much more dank and dark, which isn't that unpleasant, but it is unexpected to me, as I am used to Palo Santo smelling more bright and fresh.  This is good to roll on your stress points, to help relieve headaches, stress and anxiety.   
Ingredients: Jojoba oil*, Essential oils of Wildcrafted Palo Santo, Sandalwood*, Wildcrafted Greenheart Wood, Wildcrafted Cedarwood, Non-GMO Vitamin E (from sunflower seeds) *organic
Palo Santo Sticks are a favorite of mine and I could smells these through the BOX!! hahah. These are sustainably harvested from naturally fallen trees in South America. I do not use these for smudging, as that tradition is not culturally mine to appropriate, but instead, I use these to sweetly scent my home as is without burning.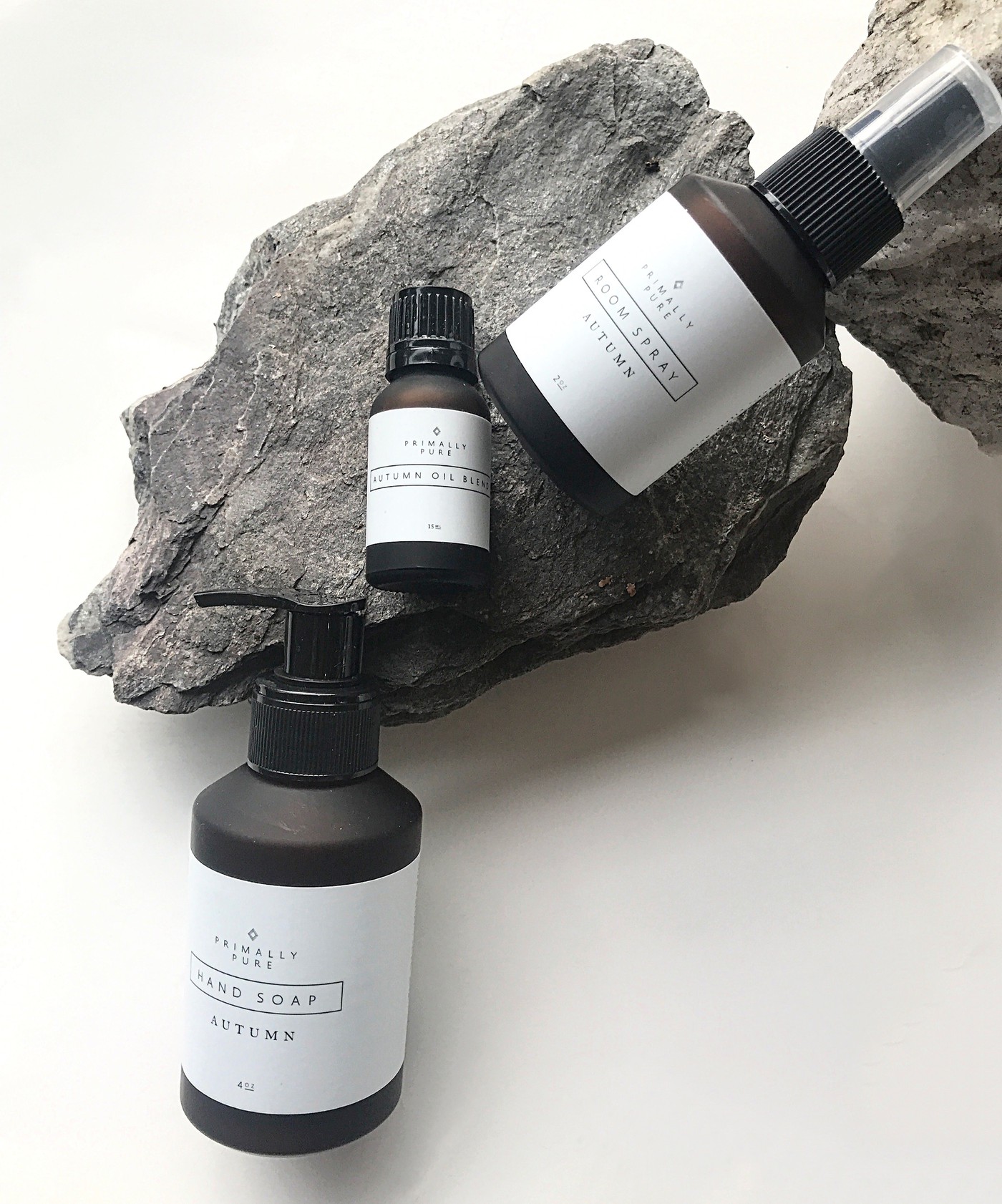 Autumn Home is the perfect holiday scent ~ fresh citrus, spices, honey and cacao bring a delightful and unusual scent that also feels very familiar. Autumn Home Collection ($88.00) contains three products,  Hand Soap, Room Spray and Oil Diffuser Blend, of which you can also purchase separately.  All of these contain the following ingredients, descriptions from Primally Pure
Cardamom: Sweet and spicy with woody undertones, this invigorating oil improves focus + supports respiratory function.
Wild Orange: A mood and immunity booster that powerfully purifies with a sweet, refreshing aroma.
Blood Orange: This bright citrus oil is rich in flavonoids that provide antioxidant benefits to support overall health while helping to ease nervous tension.
Cinnamon Bark: Fairly traded + ethically farmed, this fragrant, warming aroma contains cleansing and anti-inflammatory properties to fight sickness and reduce stress.
Cacao: This rich, grounding oil deeply relaxes, relieves anxiety and is loaded with antioxidants to boost well-being.
Ocotea: Similar to cinnamon, this sweet + spicy oil calms inflammation, cleanses the air and creates a balanced mind and body.
Manuka: Packed with antibacterial and skin-healing properties, its soft, earthy aroma soothes and stabilizes the nervous system.
Roman Chamomile: This soothing oil supports a peaceful mindset + atmosphere, minimizes stress and deeply relaxes. 
The Hand Soap is perfect to put in either your main or guest bathroom, as it feels the air with a lovely scent of spicy citruses, while protecting your health and hands with antibacterial, antiviral and antiseptic benefits from the soap's ingredients.  The hand soap base was created using renewable energy.
Ingredients: aloe vera juice*, coconut oil*, potassium hydroxide, olive oil*, glycerin, sunflower oil*, essential oils of cardamom*, wildcrafted orange, blood orange*, cinnamon bark, wildcrafted cacao, wildcrafted ocotea, wildcrafted manuka and roman chamomile*, guar gum, rosemary extract, shea butter*, citric acid *organic 
Freshen up your home with this welcoming, warm scent with the Room Spray.  Really, if you love cinnamon and warm citrus, you will enjoy this scent SO much.  
Ingredients: distilled water, grape alcohol*, essential oils of cardamom*, wildcrafted orange, blood orange*, cinnamon bark, wildcrafted cacao, wildcrafted ocotea, wildcrafted manuka and roman chamomile* *organic
Keep that scent going throughout the day using the Oil Diffuser Blend, making your home cozy and warm.  Just add a few drops in your diffuser and let the scent ground and relax you and your guests. 
Ingredients: essential oils of cardamom*, wildcrafted orange, blood orange*, cinnamon bark, wildcrafted cacao, wildcrafted ocotea, wildcrafted manuka and roman chamomile*  *organic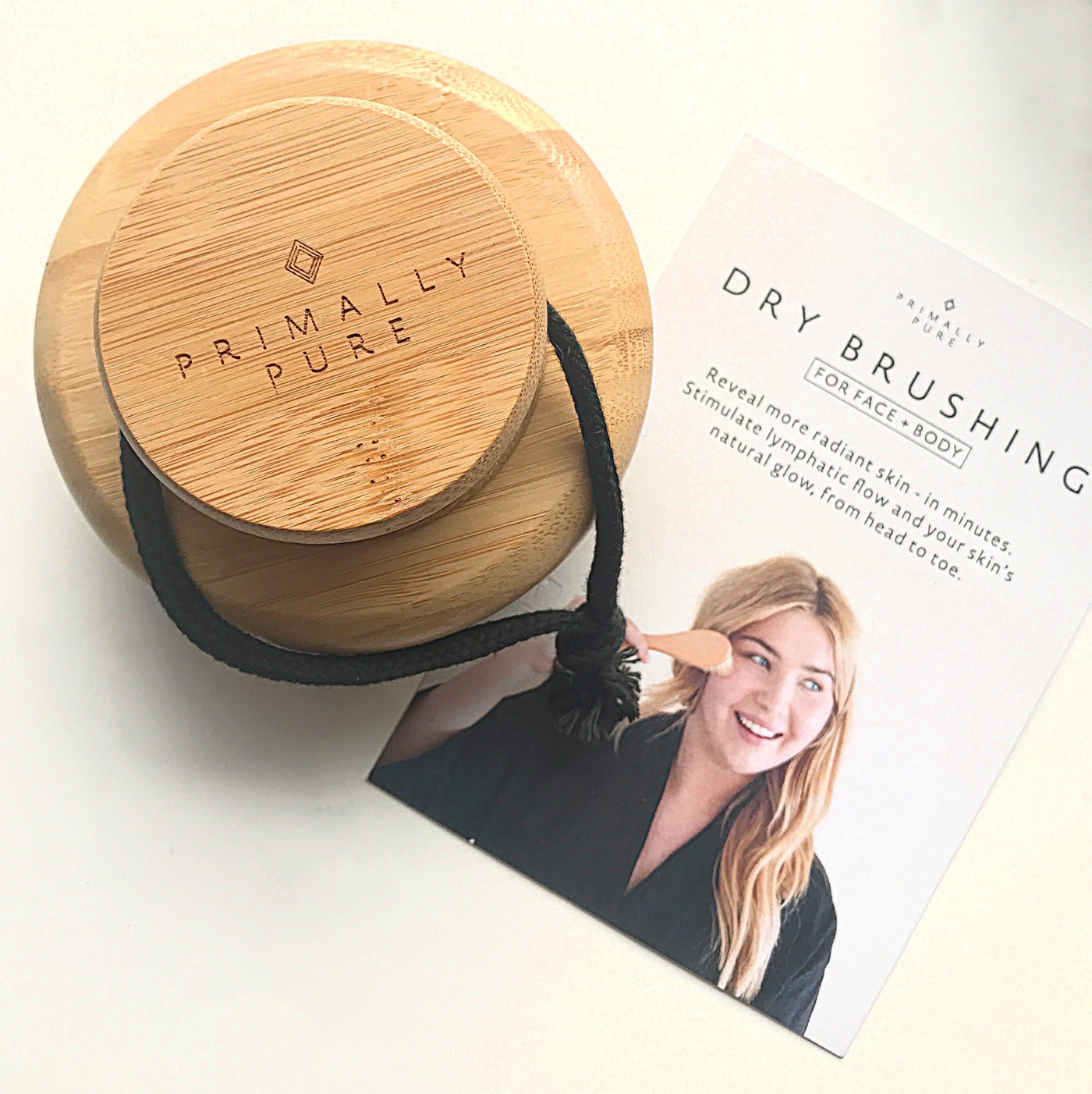 And what type of beauty blogger would I be without including ONE skincare product?  Or in this case, a tool ~ a Dry Brush.  Part of  Ayurvedic medicine, Dry Brushing is something I really enjoy doing in the winter months, as my skin gets very flaky and well, DRY.  It helps remove dead skin cell building on the surface, while stimulating your blood circulation for better flow.  We know that better blood circulation means glowing skin!   Primally Pure's Body Dry Brush is made from sustainable bamboo wood and boar bristles.  A good dry brush will be made with real animal bristles, you cannot use synthetic  materials for this.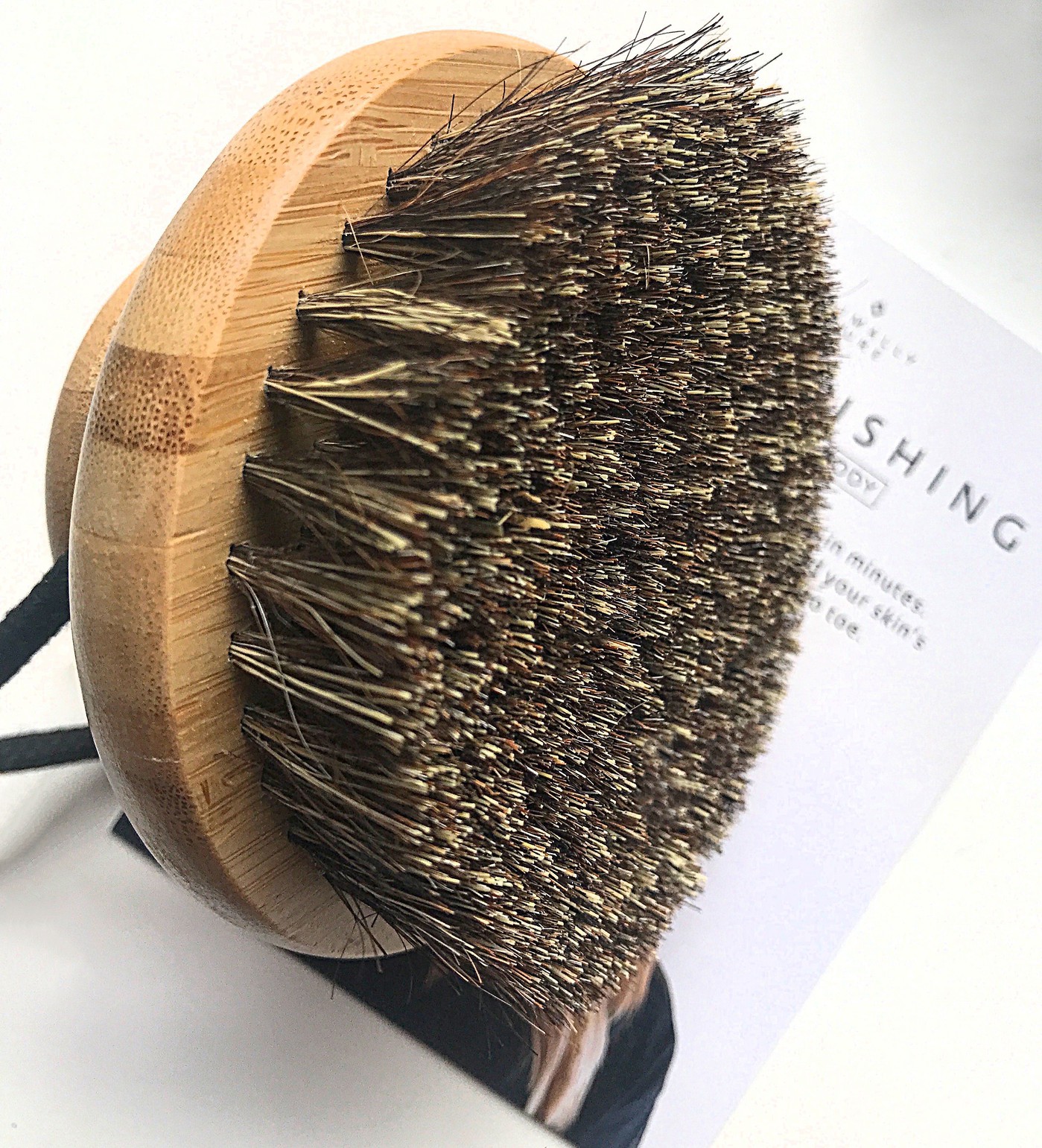 To use, begin at your feet and brush upwards towards your heart.  Then brush over your belly in a counterclockwise direction and brush from your hands up to your shoulders, towards your heart.  Brush downwards from your underarms down the sides of your body. This helps with lymphatic drainage. 
Do not scrub or use a heavy hand while dry brushing ~ a gentle pressure is all you need to exfoliate, smooth your skin and get the blood circulation moving.  Then take a shower and apply a body oil or cream afterwards.  Your skin will be glowing and smooth!  Please note, if your skin has open wounds or you are suffering from a skin disease or thin skin, please talk to your doctor first about Dry Brushing.  You don't want to dry brush when your skin has wounds or issues, as you could spread infection.
image from primally pure
Purchase Information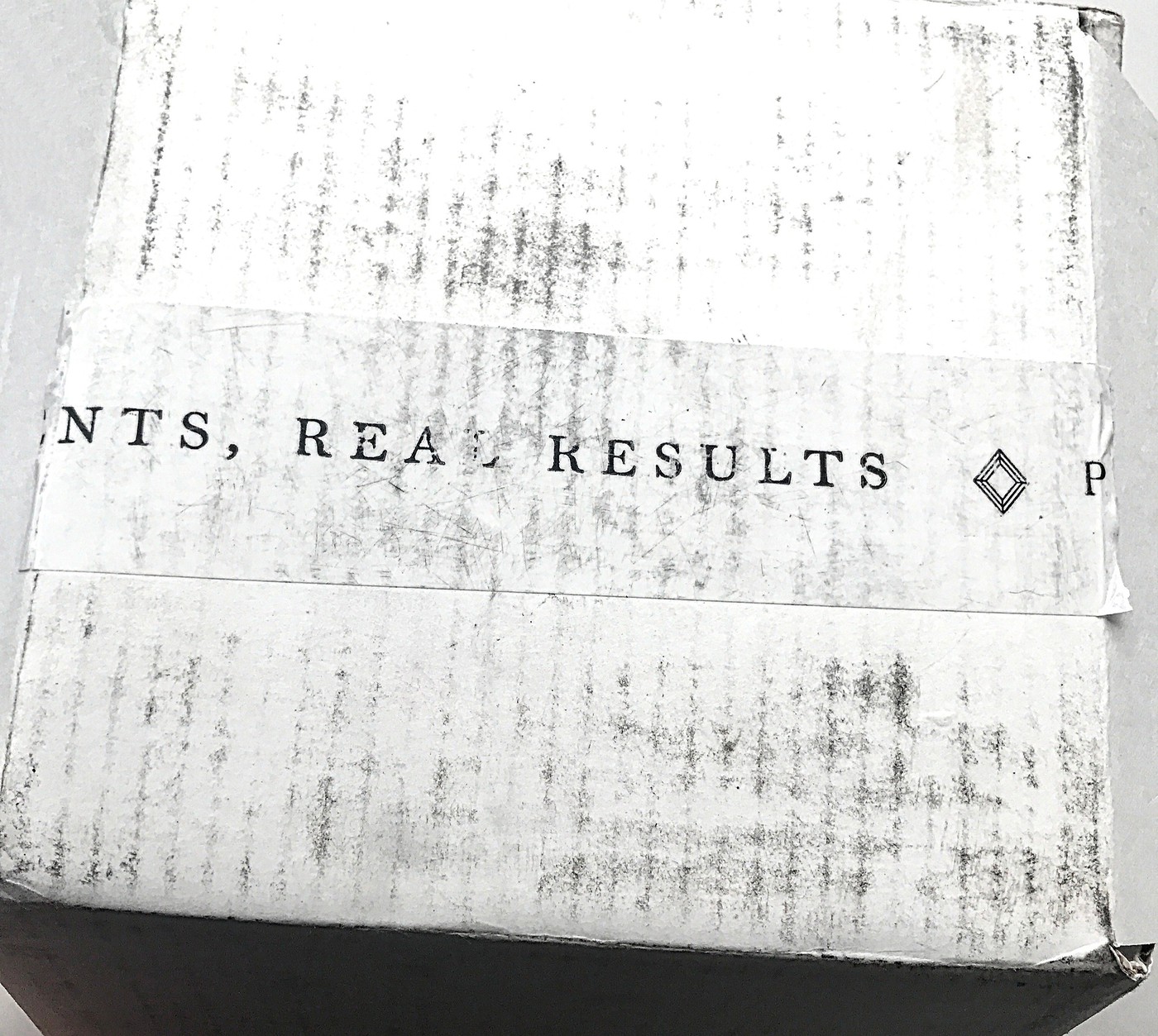 Right now, Primally Pure is having a BF/CM sale for 2021: 20% off sitewide with free USA shipping through  11/29/2021 with promo code BFCM20.  They also have skincare and body care products as well
ddisclaimer: products were sent to me for review purposes. all opinions are my own and are unbiased