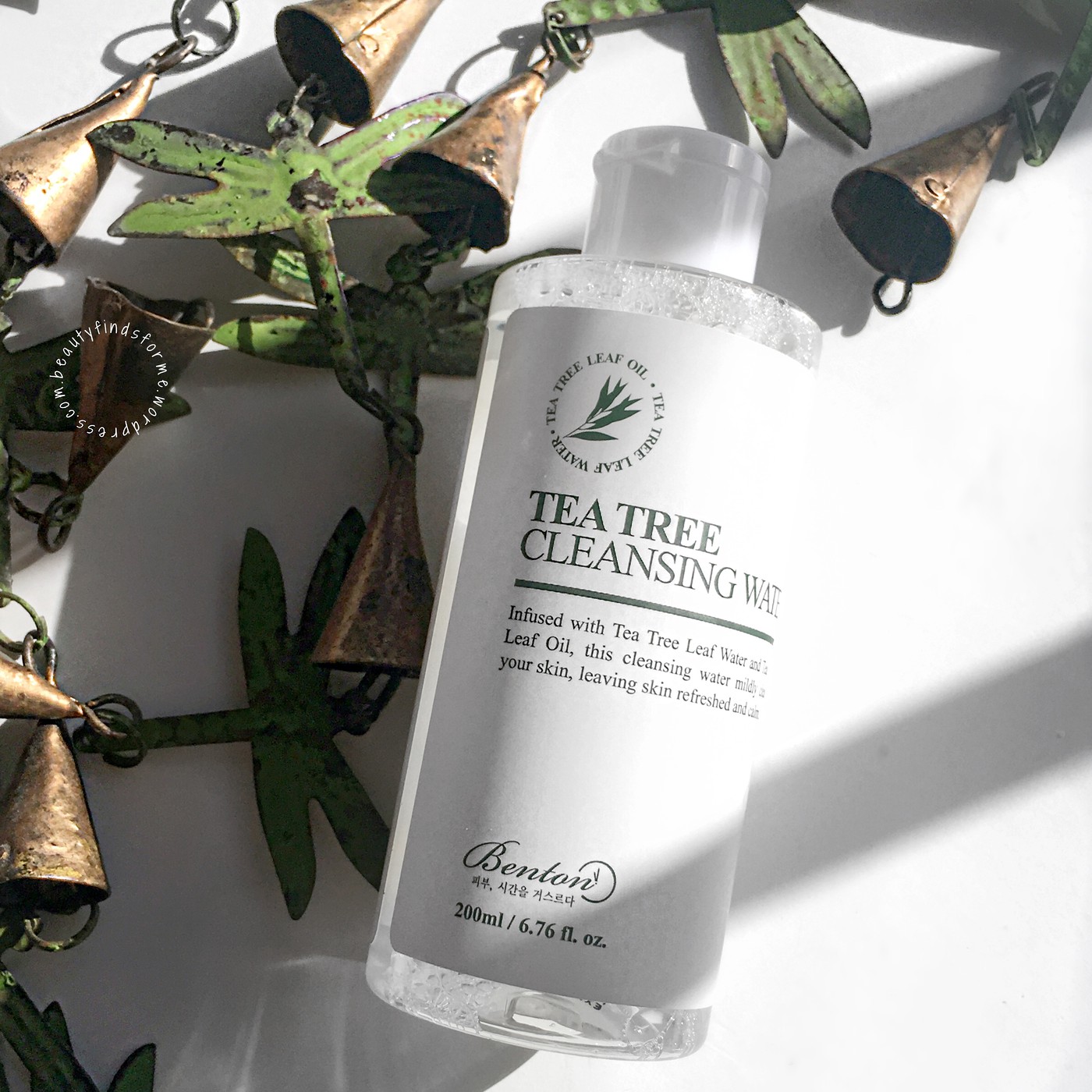 I am so happy that I got into the Benton and 08Liter campaign for Benton's latest product ~ a cleasing water!   Many thanks to Benton and 08Liter for generously supplying this product for review.  I enjoy Benton products, even though some of the recent releases have not been all good for my skin type ~  see my reviews  here.

Skin Type/Concerns: Oily, blemish prone, aging concerns, pores, fine lines/wrinkles and hyper-pigmentation
I received these products complementary to review and was not paid.  All reviews are my own honest opinion and  I never have been asked to write copy for a brand.  This blog post might contain promo codes, affiliate and referral links, which using my links will help generate a small commission that helps support my blog at no extra cost to you.
Just Fun Info:  Ever wonder how Benton came up with their name?  Well, according to their webside, it came from a movie
The name and definition of Benton took its motives from the movie 'The Curious Case of Benjamin Button' (also known as 'Benjamin Button goes backwards in time' in Korea) which had a warm touch on many people's heart. In the movie, Benjamin is born as an old man and he becomes younger and younger as time goes by and ultimately dies as a new born baby. Benjamin happens to deeply fall in love with a woman named Daisy. However, as time goes by and as Benjamin becomes younger he has no choice but to leave Daisy. What if Daisy could have also turned back time on her physical appearance, wouldn't she be happier? It may just be a fictional movie, but wouldn't most people have the same desire to be young again? Benton's desire is to turn back the time of your skin. Unlike the instant temporary effect created by the chemical ingredients, we hoped to improve skin care by using the natural ingredients in our products which will help regain your skin to its original healthy condition.  (source bentoncosmetics.com)  
What is it?
image credit bentoncosmetics
A cleansing water!  And not just ANY cleansing water ~ this has tea tree in it, which makes this especially attractive to those of use with oily and blemish prone skin.   Benton's Tea Tree Cleansing water only contains 10 naturally derived ingredients and its star ingredient is, of course, tea tree.  It contains 70% tea tree leaf extract water and tea tree oil produced in Korea.  Tea tree has healing and disinfectant properties and can help speed up wound healing and reduce scarring.  It helps with preventing dry, flaky skin and because of its antibacterial properties, can help heal current blemishes while reducing future blemishes and control excess oil.   The rest of the ingredients consist largely of emollients, emulsifiers and hydrators, such as glycerin, butylene glycol, dipropylene glycol, polyglyceryl-6 caprylate and polyglyceryl-10 laurate.  
This cleansing water doesn't contain PEG's, sulfates, added fragrances, colorants, phenoxythanol or parabens and its ingredients rate on the EWG Green Score care as green (low hazard). Benton's invidividual ingredients do not contains parabens  either ~ I guess, according to Benton, that parabens and phenoxyethanol are hidden ingredients, meaning they can be inside another ingredient, as they are preservatives. Benton lists all hidden ingredients separately, complying with the CGMP (Cosmetic Good Manufacturing Practice) and EU Cosmetics Regulations. Every ingredient in Benton products will not contain harmful  preservatives and all ingredients, hidden included, will be part of the ingredient lists on the product.

Ingredients: Melaleuca Alternifolia (Tea Tree) Leaf Water (70%), Water, Butylene Glycol, Dipropylene Glycol, Glycerin, 1,2-Hexanediol, Melaleuca Alternifolia (Tea Tree) Leaf Oil, Polyglyceryl-6 Caprylate, Polyglyceryl-10 Laurate, Sodium Chloride  cosDNA

image credit benton cosmetics
  Infused with Tea Tree Leaf Water and Tea Tree Leaf Oil, this cleansing water mildly cleanses your skin, leaving skin refreshed and calm.
Benton recommends this cleansing water for the following skin types and concerns:
Skin tired from impurities and external stressors
Oily and acne-prone skin 
Skin that wants a naturally-derived cleansing water 
Delicate skin afraid of strong 100% tea tree oil  
Angry skin from heavy make-up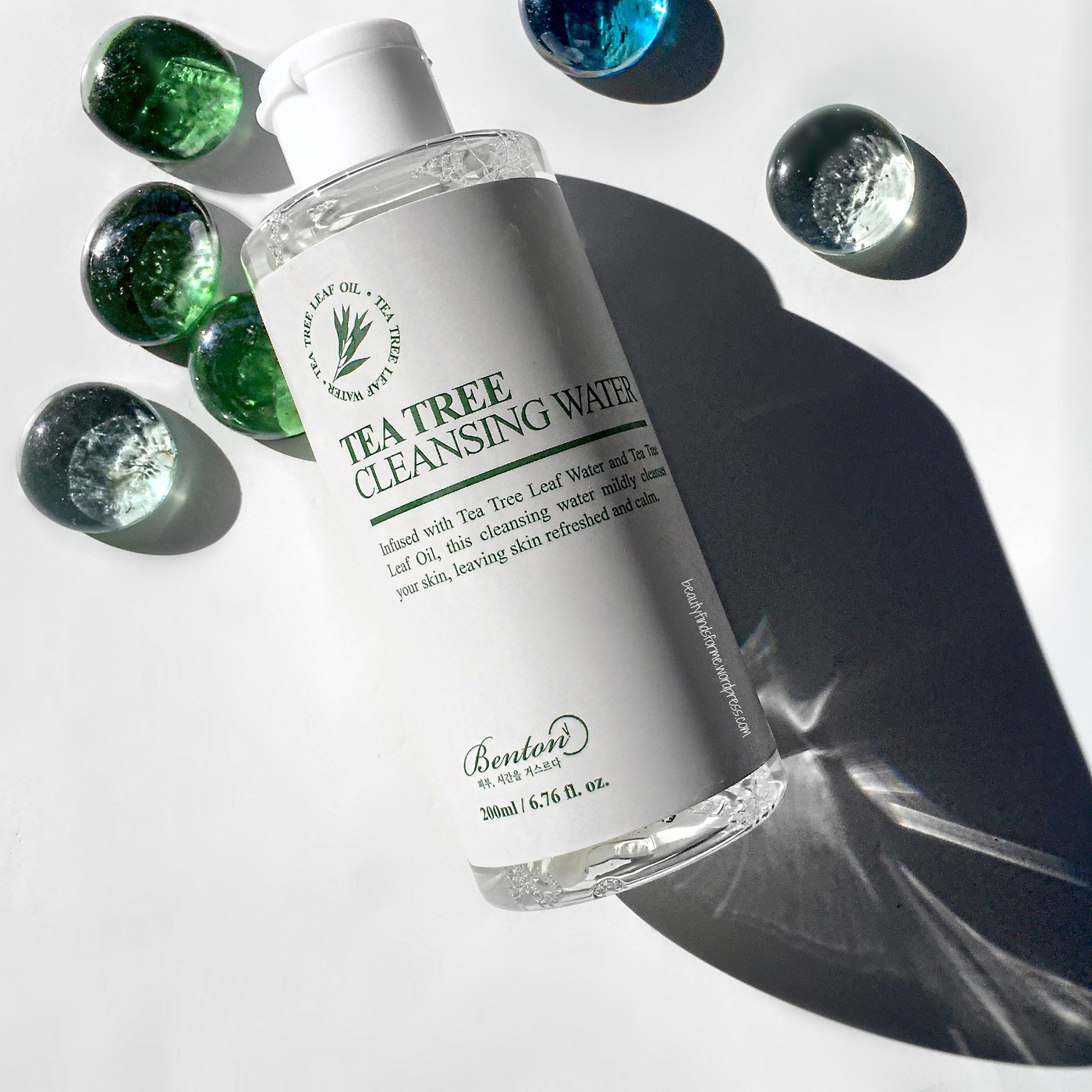 This cleansing water comes in a clear plastic 200 mL bottle with a flip top cap.   It is a very watery transparent liquid and has a light tea tree camphorous scent, which is naturally derived from the tea tree ingredients in the product. 
image credit benton cosmetics
Benton claimed that the pH level was a 6, so you know I had to do a pH test myself.  I personally am okay with a higher pH rating, but if a brand is going to make a claim, I want to know how true that is.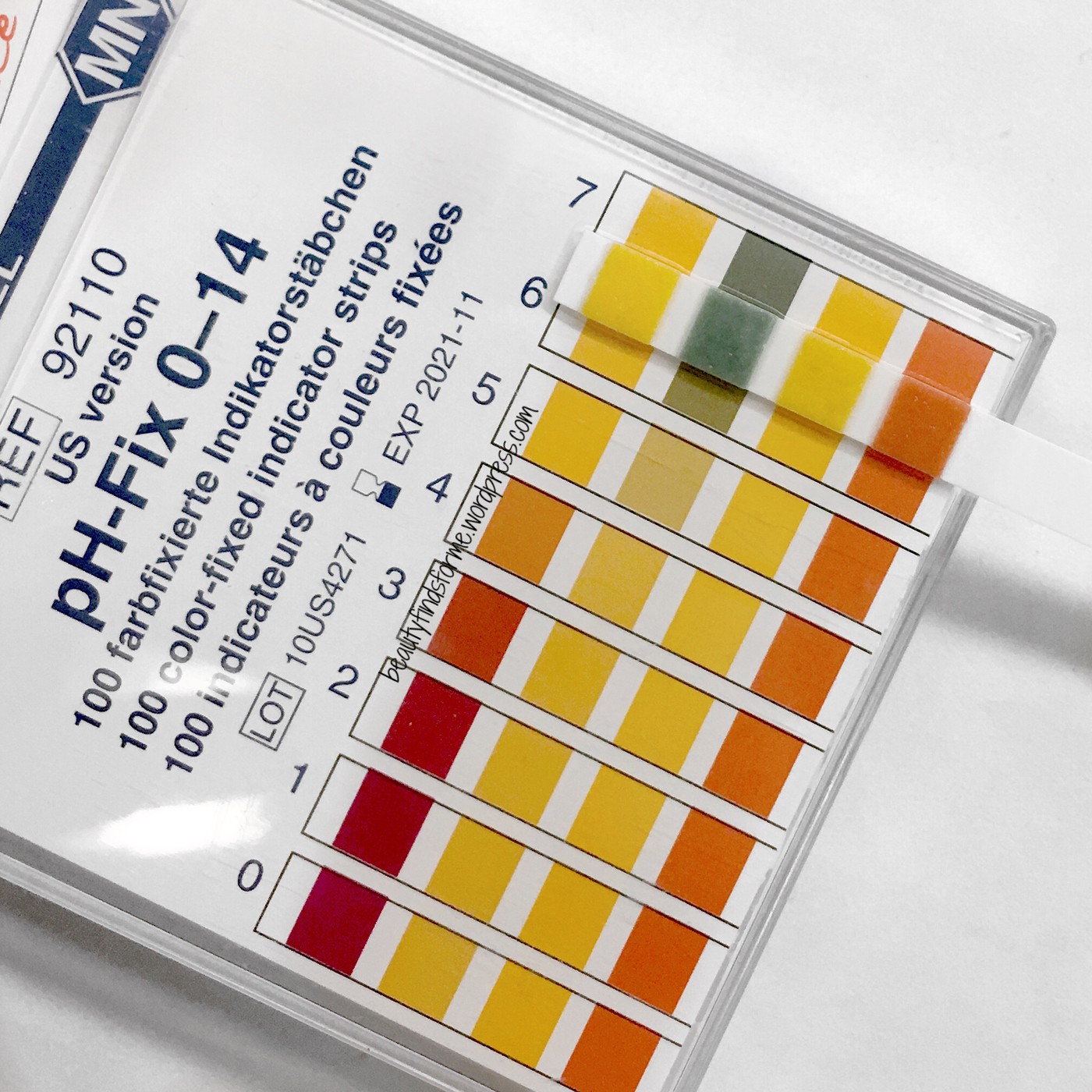 I found it to be closer to a 7 actually.  That is still within an acceptable pH range ~ I mean if REGULAR water is a pH 7, why can't your cleansing water be a pH 7?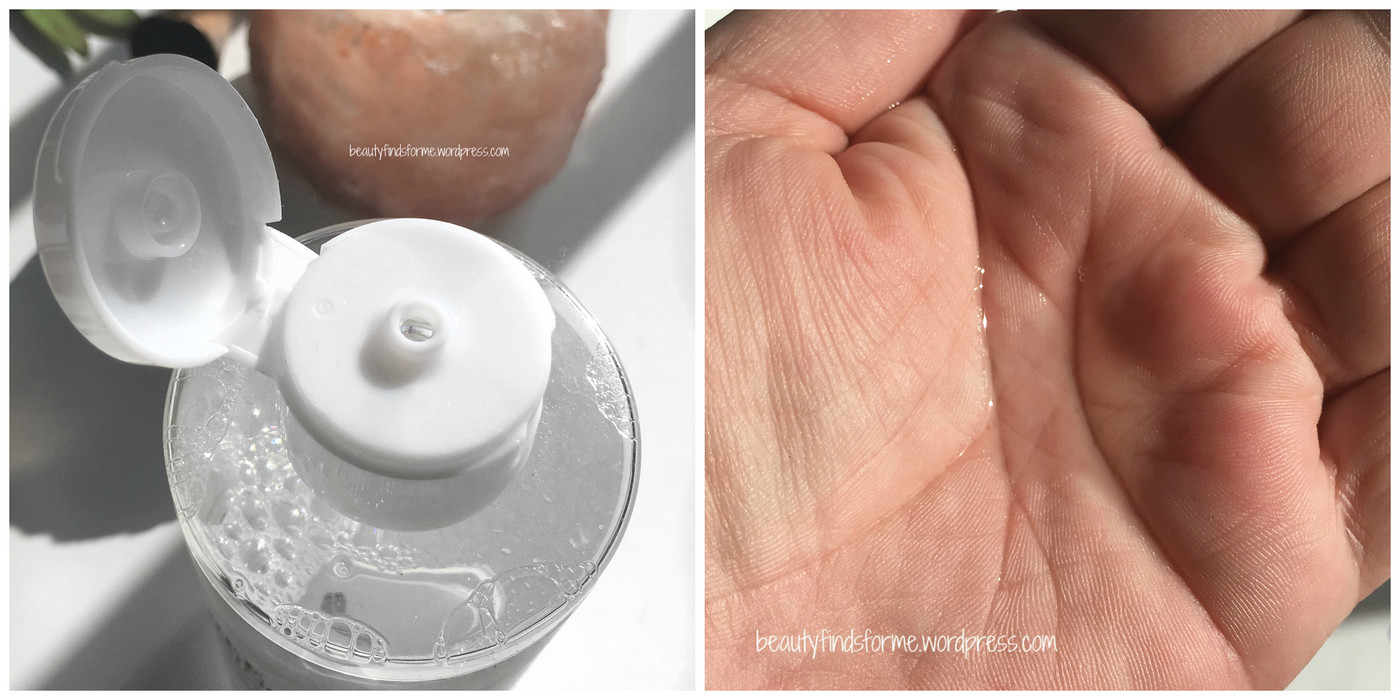 This is very refreshing and cooling on my skin and due to the tea tree in it, it has lovely astringent benefits, leaving my pores looking tighter in appearance.   This does a really good job in wiping away makeup, dirt and grime, along with excess oil.   On first swipe, it removes most of my makeup and then I turn over the pad to remove the excess makeup.  In the cleansing test below, I wanted to show you what it looked like with just one swipe of the pad ~ it removed quite a bit!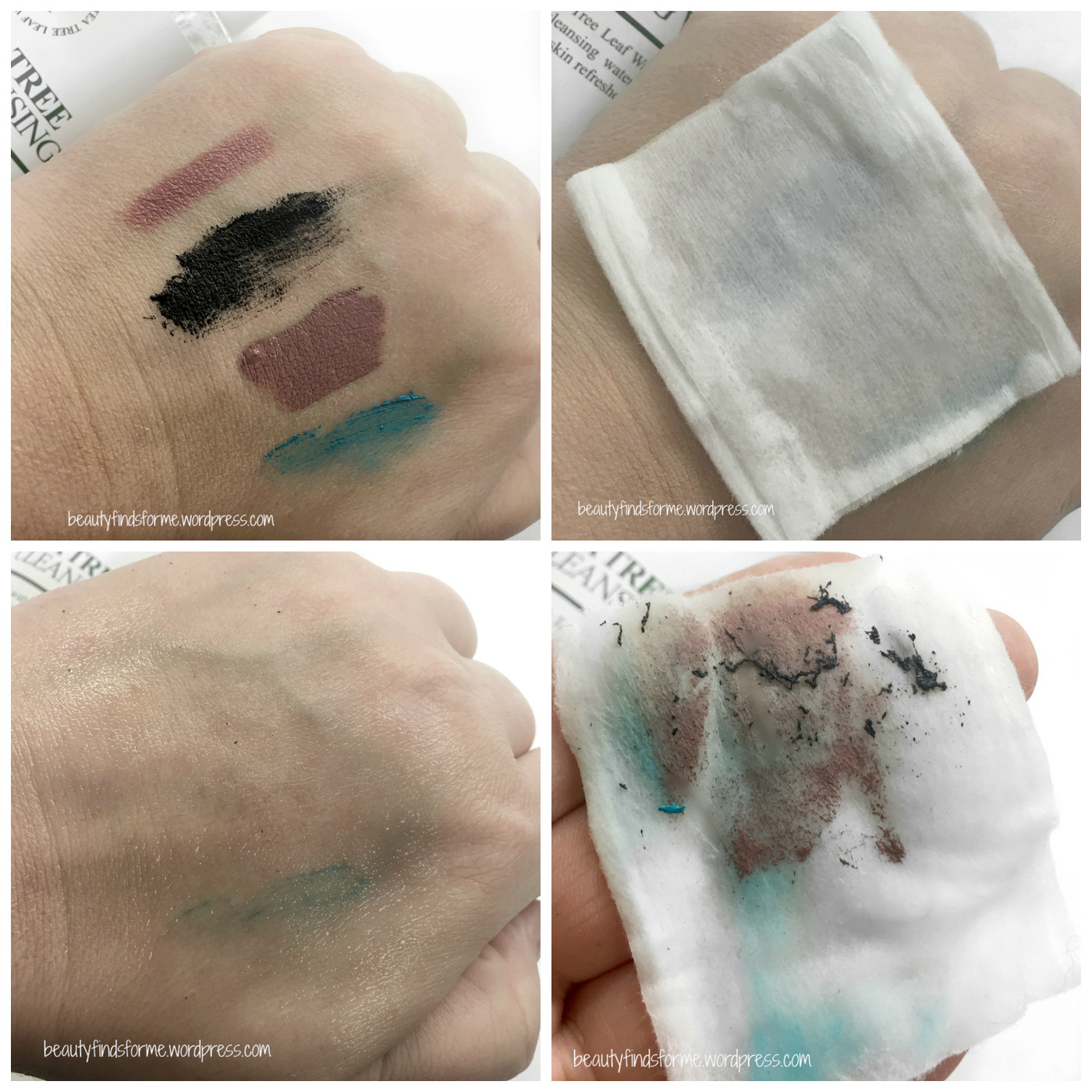 I do not use this to remove eye makeup.  As this contains tea tree extracts, if I got this in my eyes, it would burn and irritate them, so this cleansing water is used everywhere but around my eyes. I actually like using this in a 2 step method  ~ first to clean my skin and then taking a new cotton pad, wiping it across my face to help clean out my pores, remove excess oil and act as an astringent.  I guess you can say I am also using this like a toner.  I haven't found that it leaves any residue on my skin at all and it doesn't strip my skin dry or leave it feeling tight.  My skin feels very hydrated and moist after I use this cleansing water. 
image credit benton cosmetics
Final Thoughts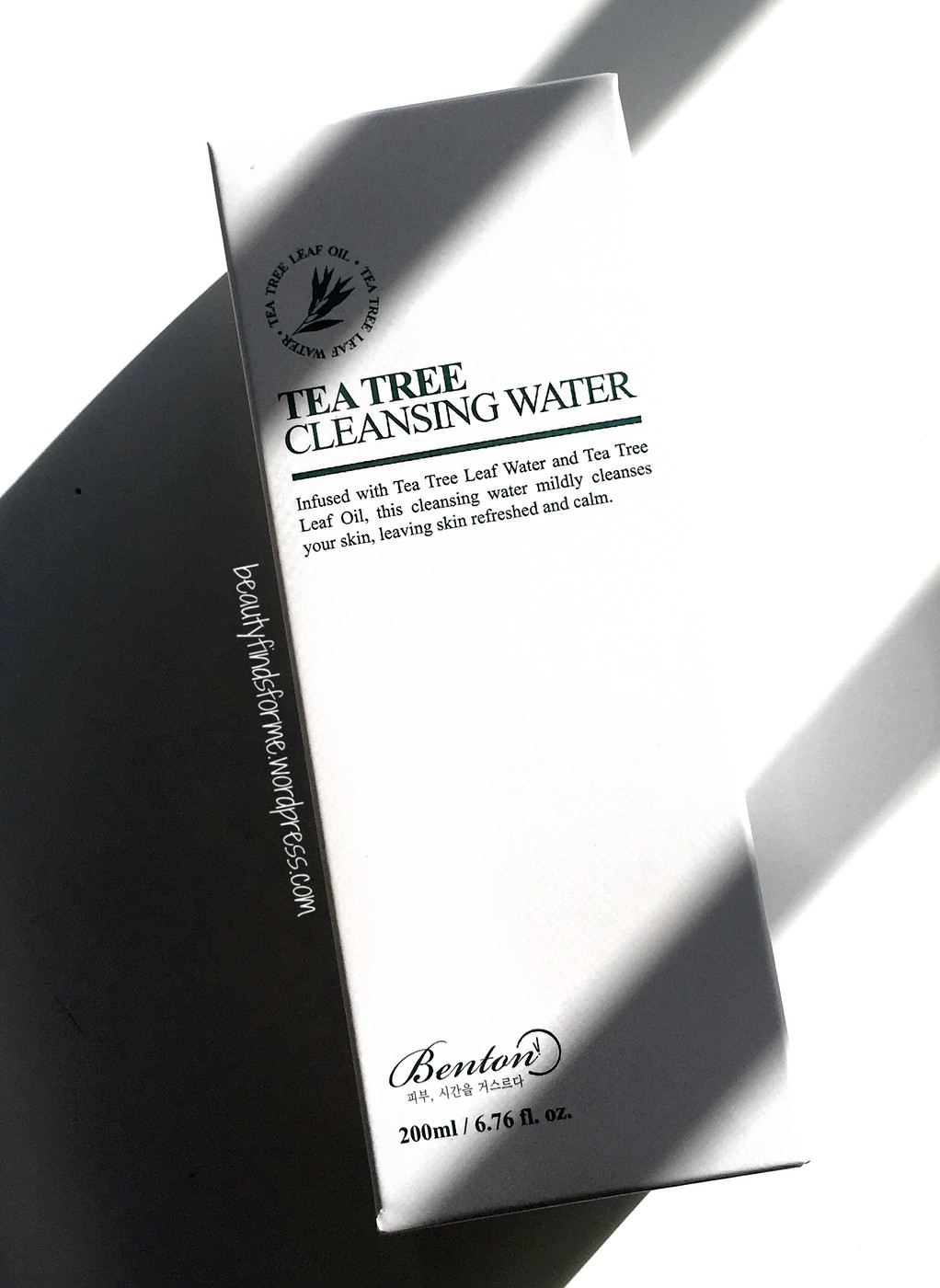 If you have dry skin, I would not recommend this as Benton does state it is for oily, blemish prone skin.  However, if your skin is oily or combo-oily or blemish prone, I highly recommend this tea tree cleansing water.  I love everything about it and it is a really good choice for folks who may already wash with a tea tree cleanser.  It is refreshing, soothing and feels really nice on the skin, leaving a cooling sensation due to the tea tree oils.  It doesn't dry out or strip my oily skin either.
Where to Purchase
There isn't a lot of places that currently carry the Benton Tea Tree Cleansing Water ~ it was just released at the end of February, so I am sure it is just a matter of time before you will see it in a variety of K-Beauty online shops.  This is a 200 mL bottle and you should be able to purchase this between $14.00 to $19.00 USD .

eBay (best price right now!)


[ disclaimer: product received for review purposes.  all opinions are my own ]