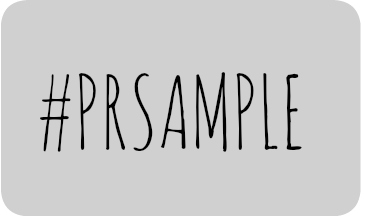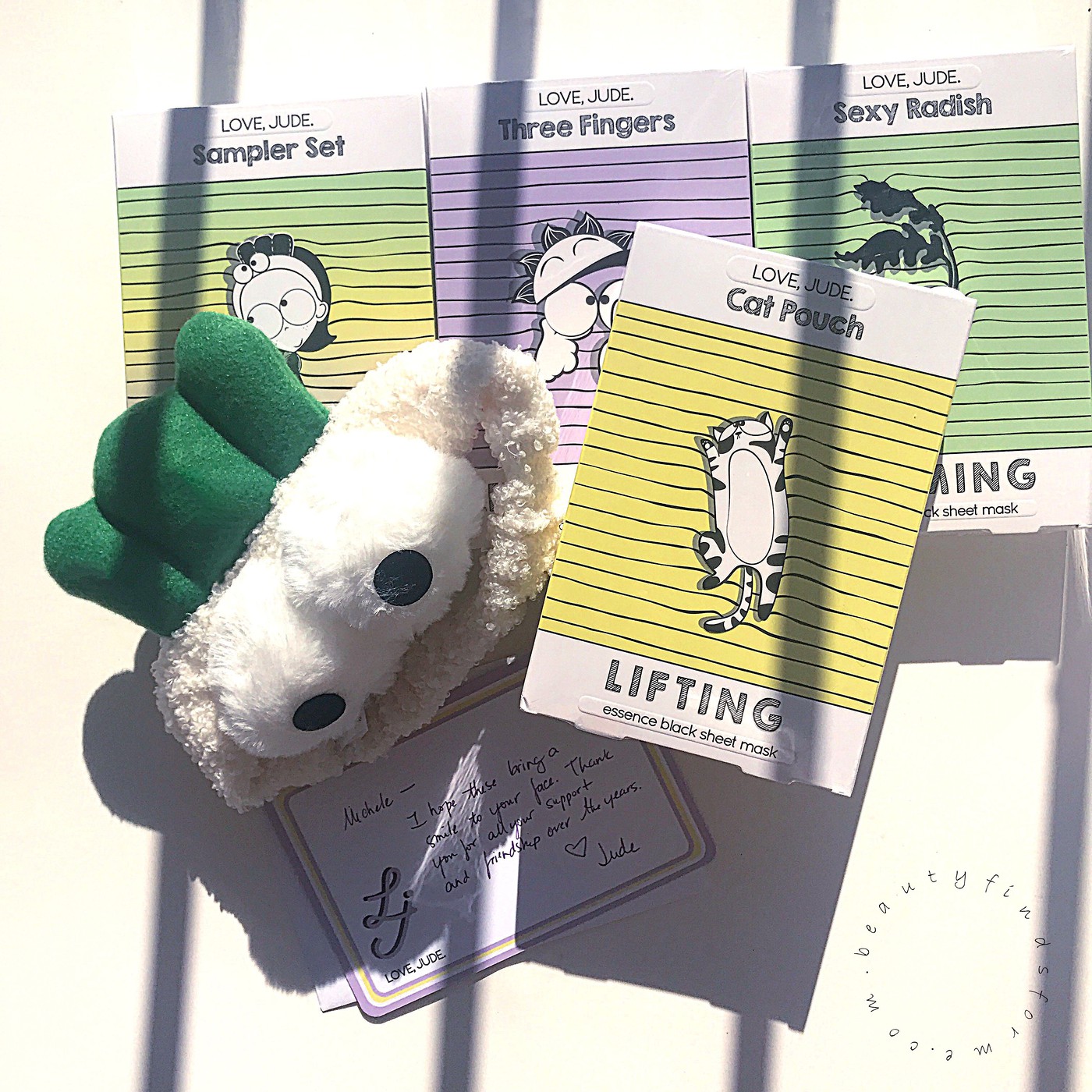 I am so excited for my friend Jude ~ she is the K-Beauty guru of gurus to me and you might know her as Fiddy Snails @fiddysnails on Instagram and her popular blog, 50 Shades of Snail.   She has been working on her own brand of skincare and finally came out with Love, Jude Skincare ~ with three sheet masks that target the most common skin concerns and all with Jude's wit and wisdom.  The beautiful illustrations are done by another friend of mine and another co-founder of  Love, Jude ~  Eric at @hsinyu1109.  He is such a talented illustrator and I am glad to call him my friend.  I was sent Love, Jude masks complementary for review purposes.
Skin Type/Concerns: Oily, blemish prone, pores, aging skin with fine lines/wrinkles and hyper-pigmentation ~ sun damage & PIH
I received these products complementary to review and was not paid.  All reviews are my own honest opinion and  I never have been asked to write copy for a brand.  This blog post might contain promo codes, affiliate and referral links, which using my links will help generate a small commission that helps support my blog at no extra cost to you.
What's the Story Behind Love, Jude?
Love, Jude had a simple mission ~ create sheet masks with formulas that were special and unique yet still be affordable.  They wanted deeply hydrating essences and masks that would adhere closely to the skin without falling off.  A sense of whimsy was also required and to have the masks made in Taiwan ~ not only are their favorite masks from Taiwan,  both Jude and Eric are Taiwanese. All Love, Jude masks are not tested on animals and free from alcohol and added fragrances.
Mask Material
All three of the flagship Love, Jude Facial Sheet Masks use a natural fiber cellulose material of medium thickness.  It is black in its color, but doesn't not contain charcoal powder.  They chose this material as it was not thick or stiff and would easily adhere to the skin's contours, allowing the essence to be better absorbed into your skin.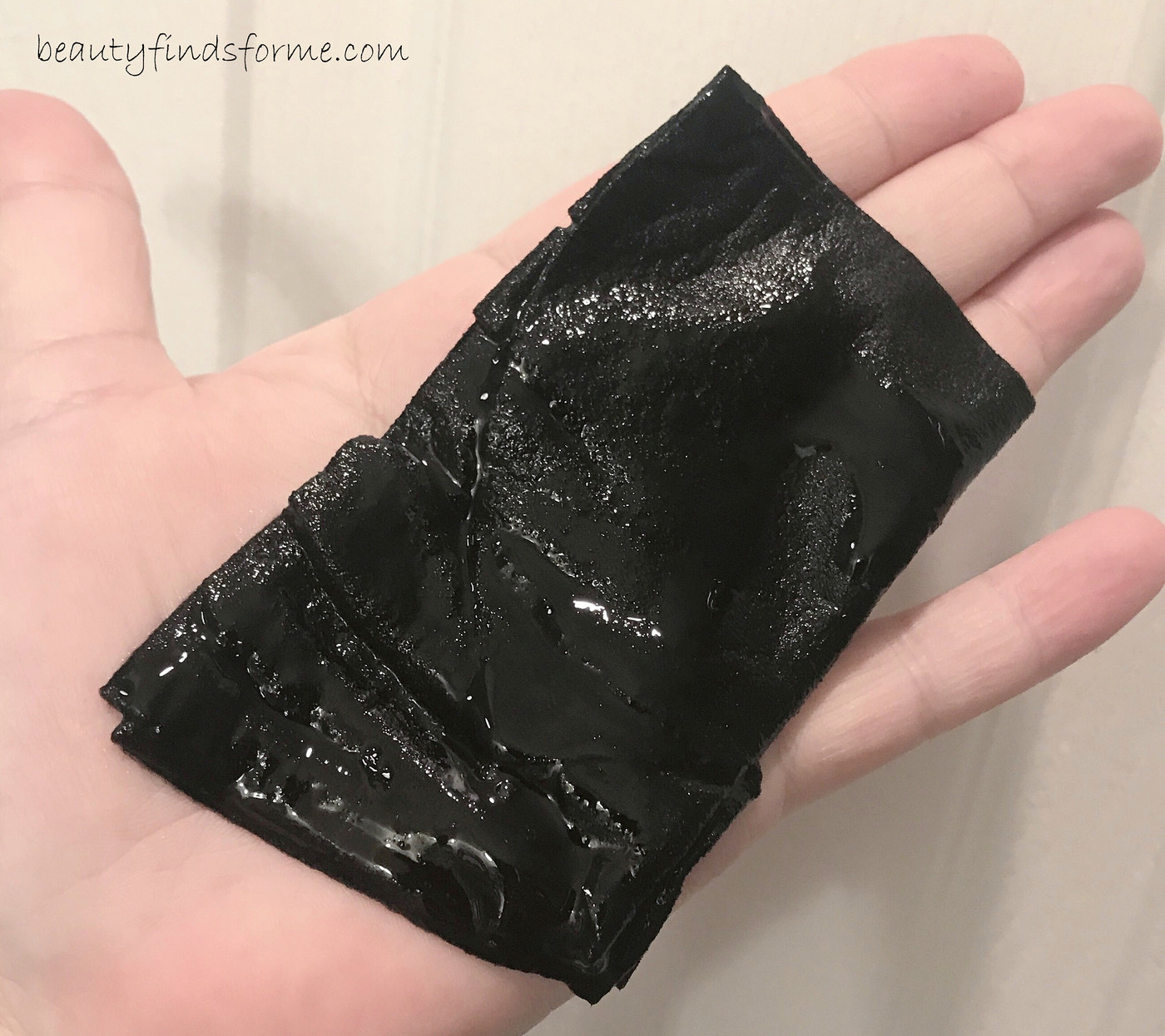 There is no plastic protector with these masks, as it is not uber thin ~ I love thin masks, but the excess waste of a plastic mask to make sure it keeps its shape inside the pouch and allows for ease of application to your face drives me nuts.  Also, thinner masks dry out sooner and Love, Jude wanted a mask that would last for over 20 minutes.  The slightly thicker material holds a TON of essence as well, making the masking experience go over 20 minutes for me.   
I was really ill when I took these photos so I look really blah
The fit on all of these masks are the same for me ~ it fits fairly well, I could use a bit more coverage around the lower nose and upper lip area and the sides of my cheeks ~ but the chin and forehead area are more than enough coverage.   The masks are dripping wet with essence and are folded well, so it is easy to unfold without tearing them.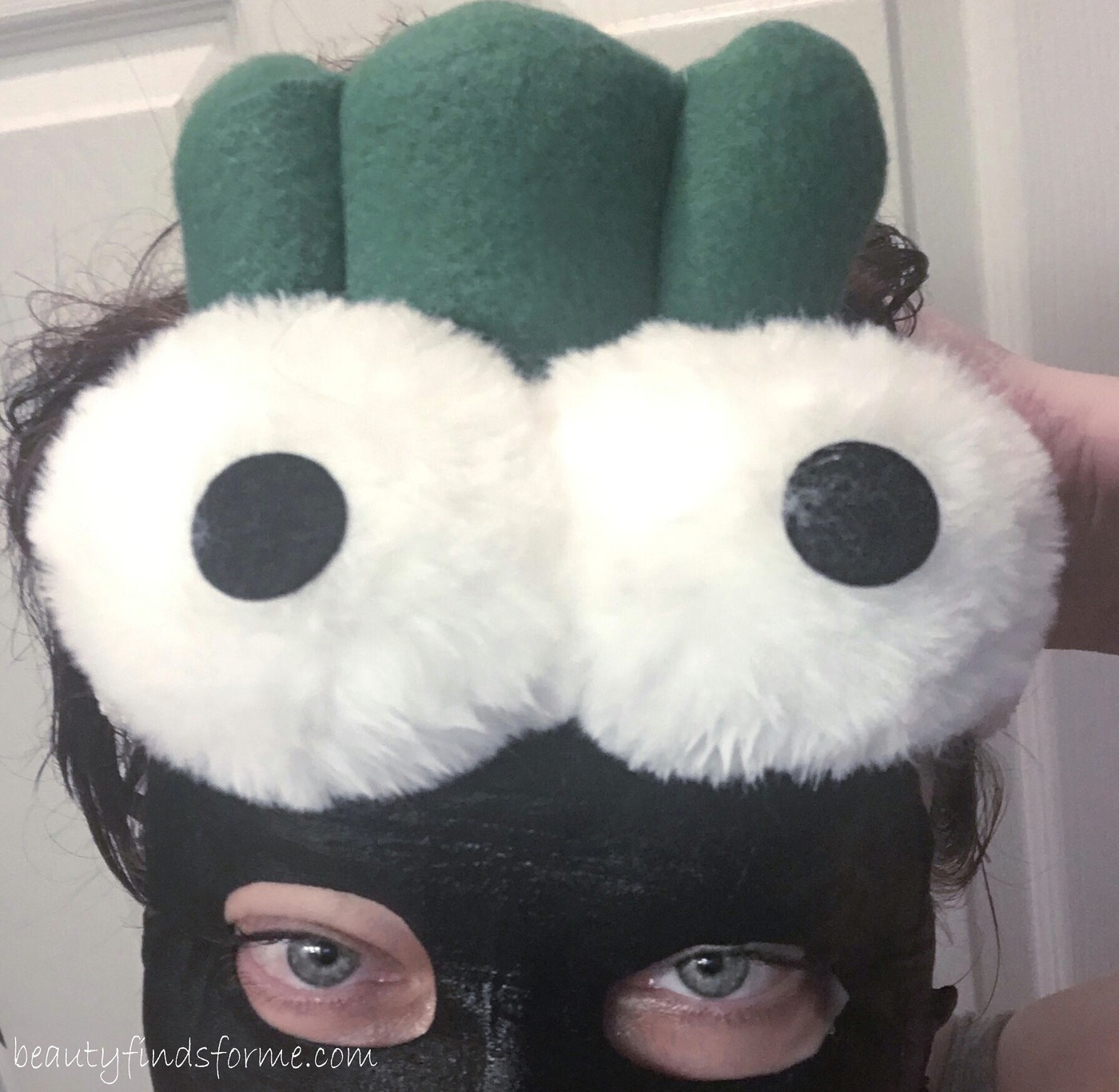 Oh and how CUTE is this headband that was sent along with the masks?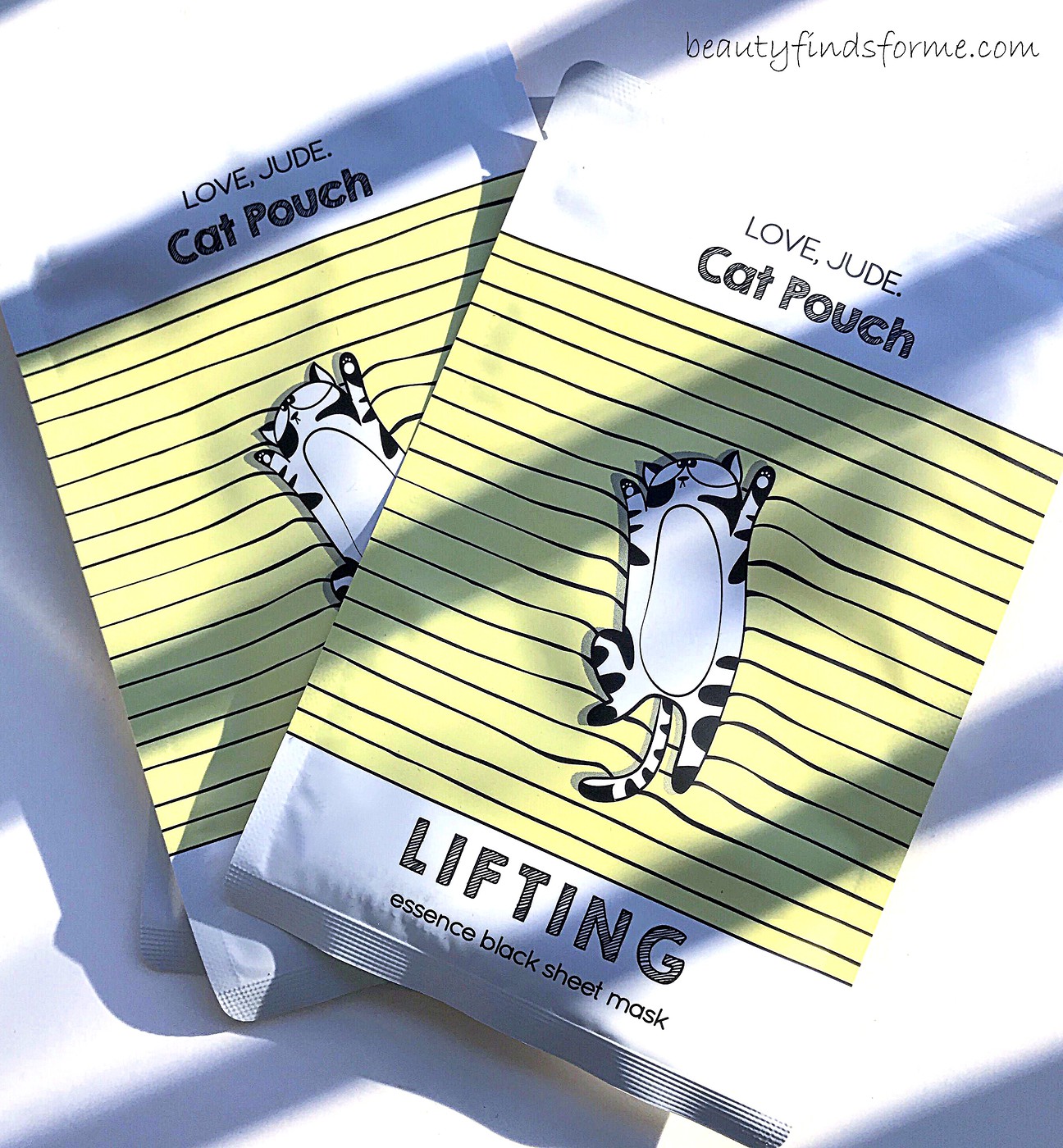 Cat pouches, nothing but cat pouches.  Who doesn't  love cat primordial pouches, and Jude is famous for receiving photos of cat pouches and sharing them in her stories.   Cat Pouch Lifting Mask is for firming and plumping up the skin with skin-loving ingredients of  okra, a veggie I loathe eating, but this green gem contains antioxidant vitamins A and C and helps plump up your skin as it is so moisturizing.   This also contains a hydrating compound made from ingredients derived from vegetable origin sugars ~ xylitylglucoside, anhydroxylitol, xylitol and glucose. This hydrating powerhouse will also reinforce your skin barrier function, limiting water loss in your skin and preventing skin dehydration on a cellular level.
Of course, it has collagen, which deeply moisturizes your skin and helps with elasticity. Trehalose supplies concentrated moisture to your skin and helps retain moisture, preventing your skin from drying out.  Natural Moisturizing Factor sodium PCA will attract moisture continuously to your skin  and keep dehydrated and dry skin soft and supple.
look at the drawings ~ the cat pouch mask has a cat wearing the mask!
Fermented vegetable extracts help hydrate and provide nourishment to your skin  and can help ingredients benefits penetrate the skin better. Pseudoalteromonas ferment extract is an ingredient I have not seen in a while ~ I researched this several years ago and this fermented bacteria is from MUD,  found only on King George Island in Antarctica.  This is also known as Antarcticine.  This is an intense anti-aging ingredient, containing amino acids ~ glycine, histidine,  lysine ~ and it will help renew, protect and hydrate your skin and aid in the stimulating collagen and elastic production as well as healing skin wounds.  More amino acids are  tucked away in here ~ alanine helps balance moisture levels for enhanced hydration,  anti-aging proline helps with improving skin elasticity and aids in both collagen production and skin repairing while  and  serine which supports collagen production, resulting in elasticity and binding moisture to your skin
Love, Jude Sez: "Collagen breakdown leads to looser skin as we age. Incorporate an effectively formulated vitamin C serum and daily sunscreen into skincare routine to fight the droop"
After reading all of those ingredients, this mask is full of skin plumping and hydrating ingredients!  There is no scent to this mask and it is very wet with all of this thicker clear essence with an almost gel-watery texture.  This had a nice cooling sensation while I was wearing it.  I left the mask on for over 30 minutes, peeled off the mask and my skin looked very refreshed and plumped up with all of the moisture. The dry down took about a minute or two and there was no sticky or tacky residue, nor was my skin looking dewy ~ it dried down to a nice satin finish on my skin.
Ingredients: water, sorbitol, propylene glycol, glycerin, methyl gluceth-20, abelmoschus esculentus fruit extract, 1,2-hexanediol, hydroxyacetophenone, xanthan gum, xylitylglucoside, anhydroxylitol, disodium EDTA, sea water, xylitol, carbomer, sorbitan caprylate, butylene glycol, glucose, PEG-40 hydrogenated castor oil, potassium hydroxide, fermented vegetable extract, trehalose, soluble collagen, pseudoalteromonas ferment extract, sodium hyaluronate, centella asiatica extract, phenoxyethanol, panthenol, polyquaternium-51, sodium PCA, urea, ethylhexylglycerin, caprylyl glycol, codium tomentosum extract, potassium sorbate, sodium benzoate, alanine, proline, serine, laminaria saccharina extract, sodium phosphate, sodium hydroxide cosDNA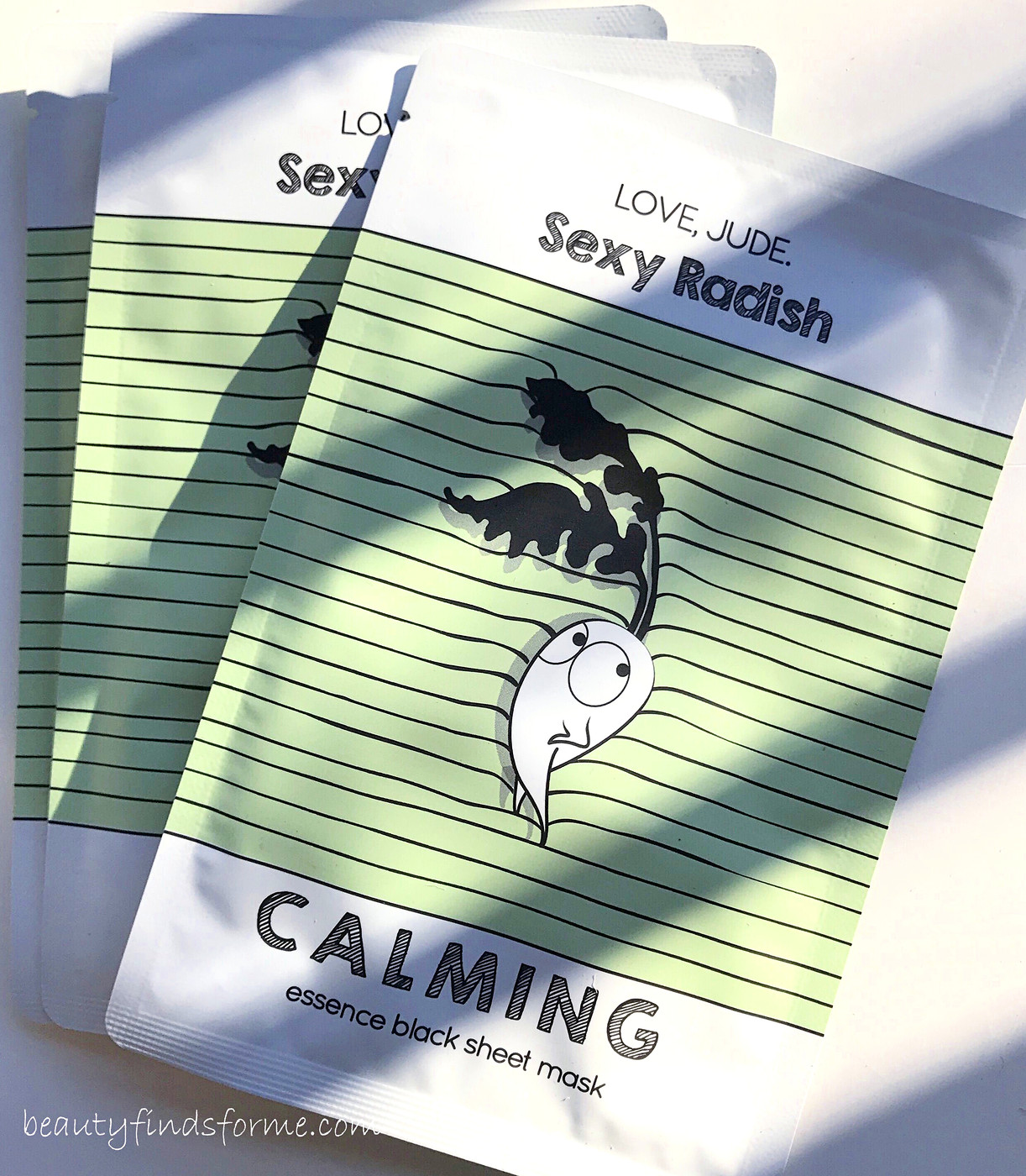 Sexy Radish ~ if you don't have one, why not? I do!  A few years back, a HUGE stuffed radish started to make the rounds in the Kbeauty world and it was quickly found on eBay ~ I have two of them, a BIG dude and a smaller one that my cats loved to sleep with.  Alas, no cats right now, but I will be cleaning my radishes as I plan on getting some kitties in the near future.
Sexy Radish Calming Mask is for the times your skin is screaming out loud because it is just so damn sensitive from either too much acid exfoliation treatments, wind burn or your skin is just being temperamental.  The ingredient list below is from Jude as the packaging had the incorrect formula.  This contains some lovely hydrating and soothing ingredients in here:  bamboo contains over 70% of silica which helps strengthen your collagen and elastin,  helping to firm, tone and plump up your skin, so fine lines and wrinkles are not as noticeable. Bamboo also is a very soothing ingredient that is good for sensitive skin, as it is an anti-irritant, retains moisture and helps combat free radicals as it does contain anti-oxidant proprieties as well. 
PHA gluconolactone is a sugar acid and it is suitable for sensitive or mature skin. It functions like an AHA and will help improve your skin's texture by aiding in cellular turnover, unclogging pores and removing dead skin cells. Recent studies show it might be effective in treating blemishes, due to some anti-bacterial properties. PHA will help refine and smooth your skin, while providing antiaging and anti-inflammatory benefits ~ again, similar to AHA, but PHA can used by people with rosacea and atopic dermatitis. (source) PHA's also hydrate your skin, as they are a humectant ~ but because they are a humectant, you need to make sure that you apply an emollient or occlusive product over it.
Willow bark is a natural source of BHA's (beta hydroxy acid) which helps exfoliate skin by removing dead skin cells, contains salicylic acid, to help combat acne. It is also high in anti-oxidants, which tone and reduce inflammation as well as being an astringent, to control oil. Salicylic acid is fat soluble, so it can really get to the oil that is inside your pores
Nelumbo nucifera (lotus) is full of antioxidants to help with aging ~ antioxidants help combat free radicals and reverse some of the damage caused by it, such as hyper-pigmentation, fine lines and wrinkles. Lotus is fantastic for those who are struggling with oily, blemish prone or clogged/large pores, as it purifies your skin ~ your pores will look smaller and tighter and since lotus contains AHA (alpha hydroxy acids), it will help gently exfoliate your skin, removing excess dirt, debris and oil, unclogging pores and stimulating cellular renewal.  Nymphaea alba (water lily) is an anti-aging and anti-inflammatory ingredient, helping to soothe irritated skin while nourishing and moisturizing your skin. It has brightening properties and helps soften fine lines and wrinkles, as well aid in cellular turnover
Honey has antibacterial properties, that can speed up healing in your skin ~ think acne, rashes, cuts ~ and prevent additional infection. The wonderful texture of honey will keep moisture close to your skin, which makes for a glowing and radiant complexion. Not only does honey keep moisture in your skin, but it is humectant, which means it attracts moisture too!    There is so much more in here ~ hydrating glycerin, sodium hyaluronate, trehalose, polyquaternium-51, panthenol, NMF sodium PCA along with purifying lava and skin soothing and healing centella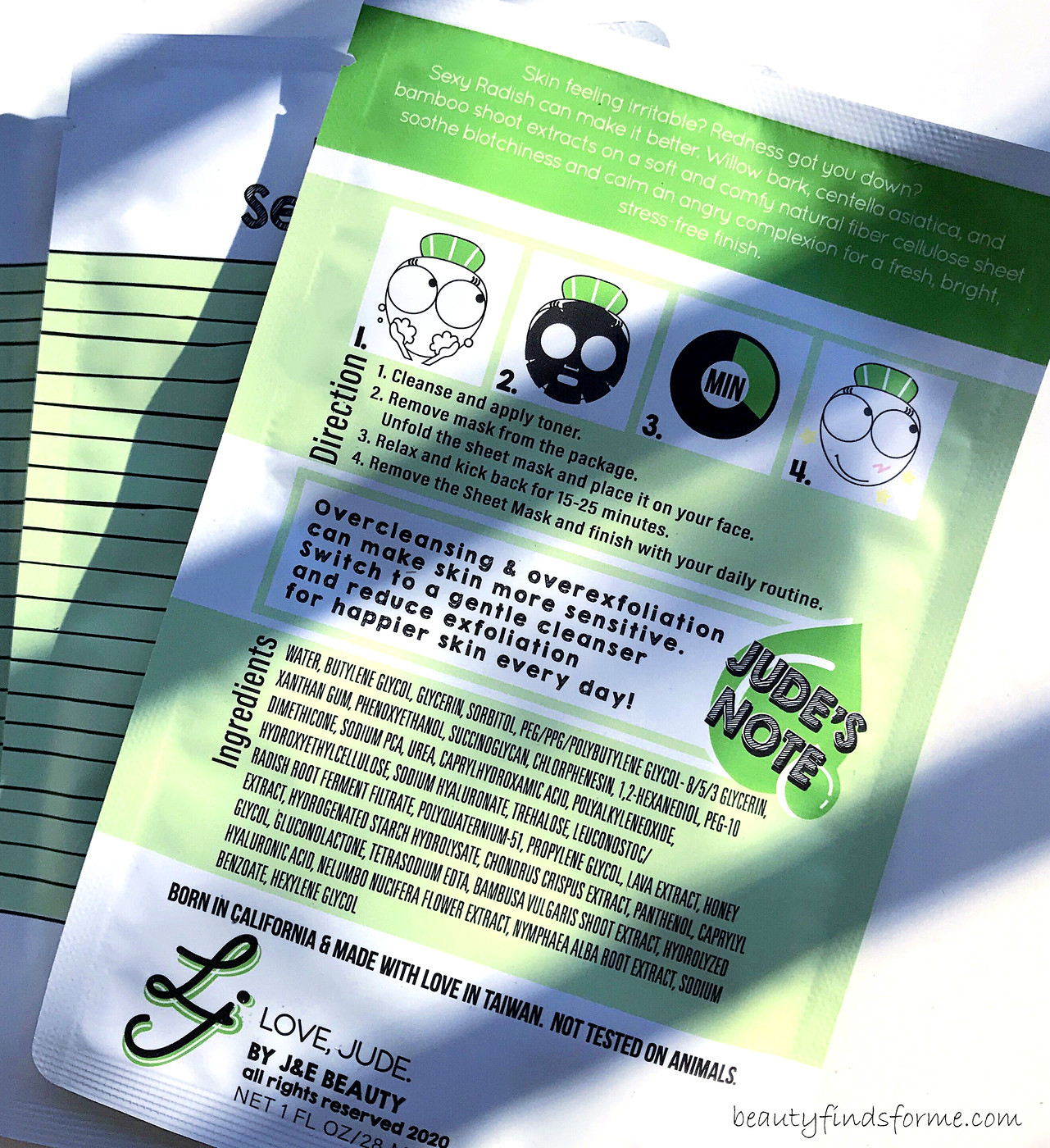 Love, Jude Sez: Overcleansing and overexfoliationcan make skin more sensitive. Switch to a gentle cleanser and reduce exfoliation for happier skin every day!
Again, no fragrance to speak of, good mask fit, with a refreshing slight cooling sensation. The essence in this one is a bit thicker than Cat Pouch and it is not clear, but more cloudy looking.  After 30 minutes, my skin felt so happy and soothed!  With all of the hydrating ingredients in here, my skin was plumped up and refreshed and somehow with both the PHA and BHA in here in mild forms, my skin didn't feel as irritated any more ~ is this like the hair of the dog?  For those who might be too young for that reference, the hair of the dog means if you are hungover, you drink a bit more alcohol to help make you not hungover anymore ~ haha.  At any rate, this really helped make my skin feel hydrated and is perfect for after I do an acid treatment ~ I love The Ordinary AHA 30% + BHA 2% Peeling Solution, but it can make my skin feel sensitized. 
Ingredients: water, butylene glycol, glycerin, sorbitol, PEG/PPG polybutylene glycol-8/5/3 glycerin, phenoxyethanol, succinoglycangum, xanthan gum, chlorphenesin, 1,2-hexanediol, PEG-10 dimethicone, sodium PCA, urea, caprylhydroxamic acid, PEG-40 hydrogenated castor oil, hydroxyethylcellulose, sodium hyaluronate, trehalose, polyquaternium-51, lava (obsidian) extract, salix alba (willow) bark extract, propylene glycol, hydrogenated starch hydrolysate, centella asiatica leaf extract,chondrus crispus extract, pseudoal teromonas ferment extract, caprylyl glycol, bambusa vulgaris shoot extract ,nelumbo nucifera flower extract ,nymphaea alba root extract, panthenol,  tetrasodium EDTA, ethylhexylglycerin, gluconolactone, alanine, proline, serine, hydrolyzed hyaluronic acid, hexylene glycol, sodium benzoate, sodium phosphate,  sodium hydroxide  cosDNA
Three Fingers~ The amount of sunscreen you should put on your face.  Hold up 3 fingers, draw a line of sunscreen on each and that should cover your face.   Jude made the hashtag #threefingers a thing on IG and I keep thinking dirty thoughts every time I use that hashtag!   This one is great if you leave it in the frig before using.  Three Fingers After Sun Care Mask is for after you spend the day outside and your skin feels tired, dry and hot.  This mask will help hydrate and replenish your skin with ingredients such as aloe vera, powerful non-greasy moisturizer that soothes, treats inflammation, helps speed up skin healing and also has a plethora of antioxidants, helping improve your skin's firmness and keeps your skin moist and hydrated.  Niacinamide is a powerful antioxidant that acts as an anti-inflammatory, improves your skin elasticity, enhance the skin barrier function and also it helps to even out skin tone and reduce post-inflammatory hyper-pigmentation.
This has moisturizing and nourishing shea butter, squalane and collagen, along with hydrating trehalose, panthenol,  glycerin, hydrolyzed hyaluronic acid, sodium hyaluronate and polyquaternium-51. Allantoin moisturizes, exfoliates and softens skin, making it look smooth and refined, while reducing and relieving irritation 
Imperata cylindrica root helps increase the moisture in your skin cells while emollient phospholipid is a skin replenishing lipid.  There are a couple of peptides in here ~  palmitoyl hexapeptide-12 helps with wrinkle care and elasticity while palmitoyl tripeptide-5 helps firm skin.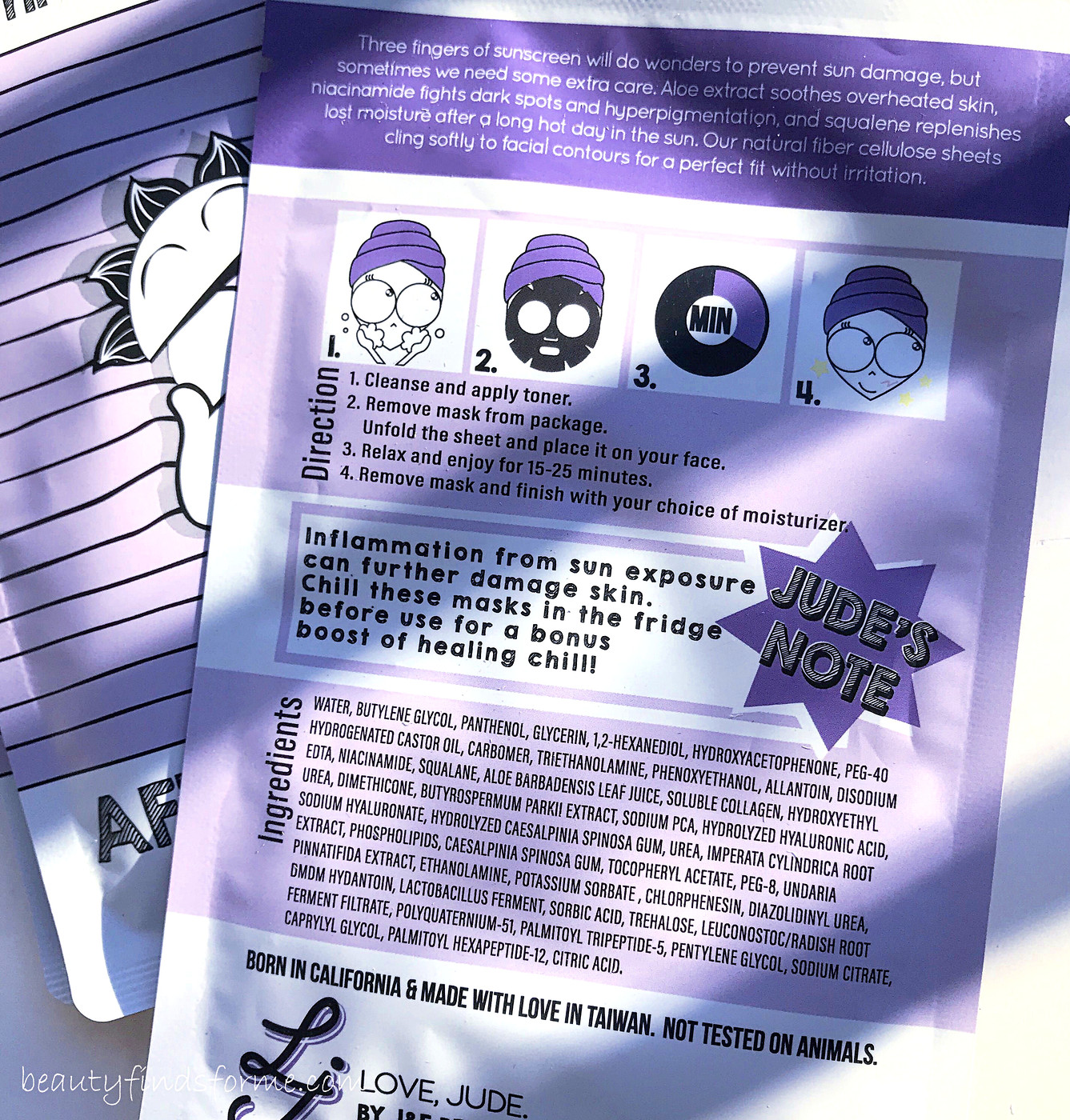 Love, Jude Sez: Inflammation from sun exposure can further damage skin. Chill these masks in the frig before use for a bonus boost of healing chill
Ohhhhh  I think Three Fingers could be my favorite!  It is a chilling mask, with a thick, cloudy watery essence, similar to Sexy Radish.  This really has the most cooling sensation of the three masks.  After 30 minutes, removed and it has a bit of a sticky residue, but dries down nicely ~ I was worried at first, but the tackiness absorbs/evaporates, leaving behind cool, refreshed and hydrated skin.
Ingredients: water, butylene glycol, panthenol, glycerin, 1,2-hexanediol, hydroxyacetophenone, PEG-40 hydrogenated castor oil, carbomer, triethanolamine, phenoxyethanol, allantoin, disodium EDTA, niacinamide, squalane, aloe barbadensis leaf juice, soluble collagen, hydroxyethyl urea, dimethicone, butyrospermum parkii extract, sodium PCA, hydrolyzed hyaluronic acid, sodium hyaluronate, hydrolyzed caesalpinia spinosa gum, urea, imperata cylindrica root extract, phospholipids, caesalpinia spinosa gum, tocopheryl acetate, PEG-8, undaria pinnatifida extract, ethanolamine, potassium sorbate, chlorphenesin, diazolidinyl urea, DMDM hydantoin, lactobacillus ferment, sorbic acid, trehalose, leuconostoc/radish root ferment filtrate, polyquaternium-51, palmitoyl tripeptide-5, pentylene glycol, sodium citrate caprylyl glycol, palmitoyl hexapeptide-12, citric acid cosDNA
Final Thoughts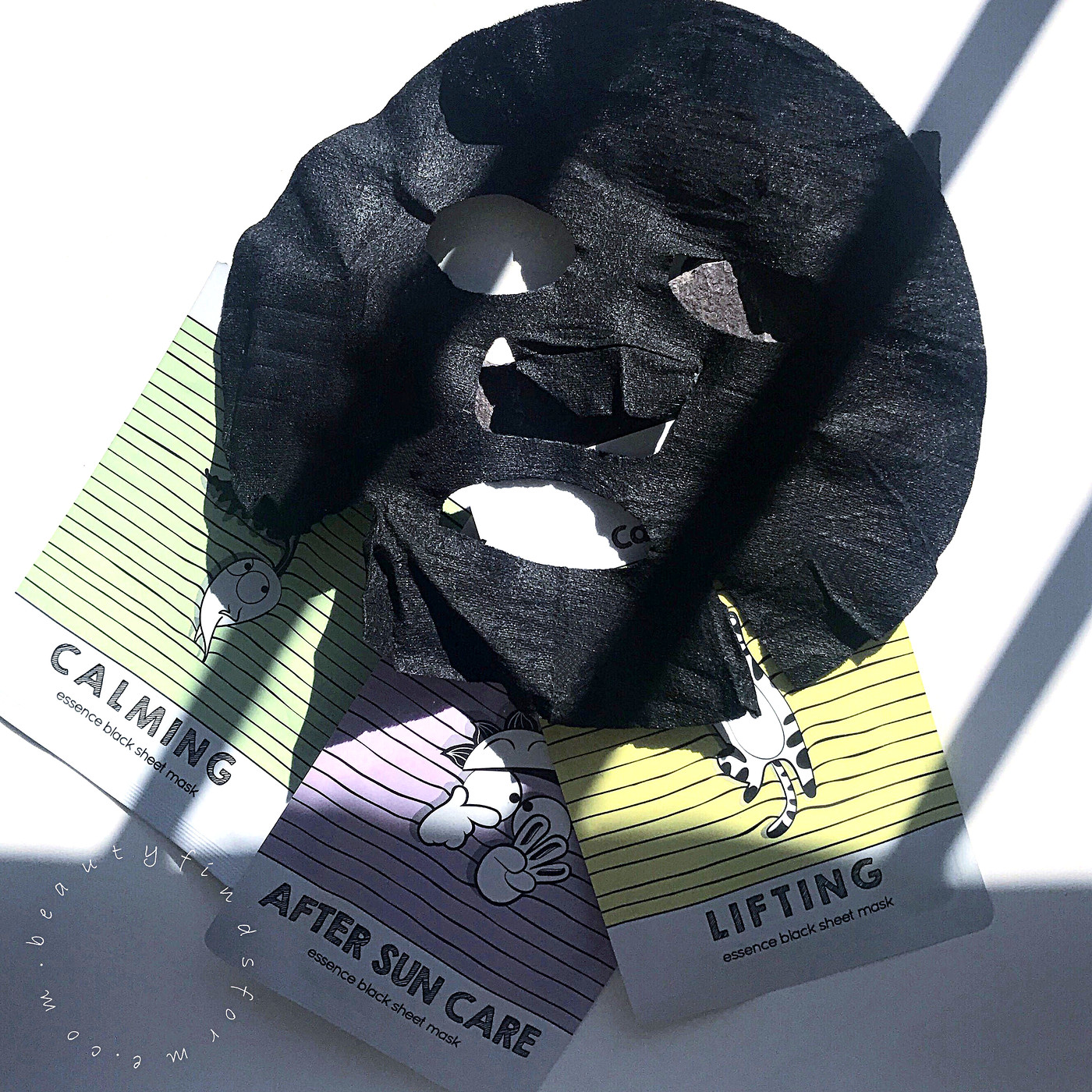 All in all, Love, Jude is a brand whose creators put a lot of thought into their masks ~ they targeted three specific areas:  firming, soothing and hydrating and then put together a formula with fantastic ingredients that not only targeted those issues but went beyond by adding in a few more ingredients to really give your skin that boost of refreshing moisture.  The mask fit was good ~ I have a bigger face, so for me, I could have used a tiny bit more coverage, but I understand that not everyone has large wide cheekbones!   I liked that they were unscented and for masks without any alcohol, they did feel cooling on the skin.  By the way, these masks are FOREO UFO2 friendly ~ the mask material is thick enough and adheres to the skin so I can glide my UFO2 over it with no  problems.
I loved the whimsy of Eric's art work and the names of the masks ~ if you follow Jude on IG, it's like an old joke shared between friends.   Right now, they are not on sale anywhere, but when they do go on sale, I want to purchase some to go into a giveaway!  That is how much I think you will enjoy them.  Thank you again, Jude and Eric for this lovely gift. 
[ disclaimer: products received for review purposes. All opinions are my own ]