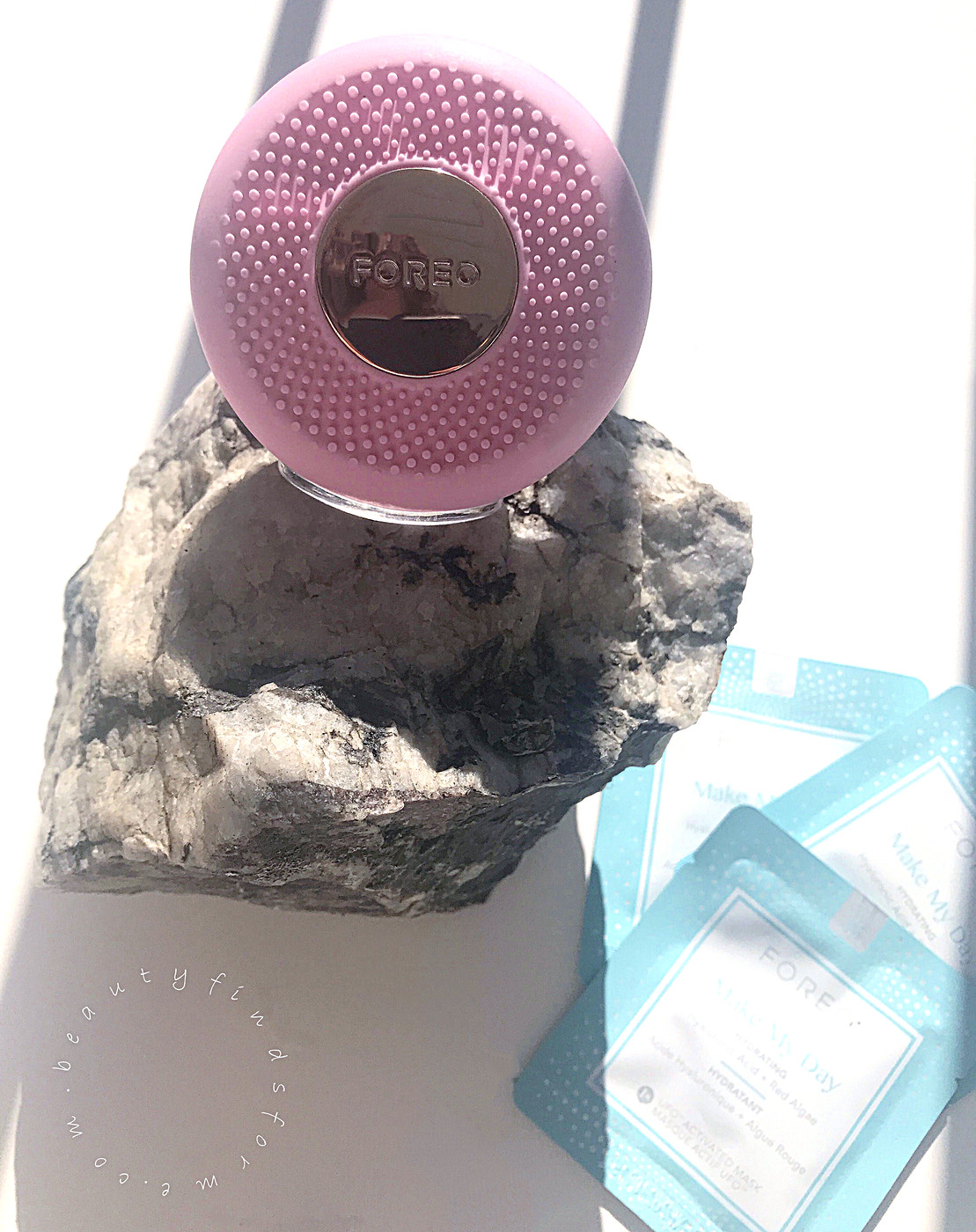 I am BACCKKKKK with another FOREO review, this time on the UFO 2 Mini as you all know I love and adore my UFO 2 (review)!  I will also do a quick compare between the two devices.   See all of my FOREO (FOR-RAY-OH) reviews here   I have been in love with the UFO 2 since last fall and I am so happy that FOREO sent me the UFO 2 Mini complementary to try out and compare for review purposes, as I know that the UFO 2 comes with a nice price tag.  
Skin Type/Concerns: Oily, blemish prone, pores, aging, hyper-pigmentation, fine lines/wrinkles
All reviews are my own honest opinion and  I never have been asked to write copy for a brand.  This blog post might contain promo codes, affiliate and referral links, which using my links will help generate a small commission that helps support my blog at no extra cost to you. 
FOREO is a Swedish based company that has created a line of skin and beauty devices, including Luna 2, Mini Luna 2,  Luna foto (so many Luna's) facial brushes,   ESPADA ~  acne treatment device, IRIS ~  eye T-Sonic massager,  ISSA ~  sonic pulse toothbrush, two new products with the BEAR series micro current devices and finally the UFO 2 ~  smart sheet mask treatment device.
I have already discussed what the UFO 2 is in past reviews, but in case you don't want to read those, I will repeat it again.  What is the UFO 2 concept?  Let's step back a bit and talk about sheet masks.  As you know, I primarily review K-Beauty (Korean Beauty) skincare products which include facial sheet masks.  I believe Japanese brands had facial sheet masks before KBeauty, but it was the immense popularity of KBeauty that made sheet masking a common skincare step in millions of people's routines.   Facial sheet masks use a material ~ whether it is cotton, tencel, hydrogel, bio-celluose or others, which is soaked in essence, then you apply and leave on this full face mask for about 20-30 minutes on your face, leaving your skin softer, smoother and hydrated.  The essence is targeted for a skin concern or skin type and there are  thousands of sheet masks out on the market today.
UFO 2 takes the concept of facial sheet masks and amps it up  ~   It's a marriage of Korean skincare experts and Swedish dermal technology.  Within 90 seconds, you will get a spa-like facial with the UFO 2 Mini.  Fun Facts according to FOREO
Time saver: UFO 2 Mini turns a 20-minute mask routine into a 90-second treat, saving you more than 5 days a year  
Better absorption: instantly infuses serum into the deepest layers of skin, for superior results 
Rejuvenating skin: It locks in moisture while reducing the appearance of pores 
Pampering effect: Provides a soothing facial massage 
Evenly distributes mask ingredients across every area of the face (unlike the conventional sheets masks which create air pockets that reduce benefits) 
Complete Mask Treatment 

Hyper-Infusion Technology combines heating &  T-Sonic pulsations 

Thermo-Therapy (heat) mode  preps skin and enhances skin's absorption of UFO Power Activated Masks' ingredients.  Heats up 5X faster than original UFO. 
T-Sonic Pulsations stimulate blood microcirculation and better absorption of products, facilitating skin renewal.  Up to 10,000 sonic pulsations per minute

Full Spectrum LED Light Therapy 

 8 different LED lights provide targeted photofacials: Wavelengths 463 – 627 nm

 Purple, white, green, orange, blue, cyan, yellow and red lights 
image from foreo
That is the first part of the smart mask treatment and the second part consists of the  UFO Power​Activated Masks!  These soft microfiber mask rounds are developed and sourced in South Korea, so you know you are getting the best of skincare technology here.  FOREO has 3 different collections to choose from ~ the Daily Duo (review here), the Advanced Collection  (review here) and the natural collection of Farm To Face UFO Power​Activated Masks (review here).  All of their dermatologist tested masks are formulated with premium quality botanical and fruit extracts and do not contain parabens, phenoxyethanol, silicones, disodium EDTA or mineral oil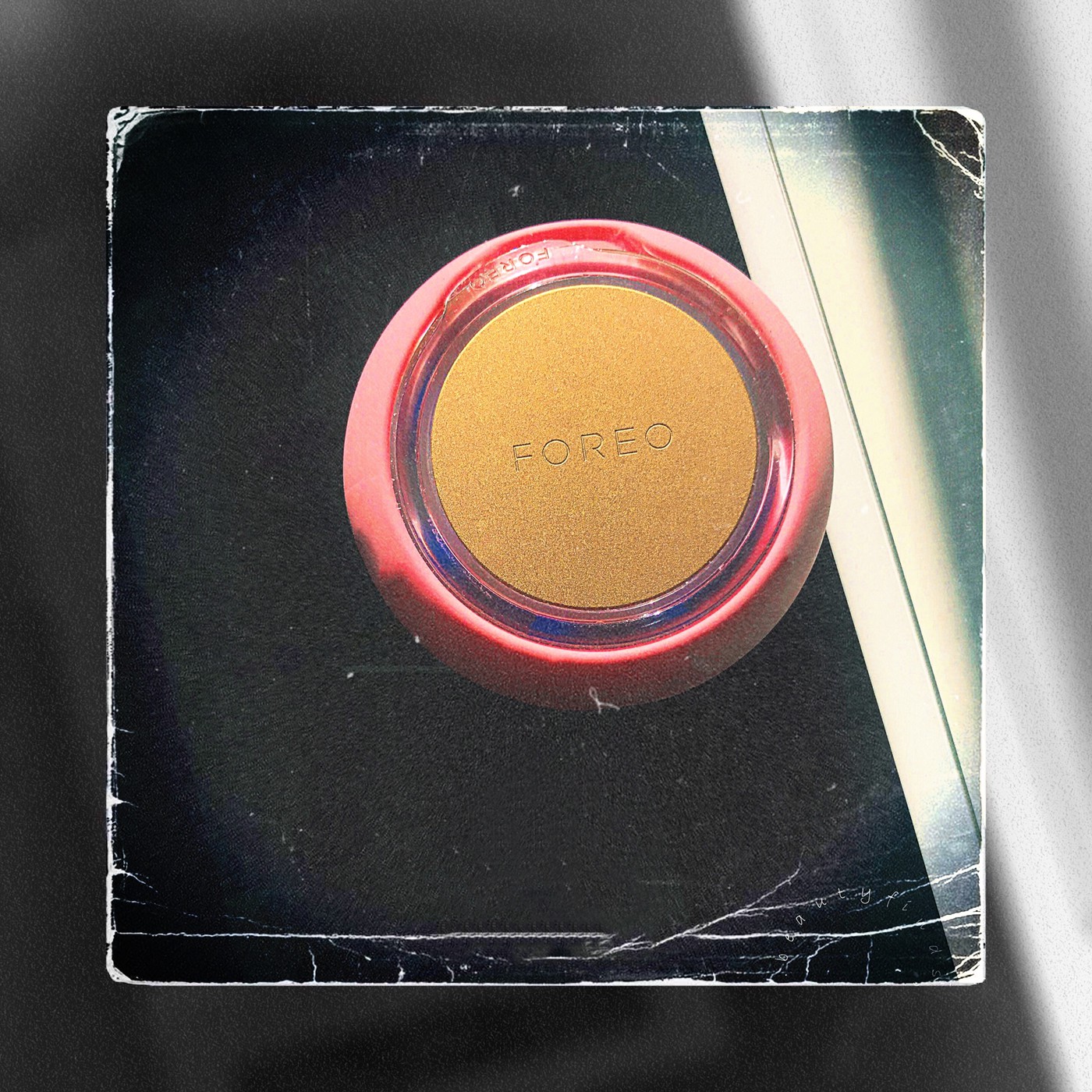 So, let's start out with the device and how to use it.  First, you need to charge it up ~ it comes with a USB port cable ~ please use only cables that FOREO provides and sells on their website.  Any of your FOREO cables will work as they are interchangeable.  If you lose your cable, FOREO sells the USB recharger cable for $19.00.   I just plugged mine in and let it recharge overnight.  The UFO recharge lasts me a good 3 to 4 weeks, using it every other night.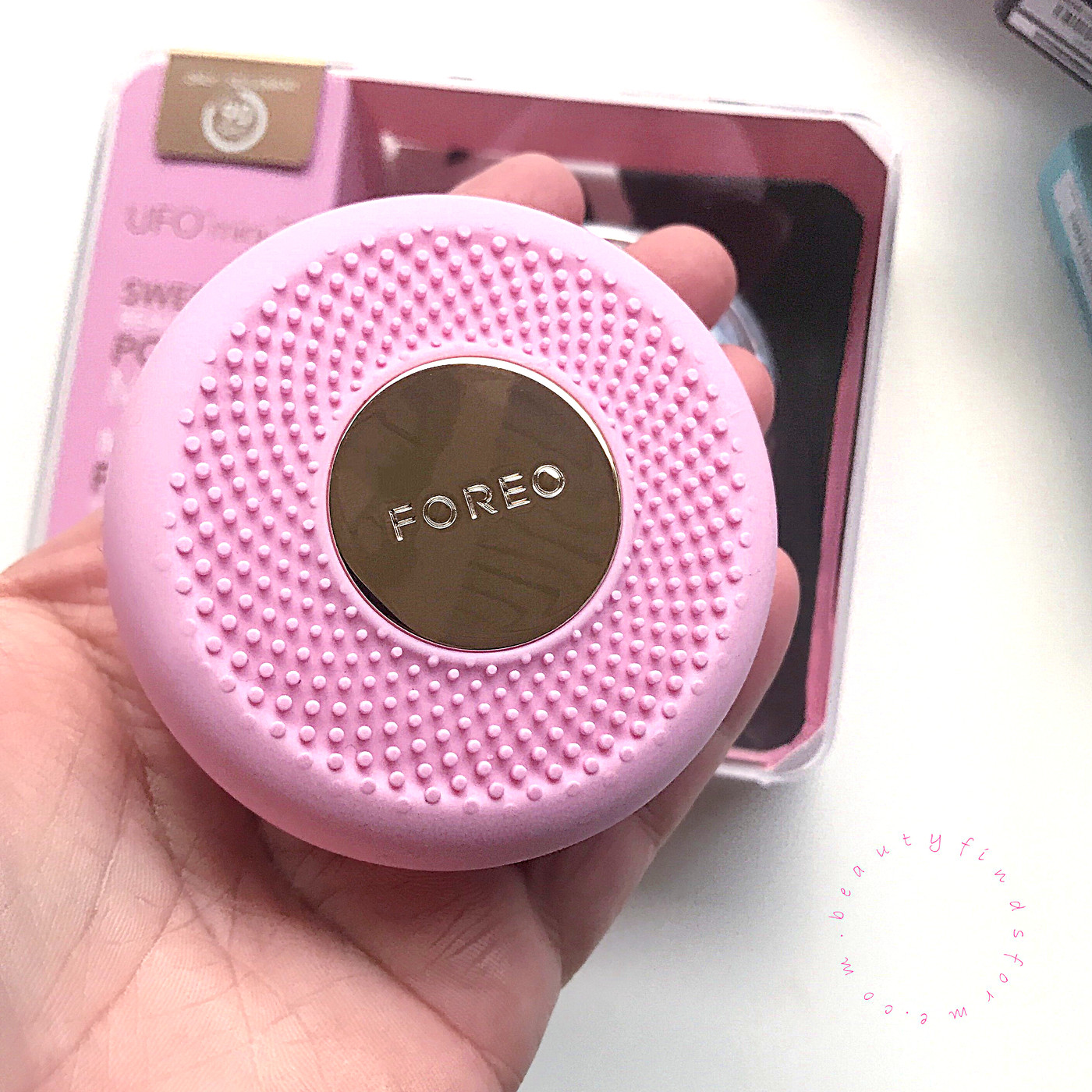 This has a nice look and feel to it ~ it fits in my hand nicely, with one side having a flat gold round with the clear attachment ring and the other is primarily the silicon side with a small plain gold circle decororation with FOREO engraved on it.  Under the attachment ring are the UV LED lights that change colors as you cycle through your treatment.  The rest of the UFO 2 Mini is covered in a soft silicon casing.  One one side of the base, there is the port for charging and the other side has an indentation where you press to turn on and then cycle to your treatment, using the LED lights to guide you.  The lights are a pale purple when you are selecting your treatment and for each treatment, it lights up another section around the ring.  Seriously, if you have read my UFO 2 reviews, it is the same device. 
I know this diagram is for the UFO 2 device, but it really is the same for the UFO 2 Mini.

image from foreo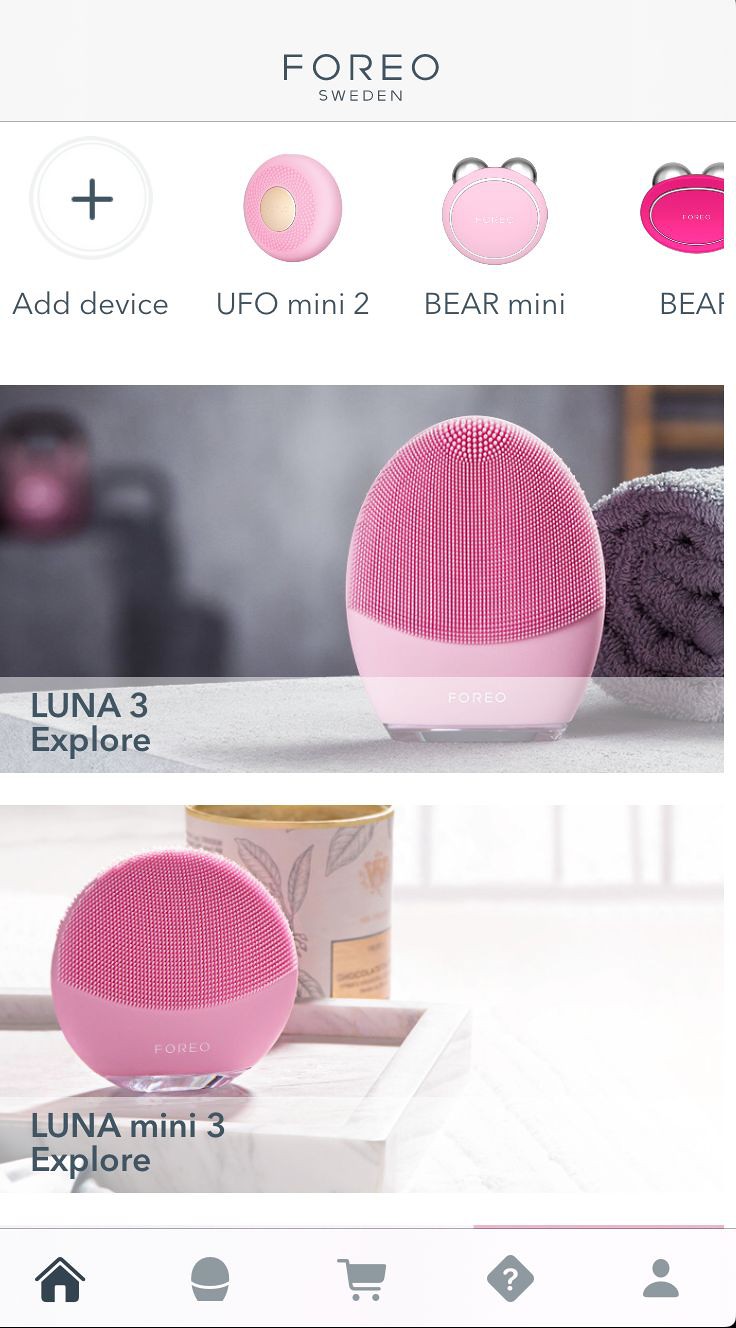 You can use it manually but I suggest first starting out using the app to help you navigate and understand how the UFO 2 Mini works.  You just download the FOREO app on your smart phone ~ iPhone or Android ~ and then register your UFO 2 Mini.   Once you register your UFO 2 Mini, just pick your mask  ~ FOREO had a massive upgrade to their application earlier this year and it is JUST WONDERFUL.  You just select the mask you want and off you go!  You can learn more about your treatment mask by clicking on the more info links as well.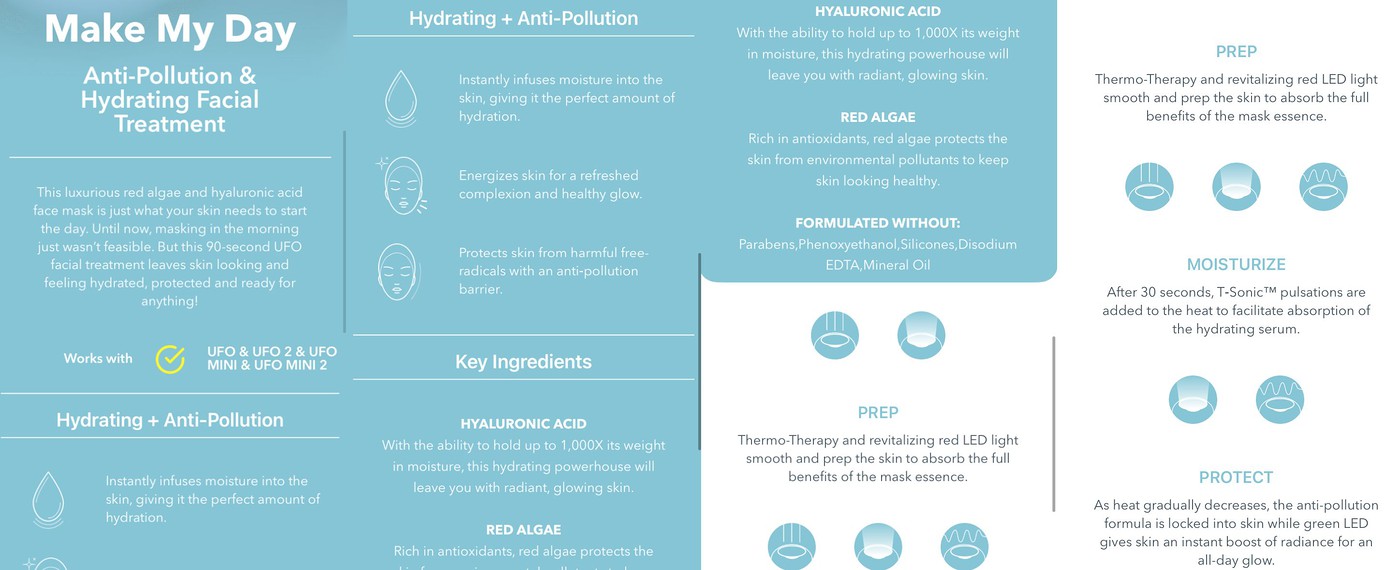 They haven't made the UFO 2 Mini mask selection specific to the device, so you might see a mask treatment that has Cryo-Therapy option , which the UFO 2 Mini doesn't support.  If you select that mask, you will get an error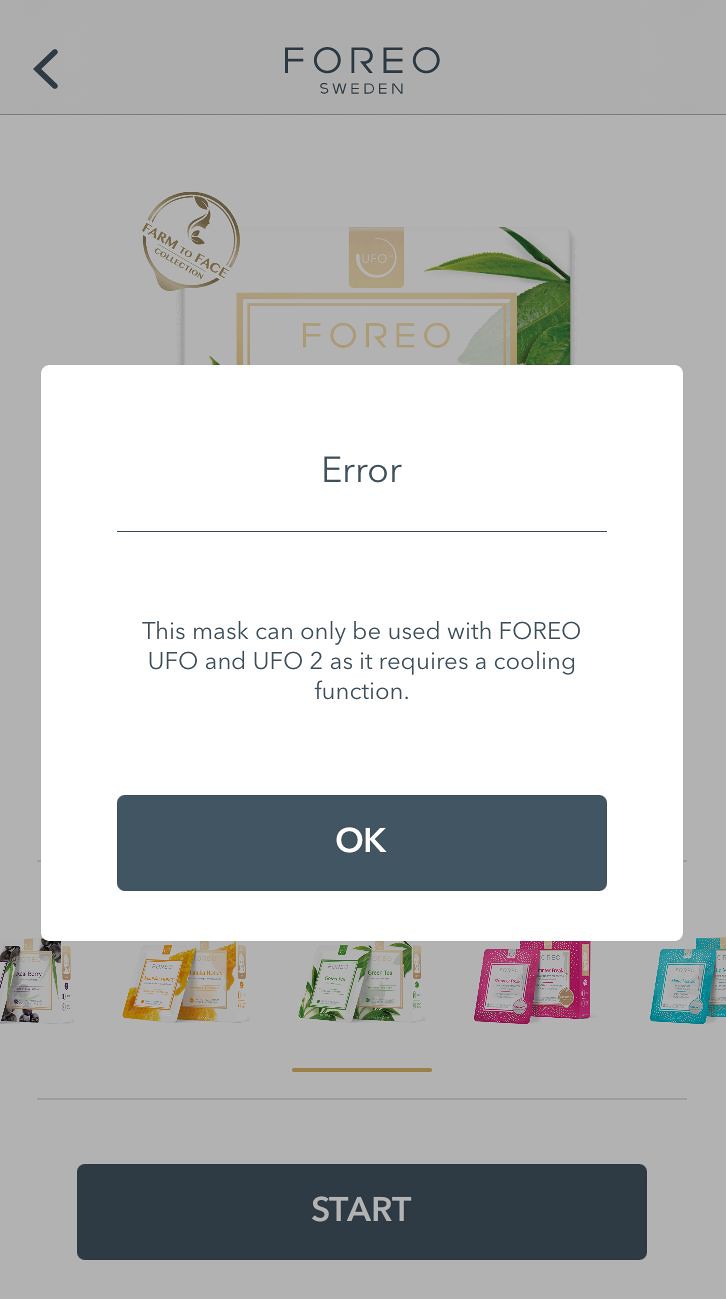 You can also customize your mask treatment if you are using something else besides the FOREO UFO Power​Activated Masks ~ you might want to use a sheet mask or a cotton round soaked in your favorite toner or essence.   You can chose your choice of LED light treatment, heat treatment and pulsation  strength.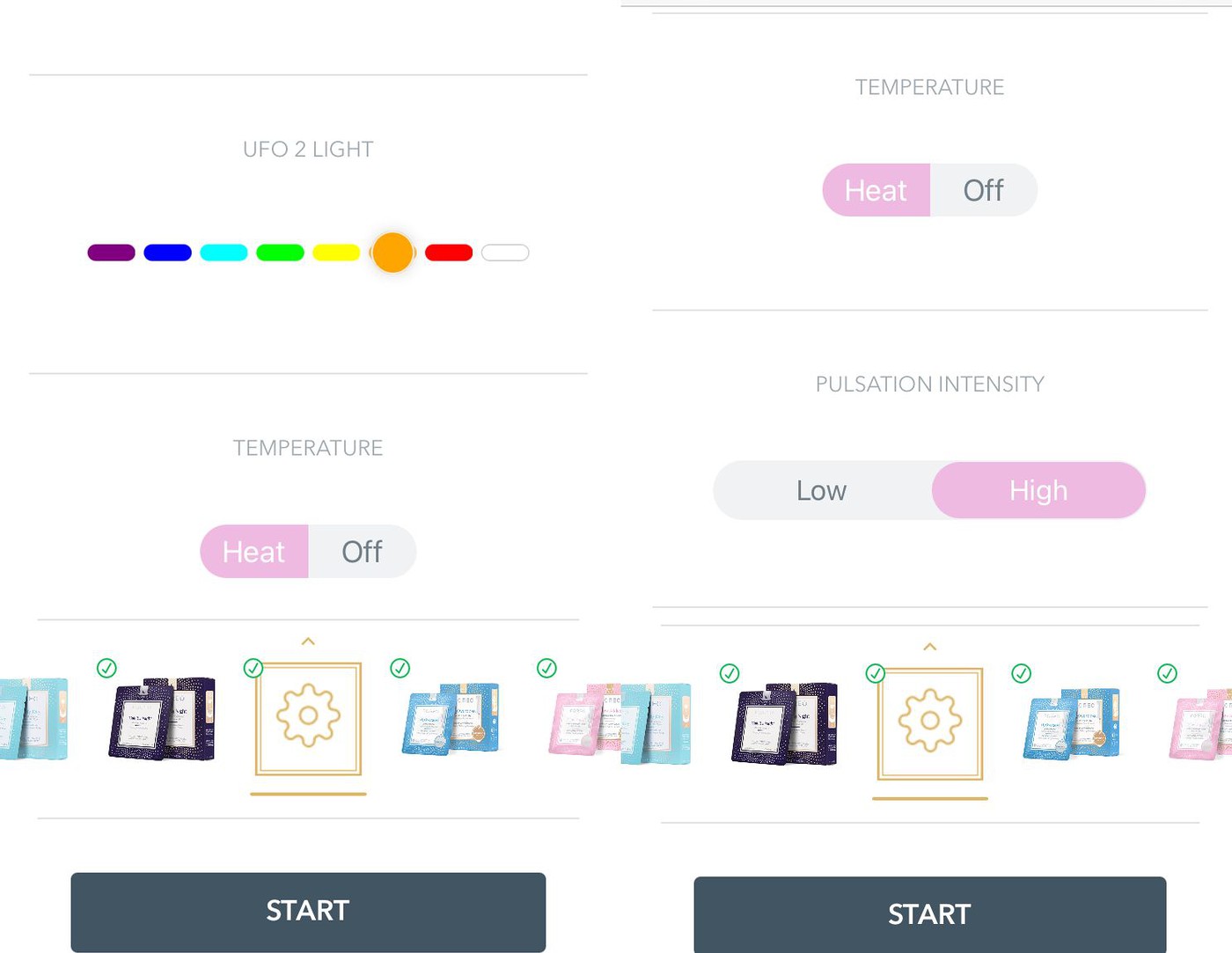 I like to get my UFO 2 Mini set up with the mask inserted before starting with the treatment.  You just remove the UFO Power​Activated Mask from the packet and then take the clear attachment ring off the UFO 2 Mini.  Place the mask round on UFO 2 Mini's gold flat surface  and then place the clear attachment ring back onto the UFO 2 Mini, making sure that everything lines up and it will snap back into place.   Keep the packet as there is so much essence in here, you can get two treatments out of it.  If this is the first time you have used this mask treatment, prepare to wait a few seconds for the treatment to download.

Here is my tip ~ the UFO Power​Activated Masks are FULL of a lovely essence.  A LOT of it ~ in fact, when I remove the sheet round, it is dripping in essence with tons left in the packet.  After my first 90 second treatment, I just remove the attachment ring, flip the mask round over so it is clean, snap back the clear attachment ring and squeeze the remaining packet essence onto that round.  I then start my second 90  second mask treatment.  No waste here!  Once you are done, just remove the mask round and rinse the device and ring under water ~ yes, this baby is wrapped in silicone so it is 100% waterproof
Results
This has that the mini spa facial feeling ~ with the Thermo Therapy heating device, it helps soften my skin and allows my skin to absorb the sheet mask essence while the LED lights and T-Sonic pulsations help boost the treatment for better penetration of the essence onto my skin.  The pulsations give my skin a mini massage treatment as well.   This is a treatment device and my skin feels really rejuvenated and good. It's hard to explain, but if you ever had a facial, you know that feeling.  My skin feels softer with reduced redness.   I have had the original UFO 2 for a few months now and use it often ~ it leaves my skin soft and hydrated.  It is so quick as well ~ just 90 seconds or if you do it my way, 3 minutes total.  The essence is absorbed quicker and due to the heating pulsations, I feel the essence  penetrates deeper in to my skin. 
FOREO has a nice selection of UFO Power​Activated Masks to choose from, but please note that the following masks cannot be used with the UFO 2 Mini
Cannabis Seed Oil Mask

Green Tea Mask

Bulgarian Rose Mask

Shimmer Freak Eye Mask

Matte Maniac Mask 
Also, there are masks with specific ingredients that I like, along with the convenience  of traveling with a regular sheet mask.  It is not to say you cannot travel with the UFO 2 Mini device, by the way ~ I am just suggesting alternate methods in using your UFO 2 and getting the most use out of your skincare products.  I have used this with regular sheet masks, but it needs to be a specific type as it won't work with all sheet masks, based on the mask material.  You cannot use this with hydrogels, bio-cellulose, uber thin masks, but you can use it with normal cotton plush type masks.  Just apply the sheet mask over your face as usual and then manually select a program from the UFO 2 Mini device and start your treatment. 
You can also use this with a cotton round pad, soak it in your favorite toner or essence and pop the round onto the UFO 2 Mini, just like you would have with one of their PowerActivated Masks.  You can select any of the approved treatments or customize one.
UFO 2 Mini vs UFO 2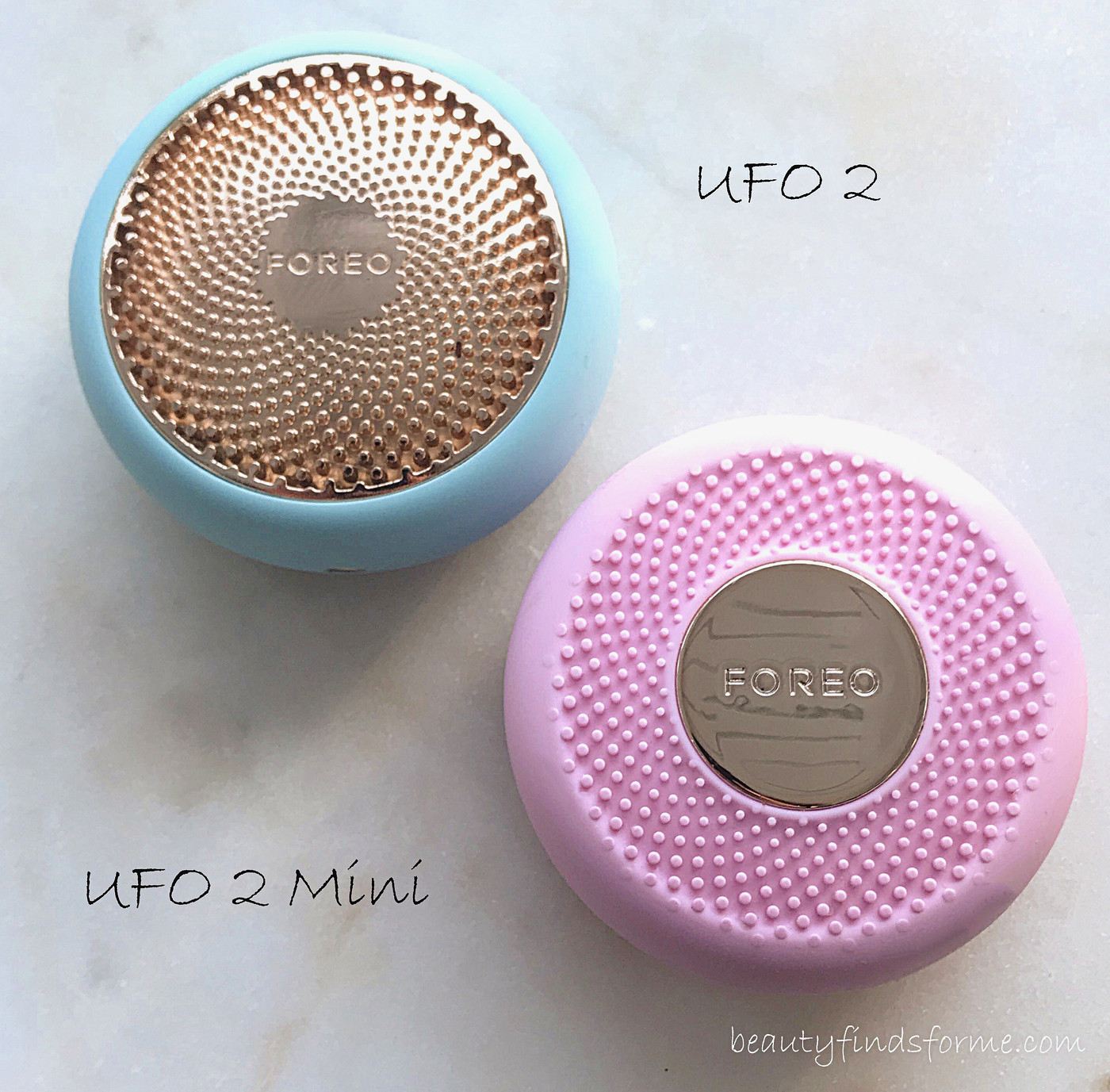 Honestly, there isn't much of a difference between the two sonic powered, spa-quality facial devices.  This is the breakdown from FOREO
image from foreo
My UFO 2 Breakdown

UFO 2 Mini is $100.00 cheaper than UFO 2 ($179 vs $279)

UFO 2 Mini has a less "blingy" gold disk on the front of the device, whereas the UFO 2 has a really beautiful gold sunburst

UFO 2 Mini is the same size as UFO 2 but weighs slightly less

UFO 2 Mini and UFO 2 come in the same three color choices

UFO 2 Mini does not have the Cryo-Therapy (cooling treatment)

UFO 2 Mini has a slightly less mask selection due to the lack of the Cryo-Therapy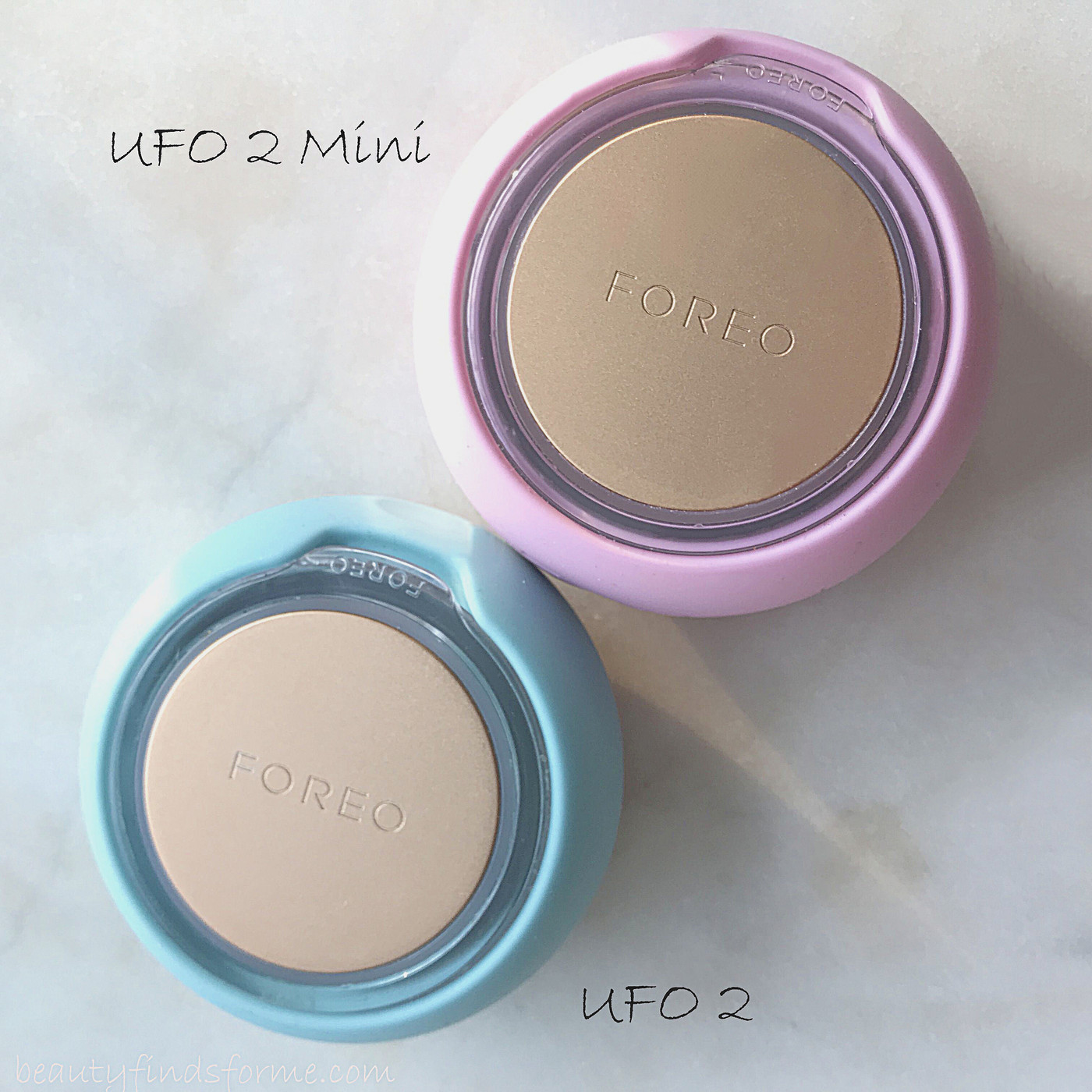 If you don't really care about the cooling treatment, go for the UFO 2 Mini if you are wanting to save $100.00.  I would think that if you have oily skin and/or skin that gets overheated quickly, then I do recommend getting the UFO 2 for that cooling treatment.
FOREO also has several UFO's beside the UFO 2 Mini, including the Star of the UFO Range, UFO 2.  The old UFO series is also there ~ UFO at $199.00 and UFO mini at $99.00.  As I never tried any UFO's before, I cannot tell you how they would compare to the UFO 2 experience.  All UFO's comes with a 2 year warranty, where FOREO will replace the unit free of charge ~ you just need to activate the warranty once you receive it at your FOREO account.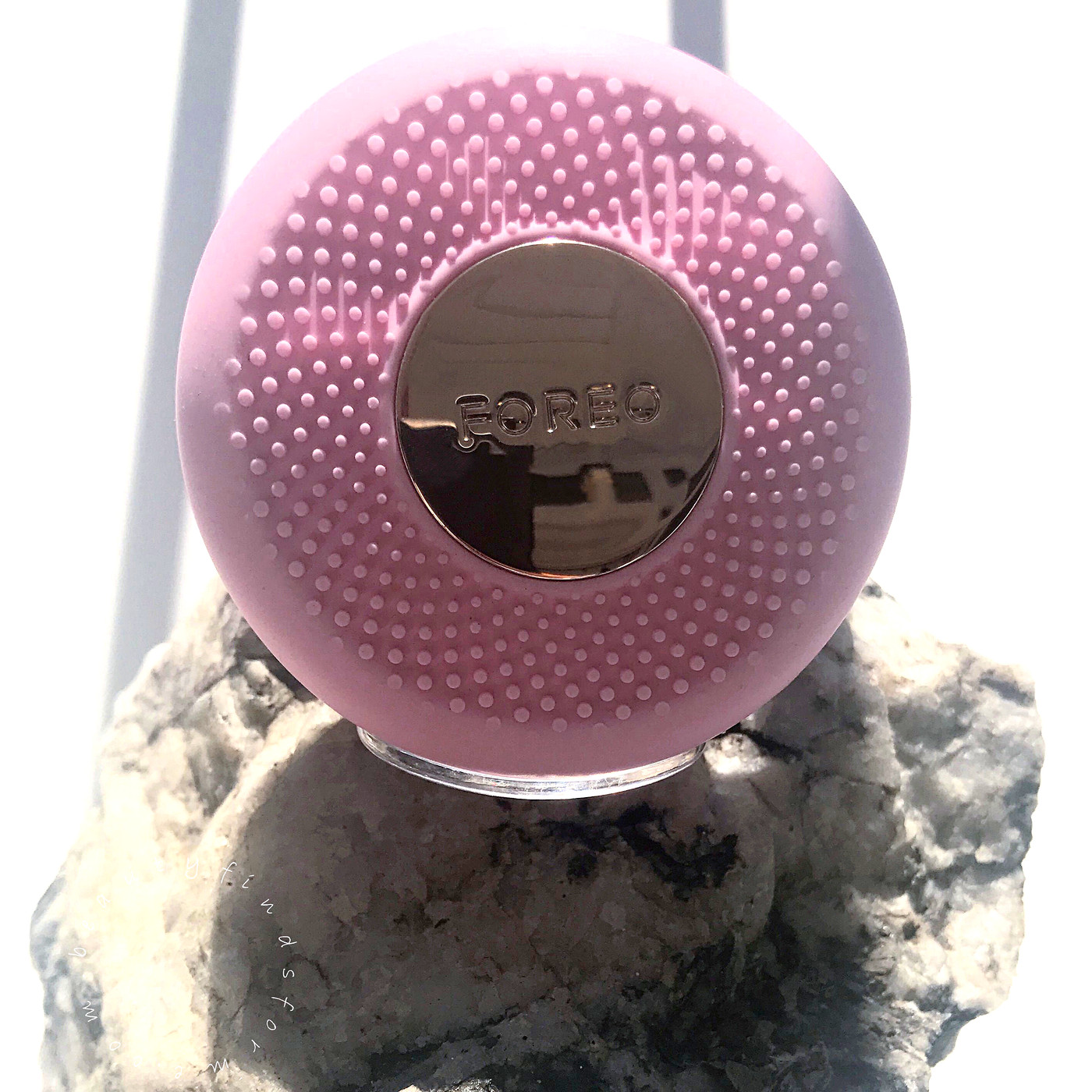 When you purchase from Foreo's site, they also have free shipping with purchases $50.00 and over.  Foreo does ship to many countries worldwide as well!  Foreo takes all different types of payments:  major credit cards: MasterCard, Visa, Discover, American Express, JCB International Asia;  Paypal, Alipay, Amazon Pay and if you live in the USA, you can use flexible payments with Afterpay.   
[ product received in exchange for an honest review ]