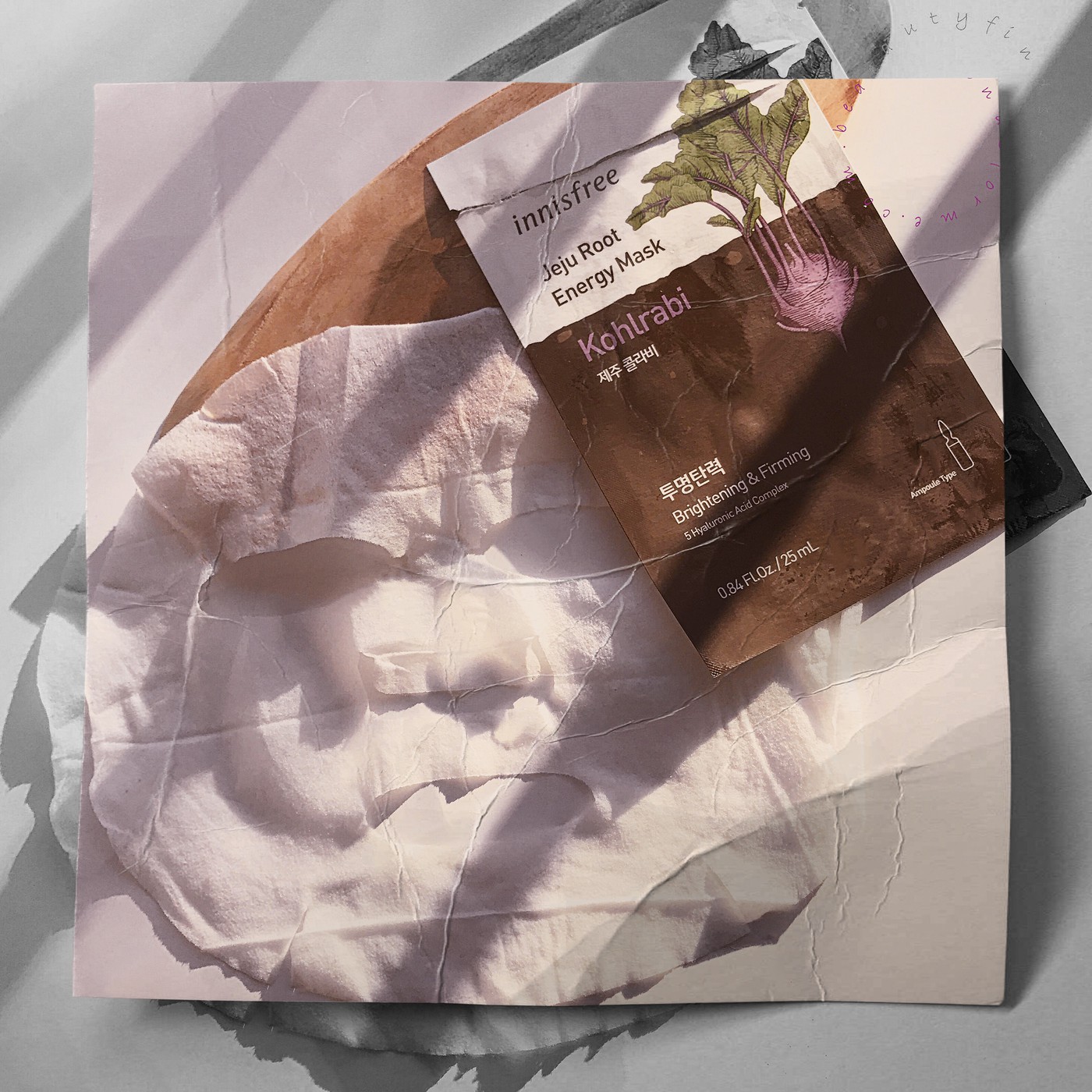 Jeju Root Energy Masks are the new vegan mask collection from Innisfree. They have a lot of them, so I started with the Kohlrabi for brightening and firming. If I like this, I will review the rest with my next haul or two ~  besides the Kohlrabi, they currently have seven other variations  Jolse, a premier K-Beauty online retailer store, sent me this product for review purposes.  
Skin Type/Concerns: Oily, blemish prone, aging concerns with fine lines/wrinkles and hyper-pigmentation
I received these products complementary to review and was not paid.  All reviews are my own honest opinion and  I never have been asked to write copy for a brand.  This blog post might contain promo codes, affiliate and referral links, which using my links will help generate a small commission that helps support my blog at no extra cost to you.
image from innisfree
Carrot: brightening and moisturizing
Beet: vitalizing and clearing
Potato: moisturizing and  soothing
Kohlrabi:  brightening and firming
Burdock: clearing and soothing
Lotus Root: smooth skin and firming
Ginger: moisturizing and nourishing
Yam: radiant skin and moisturizing 
At the end of the review, I will add more information on the other variations.   
image from innisfree
Oil Infusion Extraction Method: All of the Jeju Root Energy masks are made with the root vegetables grown on Jeju Island.  To extract, it goes through a process, where all the harvested veggies are thoroughly washed and then dried.   The root vegetables are then soaked in sunflower seed oil for 72 hours to slowly extract the active ingredients. When the active ingredient has been extracted, it undergoes two filtration processes to remove any impurities. 
 image from innisfree
They all contain a Quintuple Hyaluronic Complex, made with five different hyaluronic acids  ~ sodium hyaluronate, sodium hyaluronate crosspolymer, hydrolyzed glycosaminoglycans, hydrolyzed hyaluronic acid and hyaluronic acid. These all vary in molecular size to help provide hydration and binding moisture to the skin.  
Kohlrabi is a root veggie I really enjoy eating, especially in a cole slaw and I do not believe I have ever had any skincare product with this ingredient before.  Kohlrabi is rich in vitamin A, C, K, B1, and B12 along with carotenoids, powerful antioxidants that help protect your skin and assist in producing collagen.  It is also rich in anthocyanins, which gives this veggie its rich purple shade and those are flavonoids, another antioxidant, helping your skin to look more radiant as it will combat free radicals and skin damage. 
Trehalose supplies concentrated moisture to your skin and helps retain moisture, preventing your skin from drying out.  Anti-inflammatory panthenol is a natural humectant, which retains moisture and hydrates the skin. It also is a good lubricant on the skin, making skin look soft and smooth.  Allantoin moisturizes, exfoliates and softens skin, making it look smooth and refined, while reducing and relieving irritation.
Betaine is an amino acid that is a humectant and anti-irritant, providing silky smooth skin and soothes and calms skin. Arginine is another amino acid that promotes healing and detoxes your skin. It also helps guard against the formation of wrinkles and loss of skin firmness.  Sunflower seed oil is a lightweight oil that has a high concentration of vitamin E, which is a powerful anti-oxidant. It is known for its hydrating and moisturizing properties and it contains omaga-6 fatty acids.
Centella asiatica is a common herbal ingredient that is used medicinally to help speed up wound healing, such as blemishes and skin rashes. It also helps minimize the appearance of pores.  Chamomile can calm down the skin and relieve redness effectively as it has antioxidant, antibacterial and anti-inflammatory properties. It helps to relieve skin issues and irritations because it soothes and lessens swelling and redness, while healing skin and stimulating cellular renewal. 
Ingredients: water, glycerin, dipropylene glycol, glycereth26, methylpropanediol, butylene glycol, polyglyceryl-10 laurate, 1,2-hexanediol, xanthan gum, betaine, trehalose, panthenol, helianthus annuus (sunflower) seed oil, glyceryl caprylate, arginine, carbomer, centella asiatica extract, allantoin, ethylhexylglycerin, *sodium hyaluronate, glyceryl acrylate/acrylic acid copolymer, paeonia suffruticosa root extract, chamomilla recutita (matricaria) flower extract, disodium EDTA, PVM/MA copolymer, propanediol, fragrance, diethylhexyl sodium sulfosuccinate, *sodium hyaluronate crosspolymer, brassica oleracea gongylodes extract, *hydrolyzed glycosaminoglycans, benzyl glycol, *hydrolyzed hyaluronic acid, *hyaluronic acid, raspberry ketone cosDNA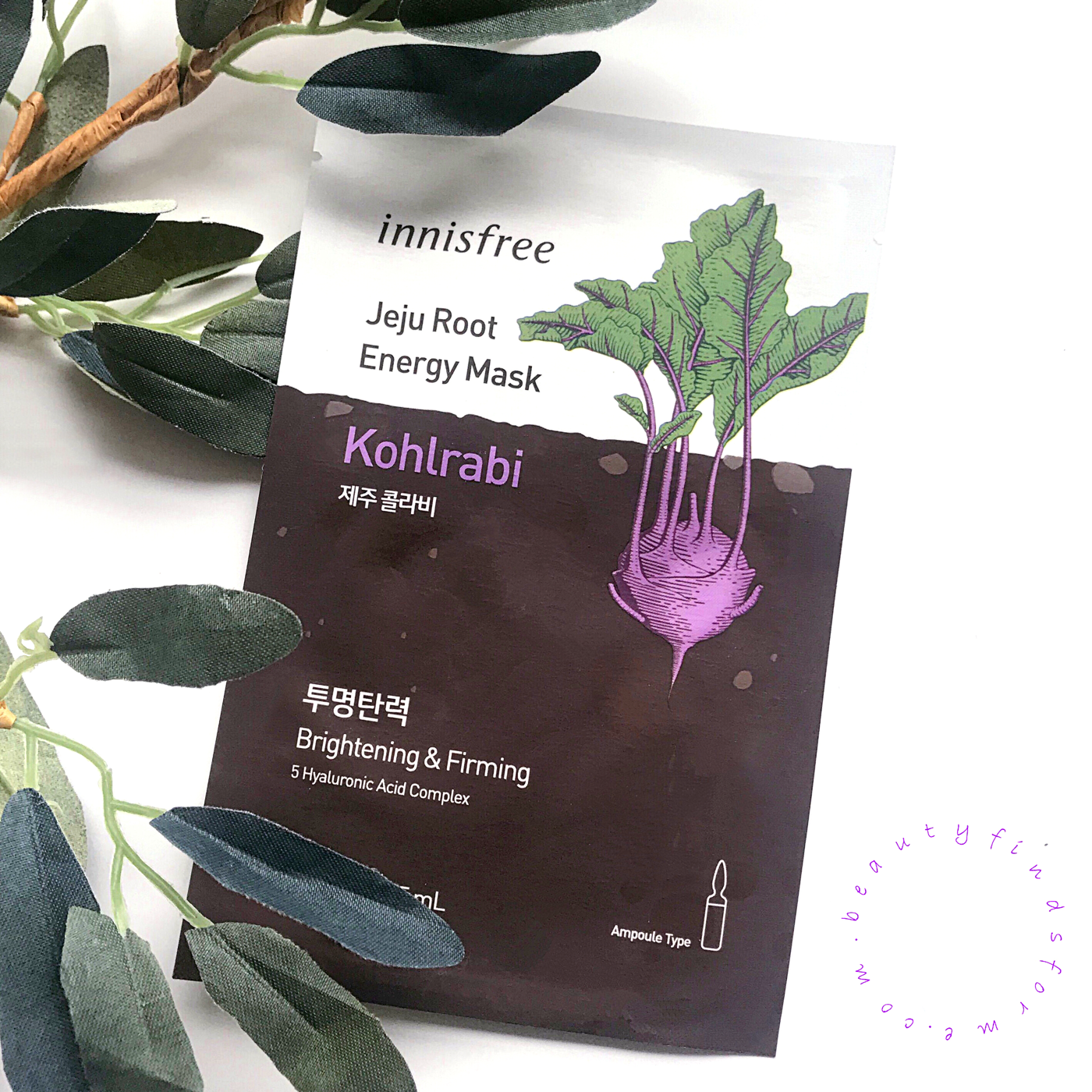 The Jeju Root Energy masks have 3 different types of essences ~ watery, ampoule and creamy and the Kohlrabi version is an ampoule based essence so there is a LOT of juicy goodness going on here.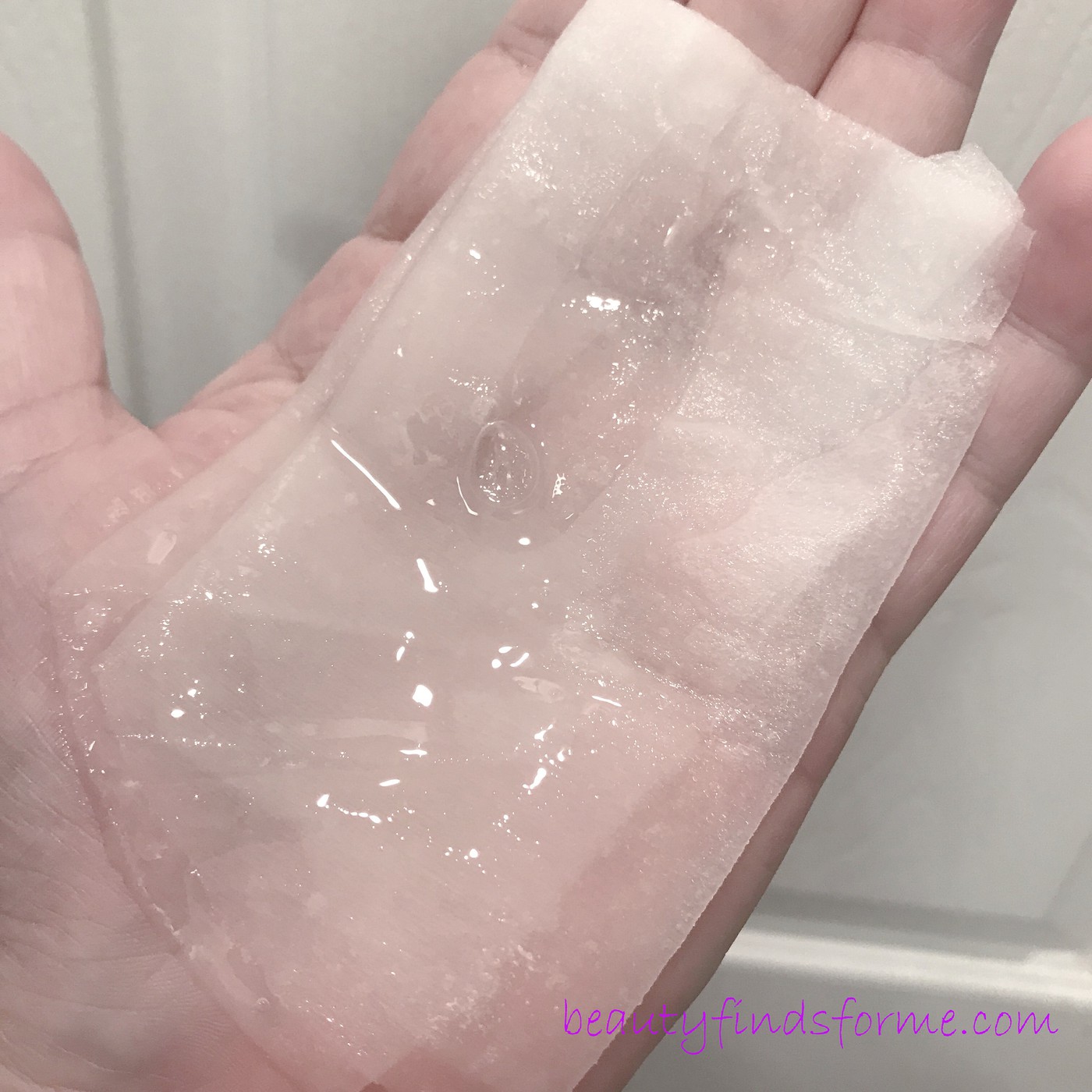 The packaging is also interesting as the inner pouch is foil based.  I rarely see that type of packaging on sheet masks.  The sheet mask material is made of a eucalyptus and bamboo cellulose for better adhesion to the face and it is biodegradable.  There is no paper protector here and the mask is dripping wet with the essence, so the mask is almost gelatinous in its texture.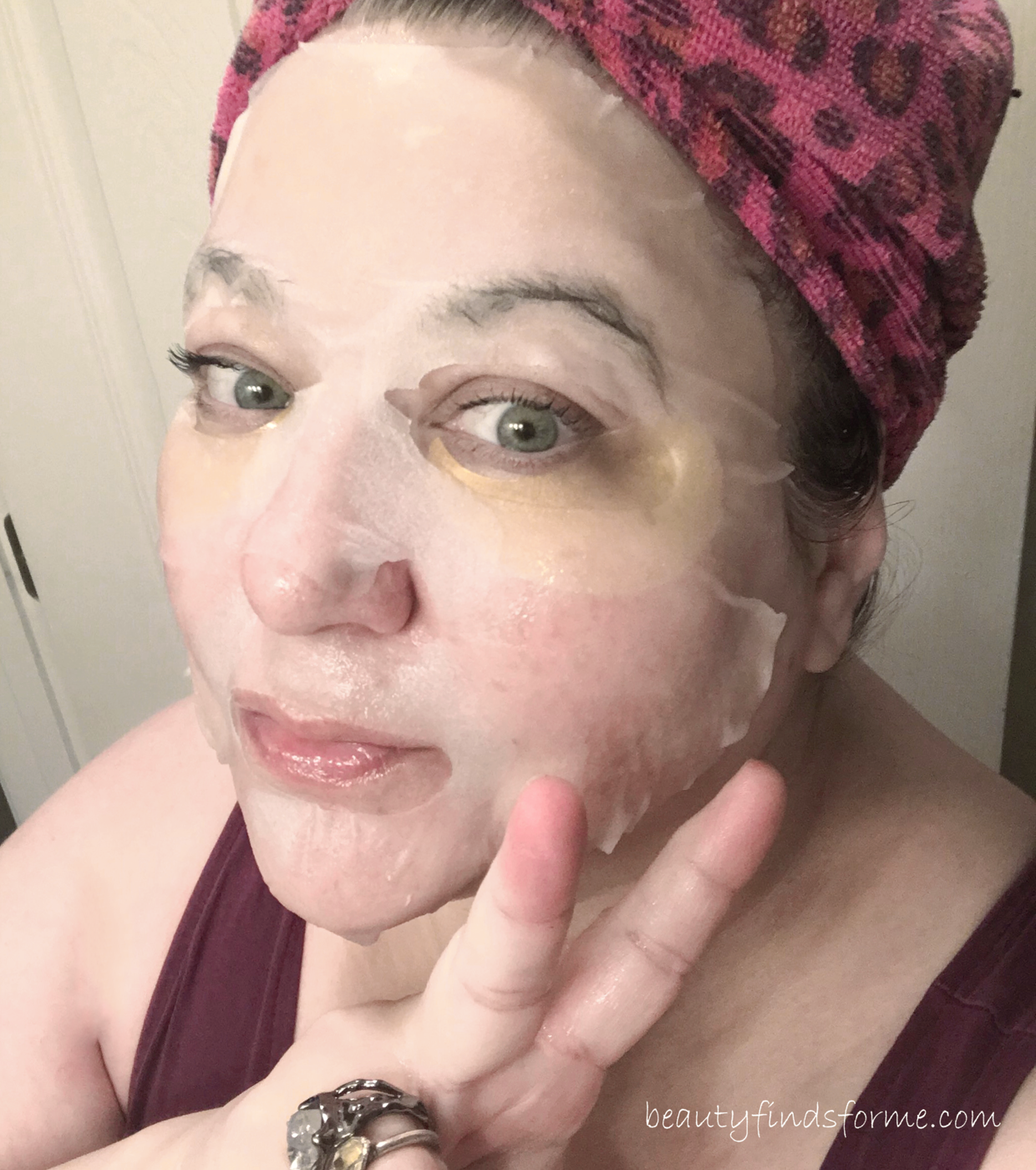 The fit is really good on my big face and there is a fragrance here ~ it is a fresh, green grassy scent that is perfumed ~ it reminds me of Huxley's classic fragrance.  It is a bit strong, but it disappears quickly.  I wish they would rethink that fragrance addition in a VEGAN mask.  It feels very refreshing on the skin as it is so WET.
After 30 minutes, I removed the mask ~ I didn't see any firming, but wow, I did see brightness in my skin ~ it is temporary of course, but the results were noticeable to me.  This took about 3 or 4 minutes to dry down completely as this is an ampoule mask and there was no sticky or tacky residue on my skin.  I really enjoyed this Jeju Root Mask so I am very interested in trying out some other variations.  
Where to Purchase
Jolse carries all eight variations of the Innisfree Jeju Root Energy Masks.  You get a 5 masks for about $10.00 USD (click here to purchase)  Jolse offers free global shipping plus gives a lot of samples out ~ the more you purchase, the more samples you get! Please note that the prices do fluctuate a little bit due to the WON to USD exchange rates.  
Make sure to check your coupon zone (click here) for money saving discounts. You need to log into Jolse first, then download the coupons before you use them. Coupon savings usually are $5.00 off a $50.00+ purchase, 5% off $100.00+ purchase and 10% off a $200.00+ purchase

As promised, here is the information on the other Jeju Root Energy Masks ~ descriptions are from Innisfree.  Which ones should I try next?
image from innisfree
Carrot: Rich in vitamins and Beta-Carotene, which gives carrots its orange color. This mask helps deliver radiance and moisturizing benefits to dull, dehydrated skin. (Watery Essence Base)
Ingredients: water, dipropylene glycol, glycerin, butylene glycol, betaine, polyglyceryl-10 laurate, 1,2-hexanediol, arginine, carbomer, helianthus annuus (sunflower) seed oil, glyceryl caprylate, centella asiatica extract, allantoin, ethylhexylglycerin, disodium EDTA, paeonia suffruticosa root extract, chamomilla recutita (matricaria) flower extract, *sodium hyaluronate, propanediol, fragrance, diethylhexyl sodium sulfosuccinate, *sodium hyaluronate crosspolymer, daucus carota sativa (carrot) root extract, *hydrolyzed glycosaminoglycans, benzyl glycol, *hydrolyzed hyaluronic acid, *hyaluronic acid, raspberry ketone cosDNA
Beet: Rich in Betacyanin, the antioxidant that gives beets its naturally deep red color. This mask helps purify and deliver a clearer, more vitalized look to fatigued, dull skin. (Watery Essence Base)
Ingredients: water, dipropylene glycol, glycerin, butylene glycol, betaine, polyglyceryl-10 laurate, 1,2-hexanediol, arginine, carbomer, helianthus annuus (sunflower) seed oil, glyceryl caprylate, centella asiatica extract, allantoin, ethylhexylglycerin, disodium EDTA, paeonia suffruticosa root extract, chamomilla recutita (matricaria) flower extract, *sodium hyaluronate, propanediol, fragrance, diethylhexyl sodium sulfosuccinate, *sodium hyaluronate crosspolymer, beta vulgaris (beet) root extract, *hydrolyzed glycosaminoglycans, benzyl glycol, *hydrolyzed hyaluronic acid, *hyaluronic acid, raspberry ketone cosDNA
Potato: Rich in Amino Acids and antioxidants that help moisturize and soothe stressed, dehydrated skin. (Watery Essence Base)
Ingredients: water , dipropylene glycol, glycerin, butylene glycol, betaine, polyglyceryl-10 laurate, 1,2-hexanediol, arginine, carbomer, helianthus annuus (sunflower) seed oil, glyceryl caprylate, centella asiatica extract, allantoin, ethylhexylglycerin, disodium EDTA, paeonia suffruticosa root extract, chamomilla recutita (matricaria) flower extract, *sodium hyaluronate, propanediol, fragrance, diethylhexyl sodium sulfosuccinate, *sodium hyaluronate crosspolymer, solanum tuberosum (potato) pulp extract, *hydrolyzed glycosaminoglycans, benzyl glycol, *hydrolyzed hyaluronic acid, *hyaluronic acid, raspberry ketone cosDNA
Burdock: Rich in Saponins and Tannin. This mask helps visibly sooth dull looking skin. (Ampoule Base)
Ingredients: water, glycerin, dipropylene glycol, glycereth26, methylpropanediol, butylene glycol, polyglyceryl-10 laurate, 1,2-hexanediol, xanthan gum, betaine, trehalose, panthenol, helianthus annuus (sunflower) seed oil, glyceryl caprylate, arginine, carbomer, centella asiatica extract, allantoin, ethylhexylglycerin, *sodium hyaluronate, glyceryl acrylate/acrylic acid copolymer, paeonia suffruticosa root extract, chamomilla recutita (matricaria) flower extract, disodium EDTA, PVM/MA copolymer, propanediol, fragrance, diethylhexyl sodium sulfosuccinate, *sodium hyaluronate crosspolymer, arctium lappa root extract, *hydrolyzed glycosaminoglycans, benzyl glycol, *hydrolyzed hyaluronic acid, *hyaluronic acid, raspberry ketone  cosDNA
Lotus Root: Rich in Tannin and Mucin, this mask helps to smooth and plumper-looking skin. (Ampoule Base)
Ingredients: water, glycerin, dipropylene glycol, glycereth-26, methylpropanediol, butylene glycol, polyglyceryl-10 laurate, 1,2-hexanediol, xanthan gum, betaine, trehalose, panthenol, helianthus annuus (sunflower) seed oil, glyceryl caprylate, arginine, carbomer, centella asiatica extract, allantoin, ethylhexylglycerin, *sodium hyaluronate, glyceryl acrylate/acrylic acid copolymer, paeonia suffruticosa root extract, chamomilla recutita (matricaria) flower extract, disodium EDTA, PVM/MA copolymer, propanediol, fragrance, diethylhexyl sodium sulfosuccinate, *sodium hyaluronate crosspolymer, nelumbo nucifera root extract, *hydrolyzed glycosaminoglycans, benzyl glycol, *hydrolyzed hyaluronic acid, *hyaluronic acid, raspberry ketone  cosDNA
Ginger: Rich in essential oils, this is the perfect mask to do some double duty moisturizing, to nourish dry skin with a weakened moisture barrier. (Cream Base)
Ingredients: water, glycerin, dipropylene glycol, glycereth-26, butylene glycol, cetearyl olivate, cetyl ethylhexanoate, sorbitan olivate, caprylic/capric triglyceride, 1,2-hexanediol, carbomer, arginine, helianthus annuus (sunflower) seed oil, glyceryl caprylate, centella asiatica extract, xanthan gum, ethylhexylglycerin, paeonia suffruticosa root extract, chamomilla recutita (matricaria) flower extract, allantoin, disodium EDTA, propanediol, fragrance, *sodium hyaluronate crosspolymer, zingiber officinale (ginger) root extract, *hydrolyzed glycosaminoglycans, *sodium hyaluronate, benzyl glycol, *hydrolyzed hyaluronic acid, *hyaluronic acid, raspberry ketone cosDNA
Yam: Rich in amino acids that help boost skin radiance and moisture levels to address both dry, dehydrated skin, lacking a bit of natural glow. (Cream Base)
Ingredients: water, glycerin, dipropylene glycol, glycereth26, butylene glycol, cetearyl olivate, cetyl ethylhexanoate, sorbitan olivate, caprylic/capric triglyceride, 1,2-hexanediol, carbomer, arginine, helianthus annuus (sunflower) seed oil, glyceryl caprylate, centella asiatica extract, xanthan gum, ethylhexylglycerin, paeonia suffruticosa root extract, chamomilla recutita (matricaria) flower extract, allantoin, disodiumEDTA, propanediol, fragrance, *sodium hyaluronate crosspolymer, dioscorea japonica root extract, *hydrolyzed glycosaminoglycans, *sodium hyaluronate, benzyl glycol, *hydrolyzed hyaluronic acid, *hyaluronic acid, raspberry ketone cosDNA
disclaimer: products received complementary for review purposes & contains affiliate links