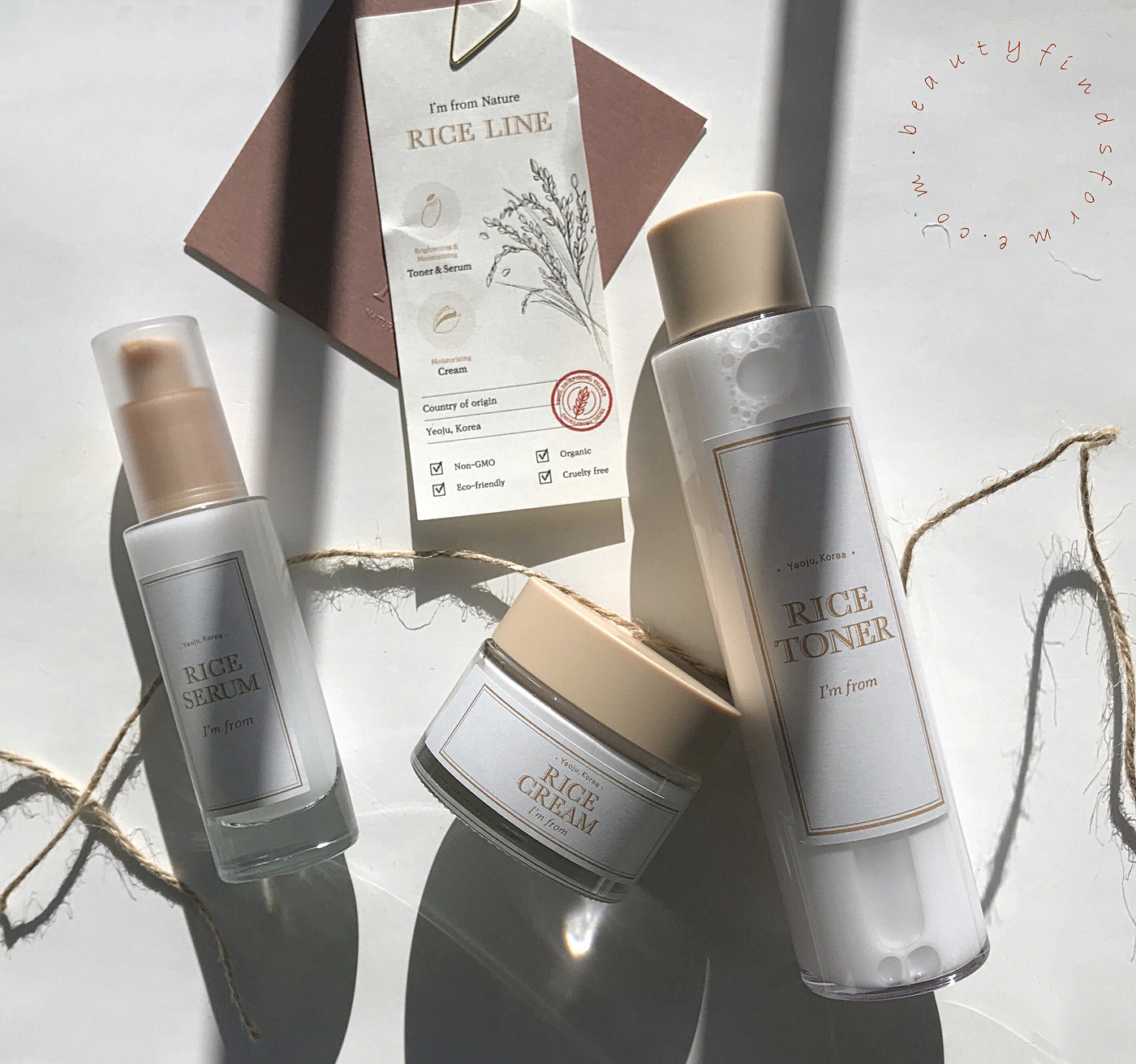 I'm From didn't create any new skincare products from their Rice line for the longest time and then BAM!  Two new products dropped late fall 2020.  Their Rice Toner is a fan favorite (see my original review here) and now they have come out with a serum and cream moisturizer.  Wishtrend graciously sent me these products for review purposes!

I received these products complementary to review and was not paid.  All reviews are my own honest opinion and  I never have been asked to write copy for a brand.  This blog post might contain promo codes, affiliate and referral links, which using my links will help generate a small commission that helps support my blog at no extra cost to you.
Skin Type/Concerns: Oily, blemish prone, aging, hyper-pigmentation, fine lines/wrinkles, pores
Rice is a fantastic skincare ingredient, known for brightening and refining your skin texture.  I'm From uses organically grown, pesticide-free rice from Gyeonggi province Yeoju Deokpyeong village Yeoju 
Yeoju rice contains 3 times more dietary fiber than regular rice and contains an abundance of essential amino acids such as lysine and other active ingredients. We've directly formulated Yeoju rice to remove dead skin cells and wastes to create smooth, moisturized skin. It also contains gamma oryzanol, which is excellent for brightening and improving the complexion. Known as the area of constant harvest, even droughts and floods have no influence on Yeoju. The area is characteristic of drastic temperature changes between the daytime and nighttime, resulting in the production of top quality rice with a higher glucose and starch content.
The I'm From Rice skincare line will use different types of oryza sativa (rice) based on the product:  Rice water is full of amino acids, vitamins, minerals and other nourishing compounds to help clear your skin, improve the appearance of pores, stimulates cellular renewal, treat acne ~ and if that wasn't enough ~ has skin brightening and firming benefits.  Rice contains γ-oryzanol, which is a potent antioxidant that can slow the production of hyper-pigmentation and prevent freckles and age spots.  Rice contains amylase, an enzyme that initiates the breakdown of glucose bonds, which is that "glue" that binds dead cells with living cells. This will whisk away dead skin cells, leaving your skin feeling smooth and looking brighter.  It is full of antioxidant vitamins B1, C, E, minerals and ferulic acid.  Rice bran is a little different than rice water and it is also known as rice bran oil.  It is extracted from the inner husk and germ of rice and it has high percentages of vitamin E, B and fatty acids, which will penetrate deep in your skin to moisturize. It is lightweight and due to its quick and easy penetration into your skin, it is good for oily skin too.  Rice bran is an anti-aging, hydrating ingredient that helps soften fine lines and wrinkles.
Rice germ fermented extract is made from the embryo rice bud, which is only 1/10th the size of a rice grain yet contains 65.9% of rice's total nutrition. Brightening γ-oryzanol of the rice embryo has a soothing effect and inhibits the synthesis of melanin, which causes hyper-pigmentation on the skin. Rice embryo contains 43 times more γ-oryzanol than rice, linolenic acid , vitamin B and GABA (gamma aminobutyric acid), which boosts collagen production and improve skin elasticity. The rice embryo is fermented to capture the concentrated nutrients using the traditional Korean yeast fermentation method. Fermentation helps increase the penetration of active ingredients into the skin.
Rice bran ceramide is the main component of rice bran's moisture barrier, protecting the grain. This oil-originated ceramide contains several natural fatty acids which provide skin barrier ability and moisturizing. The pure rice bran essence is extracted from the evaporated steam of boiling the rice bran. Rice bran contains phytic acid, which absorbs excess oil, maintaining both the moisture barrier and pore sebum production
I'm From uses rice grown in the Yeoju region, which has not been affected by drought or floods and has a temperate climate, clean waters from the Namhan river and fertile soil ~ all help produce a high quality rice that is high in both starch and glucose and more amino acids, such as collagen-aiding lysine.   I'm From minimizes the raw material processing with their organically grown rice as well.    The I'm From Rice line is cruelty free, vegan, Non-GMO and free from artificial coloring and fragrances.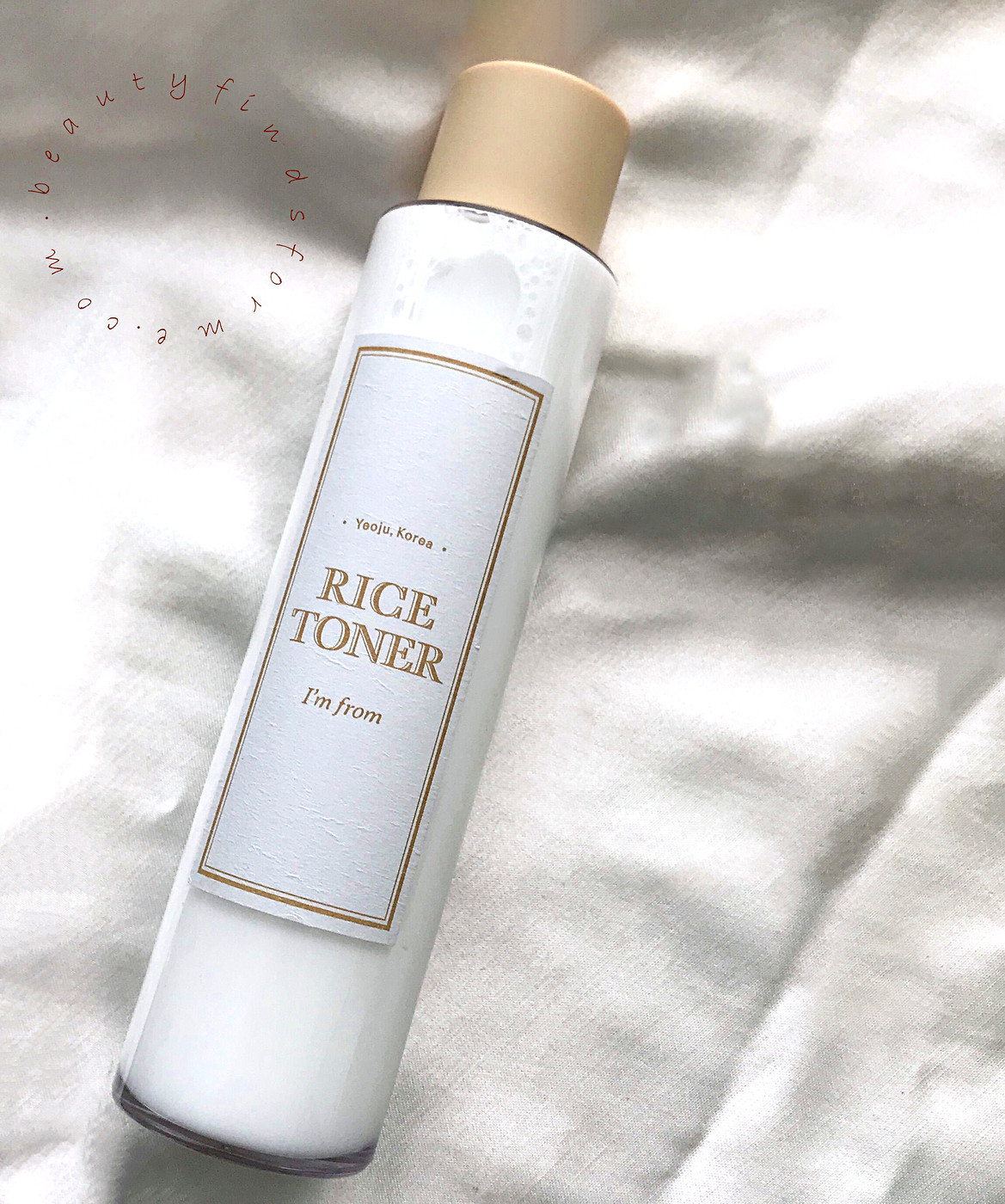 I'm From Rice Toner (recap)  does not contain any fermented rice ingredients but 77.78% goami (rice) water along with .1% of rice bran extracts.  I had seen some blogs and comments on Instagram about fermented rice, but that isn't the case.  Rice water is a traditional beauty skincare ingredient in Korean, Japanese and Chinese cultures, as it does help soften and brighten the skin.   This also has hydrating niacinamide (vitamin B3) which is a powerful antioxidant that acts as an anti-inflammatory, improves your skin elasticity, enhance the skin barrier function and also it helps to even out skin tone and reduce post-inflammatory hyper-pigmentation.  
Japanese elm root bark has been used as a medicinal herb in Korea for anti-inflammatory benefits and to help skin issues.  Amaranth seed extract is known as the "Treasure of Inca" and naturally contains squalane to deeply hydrate and moisturize your skin.  Amaranth also has anti-oxidant properties and will increase cell activity, so it will help regenerate and protect your skin.  Based on these ingredients,  I'm From Rice Toner should provide brightening and antioxidant benefits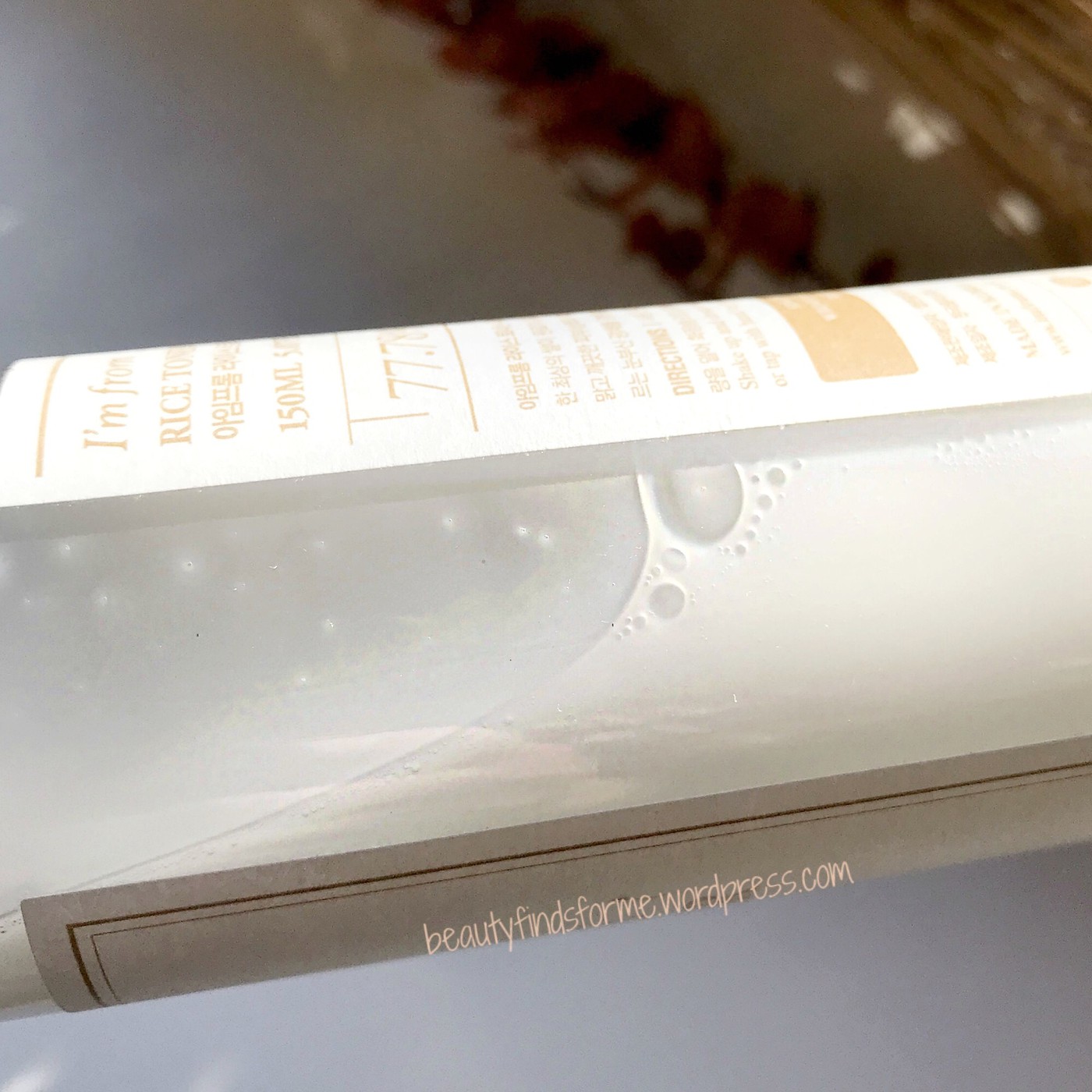 The directions state to shake it well before applying as there is a slight separation with the emulsions in here.  The toner is a milky white and is VERY WATERY, with no scent.   You can either use a cotton pad or pat on the toner on your skin with your hands.  I like to do the latter with this toner.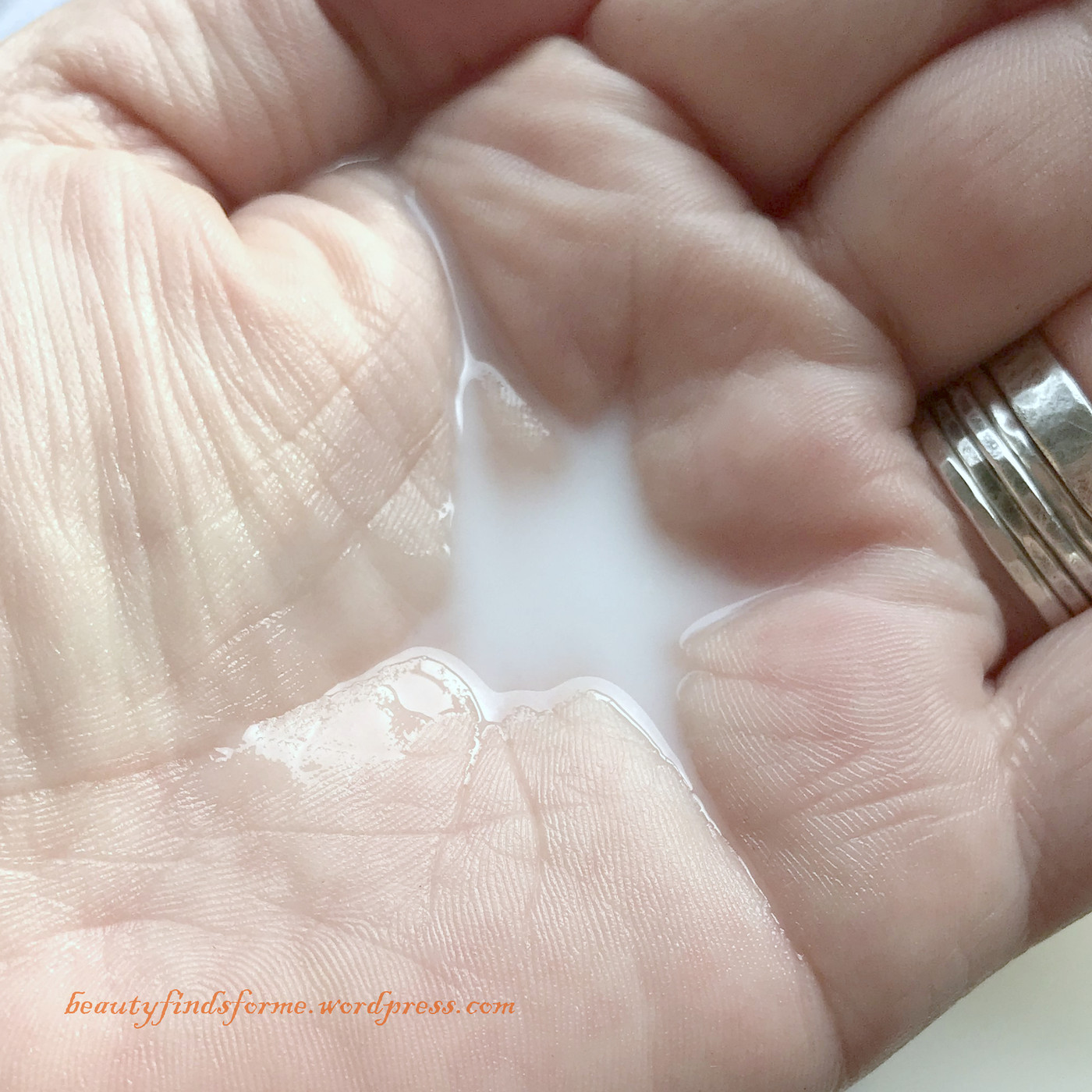 This does have a mildly acidic pH level of 6 to 6.5 and it is really mild and gentle on my skin, with no stinging.  It does not leave a sticky or tacky residue, dries down quickly and it is perfect for layering, as it absorbs fairly quickly.  For a watery product, however, it is VERY moisturizing and hydrating ~ but it doesn't leave my skin oily looking.  For me, this toner has a natural oil absorbing effect yet it still hydrates my skin.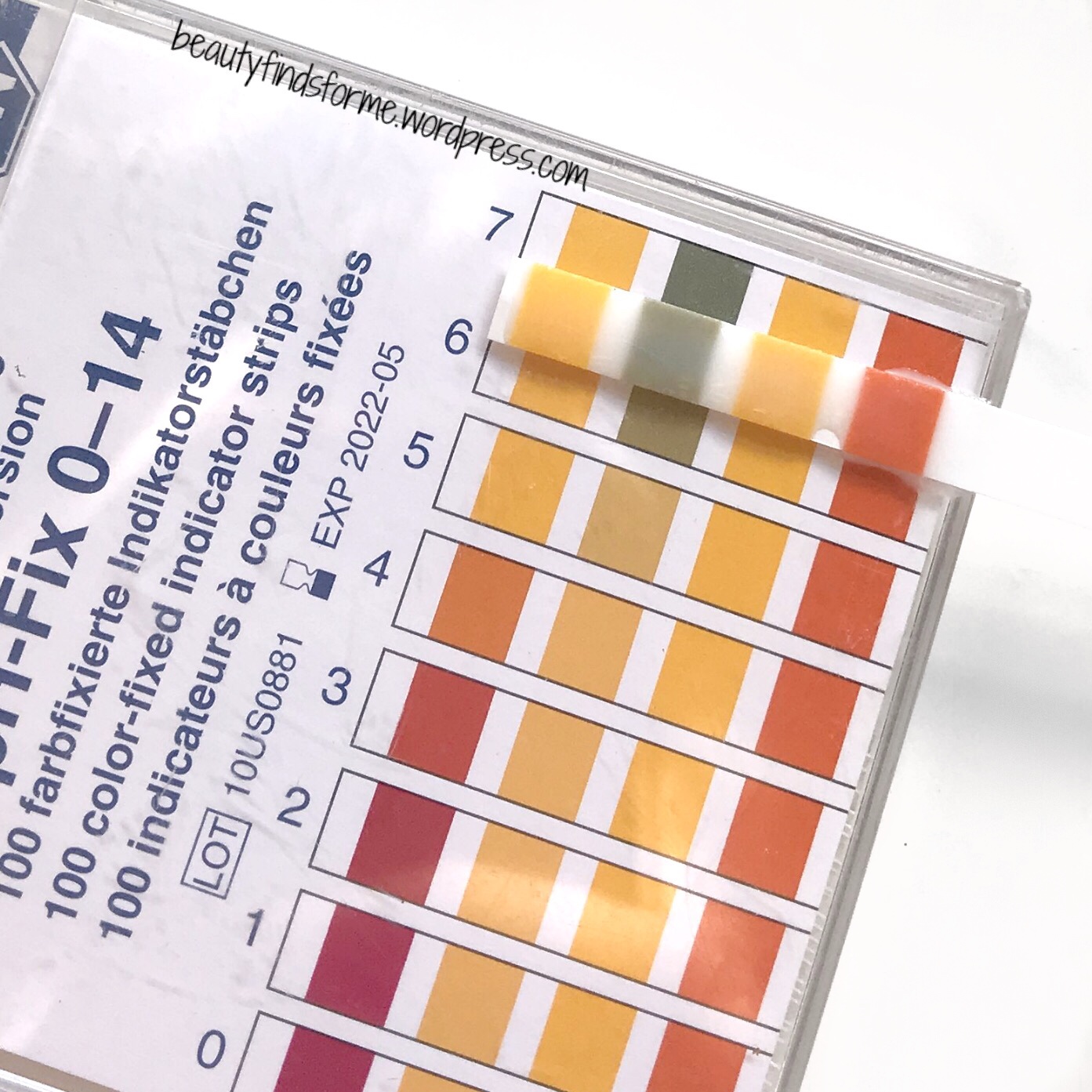 This is not drying at all and my skin feels supple and smooth.  It is very refreshing on my skin, it helps with soothing care and my skin feels smoother.  I have used up two bottles of this toner and it does bring a nice glow to my skin while improving my skin's texture, making it soft. 
Ingredients: Oryza Sativa (Rice) Extract (77.78%), Methylpropanediol, Triethylhexanoin, Hydrogenated Poly (C6-14 Olefin), Niacinamide, Pentylene Glycol, Portulaca Oleracea (Common Purslane) Extract, Oryza Sativa (Rice) Bran Extract (0.1%), Ulmus Davidiana (Japanese Elm Bark) Root Extract,  Amaranthus Caudatus (Amaranth) Seed Extract, Hydrogenated Lecithin, Distilled Water, Polyglyceryl-10-Myristate, Butylene Glycol, Adenosine, Cellulose Gum, Ethylhexylglycerin, 1,2-Hexanediol cosDNA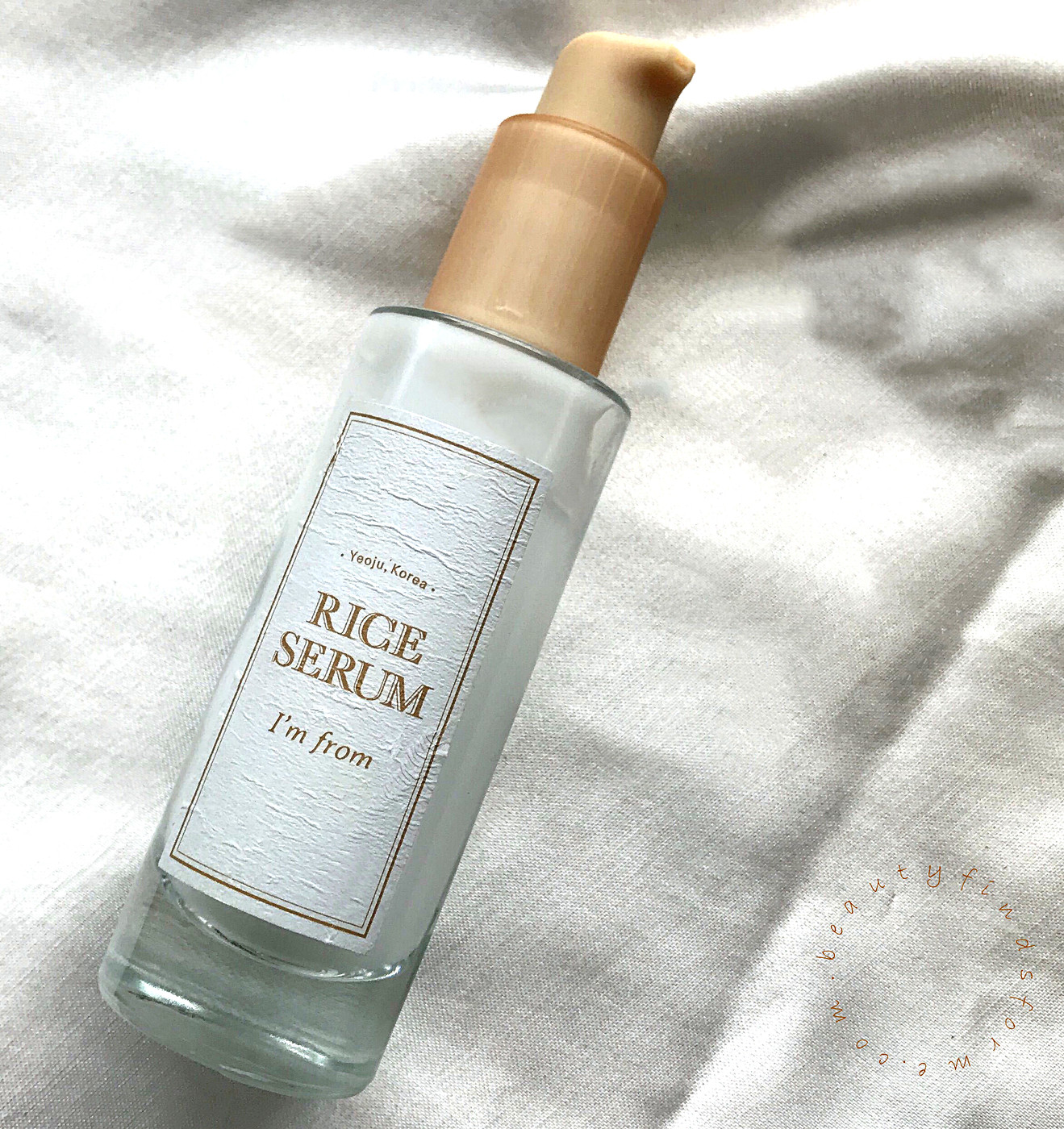 I'm From Rice Serum contains 73% rice germ fermented extracts along with a lot of really great ingredients. Skin brightening niacinamide, licorice and tranexamic acid all have some affect on suppressing or reducing the production of melanin (hyper-pigmentation) on the skin. Hydrating humectants sodium hyaluronate, glycerin and hydrolyzed hyaluronic acid all help bind moisture to the skin.
Antioxidant squalane is a wonderful moisturizing ingredient, absorbing quickly into your skin. It will help prevent new hyper-pigmentation in age spots and also has antibacterial properties. Allantoin is known for healing, soothing and softening skin, helping remove cracked and chapped skin, leaving behind healthy looking skin. Portulaca oleracea prevents dryness of skin and soothes skin with its excellent moisturizing ability. Emollient alpha glucan oligosaccharide has water binding, skin protecting properties and helps with your beneficial microbial skin flora 
Glutathione is an antioxidant, helping with combating free radical damage and reverse the signs of aging. Yeast derived adenosine has anti-aging, anti-wrinkle and anti-inflammatory properties.  Centella derived madecassoside helps soothe, reduce redness and inflammation and helps heal your skin.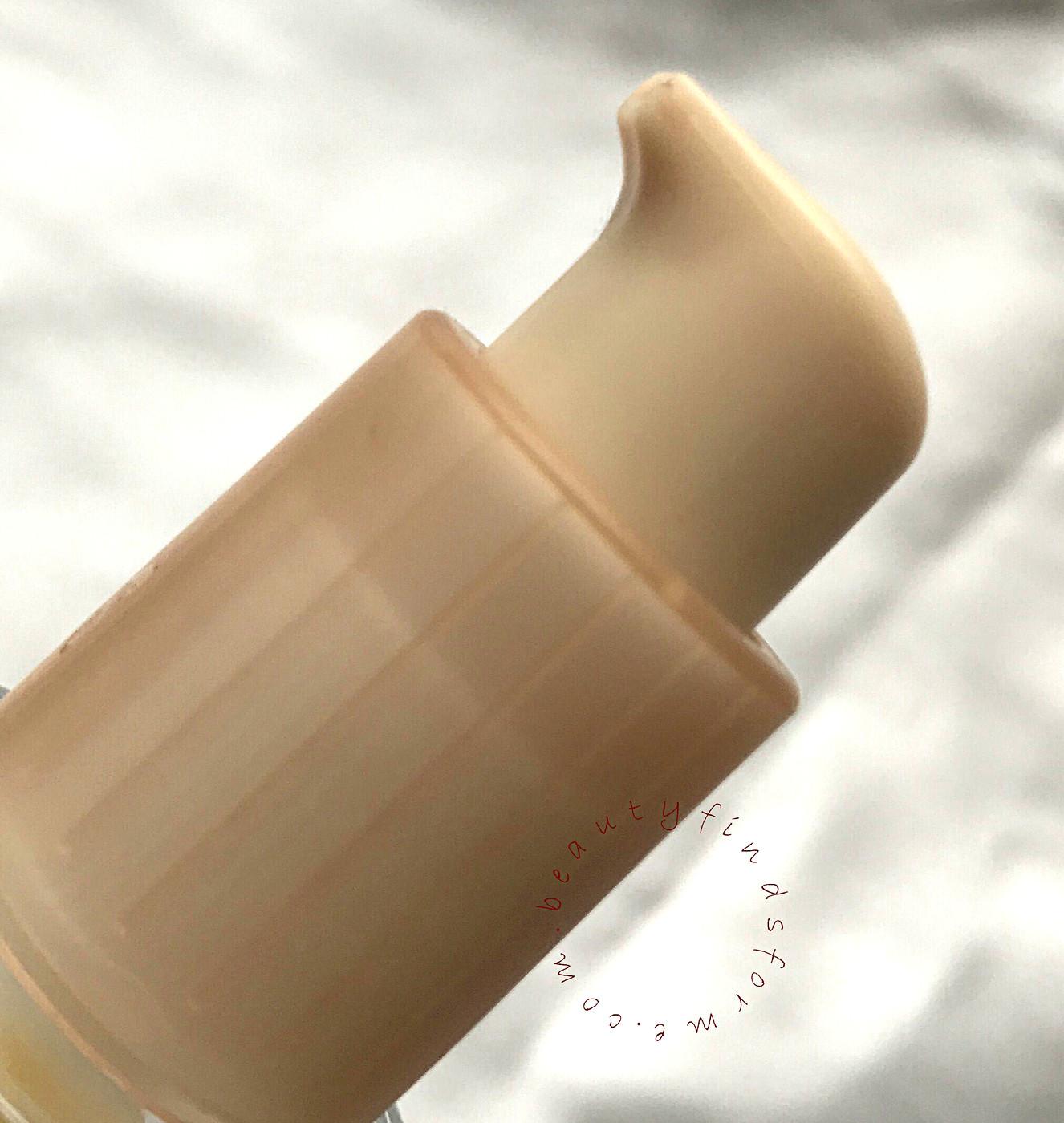 This is my favorite item in the trio of I'm From Rice products ~ this is a vegan friendly, dual function serum to help with nourishing and moisturizing.   The 30 mL serum has a pump applicator  on a plastic bottle. It has a gel-lotion texture that is very cooling on the skin, with no scent.  This absorbs quickly into my skin, leaving behind soft, supple skin that has a natural glow to it.   

It isn't pore clogging  and is very lightweight, with no greasy or tacky finish.  For my oily, dehydrated skin type, it REALLY helped keep my skin hydrated without being greasy during these arid cold months.  I would say this product is better suited for oily, oily/combo, sensitive and normal skin types.  Dry skin types may not be wow'd by this as it probably not moisturizing enough.    
Ingredients: Aspergillus/Rice Germ Ferment Extract Filtrate(73%), Propanediol, Glycerin, Methylpropanediol, Cyclopentasiloxane, Niacinamide, Caprylyl Methicone, Water, Cyclohexasiloxane, 1,2-Hexanediol, Squalane, Betaine, C12-14 Pareth-12, Ammonium Acryloyldimethyltaurate/VP Copolymer, Panthenol, C30-45 Alkyl Cetearyl Dimethicone Crosspolymer, Ethylhexylglycerin, Allantoin, Tranexamic Acid, Xanthan Gum, Dipotassium Glycyrrhizate, Adenosine, Disodium EDTA, Pentylene Glycol, Hydrolyzed Hyaluronic Acid, Alpha-Glucan Oligosaccharide, Sodium Hyaluronate, Madecassoside, Portulaca Oleracea Extract, Hydroxypropyl Cyclodextrin, Glutathione cosDNA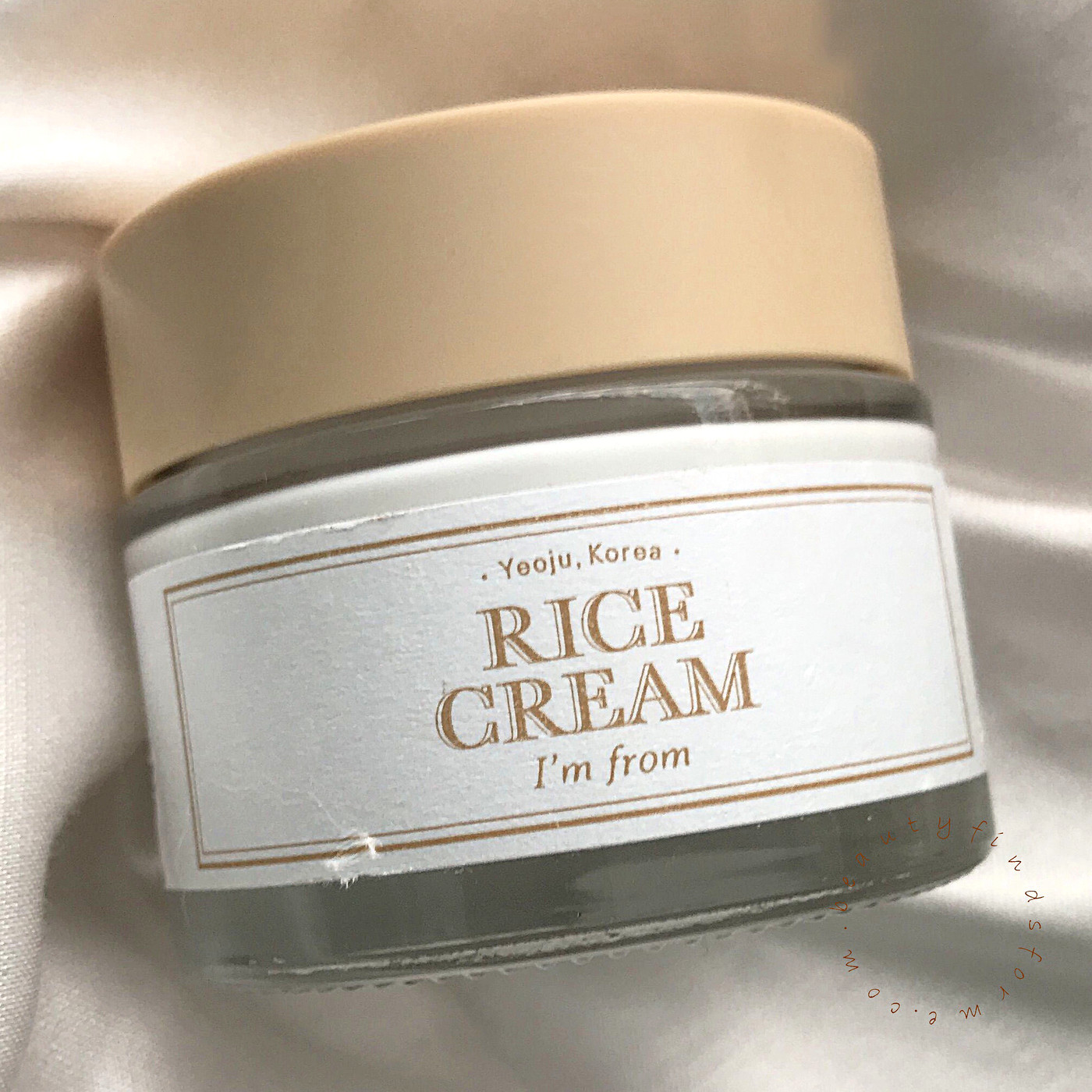 I'm From  Rice Cream is made with 41% rice bran ceramide along with rice bran essence, which provides moisturizing and skin barrier benefits. This also has more moisturizing ingredients with starting off with shea butter, which  contains a rich source of concentrated natural vitamins and fatty acids ~ oleic, stearic, palmitic, linolenic ~ and is highly moisturizing and nourishing. It helps repair your skin, as well as reduce skin inflammation, smooths your skin to protect it from drying and it strengthens your skin over time as it helps aid in the collagen production. 
Ceramides are lipids (fats) which are important in helping to repair and protect your moisture barrier. They will keep your skin hydrated and plump as they retain water. Ceramides are found naturally in your body and you lose the ability to produce as you age, so adding them to skin care products helps with anti-aging. Phytosphingosine is another lipid that helps support your skin barrier function, while providing anti-inflammatory and antimicrobial benefits, fighting blemishes. 
Chamomile derived bisabolol  is a rich source of moisture, while providing soothing and healing care, as it is also an anti-inflammatory, anti-oxidant and anti-microbial.  Tocopherol is vitamin E, providing antioxidant and anti-aging benefits to facilitate radiant healthy skin, while helping to heal scars and skin issues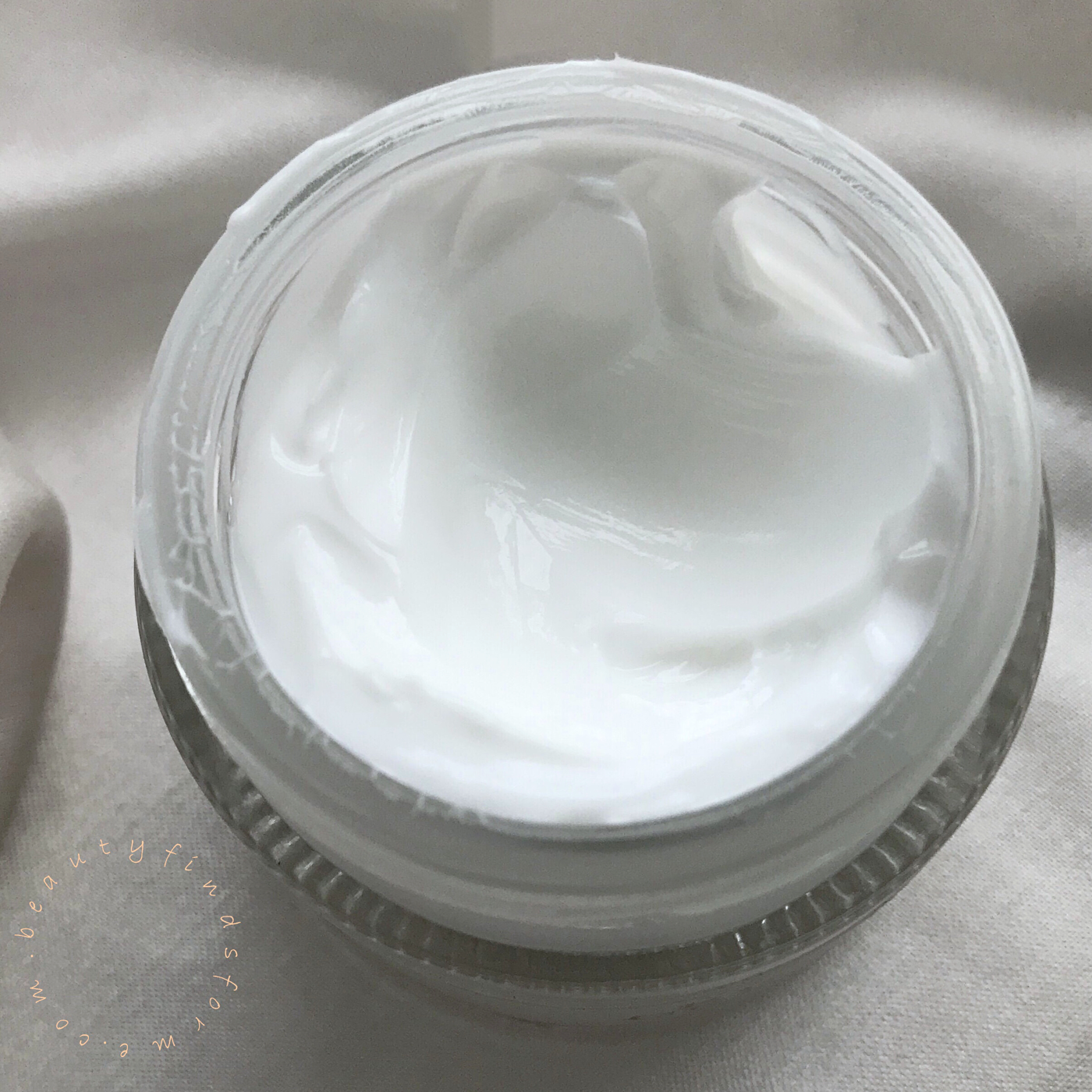 This cream looks really dense and buttery in the jar, so I was a bit apprehensive with using it on my skin.  However, I didn't really need to worry as looks are deceiving ~ this has a silky lightweight texture, that is slippery, absorbing quickly into the skin.  If I use too much, my skin will be very shiny.

I used this during the dry, cooler months and it is perfect as either a night or day time cream ~ for night, I do use a lot but during the day, I only apply a little  I would think that it might be too rich for me in the summer, but for the winter months, it provides the right balance of moisturizing without causing blemishes, leaving my skin very soft and moisturized.  Just the serum, this might not be moisturizing enough for dry skin types without an additional oil ~ which I think I'm From should create a Rice Facial Oil next!    
Ingredients: Oryza Sativa (Rice) Bran Water, Water, Glycerin, Butylene Glycol, Cetyl Ethylhexanoate, Pentaerythrityl Tetraethylhexanoate, Hydrogenated Polyisobutene, Synthetic Beeswax, Butyrospermum Parkii (Shea) Butter, Polyglyceryl-3 Methylglucose Distearate, Vinyl Dimethicone, Pentylene Glycol, 1,2-Hexanediol, Behenyl Alcohol, Glyceryl Stearate, Ammonium Acryloyldimethyltaurate/VP Copolymer, Bisabolol, Cetearyl Olivate, Panthenol, Sorbitan Olivate, Caprylyl Glycol, Ethylhexylglycerin, Xanthan Gum, Adenosine, Trisodium Ethylenediamine Disuccinate, Sodium Hyaluronate, Ceramide NP, Hydrolyzed Hyaluronic Acid, Oryza Sativa (Rice) Bran Oil, Tocopherol, Phytosphingosine, Caprylic/Capric Triglyceride, Hydrogenated Lecithin cosDNA
Where to Purchase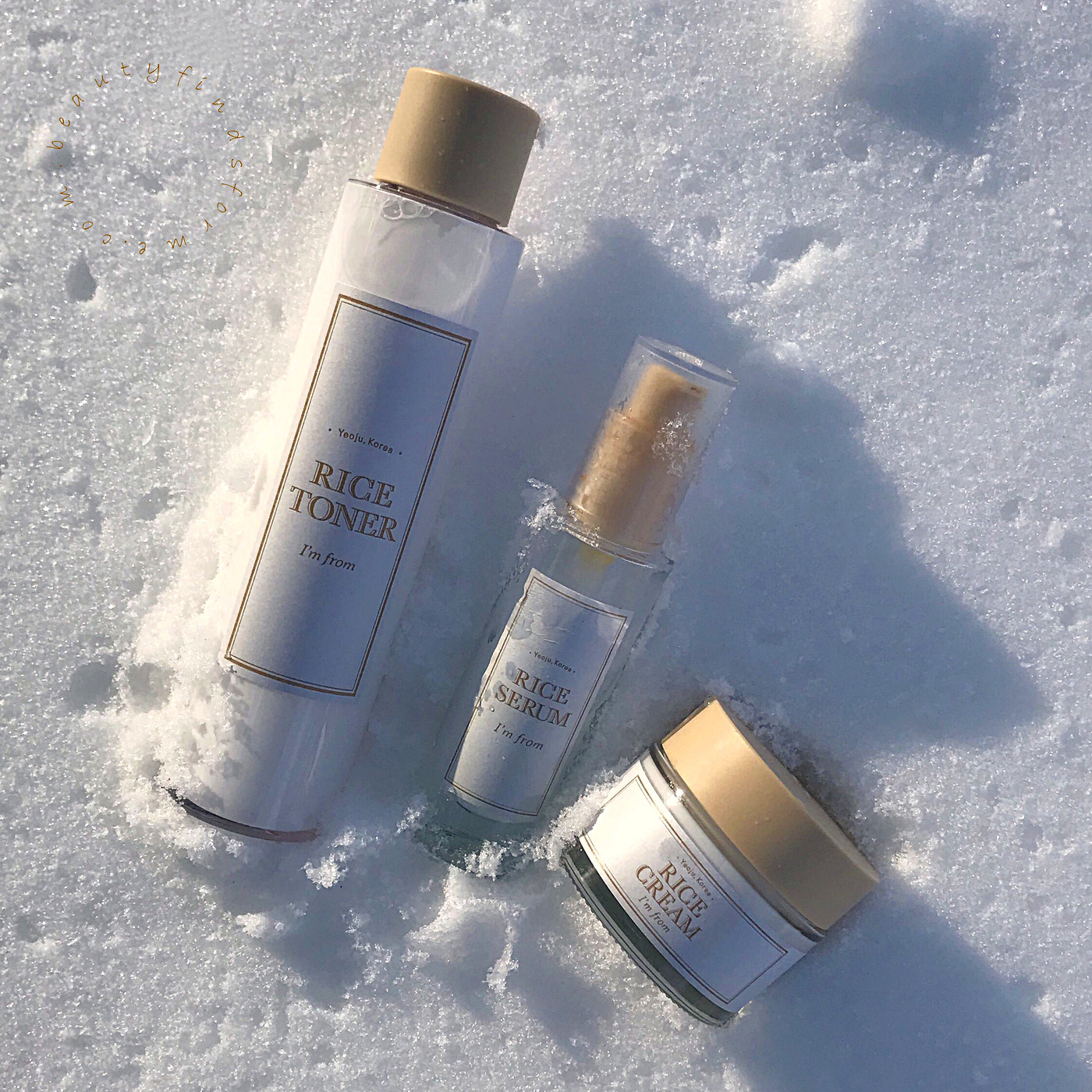 Wishtrend carries the full line of I'm From Rice products. 
You can use UNBOXINGWISHTREND to get 15% off your purchases ~ please click on my link if you are going to use my code ~ I do not receive any commissions by just using the code. You automatically receive free expedited shipping with purchases $150.00 USD and over.  Wishtrend ships globally and you can pick your own samples now!   
[ blog post contains affiliate links which provide a small commission to me at no cost to you ]