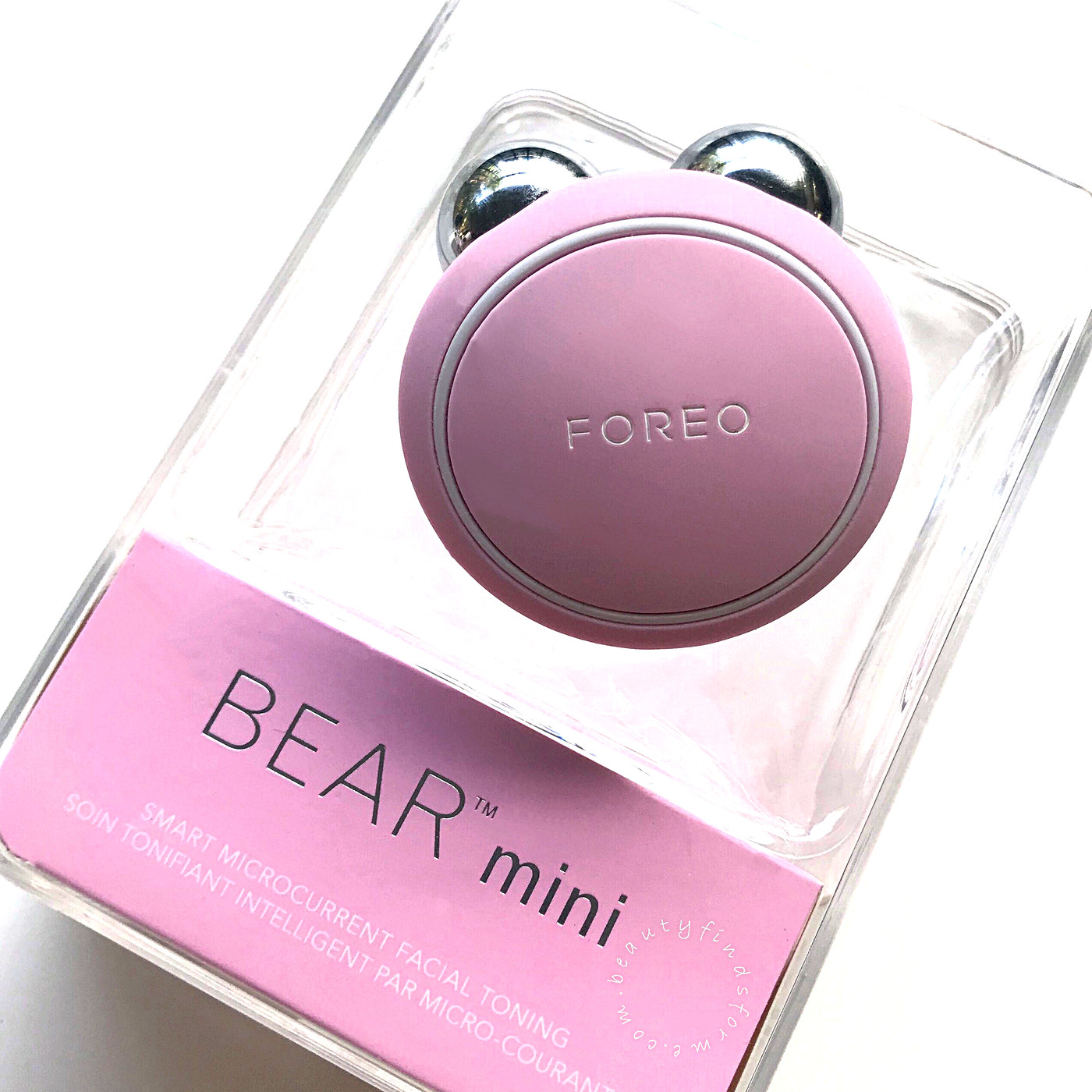 I love my Foreo LUNA Mini (see reviews here) so I was so pleased that Foreo sent me several of their products, including the brand new BEAR Microcurrent Device.   They have two of them, a full size BEAR and the BEAR Mini.  The BEAR Mini is similar to NuFace Mini, which I own ~ I purchased that last year and quite frankly, I haven't been using it that much.  Since I own both, I will be comparing the two devices in this review
Skin Type/Concerns: Oily, blemish prone, pores, aging, hyper-pigmentation, fine lines/wrinkles
All reviews are my own honest opinion and  I never have been asked to write copy for a brand.  This blog post might contain promo codes, affiliate and referral links, which using my links will help generate a small commission that helps support my blog at no extra cost to you. 
Foero is a Swedish based company that has created a line of skin and beauty devices, including Luna 2, Mini Luna 2,  Luna foto (so many Luna's),  UFO ~  smart sheet mask treatment (review here), ESPADA ~  a blue light acne treatment, IRIS ~  eye T-Sonic massager,  ISSA ~  sonic pulse toothbrush, another product I will be reviewing and finally their new products, the BEAR microcurrent devices. 
The fact sheet on the Bear Mini
BEAR mini is the only device on the market with a groundbreaking anti-shock system for the world's safest shock-free treatment
BEAR mini is the only microcurrent device on the market with T-Sonic™ pulsations which extend deep into the pores to increase circulation, eliminate toxins & ease facial tension, resulting in smoother, softer, glowier skin
BEAR mini is over 2x more powerful than NuFace Mini.
BEAR mini delivers power to your skin over 6x faster than NuFace Mini

NuFace Mini is quite big compared to the BEAR mini, in fact, it is bigger than the normal sized BEAR.  NuFace has a hard plastic surface that is curved and the two spheres on top.  It measures about  3.5 x 2 x 1 inches. The charger is one that plugs into a wall socket .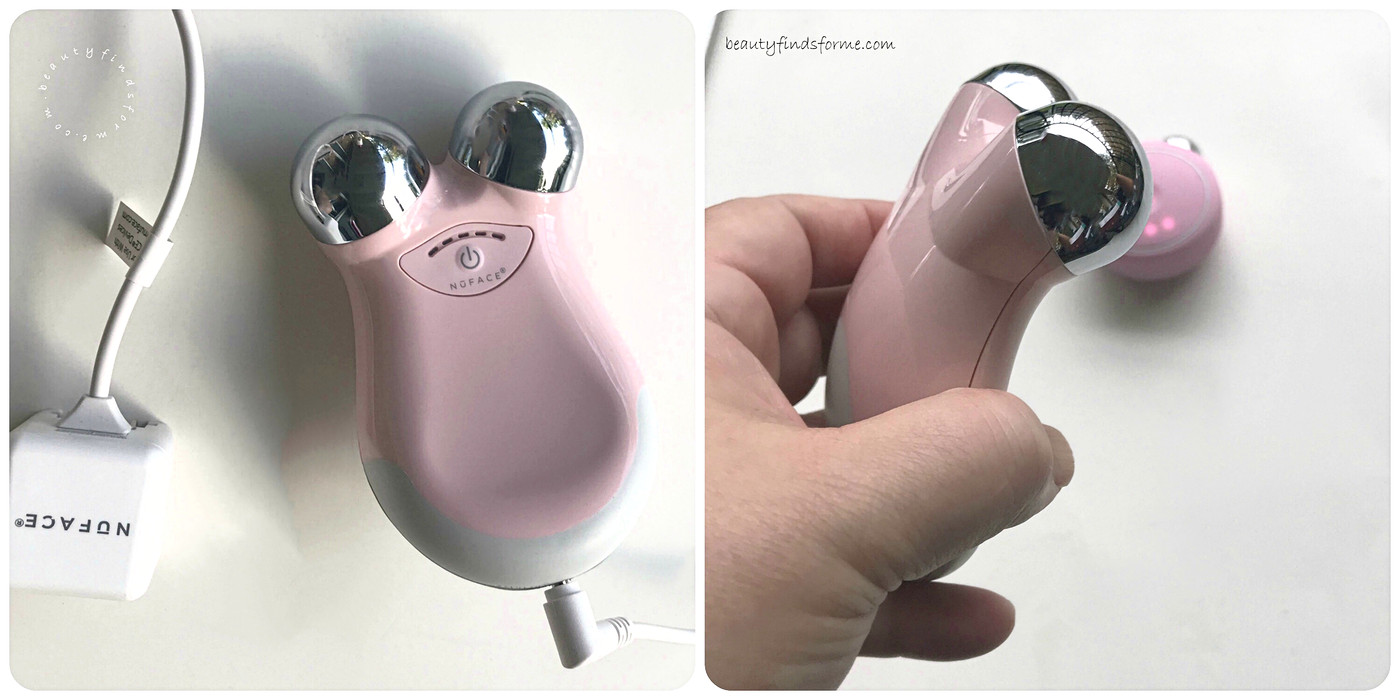 When I use the NuFace Mini, I can really feel the microcurrents on my face…zap..zap…zippy zap, even when I use a conductive gel.   It does slide and glide nicely along my face and it does beep at me every 5 seconds to let me know to move it to another part of my skin. I also feel that the NuFace Mini cannot get into smaller areas as it is quite big. I know the regular sized NuFace has attachments that allow you to get into smaller areas, but the NuFace Mini does not have such attachments.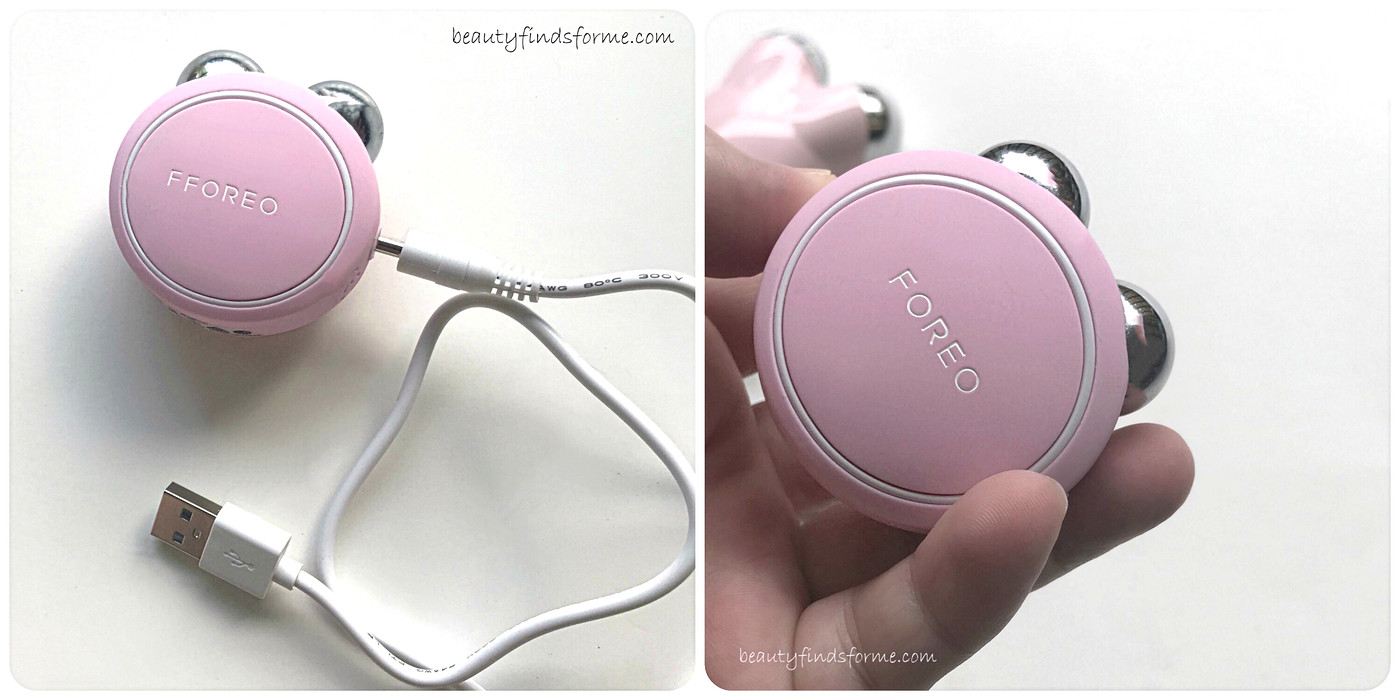 The FOREO BEAR Mini is small, I can fit it in my palm and it oval shaped, with a hard inner core and a soft silicone cover.   It measures about 1.75  x 1.75  x .5 inches, so it is quite tiny compared to the NuFace Mini.  It has one button on the back that you press to turn on and then you keep pressing on it to cycle thru the three power ranges.  It has the two spheres on top and the charger is one that plugs into a USB port, so you can either plug it into your laptop or a USB hub.  The BEAR Mini does need a conductive gel ~ not for the microcurrent zaps, which I do not feel at all but for the fact that it will drag and won't pulsate without that slick surface. 
image from foreo
I did try this on my skin with just a light coating of gel and it was really rough going ~ I had to push down hard to get pulsations.   Even with a more liberal amount of conductive gel, it seems that a relatively smooth flat area, such as my forehead, gives the BEAR Mini a hard time.  I have to start the treatment around my upper cheek bone and swipe up and over without stopping.   I do like that the BEAR Mini can get into smaller areas and how it fits in my hand.   The pulsations are an added bonus and the microcurrents are more intense with the BEAR Mini than the NuFace Mini without the electrical zap.   I feel that if you want a Mini, the BEAR Mini has a lot more flexibility without the microcurrent zings and zaps; but keep in mind that it can be finicky and you must use some sort of conductive gel.
How to Use BEAR Mini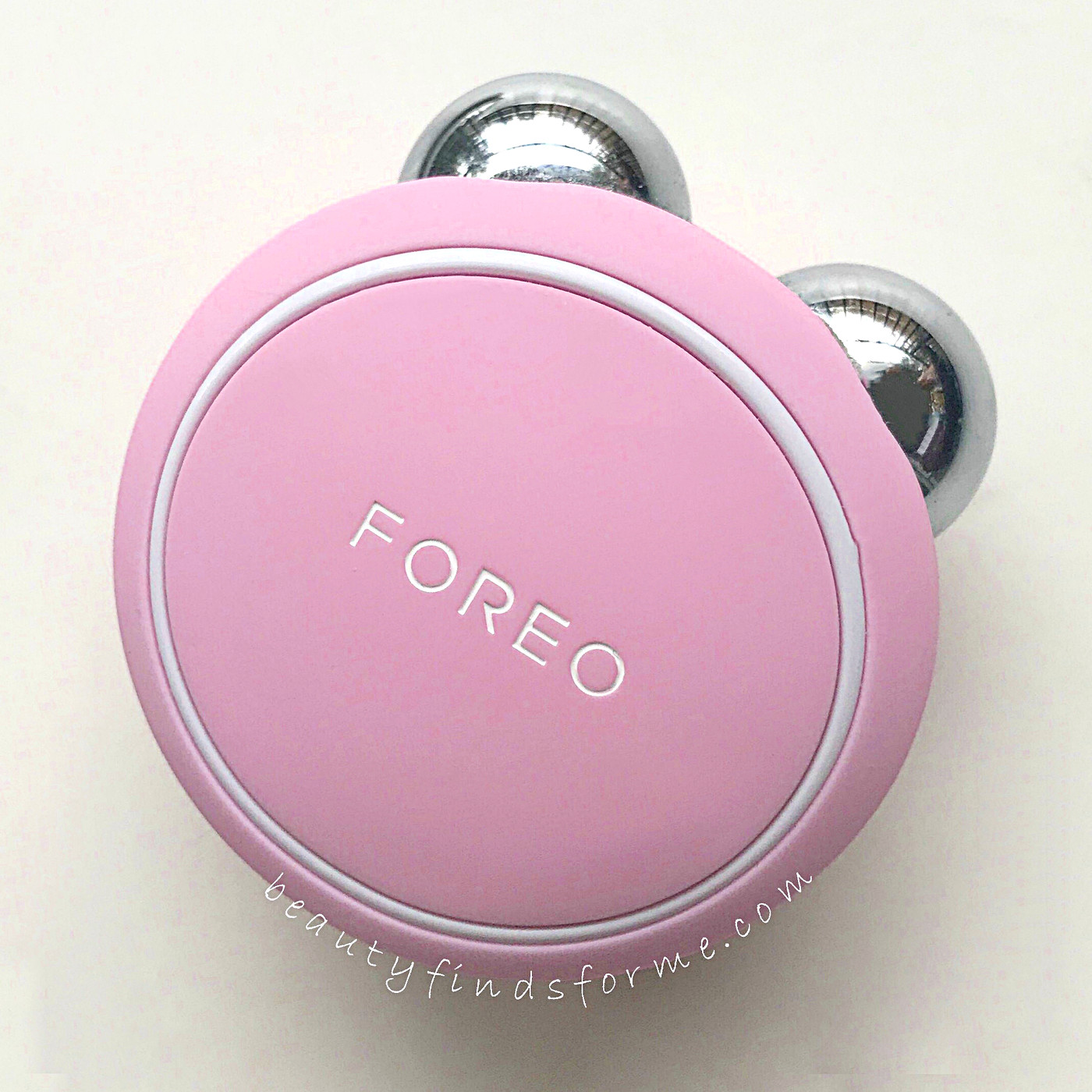 First, you need to charge it up ~ it comes with a USB port cable ~ please use only cables that FOREO provides and sells on their website.  Any of your FOREO cables will work as they are interchangeable.  If you lose your cable, FOREO sells the USB recharger cable for $19.00.   I just plugged mine in and let it recharge overnight.  It seems that it can hold a charge a very long time, as I have been using my Mini for 6 weeks, 3 times a week and I haven't had to recharge it.  According to FOREO, it can be used 90 times on one charge.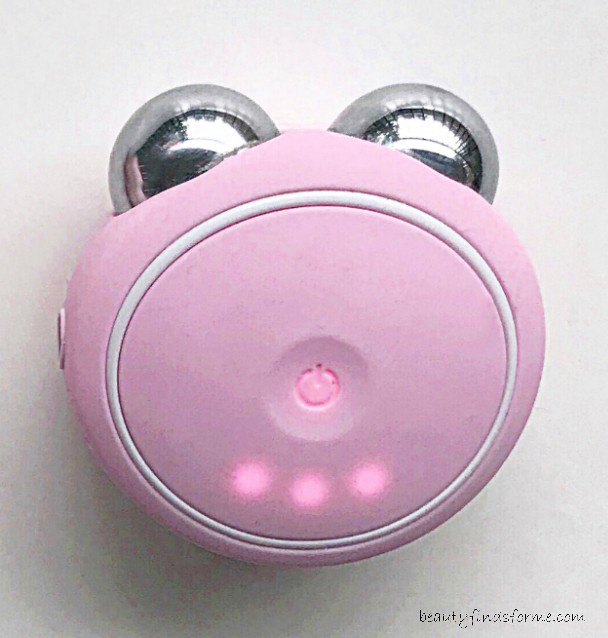 This little flat egg fits nicely in my hand and I picked the pink color ~ it also comes in lavender.  One side has a more convex curve and the other side has an indentation, which is the power on/off button plus the three indicator lights for the T-Sonic Pulsation strength.   One of the issues is that the on/off button is the same button to cycle thru the strengths and sometimes, I will press the button by mistake and the device turns off.  That is a bit of a poor design because the BEAR Mini is so small.  On one side of the Mini, there is a port for charging. 
To start off, I do suggest using the app to help you see how it works. You just download the FOREO app on your smart phone ~ iPhone or Android ~ and then register your BEAR Mini.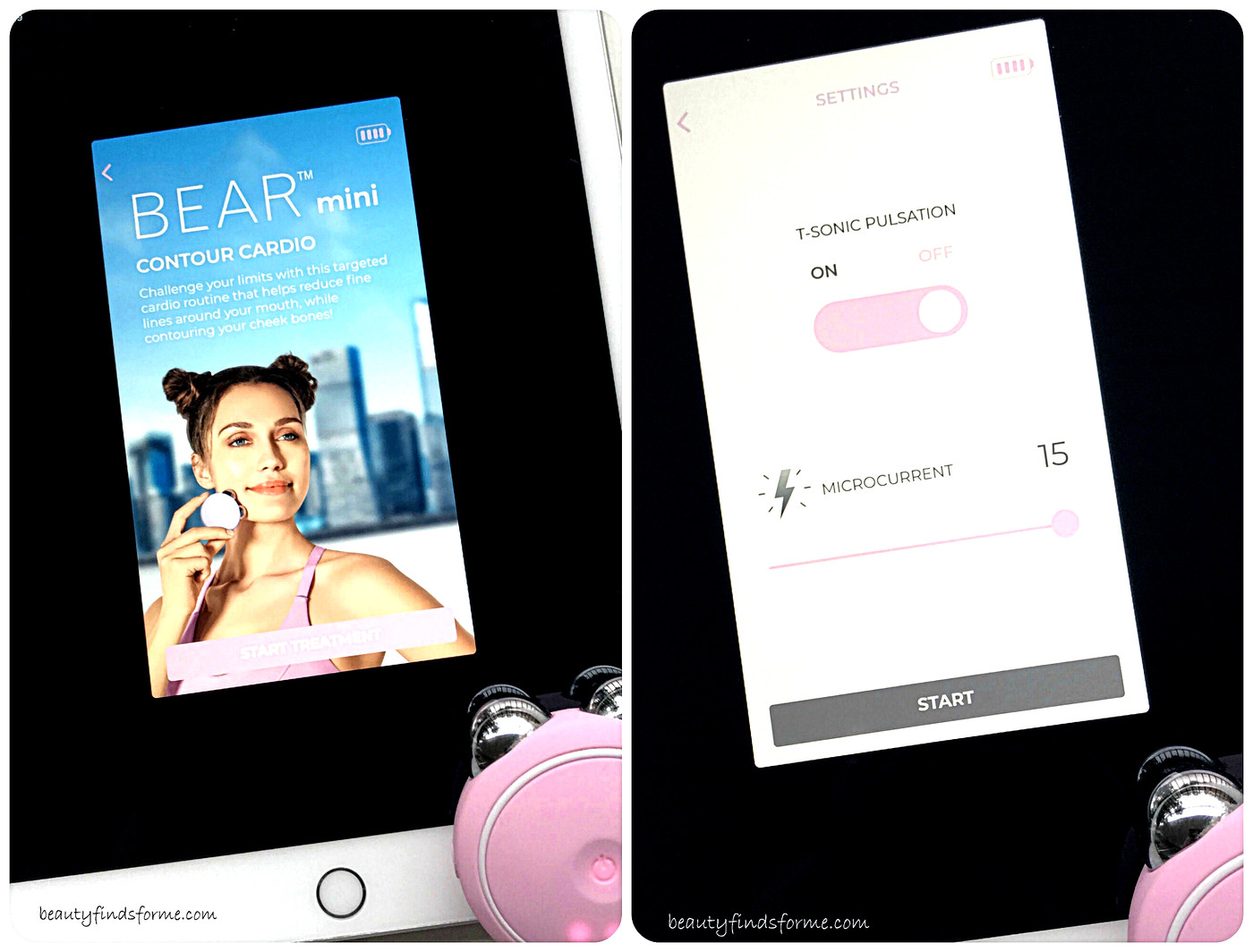 Once you register your BEAR Mini, just select to start the treatment.  It will ask you if you want T-Sonic pulsations and the intensity of the microcurrents.   Let's talk about those two things:  The BEAR devices use T-Sonic Pulsations along with microcurrents to help exercise the muscles in your face and neck.  This will help stimulate and aid in collagen production, elastin repair and will tone your skin as the electrical currents mimic your body's own natural processes.  Using the T-Sonic Pulsations will help increase blood circulation and ease facial tension and stress, so your skin will look smoother and softer, with a glowing radiance.  The three microcurrent intensity levels on the BEAR Mini have an Anti-Shock System that uses ultra smart sensors that scan and measure your skin's resistance to the electrical currents, at a rate of 100 times per second.  The BEAR Mini will then automatically adjust the microcurrent intensity within .002 seconds.  This helps eliminate that zip-zap shock that makes so many of us not WANT to use our microcurrent devices.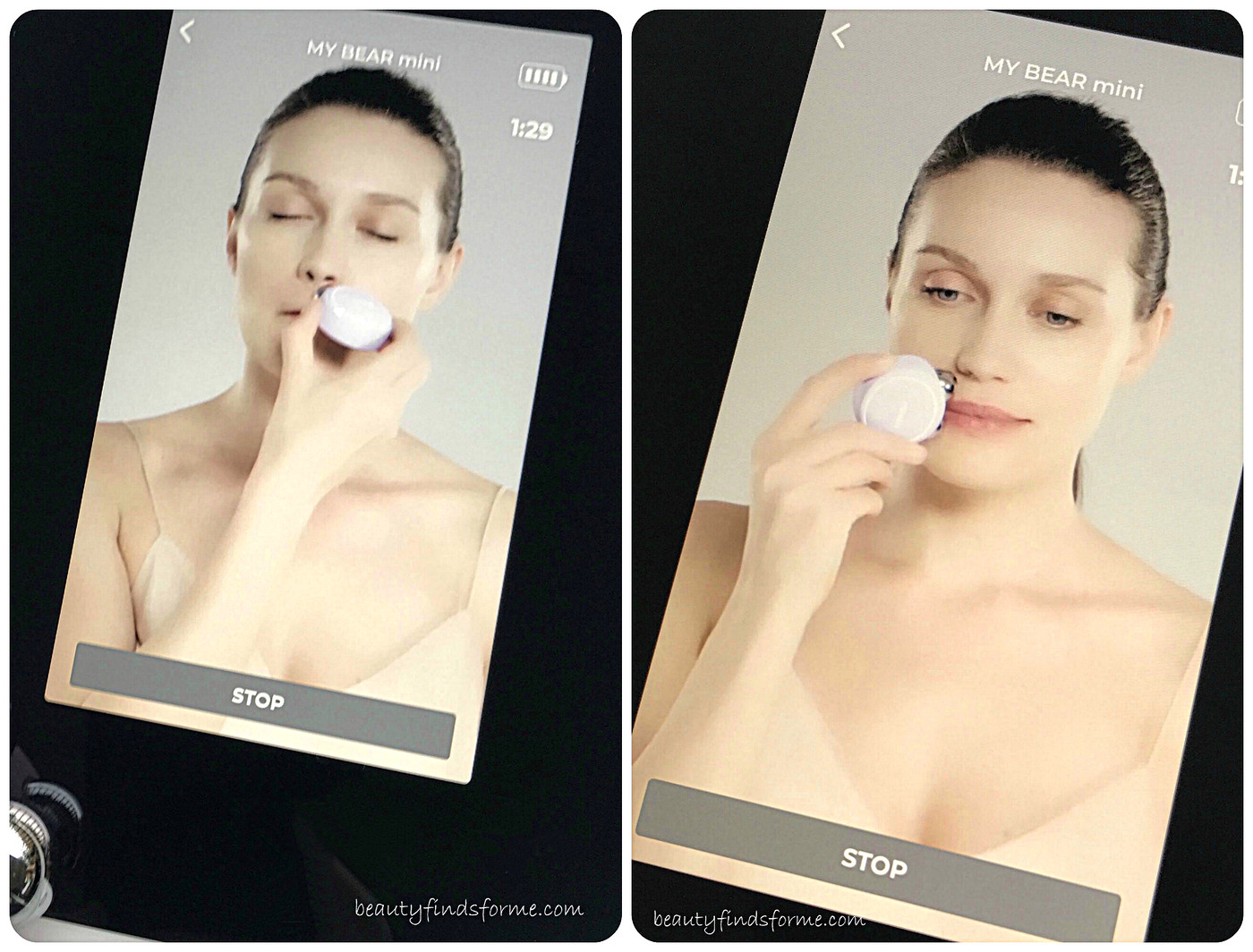 So back to the app ~ after selecting your level, you then begin the treatment.  A pretty lady with poreless skin will walk you thru the steps, which the first is apply the FOREO Serum Serum Serum,  a micro-capsule conducting product.  You can use any conducting gel or serum. 
image from foreo
You will then go through a 2 minute treatment, focusing around your mouth and chin and then from the sides of your mouth upwards towards your eyes ~ you don't want to rush through the steps but take your time to slowly move the BEAR Mini across your skin.  That is it.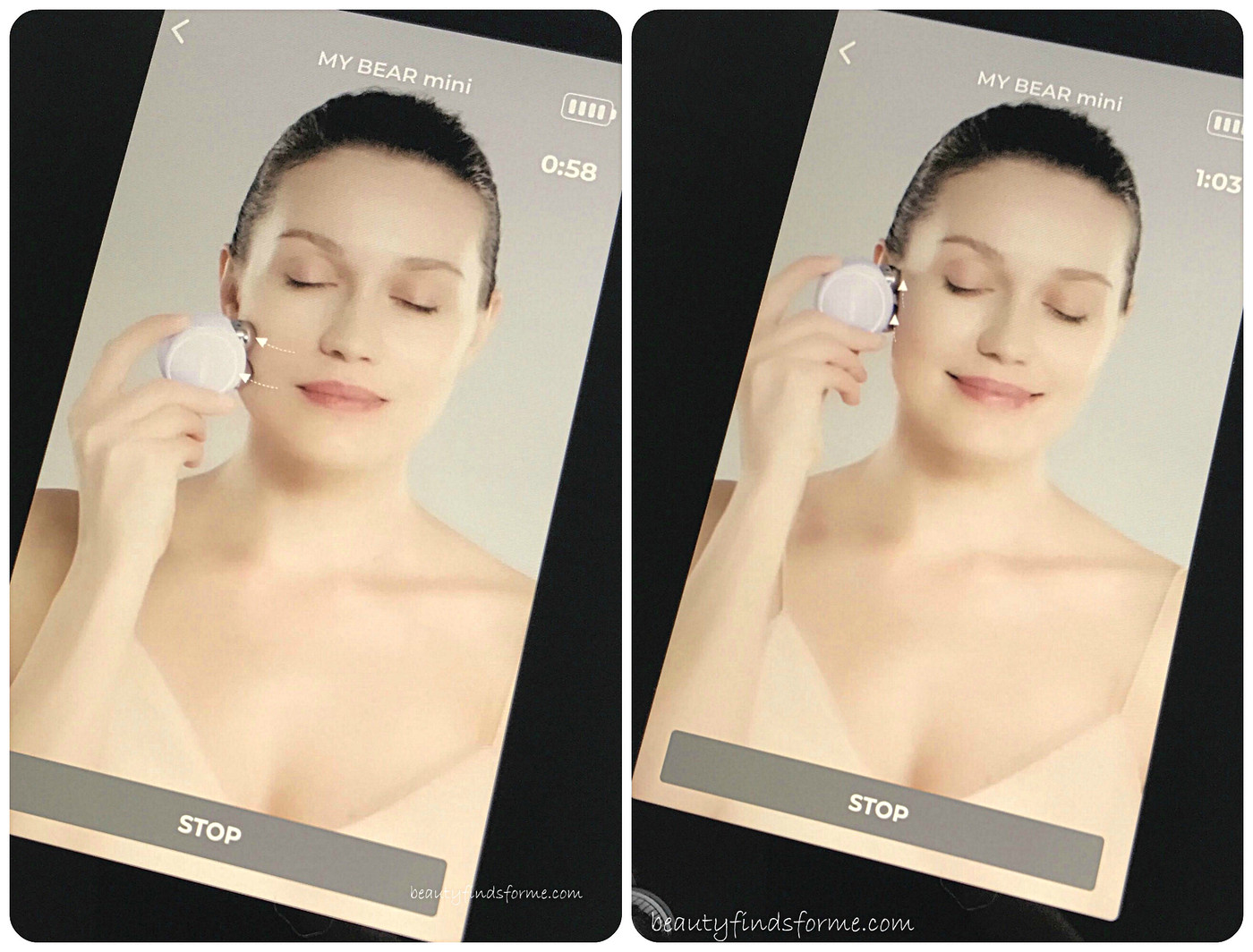 I was a bit disappointed as I thought there would be more treatment plans with the BEAR Mini, but this is the only one so far that they have released.   I hope that they will add more treatments to follow along ~ as once I did this a few times, I was bored and I now do the treatment without the app and even go over my forehead, around my eyes ~ but not too close to the eyes ~ and my neck.   I know the BEAR Mini is marketed as a targeted  treatment device, due to the size, but I do not see why you cannot use if fully on your face and neck, especially if your face is smaller.
Caring for Your BEAR Mini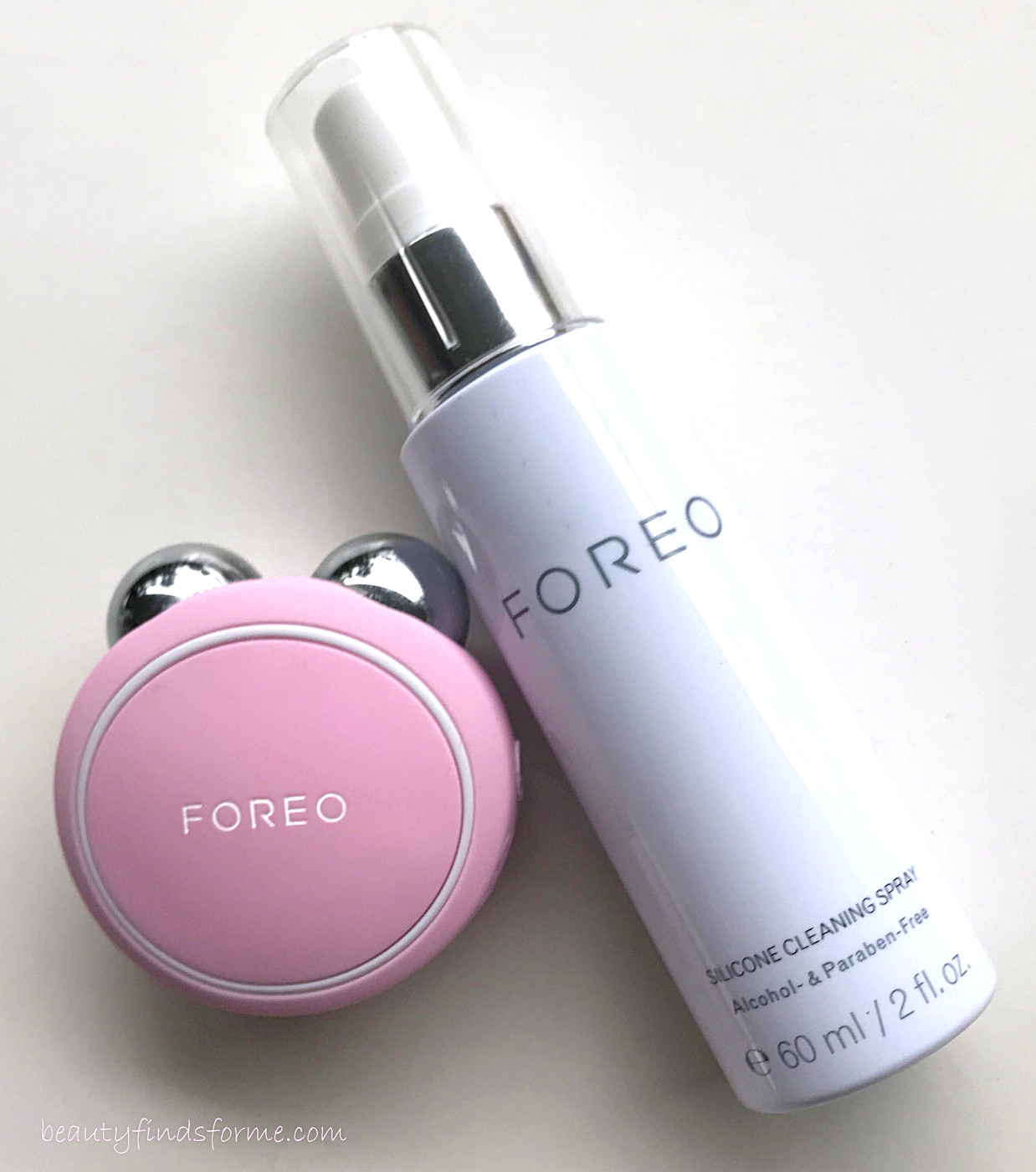 After each use, wash the device with soapy water and rinse with warm water.  Pat dry.  I purchased the FOREO Silicon Cleaning Spray so I use that instead of soapy water ~ I just spray the device and then rinse with warm water.  NEVER EVER use products that have alcohol, acetone or petrol (yep gas) as it will damage the silicone and also irritate your  skin.
Water-Based Conductive Serum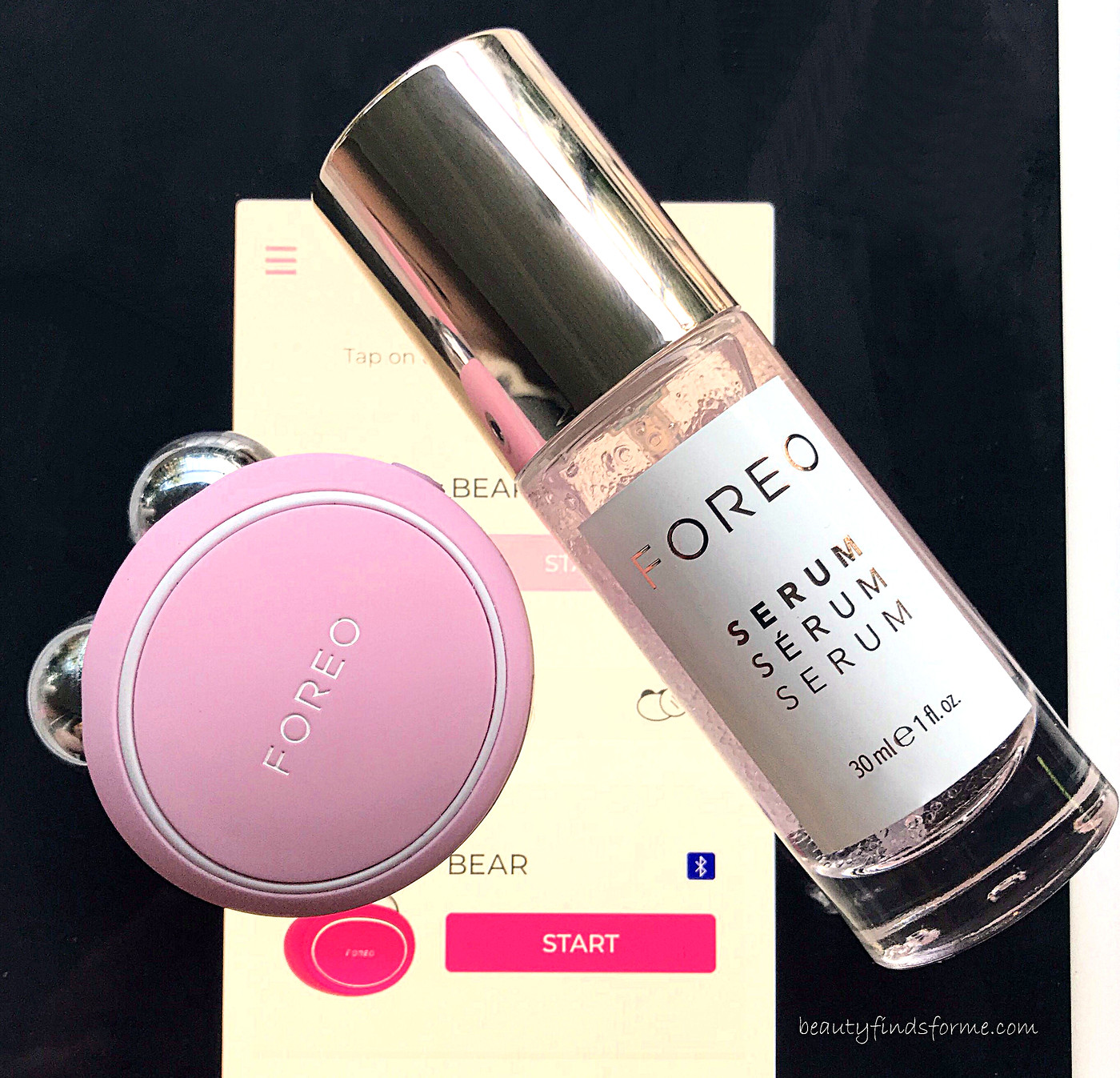 The Serum Serum Serum that I received with my BEAR Mini is a hydrating micro-capsule gel product that contains squalane and hyaluronic acid, which will safely transfer the microcurrent from BEAR Mini to your skin.  FOREO states that if you use the Serum Serum Serum, make sure to apply a thin layer before using the BEAR Mini and massage in until fully absorbed.  Personally, the more Serum Serum Serum I added, the better.  I needed to really apply it, not so much for any shocks from the microcurrents, but to help the BEAR Mini glide smoother and activate the T-Sonic Pulsations.  Serum Serum Serum is free from fragrances, parabens, alcohol, mineral oils, disodium EDTA, sulfates, silicones and is cruelty free and vegan.   Honestly, this was an okay product, I used it up with my BEAR Mini, but I use other water based serums and conductive gels now
Ingredients: Water, Glycerin, Propanediol, Cyclopentasiloxane, Diglycerin, Xylitol, Pentylene Glycol, Butylene Glycol, PEG/PPG-17/6 Copolymer, Glyceryl Polymethacrylate, Glycereth-26, PEG/PPG-14/7 Dimethyl Ether, Squalane, Hyaluronic Acid, Sodium Hyaluronate, Sodium Hyaluronate Crosspolymer, Hydrolyzed Hyaluronic Acid, Betaine, Octyldodeceth-16, Glyceryl Glucoside, Propylene Glycol, Caprylyl Glycol, Carbomer, Triethanolamine, Acacia Senegal Gum, Gelatin, Panthenol, Xanthan Gum, Trehalose, Urea, Ethylhexylglycerin, Adenosine, 1,2-Hexanediol, Sodium PCA, Serine, Glucose, Algin, Disodium Phosphate, Glyceryl Polyacrylate, Pullulan, Hydrolyzed Glycosaminoglycans, Potassium Phosphate, Red 4 (CI 14700), Benzyl Glycol, Raspberry Ketone cosDNA
Final Thoughts
I did like the BEAR Mini over my NuFace Mini as it was smaller, more compact and didn't shock the crap out of my face.  The price point for the two are similar, but BEAR Mini is truly a mini microcurrent device with the additional bonus of T-Sonic Pulsations. As far as the BEAR Mini goes, let me break it down here
PROS
Compact

Comfortable in the hand

Easy to Use

No Shocks

T-Sonic Pulsations

Water Proof
CONS
Poor design with the universal button

Manual use has limited access to the microcurrent intensities

App has only one treatment of which 20 seconds is just  the model applying the serum on her face
Now, this is what I do when I want to get more intense microcurrents in the manual mode:  I still  turn on the app and ignore the instructions ~ just using it the way I want to for 2 minutes. I am hoping that FOREO comes out with an improved version that will allow manual use to have access to the all of the microcurrent levels and also redesign the button so it isn't universal.   I am also using the regular size BEAR and that universal button doesn't bother me as that device is larger.   The BEAR Mini is so small that it is easy to turn off the device just by using it ~ it is not like FOREO doesn't change up their products based on customer feedback as the the LUNA Mini went through a face lift the other year and they did get rid of the universal button. 
That said, this is a better alternative to NuFace Mini.  I found that I used this several times a week whereas my NuFace Mini was collecting dust ever since I purchased it the other year.  I really love that it doesn't shock my face and therefore, I am more inclined to use it.  My skin looks more smooth and feels softer ~ but I haven't noticed any firming as of yet.  My next review will be on the regular BEAR and also a comparison between BEAR and BEAR Mini.  I will also be including before and after photos, so you can see any differences. 
Purchasing
This comes with a 2 year warranty, where FOREO will replace the unit free of charge ~ you just need to activate the warranty once you receive it at your FOREO account.
When you purchase from Foreo's site, they also have free shipping with purchases $50.00 and over.  Foreo does ship to many countries worldwide as well!  Foreo takes all different types of payments:  major credit cards: MasterCard, Visa, Discover, American Express, JCB International Asia;  Paypal, Alipay, Amazon Pay and if you live in the USA, you can use flexible payments with Afterpay.   
You can also purchase FOREO at Sephora.  You can also save with Sephora's Holiday Pre-Sale.  Use HOLIDAYFUN promo code
VIB Rouge 20% off 10/30/2020 to 11/9/2020

VIB 15% off 11/3/2020 to 11/9/2020

Insider 10% off  11/5/2020 to 11/9/2020
BEAR Mini

$199.00 USD (with special promo code 20%: 159.20  15%: 169.15  10%:  $179.10 ) comes in 2 different colors: pearl pink, lavender  

Serum Serum Serum  1 oz $59.00 USD
My unboxing of all of the FOREO products sent to me for review purposes!
[ product received in exchange for an honest review ]