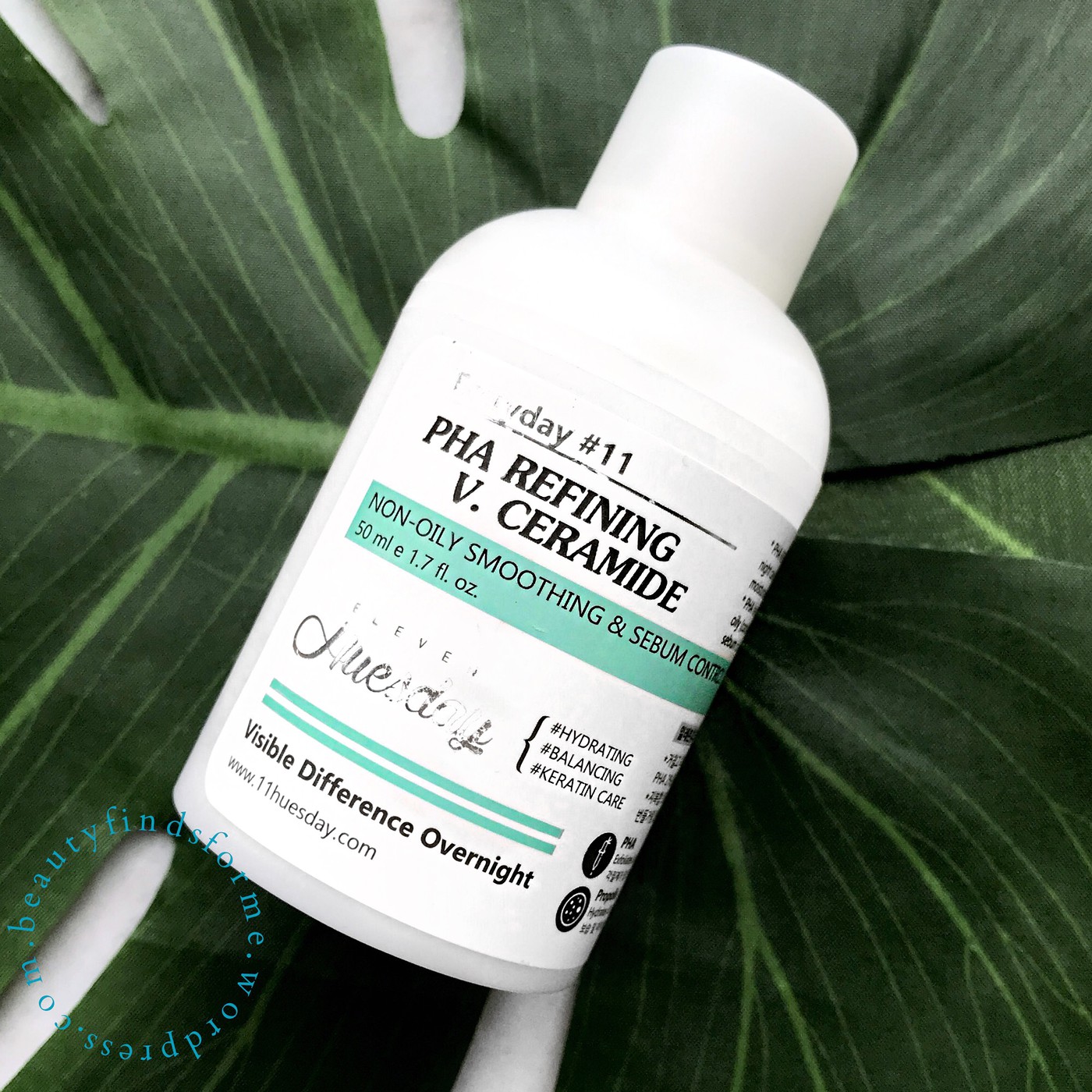 I have tried 11 Huesday products in the past (see reviews here) and I was thrilled when the brand reached out to me to try their latest product ~ one that is for oily skin!  Established back in 2014 as TMC Korea, 11 Huesday creates home care products that are professional quality that will respond to specific skin issues, while sticking to the basics. They have a range of products that will help treat skin that is exposed to harmful external environment pollution and stress. 11 Huesday uses ingredients suitable for your skin ~ from natural herbal medicine  patented ingredients to the latest proven skincare ingredient.

Some products were complementary to review and was not paid.  All reviews are my own honest opinion and  I never have been asked to write copy for a brand.  This blog post might contain promo codes, affiliate and referral links, which using my links will help generate a small commission that helps support my blog at no extra cost to you. 
Skin Type/Concerns: Oily, aging, hyper pigmentation, fine lines/wrinkles, pores, blemish prone
image source
This is a night cream that contains 2% of gluconolactone, which is a PHA ~ Poly Hydroxy Acids. PHA is a third generation peeling/exfoliating ingredient, like AHA and BHA, but it is less irritating.  It is just as effective as an AHA, but it is gentle and mild, as the molecules in PHA are larger and do not penetrate deeply into the skin.   PHA's take longer to show results, but if you use a product for about a month or so, you should see some skin tone and texture improvement.   PHA's also have hydrating and moisturizing benefits that can help strengthen your skin barrier function and they contain anti-oxidant properties, making it a good choice for anti-aging skincare products.  PHA's also can be used with other products such as retinol and skin lightening hydroquinone.  PHA products can be used on all skin tones as well and help reduce photo-aging.  (source) 

The PHA ingredient and 8th in the list of ingredients, 2% of gluconolactone.  Gluconolactone is derived from glucuronic acid, which is a sugar acid and it is suitable for sensitive or mature skin.   It functions like an AHA and will help improve your skin's texture by aiding in cellular turnover, unclogging pores and removing dead skin cells.  Recent studies show it might be effective in treating blemishes, due to some anti-bacterial properties.  PHA will help refine and smooth your skin, while providing antiaging and anti-inflammatory benefits ~ again, similar  to AHA, but PHA can used by people with rosacea and atopic dermatitis. (source)   PHA's also hydrate your skin, as they are a humectant ~ but because they are a humectant, you need to make sure that you apply an emollient or occlusive product over it.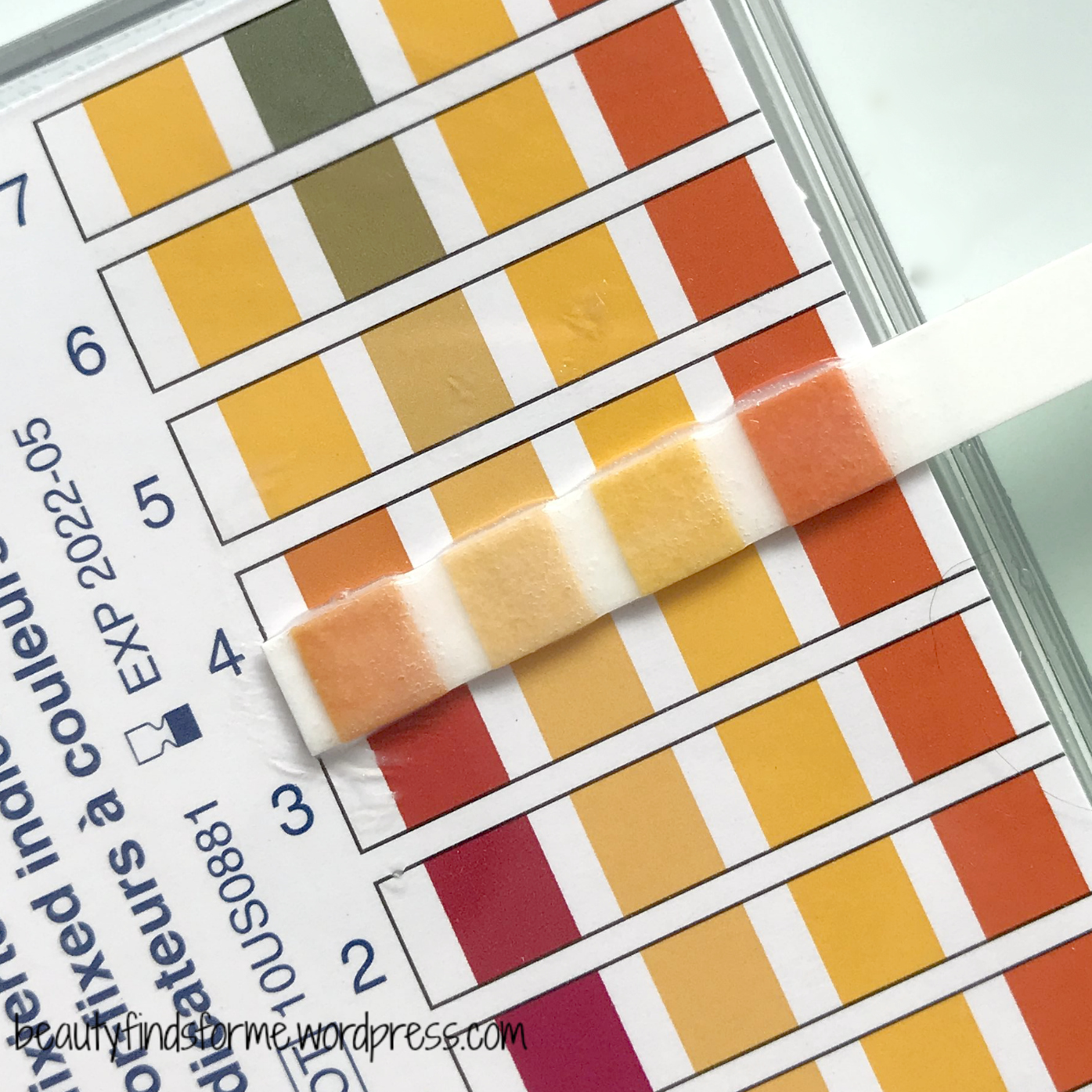 I did a pH test, as this is an acid.  This is a 2% solution with a pH level of a 4, so yeah, this is more about hydration and smooth skin than heavy duty exfoliation.  Looking at the PHA vs AHA Clinical Study below (source),  a night cream should be around 10% and a day time cream is around a 4%.  However, this product does a nice job without a high percentage.   
This also contains some moisturizing ingredients ~ 0.1% natural ceramides made from fermented yeast.  Ceramides are lipids (fats) which are important in helping to repair and protect your moisture barrier. They will  keep your skin hydrated and plump as they retain water. Ceramides are found naturally in your body and you lose the ability to produce as you age, so adding them to skincare products helps with anti-aging.  Squalane has the ability to penetrate the skin quickly and completely, which makes it valuable in skincare products, as it is a powerful antioxidant, UV damage preventative, prevents hyper-pigmentation due to age, promotes cell growth. Niacinamide (vitamin B3) is a powerful antioxidant that acts as an anti-inflammatory, improves your skin elasticity, enhance the skin barrier function and also it helps to even out skin tone and reduce post-inflammatory hyper-pigmentation.
Adenosine is a yeast derived, amino acid and it became popular after it was found to help improve the reduction of wrinkles, smoothing your skin and anti-inflammatory. Adenosine is safe to use day and night, unlike vitamin C and retinol. Allantoin moisturizes, exfoliates and softens skin, making it look smooth and refined, while reducing and relieving irritation.  Propolis is a natural antibiotic that is produced by honey bees. This ingredient is wonderful for those with blemish prone skin or have other skin issues, as it really helps heal and soothe your skin.

A patented formula (KR, 10-0780180) called Yuk-mi Ji-hwang (source), that contains six hanbang ingredients.  This formula was based on The Dongui Bogam (동의보감), a Korean book by Heo Jun (1539-1615) who was a Royal Physician in the Joseon period.  The six botanical ingredients are rehmannia glutinosa (Chinese foxglove/sheng di huang/地黄), cornus officinalis (shān zhū yú/山茱萸), dioscorea japonica (Japanese yam), alisma orientale, poria cocos sclerotium (wolfiporia/fu ling/茯苓) and peony root extracts ~ this combination kind of made me nervous at first as it prevents hair loss and promotes hair growth!  However, it is also known for its anti-inflammatory and antibacterial benefits and I have been using this night care cream for a while now and my face isn't hairy.   This has a slew of other botanical ingredients as well, including centella asiatica, a common herbal ingredient that is used medicinally to help speed up wound healing, such as blemishes and skin rashes. It also helps minimize the appearance of pores, and since it stimulates collagen production, it will make your skin more supple and firm. 
image source
Ingredients: Water, Butylene Glycol, Propanediol, Glycerin, Cetearyl Ethylhexanoate, Methylpropanediol, Cetyl Alcohol, Gluconolactone (2%), Niacinamide, Caprylyl Methicone, Glyceryl Stearate, Beeswax, PEG-100 Stearate, Sucrose Stearate, Cetearyl Glucoside, Ceramide NP(0.1%), Squalane, Centella Asiatica Leaf Extract, Arctium Lappa Root Extract, Licorice Root Extract, Citrus Unshiu Fruit Extract, Portulaca Oleracea Extract, Polygonum Multiflorum Root Extract, Angelica Gigas Root Extract, Asarum Sieboldii Root Extract, Sophora Angustifolia Root Extract, Thuja Orientalis Leaf Extract, Lycium Chinense Fruit Extract, Ginkgo Biloba Leaf Extract, Carthamus Tinctorius (Safflower) Flower Extract, Anemarrhena Asphodeloides Root Extract, Arctium Lappa Seed Extract, Lonicera Japonica (Honeysuckle) Flower Extract, Forsythia Suspensa Fruit Extract, Nelumbo Nucifera Seed Extract, Platycodon Grandiflorus Root Extract, Propolis Extract, Centella Asiatica Extract, Rehmannia Glutinosa Root Extract, Cornus Officinalis Fruit Extract, Dioscorea Japonica Root Extract, Alisma Orientale Tuber Extract, Poria Cocos Sclerotium Extract, Paeonia Suffruticosa Root Extract, Saposhnikovia Divaricata Root Extract, Angelica Dahurica Root Extract, Borago Officinalis Extract, Brassica Oleracea Italica (Broccoli) Extract, Althaea Officinalis Leaf/Root Extract, Aloe Barbadensis Leaf Extract, Adenosine, Allantoin, Xanthan Gum, PEG/PPG-17/6 Copolymer, Polysorbate 60, Arginine, Carbomer, 1,2-Hexanediol, Illicium Verum (Anise) Fruit Extract, Scutellaria Baicalensis Root Extract, Hydroxyethyl Acrylate/Sodium Acryloyldimethyl Taurate Copolymer  cosDNA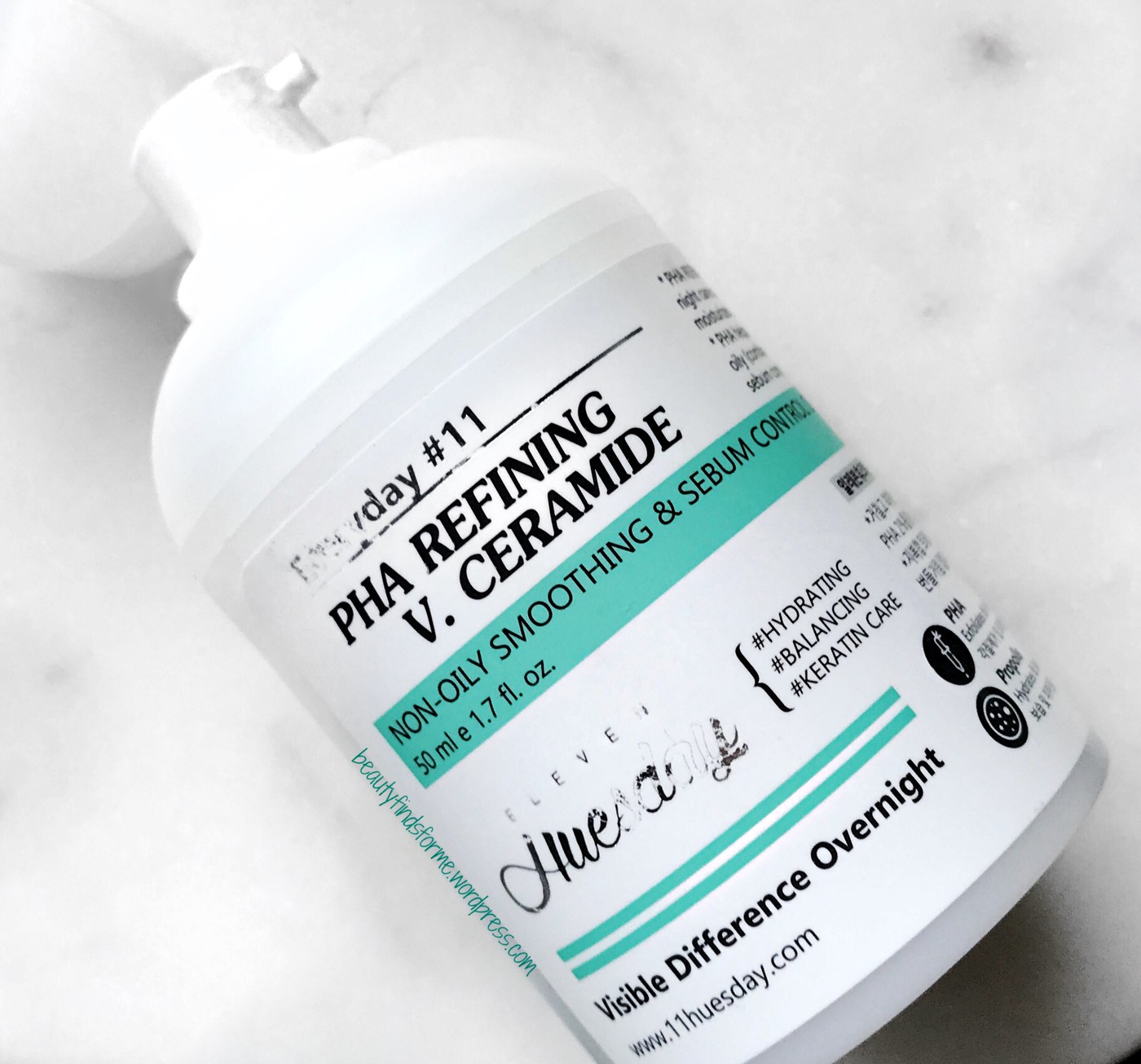 This night care cream will help keep oily skin moisturized without a greasy or tacky feeling and the low percentage will help with balancing the moisture-oil levels in your skin, while providing sebum control and a VERY light exfoliation.  The pH level is fine, but the percentage of PHA is too low to be a scaling peeling cream ~ but it will help whisk out gunk from your pores and not dry out your skin.   PHA's normally are quite drying on even the most oiliest of skin types, but because this has a lower percentage, I did not experience that at all. 
This PHA v Ceramide cream comes in two sizes ~ a 50 mL version, which I have ~  and a 120 mL version, which I will purchase next ~ haha.  The 50 mL comes in a rounded squat plastic bottle with a pump applicator and cap.   The 120 mL comes in a taller plastic tube bottle and I assume the same pump applicator.  This is a light weight cream, not very heavy at all and has a slight medical scent.  It absorbs quickly into my skin,  with no tacky residue or greasy feeling. 

After it absorbed, it did increase my moisture levels by 27.5% and decreased my oil levels by 38%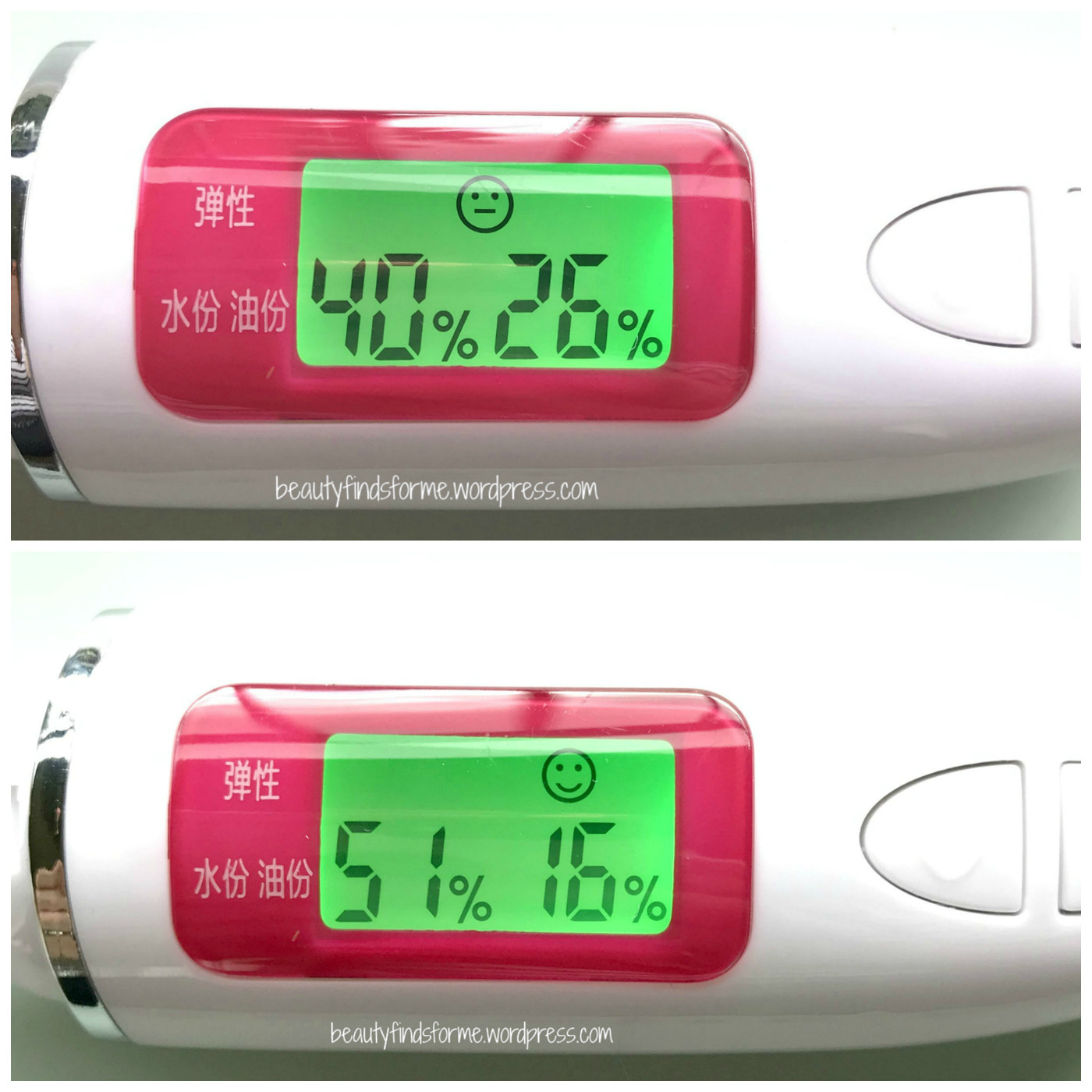 The proof, though, is in the morning.  I am so pleased with this cream ~ my skin was not dry nor overly greasy in the morning.  My pores didn't look HUGE, which normally happens overnight and my skin felt soft and smooth.  It helped calm my skin down and I do believe this helped control my oil, which controlled my blemishes and also helped reduce redness and swelling from existing blemishes ~ not that I had many this past summer!  I used a lot of good products to control my zit production and this is one of them!  I felt this helped control any blackheads and unclogged pores as well.  This is a very gentle acid cream, so I also didn't fear using other acid treatments with this one.    
Final Thoughts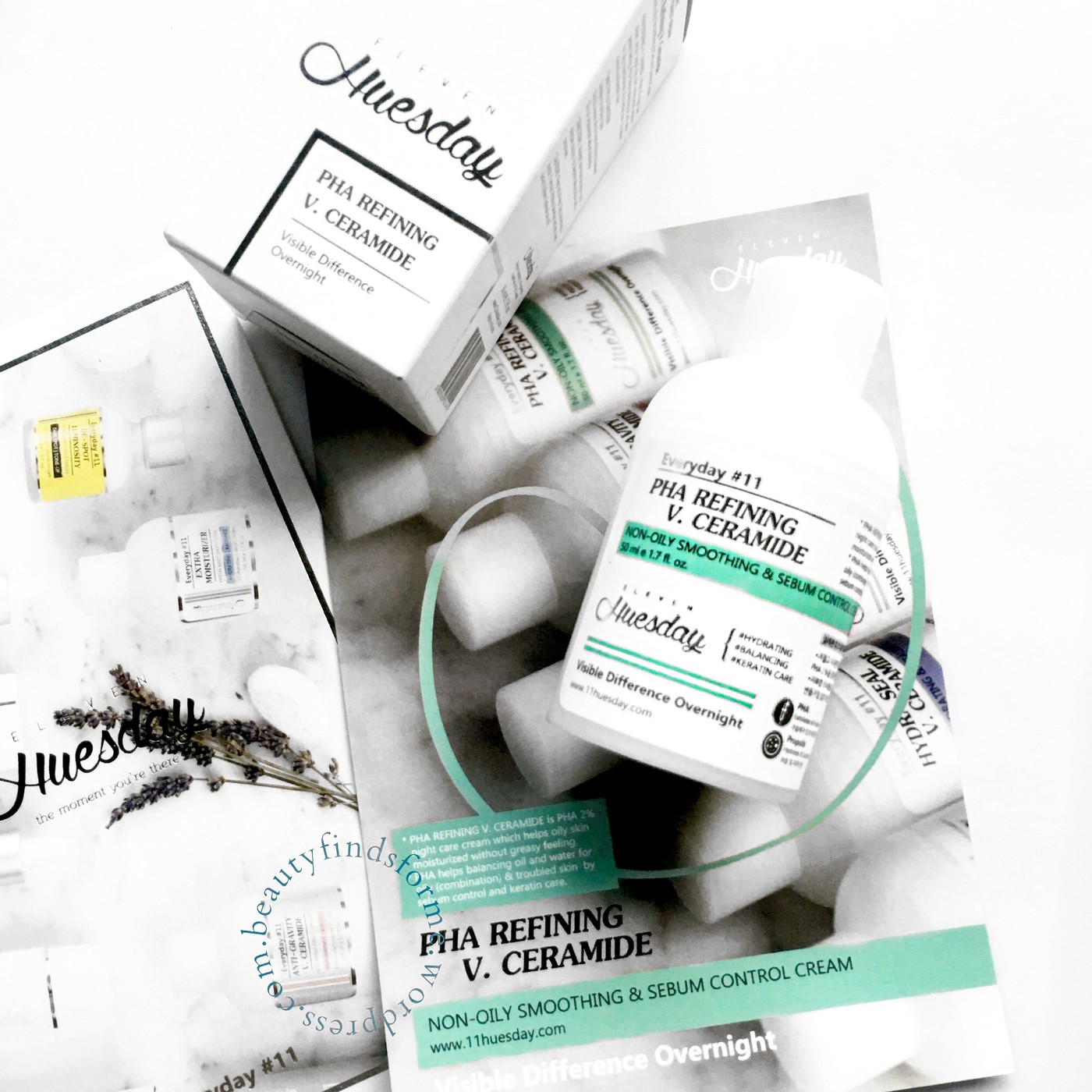 I LOVE this night cream!  It is the first PHA night product that I have used that doesn't dry out my skin or leave it oily ~ it helps keep my skin in balance overnight and my skin's texture is soft and smooth, with a decrease in oil and kept my blemishes at bay.  I do recommend this one 100% if you have oily or oily/combo skin.  It took a while for me to fall in love with it, but when I didn't use it, I noticed the difference in my skin.  I do not use it as a night pack, but more of an acid cream that goes on my skin after my watery layers and then I can put on a sleep pack.   If you have tried this, what did you think of it?  I really enjoyed using this over the summer months and you can see I did wear out some of  the printing on the label as I did use it regularly 😀
Where to Purchase
YesStyle
YesStyle is an authorized retailer of 11 Huesday and they carry the full line of 11 Huesday (click here)  They ship globally and offer discounts based on how much you purchase from them.  Free shipping to the USA for orders $35.00 and over.  YesStyle has customer levels, based on your purchasing habits, so you can get these at lower prices.  For example, I am a Silver Member and the prices are $21.73 and $30.76 for the 50 mL and 120 mL, respectively. 
Amazon USA
They do not have as full of a selection (click here) as YesStyle, but they do have much lower prices and with free USA Prime Shipping
50 ml    

$35.00 (C

urrently, Amazon USA will apply a 5% discount at checkout for this product ~ this is a limited offer)
Skin Moisture/Oil Devices
I use several now that the Susee Nano Spray Device is discontinued and the app is no longer available for use.  I purchase mine off Amazon USA, but you can find similar ones at eBay as well. 
[ disclaimer: products received for review purposes. contains affiliate links. all opinions are my own & unbiased.  ]