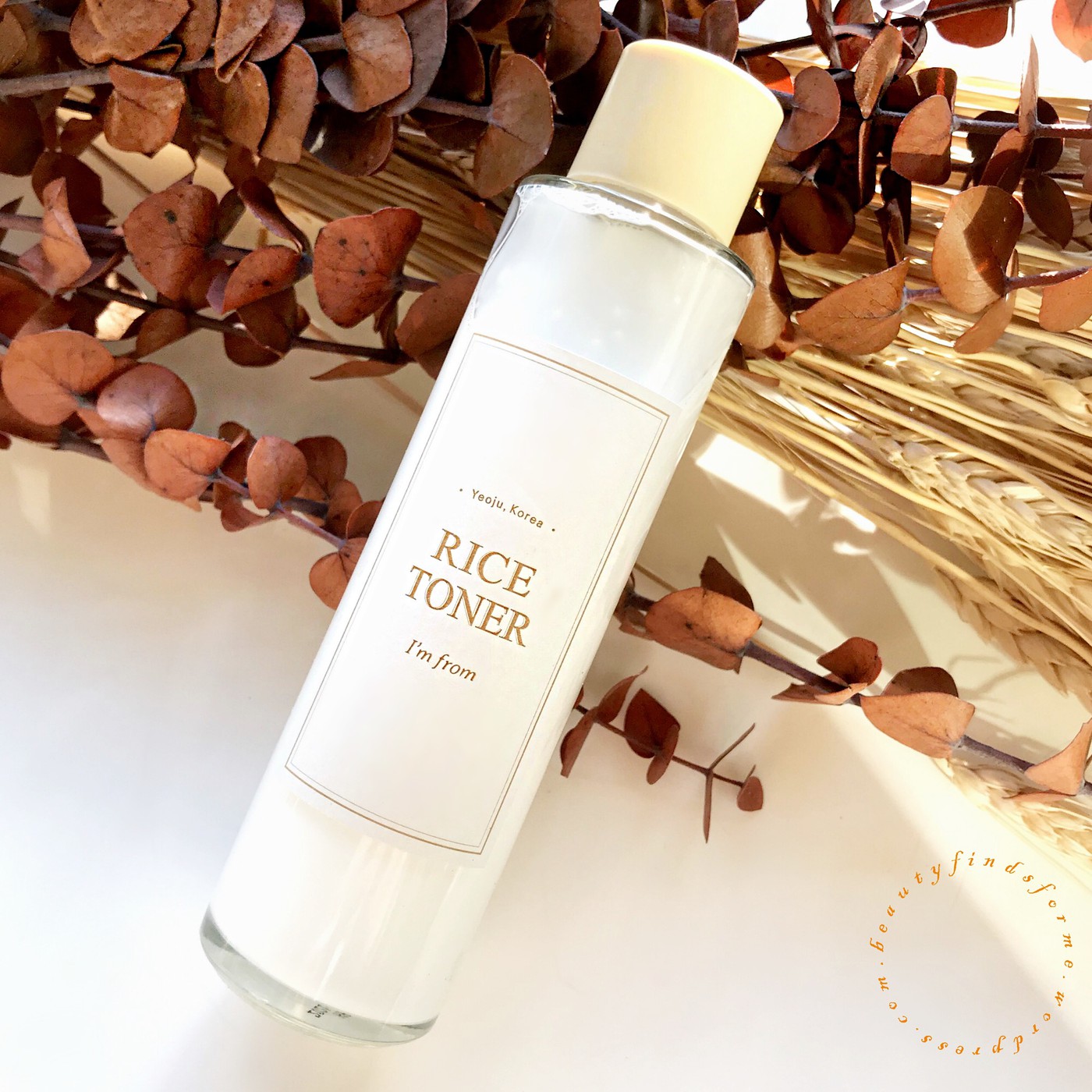 Once again, I am thrilled to bring you another review from I'm From ~ I love I'm From products for the most part and they have been on a roll this year with new releases ~ the lovely Mugwort series, Rice Wash Off Mask Pack and now, the matching Rice Toner.  Wishtrend graciously sent me this product for review purposes!

I received these products complementary to review and was not paid.  All reviews are my own honest opinion and  I never have been asked to write copy for a brand.  This blog post might contain promo codes, affiliate and referral links, which using my links will help generate a small commission that helps support my blog at no extra cost to you.
Skin Type/Concerns: Oily, blemish prone, aging, hyper-pigmentation, fine lines/wrinkles, pores
I do stalk I'm From's Instagram feed and when I saw this, I was excited!  Rice is a fantastic skincare ingredient, known for brightening and refining your skin texture.  I'm From uses organically grown, pesticide-free rice from Gyeonggi province Yeoju Deokpyeong village Yeoju and this mask contains 77.78% rice water. 
Yeoju rice contains 3 times more dietary fiber than regular rice and contains an abundance of essential amino acids such as lysine and other active ingredients. We've directly formulated Yeoju rice to remove dead skin cells and wastes to create smooth, moisturized skin. It also contains gamma oryzanol, which is excellent for brightening and improving the complexion. Known as the area of constant harvest, even droughts and floods have no influence on Yeoju. The area is characteristic of drastic temperature changes between the daytime and nighttime, resulting in the production of top quality rice with a higher glucose and starch content.
This has two different types of oryza sativa (rice) ingredients ~  Rice water is full of amino acids, vitamins, minerals and other nourishing compounds to help clear your skin, improve the appearance of pores, stimulates cellular renewal, treat acne ~ and if that wasn't enough ~ has skin brightening and firming benefits.  Rice contains γ-oryzanol, which is a potent antioxidant that can slow the production of hyper-pigmentation and prevent freckles and age spots.  Rice contains amylase, an enzyme that initiates the breakdown of glucose bonds, which is that "glue" that binds dead cells with living cells. This will whisk away dead skin cells, leaving your skin feeling smooth and looking brighter.  It is full of antioxidant vitamins B1, C, E, minerals and ferulic acid.  There is also 0.1% rice bran in here ~ which is a little different than rice water and it is also known as rice bran oil.  It is extracted from the inner husk and germ of rice and it has high percentages of vitamin E, B and fatty acids, which will penetrate deep in your skin to moisturize. It is lightweight and due to its quick and easy penetration into your skin, it is good for oily skin too.  Rice bran is an anti-aging, hydrating ingredient that helps soften fine lines and wrinkles.

I'm From users Yeoju rice, as it has a higher content of dietary fibers, which contain amino acids, such as lysine, helping build collagen.  Just to clarify, this is not fermented rice, but rice water ~ I had seen some blogs and comments on Instagram about fermented rice, but that isn't the case.  Rice water is a traditional beauty skincare ingredient in Korean, Japanese and Chinese cultures, as it does help soften and brighten the skin. 
This also has hydrating niacinamide (vitamin B3) which is a powerful antioxidant that acts as an anti-inflammatory, improves your skin elasticity, enhance the skin barrier function and also it helps to even out skin tone and reduce post-inflammatory hyper-pigmentation.  Adenosine is yeast derived and has anti-aging, anti-wrinkle, skin restorative and anti-inflammatory properties.  Japanese elm bark is an anti-inflammatory and has skin soothing benefits, while Japanese elm root bark has been used as a medicinal herb in Korea for anti-inflammatory benefits and to help skin issues.  Amaranth seed extract is known as the "Treasure of Inca" and naturally contains squalane to deeply hydrate and moisturize your skin.  Amaranth also has anti-oxidant properties and will increase cell activity, so it will help regenerate and protect your skin.  Portulaca oleracea prevents dryness of skin and soothes skin with its excellent moisturizing ability.  
You can see that the I'm From Rice Toner contains brightening and antioxidant ingredients ~ I'm From also minimizes raw material processing with their organically grown rice. 
Ingredients: Oryza Sativa (Rice) Extract (77.78%), Methylpropanediol, Triethylhexanoin, Hydrogenated Poly (C6-14 Olefin), Niacinamide, Pentylene Glycol, Portulaca Oleracea (Common Purslane) Extract, Oryza Sativa (Rice) Bran Extract (0.1%), Ulmus Davidiana (Japanese Elm Bark) Root Extract,  Amaranthus Caudatus (Amaranth) Seed Extract, Hydrogenated Lecithin, Distilled Water, Polyglyceryl-10-Myristate, Butylene Glycol, Adenosine, Cellulose Gum, Ethylhexylglycerin, 1,2-Hexanediol cosDNA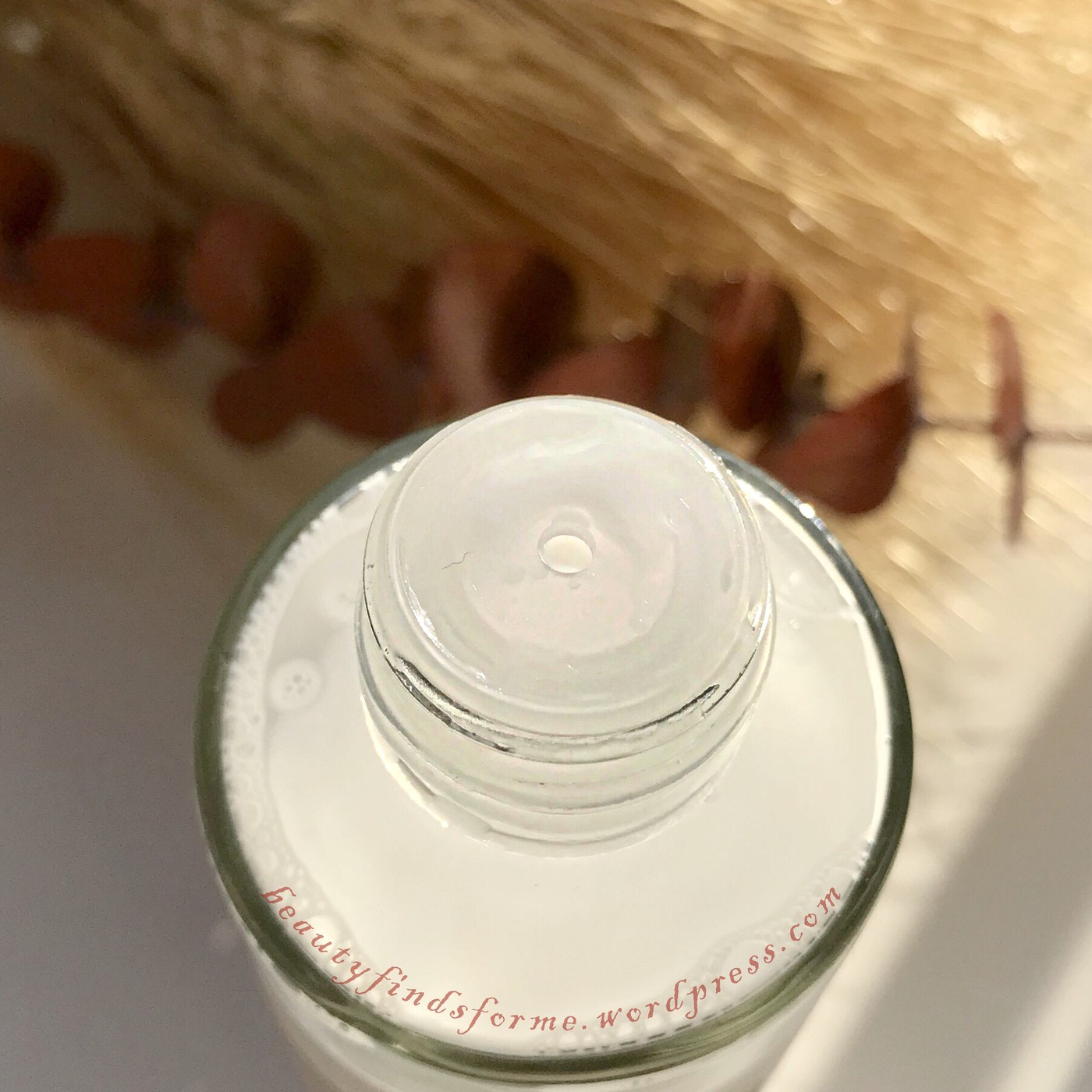 This comes in a tall 150 mL clear glass bottle with a pin hole applicator.  The directions state to shake it well before applying as there is a slight separation with the emulsions in here.  The toner is a milky white and is VERY WATERY, with no scent.   You can either use a cotton pad or pat on the toner on your skin with your hands.  I like to do the latter with this toner.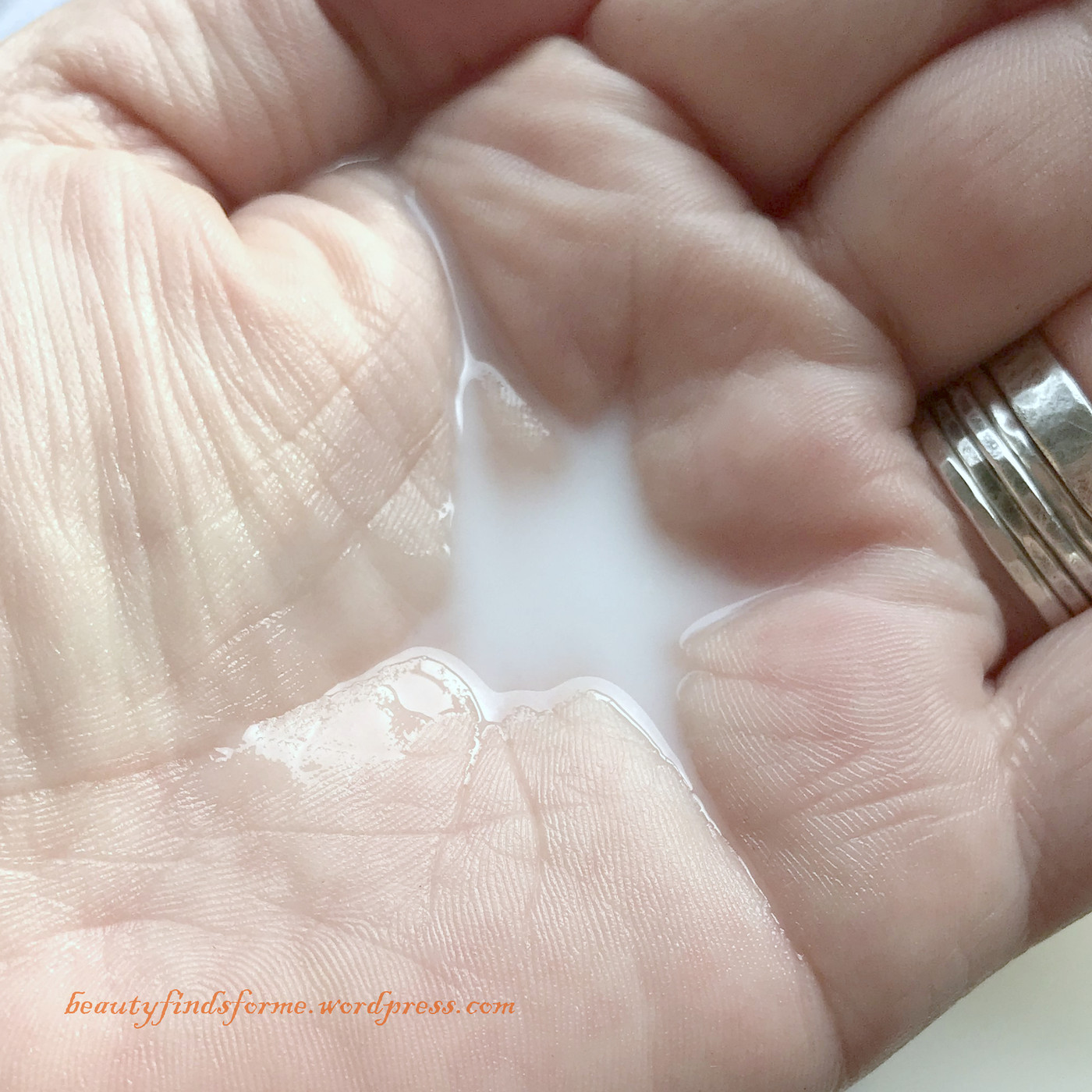 This does have a mildly acidic pH level of 6 to 6.5 and it is really mild and gentle on my skin, with no stinging.  It does not leave a sticky or tacky residue, dries down quickly and it is perfect for layering, as it absorbs fairly quickly.  For a watery product, however, it is VERY moisturizing and hydrating ~ but it doesn't leave my skin oily looking.  I think this has a natural oil absorbing effect, however as I mentioned, it is moisturizing ~ it increased my moisture levels by 47% and decreased my oil levels by 34%
Before:  Moisture: 32  Oil:  47
After:    Moisture:  47  Oil:  31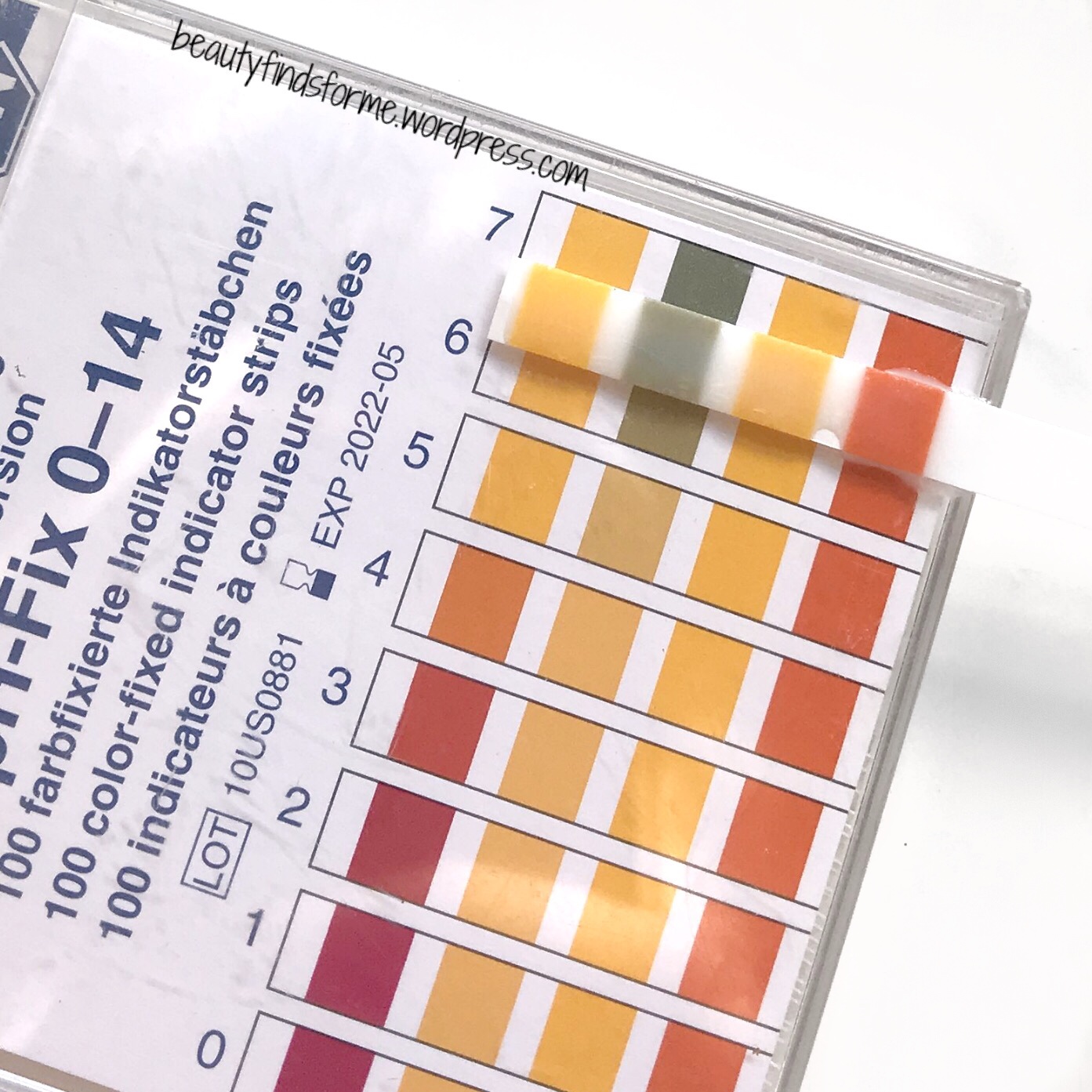 This is not drying at all and my skin feels supple and smooth.  It is very refreshing on my skin, it helps with soothing care and my skin feels smoother.  After using this for a month, I can say that this does bring a glow to my skin, while improving my skin texture.  The moisturizing effect is also a beneficial in the colder weather months and this toner reminds me of Secret Key's Milk Toner in a way ~ very milky, very moisturizing while providing brightening and skin smoothing care.  Along with the lovely Mugwort Essence, these two bottles of watery products have found a permanent home in my skincare routine.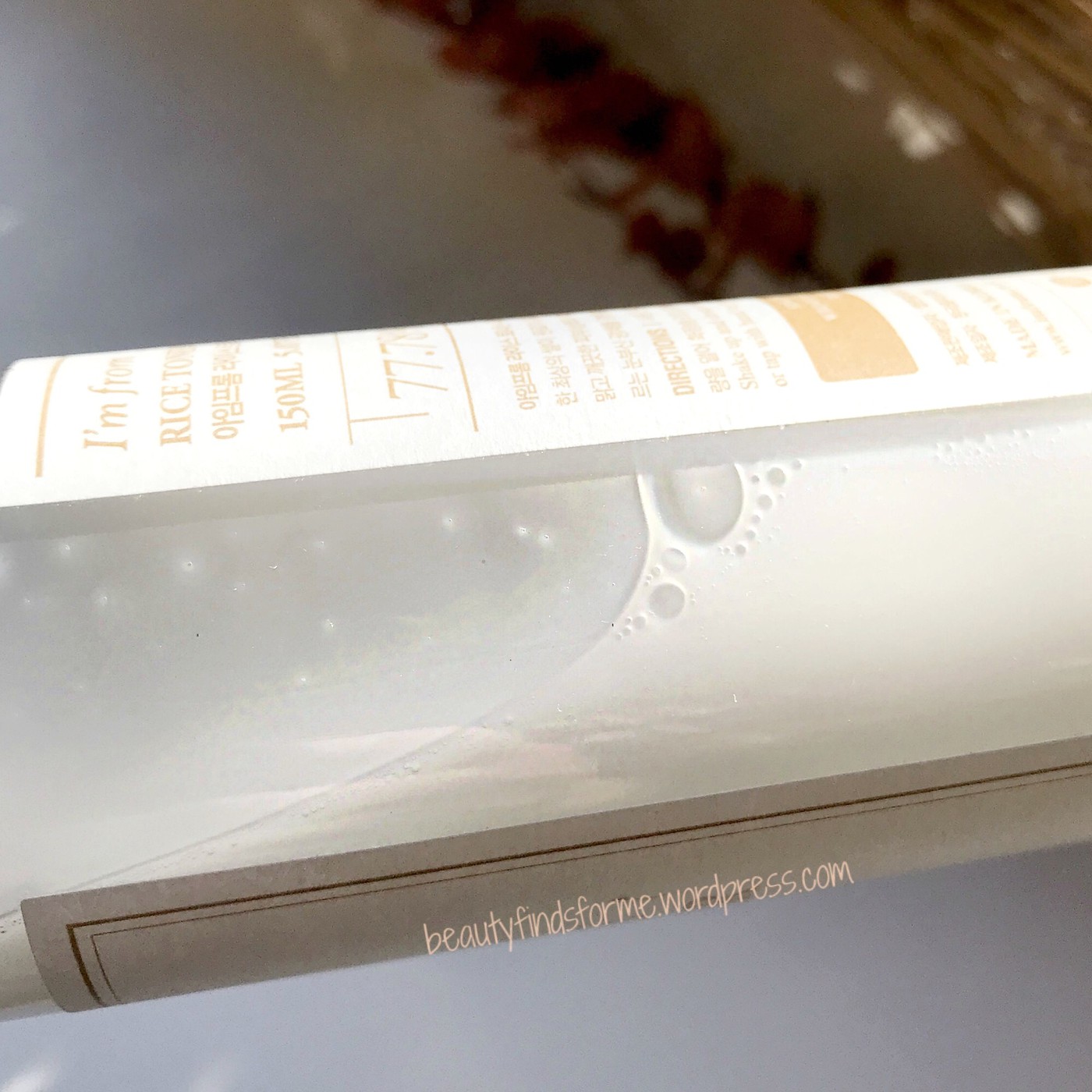 You can purchase I'm From Rice Toner (click here) at Wishtrend ~ they are currently sold out, however, due to the MASSIVE Black Friday sales, but I think it will come back in stock soon, as they will be doing more sales this month.  I highly recommend this toner, regardless of your skin type ~ but as an oily skinned person, this would be fantastic for my fellow oily skincare addicts as its' non-greasy formula is hydrating but helps heal and clear up blemishes.  Wishtrend normally sells this for $28.00 USD and you can use my affiliate code unboxingwishtrend to get an additional 5% off any of your purchases ~ this code is good until the end of 2018.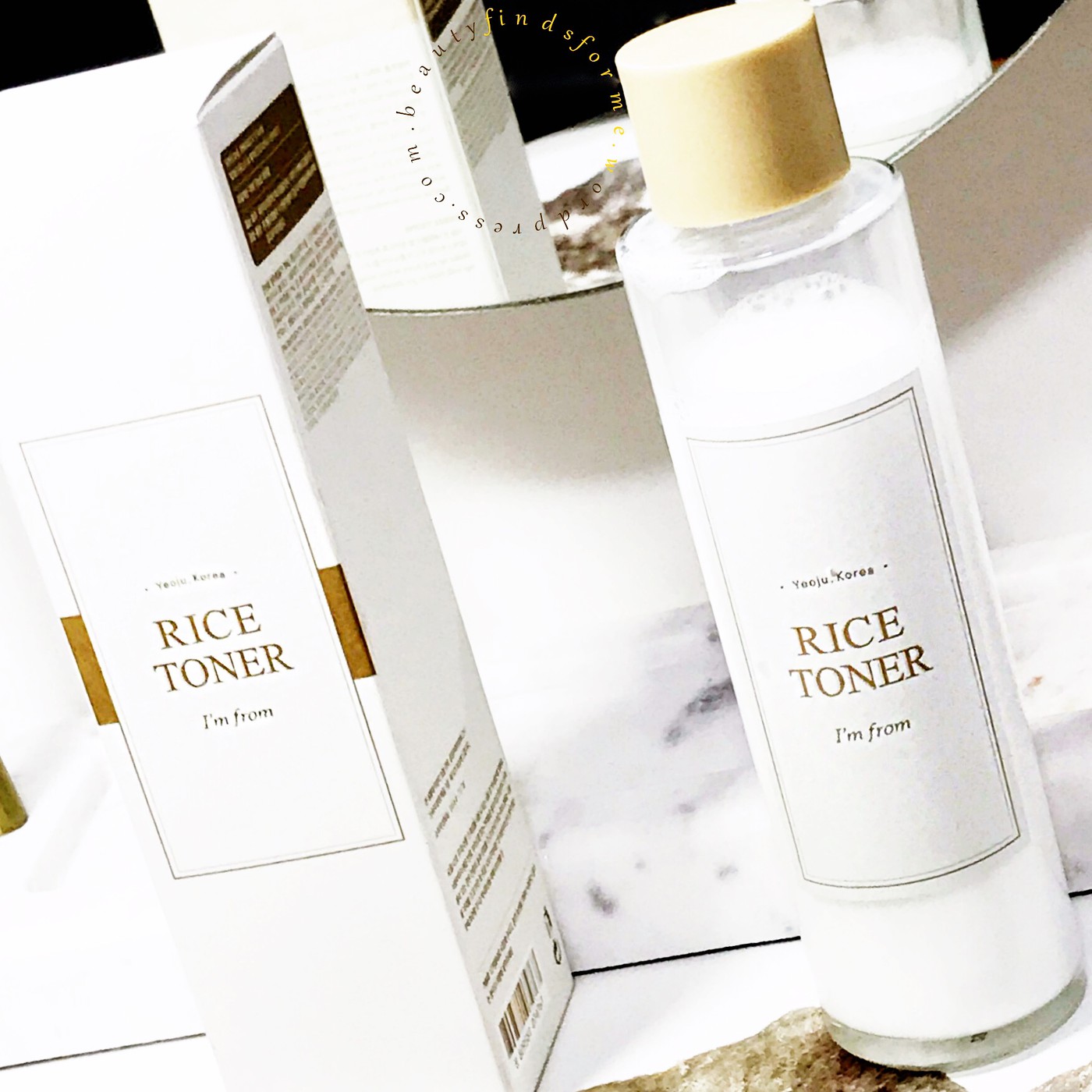 You can also pre-order Gothamista Box of Holiday Wishes (ships out on 12/12/2018), which includes the I'm From Rice Toner, along with Klairs Soft Airy UV Essence SPF 50 PA++++, I'm From Honey Mask, Klairs Midnight Blue Calming Cream, I'm From Vitamin Tree Mask and Klairs Midnight Blue Calming Sheet Mask and a random deluxe sample of either I'm From Mugwort Mask or Klairs Freshly Juiced Vitamin E Mask. I have tried all of these products and if you search my blog, you will find reviews on them.  This box is a great deal at $69.00 and has free shipping!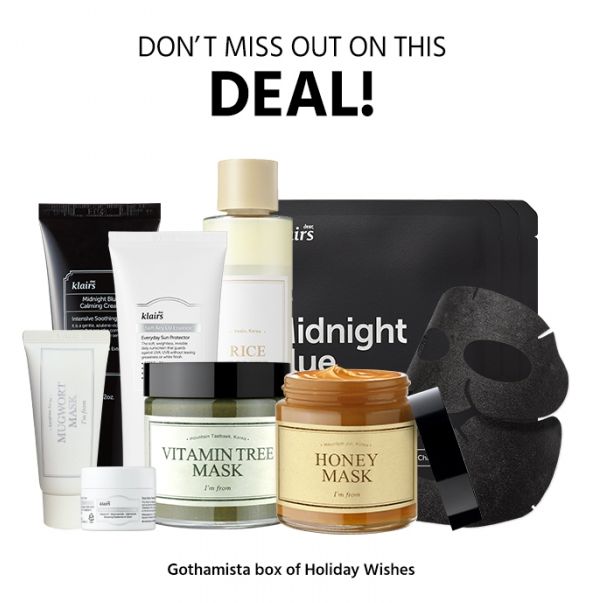 [ blog post contains affiliate links which provide a small commission to me at no cost to you ]