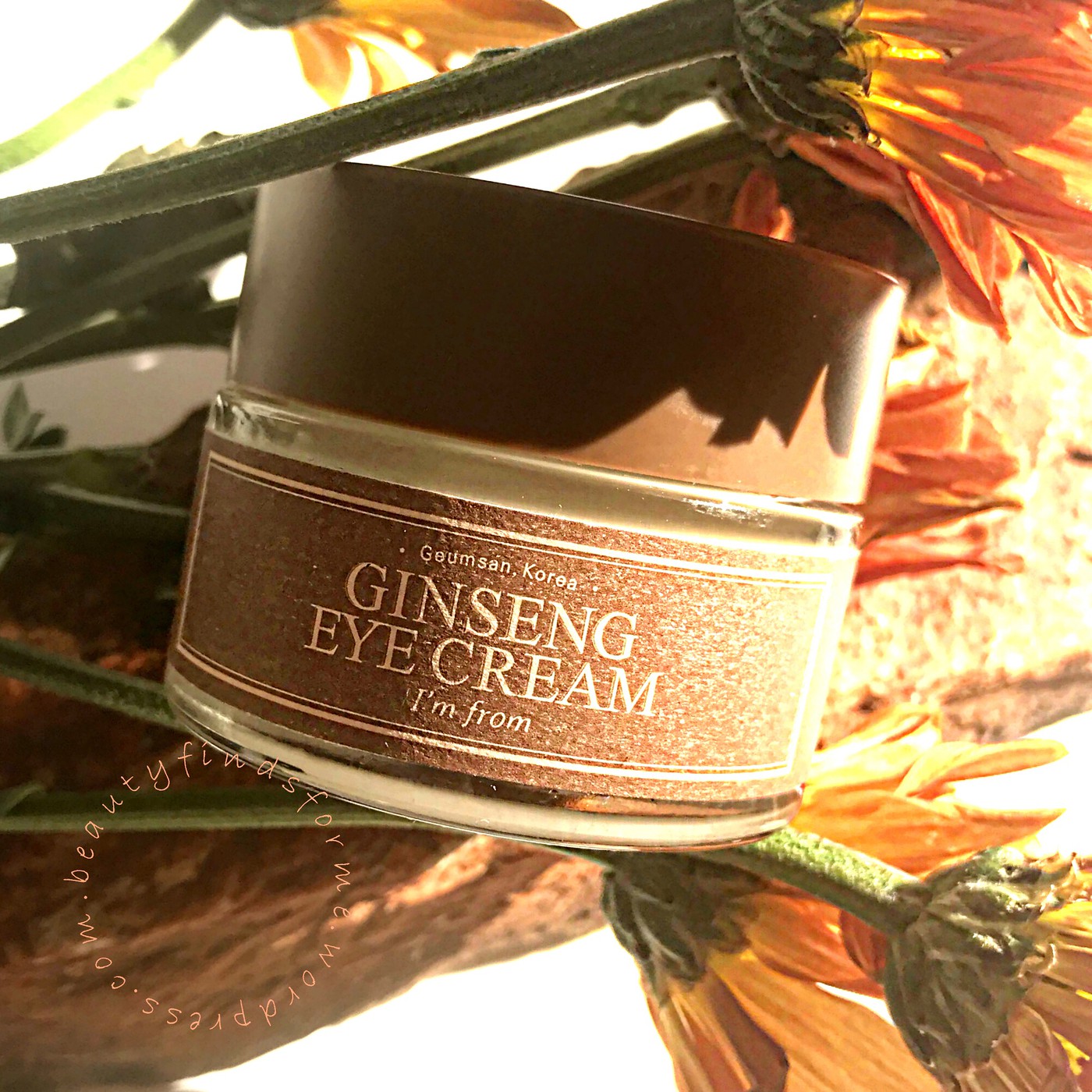 Wishtrend asked me if I would like to try the brand new I'm From Ginseng Eye Cream and despite my reservations over the heavily perfumed scent of this line, I am a HUGE fan of eye creams.  You can read my reviews on the other I'm From Ginseng products here and also other I'm From skincare items here.  I have tried and reviewed a lot, as I do really enjoy this brand.  Don't forget that Wishtrend revamped their website last month and if you haven't logged in since the redesign, you will need to reset your password.
Skin Type/Concerns:  Oily, blemish prone, aging skin with hyper-pigmentation and fine lines/wrinkles.
  Some products were complementary to review and was not paid.  All reviews are my own honest opinion and  I never have been asked to write copy for a brand.  This blog post might contain promo codes, affiliate and referral links, which using my links will help generate a small commission that helps support my blog at no extra cost to you. 
About I'm From Ginseng
The following is from their press release and explains where I'm From sources their ginseng and why they chose that area.
From Geumsan County, South Chungcheong Province Korea's Geumsan County is home to a species of Korean ginseng that has a history of 1,500 years. Due to its great natural environment, it has been evaluated as the ideal location to cultivate ginseng of the highest quality in the world. Geumsan ginseng contains about 30 various saponins, including ginsenoside, while western ginseng on the other hand contains only 13~15 kinds of saponin, which is half of that of Geumsan ginseng.
** Ginsenoside : Contrary to saponin, which is found in an abundance of various other plants, this is a component that carries special pharmacological efficacy, found only in ginseng.
During the process of turning ginseng into ginseng extract, changes occur in the percentage of its main components. Ten components that aren't originally present in ginseng, or were only present in small quantities – such as antioxidants and heavy metal detoxing agents – are newly formed or multiply in content. The I'm From Ginseng Line is formulated with ginseng extracts to give antioxidant benefits to the skin.  Because ginseng extract is made with a moisture content of less than 14%, it is possible to store the taste, scent and active ingredients of ginseng in a concentrated state for a long time. Meticulous control of temperature, time and pressure is required until one ginseng is made into ginseng extract. Through this process, a new active ingredient unique to ginseng extract was discovered.

Ginseng is used in anti-aging skin care products, as it is can stimulate the skin and activate the blood flow, which will increase toning and production of new skin cells. It also has anti-oxidant and anti-inflammatory properties, due to natural carbohydrate called saponin, and will help reverse damage caused by free radicals, such as hyper-pigmentation and also combat free radicals to prevent new skin damage of fine lines and wrinkles. Ginseng detoxes your skin and leaves it radiant and glowing. Applied topically, it helps stimulate collagen production to promote cellular renewal. Its herbal properties and usage dates back over 5,000 years.  Ginsenosides also known as ginseng saponin, has had numerous studies that show it is effective as a anti-wrinkle, anti-aging, anti inflammatory and brightening ingredient and can aid in the production of collagen.  It helps increase elasticity, improves blood circulation to your skin and also is a superb moisturizer.  Ginsenosides are compounds only found in ginseng and are an excellence source of anti-oxidants.
Wishtrend breaks it down as such
Prevents skin from aging prematurely

Improves or maintains skin elasticity by boosting elastin production

Refines, re-hydrates skin, improving your skin's texture and complexion, due to its property of metabolizing skin cells to help regenerate new skin cells and removing dead skin cells, making your skin brighter and healthier looking

Helps depuff the skin around your eyes and reduces dark circles

Prevents blemishes as it helps maintain the hormonal balance, while preventing acne causing bacteria
This eye cream contains 3.65% six year old, wood-cultivated red ginseng extracts, along with a lot of moisturizing and hydrating ingredients:
Jojoba oil is both a moisturizing and skin softening, which is an emollient, oil and is used in many skin care products. It helps skin cells attract and keep moisturize and it helps penetrate your skin easily, aiding in your skin's increased flexibility and elasticity.
Shea butter contains a rich source of concentrated natural vitamins and fatty acids ~ oleic, stearic, palmitic, linolenic ~ and is highly moisturizing and nourishing. It helps repair your skin,  as well as reduce skin inflammation and it also smooths your skin to protect it from drying and it strengthens your skin over time as it helps aid in the collagen production.
Collagen applied topically helps keep your skin moist and supple.
Squalane has the ability to penetrate the skin quickly and completely, which makes it valuable in skincare products, as it is a powerful antioxidant, UV damage preventative, prevents hyper-pigmentation due to age, promotes cell growth.
Betaine is an amino acid that is a humectant and anti-irritant, providing silky smooth skin and soothes and calms skin.
Allantoin is known for healing, soothing and softening skin, it also helps remove cracked and chapped skin, leaving behind healthy looking skin.
Adenosine is an amino acid and it became popular after it was found to help improve the reduction of wrinkles. Adenosine is safe to use day and night, unlike vitamin C and retinol.
Three types of humectant hyaluronic acid is in here: sodium hyaluronate, sodium acetylated hyaluronate, hydrolyzed hyaluronic acid.  This hyaluronic acid  complex will help attract moisture and deeply improve hydration to your skin
Ingredients that might be of interest: beeswax is in here, so it is not vegan, dimethicones  provide that slick slippery feel to it and there is added fragrance. It is free from parabens and artificial coloring
Ingredients: Water, Butylene Glycol, Caprylic/Capric Triglyceride, Glycerin, Red Ginseng Extract, Cetearyl Olivate, Simmondsia Chinensis (Jojoba) Seed Oil, Butyrospermum Parkii (Shea) Butter, Cetearyl Alcohol, Sorbitan Olivate, Beeswax, Methylpropanediol, Hydroxyethyl Acrylate/Sodium Acryloyldimethyl Taurate Copolymer, Isododecane, Betaine, Xanthan Gum, Usnea Barbata (Lichen) Extract, Sodium Hyaluronate, Angelica Gigas Root Extract, Panax Ginseng Root Extract, 1,2-Hexanediol, Caprylyl Glycol, Dimethicone, Dimethicone/Vinyl Dimethicone Crosspolymer, Glyceryl Caprylate, Soluble Collagen, Dipotassium Glycyrrhizate, Allantoin, Adenosine, Disodium EDTA, Pulsatilla Koreana Extract, Zanthoxylum Piperitum Fruit Extract, Ethylhexylglycerin, Sorbitan Isostearate, Squalane, Sodium Acetylated Hyaluronate, Hydrolyzed Hyaluronic Acid, Fragrance cosDNA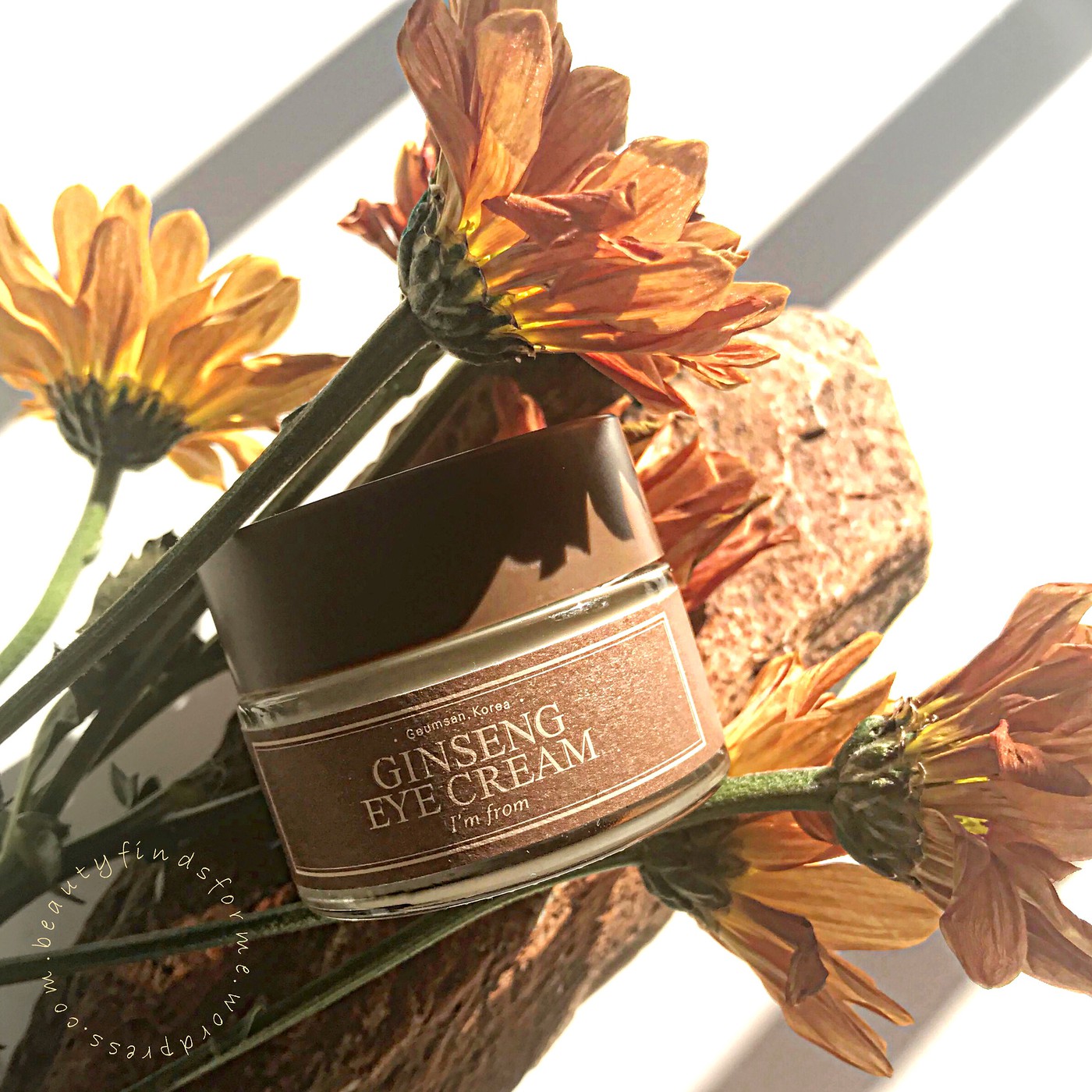 This eye cream comes in a nice small 30 gram glass jar, with the infamous I'm From paper label.  This eye cream is a light cream color with a slight floral fragrance. HALLELUJAH,  I'm From toned down the fragrance from the previous I'm From Ginseng products!!!  This is fantastic and I hope they did this because they listened to customer feedback.  The cream has a really smooth, slick emollient texture ~ it is not too heavy, but it isn't lightweight like a lotion either. This has a nice firm texture to it, but spreads easily.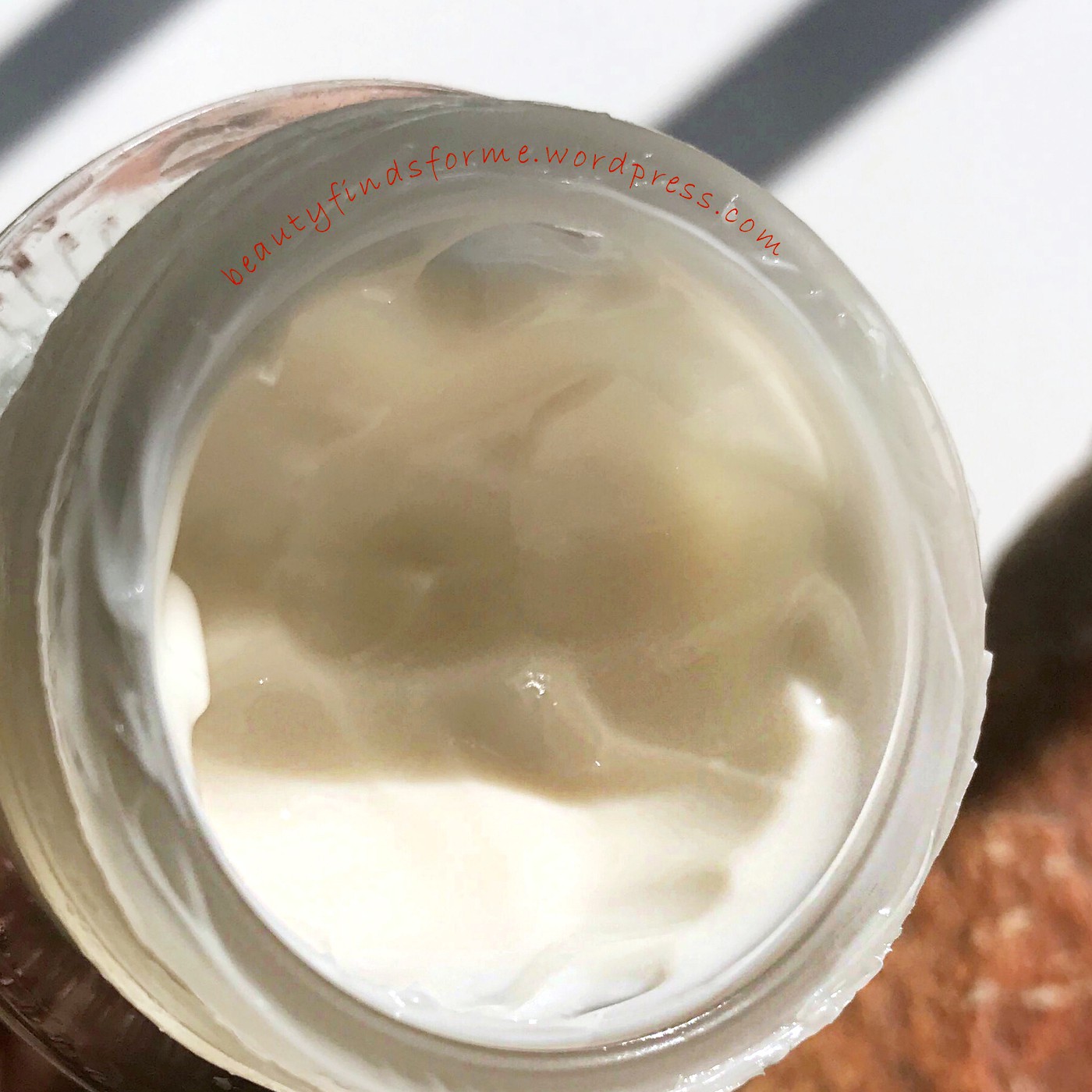 The texture of this cream seems to really help "spackle" over the fine lines and wrinkles I have, while deeply moisturizing my skin.  This helps soften the deeper laugh lines I have accumulated over the years at the corner of my eyes.  It doesn't tighten or firm up my skin, but provides a nice protective barrier, softening wrinkles, helping to keep my skin supple in that area.  I didn't notice any brightening of my dark circles, as I think that is more due to age and lack of sleep.  

This cream can also be used as a facial cream ~ which I have tried a few times and I did enjoy as it provides a nourishing barrier on my skin.  I wouldn't use this as a day cream as it is quite rich, but as a nighttime moisturizer it works great on my skin. The jar is so small though, that I normally just use this as an eye cream.  I'm From should create a 50 or 70 gram jar for facial use.  For an eye cream, this does moisturize and hides fine lines and wrinkles, while softening skin. 
Where to Purchase
Wishtrend, of course!   You automatically receive Free Shipping with purchases $60.00 USD and over.  Wishtrend ships globally This eye cream retails for $32.00 and  you can purchase it here.  Wishtrend also sells the trio of I'm From Ginseng products for a special price of  $87.30, at a savings of 10%.  If this is your first time with Wishtrend, save 10% with your first purchase by using my referral code 1D5A9A34 when you registered.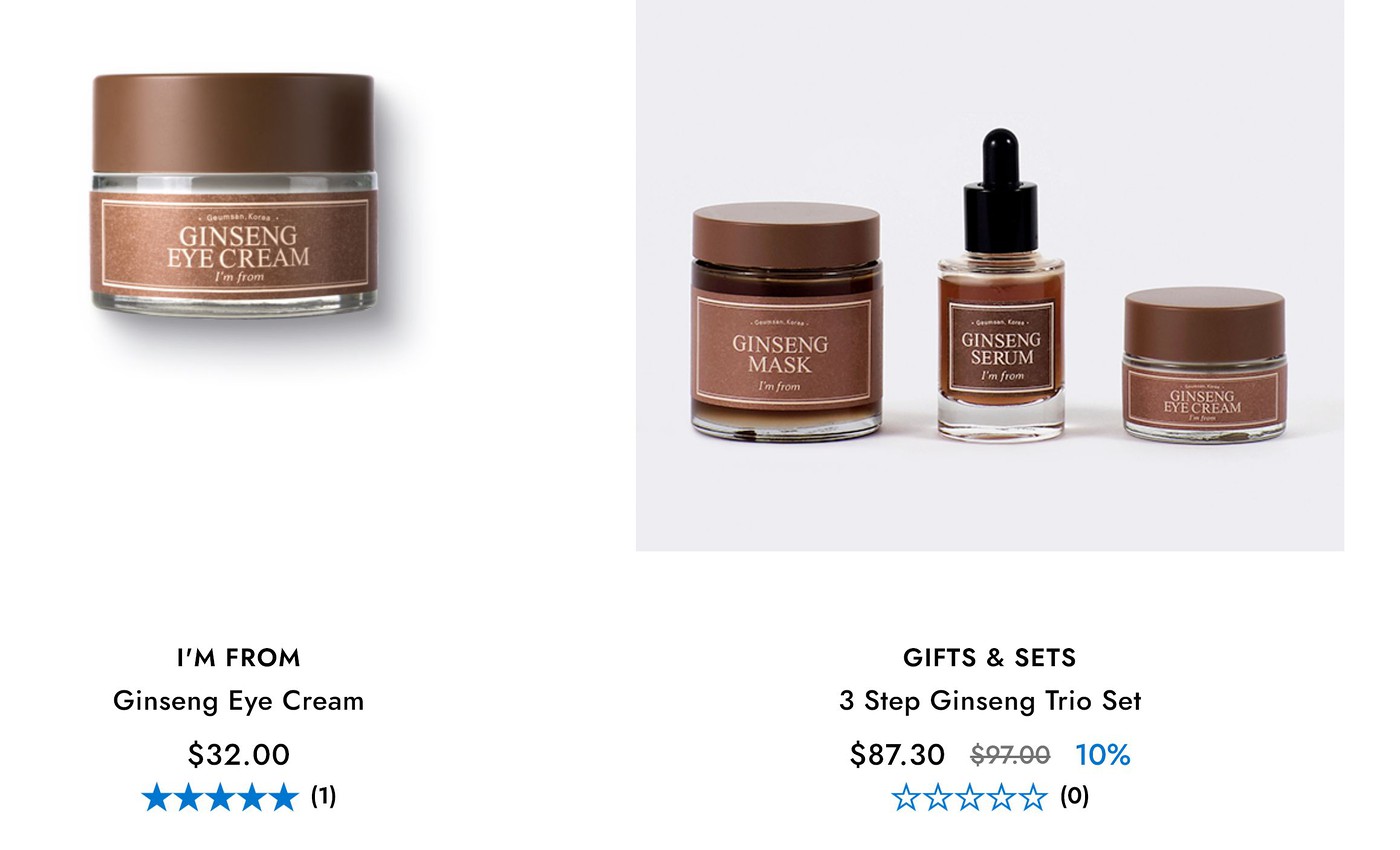 [ some products were received in exchange for a review. contains affiliate links for a small commission ]