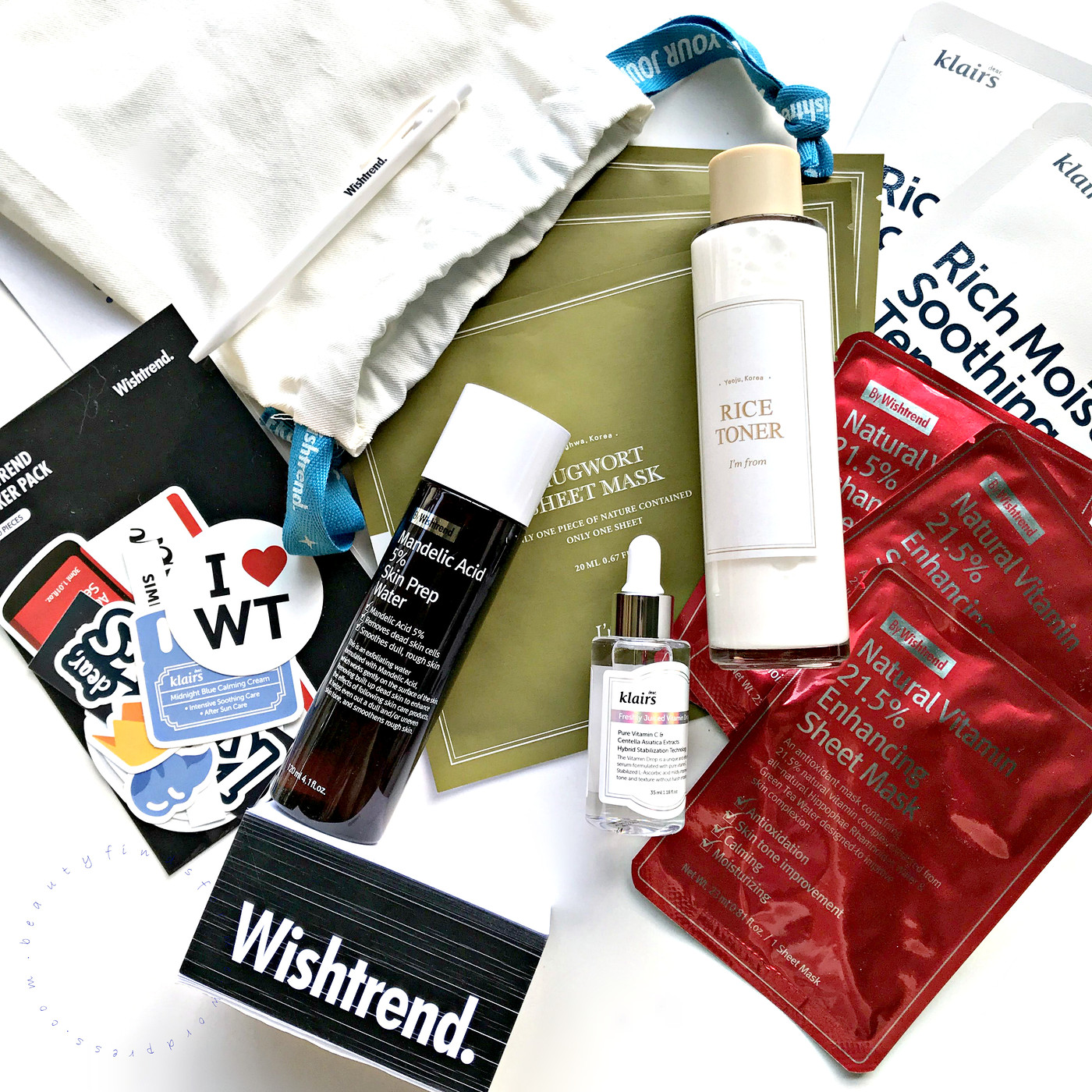 Wishtrend has revamped their website and recently relaunched!  In celebration with their relaunch, Wishtrend sent me a box full of goodies to showcase their popular items and ones that I love or really want to try!  Let's open it up and go over the box full of goodies.  If you already haven't done so, please go on over to Wishtrend and reset your password, as your old password will not work anymore.

Skin Type/Concerns: Oily, blemish prone, pores, aging, hyper-pigmentation, fine lines/wrinkles
Some products were complementary to review and was not paid.  All reviews are my own honest opinion and  I never have been asked to write copy for a brand.  This blog post might contain promo codes, affiliate and referral links, which using my links will help generate a small commission that helps support my blog at no extra cost to you. 

By Wishtrend Mandelic Acid 5% Prep Water  This is my HG product.  I have purchased this so many times since its launch and I have never regretted it.  For those wondering what this product is, you might want to think of it as like the Pixi Glow Tonic, which is made with 5% Glycolic Acid.  I think a lot of people are familiar with the Pixi product but not everyone can use Glycolic Acid, which can be irritating.  By Wishtrend Mandelic Acid 5% Skin Prep Water is a booster for your skin as it will help improve your skin tone and texture, while hydrating your skin.

AHA (alpha hydroxy acids) are mainly derived from fruit and milk sugars ~ these are the most common using natural sources:   glycolic acid (sugar cane), lactic acid (milk), malic acid (apples, pears), citric acid (oranges, lemons), mandalic acid (almonds), tartaric acid (grapes).  The two acids that can penetrate deeper into your skin layers are lactic and glycolic acids, which makes them more prone to skin irritation.  You want an acidity of 3 to 4, with a 5 to 8 percent concentration of AHA.  The AHA ingredient should be one of the top 3 ingredients in the list and since AHA's need time to absorb into your skin, you should not really bother with products that will be rinsed off, like cleansers.  You should pick AHA's if your skin is not prone to breakouts or you really want to lighten hyper-pigmentation and tone and firm your skin, as they can stimulate collagen and elastic production in your skin. 
Mandelic acid is an alpha-hydroxy acid (AHA) and is one of the more gentle AHA's out there, due to its larger molecular size.  It doesn't irritate your skin like glycolic acid does and it is made from bitter almonds and was discovered back in 1831 by a German pharmacist ~ Mandel is German for almond. Mandelic acid is more gentle, so effects will not be immediate, but it is safe to use for long terms and will help refresh your skin over time.
Mandelic acid helps reduce hyper-pigmentation (malesma), which evens out your skin tone and complexion ~ unlike other AHA's which can be irritating and stimulates the cells to create more melanin, defeating the purpose of using an AHA, mandelic acid has less of a problem with this issue, and it not only reduces hyper-pigmentation, but also restores your skins texture and has anti-bacterial and anti-inflammatory properties, making it effective for those with acne prone skin as well.  It helps reduce acne breakouts as it regulates oil production and it is beneficial for cystic acne too.  By Wishtrend Mandelic Acid 5% Skin Prep Water has this ingredient as the second item in the list, which is for an AHA, is exactly where it needs to be ~ AHA ingredients should be in the top 1/3 of the ingredient list.   
For everyday skin boosting, this prep water really delivers.  This is a skin-refining product and I have found that over time, my skin does look more smooth and clear ~ I haven't noticed a lot of brightening yet, but I am happy with the daily use of this without skin irritation and it doesn't cause an adverse reaction with sunlight ~ but in case you need reminding, I always wear a sunscreen and so should you!  I like this much better than Pixi Glow Tonic, as that one I could not use alongside with other AHA products ~ However, I found that this Prep Water can be used with other AHA products  ~ for example, I have a Dr Hsieh 20% Mandelic Acid Home Peeling (free acid content of 8.97%) and I sometimes apply that product to my nose and other pore-enlarged areas for 20 to 30 minutes and then use By Wishtrend Mandalic Acid 5% Prep Water to remove it ~ it not only helps unclog pores and reduce blemishes, but it refines my skin's texture as well.  Read my full review on By Wishtrend Mandelic Acid 5% Prep Water here.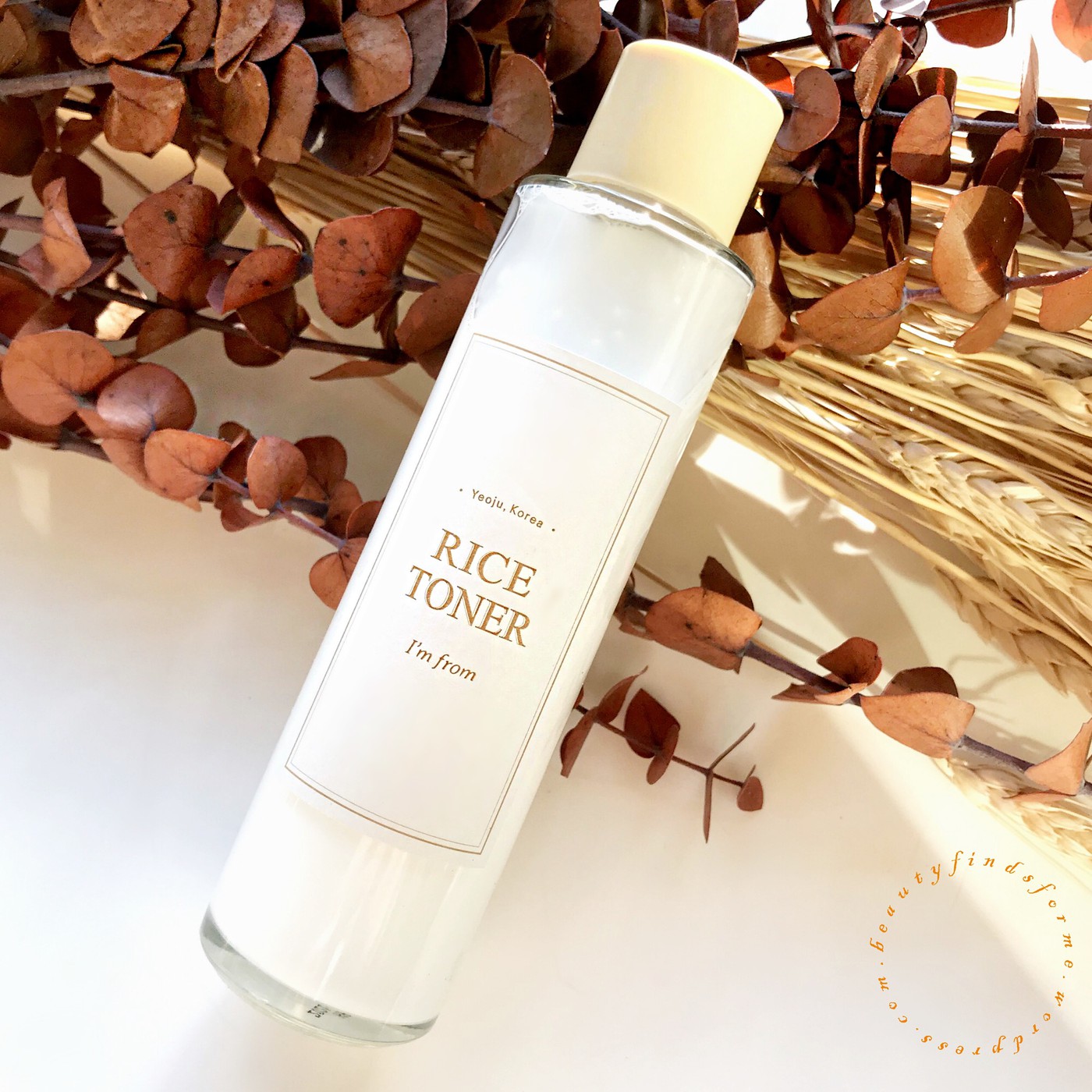 I'm From Rice Toner  This has two different types of oryza sativa (rice) ingredients ~  Rice water is full of amino acids, vitamins, minerals and other nourishing compounds to help clear your skin, improve the appearance of pores, stimulates cellular renewal, treat acne ~ and if that wasn't enough ~ has skin brightening and firming benefits.  Rice contains γ-oryzanol, which is a potent antioxidant that can slow the production of hyper-pigmentation and prevent freckles and age spots.  Rice contains amylase, an enzyme that initiates the breakdown of glucose bonds, which is that "glue" that binds dead cells with living cells. This will whisk away dead skin cells, leaving your skin feeling smooth and looking brighter.
It is full of antioxidant vitamins B1, C, E, minerals and ferulic acid.  There is also 0.1% rice bran in here ~ which is a little different than rice water and it is also known as rice bran oil.  It is extracted from the inner husk and germ of rice and it has high percentages of vitamin E, B and fatty acids, which will penetrate deep in your skin to moisturize. It is lightweight and due to its quick and easy penetration into your skin, it is good for oily skin too.  Rice bran is an anti-aging, hydrating ingredient that helps soften fine lines and wrinkles.
This is not drying at all and my skin feels supple and smooth.  It is very refreshing on my skin, it helps with soothing care and my skin feels smoother.   This toner does bring a glow to my skin, while improving my skin texture.   Read my full review on I'm From Rice Toner here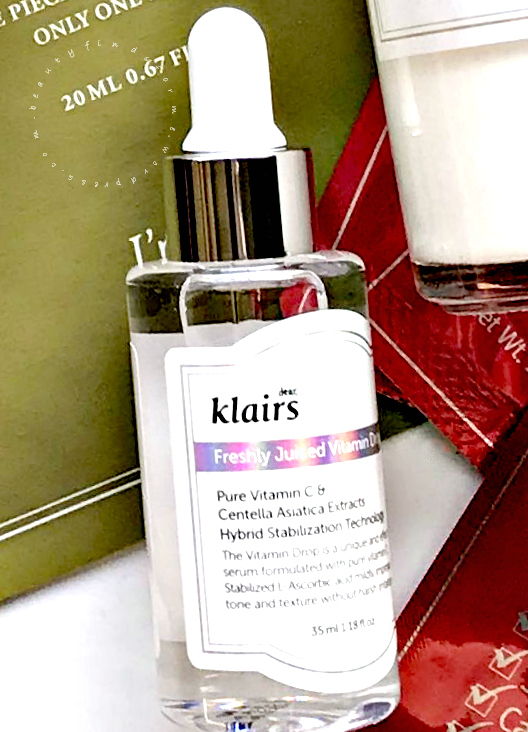 Klairs Freshly Juiced Vitamin Drop  Ohhhh I am really happy about this one!  This is one of the few Klairs products I have not tried.  This is a vitamin serum that is made with 5% stabilized pure Vitamin C and will help brighten the skin while gently exfoliating.  I have issues with most vitamin C products as they make me break out and this is has a pH level between 3.5 to 4.5.  However, I am hoping this won't break me out as this gets great reviews. I personally know some folks who use this and love it.  This also has a tone of amino acids, anti-aging peptides along with essential oils ~ it has a very oily feel to it, but it is an nighttime treatment, so I should be cool with that.  I will use this for a month and write up my review here.
Ingredients: Water, Propylen Glycol, Ascorbic Acid, Hydroxyethylcellulose, Centella Asiatica Extract, Citrus Junos Fruit Extract, Illicium Verum(Anise) Fruit Extract, Citrus Paradisi(Grapefruit) Fruit Extract, Nelumbium Speciosum Flower Extract, Paeonia Suffruticosa Root Extract, Scutellaria Baicalensis Root Extract, Polysorbate 60, Brassica Oleracea Italica (Broccoli) Extract, Chaenomeles Sinensis Fruit Extract, Citrus Aurantium Dulcis (Orange) Oil, Sodium Acrylate/Sodium Acryloyldimethyl Taurate Copolymer, Disodium EDTA, Lavandula Angustifolia (Lavender) Oil, Camellia Sinensis Callus Culture Extract, Larix Europaea Wood Extract, Chrysanthellum Indicum Extract, Rheum Palmatum Root Extract, Asarum Sieboldi Root Extract, Quercus Mongolia Leaf Extract, Persicaria Hydropiper Extract, Corydalis Turtschaninovii Root Extract, Coptis Chinensis Root Extract, Magnolia Obovata Bark Extract, Lysine HCL, Proline, Sodium Ascorbyl Phosphate, Acetyl Methionine, Theanine, Lecithin, Acetyl Glutamine, SH-Olgopeptide-1, SH-Olgopeptide-2, SH-Polypeptide-1, SH-Polypeptide-9, SH-Polypeptide-11, Bacillus/Soybean/Folic Acid Ferment Extract, Sodium Hyaluronate, Caprylyl Glycol, Butylene Glycol, 1,2-Hexanediol cosDNA
Masks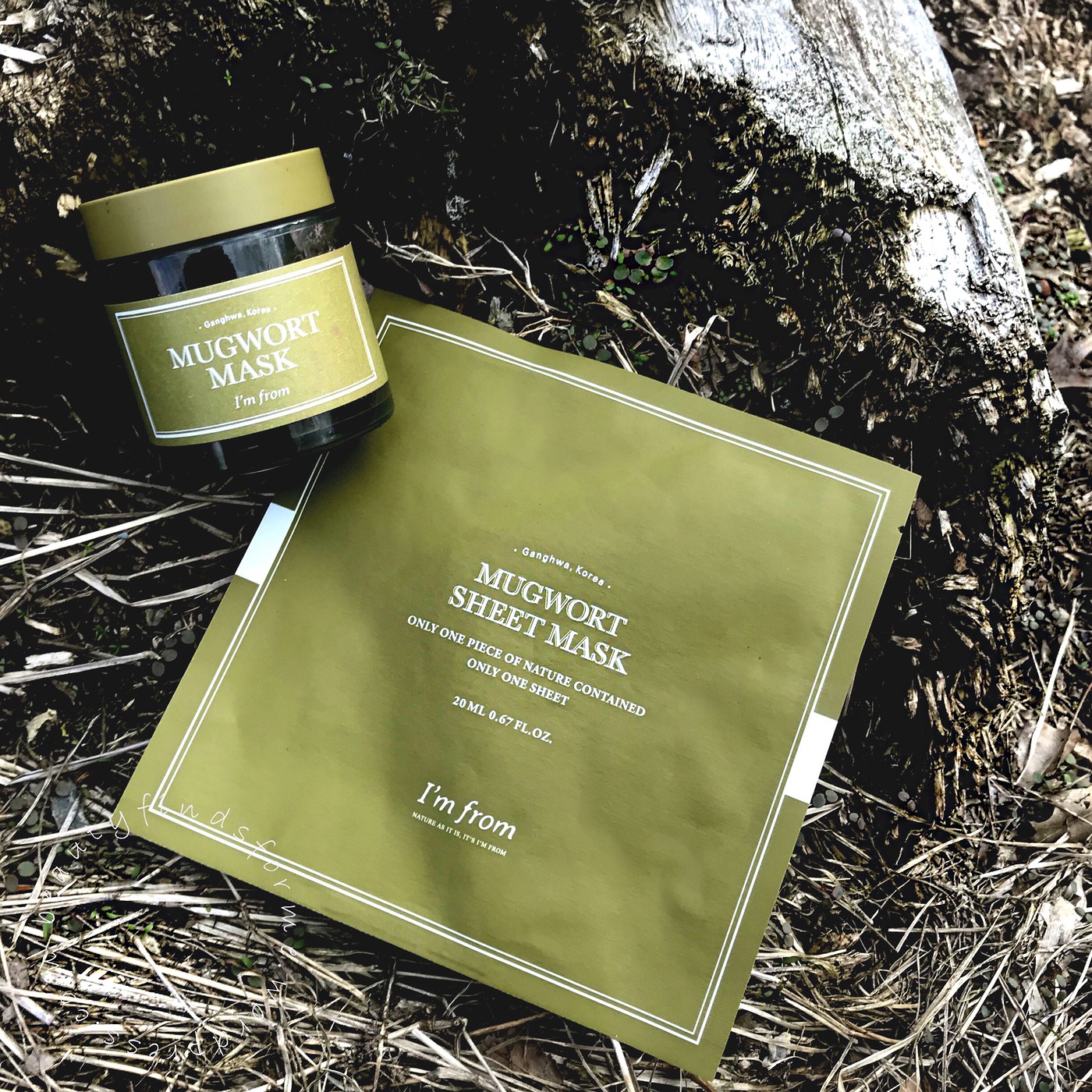 The I'm From Mugwort Sheet Mask is one of several items in their Mugwort line and I find it  to be a winner! This is made with 91.45% mugwort extract along with  cordyceps sinensis is a parasitic fungus that grows on a caterpillar and yes, it does kill the caterpillar and mummifies it. It has long been used in traditional Chinese and Tibetan medicine, and does have antioxidant skin cell regeneration benefits.   This mask also has glycerin, a humectant which makes the skin look healthy, moist, soft to touch  and is also an emollient, leaving your skin looking radiant and supple. Panthenol is also a natural humectant, retaining moisture and hydrates the skin. It also is a good lubricant on the skin, making skin look soft and smooth. It is also an anti-inflammatory.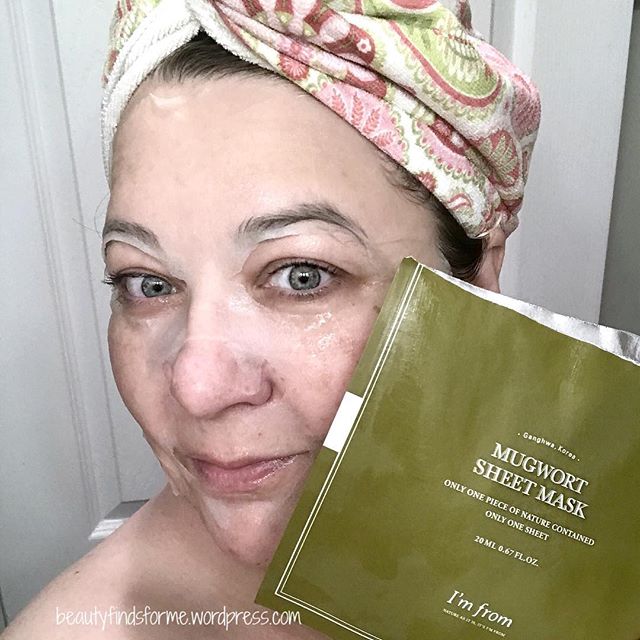 The sheet mask itself is a 100% plant based material, very thin, but strong as well  and  doesn't tear easily. The mask is not dripping wet, as the essence is actually more like a lightweight gel ~ so once the mask is on my face, the adherence is very good. This also has a nice fit on my big face as well. After 30 minutes, I removed this,and my skin did feel very soft and hydrated ~ there is a slight filmy feeling, but I think that is due to the gel essence on the mask. Due to the filmy feeling, I like using this at nighttime, not the morning, letting that film stay on my skin, to help continue with the repairing and healing benefits. My skin looks more calm after I use this mask! 
Ingredients: Artemisia Princeps Extract (91.45%), Butylene Glycol, Glycerin, Methlypropanediol, Cordyceps Sinensis Extract, 1,2 Hexanediol, Capryly Glycol, Allantoin, Zanthoxylum Piperitum Fruit Extract, Usnea Barbata (Lichen) Extract, Dipotassium Glycyrrhizate, Panthenol, Pulsatilla Koreana Extract, Carbomer, Arginine cosDNA 
Klairs  Rich Moist Soothing Tencel Sheet Mask I loved the original version and Klairs revamped this to be vegan and use a tencel/cotton material instead of cotton. This contains the Rich Moist Soothing Serum as its essence and despite the name which is a complete turn off for me ("Rich Moist"), this is one of my favorite masks.  You can read my original review here and I will update this blog post once I get some photos with the new mask.
Description: This sheet mask is made with five types of ceramides as well as the moisturizing nutrients of Aloe Vera, Panthenol and Hyaluronic Acid to vitalize dry, exhausted skin. The healing gauze is dual-layered with 100% cotton and tencel to minimize skin irritation.
Ingredients: Water, Butylene Glycol, Glycerin, 1,2-Hexanediol, Aloe Barbadensis Leaf Juice, Glycereth-26, Propanediol, Dipotassium Glycyrrhizate, Panthenol, Betaine, Allantoin, Cellulose, Hydroxyethylcellulose, Sodium Hyaluronate, Centella Asiatica Extract, Hydrogenated Lecithin, Ceramide NP, Ceramide NS, Ceramide AP, Ceramide AS, Ceramide EOP, Phytosphingosine, Cholesterol, Cetearyl Alcohol, Stearic Acid, Carbomer, Arginine, Disodium EDTA, Sodium Acetate, PVM/MA Copolymer, Polyglyceryl-10 Laurate, Glyceryl Acrylate/Acrylic Acid Copolymer, Ethylhexylglycerin  cosDNA 
By Wishtrend Natural Vitamin 21.5 Enhancing Sheet Mask  OMG, it has been years since I tried this mask, so I will review it properly ~ I do know I liked it a lot!   This has sea buckthorn (hippophae rhamnoides) water, which contains vitamins C, A and E, beta carotene, minerals, amino acids and fatty acids. Vitamin C is important for brightening and stimulating collagen production. It contains 200 to 800 times more vitamins than apples. Sea buckthorn is known for its antioxidant properties to help slow down aging and to regenerate new skin cells, while penetrating deep into your derma layer and locking moisture inside.Another key ingredient is 21.5% vitamin C (ascorbic acid), which is an anti-aging, brightener antioxidant which helps combat free radicals, firming skin, boosting collagen production, fading sun damage and acne scars.   21.5% is a high concentration and this is fantastic, as it will really treat those pesky hyper-pigmentation spots.  Look for an update here once I take photos and try it again
Description: This sheet mask is enriched with 21.5% natural vitamin complex (Vitamin Tree Water & Boseong Green Tea Water). The simple ingredients and light texture provide gentle vitamin care for sensitive skin. This daily vitamin mask fills up the inner layers of the skin with moisture and vitamin.
Ingredients: Water, Butylene Glycol, Hippophae Rhamnoides Water, Camellia Sinensis Leaf Extract, Glycerin, Betaine, 1,2-Hexanediol, Sodium Hyaluronate, Hydroxyethyl Acrylate/Sodium Acryloyldimethyl Taurate Copolymer, Allantoin, Panthenol, Ethylhexylglycerin 
cosDNA
Where to Purchase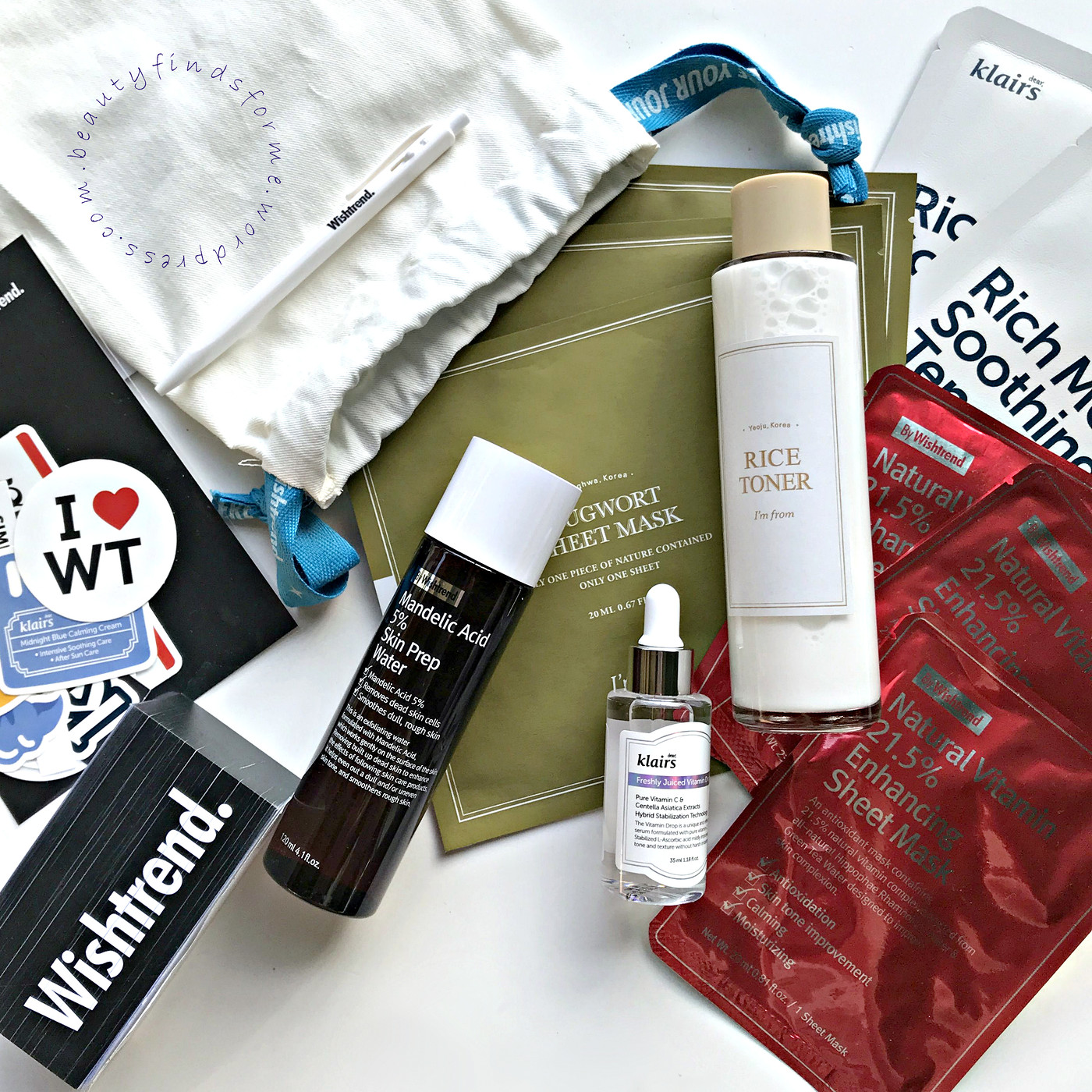 You automatically receive Free Shipping with purchases $60.00 USD and over.  Wishtrend ships globally.  If this is your first time with Wishtrend, save 10% with your first purchase by using my referral code 1D5A9A34 when you registered.  
[ product received in exchange for a review. contains affiliate links for a small commission ]
[ descriptions in italics from wishtrend ]