K-Beauty is EVERYWHERE, including Amazon USA. In fact, Amazon USA has stepped up their game with Asian Skincare products and one of the best sellers out there is Credithink, which isn't a brand ~ but sells a variety of brands. They recently sent me several items to review and I have posted my reviews on Instagram, so this is a roundup of those products.
Skin type/concerns:  Oily, aging, blemish prone, pores, hyper-pigmentation, fine lines and wrinkles. 
I received some of these products complementary to review and was not paid.  All reviews are my own honest opinion and  I never have been asked to write copy for a brand.  This blog post might contain promo codes, affiliate and referral links, which using my links will help generate a small commission that helps support my blog at no extra cost to you.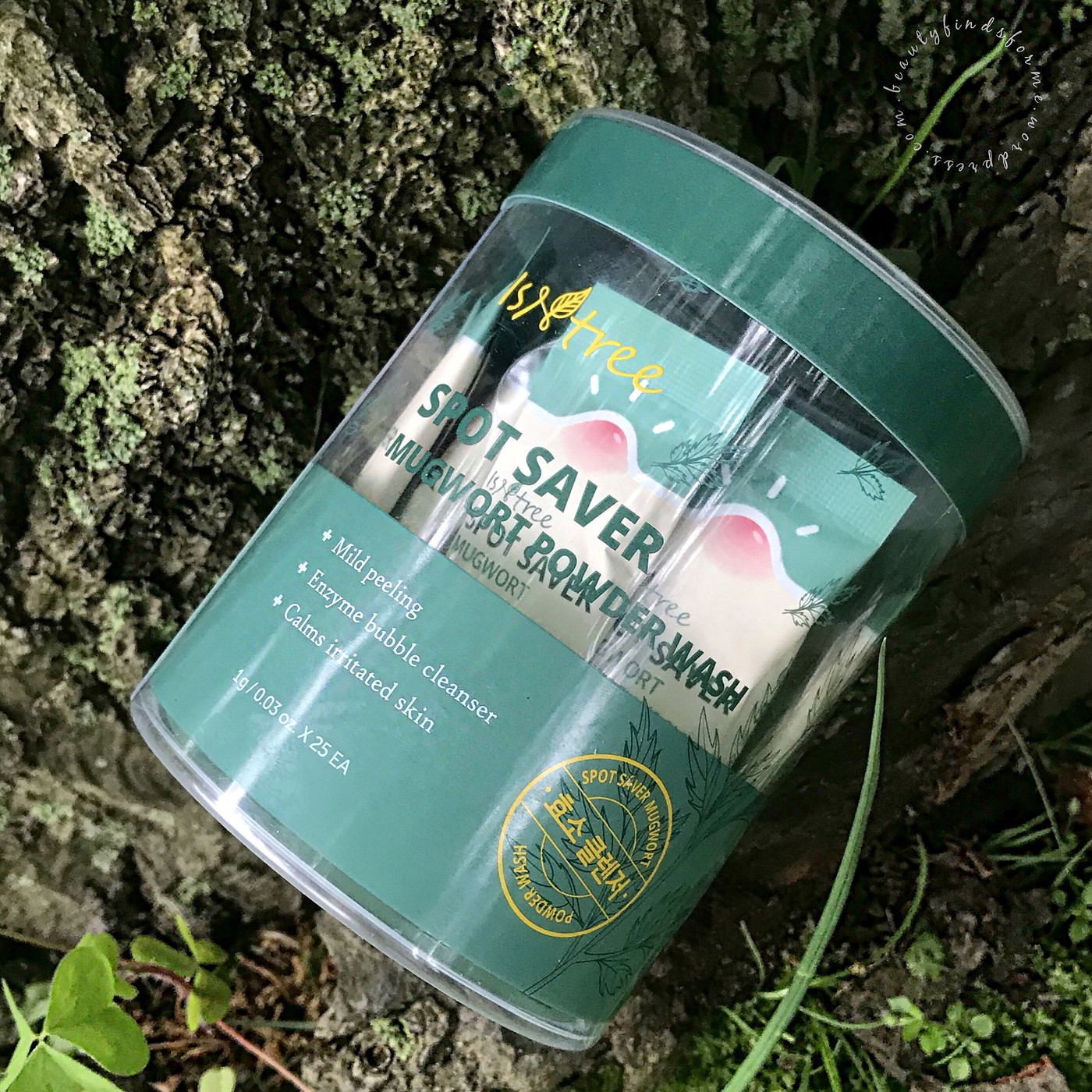 Fun Fact: Wort comes from an old term that meant a useful plant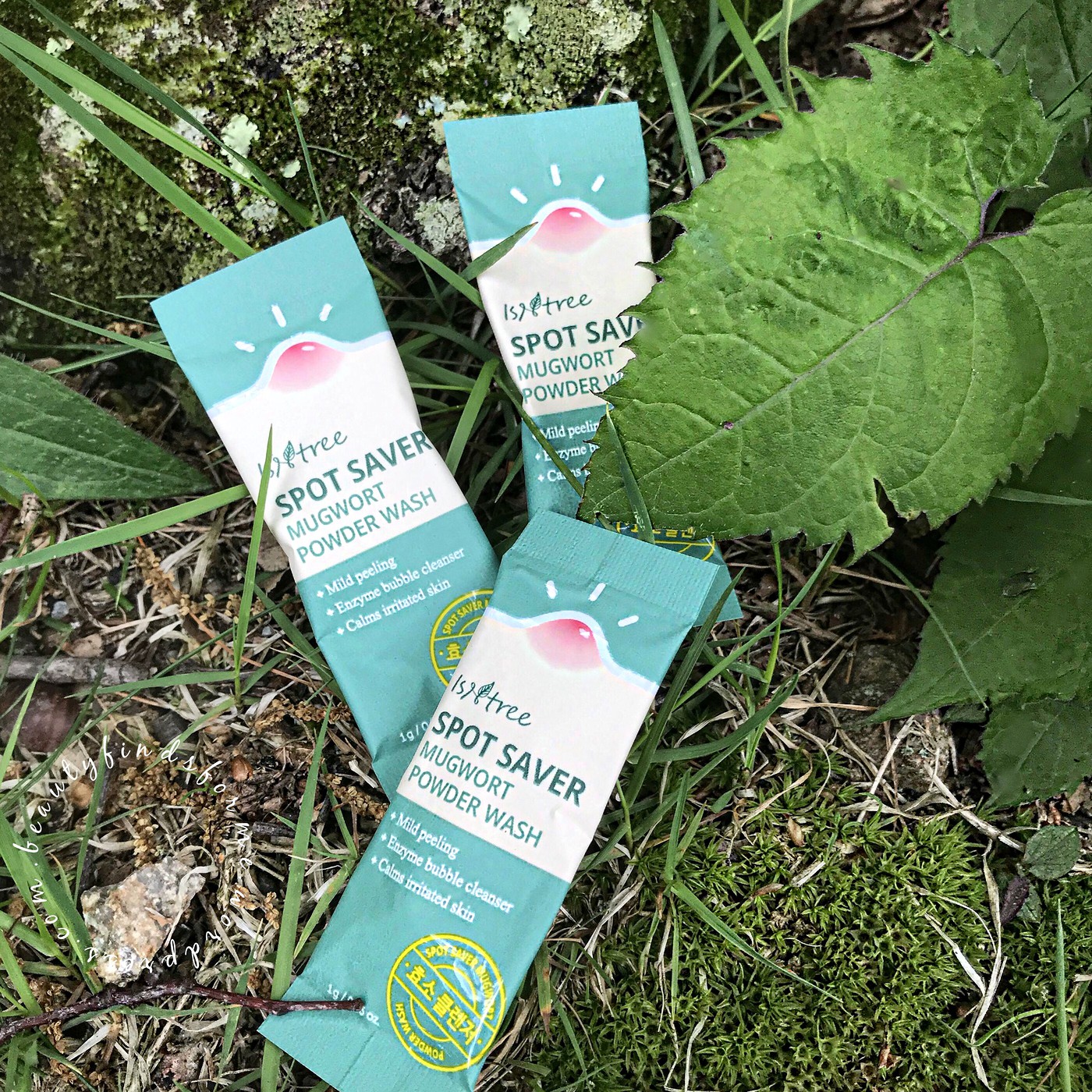 Isntree Spot Saver Mugwort Powder Wash: I am on a mission to TRY ALL the Enzyme Powder Washes!! hahaha Or at least ones that are of interest to me. This one has finely ground mugwort leaves~ mugwort is a very popular ingredient right now, as it helps to reduce redness and rashes, plus other skin issues including allergic reactions. It contains vitamin C, essential and non essential amino acids, and is so gentle, that mugwort leaves can be added to a baby's bathwater to help soothe and reduce any skin dermatitis. It helps heal skin issues, such as blemishes, due to its anti-bacterial and anti fungal properties. It has been known to help brighten skin and reduce hyper-pigmentation. Suitable for all skin types, including sensitive. This also contains papain, an anti-inflammatory and anti-bacteria enzyme derived from papaya. It will exfoliate your skin without irritation by gently loosening dead skin cells and removing them from your skin. This has Israeli Dead Sea Salt, full of minerals sea salt as well, which helps remove dirt, oils and toxin while deep cleaning your pores. Isntree is cruelty free and vegan. This has a pH level between 5.5 & 6.5 and my test had it at a 6.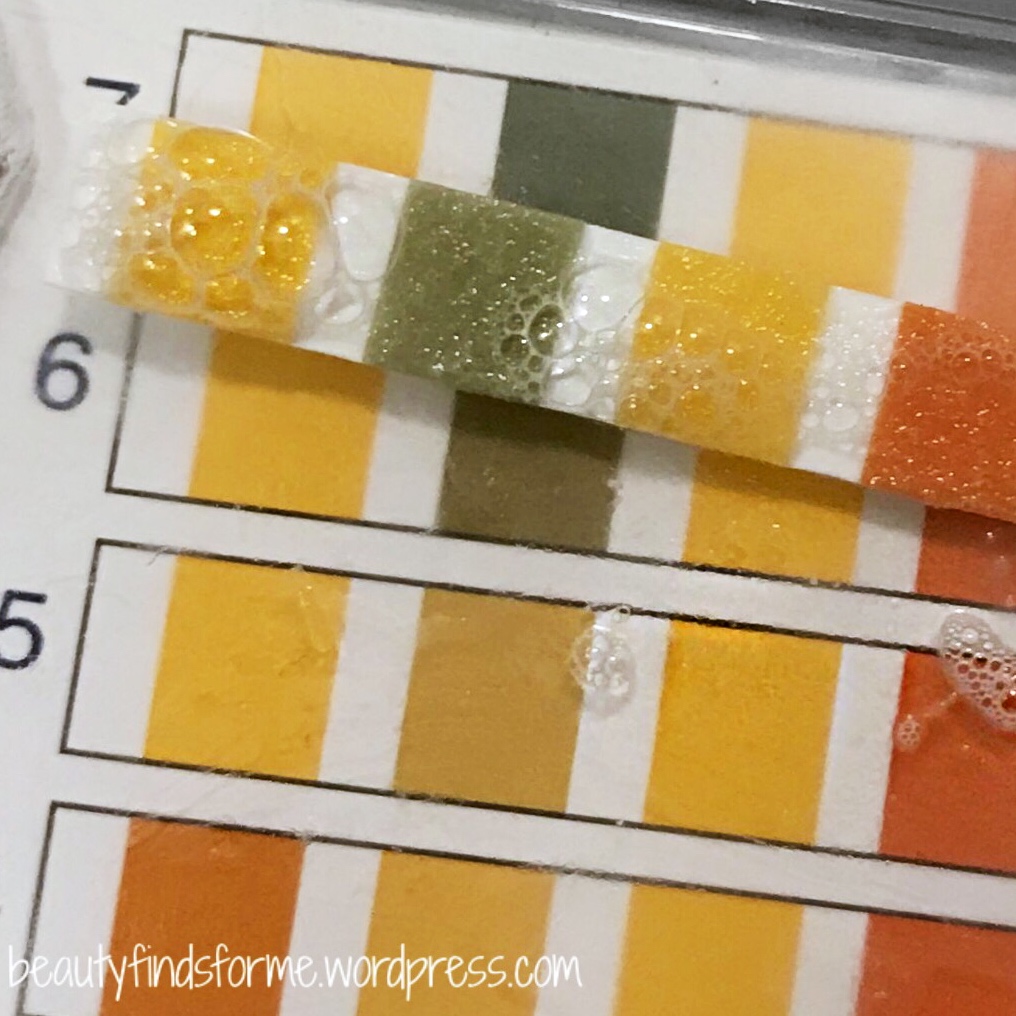 This is a finely milled powder with no scent that I could pick up on. I was a bit worried with the salt ingredient at first, as I have tried salt cleansers and they were pretty harsh and stung my face ~ however, this one was not harsh at all. It foamed up nicely and it is was VERY creamy and soft on my skin ~ make sure you foam it up on your hands, as to dissolve all of the powder grains if you have sensitive skin. It rinses clean, without any residue and my skin was silky smooth, not dry and this helped remove the dry flaky bits that I sometimes get when I use my retinol or vitamin C products. My pores looked more small and my skin texture was definitely refined.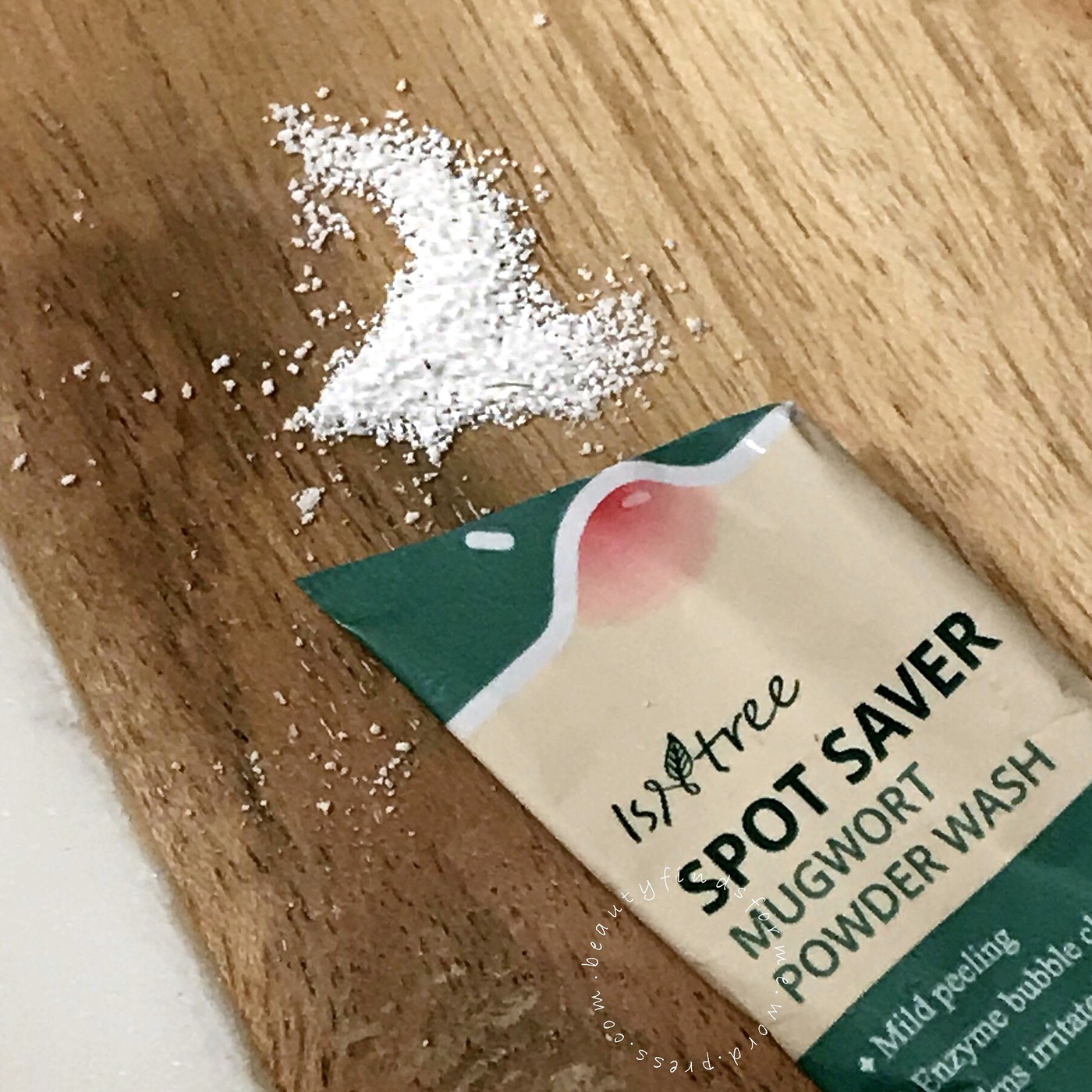 Now, I will take points off for the packaging, just like I did with cosRX's enzyme powder. These are a bit more eco-friendly in paper packets, but then it is in this big plastic container. I have the same issues here with cosRX ~ I forget to take a packet with me when I shower & then when I do remember, I have these little paper packets littering all around my shower, because I forget to take them out. Just put it in a bottle ~ if I need to travel, I will decant it in a plastic baggie. But other than that, these are GREAT. I really like the effectiveness of them and the calming care they also provide. You get 25 1 gram packets at $24.00 at amazon, which is a bit expensive, as many enzyme powder washes are 50 grams ~ but I guess you are paying for the packaging here as well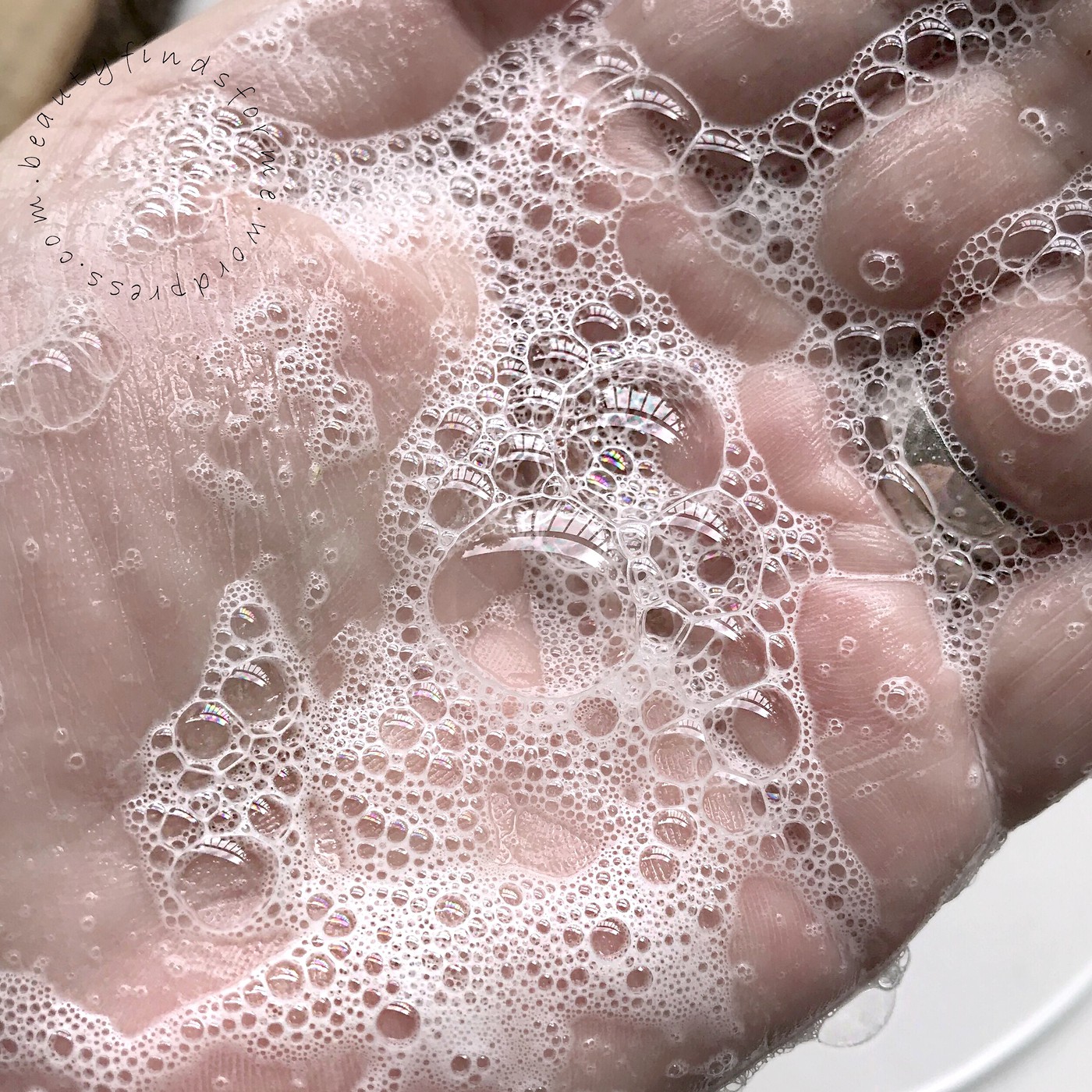 Ingredients: Zea Mays (Corn) Starch , Sodium Cocoyl Isethionate, Sodium Palmitate, Sodium Lauroyl Glutamate, Diglycerin, Papain, Sea Salt, Artemisia Princeps Leaf Powder, Allantoin, Maltodextrin, Water  cosDNA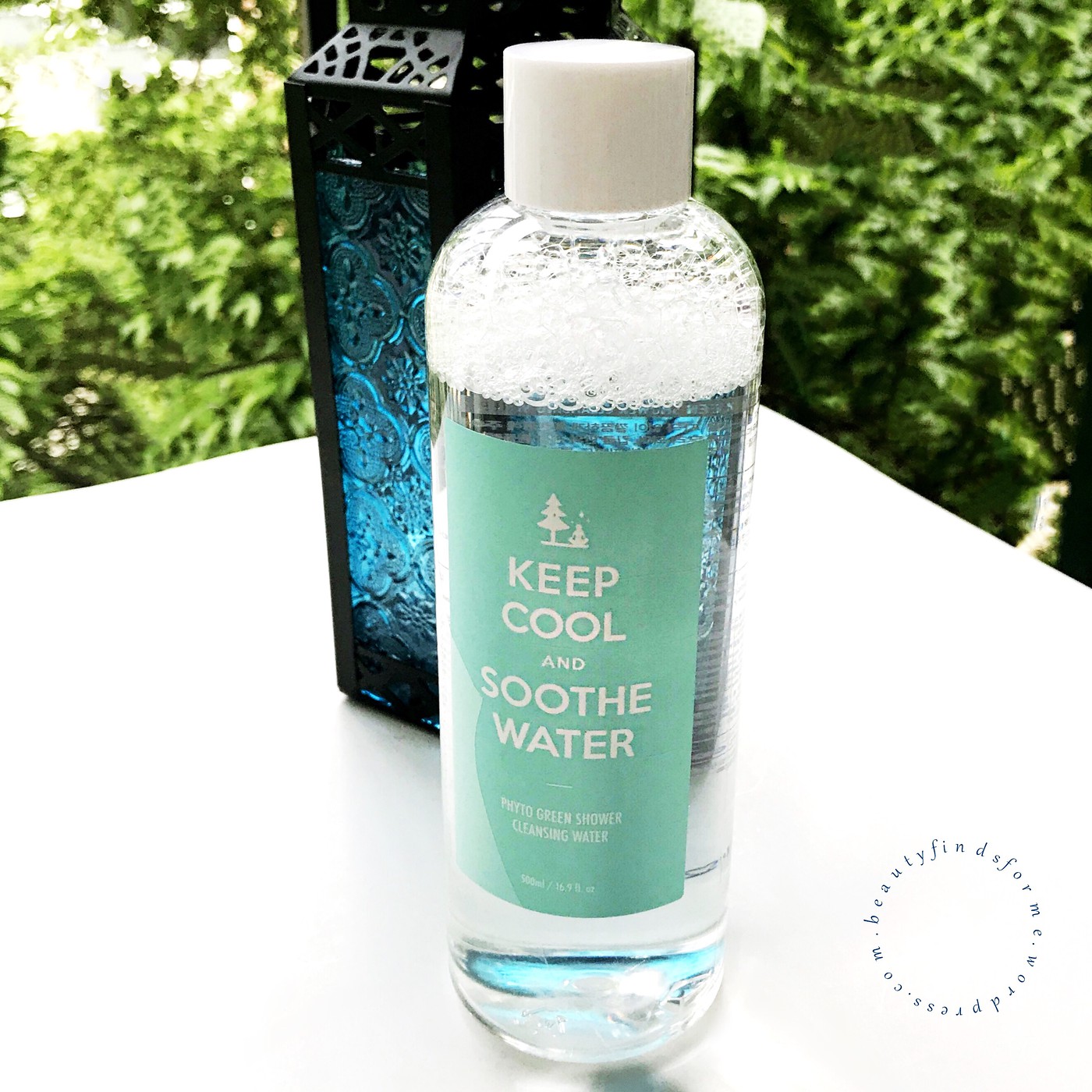 Keep Cool and Soothe Phyto Green Shower Cleansing Water  I use cleansing waters daily, how about you? I find them to be an excellent thing to use first thing in the morning when I wake up ~ removing oils, night time treatments, etc ~ and when I get home from work ~ removing the daily grime and oils from my skin. Cleansing waters don't replace actually washing my face with cleansers, but a quick step to refresh my skin and get it clean quickly. Keep Cool & Soothe Cleansing Water comes in a HUGE 500 mL bottle and this is a micellar water, not just any old cleansing water ~ micellar water consists of tiny spheres of cleansing oil in a soft water ~ these micelles will seek out dirt and oil without drying your skin. This has Hinoki cypress (chamaecyparis obtusa) has antiseptic properties to heal blemishes and minor skin issues while purifying your skin and bamboo which is very hydrating and soothing.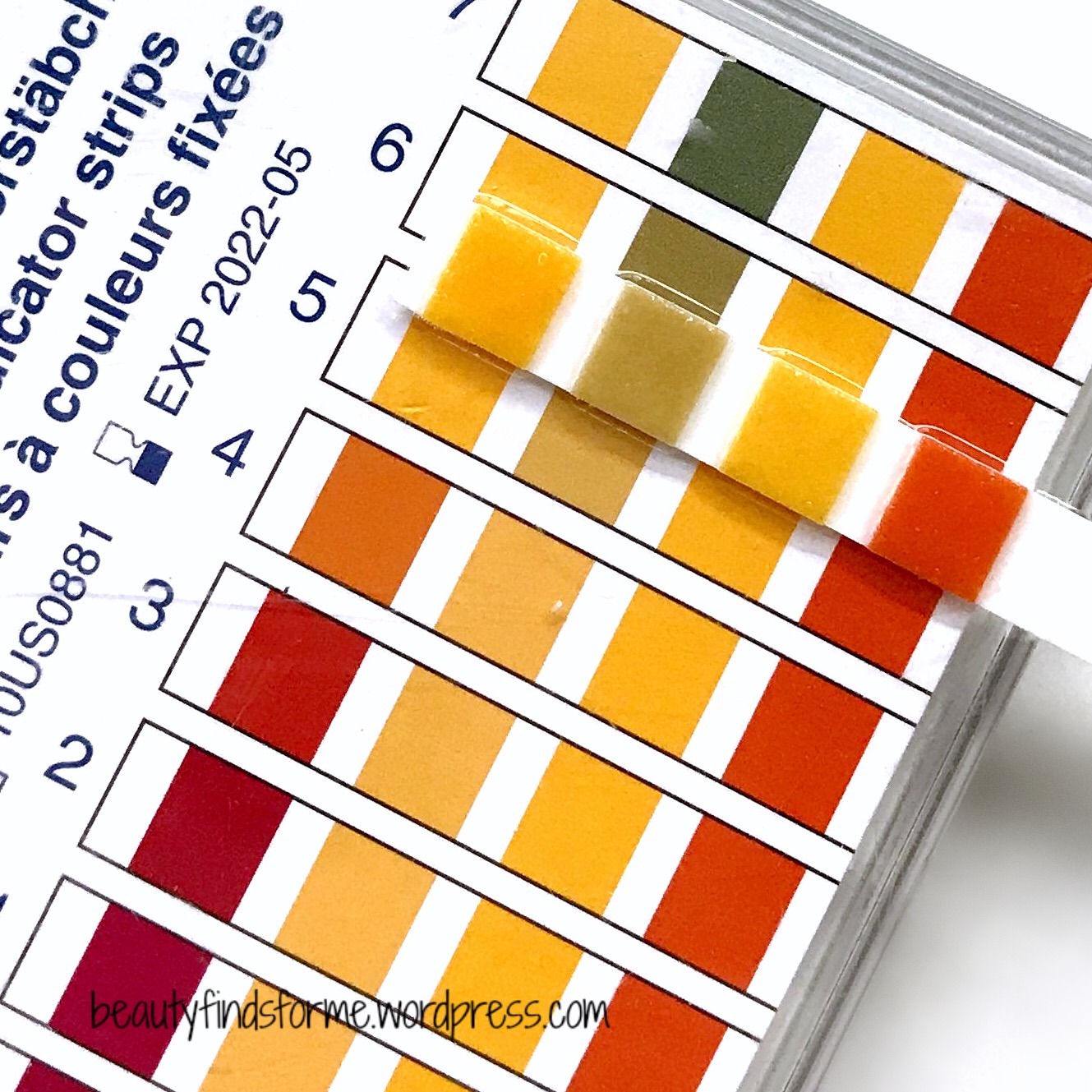 This has no scent that I can tell and has a pH level of 5 to 5.5, so it is skin pH friendly. Very watery and it removes makeup very well ~ watch my video clip of this cleansing water in action! I was pleased with that but at times, I have noticed that this product "foams" on my face, which I believe is due to the disodium cocoamphodiacetate, a surfactant. It isn't THAT bad of a foam, more like little bubbles, but it is annoying. I will continue to use this as it does a great job removing my makeup and it doesn't cause any irritation, nor dries my skin out, but that foaming action is something that would prevent me from purchasing again.
Check out my IG video on the cleansing test here
These are the correct ingredients. Other places have the wrong listing and I am not sure why.
Ingredients: Purified Water, Dipropylene Glycol, Disodium Cocoamphodiacetate, 1,2-Hexanediol, Sodium Chloride, Hexylene Glycol, Butylene Glycol, Lonicera Japonica (Honeysuckle) Flower Extract, Scutellaria Baicalensis Root Extract, Forsythia Suspensa Fruit Extract, Chamaecyparis Obtusa Leaf Extract, Thuja Orientalis Extract, Bambusa Vulgaris Extract, Citric Acid, Sodium Citrate, Ethylhexylglycerin, Disodium EDTA cosDNA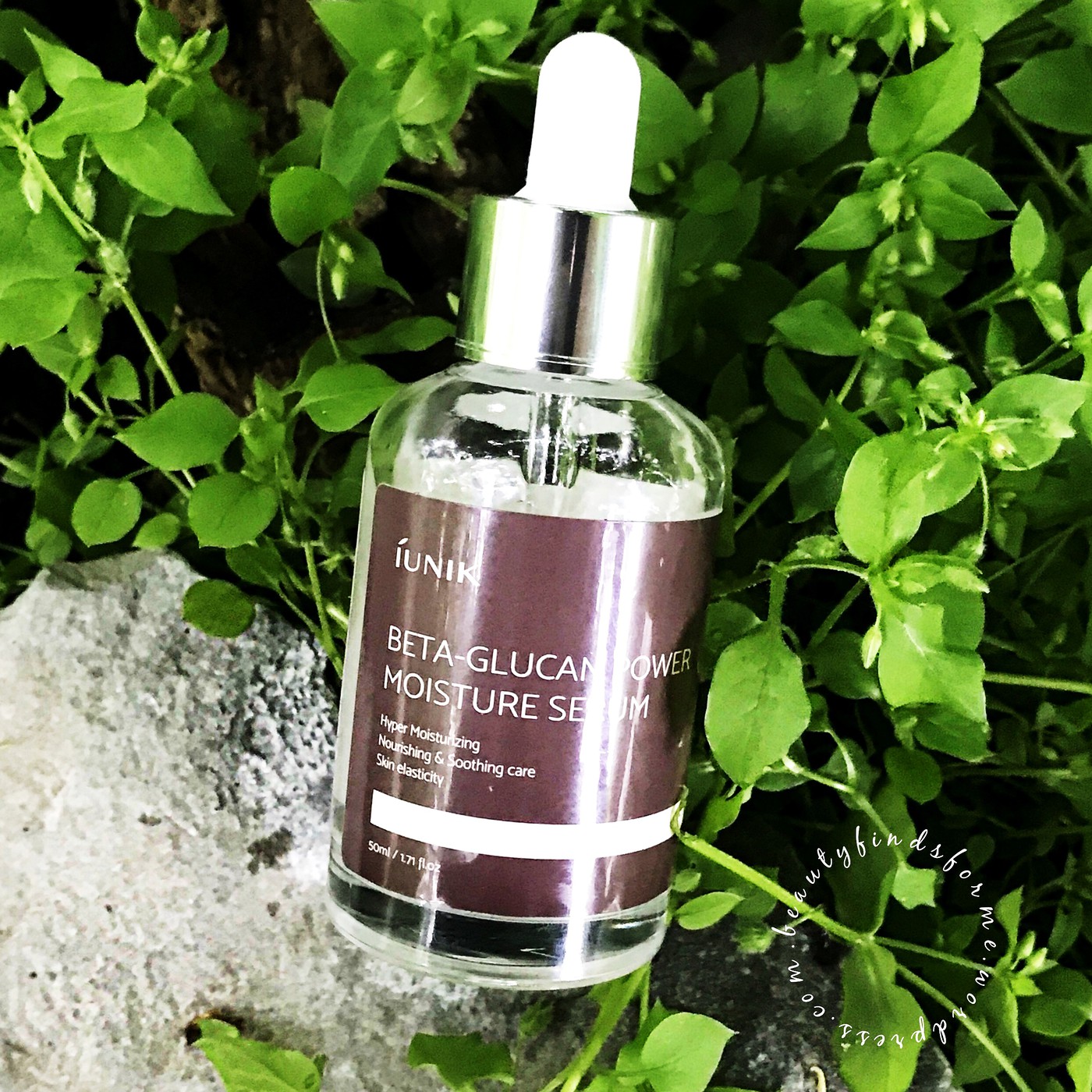 iUnik Beta-Glucan Power Moisture Serum  This is my third beta glucan serum I have tried and I will have a quick chart at the end of this review about which serum is suited best by skin type. Beta-Glucan is an ingredient that I have been keen on since 2015 ~ OMG, so long ago ~ when I reviewed my FIRST BG product. What is Beta Glucan (β Glucan) and why do I love it so much? I did a lot of research several years ago on this so I think it is only fair to me that I can repeat what I originally wrote about this fascinating ingredient. In a nut shell, it is a compound that is naturally derived from mushrooms, oats, yeast and grains. It helps stimulate the production of collagen, speeds up wound healing, soothes and calms skin due to its anti-irritant and strong anti-inflammatory properties, moisturizes, locks in natural moisture, anti-aging and anti-wrinkle due to its anti-oxidant properties and also helps repair your moisture barrier. Beta glucan is considered the "3rd" generation of moisturizing agents.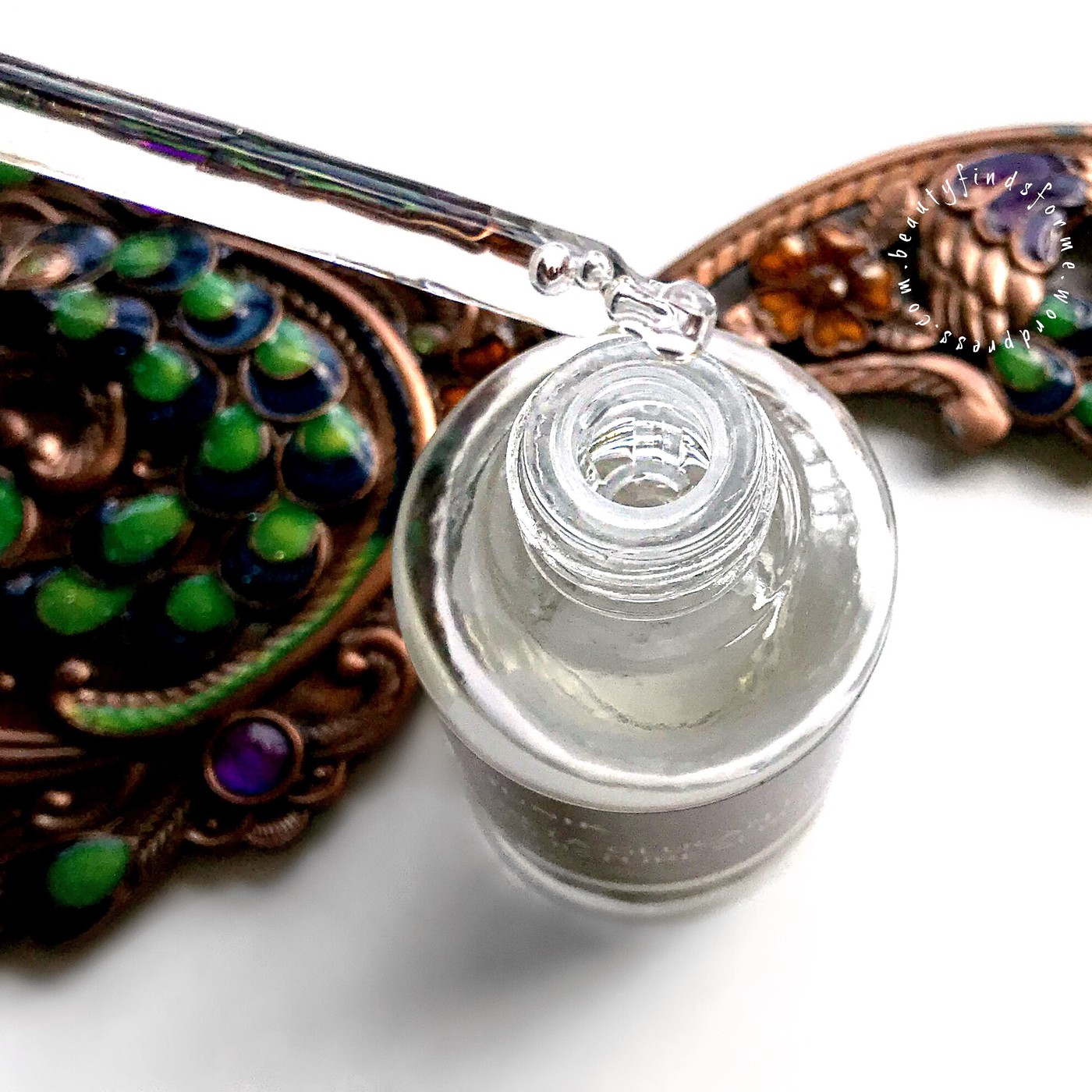 The first generation is glycerin, which is very affordable but only keeps moisture from evaporating. Hyaluronic acid, which I love & use, is the second generation and it is one of the ingredients that exists normally in our body which helps provide collagen and elastin production. Hyaluronic acid production starts to decline once in your late 20's & beta glucan was created originally to strengthen the immune system while being 20% more effective at moisturizing than hyaluronic acid. It protects skin from UV rays as well. It helps reduce redness and it is a good ingredient for sensitive skin, so long you aren't allergic to yeast, oat, grains and mushrooms. I love beta glucan because it really helps hydrate my oily skin in the fall and wintertime, as during the cooler months, my skin gets dehydrated. It hydrates, protects, repairs my skin ~ I still get blemishes and plump up my skin all without being oily or greasy.

iUnik Beta-Glucan is make with 98% BG  and  the rest is a powerhouse of a humectant, sodium PCA. Now, most likely there IS a preservative in here, they just haven't listed it.  Don't quote me on that, but it seems that if the preservative is less than a certain percent, brands do not have to mention it. This comes in a clear glass bottle with an eye drop applicator that is horrible. I could barely pick up the product 70% of the time, so I would just tip the contents into the palm of my hand. This serum is clear, odorless (as far as I can tell) and it has this raw egg white texture ~ that type of viscosity that I come to expect with Beta Glucan serums ~ but it isn't overly thick and it isn't sticky at all, iUnik Beta-Glucan Power Moisture Serum is rated EWG Green safe.  I like to mix my Beta Glucan with other products, as I find it turns those skincare items into skin-plumpenators, but I also can just apply it directly on my skin. This isn't the most moisturizing beta glucan product I have tried, as it only increased my moisture levels by 15%, but it does plump up and hydrate my skin. I find it helps soothe and nourish, while healing my skin. I find that beta glucan is one of those ingredients that you don't really know you need until you stop using it. In fact, if you look at your skincare ingredients today, I bet you will find beta glucan in some of them, as it is being recognized as a quiet little ingredient that works well for most skin types and I find that it helps BOOST the hydration in other skincare products.
Here is my quick guide to the 3 BG serums I have tried
JKosmmune Beta Glucan Serum: This is my favorite BG serum. It is very watery and lightweight while providing additional healing benefits with the addition of centella. I recommend this for oily and combo/oily skin types (review here)
iUnik Beta-Glucan Power Moisture Serum: This is the one in the middle. Its texture is heavier than JKosmmune but lighter than Graymelin. I recommend this one for combo/normal skin types.

Graymelin Pure 100% Beta Glucan Amouple

: This was is the most thickest of the BG's products and the most moisturizing. I used this in the wintertime only as it is too much for my oily skin. I recommend this for dry and combo/dry skin types. (review here)
Which Beta Glucan serum(s) have you tried? Any I should know about?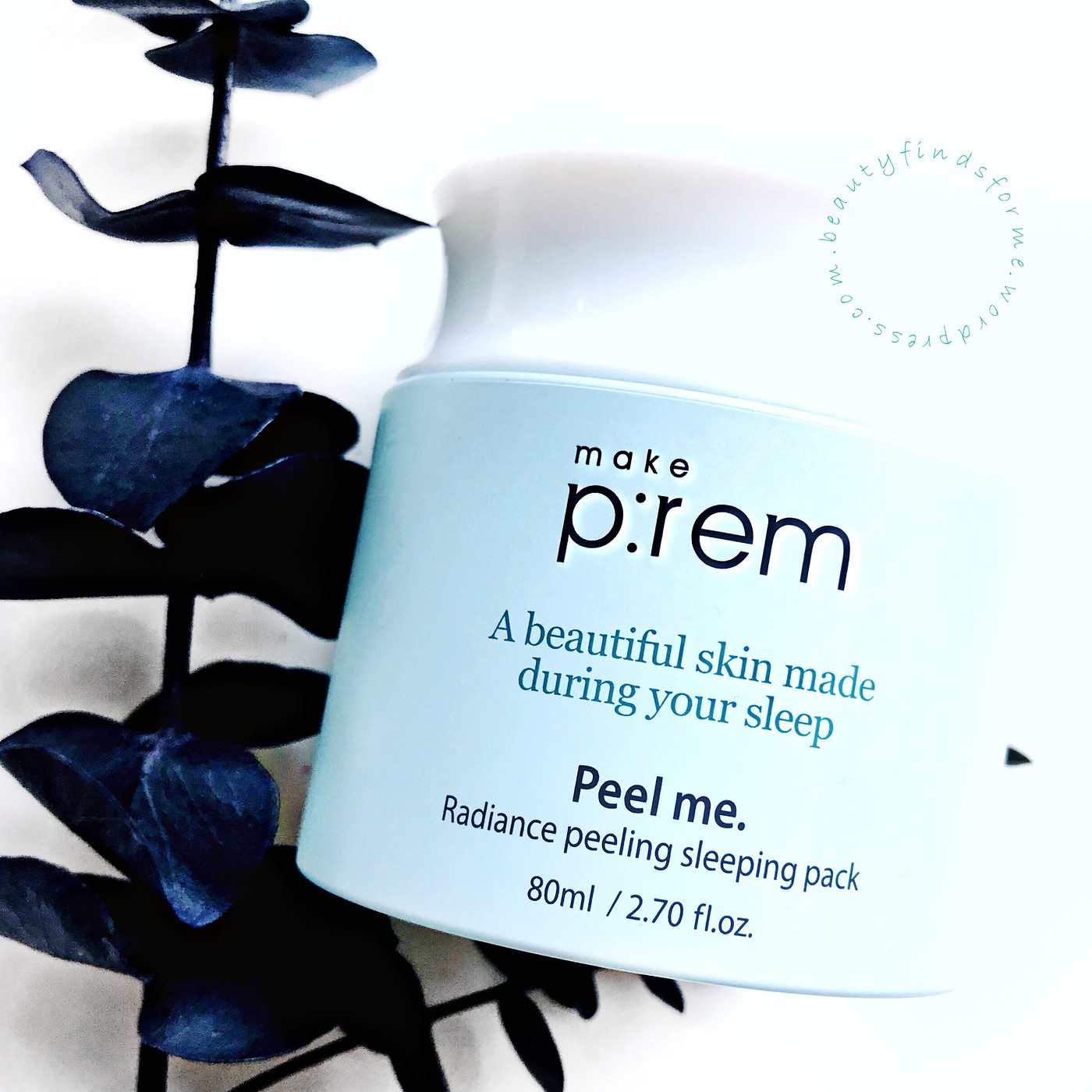 Make P:rem Peel Me Radiance Peeling Sleeping Pack  Make no mistake, this won't PEEL your skin, but gently exfoliates so that overtime, your skin will be soft and smooth, without drying your skin. Several PHA overnight sleep packs have left my skin quite dry in the morning, not hydrated at all, but that is not the case with aqua blue gel sleep pack. This contains PHA lactobionic acid, which is an exfoliator similar to AHA's, but has a larger molecular size ~ making it good for those who have sensitive skin. PHA's work on the skin's surface and break down dead skin cells faster, so that newer skin cells can emerge, making our skin look more brighter and less dull. This also has skin brightening niacinamide, bilberry, thermus thermophillus ferment and sugar cane ~ sugar cane is also a natural source of AHA as well. Another skin brightener is sodium ascorbyl phosphate (SAP), which is stabilized vitamin C. Patented Aquaxyl, a hydrating compound made from ingredients derived from vegetable origin sugars ~ xylitylglucoside, anhydroxylitol, xylitol.  Aquaxyl will also reinforce your skin barrier function, limiting water loss in your skin and preventing skin dehydration on a cellular level. This also has onsen-sui, hot spring water from Japan, has anti-inflammatory benefits; patented Aqua Ceramide for soothing and moisturizing benefits; polyglutamic acid, derived from fermented soybean natto, provides smooth, elastic and soft skin. I have to give a shout out to a couple of blemish busting and anti-inflammatory ingredients ~ neem and turmeric.
Scent: fresh, almost breezy.
pH Level: 5 to 5.5
Texture: gel, medium lightweight, has almost a slick texture that reminds me of a watery Vaseline without the gooeyness.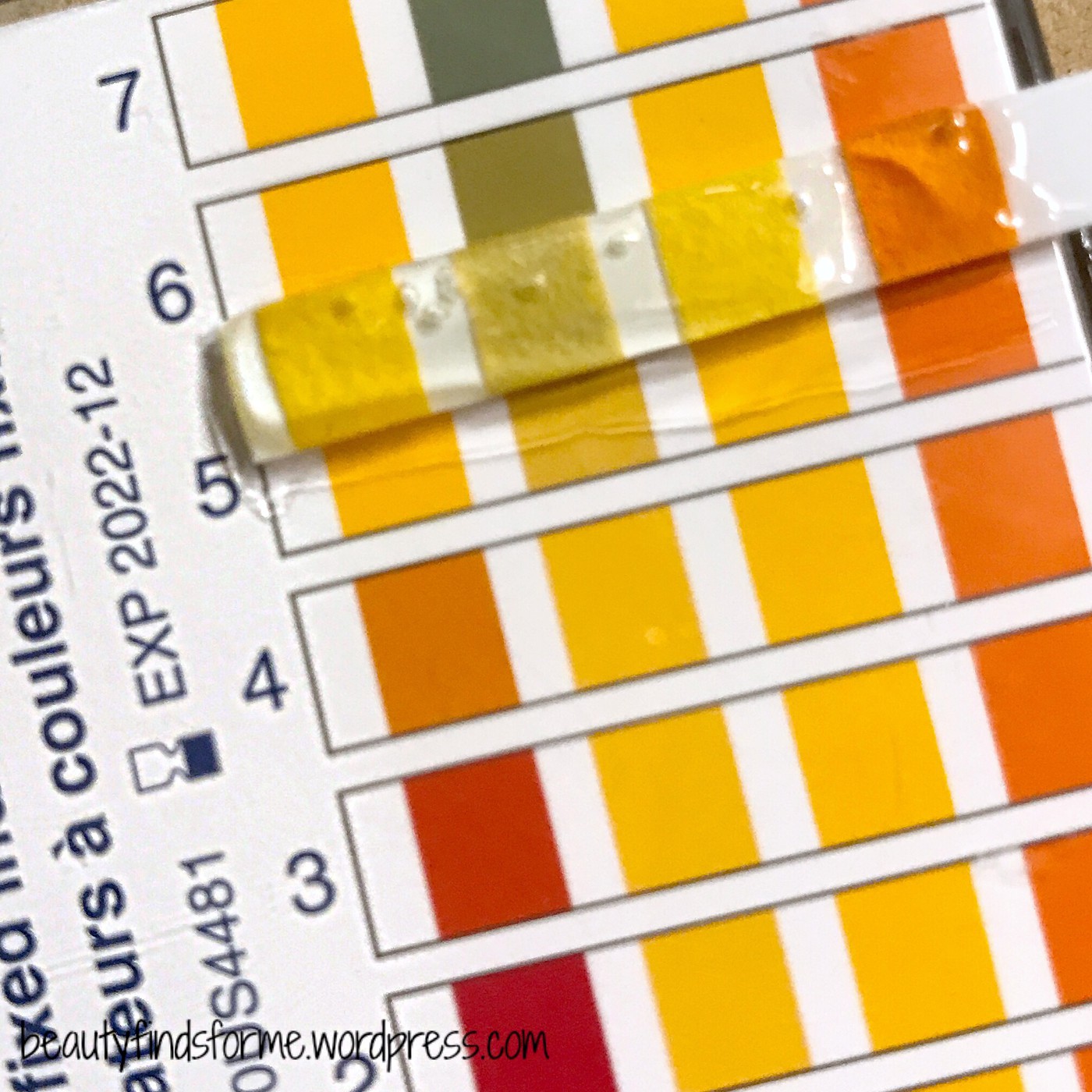 The texture is quite interesting, as it is semi-lightweight so I would think that it would not be very occlusive. However, it really is occlusive without any pore clogging side effects. Very moisturizing and it has a nice cooling effect on my skin ~ which makes this ideal for the warmer months. It initially boosted my moisture levels by 40% while reducing my oil levels by the same amount. It can be a bit sticky if you use too much of it, so don't go all heavy handed with it ~ just apply a nice thin layer and it won't be greasy or tacky ~ give yourself some time between application and going to bed, as I found my skin to be very shiny ~ it takes about 30 minutes for it to absorb fully with my oily skin.. In the morning, my skin still felt soft, smooth and hydrated. I feel that this is helping my skin look more refreshed, even though my sleep habits are sketchy! I need this formula as an eye mask 😀 This is a great product from Make Pr:em ~ I highly recommend it for those who have oily, oily to combo or normal skin. If you have dry skin, this might not be hydrating enough for you.

Why do you need a sleeping mask pack? You can use a cream, I know I have ~ but make sure it is an occlusive cream. A sleeping mask pack is more occlusive than most moisturizers and the reason for this is simple. It helps lock in all of your other skin care products and can reduce trans-epidermal water loss, which is very important as you sleep. One thing to note ~ occlusive ingredients do not bring moisture into your skin, but use the existing moisture to reabsorb it back into the skin, due to its barrier function. That is why just a sleeping pack is not enough at night ~ you need to ensure that you have done a hydrating skincare routine before locking it all in with a sleeping mask pack. Occlusives don't feel that great on my oily skin for day time use ~ it is too greasy, too oily ~ but for nighttime use, I do not mind. Your skin needs to recover and with a good occlusive product, it can help reset or reboot your skin, resulting in smoother and softer skin when you wake up. Your skin will repair itself overnight, so using a product with beneficial nutrients and ingredients as your last step will create a protective barrier to lock in ingredients and prevent your skin from drying out.
Ingredients: Water, Dipropylene Glycol, Butylene Glycol, Glycerin, Niacinamide, 1,2-Hexanediol, Media Azadirachta Leaf Extract, Media Azadirachta Flower Extract, Onsen-Sui, Betula Alba Juice, Coccinia Indica Fruit Extract, Thermus Thermophillus Ferment, Solanum Melongena (Eggplant) Fruit Extract, Vaccinium Myrtillus Fruit/Leaf Extract, Aloe Barbadensis Flower Extract, Saccharum Officinarum (Sugarcane) Extract, Curcuma Longa (Turmeric) Root Extract, Ocimum Basilicum (Basil) Flower/Leaf Extract, Lawsonia Inermis (Henna) Flower/Fruit/Leaf Extract, Ocimum Sanctum Leaf Extract, Ascophyllum Nodosum Extract, Xylitol, Pearl Powder, Lavandula Angustifolia (Lavender) Oil, Cananga Odorata Flower Oil, Cymbopogon Citratus Leaf Oil, Viola Odorata Oil, Citrus Limon (Lemon) Fruit Extract, Citrus Aurantium Dulcis (Orange) Fruit Extract, Acer Saccharum (Sugar Maple) Extract, Corallina Officinalis Extract, Leuconostoc/Radish Root Ferment Filtrate, Pentylene Glycol, PEG-240/HDI Copolymer Bis-Decyltetradeceth-20 Ether, Glycosyl Trehalose, Hydrogenated Starch Hydrolysate, Caprylyl Glycol, Octyldodeceth-16, PEG-60 Hydrogenated Castor Oil, Dimethicone, Ethylhexylglycerin, Aminomethyl Propanol, Adenosine, Lecithin, Polyglyceryl-10 Oleate, Amino Esters-1, Lactobionic Acid, Allantoin, Inositol, Sodium Dilauramidoglutamide Lysine, Xylitylglucoside, Anhydroxylitol, Hydrogenated Lecithin, Lysolecithin, Phytosterols, Sodium Ascorbyl Phosphate, Caprylic/Capric Triglyceride, Potassium Laurate, Ceramide 3, Aqua, Citric Acid, Carbomer, Alcohol, BHT, Disodium EDTA, Potassium Sorbate, Fragrance cosDNA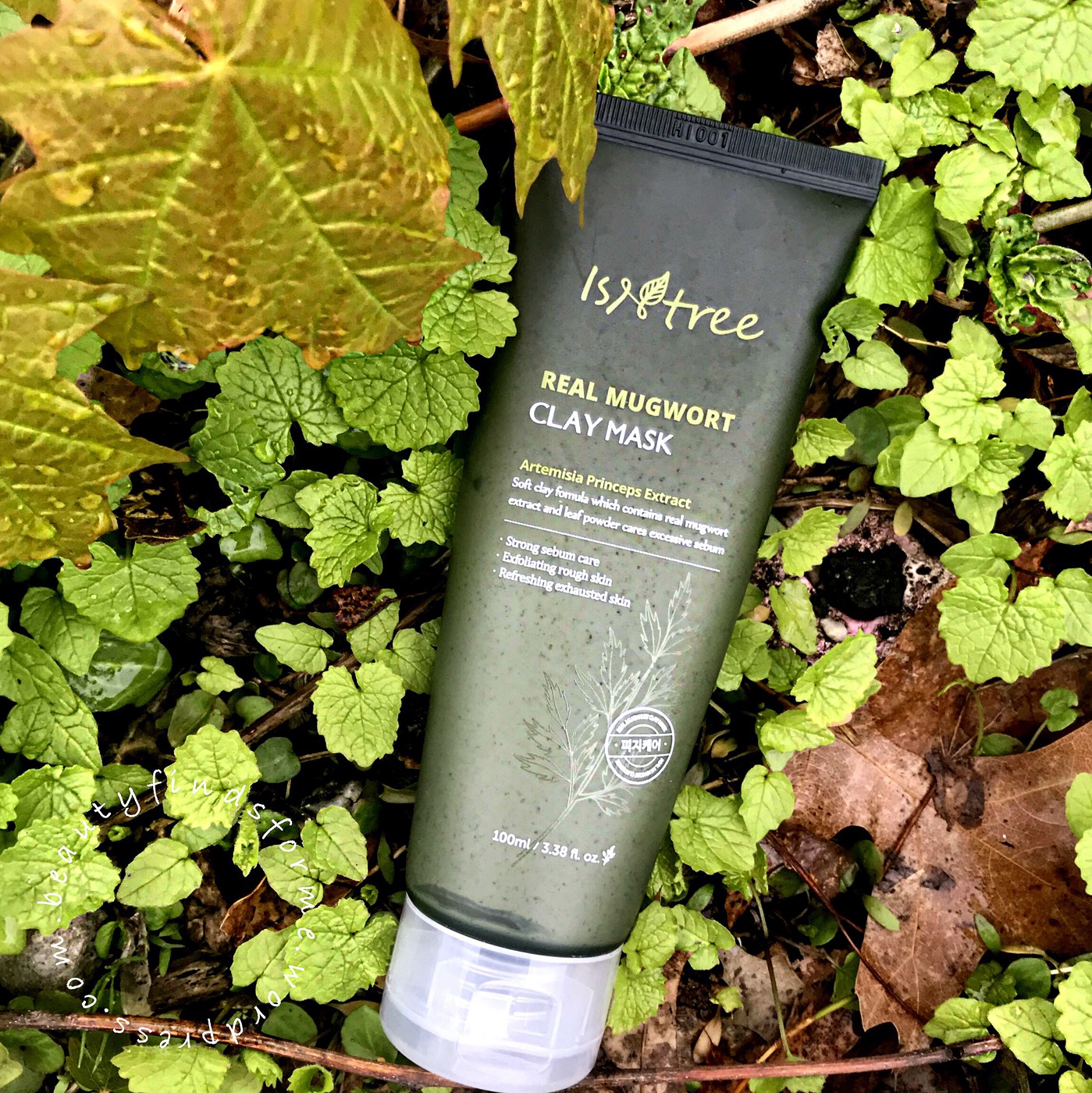 Bonus!  I purchased this IsnTree Mugwort Clay Mask and Credithink does sell it, so I thought I would include it in here. So, I have reviewed a hydrating gelly Mugwort Mask (review) from I'm From, now let's do one with a Mugwort CLAY mask ~ IsnTree Real Mugwort Clay Mask.  I have very oily skin, so clay masks are a must. Mugwort is a very soothing and calming gentle herb that seems to be taking the skincare world by storm lately. The mugwort in here is a fine powder, along with adzuki (red bean/mung bean) and chestnut shell powders, which helps gently exfoliate your skin. This mask from Instree is 25% clay ~ from 6 different types of clay: kaolin, French green, Canadial collodial, calcite, magnesium aluminum silicate and illite ~ to help detox and provide pore care. Willow bark contains a natural source of BHA for more pore care and oatmeal helps with itching, inflammation and calms skin, while healing and moisturizing. This mask is a very creamy green clay mask, with little or no scent that I can detect. The fine bits in here are not irritating at all and in fact, if you have sensitive skin, you will really enjoy this as the fine powders are hardly noticeable. Isntree is cruelty free and doesn't test on animals. .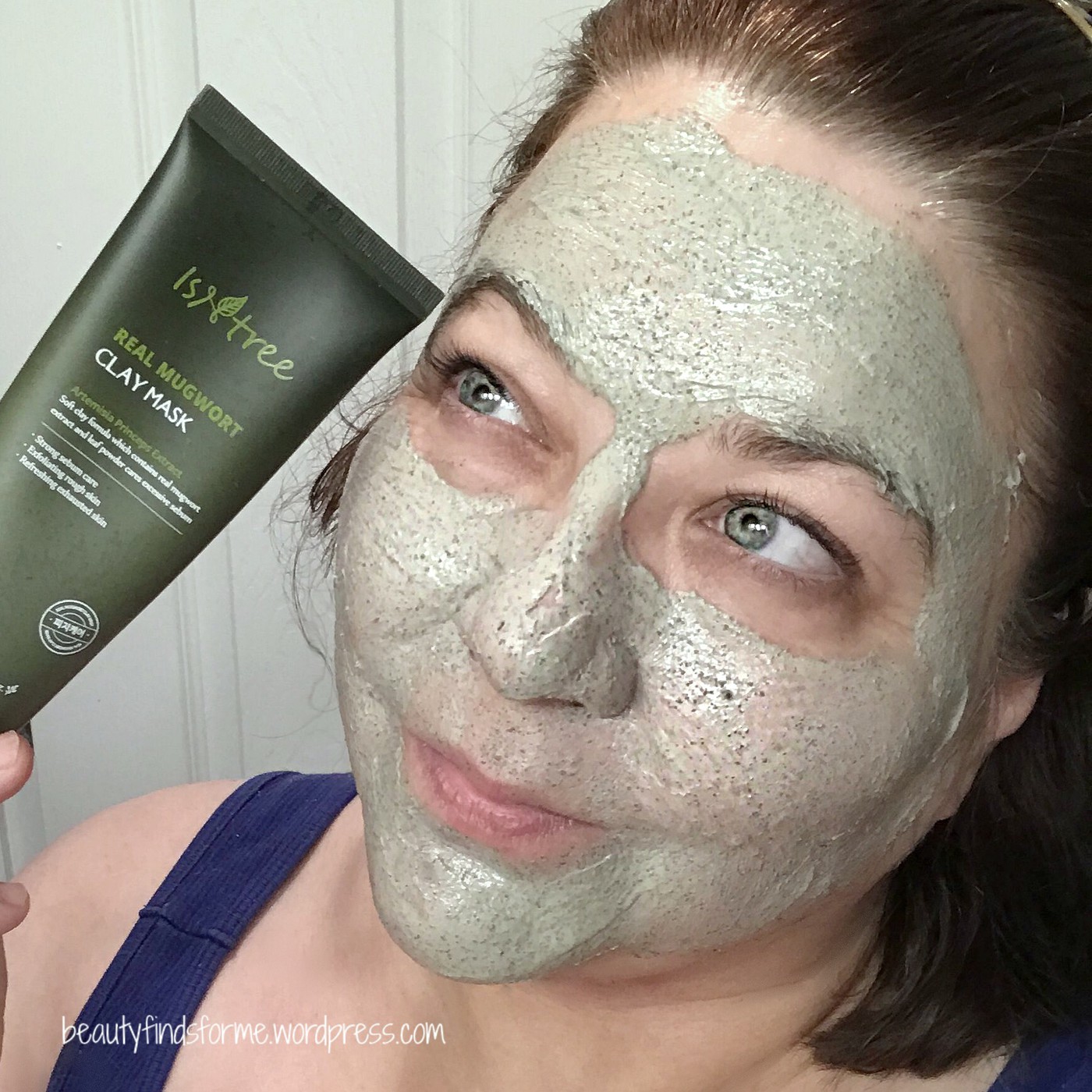 This is very easy to spread and has an immediate cooling effect, which is great if you have oily skin ~ your oil production increases as the temperatures increase. Clay masks help clean out pores and reduce oil, which makes pores look smaller, but pores never really "shrink". Keep 'em clean and they won't really be noticeable, unless it is genetics or age. Don't leave on a clay mask until it is completely dry as well ~ doing that might cause more moisture to be removed from skin, when all you want is your skin to be rid of excess OIL. I left this on for 15 minutes and it didn't itch or make my skin feel stretched, which many badly formulated clay masks can do. After rinsing off ~ and this is very easy to rinse off ~ in a circular motion to get some of the physical exfoliation benefits, my skin feels baby soft and smooth. Some pesky clogged pores that I had on my forehead & nose are cleaned out & now I need to keep them that way with a gentle, daily-use BHA product.  I love Benton Cosmetic Aloe BHA Skin Toner (review) and cosRX Two in One Poreless Power Liquid (review). Have you tried any Mugwort Clay masks? Which ones?
Ingredients: Water, Kaolin, Glycerin, Dipropylene Glycol, Bentonite, Artemisia Princeps Extract, Stearic Acid, Panthenol, 1,2-Hexanediol, Illite, Artemisia Princeps Leaf Powder, Camellia Sinensis Leaf Water, Castanea Crenata Shell Extract, Origanum Vulgare Leaf Extract, Chamaecyparis Obtusa Leaf Extract, Salix Alba (Willow) Bark Extract, Avena Sativa (Oat) Kernal Extract, Cynara Scolymus (Artichoke) Leaf Extract, Portulaca Oleracea Extract, Cinnamomum Cassia Bark Extract, Scutellaria Baicalensis Root Extract, Montmorillonite, Calcite, Phaseolus Angularis Seed Powder, Canadian Collodial Clay, Hydrogenated Lecithin, Beta-Glucan, Methylpropanediol, Algin, Magnesium Aluminum Silicate, Cetyl Alcohol, Butylene Glycol, Xanthan Gum, Allantoin, Tromethamine, Polyquaternium-51, Ethylhexylglycerin cosDNA
Where to Purchase
Amazon USA:  Credithink carries all of these products and more! These do have free Amazon Prime Shipping, including FREE ONE DAY Shipping!   All prices in USD
For International Shipping:  Credithink has their own store as well ~carries these products as well (click here) and do not offer free shipping to most countries.
[ disclaimer: products received complementary for review purposes.  blog post contains affiliate links ]