Finally, the weather has turned and it looks like spring might be here for a while in the Boston area!  Ready to toss open the windows and let the fresh air in! What is Yogi Surprise?   

Yogi Surprise Jewelry Box
2 handmade pieces + 1 organic treat

Handcrafted in Bali. Fair Trade

$65+ retail value in every box

$24.95/month + free shipping
The Jewelry box will contain two handcrafted yoga inspired jewelry pieces, that are fair trade, sustainably harvested materials, nickle-free, lead-free and cadmium free.  These are made in Bali, Indonesia and 10% of all proceeds will be given to education the Balinese families to make these beautiful pieces.   It also contains an organic chocolate treat.

This month's theme is "Finding Peace in Nature" ~ Mother Nature's remarkable gifts are hard to miss in the spring when the energy of her warm embrace wakes everything up and spurs regrowth.  Now is the time to recognize that we are not separate from nature, and that we have to recognize this if we are to take responsibility for our own sense of joy  and peace.  For the month of April, we're encouraging you to look to the trees by providing you with two beautiful jewelry pieces that will inspire you to reconnect with nature.  Our necklace is embellished with the bright, tranquil color of turquoise gemstones to help purify negative energies while promoting a sense of serenity and positivity.  As you breathe in the fresh, invigorating air of spring, let yourself sink into the sweet stillness of nature and feeling more grounded and connected to your environment than ever.
Informational Card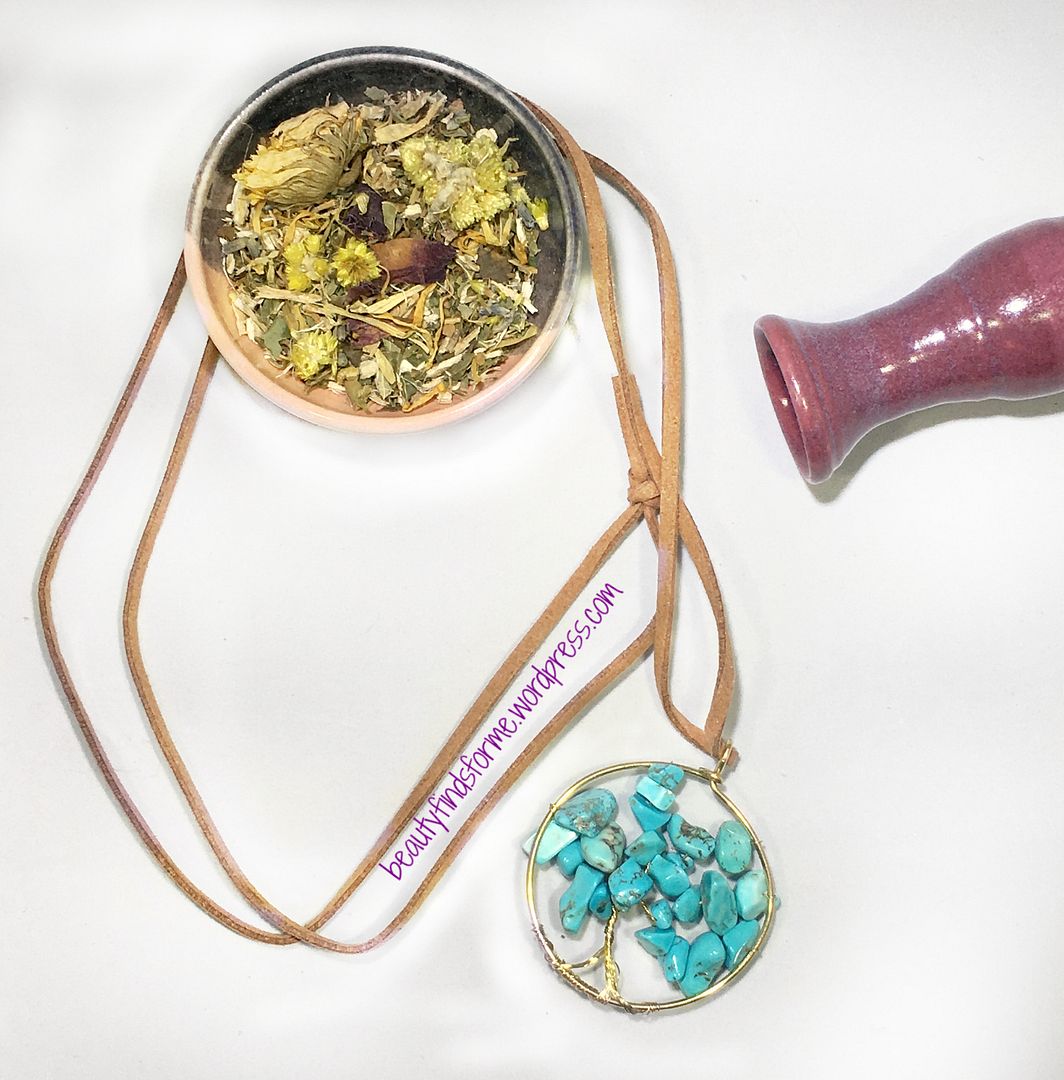 Tree of Life Turquoise Necklace  This was our spoiler from last month and I am still unsure how I feel about it.   This 35 inch necklace  looks to be strung on a tan suede or faux suede cord and the 1 3/4 inch pendant is a brass circle, making this  necklace almost 37 inches.   Now, the brass circle has brass wiring where it forms the trunk and branches of the tree with the irregularly shaped turquoise stones make up the leaves.  There is a right way and a wrong way to wear this ~ if worn the wrong way, you will see all of the brass wire forming the tree, which is a bit messy looking.  Again, not sure how I feel about this necklace ~ I think I would have liked a more traditional Tree of Life Pendant with maybe a green gemstone or something in the tree.  As an aside, I keep thinking of the Rock Monster (Gorignak) in Galaxy Quest when I look at this ~ lol.
However, hat tip to Yogi Surprise for trying out new ideas  ~ I wish this had a clasp on it, as I can see this worn as a choker.  I can undo the knot myself, but I think for ease of use, a clasp would have been nice, so it could double around the neck.  RV $78.00
Turquoise:  5th Chakra ~ Throat Chakra Turquoise is perhaps the oldest stone in man's history, the talisman of kings, shamans, and warriors…  Turquoise strengthens the meridians of the body and the subtle energy fields, enhancing communication between the physical and spiritual worlds. Placed on the Third Eye, it supports intuition and meditation. On the Throat Chakra, it releases old vows, inhibitions, and allows the soul to express itself once more. It explores past lives and regards fate as ongoing and dependant on one's action at any moment.  Turquoise is a stone for finding wholeness and truth, and communicating and manifesting those qualities. It stimulates and harmonizes the Throat Chakra, making it easier to articulate and bring forth one's deepest wisdom. source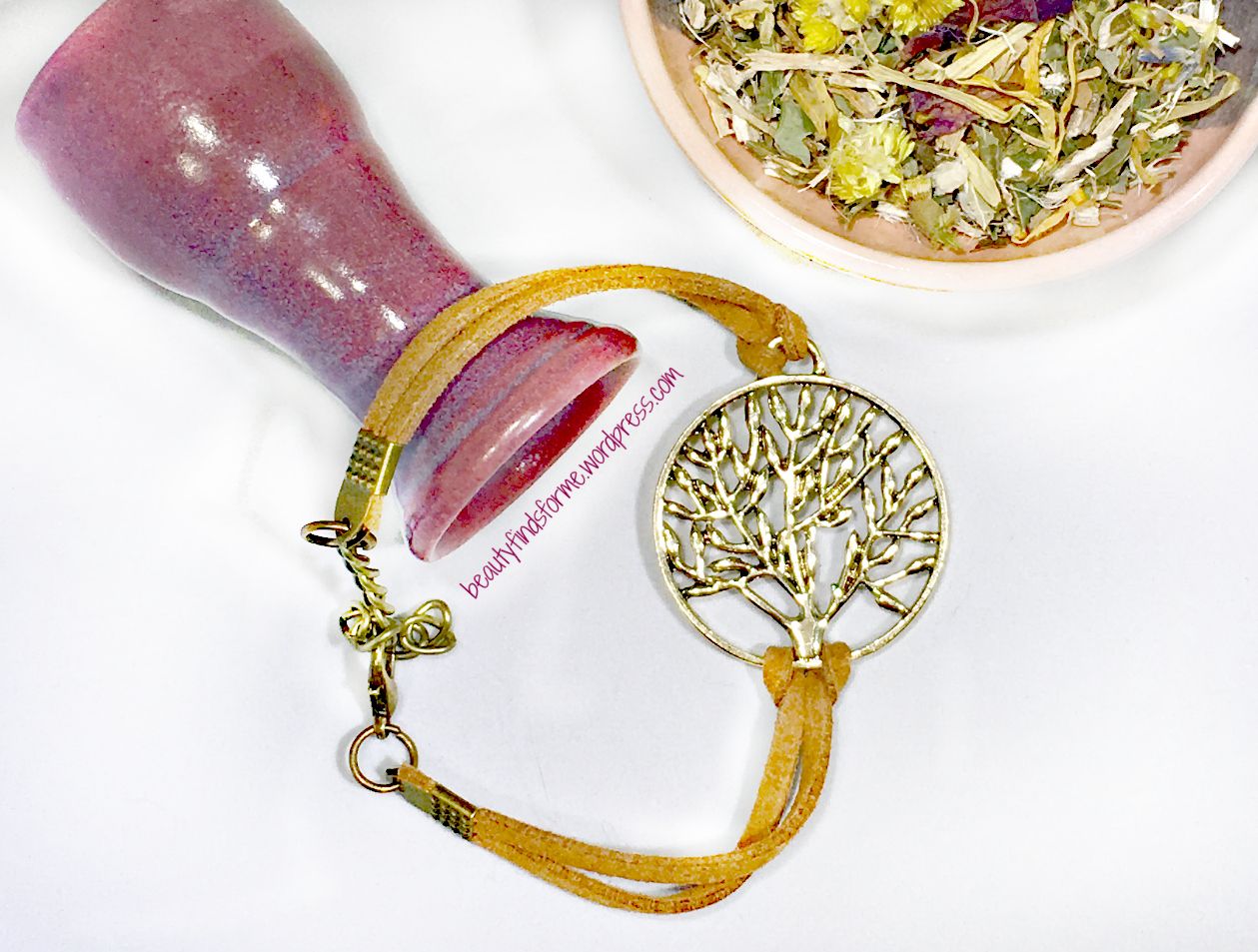 Tree of Life Bracelet  I actually love this one!!  I love the 1 inch diameter brass Tree of Life charm in the middle of this 7 inch dual tan suede/faux suede bracelet.  It has textured brass end bands with a clasp that has a 1 3/4 inch extender.  This is very rustic and I love this a lot ~ I will wear it with some chunky turquoise bracelets.  RV $32.00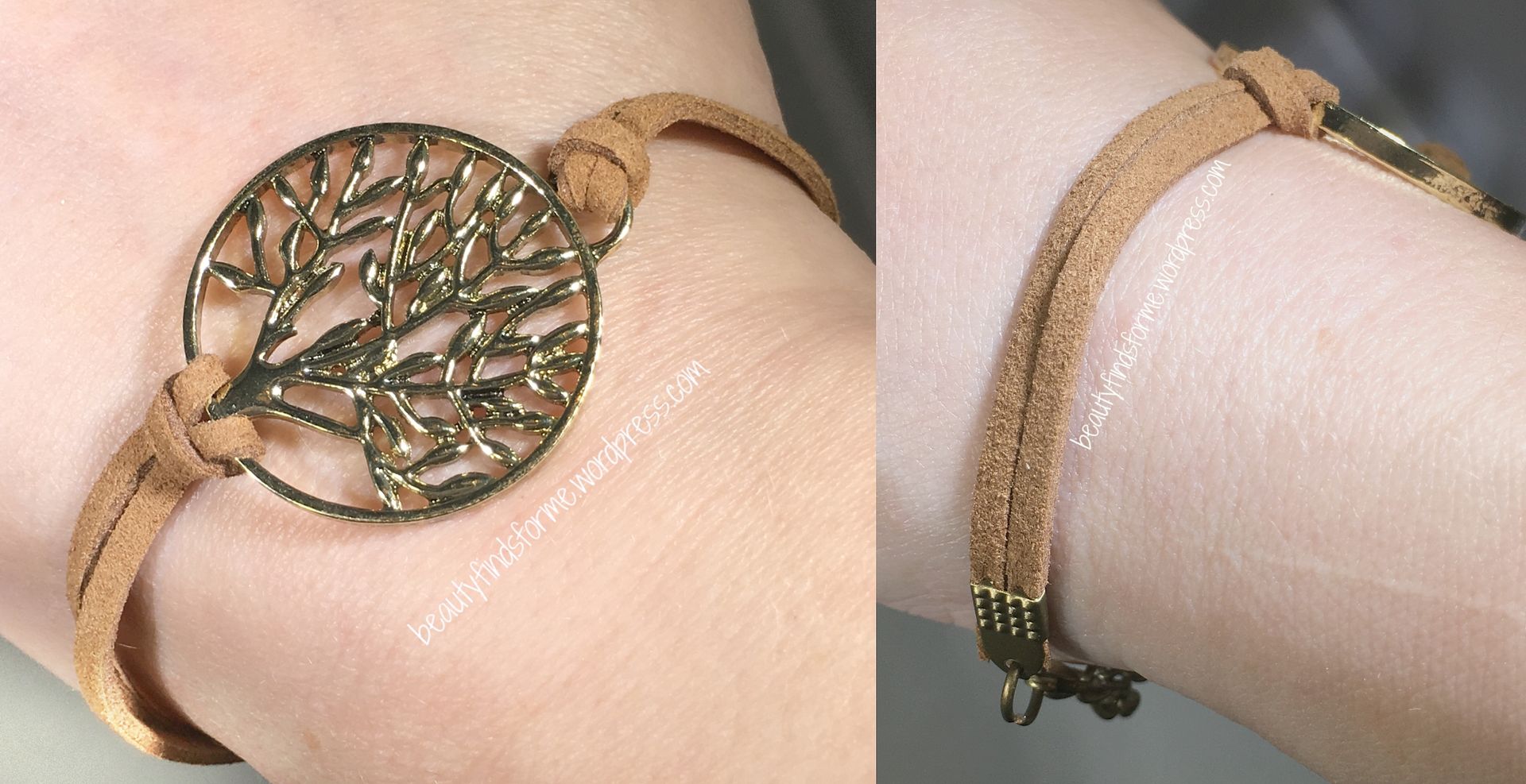 Tree of Life  "You are a child of the Universe… You have the right to exist.. You have the responsibility to grow to be yourself… The meaning of the Tree of Life as a spiritual symbol is well known and, like the tree itself, many branched and deeply rooted. Here, the Tree of Life meaning tells us that although we are rooted in the Earth plane, we are reaching for the Spiritual Realms. Here we are each alone… there we are one."  From (and learn more at) Old Earth
Earth Source Righteously Raw Caramel Bar Lucuma & Cacao Truffle  This is a Kosher, vegan, gluten-free caramel chocolate bar ~ made with no refined sugar and using fruit to help sweeten this lovely smooth treat.  Yeah, I love this a lot.  You can see the thick paste of caramel inside this deep dark chocolate bar ~  it is made  with 90% organic raw Cacao, organic raw Lucuma fruit, Himalayan pink salt, organic raw agave nectar, organic raw dates and organic raw vanilla bean.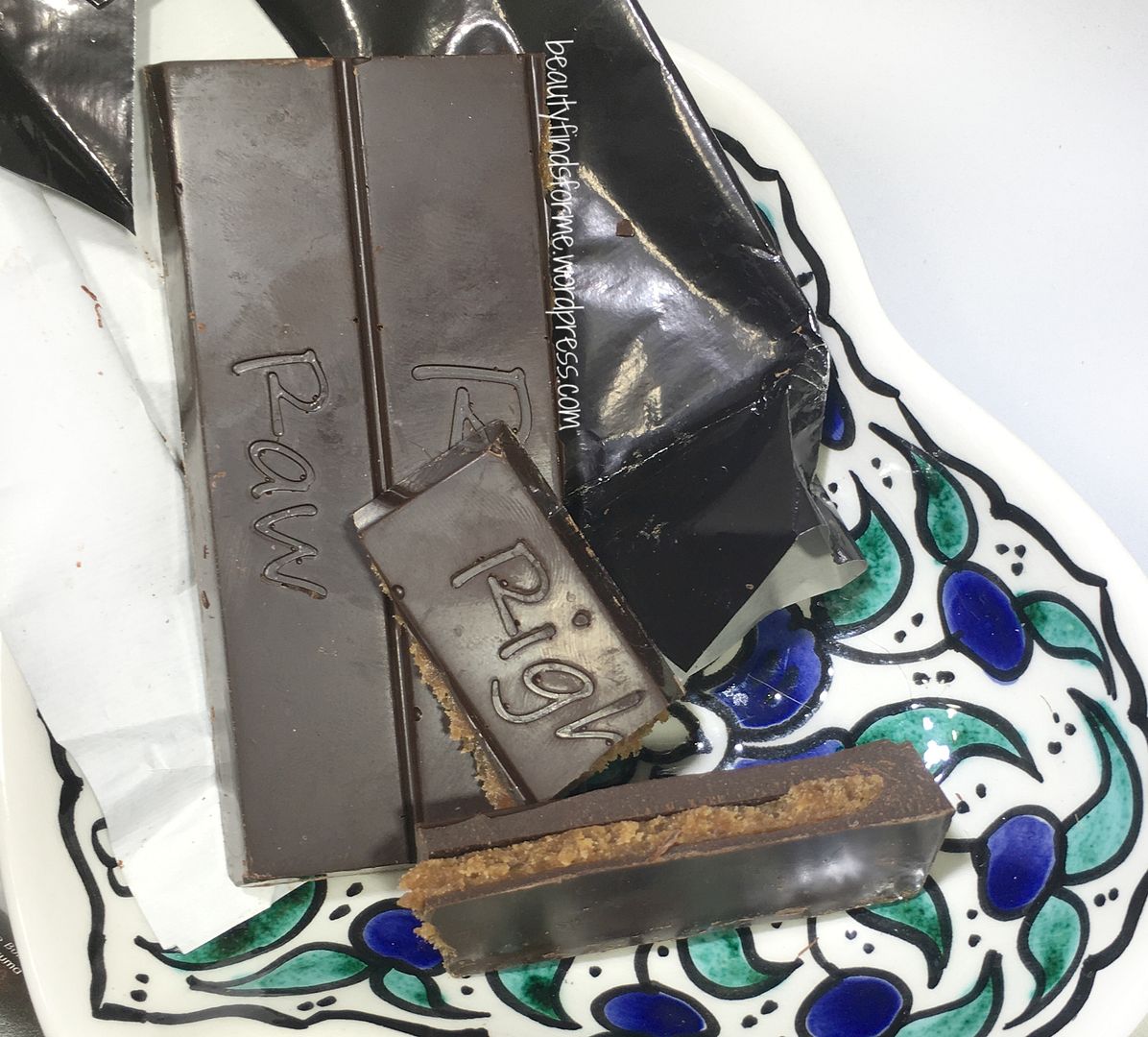 It has that sharp tang from the dark chocolate, but the creamy caramel truffle inside counters that with a rich sweetness.  I ate this too quickly and I do love this bar!  They have several different flavors and I want to try them all.   2.3 oz RV $5.99
Description: Covered in ninety percent dark chocolate, this delightfully smooth truffle redefines the caramel experience and introduces a new superfood to the mainstream palate. A tasty combination of low glycemic dates and the sub-tropical fruit lucuma make this not only a tasty treat, but a healthy one too!  Featuring Organic Raw Lucuma Fruit ~ Lucuma is an exotic subtropical fruit found in the coastal valleys of Peru and Ecuador. It has a wonderfully distinct flavor that is traditionally used for ice creams and other desserts. High in beta-carotene and iron, as well as other vitamins and minerals, lucuma has been revered for its high nutritional value and abundant growth throughout South America.
So, this is a mixed bag for me this month ~ I love the bracelet and the chocolate bar, but the necklace is iffy for me. Maybe it will grow on me, I don't know!  This box has a Yogi Surprise retail value of $115.99, which I rarely pay attention to, as there is no way the necklace is 78.00 dollars!  I go by the value of the pieces to me and once again, I feel that this box is worth it!  Part of the proceeds from this box will go back to the local artisans that made these items and help educate their community.

Do you subscribe to Yogi Surprise?  Which box do you get and what was your favorite item this month?  Let me know in the comments below, I would love to read them 🙂
If you are interested in signing up to Yogi Surprise for either their Lifestyle or Jewelry box, I would love it if you used my referral link   They are currently running a 10% off special for the first month, no promo code needed.   Check out the spoilers for next month's boxes below!    If you sign up for the Lifestyle box, use YOGIFRIEND to get 20% off the life of your subscription!

Next Month Spoilers

Creative Divine Mother  This May, let us embrace the warmth and vibrancy of the spring season as we celebrate our creative expression.

If you sign up now, you get a free gift worth $20.00 ~ Chakra Healing Stones  (these came in the May box ~ see my unboxing here)
[ all descriptions in italics from linked website.  this blog post contains referral & affiliate links ]